Initially, when the internet was new to people and the market, usernames used by people for referring to themselves were called username or handle. The term handle was also used on radio networks to identify people on similar networks.
It became important for Microsoft to offer gamers a similar functionality to how they communicated on Xbox Live and their online profiles.
This was the time when the term Gamertag was introduced in the market. Various other gaming communities also use this term to refer to the handles used by gamers to identify themselves. 
A Gamertag Generator is a tool many gaming enthusiasts use to get an exclusive game name to identify themselves.
Most gaming enthusiasts who love playing games on platforms like Xbox use funny Gamertags to get a name they can use for tagging themselves to the games. 
Game developers and even individuals passionate about creating different online gaming profiles effectively use Gamertag tools. 
When an individual has a great concept regarding an online gaming outline or about coming up with a brand new game, he or she uses Gamertag generator tools.
These tools help individuals tag themselves to games and find games that are exclusive to them and are not used by any other gamer.
These tools make it easy for gamers to choose their names. However, the process can sometimes be overwhelming, considering the huge selection of games the gamers get to choose from. In the context of Xbox Live, a Gamertag is a username for the Xbox Live record. 
Different players use the Gamertag to distinguish a certain player on Xbox Live. The Gamertag enables the other players to send messages to you and even see the different games you have been playing over time.
It even helps the players in tracking your measurements. However, there are some impediments to creating Gamertags. For instance, you cannot create Gamertags that are longer than 15 characters. 
You must pay 800 Microsoft Points to change a Gamertag once you have one. These tools will help you get innovative and creative by offering you certain arbitrary modifiers to add prefixes and additions easily. 
They will help you find apt and cool names for your Gamertag and also allow you to include random words, letters, and numbers for creating one-of-a-kind names.
When using These tools, the most important thing you should remember is that your name will represent you. So, choose accordingly. 
Best Gamertag Generator Tools – Our Pick 👌
1. CoolGenerator
CoolGenerator offers numbers, words, arbitrary names, content, shading palette, textual style, and, most importantly, xbox gamertag generator 2022. You can get on this website and effectively use produced matter for nothing.
It can create games for Xbox, and the names created are usernames or monikers.
Cool features of CoolGenerator include:-
This tool will help you get a fitting username or epithet very simply.

Creating Xbox Gamertag on this generator is quite easy.

The only thing that you need to do is put in the keyword by way of which you require the Xbox Gamertag. Next, you need to choose the Gamertag length.

It will help you generate Gamertags with less than or equal to ten characters and even less than or equal to 15 and 20 characters.

Once the keyword has been provided, you need to choose the length of the Gamertag from the drop-down menu and click on Generate. That's it.

You will get the best Gamertag according to the keyword you provided. 
Use CoolGenerator to get an exclusive Xbox Gamertag like never before.
2. Nerdburglars Gaming
Nerdburglars Gaming is a gaming network and site where gamers get the scope to locate some of the latest gaming aids, recommendations, and news. Likewise, the site also includes the Minecraft username generator tool.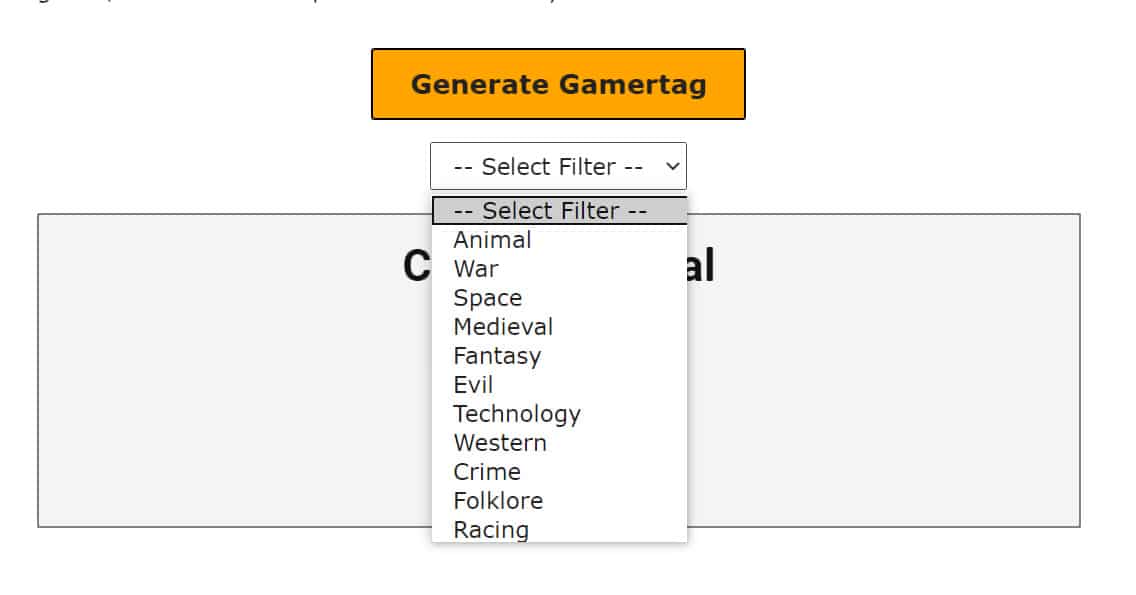 There is not much you need to do to generate an Xbox Gamertag on this site. It will also not cost you much and is one of the best ideas to go for if you want the right Gamertag the first time.
Chances are you might have had a great username earlier, but because you had been away for something, your username was reset, and thus, you need to get something new.
Important features of the site include:-
Nerdburglars Gaming generates a random gamertag that can help you generate an exclusive name for Xbox live record.

Users on Nerdburglars Gaming do not have any restrictions on the count of the names they can create. They get the option of generating random names free of cost.

Nevertheless, unlike other devices, users cannot enter the names or words they want in their Gamertags. 

The only thing that they need to do is choose the Filter. Then click on the button that says Generate Gamertag.

Filter options on the site include war, space, animal, folklore, evil, fantasy, medieval, western, technology, and crime to make your choice from.
Use Nerdburglars Gaming to generate Gamertags within the shortest time possible.
3. Spinxo
Spinxo is a site that offers its customers the chance to make random Gamertags depending on the data they provide. The site can effectively produce names for YouTube, Tumblr, Instagram, and so on.
The Spinxo can also consolidate several popular watchwords with the name you have created.
It will also help you find authoritative words or those that help portray you and your character in the best way possible.
This generator will help you superbly in generating a good quality Xbox Gamertag.
Exclusive features of the portal include:-
The spin button on the site can be snapped several times to create different varieties and many irregular Gamertags.

You even get the option of including some watchwords for creating customized usernames that portray your numbers, side interests, and character in the best way.

For checking accessibility on Instagram, YouTube, Twitch, Twitter, and various other formal and informal organizations, you can click on the different names you like. In case that name has already been taken, you can add variations like suffixes, prefixes, and characters. You also have the option of trying out partial terms.

Likewise, you can also start with a challenge for getting username proposals from friends and companions.

Spinxo is one of the internet's most efficient and popular Gamertag generator tools. 

With the simple and easy entry of required details on the part of the users, the tool offers over 25 exclusive usernames at just one click.

Users need to provide details for creating Xbox Gamertags using Spinxo, including name or nickname, their likes, hobbies, or things they like doing, and significant terms that need to be there in the Gamertag. Users also need to provide letters and numbers.

Of course, many of these columns can be left empty if the users do not have anything useful to fill in.

Next, click on the SPIN button. One spin of the button, and you will get 30 cool usernames for Xbox Live.

At the bottom of the page, you will find keyword suggestions that can help you get many wonderful Gamertags.

It is an intelligent generator gamertag that helps users in creating a large number of personalized names.
Apart from helping you create random usernames, the site also helps in generating social media usernames based on the nickname, name, and words used by the users to describe themselves.
The site features Rhyming Words alternative that can help users generate funny alliterative names by entering keywords of their choice.
Hence, it can rightly be said that Spinxo is one of the best Xbox Gamertag generators one should check out.
At the time of our research on generating a random gamertag, we found a video about "16 Little-Known Benefits Video Games Have" worth watching. 🏆🤴
16 Little-Known Benefits Video Games Have
4. Jimpix
Jimpix is a traditional arbitrary generator that offers users the scope of producing varied username arrangements made up of terms chosen from the arrangements.
This is one tool you can use to create usernames made of irregular words from the classifications you choose. You can also choose almost any term aimlessly with the rating left to be set in Arbitrary Category.
Once you have put forward the structure, you can look for other options like choosing the starting letter, the situation of the promise, and username length.
Some of the unique attributes are as follows:-
Jimpix allows users to make their own tailored Xbox Gamertag if they need one.

The site features options where users can enter names and other details for generating Gamertags according to their requirements.

Once the required fields have been filled in, users must choose Random Category, username length, start a letter, word position, and length match from the drop-down menu.

Next, click on Go to submit the requirements.

A simple process will help you generate an Xbox Gamertag in a few minutes.

The website interface is easy, and users can navigate it conveniently without facing any problems.

Generated Gamertags can be listed in alphabetical order and can even be reset for generating new Gamertags.

This regular and random generator tool helps users generate lists of Gamertags made of terms from different categories.

This tool will help you create a username simply by entering your own words.

Once the details have been submitted, users can choose from loads of extra features like username length, word position, and starting letter.

You can also click on a Gamertag to check its availability across social media platforms like Facebook, YouTube, Instagram, and Twitter.

In addition, you can click on the hearty beside a username to add it to your list of favorite usernames. This way, you can create a username collection to be used later.

A sort button even helps users sort the names by length or alphabetically.
Loads of features and options available on Jimpix will help you create Xbox Gamertags in a nice font. It is one tool you should use to get the best Gamertags.
You may like to read our guide on 15 of The
Best Discord Bots
To Improve Your Discord Server.
5. Xbox Gamertag
This is a free-of-cost online instrument that individuals can access for scanning Xbox live player profiles for both Xbox One and Xbox 360.
In addition, the site even features a random username generator that helps clients generate Gamertags if they do not have one.
The Gamertag online crawler on this platform does not only show Gamertag profiles for Xbox One and Xbox 360 but even shows ongoing games, gamer scores, accomplishments, symbols, and witticism.
Some of the most important features are as follows:-
The search option is useful in effectively enquiring about gamer profiles.

Then there is a new Gamer card feature where gamers can easily flaunt their aptitudes and summarize their Xbox live profiles in a small image. Next, they can post their profiles to forums, Facebook, and websites.

This tool also comes with neighborhood proposals and recommendations by the network to make it easier for the users to get usernames if they seem stuck with their thoughts on generating Gamertags.

Likewise, the users on this site can see the details of specific games along with game reviews.

It offers the very best of ideas on creating awesome Xbox Gamertags in just a click.

Users can click on refresh to receive Xbox username suggestions and recommendations.
With Xbox Gamertag, it will get easier than ever for you to generate Xbox Gamertags of the best quality. One noteworthy thing about this tool is that it only lets users generate random Gamertags.
This means they would not get the option of adding their favorite suffixes, prefixes, or words for creating custom usernames. This generator would be perfect for those who are completely new to Microsoft or Xbox products.
6. Genr8rs
Genr8rs is a handy and easy-to-use new gamertag generator that will make it very convenient for you to generate an Xbox Liver username on the go.
Gamertag creating on this platform can be tailor-made to Sci-Fi, action, casual games, and FPSs. This is one of the best tools that can be used for creating Xbox Gamertags free of cost.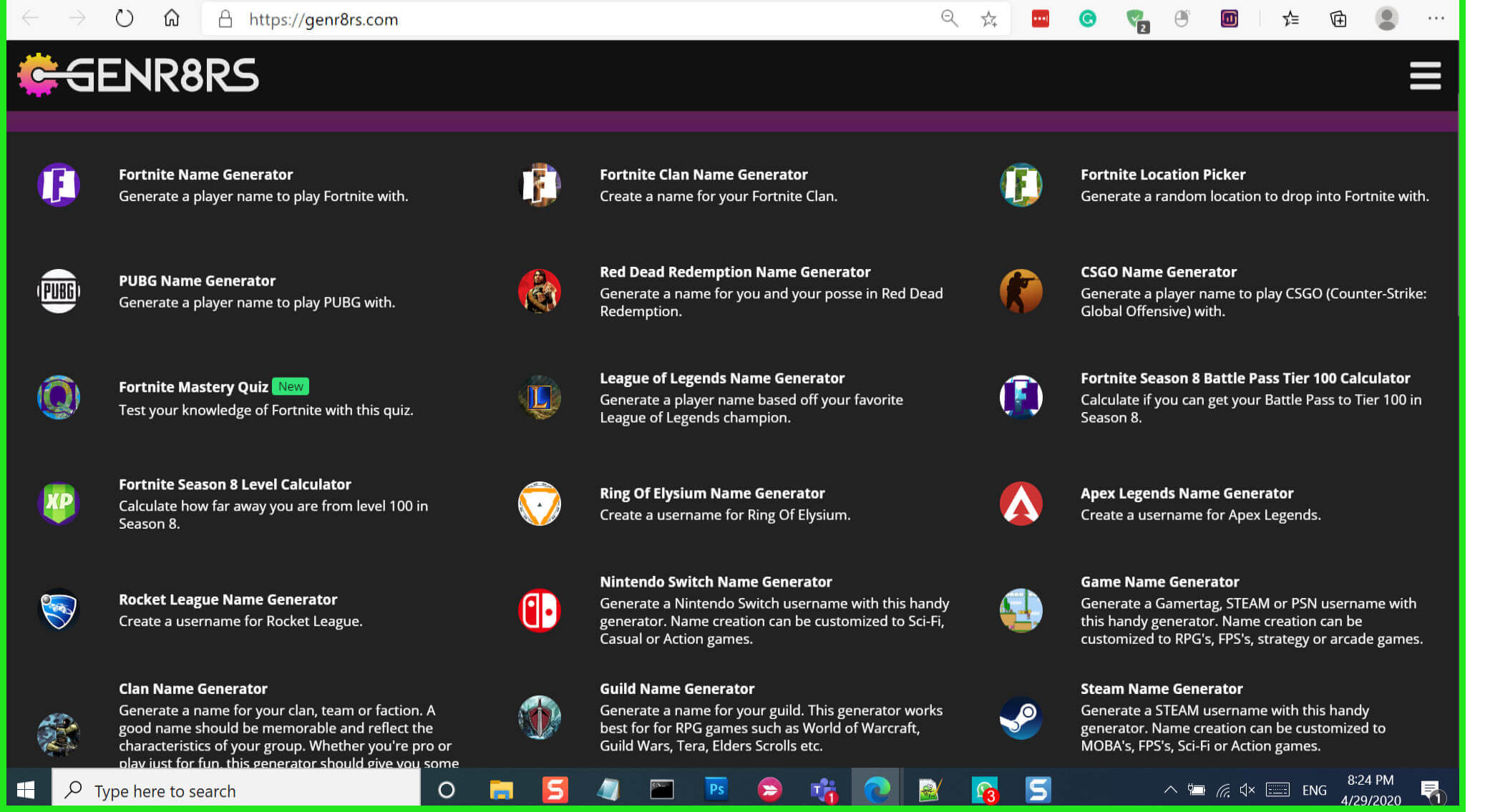 Some of the best features of the device include the following:-
It helps in generating cool Gamertags. Modern-day gamers like to use it on a very wide scale.

It is completely different from the other tools available in the market in that users get to choose the game genre for creating exclusive usernames.

Xbox Gamertags created using this site can easily be shared on Twitter and Facebook.

They can be copied at one click to be used elsewhere.
In these times of complicated and feature-rich generators, Genr8rs comes as one source where even beginners into Xbox live gaming can create Gamertags that make them exclusive and different.
7. Name Generator Fun
This free tool is probably one of the best tools that can be used for creating funny and cool random Gamertags and character names, both real and fantasy, for writers and gamers.
It will help you create something exclusive every time you use it.
It is a very popular and reliable device that allows users to make unique usernames anytime and anywhere with just a few simple clicks.
The only thing that the users need to do is select the maximum and minimum length of the username. They also need to pick the gender and then click on the button that says "generate."
Important features of this tool include:-
Just one click and Name Generator Fun generates 10 exclusive Gamertags.

It is a random generator portal that does not allow users to add their tailor-made words or numbers to the usernames. But it is always worth giving a try.

The site features a wide variety of fantasy name generators that are sure to offer the users distinctive and well-crafted Gamertags.

Popular pages of the site are for rap names and superhero names. However, there are many more options for the users to explore if they are in the lookout of Gamertags for social media and forums.

The majority of the generators on this site offer neutral gender outcomes.

The site even has a collection of name-picker devices allowing users to find, browse, and filter results based on varied meanings.
For the ones who are in the lookout of a badass, cool and funny screen name, Name Generator Fun can be the right solution.
8. Get Gamertag
Get Gamertag tool is another popular and useful Xbox Gamertag generator that helps generate usernames within the shortest time possible. Furthermore, the site also allows users to check the availability of the names generated.
Exclusive attributes are as follows:-
The process of creating an Xbox username on getting GamerTag is very easy. You need to visit the platform and choose the username you require.

Next, click on, Generate, and get random names.

Users can customize their Gamertags by adding a nickname, name, special character, hobby, and number.
Use Get Gamer Tag to create Gamertags that are exclusive and can even be customized per your requirements.
9. Name Generator.Biz
If you are looking for a top-quality random xbox gamertag generator, then Name Generator.Biz would be the perfect option. It provides thousands of cool and exclusive-looking Gamertags.
A few important features of this platform are:-
Users can add suffixes and prefixes to generate good and exclusive Xbox usernames. To make the right Gamertags, use your preferred suffixes and prefixes and click on the Generate button.

Users also can add the Gamertags generated to their favorites list. Simply click on the Gamertag you like, which is included in the list of favorite Gamertags.

The usernames saved in this list can be used later when resetting your Gamertag.
It is one of the best generator devices available on the internet. It might get addictive if you keep using this site repeatedly as it never disappoints you on your requirement of the best Xbox Gamertags.
The best thing about this site is it offers several incredible and decent Gamertag proposals. Moreover, the usernames provided are fresh and attractive as well.
✅FAQ
How do I make a catchy gamertag?
Here are some guidelines for coming up with an appealing Gamertag:-
Use puns or wordplay:- To create a play on words, try putting phrases together in unexpected ways or using similar terms.
Use your interests:– Include hobbies or other interests in your Gamertag.
Use your personality:– Try to create a Gamertag that accurately captures your characteristics by considering your personality.
Keep it short:– A shorter Gamertag is simpler to memorize and displays more attractively on screens.
Avoid using numbers or underscores:– These tend to be overused and might make your Gamertag look cluttered.
Be creative:– Instead of using a well-known or overused Gamertag, try to come up with something distinctive.
What is a OG gamertag?
The phrase "OG" (Unique Gangster) is frequently used to describe someone regarded as genuine or original.
An original Gamertag, in the context of Gamertags, may refer to a username that is particularly distinctive or memorable or one that the same player has used for a considerable amount of time.
Because they are frequently selected by players early on and are less likely to be available for new users, original Gamertags may also be more difficult to obtain.
Some gamers might even be ready to spend more money to get an original Gamertag they believe accurately captures who they are or how they are.
But it's crucial to remember that the term "OG" is frequently used informally and can indicate different things depending on the situation.
Regardless of when it was picked or how long it has been in use, some people may use the phrase more generally to refer to any Gamertag that is especially hip or desirable.
How do I get an Xbox Live Gamertag?
You must create an Xbox Live account to obtain an Xbox Live Gamertag. What to do is as follows:-
Step 1:- Open the Xbox app or the Xbox website on your device.
Step 2:– In the top right corner of the screen, select the "Sign In" button.
Step 3:- Under "Don't have a Microsoft account?" click the "Create one!" option.
Step 4:– Make a new Microsoft account by following the instructions. You must enter basic data, like your name, email address, and password.
Step 5:- You will be asked to create your Xbox Live Gamertag once you have created your Microsoft account. Pick a Gamertag that is distinctive and accurately describes you.
Step 6:– Once you've made your Gamertag, you may use it to access Xbox Live and play online games.
If another person is already using your preferred Gamertag, keep in mind that you might not be able to use it.
You will need to pick an alternative gamertag in this situation, or you may try adding numbers or other characters to make it more distinctive.
What is a good gamertag name?
The most important thing is to pick a name that is catchy, appropriate, and represents your personality.
Here are some more illustrations of excellent gamertag names:-
GameMasterG
BlazeBattler
DragonDueler
PhantomFighter
GalacticGamer
EnigmaEagle
AceAssassin
PixelPunisher
ElectricEcho
CosmicCactus
CyberSonic
TheGamingGuru
ShadowSlinger
PixelPirate
EpicEnder
NovaKnight
What is a good Gamertag generator for girls?
Here are some suggestions for gamertag names that might work for a girl:-
GamerGirl
PinkPanther
GamerChick
LadyLancer
PrincessPixel
GlamourGamer
PixelPenguin
CyberSiren
GameQueen
DigitalDiva
GlitterGoddess
PixelPrincess
GamerGoddess
ElectricElegance
CyberQueen
MysticMaiden
GamerGal
NovaNinja
DigitalDiva
You can also experiment with word combinations and wordplay to create a distinctive gamertag. For instance, if your name is Emily, you might consider using a gamertag like Emzinator or EmzGameOn.
Alternatively, you may combine your interests or favorite items to create a gamertag. Use a gamertag like FurryGamer or PawsomePlayer, for instance, if you enjoy playing video games and cats.
What is a good Funny Gamertag generator?
A few examples of amusing Gamertags are as follows:-
"PixelatedPenguin"
"SneakySnail"
"KookyKangaroo"
"ZanyZebra"
"CrazyCroc"
"GoofyGorilla"
"LaughingLlama"
"WackyWalrus"
"MadcapMonkey"
"JokesterJaguar"
Gamertag ideas
Here are a few ideas for Gamertags:-
"ShadowStriker"
"Thunderbolt"
"SilentAssassin"
"LoneWolf"
"MysticMage"
"SpartanWarrior"
"VikingVindicator"
"FrostGiant"
"DragonSlayer"
"Nemesis"
All of these Gamertags have a little heroic, action-packed vibe. If you're seeking something unique, consider creating a gamertag that captures your character or represents your interests.
You could use a gamertag like "MelodicMuse" or "RhythmRanger" if you're a major music enthusiast, or you could use something funny like "CactusKicker" or "PajamaPirate" if you prefer humor.
Can you have a 3 letter gamertag?
You can have a 3-letter gamertag, thus yes. However, because there are fewer possible 3-letter combinations, it could be more challenging to find a 3-letter gamertag that is available.
It's also a good idea to examine the rules and guidelines of the online gaming platform you're using because some may limit the minimum length of Gamertags.
Try a gamertag with a different length, or one with digits or special characters, if you're having problems locating a 3-letter gamertag that is available.
Online screen names and gamertags typically have no expiration dates. However, some online gaming companies might have rules permitting them to reclaim inactive or unused gamertags after a predetermined amount of time has passed.
For instance, the platform may recover a user's gamertag and make it available for others if they haven't signed into their account or used it at a particular time.
To determine if there are any provisions for reclaiming inactive gamertags, it's usually a good idea to examine the exact norms and rules of the site you're using.
What is a classic gamertag?
A classic gamertag is a screen name that has stood the test of time, has a certain level of prestige, and is timeless.
The user's interests or personality are frequently reflected in classic gamertags, which are frequently plain, easy to remember, and uncomplicated.
For someone who likes action-packed games, a typical gamertag may be "Knight" or "Warrior," whereas "Mage" or "Wizard" might suit someone who prefers games with magical or fantasy themes.
Other well-known gamertag variations include "RedDragon" or "GuitarHero," based on the user's preferred color, creature, or pastime. Ultimately, a user's interests and inclinations will determine what constitutes a "classic" gamertag.
Microsoft launched the Xbox Live online gaming service for the Xbox system in 2002, enabling players to create and use gamertags as their usernames when playing online.
Users had a lot of latitudes to create imaginative and distinctive screen names at the time because gamertags could be up to 15 characters long.
Microsoft unveiled the Xbox 360 gaming system in 2010, along with a new iteration of the Xbox Live service. As part of this update, the firm chose to limit Gamertag's maximum length to 12 characters.
According to the corporation, longer gamertags were more challenging to memorize and enter, making it harder for gamers to find and converse with one another.
The maximum Xbox gamertag length has remained at 12 characters ever since. However, users can still select shorter gamertags if they'd like.
Microsoft has not mentioned any plans to modify the maximum length of Xbox gamertags.
Conclusion
Choosing a good-looking and exclusive Xbox Gamertag is not an easy thing to do. You must get a memorable, cool, attractive Gamertag that describes your name and game most eloquently. 
Going on your own with this venture might not bring any results because, in the end, you will find that the Gamertag you have come up with has already been taken.
This cannot be very pleasant. To save yourself from this frustration, make it a point to use the Gamertag generator tools detailed above. These tools will not just help you in getting the best Gamertags but will also assist you in checking the availability of the names created. 
Thus, in a way, they will save you from the hassle of generating Gamertags and then checking their availability online. Use them for generating usernames randomly or as per your personal choice. They will make the whole process of generating Gamertags easier and more convenient for you.