If you have played games that involve building cities, then Banished comes to mind. It is safe to say that it is one of the best games you could have laid your eyes on to build cities. There is something magical about this game that keeps on lingering in your mind. 
Isn't it?
We agree. If you have not played it yet, then you have missed out on a fantastic strategy game. The game is more than building cities, towns, and villages. It is all about planning and strategizing intelligently. 
That is because each city, town, and village is different from each other. The variables change. You need to dedicate the right kind of human resources for the work. In a sense, when you want to build a home, for farming, teaching, and the rest.  
You want to be able to help people to restart their lives all over again for the better. Of course, this requires a new place and a new life. You want to be part of that, don't you? Finding the best games like Banished is quite a task you see. 
It is near to impossible. That is because it is a unique game that comes with its characteristics. However, you can find some games that come with their personality and features. 
Why was Banished so popular among gamers? Well, there must have been something about this game that drew crowds from all over the world. Let us see a few reasons briefly before we move on to games like Banished. 
Perhaps, it may help you find the game that you are looking for on our list. You never know what you were missing out on. 
The first reason being the lack of military in the game. For some gamers, it is all about the lack of something that draws them towards the game. Maybe you are a parent who wants your child to play a futuristic game that can help develop their character. 
Perhaps, you are a gamer who wants something peaceful, without those loud bangs and shootouts. In this game, your sole task is to build something from scratch. That is it. You may not mind those lone wolves or bears, but please, for once, no military. 
Secondly, you can find everything that you want, right in front of your eyes. For example, you need wood, and it is right there, you want a stone, it is there. You can find anything. This helps build a village out of nowhere. 
You play at your own pace and according to your need. Not to mention, the graphics and visuals. Though the game outwardly might not be very appealing, once you are playing it, you are hooked in. 
We are not surprised that we are researching games like Banished. As a gamer, you know that feeling once you play a game. You know that it is going to be popular and people are going to come back for alternatives. 
These were some of the reasons we felt that made this game popular and the fact that you are here wanting alternatives. It just goes to show how much you love this game. Well, we do not want to take more of your time. Let us get going.
The games' list is based on our research and, more importantly, feedback written by gamers. Most of them had beautiful things to say about the games below. We also took the advice and suggestions of professional players before compiling the games. 
Best Similar Games like Banished: Our Pick 👌
1. Rimworld
When you are on the lookout for a Similar Games like Banished, then Rimworld first comes to mind. Though this is an early access game, it comes with a 10 rating. Many gamers would be familiar with this game.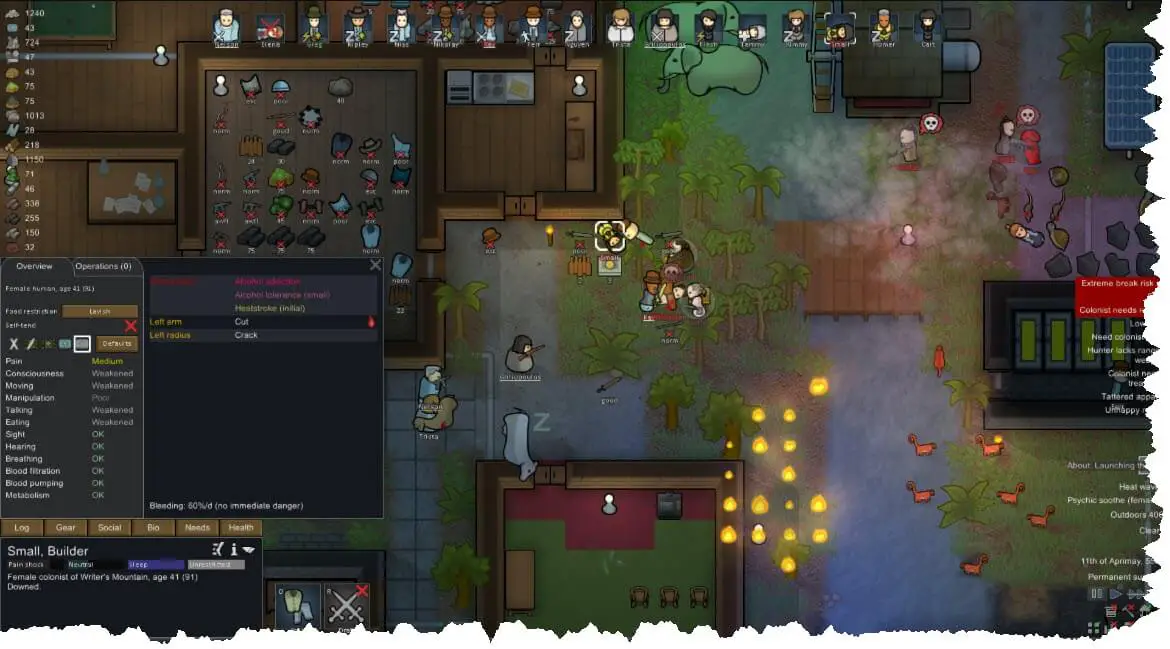 But, we will take a look at it briefly and find out why Rimworld is special. This is a science-fiction game that offers you complete control of survivors. As their in charge, you have to manage their needs and wants. 
Each of the characters in this game come with their own features and character. Nobleman will not want to do any physical work. Sounds weird, well that is the whole idea of the game. You have conceptualized it. 
You can train beasts, tame your pets, trade ships, and even decorate your colony. Not to mention, you can build settlements in this game. They can either marry or fight with each other. This game comes with several variables, and you can feel sorry for the makers. 
Gamers are amazed by the fact that the game comes with numbers and values. This game comes with management and strategy. It is between Dungeon and The Sims, and you are also reminded of the Prison Architect. 
The game is about having drama in your life. You can expect some things that happen at the wrong time. Some missions are not helpful and make your life miserable. You can learn to go along with the game's penchant for disaster.
Gamers are also provided with some useful skills, like teaching and hunting. These inject some traits within you for you. There are so many characters in the game, like the bounty hunter who is a vegetarian and is lazy, then you have people who do not speak or text. 
You have a plan for them. Not to mention, you must take control of the zones and points of the game. Yes, the user interface is not up to the mark. You do feel irksome with those parts. 
But, the real fun occurs when you can make use of the colony according to your rules. What happens if you can strategize well. You can find some in-fighting and rivalries in them. When you go ahead with the game, mythical beasts and drones come out. 
On the whole, Rimworld comes with ample features and flavors in the game. You can manage to go pass through each day, and at times, things can become complicated. However, the colony of yours leads to survival. 
It is safe to say that the game comes with its own moments and its attempt to bring you engaging stories.
2. Cities: Skyline
Cities: Skyline is the next game on our Games like Banished list. This construction simulation game provides you with an opportunity to build a skyscraper.
You are the mayor. Not to mention, you have to deal with several issues like power, education, and the health of your citizens. 
These are the characteristic features of any city. For example, in real life, managing a city can become a real chore. It would help if you had your eyes all over the play. We liked the traffic features of this game as it seemed very realistic. 
You are the God of the city and need to come up, make sure that your citizen's dreams are brought right. As a gamer, you are given a city of the size of 4 km. Then you can increase the size of the land depending on the resources that you have at hand. 
The aspects of a city are well embedded in this city. You can find people driving cars on the road, jogging in the park, and taking their dogs for a walk. All these elements infuse some character to the game. 
Most of the buildings in the city are quite detailed and give you a beautiful appearance. At times, you feel totally lost. For example, when you hit a specified population and do not know how to address it, they leave the city. 
Instantly several buildings are abandoned. You are then faced with significant challenges like fire. Gamers have complained of a lack of excitement. But that can vary from person to person. Some like to think in a calm mind. 
But, that is not what being a mayor is all about. The game comes with its highs and lows. There are powerful but flexible tools that allow you to work in tandem. You also have a city that looks great and comes with immense features. 
Unfortunately, the problems are opaque, and the cities are, at times, uneventful. Cities: Skylines is not only about building apartments but comes with amazing features where you are in total control of the entire city. 
You are about to be transferred into a virtual world where your citizens are lying in wait about what is in store for them. You can create something simple and easy for them. At times, you feel that no matter how efficiently you work, the growth seems slow. 
You do not want to expect random events, but ensure that you are impressed with the scale of moving parts. When you love the fact that you want to own a city, virtually, and create something based on your imagination and innovation, this game is definitely definite. 
You will also like the day and night where traffic reduces, and people take rest.
Cities: Skylines - Release Trailer
3. Age of Empires: Definitive Edition
There is no denying the fact that Age of Empires is a classic. When you are looking for a game where you need to plan and organize, then nothing better than this. We won't act surprised if most of our readers have already played a version of this game. 
It is widespread and famous globally. This is one of those games that allows you to choose the civilization you want to play. You can develop and build. For example, you can also select the ancient civilizations of Malay and Burmese.
However, the plot is the same. It has been going on quite strong for more than 2 decades now. We have faced several strategy games, but this one has been able to stand the test of time. 
It gives you adequate control over your concepts and ideas. You begin with a village with people around you. There are resources at hand, and you need to decide how to utilize them for the benefit of the nation. 
Planning an assault within a walled city comes as a massive investment. You see, they are expensive, and at times completely fall apart. There are more than 24 campaigns for you to delve into. 
Each of them comes with its own history. Not to mention, they are several narrative moments where you feel out of hand. You may be able to win all the missions, but there is an exciting aspect in each of them. 
Perhaps, the makers wanted to preserve their famous visuals. But we never know. The game is good, and you can find yourself in moments where you want some trouble happening around. All you need to do is take an army and attack those around you. 
Age of Empires: Definitive Edition is way better than the HD version. It gives you a whole new dimension of the Age of Empires 2. Having said that, it is not meant for those of you searching for something new, but for those who are enamored with the original game.
4. Life is Feudal: Forest Village
Life is Feudal: Forest Village ranked fourth on our Games like Banished list, and this is a building simulation game. It comes with plenty of planning and strategy. You have plenty of things to think about, like designing homes, farms, pastures, and growing animals. 
Unlike other games, where you are cut off entirely and only come back when something has happened, here you have a hawk's eye on things happening around you. Realism is what hit us in this game. 
5. Folk Tale
Folk Tale is another game that is based on village surroundings. Similar to the previous game, this one comes with a bland, but interesting plot. There are some actions and strategies here. You have to recruit people to evade the bad ones and loot at times too. 
It comes with a barrage of things to do like training people, managing the needs of your villagers, researching new technologies, and so on. Folk Tale is a game that you want to download and play today. 
6. Stronghold HD
Stronghold HD is one of the best games in this genre. It is not surprising that gamers all over the world rate this game highly. More than a building simulator, this is like a war game, where you get to build and destroy castles if you want to. 
This is a real-time combat game, which is based in a village environment. Those of you, who love the relaxed greenery and surplus food in rural England, would appreciate the visuals here. Very often, you do not come across games that come with a compelling storyline like this game. 
Gamers can simulate castle sieges for those who are keen to know what is present on the premises. Two campaigns are in here, leaving you with nowhere to hide or run. You have to combat and think about the economy of the land. 
You must make up goods within the timed mission. This management simulation game is shallow too. As a gamer, you have to design miners, woodcutters, and farmers. Then bring them for work and assign them specific tasks. 
The secondary producers are intended to make weaponry. You are faced with a catch 22 situation here because you have to tax your people but ensure that you provide them with sufficient food. 
When your people do not get food, then they may leave your land. That leaves you with a person out, and you are less on tax. You can provide them with an alternative shelter like a church or something else. 
The overall game plot is simple and easy to follow, unlike other games, where you need to be a professional to get the hint. You need to keep an eye on the kind of building that you want to develop. 
That is because, in some missions, certain types of buildings are not allowed. Your enemies tend to enter from the structure that you do not want them to. When you are able to access the advanced units, gameplay becomes interesting.
You can make use of the pikemen to prepare for battle against your enemies. Gamers think that this game is quite similar to the Age of Empires II. The visuals are good but could have been done better. 
When arrows and projectiles are in the air, there is a blur on them. The soundtrack of the game is fantastic. You can also find some funny comments when attacking the enemies. Stronghold HD isn't only about campaign play. 
There is plenty of variety in the game, and you can make use of the economic scenarios. Of course, you have a wide range of stand-alone modes, which are combat-oriented. Gamers will like the multiplayer mode that comes with many different games. 
You want to defend your possessions against opponents who are more intelligent and can pose a challenge for you. It comes with its own flaws. But, if you are alright with them, then this game can give you thrills and excitement. 
You will realize that you have sufficient options and hours of play protecting your castle.
7. Planetbase
We have Planetbase that is on our list of games like Banished. The name is Planetbase as it is set in space, not earth. Other games on this list are based on earth, though few games are futuristic. 
That is what can be expected from games that come with a building simulation. You control the settlers who want to build something on your planet.
Yes, it gives you a feeling of Rimworld. This is when you come in and tell them to develop proper buildings for survival. 
Since they need food and water, they have to make arrangements for that too. Each of the colonists comes with unique skills that need to be recognized and tapped by you. As the in-charge person there, you must see that they are in the right place at the right time. 
Gamers have failed a couple of times, but that is the fun purpose of it. You have 4 planets to play where each level is slightly more stringent than the previous world. Sometimes things can slow down where you are actually waiting for something to happen. 
Those of you, who are fast-paced with plenty of action happening around, will be left sour. While it is fun and immersive, these few moments leave you for more response. It is a good survival game, and we felt that the AI was not really required there. 
Talking about the devices you want to play it on. You can play the game on your PC, Xbox One, and PS4. However, the PC experience was the best because you can leverage your position accurately. 
The planets are mostly barren and dry. Even the weather effects are quite similar, and you feel like you are repeatedly watching the same scene. We were impressed with the fact that the game did not freeze even once. 
Probably the lack of too many graphics and inputs in the game help this cause. But it is a nice feeling. You do not want to expect too much from this game like Cities: Skyline, Rimworld, and Age of Empires that are in their own league. 
You can zoom in on the buildings as and when you want to. This way, you know where to find the things that need it. When you sort of solve a problem, another one pops up immediately. You might want to keep an eye on the flow of trade.
We felt that the makers could have infused some more customization into the game. You can feel the lack of it during the middle of the game. Not to mention, you have only 3 kinds of buildings to set your target. 
That has got to improve. Planetbase comes with an excellent story and is, of course, viciously addictive. The controls are intuitive, and the engine performs exceptionally well.
As we said, the lack of customization is there, and they need to come up with more buildings. 
The game is very addictive instantly. If you have not tried it yet, then you might want to play the game, to understand that feeling. However, as the game wears on, you realize that they could have infused some more creativity into it. 
Overall, it is a worthy game of your time and $20.
8. Factorio
Eight games on our Similar Games like Banished list is Factorio, which is a building simulation game. From the name, you can easily make out that it has to do with constructing factories.
You have to manage the buildings' infrastructure and take care of the research and development. 
To begin with, there are small chores like cutting down trees, designing mechanical arms, and mining ores. From then on, you are made to do tedious tasks using large machinery and robotic tools. 
However, once you begin doing that, your adversaries will come knocking on your door, and you have to protect what you build. At the end of the game, you find yourself making a rocket to launch up in the air. 
But, there is a lot to do before you reach there. You have tons of construction work to do with conveyor belts, robots to transfer items, and mining your resources. It comes with a great tutorial that helps you get out of trouble. 
The game delves into automation. If you are a fan of automation or like robotic things, then this game will tingle your taste buds. You see, automation needs a lot of power that you can either generate by using coal or forms. 
At times, with the tons of conveyor belts and other items in your view, you forget where what is which. This can be slightly annoying. But, when you get used to the game, you will thoroughly enjoy it. 
You can play this game for hours, not knowing how time gets by you. Perhaps, you would want to marvel at your buildings and creativity.
Yes, it cost you money, a little more than $20. Having said that, when you are not a fan of management simulation games, then you might want to look elsewhere. 
The best way to decide on that is to make use of the demo. Summing up, this game is highly addictive. Even professional gamers have agreed on that. There is the right amount of active development taking place that encourages you to carry forward. 
The modding support and depths of gameplay are immense. At times, the game can look as if it is daunting you and if you do not like the genre, then you may not prefer it.
Factorio is a definite must to download through Steam thanks to the high levels of gameplay. 
9. Anno 2205
Next on our list is Anno 2205. By far, this game comes with some of the latest graphics when you search for a city-building genre. Hence, it is on the list. But, the story and certain features downplay and otherwise, sincere effort taken by the makers. 
From the name you can make out, the game is set ahead of us. You have to plan and build buildings for the cities. At times, you also have to travel to space. Yes, you are right up there. You require ample resources and power. 
The Earth is in terrible shape at the moment. Society is fractured, and people are not happy with things around them. You need to take something from the start and begin anew. The game makes construction seem effortless. 
You seem to be enjoying the chore. However, terrorist organizations can launch attacks on their cities and destroy them. The only thing you need to keep in mind here is not to go in the red. When you do, you will need to make use of the emergency loan.
You would love to use the side missions in this game. When you are careful about those around you, these resources can be used for constructing buildings.
Do you want to play Anno 2205? Overall, you, at times, get a feeling that the developers have overdone things here. 
When compared to other basic games like Kingdoms and Castles, this one is high up there. Apart from that, there are some issues with the technical side too. As you are playing, you might be able to move to another map instantly. 
It takes quite a while to load, and that can be a hindrance to you at times. The equipment you use does not matter. When you are playing a strategic game, things have to move fast. You may forget your plan or decision when things take time to load. 
Apart from that, Anno 2205 is a game that can blow us away. We can definitely say that it is much better than Anno 2070. The set comes with a satisfying city construction ability that lives up to its potential. 
10. Kingdoms and Castles
Finally, we have Kingdoms and Castles on our list of games like Banished. Like the name implies, your task is to build kingdoms and castles. 
Well, you have to increase the size of your town to a large city. Sounds interesting, doesn't it? Your challenges come in the form of people within your own city. Viking raiders will pay you an unpleasant visit to kill and destroy. 
Not to mention, they will take away your peasants and resources. What will you do then? Apart from that, they can even burn your entire city down within seconds. To save your city from ruins and destruction, you have to construct a huge castle to protect you from these attacks. 
As if that were not enough to keep you on your toes, you must ensure that your workers are well fed and do not fall sick often. Otherwise, your construction work gets affected immensely. You may not be able to build everything on time. 
You have to tax them so that your resources keep flowing in. Without sufficient resources, you cannot complete projects on a large scale. You can also make use of options where you get to have festivals in your city. 
The design and the user interface of the game are very mightily simple. Even a new user would breeze past through everything. It may not be on par with your Rimworld, but it is worth giving a try. 
One professional gamer has said that this is a fantastic game, not because he loves armies, dragons, and Vikings. You can grow your kingdom and when you are not at strategy then this game is a must. 
When professional gamers have spoken, it is time to listen to them. We are sure that you would enjoy this cute game full of ideas, strategies, and dragons waiting to burn up all your hard work. 
Kingdoms and Castles - Trailer
Summing up 
There you go. These were the best games like Banished. Other games may slowly be developed and released in the market. As of today, you can rest assured that most of these are the ultimate strategy games. 
When you prefer a city-building genre, then it is these games. So, what were the best games? We leave that up to you. Everybody's preferences and tastes are not the same. We hope you enjoyed reading the alternatives that we have listed above. 
We felt that the best options for you, when compared to Banished, would be Rimworld and Age of Empires. Of course, our opinions and ideas may not be the same as yours. You may find something else on the list that you prefer playing. 
Each game that we reviewed comes with its own flavor and elements that you would find attractive. We suggest that you begin playing those games that you are yet to play. It can help your cause here because most of the time, you end up preferring them. 
Not to mention, you can play them on different devices. Most of these games, like City Skylines and Township, can be played on your smartphone.
Perhaps, they can recharge your mind and body before a meeting with a client or when you are going to have a long day. 
If you do have opinions about games that we have not listed above, please leave your ideas on them. We would love to know what those games are and why they deserve to be on the list. 
Keep building and strategizing.