It can be frustrating when your hardware or software inexplicably stops working. Razer produces reliable products which are why the problem of Razer Synapse, not opening is both surprising and distressing to many.
This article will introduce you to Razer Synapse if you're not familiar with it. It will also discuss all the possible fixes to the problem of Razer Synapse not working.
What Is Razer Synapse
Razer is a technological and electronics company of Singaporean-American origin. They specialize in building software, hardware, and rendering services for tech enthusiasts in general, and gamers specifically. 
Razer's software, Synapse is designed to be the interface for many of Razer's products and services. Synapse comes preinstalled on Razer laptops, and it is also recommended that you download the software if you are getting a Razer keyboard or mouse.
Synapse serves as a unified configuration software for Razer. It allows you to personalize and configure your controls as well as assign macros to Razer devices. One of its most interesting features is that it allows you to save your preferences to the cloud.
Saving your preferences means you won't constantly have to change settings manually each time you are using a Razer device. This simplifies configurations because you can pull your previous configurations from the cloud when you need them.
How To Fix Razer Synapse Not Working
It isn't too complicated to fix the problems of Razer Synapse not working. With a few simple steps, you can solve the problem. As long as the hardware itself (keyboard, mouse) is not defective, these steps will be effective.
You should also remember that the solution you'll take depends on what caused the problem. Finding out the reason why Razer Synapse is not working is a large part of solving the problem.
Here are a few possible causes of the error:
Corrupted Synapse software files

Outdated Windows

Outdated or corrupted drivers

Virus

System requirements not met

Wrong system settings
If you've tried these fixes and Razer Synapse is still not working, the problem may be a hardware problem. So, let's dive straight into solving the issue of Razer Synapse not working.
1. Restart Computer
Restarting the computer is the most basic troubleshooting method. Its genius is its simplicity. All you have to do is click the restart button, and often the problem that seemed so insurmountable disappears.
One reason why restarting your computer is effective is because it allows the operating system to refresh itself. Any corrupt temporary data that was causing problems are removed during a restart. 
Furthermore, restarting your computer forces all programs and applications to close. If software or application was interfering with Razer Synapse, it is forced to close.
So, before attempting any complicated fixes, give your computer a refresh by restarting it.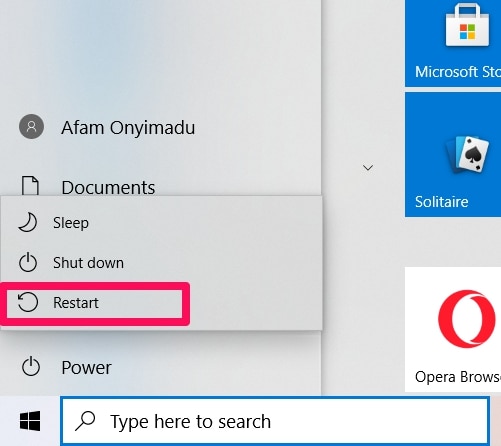 2. Update Windows
Updating Windows does for your operating system what restarting the computer does for your computer. It allows Windows to refresh itself and resolve any underlying issues.
You should be aware that no Windows version is perfect. There are always a few bugs and vulnerabilities which an update usually takes care of. Also, an update solves many underlying hardware and software problems that may be causing Razer Synapse not to open.
If there was a compatibility issue between Razer synapse and the previous version of Windows, an update is likely to resolve that too.
Search for Updates with the Cortana search box, click on Search for updates and follow the prompts to update Windows.
3. Reinstall Razer Synapse And Razer Device Drivers
So far, in our analysis, we have assumed that the Razer Synapse software was not defective. That is not necessarily true. There may be a corrupted Synapse software.
There are several reasons why Synapse software became corrupted. One major reason is that occasionally invalid or fragmented entries are made in Windows Register. This usually happens during installation or updates of the software.
Another reason for corrupted files is malware. Malware can change files and thus prevent software from working. This is particularly true if you download software from unsecured sites.
Regardless of the reason for the corrupted Razer Synapse files, uninstalling the software and reinstalling it is a good fix. Here are the steps to uninstall the Razer drivers and software:
Select the device manager by right-clicking the start button, double click on "Mice and other pointing devices" if you use a razer mouse or "Keyboards" if you use a razer keyboard. Double click on whatever category of hardware you want to uninstall the driver for.
Right-click on all the Razer devices In the category you opened and tap "Uninstall device".
Click the Uninstall button to confirm, and unplug the Razer devices for which you have uninstalled the drivers for a few minutes. Restart the computer and plug the devices back in. The drivers will automatically begin to install.
Download Razer Synapse from the official website.
Uninstalling the drivers and reinstalling them resolves any compatibility issues or errors in the previous installation.
4. Uninstall Razer Surround
For the problem of Razer Synapse not opening or freezing, uninstalling Razer surround is a proven way to repair the error. Razer Surround sometimes has the effect of stopping Razer Synapse to stop opening.
While downloading Razer Synapse you can also disable Razer Surround from your Razer account. When you connect Razer Synapse to the Internet, you'll usually get some notifications. Click the Razer surround notification and choose the option to cancel the installation for it.
If Razer Surround is already installed follow these steps to uninstall it.
Open the run menu by pressing the Windows key and R simultaneously. In the Run text box type appwiz.cpl, then click ok.
Select Razer Surround and click the uninstall option
5. Install The Latest Microsoft .NET Framework
Another step you can take to solve the problem of Razer Synapse not opening is installing the latest .NET framework. Razer Synapse has system requirements that must be met before it can work on the computer.
Some of those (minimum) system requirements include:
200MB hard drive space

AMD Radeon X600 or NVIDIA GeForce210 graphics card

Intel Pentium4 1.8GHz or AMD Athlon XP 1700+ processor.
Another requirement is the .NET framework. The .NET framework is a framework for building and running software. It is part of the .NET platform which is used on building software for different operating systems.
If you have the framework, you might need the latest version to be able to run Synapse on your computer. Go here to download the setup wizard for the framework, and follow all the prompts.
6. Turn Off Windows Defender Firewall and Third-Party Software
Windows firewall is designed to protect the computer from malware, viruses, and other threats. As part of its operation, it stops the computer from accessing some websites and using applications it deems as dangerous. 
Though Razer Synapse is not a dangerous site, the firewall may be preventing you from opening it. Disabling the firewall is a good way to test this. Some users have reported being able to open Razer Synapse after disabling the firewall.
Third-party software also sometimes falsely flag Razer Synapse and prevents it from opening. Try disabling the antivirus and see if the problem is resolved. This is not a long term fix, however, because you need your firewall or/and antivirus to protect your system.
If this step proves successful, either update the antivirus, it downloads one that will not flag Razer Synapse as dangerous.
This is how you disable the firewall.
Simultaneously press the Windows key and R. In the run text box type firewall.cpl and hit Enter.
In the Windows Defender Firewall panel, click Turn Windows defender firewall on or off.
Select both "Turn off  Windows Defender Firewall" buttons, then click ok.
7. Close Razer Processes
Some users have noted that closing Razer processes before opening Razer Synapse is a good fix to the problem of Razer Synapse not working. 
Razer processes refer to the background processes that come as part of a Razer installation. These processes begin running immediately you turn on the computer, even if you're not using the software.
To close Razer processes, right-click the Task Bar and select Task Manager, then select any Razer process listed as a background process and click End task. Thereafter you can close the Task manager and run Synapse as an Administrator.
8. Remove Software
If you noticed that Razer Synapse stopped opening after you installed or updated software, you should disable or uninstall that software. 
Some software interferes with the operation of other software, and this may be the case with Synapse.
Conclusion
Razer Synapse allows you to manage your Razer devices. You can customize your devices and personalize your use. 
When Razer Synapse has issues, it can be distressing, but this article explains what you should do to solve the problem quickly.