Emails are one of the most important communication platforms we use daily. From conducting our business deals to our personal affairs, we use emails for leading communications and conversations. With that, your inboxes must remain clean and clutter-free.
However, there's always a swarm of unwanted emails in your inboxes. You may not even understand the source of some of these emails, and others may be from a service you subscribed to or a website you visited and unknowingly got subscribed to their newsletter, etc.
Whatever the case, clearing these emails from your inboxes will be very hectic.
Moreover, unsubscribing to them so that you do not receive any more emails like that shall be a big task in your hands too. So, it would be best to have a solution to help you manage all these unwanted emails simultaneously.
Luckily enough, you can use Unroll.me alternatives. Let's dig into more details about this application for email management.
What is Unroll.me?🧐
Unroll.me is an email management service that helps you unsubscribe from unwanted and spam emails while consolidating all these kinds of emails into one email.
This service gives you complete control over your email inboxes to ensure they are clutter-free and you never miss out on the emails that matter.
You can easily unsubscribe to the emails and newsletters you don't wish to receive. Additionally, you can selectively unsubscribe to those emails so that you may receive the emails you want to receive and shut out the ones you don't want to receive.
Moreover, since these subscribed emails and newsletters are consolidated into one single mail, you need not go through a lot to delete them. Just one single click and you're done.
With all of that, you can have a well-managed inbox that will never let you miss out on important emails.
However, as good and popular as this service is, and even with the fact that it is free, you may not want to use it, considering that it has some serious issues regarding user privacy.
It is buried in the fine print of Unroll.me Privacy Policy that it takes access to the user's private information and sells the same to third-party applications.
This is neither compliant with the GDPR rules, which makes this application unusable for people in the EU, nor is it a viable option for anyone who keeps privacy at the core when using any website, application, product, or service.
Considering these things, it is only fair to look out for some Unroll.me alternatives to help you manage your emails. Well, there are many options available.
Let us acquaint you with some of the best Unroll.me alternatives.
Best Unroll.me Alternatives To Clean Up Your Inbox
Because your inbox is always full of unwanted emails and newsletters, which causes you to miss out on important emails, you need a service to help you clear the clutter and make things more manageable.
Now, Unroll.me is an excellent and free email management service; however, it hardly cares for user security and privacy.
So, you would want to look for an option that could provide similar services and ensure that your personal information and data remain private.
Fortunately enough, there are many options that you can try. Here, in this article, we are presenting you with some of the best Unroll.me alternatives that will do the work for you just fine, if not better.
1. Clean Email
If privacy is at the core of your requirements for an email management service, then Clean Email will be one of the best Unroll.me alternatives you can try.
With very similar functionalities and features like Unroll.me, Clean Email makes it a point never to read your emails.
The application's algorithm is designed only to read the necessary information required to categorize the emails and help you better manage them.
Moreover, after 45 days, all the data the application took from your inboxes get deleted automatically from the server. So, as far as your privacy is concerned, Clean Email keeps it intact at its best.
Besides that, the application consolidates all your email and newsletter subscriptions into one single list. You can go through the list and unsubscribe to the ones that are no longer important and useful to you.
Moreover, you need not worry about categorizing your emails either. Clean Email's algorithms do it all for you. Additionally, you have features like reading Later, wherein you can put any email to go through later.
Also, you need not worry about the email service you are using since Clean Email is compatible with almost all of them.
2. Leave Me Alone
When you have too many emails in your inbox that you have nothing to do with, "Leave Me Alone" is what you wish to say to those messages.
Well, this application heard your feelings and devised the solution you needed.
Leave Me Alone is an excellent email management service that helps you clear out all unsolicited and unwanted emails in your inboxes.
The application shows you all the emails you might not wish to receive and makes it possible to unsubscribe from them in just a single click.
It does this by gathering data on the user behavior regarding how different emails by different senders are treated. However, the data-gathering algorithm is strictly anonymous, so you need not worry about your privacy getting breached.
Additionally, you can disable the data-gathering feature if you wish the application not to receive or read any of your information.
You can even disable your account at any moment, after which all your data automatically gets deleted from the application's servers.
So, you can keep your security and privacy intact and have a complete email management solution to keep unwanted emails at bay.
The only issue with this service is that it is paid. Of course, there is a free version; however, it allows you only up to five emails to unsubscribe.
But the paid plans are not very costly either. They start at $2.5 a month and allow up to 50 emails to unsubscribe. It's a fair enough price to pay to keep your inboxes managed while also making sure that your privacy is not breached.
3. Unlistr – Unroll.me Alternatives For Outlook on Microsoft 365
With highly secure features and patented technology to help you unsubscribe from unwanted emails and newsletters and manage your inboxes better, Unlistr is a great free tool that you can use as an alternative to Unroll.me.
This tool's patented technology automatically finds all the unsolicited and junk mail in your inbox and creates a list of them.
Once it presents that list to you, all you need to do is click on the unsubscribe button, and all these emails will be gone for good.
Additionally, the application keeps track of blacklisted users and senders and ensures you don't receive spam emails from such accounts.
The best part is that the tool does everything over a secure connection since everything is automatically managed and configured over TSL/SSL encryption.
So, your privacy remains intact, and you remain in better control of your emails, with your inbox remaining clutter-free.
4. Cleanfox – Mail & Spam Cleaner
Cleanfox is another email unsubscriber solution that you can use to clean up your mailboxes of all the unsolicited and unwanted emails that are nothing more than a piece of spam or junk.
You just need to link your email account with Cleanfox, and grant access to the application, and once the application reads your emails, you can delete them and unsubscribe from them in a single click.
Now, while this is just like any other email unsubscriber and inbox management solution, there is an environmental motive behind the launch of this application.
The application not only aims to help you get rid of unwanted emails so that your inboxes look cleaner and better managed, but it aims to eliminate the overall environmental impact caused by emails.
For a fact, every single email leads to up to 10 grams of carbon dioxide emissions. So, if you can control the number of emails you receive, you indirectly control the emission levels to at least some extent.
Considering this factor, you must avoid receiving spam and unwanted emails, and the best way to do that is to unsubscribe from them.
Having a service like Cleanfox shall make the task easier and ensure your privacy remains intact as you clean your inbox of emails and subscriptions.
Download the App from Google Play Store
Download the App from Apple App Store
5. Sanebox – Email Management for Any Inbox
If you are looking for an email management service or application that is easy to understand, simple to use, and comes with no additional needs or requirements, then Sanebox is a catch.
This tool automatically integrates with your emails once you login through your email address on its website.
You need to go to the Sanebox website, enter your email address and password, and there, you are all set to start using Sanebox to declutter your inbox.
After Sanebox gets access to your emails, it starts reading and filtering through them. All the unnecessary, unsolicited, spam, and junk emails automatically get transferred to a different folder.
You can visit this folder regularly, delete these emails, and unsubscribe to the source they are coming from. It's that simple and easy to use this email management solution.
Now, if you are worried about the application having access to your entire email account, you need not worry. The application takes access to do only the needful, and everything is strongly encrypted with a private key.
So, your emails, messages, and all other personal, confidential, and private information remain private.
With that kind of ease of use, simplicity, and privacy protection, we can only say that this would be the safest and easiest alternative to Unroll.me that you would use.
Download the App from Apple App Store
6. Polymail Unsubscriber
Another extremely simple and easy-to-use solution on our list to unsubscribe from unwanted and unsolicited emails is Polymail Unsubscriber.
This is not just an email unsubscriber solution but a complete PC client email software. This software has a built-in Unsubscriber button that you can use to unsubscribe to the emails that you no longer wish to receive.
Besides helping you unsubscribe to unwanted emails and declutter your inbox, this solution even helps you manage your entire email inbox right from within the application.
So, you get better control over your email accounts and inboxes, and you can keep better track of all your important messages and business communications.
7. Mailstrom
Another Unroll.me alternative on the list is Mailstrom, and the best thing about this tool is its uniqueness in how it helps you manage your inboxes.
Unlike other email unsubscriber tools that use some algorithms to identify unwanted and unsolicited emails, this tool uses human instincts.
The tool reads through your email behavior and checks the emails you have been opening and the ones you have been conveniently ignoring.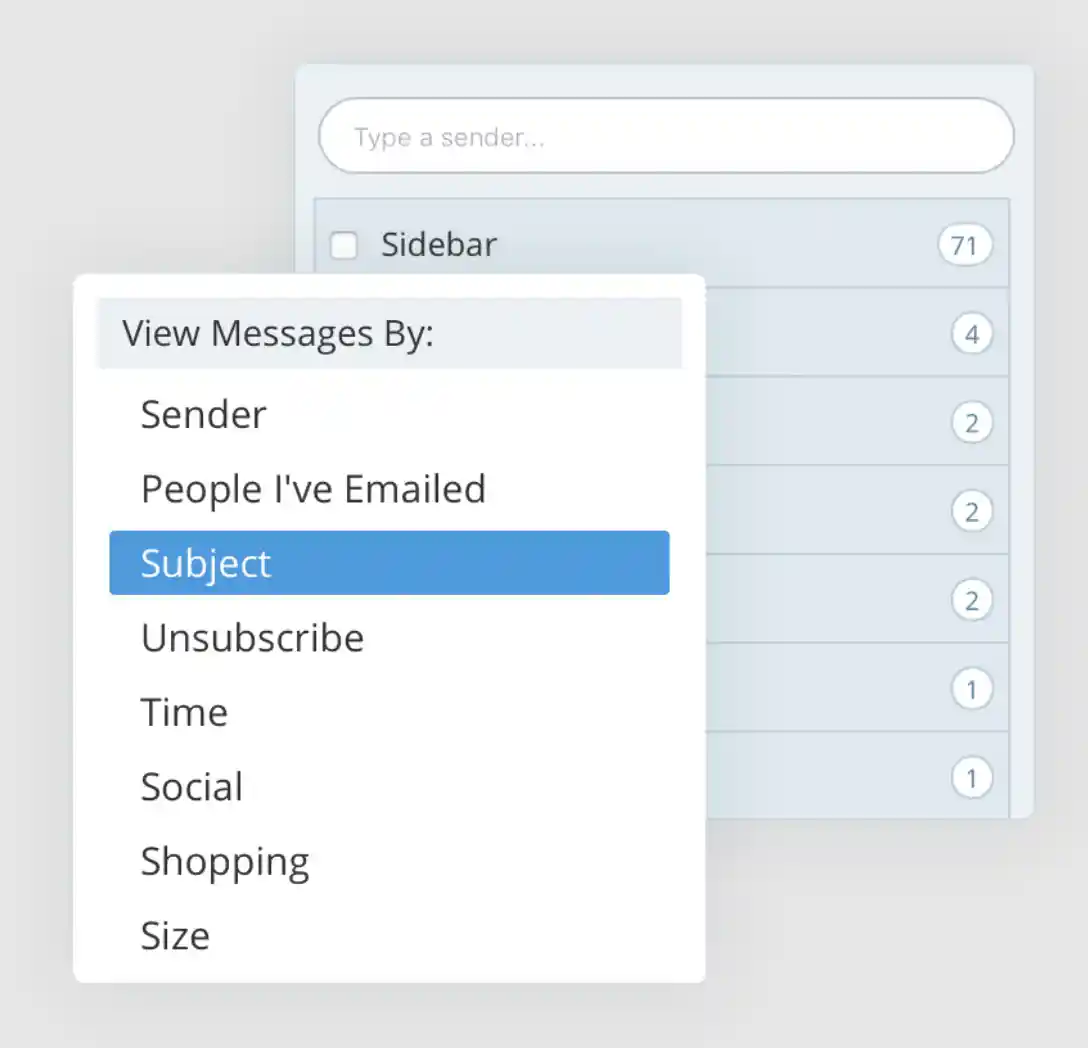 Once the tool can find such emails, it puts them all in a single list or folder from where you can unsubscribe to them and delete them in just a single click.
This saves you a lot of time that you would rather have spent clearing such emails one after the other. With Mailstrom, everything goes away at once, and you can use the time saved to do something better, more important, and worth your time.
8. Gmail Unsubscriber
This tool is particularly built for decluttering your Gmail inboxes. It is available as a plugin on your Gmail account, and you only need to install it to begin using it. 
Once you install Gmail Unsubscriber into your account, it scans your emails and automatically tries to unsubscribe to any email that looks like a newsletter or spam.
In addition to sending these unsubscribe requests automatically, the plugin also creates a detailed report in Google Sheets.
The report consists of details of the emails for which the unsubscribe requests were sent and whether the tool was successful in its requests or not. The successful requests are marked green, while the unsuccessful ones are marked yellow.
Since you have details of the emails in the report, you can go to the emails for which the request was unsuccessful and unsubscribe to them manually. 
With all that, your task becomes much easier, and your inbox gets cleaner without you needing to do much of the work. The best part is that the plugin is open-source and free.
So, you don't need to give your time or your money, and your emails get more managed than ever. What else could you need from an email unsubscriber tool?
9. Built-in Unsubscribe Button in the Emails
This isn't a tool or application like Unroll.me, and it does not make your job faster or easier. Still, if you don't want to fall into the hassles of using additional tools, some of which are even paid, this can be the best option to manage your emails and eliminate unwanted messages.
Whenever you receive a promotional message, there is an Unsubscribe button accompanying it.
So, all you need to do is click on this button and confirm your unsubscribe request in the pop-up. Once you do that, you shall be unsubscribed from the email list of that particular sender. 
Some senders may be redirected to their official website or another page where you can selectively unsubscribe to their services and emails.
Once you unsubscribe, you can select all such emails and delete them. This method is manual and hectic, but it's the most straightforward, coming with no risks and payment needs. So, you might as well try it out and see if it works well for you or not.
While exploring the Best Unroll.me Alternatives To Clean Up Your Inbox, I found an informative video on "How to Achieve Inbox Zero – 4 Email Productivity Hacks" that will help you to be more productive.😎😎👍
How to Achieve Inbox Zero - 4 Email Productivity Hacks
📗FAQ
Does Unroll.me Work? 
Yes, Unroll.me both perfectly well, even in 2023, and is a reliable platform for many people to unsubscribe from emails, newsletters, and unwanted promotions.
However, many people are also looking for better alternatives, as Unroll.me is not the best solution, especially if you greatly value your data.
There aren't any virus attacks or hacking of accounts by the platform, but it poses a lot of risk to various private information.  
Is there a free app to unsubscribe from emails? 
Clean Email, Leave Me Alone, Mailstrom, Gmail Unsubscriber, Polymail Unsubscriber, etc., are some of the best free applications to unsubscribe from emails you don't want to receive without worrying about your important data and other information. 
Is Unroll.me any good? 
Unroll.me Is one of the most popular and reliable e-mails unsubscribing platforms and has been used by many users. However, it is not the safest option if your data is valuable. 
Is there a way to mass unsubscribe from emails? 
Some great applications allow you to mass unsubscribe from emails without much effort and money. You can try apps like Clean Email, Cleanfox, Mailstrom, Gmail Unsubscriber, Polymail Unsubscriber, etc.  
Does it do any good to unsubscribe from emails? 
The best way to unsubscribe from emails is to hit the unsubscribe button you have received from a legit company, and there is no downside to it.
However, suppose you get a link for mass unsubscribing. In that case, you should not respond to and delete it immediately, as it can be another way for bad guys to access your data and affect you with systems compromised through malware. 
How do I clean up my email subscriptions? 
These days, many applications are available to mass unsubscribe from emails. However, you should not use just any application to ensure your important data is not compromised.
The best apps to try are Clean Email, Polymail Unsubscriber, Gmail Unsubscriber, Leave Me Alone, Mailstrom, etc.  
Is it safe to unsubscribe from spam emails? 
The safest way to unsubscribe from spam emails is to hit the "unsubscribe" button when you get an e-mail from my legit company without having any downside.
However, if you feel an e-mail is fishy, label it spam first and then unsubscribe to ensure your important data is secured. 
How do I remove my email from spam lists? 
If you are using Gmail, open it, click more on the left side, and click Spam. At the top, you will see a "Delete" button to delete all spam messages easily. Select specific emails and click "Delete Forever" for better security. 
Can you bulk unsubscribe? 
You can bulk unsubscribe using third-party apps like Cleanfox, Unlistr, and Unroll.me, Mailstorm, Polymail Unsubscriber, Sanebox, etc. 
Does unroll.me unsubscribe?
Unroll.me helps you manage email subscriptions. It simplifies email subscription management by allowing you to unsubscribe easily. Unroll.me sends an unsubscribe request on your behalf.
However, the sender's unsubscribe process may sometimes not work due to issues like spam markings or broken links. In such cases, you might need to remove the subscription manually or mark it as spam.
Unroll.me is a free email management service that analyzes your email data to provide market research for its parent company, Rakuten Intelligence.
This data collection has raised some privacy concerns. To safeguard your privacy, consider using a different email management service that prioritizes privacy.
Is there a free app to unsubscribe from emails?
Unroll.me is a free tool for managing email subscriptions. It simplifies subscription management by allowing easy unsubscribing. When you unsubscribe, Unroll.me requests to remove you from the sender's list.
However, this process may fail if the sender's list is marked as spam or the unsubscribe link is broken. In such cases, you may need to remove the subscription manually or mark it as spam.
Unroll.me collects and analyzes email data to provide market research for Rakuten Intelligence, its parent company.
This has raised privacy concerns. To protect your privacy, consider using a different tool for managing emails prioritizing privacy.
Is there a fast way to unsubscribe from emails?
Unsubscribing from emails can be quick and easy. Here are some tips:
Try Unroll.me:- It simplifies email subscription management, allowing quick and easy unsubscribing with a few clicks.
Look for Unsubscribe Link:- An unsubscribe link is often at the bottom of emails. Use the link to unsubscribe. If missing, look for a "manage subscriptions" link or contact the sender via email.
Create Filters:– Filters or rules in your email service can redirect emails from unwanted senders to the trash or spam folder. This will reduce the volume of unwanted emails.
Block Senders:– Most email services have a "block sender" option. It prevents unwanted emails from reaching your inbox.
Is it better to delete unwanted emails or unsubscribe?
Unsubscribing from unwanted emails is preferable to simply deleting them.
Deleting an email only removes it from your inbox, but it does not prevent future similar emails from arriving, which can cause your inbox to become cluttered.
By unsubscribing, you will be removed from the sender's list, reducing the number of unwanted emails.
It is important to be aware that some unwanted emails may be harmful. In such cases, it is recommended to delete the email without clicking any links or attachments.
Additionally, unsubscribing may take a few days to be processed by the sender, so you may continue to receive emails for a short time after unsubscribing.
Does unroll.me sell my info?
Some people have criticized Unroll.me over its privacy practices because the service collects and analyzes email data for market research. There are concerns about how user data is used and whether it is shared with third parties.
In 2017, Unroll.me was reported to have sold data to Uber, which sparked controversy because users were unaware and did not consent to data sharing. As a result, Unroll.me updated its privacy policy to provide more transparency.
While Unroll.me's policy states that personal information is not sold, data is used for market research and may be shared with third-party partners.
If privacy is a concern, you can opt-out of data sharing by canceling your account.
Consider using an email management service that prioritizes privacy and does not collect or analyze user data to protect your personal information.
Final Words
Having unwanted emails and spam messages in your inbox is a pain. Deleting them and unsubscribing from them is another pain.
Moreover, these emails can lead to missing out on those that matter. With all that said, it's only imperative for you to get rid of such subscriptions and emails.
Now, this can be hectic and time-consuming unless you get an application like Unroll.me or some other alternatives, considering Unroll.me doesn't care much for your privacy.
All the applications mentioned in this article are some of the best Unroll.me alternatives, and they will do your work the best for you without ever hindering your privacy. We hope you found this article helpful and are on your way to picking up an application to declutter your inboxes!