Ever since USB flash drives or commonly known as "pen drives" were first introduced in the 2000s, they have been gaining massive amounts of popularity and success amongst PC users.
They are small objects that are easily portable and come in handy when you need to store large quantities of data. They are the external devices that are commonly used for sharing files and data.
However, if you are one to follow exactly how a USB flash drive works, you would probably have an idea that USB drives work through a feature of the Windows operating system known as the autorun feature.
This feature makes sure that the content in a USB drive runs automatically on your computer device as soon as you plug in the USB. However, this exact feature can be the reason why malicious virus software, trojans, and codes get a gateway to your PC.
Have you ever had your system fail and get infected when it had been working perfectly fine and now you have to take it over to the workshop and pay exorbitant amounts?
Now, this where the USB Virus Scanners come in handy. These scanners when installed on your PC, automatically prevent such viruses from entering your device through such foreign drives.
These tools scan the USB flash drive when inserted in your computer device and either delete or block all the malicious virus programs that are detected.
These tools generally take minimal space in your PC and do not affect its smooth functioning and therefore will not cause problems regarding the performance of your system. They just swoop into action whenever a USB drive is inserted and start doing their job!
These Virus Scanner applications put a stop to the automatic run feature for USB drives which may seem a bit complex towards the "smooth sail" process of using a pen drive for your system but it is an immensely productive feature that you would require if you want to keep your computer device from intrusions from malicious software. 
The following are some of the most effective and easy to use tools that are available on the internet that will help you prevent any virus or other malicious software from entering your PC.
Best USB Virus Scanner: Our Top Pick 👌👌
1. Bitdefender USB Immunizer
This is an antivirus instrument that immunizes both the SD cards exactly when the USB storage drives are inserted against the 'undesirable crapware'. The instrument forestalls malware to run its autorun.inf record on your PC.
The Bitdefender (Download Here) is one of the leading antivirus software companies in the world which now have the Bitdefender programs that prevent malicious software entering through the autorun feature which has been sprouting to become a huge problem for many PC users.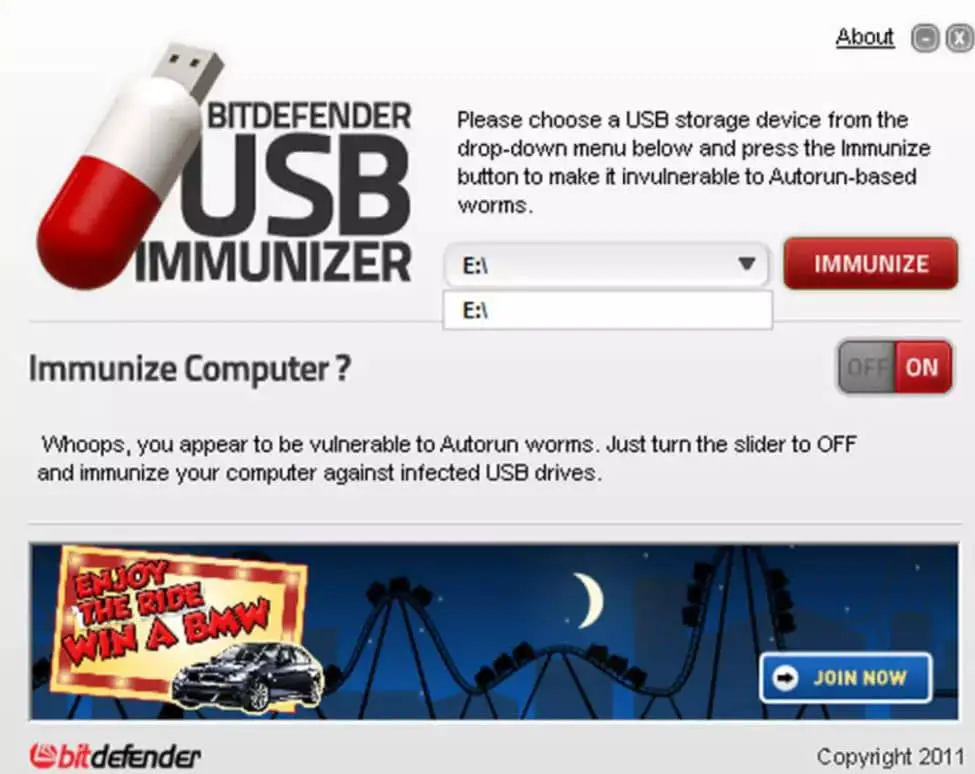 The Bit defender antivirus program comes with a 'USB- immunizer' feature that aids in blocking viruses from entering your PC.
Features:-
1. You can download the Bitdefender USB Virus Scanner completely free from the internet which makes it especially useful for PC owners who don't want to spend large bucks for getting their computers repaired.
2. The Bitdefender puts a stop on the autorun function of your computer system and therefore no files on a foreign USB device get a chance to upload themselves on your PC even if they have not been scanned yet.
3. Worm.Autorun.VHD, the Conficker worm, and Trojan.AutorunInf is some of the most popular malicious viruses that have been affecting PCs all over the world through USB flash drives and the Bitdefender has been proven to fight against all of them.
4. The Bitdefender takes powerful action against any malicious software on a foreign drive when detected. In addition to this, the Bitdefender constantly keeps on monitoring even after disabling threats from a USB Drive and looks for viruses to destroy on the go.
5. The Bitdefender provides an easy to use Interface as you can simply click on the 'automatically immunize USB Drives' button on the options tab and the Bitdefender will do the rest.
6. With the help of the Bitdefender, you can easily turn on or off the immunizer which means that you have the control over whether a USB drive will run automatically on your PC or not.
However, if you turn the automatic immunizer off, then the Bitdefender will not help in preventing any malicious software from entering and harming your computer device. 
Cons:-
1. One of the features of the Bitdefender is also one of its downsides. The prevention of the automatic run feature as stated before can be overwhelming at times for users.
2. One of the other faults with the Bitdefender is that the USB immunizer just records removable media as they are the ones that are generally inclined to infections, for example, the autorun.inf type.
2. Kaspersky Pure
Most of you would have heard of the name Kaspersky. Kaspersky is one of the most famous names in the game of computer security.
The Kaspersky antivirus program comes with a USB Virus Scanner that aids the user in identifying and diminishing threats such as viruses and other malicious software from your computer device.
The branched out version of the Kaspersky antivirus with a pen drive scanner is known as the Kaspersky PURE (Download Here).
Features:-
The Kaspersky antivirus has an easy to use Interface with minimal complications and various help features.

This tool has various adjustable and customizable settings that aid the program to function per your needs accurately. These features help the PC to increase its performance and allow the user to not waste their time and energy on antivirus scans.

The Kaspersky PURE comes with three options namely a full scan, a quick scan and a do not scan which you can adjust to your scanning needs.

Unlike others on this list, the Kaspersky PURE provides you with a function where you can specify the maximum size of the pen drive that it needs to scan and subsequently immunize.

The Kaspersky aims to proactively detect threats and vulnerabilities to your computers such as crypto lockers, ransomware, and hackers trying to take control over your PC remotely.

This tool also allows the flow of automatic scanning of the USB flash drive as soon as it is inserted.

The Kaspersky takes pride in blocking and deleting malware in real-time and allowing safe and smooth functioning of your PC
Cons:-
Such a great name in the computer security industry also comes with a price. The price for the Kaspersky PURE is $30 which is around 2200 INR which gives it disapproval from many users.
3. Panda USB Vaccine
This software tool just as the name recommends is a utility that forestalls malware infections on your PC.
Nowadays, there are reports about numerous malware and viruses entering computer systems through USB sticks that add unnecessary discomfort and risks for the user.
The Panda USB Vaccine (Download Here) destabilizes the functioning of these viruses and infections from entering your computer systems by firstly preventing the autorun feature and secondly detecting and blocking such viruses.
Features:-
1.The first and foremost use of the Panda USB Vaccine is that it does not allow the AUTORUN.INF file to run.
Most of the malware that enters PCs is by attaching themselves to the AUTORUN.INF file as executable and then goes on to silently upload itself on your computer device.
Through the Panda, users can easily access foreign pen drives without having to worry about any viruses entering their systems.
2. The Panda USB Vaccine is completely free which attracts most of its costumes as compared to its competitors.
3. The Panda also comes with antimalware, which aids the user in accurately identifying and removing threats and dangerous malware from entering the computer system.
4. The Panda USB Vaccine permanently disables any USB drive from running automatically which adds additional protection so that some viruses may not attach themselves to other internal drives in your PC.
5. It can be easily downloaded to USB sticks and doesn't take up much space.
Cons:-
1. The first inconvenience faced by many Panda Users is that you have to be there and allow every step of the process as it completely disallows files on your pen drive from running automatically.
2. Another negative for this Scanner tool is that it only works for FAT and FAT32 USB Drives so you have to be careful as to which drive you to apply it on.
4. USB Threat Defender
A definitive USB Anti-Virus arrangement, the USB Threat Defender (Download Here) with its remarkable Proactive and Definition scan Technology consolidated together releases another security fortification level.
These software tools detect thoroughly identify even molecule malware that at times goes undetected by an average antivirus program and provide many layers of security from viruses and threats entering your computer system through USB devices.
The USB Threat Defender is also quite special as unlike many other USB virus scanner tools on this list, this scanner tool focuses mainly on threats incoming through USB devices and has made thorough examinations and provided security for the same thereof.
Features:-
1. The most important feature for this tool is that, unlike traditional USB Virus Scanner tools, it's not just another AUTORUN.INF file prevention tool, it is a lot more. It functions on exceeding rigor and does not let even minuscule viruses survive.
2. This USB Virus Scanner includes a proactive scanning tool that works on automatic detecting of both known and unknown malware that may try to harm your computer system or your data.
3. The USB Threat Defender in addition to its other variegated features also includes a definition-based scanning method that performs a thorough detection and cleansing of any kind of malware already existing in your computer system upon installation.
4. In comparison to others on this list, the USB Threat Defender is more inclined towards activity-based scanning which makes it a better defense mechanism.
Cons:-
Although you can download the USB Threat Defender for free, it consists of a lot of in-app purchases which puts this application on the more expensive side.

The USB Threat Defender does not offer an automatic scanning of your pen drives by working in the background.

It does not work for mac ios.
5. McAfee Virus Scan USB
McAfee is the most sold and popular brand for your computer safety and security. The USB virus scanner software that McAfee provides is unmatchable at many levels.
Anyone who wants to get USB Virus security and other computer-based device security should very strongly consider McAfee as an option (Download Here).
Features:-
1. McAfee provides a very simple User Interface and adjustability schedule along with instructions and reading manuals which makes it very attractive to the average user looking for no complications.
2. This particular tool of the McAfee company produces numerous and regular updates for better virus scanning from USB intruding threats that are silently updated to your product in the background.
3. A very attractive feature of the McAfee Virus Scan USB is that it gives a 30- day money-back guarantee to all of its customers if the program does not give the expected performance.
4. McAfee provides active on- insertion and on-demand virus detections and solutions.
5. This tool provides complete, regular, and thorough scanning of your computer device for viruses through its antivirus software along with scanning your USB device.
Cons:-
1. For this particular product (Virus Scan USB), McAfee does not provide its customers with a free trial run to understand what the product is all about.
2. This application software is more inclined towards the expensive side as compared to the other scanner tools on this list which are mostly free.
3. Only works for USB Flash Drives operating on the U3 platform. Find more information about U3 drives here.
6. Ninja Pendisk
Ninja is a famous freeware program intended for guarding PCs against infections communicated by USB pen disks.
The Ninja Pendisk (Download Here) has aimed at keeping USB Virus Scanning a simple job by being fully portable, requiring no installation whatsoever, and being self-contained.
Features:-
1. As the name of this security software tool itself suggests, the Ninja Pendisk silently waits in the background for the insertion of any known or unknown foreign USB device.
and suddenly attacks by detecting and erasing any malicious software or viruses that may try to enter your system such as the AUTORUN.INF file malware and ctfcommon.exe are amongst a list of many others.
2. The Ninja Pendisk is completely free to download from the internet.
3. Unlike most of the USB Virus Scanners on this list, the Ninja uses very minimal CPU and mostly around 6MB of RAM which is very impressive.
4. The Ninja provides adjustable settings and options and you can also set what files to be deleted or left alone upon detection.
5. In addition to all these features, the Ninja, upon cleansing your USB device, also creates a separate Autorun. Inf file inside the USB drive to prevent it from any further attack from malware through other computers, etc.  
7. Avast
Avast (Download Here) is one of the most popular brands regarding computer system security in the market. The brand is well known for its multi-level security features that help to protect your PC from unwanted malware and viruses through USB flash drives.
Features:-
1. The Avast USB Virus Scanner does not allow any malware to enter or spread through a USB pen drive upon insertion and prevents the malware from spreading inside the drive itself.
2. The Avast scanner tool also provides a predefined automatic scanner tool installed on your computer device that keeps out a look for any potential malware or programs that may try to enter through the autorun feature.
3. The Avast scanner tool also provides a manual scan option where you can scan the files on your PC or a foreign USB flash drive on demand. All you have to do is select the scan option in the scan tab.
4. The Quick scan choice plays out an output of the C:\drive scan which generally distinguishes larger parts of malware found in documents with hazardous extensions, while a full framework scan plays out a point-by-point sweep of all your PC's hard disks.
5. The Avast USB Virus Scanner plays an important role by checking every file to determine its type and then works out on whether to scan that particular file or not.
Cons:-
1. Avast does not provide its customers with separate products for antivirus and USB Virus Scanner, i.e, the user will have to buy both of them together.
2. Although Avast comes with a free trial, it is rather inclined on the more expensive side which does not attract many customers in comparison to most of its free competitors.
8. Bullguard
BullGuard (Download Here) antivirus examines compact drives like USB drives for dangers or malware that might be attached to files being moved to your PC from the drive, which can spread infections.
Bullguard ensures the safety and smooth working of both the PC and the USB device by scanning and removing all malicious software that can spread through the foreign device.
Features:-
1. Bullguard, with its next-gen antimalware USB detector, scans and detects in real-time, any malware or virus that may be stored in a USB flash drive and can enter your computer system as soon as it is inserted so that the infection may not spread.
2. The Bullguard antivirus with USB Virus Scanner has an easy to use Interface with very fewer complications and is adjustable to your scanning needs.
3. If you regularly work by sharing files through USB Flash drives, Bullguard might become very useful for you as it constantly functions in the background.
4. The user may also enjoy the other features that come along like its Antivirus product which applies to most computer devices at your home and produces unparalleled safety and security.
5. With a single subscription, you can enjoy using Bullguard antivirus for up to 10 devices for one year.
6. Bullguard provides exceptional customer service.
Cons:-
The cost of Bullguard is on the expensive side and does not attract many customers resisting to pay for their computer security needs.
Block privacy and data thefts through a USB drive?
Whether friend or colleague, work or home, any place, or anyone, trust is a factor that still hasn't progressed. Technology has seen different upsides and downsides but the humanistic factor of trust hasn't evolved much and still exists in the unconfirmed state.
Reports have suggested that people used to be rather more creative in using their brains rather than today. Why? Due to the threat of data losses and data thefts.
Why would anyone work knowing a few moments later, their data is going away from them with or without their consent? Where technology has opened gates to mass opportunities for us, the same door is open for those who we do not trust.
You never know the friend you are sitting along with at home is your friend at the front, but is a foe on the inside. Any moment you walk in the kitchen to grab some snacks and hence find your data being stolen through a USB drive (inserted in your laptop) and now you are a goner.
USB block review:-
For this very reason, many users contacted us doing a brief review on how you can eliminate such threats from your life. Just sitting in one place thinking all is lost is not the solution is it? No, it never was. Hence, we thought of reviewing software that could help you eliminate such threats.
USB Block, for example, is considered an option that would prevent anyone from accessing your confidential files or folders. The developers of this software had the concept of creating something unique which would have the ability to restrict any unauthorized device from connecting to your device.
Hence, you limit the devices hackers use to exploit your data, you stay in safe hands. We personally liked the concept and now let's talk about their features.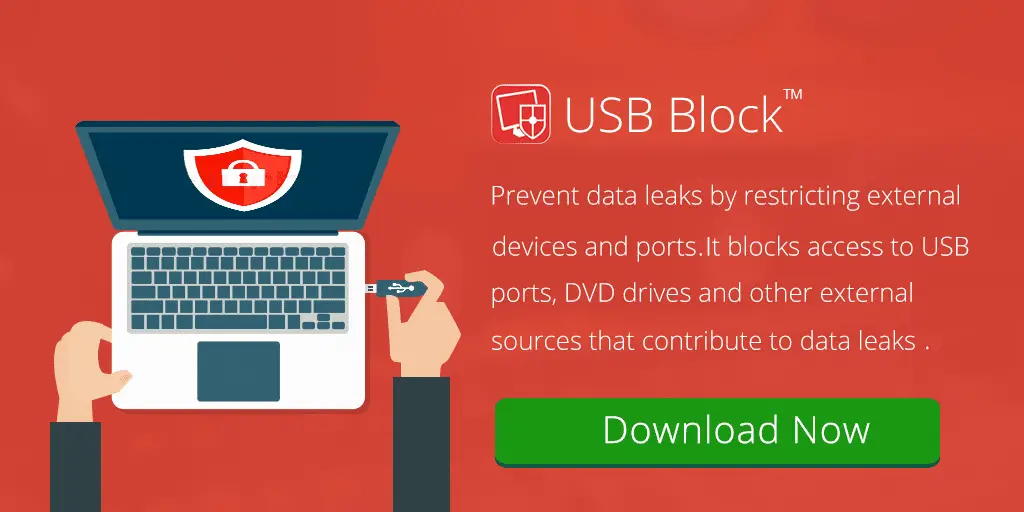 Features:-
Hack attempt monitoring:-
A hacker when tries to aces your account can make wrong login attempts and when it happens, the software would notify you of any such activity. Rest assured since you are the only one having the password, no hack attempts would generate any success and such attempts would be monitored regularly.
 Authorize trusted USB devices:-
The developers knew restricting all the USB drives isn't a solution as if that happens; even you won't be able to insert your USB for different purposes.
Hence, USB block brought you the whitelisting feature where you can whitelist the device that you commonly use. Hence, you gain access while the unauthorized devices remain restricted. We found this feature a groundbreaking one that so far none of the competitors have created.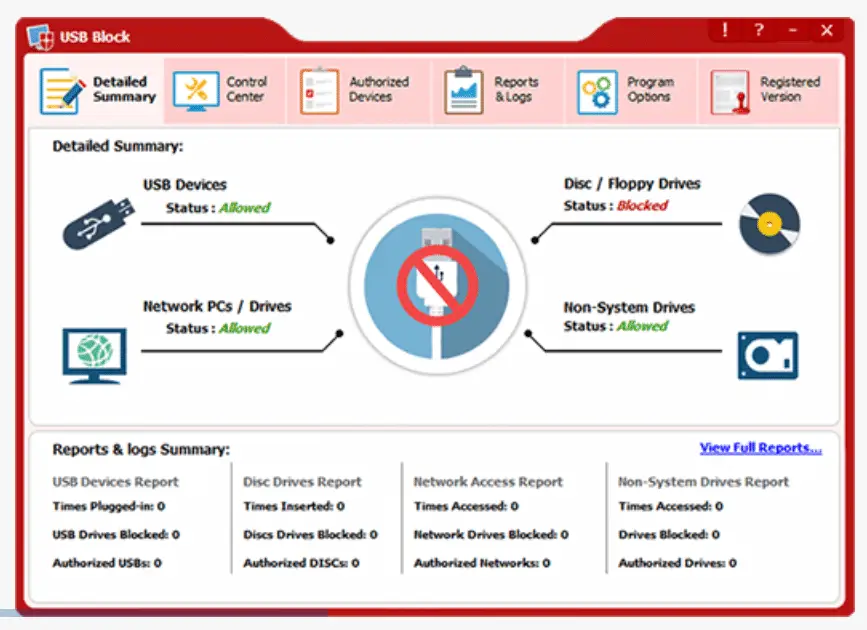 Set a master password:-
The software would ask you to set a password after installation. You must have a good memory to keep the created password in your memory.
If not, try writing it down at a safe place as whenever you insert your drive-in, you would asked to enter that password. The best part? USB block remembers the devices it had interacted with in the past.
The program's interface has a modern design and is quite user-friendly. This means that any type of person can work with it, no matter their previous experience.
The main window has a tabbed display that enables you to browse through a detailed summary, control center, authorized devices, reports and logs, and settings.
You can change your password anytime:
The software utility shows the last one hundred reports and logs possessing information like device name, type, total insertions, and more which further lets you monitor the actions taken on your computer and make sure the security wants tempered with.
Developer page for downloading free Usb Block https://www.newsoftwares.net/usb-block/
Pros:-
Check logs to monitor any illegal activity
Hack attempt monitoring
Whitelist your trusted devices
Cons:-
Hence, blocking unauthorized devices has now become possible as whether it is CDs, DVDs, and USBs etc. you are safe from any harm as long as you don't share your password with anyone.
You may also like to read this awesome tutorial article
A Complete Essential Guide to Encrypting Your Data
Conclusion
Ever since the advent of computer technology, we have been witnessing vast and new changes and developments in its features.
It has become noticeable now more than ever that there are huge threats to personal data and security through several known and unknown developments by hackers, etc. called viruses, malware, and codes that keep on creating new ways of entering our systems. The threat of USB intruding viruses is amongst the top on this list. 
The need for your systems to have a USB Virus Scanner has become a necessity even if you choose to ignore it.
Now, even though some of the tools in the aforementioned list are costly, they would make sure that your system and data are safe and secure and ensure that you will not have to spend exorbitant amounts later on their repair.