Anger is one of the most destructive emotions that we humans often experience. People must begin to take help for their anger management.
Interestingly, one doesn't necessarily need to see a therapist, and there are plenty of Anger Management Apps people can use.
Anger is good only for destroying opportunities, relations, and one's peace. Despite knowing what anger may lead to, humans often become angry and frustrated. The support of family and friends, along with awareness, can help anyone fix anger issues.
It's like they can't control themselves and their emotions for most people, so they get angry. And anger makes people feel disconnected from the world. Most people are prone to misbehaving with their friends or family when angry. 
The side effects of anger are many, and it only harms people. When angry, inappropriate behavior may lead them to take harsh steps like ending a relationship with someone close.
While anger might not seem like a huge problem, a large section of our society struggles with poor anger management.
While technology has evolved drastically, it has also made it easier to manage anger. Now, people with anger issues can use many applications on their mobile devices to manage their angst.
Most of these apps use soothing techniques to help their users take control of their emotions.
While meditation is a great tool to control one's emotions, it might not always be feasible. In comparison, one may use mobile applications to manage anger anytime, anywhere. 
However, these apps may not replace professional help as a professional is much more trained and qualified. 
One may see that app stores are flooded with apps that claim to help manage anger. However, there are only a handful of useful apps to control anger.
We've reviewed some of the best anger management apps to ensure that you choose the right app.
Best Anger Management Apps – Our Top Pick👌
1. Calm – Editor Choice Anger Management App 🤴
Calm is an app trusted by millions for help regarding sleeping, meditation, and relaxation. The app features various step-by-step meditations for managing stress, anxiety, and anger. Users can set customized timers for most of the meditations listed on the Calm app. 
Some of the most reliable and effective meditation programs include Deep Sleep, Focus and Concentration, Calming Anxiety, and more.
Each meditation program is customized for users in various stages of life. The app also has guided meditation for college students with mindfulness college. 
Apart from these guided meditations, the app also features stories to help users fall asleep. Users can choose the length of the program anywhere between 7 days and 21 days. The app also sends reminders to help users continue their routines. 
Top experts from various backgrounds recommend Calm, a sleeping, meditation, and relaxing app, as one of the best anger management apps.
Users can choose between beginner, intermediate, and expert levels as per one's familiarity with meditation. The app will then suggest programs based on the user's response.
Pros of Calm App:-
1. The app includes masterclass sessions from expert psychologists and other professionals. The masterclasses are available for various topics and can help users improve themself in various fields. Users can also download masterclasses for offline use.
2. Users can also listen to music from their favorite artists using the Calm app. It gives users the ability to explore new songs based on their moods. 
3. Kids and teenagers can also use the calm app to manage their anger, anxiety, and stress. 
4. To help users build great habits and take total control of their emotions, the Calm app also allows them to track their progress.
5. Users can do various breathing exercises regularly to get rid of their anger issues.
Cons of Calm App:-
1. Some of the content on the app requires users to have a subscription. 
2. Sometimes, the app might misbehave and send notifications and reminders at frequent intervals.
3. The premium content charges might be beyond some users' budgets.
2. Sanvello for Anxiety, Depression, and Stress
Sanvello is a power-packed app for stressed, anxious, and depressed people. The app features therapy sessions, coaching, and self-care tools to help users deal with their anger or anxiety.
Sanvello works using Cognitive Behaviour Therapy to manage the problems of the users.
Cognitive Behaviour Therapy can help experts deal with their patients' stress, anxiety, and anger. The Sanvello app combines CBT and technology to help its users.
As per data from the app, 60 percent of the users felt a change in their overall mental health. 
The app also has a community of around 3 million users. Sanvello's community is great for users to indulge in active discussions and group chats on various issues.
The significant part is that Sanvello keeps the user identity as Anonymous during the group discussions.
The user interface of the Sanvello app is beautifully designed, and the theme is so relaxing. One may use the app to instantly control their anger and protect their relationships from the adverse effects of anger. 
On the other hand, the community interactions are warming, and most members are generous. Sanvello's community makes the app stand out as one of the most promising.
Pros:-
1. The techniques provided in the app are clinically proven and tested. The self-care tools are carefully crafted to ensure users can cope with their emotions. 
2. Users can practice mindfulness with a variety of guided meditations. The activity tracker can help users check their progress regularly. 
3. The live interactive therapy sessions are great for users who struggle to share their emotions with friends and family.
4. One can also improve public speaking skills with some of the activities mentioned in the app. 
Cons:-
1. Some of the features in the Sanvello app might not work for users outside the United States. Even features like Therapy are available in select US states.
2. Sometimes, users may face issues using their Gmail to create an account on Sanvello App.
3. HeadSpace – Best anger management apps for android
Head Space is one of the most trusted anger management apps with over ten million users. With meditation, users can create better habits and control their emotions to lead a better life.
The HeadSpace app guides users with step-by-step meditation practices and helps them focus and stay calm.
Simple breathing practices performed regularly for about ten to twenty minutes can change one's outlook on life and mental health.
Head Space is home to various calming, meditative programs and practices that are effective and simple. One would feel better, lighter, and more confident after doing the suggested exercises carefully.
Users who find it difficult to fall asleep may also use the HeadSpace app to get help with sleeping. There are numerous meditations for users struggling with poor sleeping patterns. The app also has a collection of soothing sounds to help users sleep better. 
Users can also motivate their friends or family members by sharing their daily progress. The progress tracker of headspace is an excellent tool for users to stay motivated.
To help beginners meditate better, the app's co-founder provides tips to the users as their coach.
Pros of Head Space:-
1. As the app has many meditation programs for all age groups, even kids can use it for mindfulness. Programs are focusing on kids to help them focus better and sleep well.
2. The app also includes various breathing exercises for a calming experience during a tough day. 
3. The co-founder's support for newbies to get started on mindfulness is a great way to motivate people.
4. Users can also avail of SOS sessions with experts from Head Space. SOS Sessions intend to provide relief to the users during their emotional breakdowns.
Cons of Head Space:-
1. There are plenty of helpful features that are only available to users who have a monthly subscription.
2. Some issues might struggle while creating a new account on the app. However, the technical team seems promising to resolve such problems soon. 
4. MindDoc: Mood Tracker for Depression & Anxiety
MindDoc is a journal for people who have anger or anxiety issues. One can record their feelings in the journal, which tracks how a user feels.
Once a user's answers are analyzed, the MindDoc suggests various exercises users can perform to improve their situation.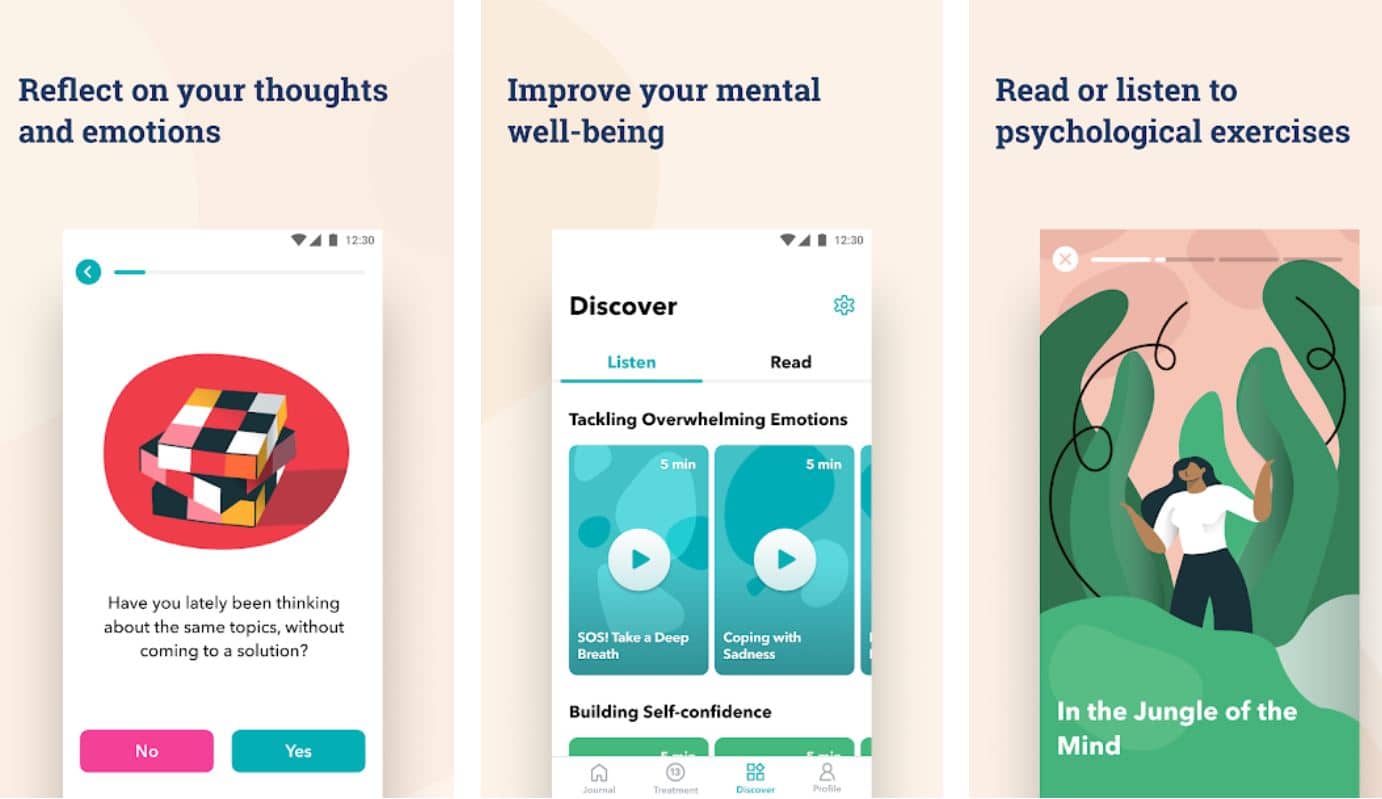 MindDoc can be great for curing mild symptoms of anxiety, depression, and low self-esteem. The reports of the Mind Doc app can be shared with professional therapists or Psychologists.
Users can also use the journal to explain how they feel at a point in time. 
The MindDoc journal gives important insights into one's behavior and emotions. These insights can help users better understand themselves and control their emotions.
It's one of those anger management apps that help users understand why they feel a certain way. 
The audio and visual exercises suggested in the app for the users have a soothing and relaxing impact on most issues.
The user interface of the MindDoc app is clean and doesn't confuse users with complex processes. Features like Discover the app is helpful for users to explore more exercises and therapies on the app.
Pros of Mind Doc:-
1. Scientists and psychotherapists design the MindDoc app. The app tries to create awareness about mental health and provide instant help for mild symptoms.
2. Since psychotherapists and scientists designed it, the programs suggested by the app are powerful, effective, and trustworthy.
3. The monitoring feature of the MindDoc journal is impressive and works efficiently to detect symptoms. 
4. The insights generated by the app can help users understand what triggers their mental health. The insights also include mindful practices that can help users stay calm.
Cons of MindDoc:-
1. Some features of the MindDoc app are locked. Users need to spend their money to unlock the app's full potential.
2. Kids might be unable to improve their mental health with the help of the Mind Doc app. 
5. BetterHelp 
Over a million users have control of their anxiety, anger, or depression with the BetterHelp app. The app has over 10,000 trained experts eager to help users with anxiety or depression issues. 
Experts on the BetterHelp app can also provide users with CBT and DBT therapy. Not many apps provide Dialectical Behavioral Therapy, and BetterHelp experts are a blessing. 
One may use BetterHelp, one of the most trusted apps, to get experts' help for their Stress, Anxiety, OCD, and more. Users may also choose to have live interactive therapy sessions with the experts. 
There's no limit on how many sessions a user may have with their therapist on the BetterHelp app. Moreover, the user and the therapist keep all the sessions secret. 
Pros of BetterHelp:-
1. Users can effortlessly get help for their mental health from expert therapists and counselors. Moreover, users don't need to visit a clinic to talk to a mental health expert. 
2. The app aims to help with mental health issues like Obsessive Compulsive Disorder, Anger, Stress, and Social Anxiety. 
3. Experts provide customized suggestions for each user. 
4. BetterHelp app also conducts web seminars to help users understand more about mental health. These webinars are conducted to educate more and more users about mental health. 
Cons of BetterHelp:-
1. The app doesn't have the features like guided meditations to help users soothe their anxiety or stress.
2. People who hesitate to communicate on video calls might not be able to use the app to its full potential.
6. 7 Cups: Anxiety & Stress Chat
7 Cups is another one of the most trusted and reliable apps. Users can take help with their mental health issues like anger, depression, stress, and anxiety. 
The app features a variety of tools for mindfulness and the user's overall well-being. The app claims to provide free mental health solutions. However, some features are locked and require users to pay for them.
The 7 Cups app has trained listeners who work with the users and understand their condition. Once the listener has all the information about the user's condition, they recommend various exercises and mindfulness meditations. 
All the experts on the app are either trained listeners or licensed therapists. The users can be sure they'll get professional help when using the 7 Cups app. Users can be worry-free as the app ensures full protection of the user data. 
Pros of 7 Cups:-
1. Users can choose the listener they want to talk with and share their experiences. This feature lets users take control and only talk with users they feel would be good enough.
2. 7 Cups users can also hide their identity and stay anonymous with the listeners. This feature comes in handy for shy people. 
3. It's free to speak to a listener on the 7 Cups app.
4. Users who decide to text their listeners can also do so without fearing that the app stores their data. All the chats are deleted to ensure data protection. 
Cons of 7 Cups:-
1. Users who wish to speak to therapists might need to spend some money on therapy. 
2. The app's graphics could have been better and more relaxing. 
7. Simple Habit

 
People with anger issues often feel anxious or do something that might ruin things for them. Millions of users trust simple Habits as they go to anger management apps.  
Users can find numerous guided meditations and therapy sessions for fighting depression and anxiety. The coaches on the Simple Habit app are former monks and renowned experts in mental health. 
The experience and expertise of the experts can help users relax and feel less anxious. Users can customize their meditation plans for anywhere between five to twenty minutes. 
If users feel demotivated or emotionally drained, they can also get motivation sessions from the experts. There's a lot of coaching staff available on the Simple Habit app.
The app also features mental health experts podcasts, making it stand out from most other apps.
With the app's interactive user interface, users can also track their progress toward better mental health. The app can help users create great habits to change their lives. 
Pros of Simple Habit:-
1. Users of the Simple Habit app can also develop effective leadership skills with various leadership programs included in the app.
2. Regular use of the simple habit app can lead to better mental health and healthier intra-personal relationships. 
3. One can always stay positive with the help of various exercises in the Simple Habit app.
4. The Simple Habit app is easy to use.
Cons of Simple Habit:-
1. Some of the most effective features of the app are locked. And the users need to pay EFI to unlock them.
2. Some meditations included in the app might play automatically and may annoy the users.
8. Self Help For Anxiety Management
Anxiety Management is crucial to avoiding negative emotions and feelings. People often struggle with anxiety, stress, and depression.
To help students, professionals, and couples cope with anxiety, the University of West England designed the SAM app. 
SAM or Self Help for Anxiety Management, is among those anger management apps that reflect the user's mental health issues. The app can trace what triggers the user and makes them anxious, stressed, or angry. 
Various techniques are listed on the SAM app to help users deal with mild stress or anger. One may use the app to develop their mental health knowledge and deal with stress.
The SAM app is created by professional psychologists and trained experts keen to help others improve their mental health. Moreover, the app is easy to use with a great user interface. 
Pros of Self-Help for Anxiety Management:-
1. Professional psychologists create the Self Help for Anxiety App. One can be assured that they will get the best help.
2. Users can also share their stories and experiences with other users on the app. The experience sharing can be done while staying anonymous. 
3. Users also get guidance from top experts on how they can practice self-help to tackle mental health issues. 
4. The app is user-friendly.
Cons of Self-Help for Anxiety Management:-
1. Users cannot find guided meditations to manage their anger.
2. Teenagers and kids might find it challenging to understand and manage their mental health issues using the SAM app. 
Anger management techniques:-
For controlling anger, many different approaches can be useful. You might find the following examples useful:
Take a break: If irritated, try backing up and leaving the area. Find some peace, go for a stroll, or listen to music. This can help you de-stress and clear your head.
Deep breathing exercises might assist you in relaxing and calming down when you're irritated. Attempt to breathe deeply and slowly through your nose and then through your mouth.
Employ visualization:- visualize a serene setting or a pleasant recollection. Your focus might be diverted from whatever is irking you by doing this.
Take note of it: You can sometimes process your feelings and develop coping mechanisms by writing about the things that upset you.
Contact someone: An effective strategy for controlling anger is to express your feelings to a friend, family member, or therapist. They might have insight and help to offer.
Anger management exercises:-
To help you control your anger, try these exercises:-
Progressive muscle relaxation:- Progressive muscle relaxation entails tensing and releasing various body parts' muscles, beginning with your feet and moving up to your head. You'll be able to unwind and loosen up as a result.
5-4-3-2-1 technique:- The 5-4-3-2-1 method asks you to count out five things that you can see, four things that you can touch, three things that you can hear, two things that you can smell, and one thing that you can taste. By doing so, you can focus on the here and now and divert your attention from the source of your annoyance.
The "time-out" technique:- The "time-out" strategy entails walking away from the aggravating circumstance for a while. Find some peace, go for a stroll, or listen to music. You may get calmer and think more clearly as a result.
Role-playing:– Play a role and simulate how you might react in a tense circumstance. This might assist you in creating fresh approaches to controlling your rage and resolving disputes.
Mindfulness:– Practice mindfulness by being in the present and unjudging noticing your thoughts and feelings. This can assist you in becoming more conscious of your triggers and learning to control how you react to them.
Aims for anger management:-
The typical objectives of anger control are as follows:-
1. Reducing the frequency and severity of furious outbursts: You can learn to control your reactions and decrease the frequency and intensity of angry outbursts by recognizing and dealing with the sources of your rage.
2. Conversation improvement: Anger frequently results in damaging or fruitless communication. You can learn to communicate more successfully and healthily by managing your anger.
3. Relationships can suffer from anger, harming those with friends, family, and coworkers. Your ability to control your anger and communicate more clearly will help you build better connections.
4. Enhancing physical and mental well-being: Prolonged anger can have detrimental impacts on physical well-being, such as raising the risk of heart disease and high blood pressure.
5. It may also have detrimental consequences on mental health, such as a higher likelihood of developing anxiety and depression. Your physical and emotional health can be enhanced by controlling your anger.
6. Improving relationships, reducing stress, and improving physical and mental health are all benefits of controlling anger that can contribute to overall well-being.
✅FAQ
Is there any app to control anger?
Yes, so many easy-to-use and highly effective applications are available on the App Store and Google Play store to control your anger. Some notable applications are Calm, Sanvello, Headspace, MindDoc, BetterHelp, etc.  
How can I control my anger instantly?
Always think twice before you speak. Sometimes, you may say something you will regret later in the heat of the moment. Calm yourself down through meditation and express your concerns.
Go walking for only a few minutes and get some exercise. Taking a time out can be immensely helpful in your efforts to control your anger.
Identify the trigger point of your anger and find solutions. No need to hold a grudge, and it's better to get rid of it as soon as possible.
You can also try using humor to release tension and feel better. Always think of relationships you may ruin only due to a few moments of anger.  
How can I control my anger in 5 minutes?
Try slow and continuous blending for a while. If a person you are angry with is very important to go and hug them straight away. If things don't get better at that moment, go for a walk and feel the freshness in the air.
Savor something you like and think about the consequences of your anger only for a few minutes.
If you have a pet animal, love them for a while. Stand in front of a mirror, try to smile, and remember how good you are at various other things. 
How can I master my anger?
Like many other things, mastering your anger is not as challenging as it looks. It comes down to whether you want to control it or not.
Yes, it will not happen in only a couple of days, but with constant efforts, you can control your anger. Identifying triggers can help try to avoid such situations.
Don't forget that anger remains only for a while, but its consequences may last a lifetime. Drinking a few sips of water can also help you to calm down. 
And talk about your problems and insecurities instead of keeping them to yourself. And yes, don't be harsh on yourself. Be kind and gentle.  
Why do I get angry so easily? 
The way you react and interpret certain situations is usually responsible for anger. Everyone has weak points and triggers that can make them angry and even emotional.
It's not uncommon to get angry; it is not criminal either. However, you must learn how to control your anger and avoid major consequences that can impact you and other important people.  
What are the 3 types of anger? 
Passive Aggression, Open Aggression, and Assertive Aggression are 3 types of anger. In passive aggression, the person doesn't admit they are angry because they don't like confrontation.
In assertive aggression, many people tend to lash out in extreme anger and rage and even become verbally or physically aggressive and can sometimes even hurt themselves or others.
Assertive anger is all about being confident and controlling anger, getting ready to talk and listen, as well as being open to getting help from someone to deal with the situation. Assertive anger can be immensely helpful in growing relationships and getting better. 
Is anger a mental illness? 
There can be many reasons for anger triggers, including stress, financial, relationship, and family problems.
For some people, anger is also caused by underlying health conditions, especially if they are ill for a very long time.
Depression and continuous alcoholism can also be responsible for the sudden outburst of anger. Anger is not an illness, but it's surely a known symptom of various mental health conditions.  
What are the signs of anger issues? 
There are some very clear signs of anger issues you must identify and, more importantly, rectify. You should know that you have anger issues if you hear others physically or verbally, always find yourself very angry.
If you feel that you are not in control, it is very obvious that you have serious anger issues. Frequently regretting something and hurting yourself is also an important sign of anger.
If you notice that nonsense and even small things make you angry, you are surely having anger issues, and you should find solutions for it.  
Can ADHD cause explosive anger? 
Yes, ADHD can be responsible for making anger more intense. It can also impair the overall ability of an individual to respond to anger issues, especially in healthy ways. 
How can I control my anger?
You can use a variety of techniques to help you control your anger.
Here are several examples:-
1. Step away from the circumstance making you angry to take a break. Do something peaceful, like a few deep breaths or counting to ten.
2. Try to calm and control your anger by using relaxation techniques, such as yoga, meditation, or deep breathing.
3. Get moving: Physical activity might be a terrific approach to lessen anger. Exercise in another way—go for a run or visit the gym.
4. Contact someone: Express your emotions with a family member or close friend. Sometimes, the only thing that can make you feel better is talking about what makes you upset.
5. Find constructive means of expressing your rage: To express your feelings, try journaling, painting, or indulging in another creative activity.
6. Seek professional assistance: If your anger interferes with your relationships or day-to-day activities, you might want to talk to a mental health expert. They can collaborate with you to create coping mechanisms and address the root reasons for your rage.
What are the 3 types of anger?
Although there are many various methods to categorize rage, one popular model divides anger into three groups:
Passive anger:- Anger that is expressed passively by acting out anger rather than verbally expressing it. Passive anger can manifest in various ways, such as pouting, being silent, or acting in a passive-aggressive manner.
Aggressive anger:– Rage expressed directly and violently is referred to as aggressive anger. Shouting, hurling objects, or using physical force are examples of violent anger.
Assertive anger:– Assertive anger is expressed respectfully and properly, and it involves being straightforward in expressing one's feelings. To be assertive, one must stand up for their wants and rights while also respecting those of others.
Why do I get so angry over little things?
There are various reasons why someone could become enraged over seemingly little issues.
Here are a few such justifications:-
1. You might be experiencing stress or overwhelmed: Stress can make it simpler for us to become enraged over trivial issues.
2. Unresolved anger may be a problem for you: You might be more likely to lose your temper over little things as a method of letting out pent-up anger if you have it about something else.
3. You might be going through a mental or emotional health problem: Shorter fuse and irritation are two characteristics of several physical or mental health disorders.
4. You might handle stress in an unhealthy manner: Some individuals use rage as a coping mechanism for stress or other unfavorable feelings.
5. Relationship conflict may be anything you're dealing with: It might be simple to lose your temper over trivial things to vent your stress if you have issues with a partner or other close family members.
Can anger be cured?
Even though anger may not be totally "curable," it is possible to develop good coping mechanisms.
You can control your anger more effectively by using the following techniques:–
1. Utilize relaxation techniques: When you're upset, you can reduce your anger by engaging in deep breathing, meditation, or yoga.
2. Recognize the things that make you angry: You can begin to develop ways to prevent or lessen those triggers by becoming aware of what makes you angry.
3. Find constructive ways to vent your anger, such as by writing in a journal, speaking with a close relative or friend, or using creativity to create something, such as a painting or a drawing.
4. Seek professional assistance: If your anger interferes with your relationships or day-to-day activities, you might want to talk to a mental health expert. They can collaborate with you to create coping mechanisms and address the root reasons for your rage.
What emotion is behind anger?
Anger is frequently regarded as a secondary emotion, which implies that it frequently arises due to other underlying emotions.
The following are some typical emotions that may underlie anger:-
1. Anger can be a normal reaction to feeling frustrated, whether it's a result of something that happened to someone else or an uncontrollable event.
2. Anger can occasionally be used as a cover for weakness or fear.
3. Injured: Feeling angry might help you cope with pain if you feel hurt or deceived by someone.
4. Anger can occasionally be used as a coping mechanism, diversion from grief, or other negative emotions.
What is the root of most anger?
Anger can have different underlying causes for different people.
On the other hand, the following regular causes of rage may also be present:-
1. Unmet expectations or needs: If we believe that our expectations or needs are not being met, we may become angry.
2. Frustration: When we believe we cannot accomplish our objectives or surpass challenges, we may become angry and disappointed.
3. Fear: Sometimes using, anger as a coping mechanism or to hide feelings of vulnerability or fear.
4. Injured: Angry feelings can be a coping mechanism for pain when we feel hurt or deceived by someone.
5. Stress: It may be simpler to become furious when we are stressed.
6. Injustice: Seeing or encountering injustice can also make one angry.
What mental illness is associated with anger?
Anger can be a sign of many different mental health issues, including:
1. People with antisocial personality disorder may have a propensity for aggression and rage and struggle to maintain emotional control.
2. Anger outbursts that are strong and frequent and trouble managing emotions are common in people with borderline personality disorder.
3. Intermittent explosive disorder: This condition is characterized by sporadic, irrational outbursts of fury.
4. Post-traumatic stress disorder (PTSD): Those with PTSD may struggle to manage their temper and exhibit irritability after a traumatic occurrence.
5. Substance abuse disorders: Abusing substances can make rage feel worse and cause more frequent and powerful outbursts of anger.
Why do I get triggered by small things?
It's typical for people to be easily offended by seemingly insignificant things. You may be more sensitive to particular stimuli due to past traumas or other stressors, which may be the cause of this.
It might also result from a lack of coping skills or self-care routines. Finding healthy strategies to handle and cope with your triggers is crucial, as is attempting to determine their underlying causes.
While some people find it beneficial to speak with a therapist or counselor, others find comfort in self-care activities like exercise, meditation, or journaling.
What are some signs of anger issues?
There are a few indications that someone may struggle with anger:-
1. Frequently losing their cool or getting irritated quickly
2. Getting into disputes or physical fights a lot
3. a propensity to place the blame for one's issues or errors on another
4. struggling to keep their rage under control or to properly vent it
5. anger-related dangerous or harmful behavior, such as reckless driving or substance abuse
6. unable to sustain healthy relationships because of their rage
7. A feeling of being overpowered or stressed by their rage
8. has a history of verbal or angry outbursts
Can anger damage your brain?
Some research suggests persistent anger and hostility may harm the brain.
The hippocampus, a part of the brain involved in learning and memory, tends to be smaller among those who score highly on tests of hate and rage.
Chronic anger is also associated with a higher risk of illnesses like hypertension, which can result in issues like stroke and cognitive impairment.
Does anger get worse with age?
While some people may notice a decrease in their level of anger as they age, others may experience an increase.
Anger levels might fluctuate over time due to a variety of circumstances.
These could be adjustments to one's life circumstances, such as going through a significant loss or shift in one's life, or adjustments to one's physical or mental health. A surge in rage may also be influenced by stress and weariness.
Conclusion 
Anger Management Apps are a blessing for people who suffer from mental health issues. One may rely on these apps to deal with moderate symptoms of depression, anger, and anxiety because some apps have highly qualified experts. 
Users can explore various apps and stick with a few that work best. Ultimately, the goal is to maintain good mental health to live life to the fullest.