We seek changes in our appearance. We try to amp up our looks with the current trendy haircuts, skincare, or hair colors that have recently created a niche for themselves in the market.
2023 will be the year of fashion, and this is probably the best time to give yourself a makeover using apps for Changing Hair Color.
Dyeing your hair is one of the best ways to give yourself a cute makeover. Oh, but wait, what if it comes out bad?!
Yes, that is the primary concern for people willing to try new styles. What if it doesn't match my style? Maybe this would make them look older.
Or this new color raging in the market is too expensive to try out in the first place, let alone a full head of dyed hair? Yes, this entire process of looking for a changed appearance is intimating, but nothing like it if you do it well!
Why should you go for Apps for Changing Hair Color?
A lot is happening in the hairstyling industry, be it ombre or balayage, fine highlights, or coppery gradients. If you love to sport ponytails or low buns, we bet you try blonde shades in your shaft to stand out.
From reds, browns, purples, and teals to mahogany or ebony, there are multiple hair colors approved by hairdressers, which are known to revamp your appearance to a great extent.
A fresh-colored blowout from the salon just adds that charm to your look. Coloring can damage your hair ends, especially in the long run.
Not only are they expensive, but they also demand a great deal of aftercare to keep them in place for extended periods. Hence, it is not that simple to get your hair dyed. It is indeed a big decision.
And hence, these hair coloring apps make your life much easier. You can go for multiple try-one or perfectly adjusted trials to find your next best shade, something that suits yours exclusively.
These apps save you time, energy, and money, all at the same time. Also, they are pretty entertaining to use as well. We bet they will tempt you to click some poses in sultry greys or raging reds; everyone wants them!
What is all to look for in such Apps for Changing Hair Color?
Most of the apps available in this segment are free to use, while some involve a few paid features. Generally, it would be best if you went for apps that promise real-time try ones more valuable than picture modifiers, any day.
However, hair color-changing apps that use your picture to change your hairstyle are more accurate and more refined-looking if you wish to share high-end photos on your social media platforms. 
We recommend you select the ones that match your palette's taste and serve your purpose. Some are very professional, whereas some end up as more entertaining lighter apps. Most of them are multi-platform compatible, which is always preferable.
Best Apps For Changing Hair Color👌👌
Before you bleach your luscious locks for a new look, it would be wise to get your hands on these hair color-changing virtual simulators.
They are fast, easy, and yield close results that would help you in your hair makeover journey much better!
Here is a compilation of our top ten tried and tested hair color-changing apps. These popular, high-rated, easy-to-use applications are bound to take you on a colorful ride!
1. Chou Chou Virtual Hair Try-on
Top Highlight: a 3D simulated environment for a better experience.
The first app on our list of the best apps for Changing Hair Color is the Tokyo-based Chou Chou virtual try-on app, available exclusively on the apple app store.
With a decent variety of colors and styles, you can simply try them on your face and comprehend if you would like to go for it. 
You can either use your picture or live video to try out these pieces. Unlike other apps, the Chou Chou virtual try-on allows users to enjoy a life-like appearance with natural-looking hair instead of animated styles.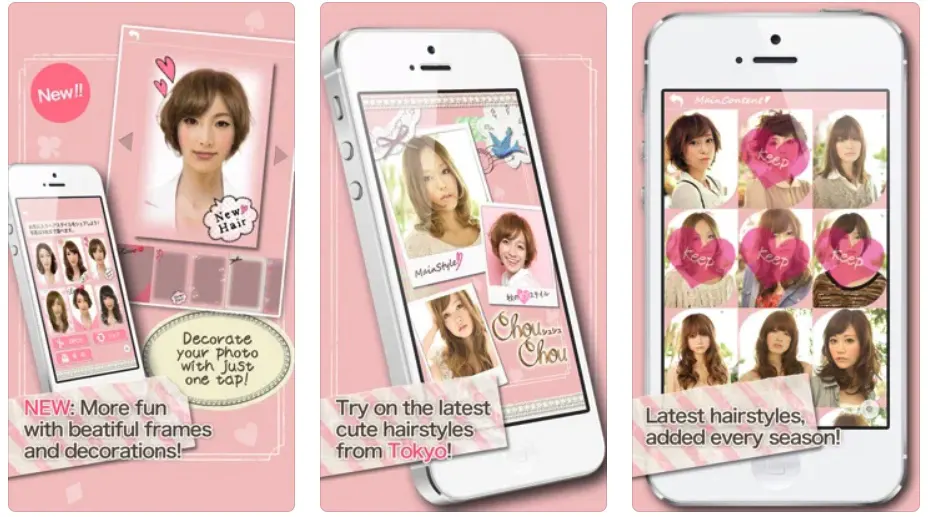 This open-source application is pretty fast in functionality. Within a minute or two, you can load yourself with multiple styles without having to look for colors on the internet.
You also have the liberty to amp up your look by modifying the hair volume or the tonal range in the virtual try-on to see what suits you better.
There are many hairstyles to try out, not just standard hair colors. You can share your final result with your friends and have a better opinion about your new look. 
The perks:-
Free to use.

Realistic results.

Multiple unique designs.
The drawbacks:-
Not available on Android.

Only a few designs are available. 
Download the App from Apple App Store
2. Hair Colour Dye– Hairstyles Wigs
Top Highlight: Manual hair detection.
Hair Colour Dye is the next app in our discussion that features unique hair coloring options. Generally, most hair color-changing apps color your entire head, and you have no choice for adding multiple shades.
Going for such experimental looks is a bit risky, and this is where these virtual try-on apps help users to capture natural looks without needing to spend endless hours and money on salons. With this app, you can effortlessly try simultaneous shades!
It is pretty user-friendly. All you need to do is add the picture of your choice on this app. As of now, this only works with still shots and not videos. Then you can manually mark out your hair locks to be colored. Select the shades you want, and the app will take care of the rest.
You have the liberty to change the style or fill in different funky shades and share the result with a more extensive audience with a few simple clicks. Anything can be erased selectively or reversed at any point of your makeover!
The perks:-
Free to use.

Specific colorations are allowed.

Compatible with most sharing platforms.
The drawbacks:-
Only available on iOS.

Less hairstyle to try.
Download App on Apple App Store
3. Hair Zapp
Top Highlight: Fun community to take color inspiration and share looks.
Hair Zapp is a brilliant virtual hair makeover app available on most mobile platforms. It is free to install and also includes enhanced features in its premium plan.
Initially designed by and for hairdressers, this app has a stamp of approval from high-end stylists regarding trendy picks and quality.
It features a real-time hair makeover simulation that allows you to visualize yourself in different haircuts and colors and see your hair change!
The fact that this application makes your makeover look real without giving it an artificial animated wig feel makes it a truly classic choice. You can explore recent launches, the best styles of the year and compare multiple runway styles all at the same place.
This interactive app allows you to share your final looks and receive verdicts from a passionate community of hairstyle enthusiasts. Just upload a picture of yours and try out a plethora of hair color shades from the comfort of your home!
The perks:-
Shareable interactive community.

Hairstylists approved designs.

High-resolution results.
The drawbacks:-
Ad-free version costs.

Limited features in the free plan.
Download App on Google Play Store
Download App on Apple App Store
4. Hair Colour Booth – AI-Powered Hair Colorizer
Top Highlight: Perfect real-looking root touch-ups.
The hair color booth is another one of the best apps for changing hair color on our list that allows you to match your shade effectively without any hassle.
Using this app, users can find the perfect hair color for them, produced by its extensive skin tone and face cut matching techniques.
Before you decide to go with the shade that has been trending worldwide, it would be worthwhile to simulate that shade using this app pretty quickly. This app retails for $0.99 as a one-time payment on the Apple store and features negligible in-app purchases.
Most of the hair color-changing apps available in the market tend to give your face an animated weird-looking wig, but this matches your hair strands from top to all the way to the bottom without standing out.
This app is an excellent choice if you wish to try out new styles, or maybe you wish to share your selfie on your social media handles when you are not dyed completely. This app will match your actual shade for a picture-perfect you in no time!
The perks:-
Easy to collaborate.

Standard shades are available. 

Simple toned touch-ups are possible.
The drawbacks:-
Not free.

Apple-exclusive application.
Download App on Apple App Store
5. YouCam Makeup– Selfie Editor
Top Highlight: Most precise hair detection.
YouCam Makeup probably needs no introduction. This augmented reality application helps users create whimsical, lifelike looks that can be altered accordingly. There are more than 200 filters, styles, accessories, and whatnot to make your final result worth the effort.
| YouCam Makeup Store Video_new
It allows hair color changes on your picture and seamlessly detects live videos. This app is perfect for people who want an all-around preview of how they would look in the end from every angle possible!
You can adjust your hair's shade, texture, tone, and highlights to achieve a customized look. YouCam allows you to try multiple hairstyles with your new virtually colored hair to make things more fun.
You can go as short or as long as your hair length as possible. To get an idea about the complete look, throw in some accessories, add a nice filter and strike a pose for your perfect picture. Even if you want to dye your hair, you can still flaunt your new shade on social media!
The perks:-
Available on most operating systems.

Free to install.

Both live and still hair detection.
The drawbacks:-
Most of the features need to be purchased.

Limited shareable platforms.
Download App on Google Play Store
Download App on Apple App Store
6. Magic Mirror Demo Hair Styler
Top Highlight: Wide variety of shades and styles to choose from.
Free to install, Magic Mirror is yet another excellent hair makeover app that allows users to choose from a wide range of styles and designs in numerous shades for their perfect look. You can select a male or a female appearance and layer various styling options further.
This way, you can comprehend a far better-looking color shade that matches your taste along with a favorable haircut as well.
Magic Mirror, Hair styler
It features a much sought for facial detection option that sets new hair on the selected face very naturally. It matches your roots and ends pretty well. The hair alignment can be improved to a much greater extent with manual markers that can be adjusted to your face pretty well.
You can adjust the tonal strength and shade variations anytime, and of course, the texture can be fit too. You can try out different hairstyles with the latest hair colors not only on yourself but also on random animated characters as well.
The perks:-
User friendly.

Inclusive of men's hairstyles too.

Frequent style updates every week.
The drawbacks:-
Suitable for round preset face shapes, not for edgy square types.

Requires upgrading to the premium version for locked shades.
Download App on Google Play Store
Download App on Apple App Store
7. Fabby Look – Hair Color Changer
Top Highlight: Best for trying out funky yet sassy hair colors anytime.
If you are someone who experiments a lot, the Fabby Look is the perfect choice for you. It features a wide variety of cool, runway-like unconventional shades that may surprisingly suit you amazingly.
This app has a simple user interface and takes no extra time while loading out the color palette for you.
You can either upload your photo or try a virtual try-on to see how these experimental shades can be formulated. It allows minimal shade altering too. The last look can be shared on various platforms as well. 
If you feel like donning a complete platinum or magenta head, no worries, you can now do that without actually dying your hair. The shade palette available here matches your hair stricture quite closely and gives you a real-looking hair transformation.
Discover what you'd look like with a new hair color in real time
Let's face it, we would find turning blonde or neon a bit scary at first, but if you find that look flattering on you, you can easily opt for the complete look. This is how Fabby Look helps you fulfill all your wild, whimsical hair goals!
The perks:-
Ease of use.

Live try on possible.

Completely free.
The drawbacks:-
Lesser standard color choices.

No defined hairstyles are available.
Download App on Google Play Store
Download App on Apple App Store
8. Black Hair for Women
Top Highlight: Perfect for natural black women's hair colors.
When it comes to hair makeover apps, almost all apps are not meant for natural hair. Black women tend to have different hair textures, and these regular apps seem to do no justice. 
The Black hair app, available exclusively on Apple-based platforms, is a free, easy-to-use, and crisp way to add that oomph to your curly locks.
It features a large variety of hair shades and styles meant explicitly for black women. The user interface is super friendly, and it only takes a few clicks to achieve your desired results!
There is a lot to look for, from minimal tones to varied textures here. All you got to do is upload any picture that you would prefer, choose the best-suited style for you, or browse till you find one, and that's it!
You have the freedom to manually adjust the saturation and tonal highlights simultaneously until you achieve your final desired look.
It also includes many in-app purchases, which allow users to add multiple hairstyles and get picture-perfect locks!
The perks:-
Try on hair cuts available.

Adjust tonal settings.

Free to use.
The drawbacks:-
Not available on Android.

The ad-free version costs $2.99.
Download App on Apple App Store
You may like to read our guide on the 9
Best Acne Apps
To Understand Your Skin Needs.
9. Style my Hair- Discover your New Look
Top Highlight: A L'oreal professionals-based app that features extensive designs and shades.
Style My Hair is another popular application that provides high-quality professional salon-like styles and shades. It features innumerable shades and tones to choose from, which sets this app apart from other hair color simulators which possess only a few standard shades.
Style My Hair: try on hair styles, color makover
Just like a salon, you can change the shadows or select subtle variations from the already available shade preset table. This app becomes more useful, especially when you look forward to dyeing your hair but want to try it out beforehand.
You can take multiple pictures and style them accordingly. Its unique comparative option allows you to simultaneously scale yourself with numerous shades and see what looks best on you.
When you wish to alter your hair shade, which is not very different from the one you own, trying it on becomes a bit tacky, and everything looks the same. This app's compare button will allow you to see distinct similarities and differences with just one tap on the screen.
The perks:-
Comparative features.

Wider color palette.

Accurate patch tests are possible.
The drawbacks:-
High-resolution pictures load a lot of data.

No live hair detection.
Download App on Google Play Store
Download App on Apple App Store
10. Hairstyle Changer- Virtual Makeover for Men and Women
Top Highlight: Perfect for shorter styles and cuts.
The last virtual try-on app on our list is the Hairstyle Changer application that fits both men and women. Unlike standard apps that feature longer hairdos only for women, this has many hairstyles for shorter lengths as well.
This app also allows you to cut your virtual hair's length accordingly with a single touch. The shades can be altered and matched.
The best part about this app is that you can try different styles in the same shade of your picture to see what suits you better. It supports beards and mustaches too.
When you finish your look, this app allows you to share the result on multiple platforms so you don't miss a thing. This Hairstyle Changer offers different accessories for simulating a better real-time finalized look.
It is free to use and is supported by Android and iOS. With its perfect recognition tool, you can easily visualize multiple designs and shades in real-time. If you are new to this and want to try things out, this is the perfect fun app!
The perks:-
Haircuts can be simulated.

Apt for men too.

Different styles for the same color.
The drawbacks:-
Few color options.

Not a natural result.
Download App on Google Play Store
Download App on Apple App Store
While exploring the Best Apps For Changing Hair Color For Virtual Hairstyling, I found an awesome video on "Each Person Has a Maximum Hair Length and 26 Cool Hair Facts"
Each Person Has a Maximum Hair Length and 26 Cool Hair Facts
📗FAQ
Is there an app that lets you change your hair color? 
Yes, some great apps for changing hair color allow you to easily change the color of your hair the way you want.
Some of the best apps to mention are Hair Zapp, YouCam Makeup, Hair Color Dye, Magic Mirror Demo Hair Styler, Black Hair for Women etc.  
How can I see what I look like with different-colored hair? 
You can try out apps like MakeupPlus, YouCam Makeup, Facetune2, Hairstyle Try-On etc., to effortlessly check out your look with multiple hair colors.  
How do you change your hair color on your phone? 
Start by installing the free YouCam Makeup app, which is accessible on iOS and Android, to change your hair color on your phone.
To submit your photo, tap Photo Makeup after that. Next, explore more than 150 hair color possibilities with various hair dye styles by selecting Hair. Then, save and share your image with the color of your perfect Hair.
Finally, try more apps like Hair Color Dye, Hair Zapp, Hair Color Booth, Fabby Look, and Style my Hair to change your hair color like a pro. 
Final Words
We know finding the best hair color can be a challenging task for you. It's not easy to go out and get a new color done on your hair. Hair color treatments are expensive and damaging, too, over a long time.
The apps mentioned above for changing hair color comes out as saviors in such situations. They aid our hair color contemplation with real-time try-on to have a better picture of the look you are going for. 
Not just that, these apps are overall a fun way to experiment with different looks. If you wish to flaunt your new avatar in your friend circle, these apps will surely assist you in achieving your next head-turner makeover!