Have you been using any tool to collect your data for multiple aspects? We are talking about getting customers' feedback, filling out jobs or internship forms, surveys, registrations, events, etc.
All of these cannot be done manually anymore, and the best way to do it is by creating a form on the web and forwarding it to everyone interested in the purpose.
For this, you can use the very popular Google Forms, and we have created a list of the best google forms templates so that the forms can be more interactive.
Not everyone who first starts to use it knows about the potential Google forms has. With the help of such forms and incredible templates, you can even help users to feel more interactive and urge them to fill out the form.
These forms are very important for any company or event to collect data and use it in the future for multiple other purposes.  Choosing the right template for your form is an important task.
It all depends on the type of template you are using. Users are more attracted to forms with good design and speak out to them. Let us look at the list of cool google forms templates.
Best Google Forms Templates – Our Top Pick👌
1. Customer FeedBack – Google forms templates for business
Customer Feedback (Download Here) is the most commonly used Google Form on the web. Every company or individual providing services has a customer feedback form intact in their emails or websites to know more about their customers' thoughts.
This helps a lot for every organization to improve and make changes according to what they think.
With the help of this Google form template, you no longer have to create one manually for your company. Well, simply click on the form, and you can edit it accordingly as per what you need to ask from the customers.
You can even start by preparing a list of all the questionnaires based on your product or service. Likewise, using the tools, you can add them in the form. From adding an image to a video, everything is made available to make the most interactive.
There are options where you can change the color theme as well. With the responses, you can understand more about the mindset and what service issues, if at all, you must make the required changes as we know.
2. Contact Information
One of the widely used and most popular Google templates is Contact Information (Download Here). With the help of this, you can know every little detail about your customer and use the data to reach out to them in their time of need.
This form comes under the personal category since all your info is a part of this. A lot of companies use this while you are scrolling on other websites of any company.
As soon as you head over to the Contact Us page, you will find that the companies have been using Google forms to collect data from their potential customers.
Such forms ask for your name, address, Email, Phone number, and comments, if any. Once you click on the template, this is what you will find as default; however, as we said, you could make changes based on the info you need from your customers.
It is also important that you add everything about your company or the event so that everyone can know the purpose of the form. Most people make no edits and start with work.
3. Event Registration
When you open the Google Forms on your system, click on templates and head to the Event Registration form (Download Here). The default form is just an example of how you can also set one for yourself.
Either you can edit the one already made or create from fresh. These templates are very useful for every beginner who may not have enough ideas for what all topics are required to be mentioned. 
You need to be prepared with the event details so you can enter them in the description. Every form has been given multiple choices that you can choose to go for with every question. It can be a checkbox, multiple-choice, Dropdown, and more than you can choose from within a question.
For event registration, the ideal entries you would need are the names, contact, days you will attend, whether you will be participating, about your profession, company details(if any), and some more options based on the type of event.
It even has options where you can make the question to be mandatory, or you can leave the space blank. Many people do not wish to enter their company details at times or any other info they are not comfortable with, which can be kept under optional.
Furthermore, you can try to change the form's color, image, and font style to make it look more attractive and convincing. All the responses are recorded in the tab so you can access them whenever possible.
4. Job Application Form
Job application forms (Download Here) are yet another of the best google forms templates you will find on the web.
From large multinational companies to small startups, everyone makes use of Google forms since it is free of cost and also does not have a limit on the number of responses it can store. So, with the help of this template, you can create any job application to hire the most suitable person for your company.
You might have come across multiple such applications, use the content from such forms, and make one yourself. This template consists of your Name, Email, phone number, position you want to apply to, and submit your cover letter.
You can also add a section to enter the link to your resume or CV, current profession, expected salary, skills, etc. Such a form can be used to hire freelancers as well.
For example, if you are looking for a content writer, you can add more sections to this form, such as a link to the previous article, expected pay rate, expertise, etc., and other sections you would want to know.
5. Event Feedback
Many organizers forget a very important aspect of getting customer feedback on who attended the event after it is over. It is easier to send them an email with the Event Feedback form (Download Here) since you have all the details of the ones who have registered through the registration form.
Simply gather the email id of the people and send them this form. You need not put much effort into this; just go for the Google template with the questions.
You will need this form to ensure that you understand how the event was and what changes can be brought in in the future based on the feedback.
Using the template above will give your customers a chance to provide honest opinions about the event. You can either use the template or add more questions based on what you want to know.
In such forms, the best aspect is to go for multiple-choice grids as it is easier and faster to fill out the form. Feedback forms are the best when kept short yet informative enough so that it is easy to analyze for you and the event attendees.
6. Party Invite
Having to fill out a form for a party invite (Download Here) may sound odd, but it is really helpful to manage the guest list.
In multiple countries and societies, this norm is followed, where you can simply fill out a form to let the host know whether or not you will be attending the party.
Such a Google form template exists because sometimes a party can have hundreds of guests, and managing their data becomes out of order.
Hence, asking the potential attendees to fill out the form and confirm their attendance gives an edge to the one organizing it. You can layout the tables and arrange for food only according to the number of people.
Furthermore, the default template looks brilliant, and it is perfect. However, if you have some specific professional party in your office, make the changes to make it look formal.
You can enter some of the entries on the form by writing the part description, i.e., the venue, timing, purpose, etc.
Now add sections for Name, the number of attendees, the kind of dish the attendee will bring by multiple choice to choose from, email address, and other entries based on your party theme.
7. Order Request
The best manner to keep track of all the orders of your service or product is by choosing the best google forms template for Order Request (Download Here) and forwarding it to your potential customers.
With this help, you can keep track of orders and get a good database of all the new and regular customers. First, keep it attractive by choosing different themes, background images, colors, and font styles. The panel does write short info about your company or service in the description.
It works best for freelancers as well. Add this form to your portfolio website so people can fill it out and place orders for your service.
If you are a graphics designer, use the form to allow clients to fill in their requirements so that you can schedule a small conversation with the person at the said time.
Other than this, if you are a company or service provider, add sections such as Name, Contact info, email id, address, service, or item you will be ordering.
Furthermore, many order requests also allow customers to choose the payment mode to be clear on how things can go further.
Also, ensure you put up adequate info about the company or service and enter the ideal customer service contact number so they can easily trust and reach out to you in need.
8. Time Off Request
It is not easy to get a leave from your boss, especially when you have a job requiring you to be present every day. Well, the worst part is when it comes to confronting a leave to take time off work.
This is why companies have proposed a Time Off Request form (Download Here) where you can mention all the details to take a leave and the reason to do so. For this, you can easily find the best google forms templates online and create one for your company.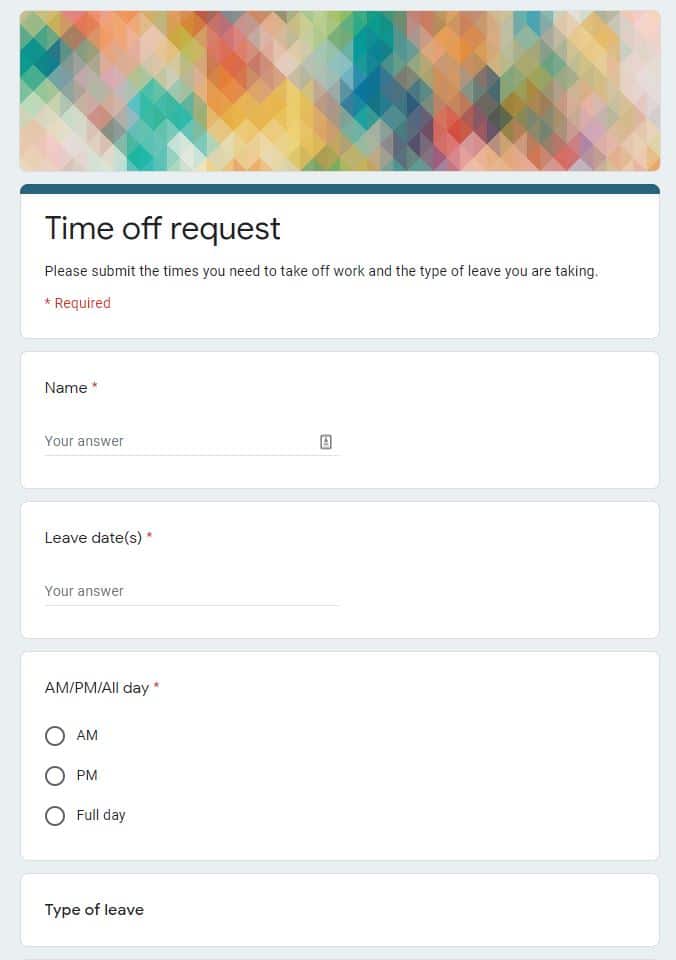 The best aspect of this form is it saves a lot of time, and you may not have to submit a letter to your supervisor. Communicating with other people can be a little tough; this form works best.
Whether you are talking about sick leave or going out, simply fill out the form, and you are done. This way, your supervisor can also keep track of the leaves you have taken and act accordingly.
In the form, you will find sections such as your info, date & time of leave, reason, and type of leave.
For example, if you are hoping to get a period left, some women may find it uncomfortable to ask for one in front of other people; hence the form can be really helpful to describe the reason rather than calling out loud.
9. Course evaluation
Has your college or school ever brought you a survey yet where you can anonymously give feedback on your teachers? Well, every college does this every term of the course.
It is not only for the teacher but the course subject as well and the evaluation of how each student feels about the curriculum and the teaching of the class.
We, too, have been there, and it was fun when you were anonymous. Many students fear speaking in front of their teachers or speaking about them out of fear. Hence such forms come in handy when you wish to speak out genuinely. 
Once you open the form, you can either keep it this way or make the changes according to the course. So, either keep the name of the students compulsory, or you can remove the section so that they can make the entries secretly, allowing them to speak the truth.
This course evaluation (Download Here) is needed since it will help teachers to understand where they stand and what has been growing wrong. Some of the sections you will find are the effort level, learning contribution, the tutor, and your learning capabilities.
We believe this is the perfect form you can think of and does not need any changes. All the multiple-choice questions are needed, and it is fun to do. Either this or choose your questions or menu options other than the multiple-choice.
10. Event RSVP
We have another form with the name Event RSVP (Download Here) where the template brings about a form for the event invitation. Here the word rsvp has been used as part of what french call it as répondez s'il Vous plaît, which means "Please Respond."
Here this form demands to have a response to the invitation they have received of the party, event, or any other situation. You can start by writing down the description of the event so that the person can respond accordingly and make their choice.
Next up, you can start with the template as given for your details, contact info, and then all the info on whether you will be available for the event or not.
Also, it is important to mention in the form the number of people attending it. Well, this particular info does a lot of work since you can manage the seating, food, and other activities systematically.
Advantages and Disadvantages of using Google Forms Templates
Google Forms Templates Advantages:-
It gives a good personal touch to the form since you can edit the content manually and make it more convincing.

All the collected data can be brought together in a spreadsheet to maintain a proper database.

It is a great help for R&D since collecting data here and segregating them as per your end is super easy.

Simple to use and implement

Multiple form templates are available to give you a start.

Data is presented in real-time and can be accessed by multiple users

Integrated with multiple google tools such as Google Sheets and saved to Google Drive.

Set it to gather the respondents' email automatically, or you can leave it anonymous in multiple cases, such as Course feedback.

Perfect to gather information about different people in terms of the survey.

Add any number of questions in any manner it may seem comfortable.
Google Forms Templates Disadvantages:-
It can be difficult to start with if you are not familiar with the tool

Limited customization at a point

No conditional question functions are available

The design could have been improved
Embed Google Form Poll into Email
With Google Forms, creating a survey that people can directly fill out inside the email is easy.
To create a new survey, Open Google forms; you have two options either create a form with a Blank template or use an existing template, and we can embed it in both cases.
In my case, I selected the "RSVP" template as shown in the above screenshot, Do all the necessary changes that you want to do with this form.
Once your change is done, click on the "Send" button.
here you need to select the "Include form in the email" option to embed this google form into an email.
If you want to add Collaborators in this form, click on the "Add collaborators" option.
If you want to embed this pool in your Website, Click on the Embed option after clicking the Send. Copy the HTML code and embed it on your website.
Here you also have the option to share this google form with Facebook and Twitter.
At the time of our research on Best Google Forms Templates That You Can't Miss, we found a video about "5 Google Forms Tips Every User Should Know!" which is worth watching.
5 Google Forms Tips Every User Should Know!
📗FAQ
Are there templates for Google Forms? 
Yes, some great templates for Google Forms offer a wide range of purposes to help you get the best of available features.
You can try out templates like Customer Feedback, Event Registration, Job Application Form, Party Invite, Order Request , etc. and it all depends on why you want to use Google Forms and other preferences.  
Where are templates in Google Forms? 
Google Forms offers a wide range of templates to improve your use for multiple purposes, including poll-creating, designing question papers, feedback forms, customer review forms, and more.
You can easily download and add templates based on your business type, requirements, and other preferences.  
Does Google have a survey template? 
Yes, it does! To launch a blank form or create a form from a template, click the arrow to the right of the Google Forms option.
You may create a survey using a template or a blank form. To create a survey from a blank form, click Blank Form. Alternatively, you may pick a template to build a survey from scratch. 
What is better, SurveyMonkey or Google Forms? 
It is best to use Google Forms if cost is a factor. Although SurveyMonkey offers a free plan, it is highly restricted and won't help you much unless you generate very simple surveys and don't expect many answers.
Since Google Forms has fewer choices, it's simpler to set up and disseminate a survey without delving into complex logic and analysis. This makes it a better choice for testing the waters. 
Does Google have a free survey tool? 
Yes, it has! Google Forms is undoubtedly one of the greatest survey tools. For everybody with a Google account, it is completely free.
Without spending a dollar, you may use it to create as many surveys as you need, ask as many questions as you like, and gather responses from as many participants as you are willing to take your survey. 
What is the difference between Google Surveys and Google Forms? 
Google Forms allows you to create surveys, but you can only share them with individuals who are already familiar with you or on your email list.
On the other hand, with the help of its built-in audience, Google Surveys will display your survey to them (for a price). 
Is there a cost to Google Forms? 
Anyone with a Google account may use Google Forms for free. It allows you to create as many surveys as you need, ask as many questions as you like, and gather feedback from as many respondents as you are willing to do your survey—all without spending a penny. 
Is there a limit on Google Forms? 
The Google Forms add-on allows all free users to send up to 20 form responses daily. Additionally, rather than using form replies, the sending restriction is based on "email recipients per day." The premium account offers 1500 form responses each day. 
Do Google Forms expire? 
A Google Form is made public by default when it is created, allowing anybody with the URL to the form to respond. There is no time restriction on any quiz, poll, or survey you create inside of Google Forms, and you can gather as many replies as you want until you manually close the form. 
How safe are Google Forms? 
Google Forms are secure.  A file you create on Google Docs, Sheets, & Slides and share is safely kept in Google's top-notch data centers.
Both in-transit and at-rest data are encrypted. If you view these files offline, Google saves this information on your device. 
How do I create a custom Google form?

 
It is very simple to create a custom Google form. 
Select a choice: Go to forms.google.com and select Blank or a template.

 

Decide your form's name: Click Untitled form or the name of the template form in the top-left corner, then type a new name.

 

(Optional) Perform any of the following: Add a summary: Enter your text after the form's name.

 
Final Thoughts
So, here we are with the best google forms templates free that you can use to make one for yourself for whichever purpose. The data is secure and has been kept encrypted from anyone's access.
The responses are only available who have been given access to the form. Furthermore, it is super simple to use and edit so that you can make one easily without hassle. Other forms of sites have a more modern approach, and people love to use them.
Google can work on that to provide them with a better design or add more customization options. It can be used for any purpose, such as an event, feedback, invitation, order, survey, job application, etc.
Even if you do not like the template and the content, you can create one by yourself and start fresh. All you have to do is take an idea from the template to how it's done and add content to it with more questions.
Other than this, there are other form templates too that can be put to great use, but they are not very popular. However, you never know when the need will arrive; hence it is better to know. If you have any queries regarding google form templates, you can let us know in the comment section below.