When buying a laptop, we must remember the main objective we are buying it for. That was an ancient story when bio and technology were looked at as two different fields.
But as time passed, people learned that technology could be a vital player in aiding biological research.
Now we see that technology has made research and data storage relatively easy. So in case you are a bioinformatics professional or a student, you must select the correct laptop for yourself, which can be helpful in research.
A bioinformatic student needs multiple software, such as MODELLER, NetsurfP, AutoDock, etc., to complete their projects.
Every laptop in the market cannot support this high-processing software. This is why you must select the best gadget for your purpose.
Here we present the best laptop for bioinformatics and all the details you need.
Best Laptop For Bioinformatics – Our Pick👌👌
1. DELL XPS 15 9500
In our list of the best laptop for bioinformatics, this has everything you will need. From a tough processor to a large memory, this product fits the definition of what can be called the best laptop for bioinformatics.
Talking about the feature, the laptop has a big screen size of 15.6 inches which is suitable for work.
The laptop comes with a stunning processor of intel core i7 10750H 10 generation, which is the highlight of the gadget. This processor will help you run various software together without any glitches.
Bioinformatics involves a lot of numbers and data calculation which is why a laptop needs to give an accurate result. The i7 core facilitates multitasking, so your laptop can perform multiple functions simultaneously.
We know how important Ram is to run the software. A large ram signifies that the software will run smoothly. You need enough Ram to sustain such high functions.
Dell provides 16GB DDR4 ram and 1TB SSD storage in this laptop, where you can store all the data related to sequencing and research.
It is highly likely that with such high functions, your laptop starts heating. To avoid that, Dell XPS 15 with a thermal cooling system that keeps the laptop cool and ensures proper operations.
Sitting for hours in front of a screen can strain the eyes, but the laptop has a 4K display which gives a crystal clear view that does not burn your eyes.
You could look at small data and detail with total clarity. The display delivers more than 16 million ultra-vivid colors, maintaining a smooth balance for your eyes. 
The laptop comes with high-resolution graphics of NVIDIA Geforce GTX 1650Ti graphics. The graphics are essential when it comes to the purpose of bioinformatics.
You need to keep a watch on minute details and structure. Fast-running programs' performance on screen can be affected if you don't have a high-functioning graphic.
You get an excellent 3D sound quality that enhances your experience while watching a video or attending any meeting. It has an incredible webcam. There are all kinds of ports, such as HDMI, SD card reader, and many more.
The build of the keyboard is impressive and strong. Working with data, you need your keyboards to be strong and tactile.
You get a 62% extra touchpad to complete your function. You get a carbon fiber palm rest that does not irritate your skin and maintains smooth mobility.
It has integrated eye-safe display technology, which is essential to protect from the screen's blue light. The laptop is protected with gorilla glass six, which is tough and protects against scratches and damage.
The laptop is very thin, so you can easily carry it around campus or the office. It has a very sleek design, but it is heavily built. The built laptop is sturdy and makes it durable.
Pros:-
Stylish look

Strong and sturdy built

Powerful processor

Amazing display
Cons:-
Check Price on Amazon
Dell XPS 15 9500 Review (2020)
2. Apple MacBook Pro
Suppose money is not a problem, then the Apple MacBook can be the best laptop for bioinformatics. The laptop fulfills almost every criterion that you need for your work. Starting with the screen size, you get a 16-inch display which is more than enough.
The big screen enables one to look at a more comprehensive layout. Facebook even claims to be the largest retina display in a MacBook notebook. It has 500 nits for brightness, enhancing the color view closer to real life.
The intel core i9 processor of the laptop promises a high-functioning multitasking laptop. You can run various programs and work on multiple tabs simultaneously.
With up to 8 cores and 16 threads of power, the laptop can function for a long time without hanging or facing any trouble. 
Multitasking can heat the laptop, which hinders performance, but this laptop has an advanced thermal design that prevents it from heating.
The MacBook has 28% more airflow and a 35% larger heat sink than its previous versions, implying that this is the highest-functioning MacBook for bioinformatics.
It has 64GB DDR4 memory which eventually means a lot of multitasking and smooth functioning. With a higher Ram, you get accurate results in a short period.
The large Ram will help store sequencing data and do operations related to them faster. This laptop can function 4.3x more quickly than a laptop with 16 GB ram so that you will find significant results.
This laptop comes with AMD Radeon Pro 5000M series, giving superior graphic qualities. You can even see the slightest of data while analyzing and comparing.
The laptop also has a touch ID verification which means that all your work is safe and secure and can be accessed alone.
The keyboard is sturdy and easy to work with. Along with that, you almost get near to the best sound experience.
The inbuilt six-speaker and force-canceling woofers are some of the catchy features of the laptop. You can have an excellent sound experience while running a media file.
The laptop can perform its high function for up to 11 hours. You get an excellent battery life and long working hours.
The laptop is sleek and classy, so an aesthetic look can be a plus point. It is lightweight so that you can carry it for a long time. 
Pros:-
Lightweight

Good storage capacity

Crystal clear display
Cons:-
Check Price on Amazon
3. HP Pavilion 15 – Best laptop for bioinformatics From HP
If you are a beginner and are not planning to invest a lot initially, the HP Pavilion is a wish to come true.
You don't necessarily have to burn your pockets to afford a bioinformatics laptop. The features of HP Pavilion 15 are just as good as others and are sufficient to serve your purpose. 
This laptop gives you a screen size of 15.6 inches which is sufficient for performance. The screen is big enough to have a comfortable display while working. This size generally is considered to be optimal.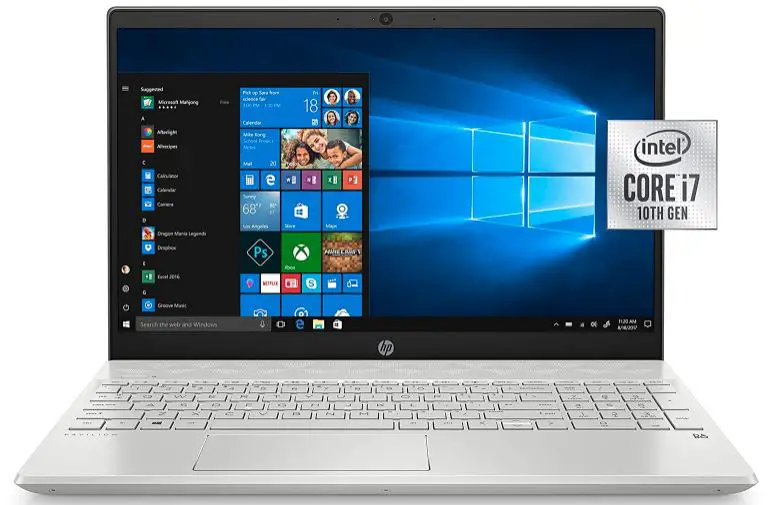 It has a 10th generation intel core i7 processor with up to 3.9 GHz intel turbo technology.
With such a powerful processor, your laptop will function multiple operations and run heavy software. Fast file transfer and perform biological information tasks that need fast functioning.
With 16 GB DDR4 ram, the laptop can quickly analyze and compare data. You can multitask and get accurate and fast results. With enough storage provided with 512GB SSD storage, you can ensure that the laptop will not lag in performance no matter what. It is a packed deal of smooth-functioning laptops.
It also has wi-fi 6 and Bluetooth 5 for easy file transfer wherever you go. The wide-angle web camera with a dual array microphone gives you excellent performance while in a meeting or presenting anything.
The display is pretty good, and you can work for long hours. With blue light protection, the screen will not burn your eyes. The battery life is no doubt, pretty good.
You can work for as long as 10 hours with a single charge. The laptop speakers are good and can be used for media consumption. You get a backlit keyboard with excellent performance, so you can even work at night without turning the lights on.
It supports connectivity from Bluetooth, wi-fi, Ethernet, and HDMI and consists of many parts to connect to SD cards, headphones, and USB. Coming to the body, it has a metal finish that looks stunning. Being lightweight, it is easy to carry.
The build is strong ad gives a sturdy look. It comes with an FHD display which is easy on the eyes. With a hp fast charger, you can charge your laptop faster from 0% to 50% in just 45min.
Pros:-
Affordable

Fast charging

Rendering speed
Cons:-
Check Price on Amazon
HP Pavilion 15 Review - A Budget Omen 15?
4. Asus Vivobook 15
Asus Vivobook is again the best laptop for Bioinformatics in terms of affordability. Asus has been doing great in the market, and this particular model is what we think is most suitable to be a bioinformatics laptop.
It has almost all the features you are looking for at a reasonable price. So if you are a student, this will work well for you.
The first highlight of the laptop is that it is lightweight. It is easily portable, and you can work on it while carrying it around.
It is small and compatible, too, so you can stuff it inside your backpack and roam around. It is not a difficult task when it comes to carrying this laptop. The body is sleek to work efficiently in labs and offices.
The laptop has an Intel i7 processor, which can run any software you want. It cannot support a lot of heavy multitasking, but it is compatible enough to give accurate results and aid in file transfer and running operations. You can do data analysis, comparison, and calculations easily.
Asus gives AMD Ryzen 7 and 12 GB ram, which supports heavy software. The Ram does not sound enough but trusts us, and you will not say so once you use it.
It can do all the functions just as fine as other competitors. It will serve your purpose. And at this price, you will be satisfied with its operations.
The 512 SSD storage provided is a pretty good deal itself. In bioinformatics, you tend to process a lot of data. You will find the laptop more efficient once you work on it; it does not feel like it lacks any features.
The display is good as well. It does not have a 4k display, but what do you expect from a laptop at a budgeted price? The important thing is it does not strain your eyes much. You will be comfortable using it.
Depending on your setting, you also get a battery life of approximately 7-8 hours. The battery life is enough to cover a college day on a single charge.
The keyboard is tactile and feels good to use. The laptop's sound system is worth appreciating, too, as it gives good audio for your media files.
It has a USB port, SD card reader, HDMI port, and jack to insert a microphone or headphones. It also has a good webcam. 
So, in conclusion, the product is worth the amount of money. You will not regret buying it. You can expand the Ram if you feel it is less.
Pros:-
Lightweight

Affordable

Easy to carry
Cons:-
Check Price on Amazon
5. HP ENVY 13
This one is again one of the good products of HP when it comes to bioinformatics laptops. One thing is sure one should pat back on HP as it provides excellent features in a budget-friendly product.
There is no aspect in which this laptop is behind any other competitor on the list. Besides providing first-class business-related and gaming laptops, hp is good at making a laptop that looks after data analysis and managing tasks.
Coming to the build of the laptop, it is very lightweight and portable. It is compatible too, and you won't feel much stress while carrying it around for much time.
You can carry it around your lab and be stress-free about damage, and it has a metallic finish.
Once you touch it, you will know that the exterior is durable. Talking about the looks, it is a stylish and eye-catching silver color. So you will be noticed because of your classy and sleek laptop.
Now the most crucial element in the bioinformatic laptop is the RAM. The laptop's Ram is 8GB with DDR4 ram and 256 GB SSD storage.
We know that 8 GB does not sound enough, but that does not hinder its high-functioning performance. The laptop works just as fine, but for the record, this 8 GB ram is non-expandable. You can store a lot of data and your research work on the laptop.
The processor is an 8th generation intel core i7 quad-core processor, which ensures the high performance of your software. You will never find a glitch while working with extensive data and calculations.
The laptop might get heated up to prevent its thermal cooling system, which gives you long working hours on the laptop. 
It also has an NVIDIA GeForce MX250 graphic card, which boosts your display. It ensures crystal-clear images on the screen, so you don't miss details.
The laptop speaker is excellent, and you will feel great while engaging with media. The keyboard is sturdy, so you can be rough while typing. 
It has ports for USB devices, HDMI, an sd card reader, and a jack for earphones and headphones. The laptop justifies its price and does excellent work.
You are going to love it once you start working on it. It has a battery life of 11 hours, so now you know the cherry on the cake. You won't be stressed when you plug in your laptop to charge your college.
Last but not least, the unique feature is the fingerprint reader and face recognition. These two ensure that you and only you can access whatever you are working on. There would not be a chance of data theft or anything like that.
Pros:-
Lightweight

Stylish

Affordable
Cons:-
Check Price on Amazon
HP Envy 13 2021 Review - Budget Laptop under $1000 Competing with Apple M1 MacBook
6. MacBook Pro 13
Usually, people discard the MacBook just by listening to its name because they think it will be expensive, and they probably can't afford it easily. But let us tell you, it's a myth that all MacBooks are super costly.
MacBook Pro 13 is one of the most appropriate and top laptops on the list for bioinformatics laptops. It has almost everything that you need to run that heavy software.
The laptop will undoubtedly leave you in awe because this gadget is almost perfect.
The laptop is highly compatible and portable. It is lightweight at 13 inches in length. You don't have to be stressed about its storage. You can just put it under a backpack and move without feeling like you are carrying a laptop.
With its compact size, you don't have to hassle with finding ample space to keep your computer, and you can place it anywhere in the lab or hold it in your hands.
13 inches of the screen might sound a little less but trust us when we say that it has the best display with high resolution.
With millions of pixels and retina resolution, your screen will feel real, and you would have never experienced such color resolution and clarity. So please don't underestimate this laptop for its size.
If you have worked in an open space or a lab with others, you don't have to stress about seeing your work. The laptop has a touchpad and a touch identifier that protects your files and folders from any other person's reach. With touch id, you can sign in quickly, and it even encrypts the operating system.
The Apple M1 system on a chip (SOC) integrates the CPU, enabling your laptop to do heavy workload jobs, run high-end software, perform data calculations, and sequence jobs in seconds.
This was the first time Apple tried to shift to a chip with 8-core processors that work 2.3X times faster than previous generations. So you are already entering a new level with such a tough processor.
The 8 core GPU also promises 5 times better graphics. It is a solid deal of excellent resolution with high-performance graphics that enhance your software's performance while running.
It has 8 GB ram, so your software can run smoothly without lag. It will never let you down when it comes to performance. You can open and access files faster. And a 2TB SSD is no joke when it comes to storage.
You can store as many files as possible and work on various projects simultaneously. The laptop will help you be ahead of everyone when supporting multitasking.
The MacBook has a professional-grade microphone that catches every detail and gives you a studio-level performance. The speaker is also good, and you will enjoy your entertainment time. 
The typing experience of the laptop is also a level up. With the refined scissor mechanism, you will have a responsive, comfortable, and quiet typing experience. You can type faster with more efficiency. 
If you are busy or on the go, you can command Siri and get your required result. Well, this is the kind Ginnie we never knew we needed. It connects fastly to wi-fi, saving you quite a time. 
It's always good to save the best part for the last. The laptop has a battery life of 20 hours. 
So you can spend your whole day working on a single charge even if you are running heavy software and constantly running extensive data calculations while sequencing; you can work for 15-16 hours efficiently.
Pros:-
Great storage

Large battery life

Touch id 
Cons:-
It does not have enough ports for connection
Check Price on Amazon
7. Surface Pro 7
Considering a convertible laptop for challenging and heavy bioinformatics work is generally tacky. But this one convertible laptop defies it.
It is just the best laptop for Bioinformatics as any other laptop on the list. It is seen that convertibles don't function efficiently as a tablet, but this one laptop shines in any way you use it.
Coming to the exterior, the building is impressive and stylish. It gives a sleek and elegant finish and is thin.
So you will not feel much difference in thickness in holding a notebook and this laptop. The finish is very sharp and gives a very classy look that will complement your personality.
This wish is granted if you are seeking a compact and portable laptop. The laptop is so lightweight that it weighs around one or one and a half kg. So you won't even remember if you are carrying a laptop. You can work while standing or in a small space. 
With a 12'3 inch screen, the laptop is filled with high-resolution pixels. This will give you a whole new experience while watching a media file. The color resolution is almost similar to real life and immersive. 
It is a 10th-generation laptop with an intel core i5 processor that helps you do your daily work without disturbance. The processor supports the smooth functioning of any software you use.
Surface Pro 7 has 8 GB ram that helps you multitask and run several tabs simultaneously. It helps in a quick update. You run the coded program efficiently. You are never going to have a complaint about its efficiency. 
It has a 25g GB SSD which helps easy files access and speedy transfer. Along with this has a touchscreen for a tablet to convert as per your needs.
The touchscreen is sensitive, which is one of the best features of this convertible laptop. You can detach it while working and create models and figures with a pen. It is helpful if you are a student, as you can revise your notes quickly.
The battery life of the laptop is good as well. It can work for 10.5 hours in a single run. But it can vary depending on your usage. The battery is decent and can almost support your work for a single day.
Pros:-
Crystal clear display

Lightweight

Multi-purpose
Cons:-
Check Price on Amazon
8. Asus Vivobook S15 – Best laptop for bioinformatics From Asus
The Asus Vivobook is also one of the best choices on this list. If you want an affordable bioinformatics laptop without any compromise in quality, this laptop will be great.
The laptop is the definition of innovation and affordability. The Asus Vivobook S15 does your job without burning holes in your pocket.
When it comes to looks, the laptop scores 10 out of 10; it looks so rich and elegant that it will quickly draw the attention of people around you.
You can slide it into a small space with such a thin and sleek design. The color and the finish are something that you are going to like. 
The Vivobook S15 has a screen of 15'6 inches, which is another excellent feature. You get a big screen with high resolution and an excellent HD display experience. The color and brightness are rich and will not irritate your eyes while working for a long time.
You are wrong if you think a 15'6 inch laptop can be heavy. Vivobook 15 is lightweight and portable. You can carry it around and even cover a long distance.
Which is just sufficient to ensure the fast working of your running programs. You can do your analysis and data calculation in a few seconds with accurate results.
It derives its graphics from an intel UHD graphics card. It is good enough to support your software like OrfPredictor, Gromacs, etc.
You can multitask without any glitches or lag because the laptop has a RAM of 16GB. All the functions that you perform are ensured to be quick and accurate.
You can work on multiple projects, and save your research paper, assignments, lab reports, and heavy data on the laptop as it has 512GB SSD storage. You can work the whole day without worrying about any mistakes or troubles in the system.
It is evident that a laptop heats up while performing heavy workloads and multitasking. The Vivobook S15 has a cooling fan that prevents the computer from heating and maintains the ideal temperature for longer working hours.
The battery life of the laptop is approx. 10 hrs., which is sufficient for a day. It can differ in case of heavy usage, but we think it is good at this affordable price.
Asus Vivobook S15 is the best laptop at an affordable price. It is rare to find such a laptop that serves your purpose and is pocket-friendly. We can ensure you will not regret your decision if you plan to buy it.
Pros:-
Stylish look

Rendering speed

Cooling fans
Cons:-
Check Price on Amazon
Buying Guide: Best Laptop For Bioinformatics
Before buying a laptop, you must know what features to look for. If you plan to buy a bioinformatics laptop, we suggest some features you should consider. If your laptop fulfills these features, you can perform your work efficiently.
Processor:- The processor enables a laptop to perform the input command fast and run programs without lag. Opting for a 5th generation or above laptop with an i5 or i7 core is suggested.
Compatibility and portability:- as a student or a researcher, you must work in a lab and keep changing places. A portable laptop will make your work a lot more convenient.
Battery:- if you run heavy software, you should have enough battery not to hinder your work.
RAM:- Ram is also vital for a bioinformatics laptop because it helps in fast and accurate work. And 8GB RAM is ideal for a bioinformatic laptop. The DDR4 RAM type ensures ultra-high speed.
📗FAQ on the Best laptop for bioinformatics 
What computer do I need for bioinformatics?
A quality processing speed is vital in a laptop for bioinformatics. Intel core i5 or i7 sounds about right. If you get these processors from the recent generations, you will never likely go wrong.
How much RAM do I need for bioinformatics?
You might want to use the following examples as a general guide:-
8 to 16 GB of RAM might be sufficient for fundamental operations like sequence alignment and variant calling.
You might require 16–32 GB of RAM or more for more difficult activities like genome assembly or transcriptome analysis.
You might require a lot more RAM—possibly as much as 128 GB or more—for applications involving very big data sets or high-performance computing (HPC).
Is 16GB RAM enough for bioinformatics?
The majority of bioinformatics jobs should be able to be completed with 16 GB of RAM, especially those that use smaller data sets or don't demand a lot of processing power.
Is Mac better for bioinformatics?
MacBooks are most preferred for Bioinformatics. They are considered to be the best machine to run Bioinformatics software.
Most of the software of Bioinformatics is created for Linux, and Mac runs commands similar to Linux.
Moreover, they have a perfect integration of powerful hardware and software, which makes them an ideal choice for people looking for a laptop for Bioinformatics. 
Why is Linux used in bioinformatics?
Since there are limited options in Windows, Linux is in demand. Required bioinformatics tools like SAMtools, BWA-MEM, FastQC, etc., are not present in Windows.
Do you need a GPU for Bioinformatics?
The precise activities being performed and the available processing resources determine whether a GPU is necessary for bioinformatics.
Some bioinformatics tasks might be completed successfully without a GPU on a conventional computer with a CPU (central processing unit). Other times, a GPU could be required to do a particular type of task with acceptable performance.
is 8GB ram enough for bioinformatics
Can You Do Bioinformatics On Windows?
You require Linux for bioinformatics tools; this is because there are only a few Bioinformatics tools options that are available in Windows.
Software like genome assembly, structural annotation, variant calling, and phylogenetic tree constructions all over these are created for Linux.
This software will run more smoothly on Linux than on Windows. You can also use Mac, the most convenient bioinformatics option.  
Which Software Are Using In Bioinformatics?
Various software is used in Bioinformatics, such as .NET Bio, AMPHORA, Anduril, AutoDock, Avogadro, BEDtools, Bioclipse, Bioconductor, BioJAVA, BioJS, and others.
Alongside these open-source software, there is various paid software as well that are used in Bioinformatics. 
Conclusion on the best laptop for bioinformatics list
Above is a list of the best laptops for bioinformatics. It includes a variety of ranges from windows to MacBook; we have not left a single gadget.
There are laptops from different price ranges. We have focused on providing quality and variety, so you can find the best bioinformatics laptop in your price range and the features you want. We hope that you found the article helpful.