Do you have the curiosity to know about the best laptop for fortnite to buy in 2022? 🤔You can easily Find out in this definitive list with our buyer's guide.
Let's explore this awesome detailed buyer's guide. 🐱‍🐉
You've probably heard about the Fortnite™video game that was released quite recently, which has made so many stories in the top news.
Many people seem to think that the last man standing wins all games, which is almost the best thing that has hit the gaming scene in at least the last decade.
This claim is relative- depending on the player and their preferences since all three individual sub-versions of the overall game have shown tremendous market relevance since inception.
Now- as you should expect, Fortnite is very much contemporary by every standard, and you'll need the right computing infrastructure to enjoy and pull through with every gaming session.
Every up-to-date gamer everywhere in the world understands that there are ideal requirements that should be met by any laptop dedicated to such activities.
You wouldn't love it when you're suddenly stuck up amid the action or unable to finish up well just because your system processor started to dwindle.
Generally, gaming laptops are somewhat different and peculiar from everyday office-fit laptops, and the requirements are more distinct and quite specific for Fortnite- when you further narrow down the system's specifics.
Consequently, there have been several questions on what laptop products would do just fine to enjoy this masterpiece game.
As much as many of the gaming laptops on the market would seem to work, it is ideal to go for a product that has great features and traits that match every aspect of the Fortnight game.
Since not every intending user would readily understand the exact requirements of the game, a review of the best laptop products would help with coming to the right choice.
Before going forward, we need to know the laptop requirements to run the Fortnite game on your PC. Below are the Fortnite laptop requirements that you need on your PC.
Fortnite System Requirements (Minimum)
CPU: Core i3 2.4 GHz
CPU SPEED: Info
RAM: 4 GB
OS: Windows 7/8/10 64-bit
VIDEO CARD: Intel HD 4000
PIXEL SHADER: 3.0
VERTEX SHADER: 3.0
Fortnite Recommended Requirements
CPU: Core i5 2.8 GHz
CPU SPEED: Info
RAM: 8 GB
OS: Windows 7/8/10 64-bit
VIDEO CARD: Nvidia GTX 660 or AMD Radeon HD 7870 equivalent DX11 GPU
PIXEL SHADER: 5.0
VERTEX SHADER: 5.0
DEDICATED VIDEO RAM: 2048 MB
Below is a review of some of the best laptops for Fortnite. The list is compiled based on a detailed assessment of every gaming moment on the Fortnight, together with what the average player needs- in system requirements, to meet up and play successfully.
Best Laptop For Fortnite – Our Top Picks 👌
1. Acer Predator Helios 300
The Acer Predator Helios 300 has become a force to reckon with as far as most gaming formats are concerned. Computer product analysts and top reviewers have rated this product high, with reasonable evidence to show that the commendations are well deserved.
As it stands, this is one of the products that you can conveniently use for playing Fortnite's battle of the royals without worrying about a weak or failing system.
For instance, some of the features that have influenced a high rating for this product include its impressive processor and the top-notch tendencies of its GPU.
Considering the features of the Fortnite game, you'll see that every requirement for its smooth running on the PC has been aptly provided by the Helios 300.
This computer has a wide enough 15.6 inches screen size, HD outputs, and backlit IPS displays. You would also definitely enjoy the sleek and compact design and the rugged aesthetic build.
It comes with the Intel i77700HQ processor, which is specially fashioned to make your gaming experience go as sweet as you've wished for.
With this type of infrastructure, you don't need to worry about how far you can go on your gaming adventure.
Other notable features that would boost your gaming are the 16GB DDR4 RAM, while you'll also find the NVIDIA GTX 1060 6GB graphics processor, to be of utmost relevance.
Overall- and without unnecessary hype, this product is one of the best you can get on the market, putting it in our best laptop for Fortnite list.
Below are some of the Pros and Cons of The Acer Predator Helios 300 that earned it a spot in our list of Best Laptop For Fortnite to get in 2022.
Pros:-
Quality product with enormous features to help your gaming
The battery life is
The battery life is not bad, especially for a gaming laptop of its caliber
It has an inbuilt 256GB SSD storage space that facilitates top speeds.
Top-notch video graphics- courtesy of the 6GBGDDR5 GeForce NVIDIA VRAM
Easy-to-use keyboarding
Cons:-
The sound leaves so much to be desired- especially in comparison with similar products of the same category.
Acer Helios 300 Review - The Cheapest Gaming Laptop with a 144 Hz Screen
2. Lenovo Legion Y520
If you want a laptop that can stand the heat of gaming for hours unending, then you may have found one in the Lenovo Legion Y520.
This product is designed specifically for game lovers; hence, it has a specially modified graphics card that can improve your gaming experience- compared to what you used to have.
Its 4GB NVIDIA GTX 1050 graphics card provides a much better display, while the 256-gigabyte solid-state drive module ensures data processing speed.
The inbuilt processor is the seventh generation i5 7300HQ, which is well suited for whatever levels of the Fortnite game you're playing.
The screen size is put at about 15.6 inches, while the maximum resolution output is put at 1080p. Note that the screen display has an anti-glare full HD backlit display. With these, there are no issues with having a full detailed view of where you need to focus on- as you aim towards finishing as the Fortnite survivor.
The product has a pre-installed Windows 10 operating system, a backlit keyboard- that facilitates effective gaming anytime, a Wi-Fi AC, and Bluetooth connectivity. The Lenovo Legion Y520 is not particularly of too much weight, as it weighs a little less than five pounds.
This means that you can quite easily enjoy Fortnite in your leisure or recess time or in your free time's in-between work.
The hard drive attachment is a 2TB 5400RPM HDD component, which is not bad. Lenovo Legion Y520 is the best laptop for Fortnite under 1000 $.
Below are some of the Pros and Cons of The Lenovo Legion Y520 that earned it a spot in our list of Best Laptop For Fortnite to get in 2022.
Pros:-
This laptop is great for its price and great value for every buck spent.
Impressively fast processor, able to execute Fortnite optimally
It can be carried around conveniently due to its portability
Powerful top-notch GPU
SSD provision allows fast data processing
Cons:-
The HDD provision is slow
Note:-
 I have written a post for people looking for the
best laptop cooling pad
 to buy?, do read it If you are interested.
3. Dell Inspiron 15 7567 Laptop
Don't even try to judge or conclude on the capabilities of this product without haven used it. The Dell Inspiron 15 7567 is undeniably one of the few gaming laptop products that combine a great aesthetic appearance with impressively high performance and throughput.
It is a remarkably good product that would perform all gaming requirements- speedily and without the slightest issues. Now, if you're looking for a product with great performance that is yet budget-friendly, you may not need to look any further before settling for this.
The product comes with the i5 7300HQ 7th generation Intel processor and a pre-installed Windows 10 OS. Enjoy the Fortnite application displaying all of its real details on this 15.6 inches, full HD computer infrastructure.
The processor speed base is at 2.5Ghz, while the system graphics are executed via the NVIDIA GeForce GTX 1050 inbuilt graphics card. It comes with an 8 gigabytes of RAM and a solid-state drive of 256GB storage capacity.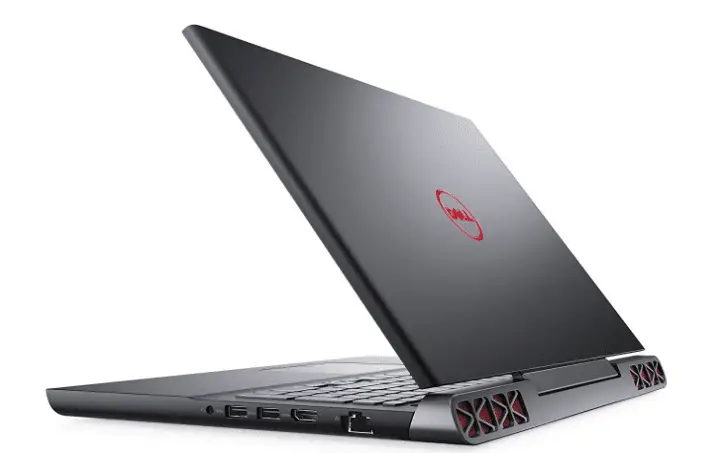 Note that this laptop would continue to be a good choice for this game because it can aptly combine speed with correspondingly good functions.
This means you don't have to get frustrated over some perpetually lagging processor, which could remove the excitement and fun this game brings.
Other features that you'll consider important are the type A 2.0 and 3.0 USB ports and the HDMI slot. Note that the keyboard has a beautiful-looking backlit so that you can continue your game throughout the night. Dell Inspiron 15 7567 is the best cheap laptops for fortnite.
Below are some of the Pros and Cons of The Dell Inspiron 15 7567 that earned it a spot in our list of Best Laptop For Fortnite to get in 2022.
Pros:-
The product is relatively cheap compared to other market competitors with similar features.
The battery life is good enough to last for several hours of active gaming
Top-notch graphics display courtesy of the GeForce NVIDIA 1050 graphics card
Beautiful keyboard backlit to ensure unhindered gaming for as long as you want
Decent product with a good classy aesthetic design
Fast processing speed
Cons:-
The added plastic casing may limit its durability
Dell Inspiron 7567 Review - $800 GTX 1050 Gaming Laptop!
4. ASUS ROG Strix II Slim Laptop
The ASUS ROG Strix II is complete in every way. This beast would take you on an entirely new gaming experience with its excellent features.
It comes with a design you can't resist, with its slim structure suggesting a good portability trait- an advantage for the user.
If you want to enjoy playing the battle of royales on a PC, then it is best to go for a laptop that loads and functions fast; this ASUS masterpiece would bring you just that, and you can go ahead and be happy that you made a good choice after all.
Note that this product is specially designed and manufactured by the ASUS company's Republic of gamers (ROP). This suggests all the tendencies that it has been duly pimped to meet all the requirements of even the most demanding games.
Specifications to expect on the ASUS ROG Strix II include a 15.6 inches 1920 × 1080 pixels screen display on a 5mm bezel frame.
This structure maximizes the whole computer frame to provide a large screen for the user. The processor is an 8th generation i7 8750H model, with a speed of about 3.9GHz.
The accompanying graphics processor is an NVIDIA GeForce GTX 1070 graphics card, which is a guarantee that this product can bring you the best gaming on a PC.
Since it is designed to carry heavy gaming functions, it is also empowered with a good overclocking system- that cools the laptop components quite rapidly.
Below are some of the Pros and Cons of The ASUS ROG Strix II that earned it a spot in our list of Best Laptop For Fortnite to get in 2022.
Pros:-
It comes with a 256GB PCI-e SSD NVMe
High processing speed, which makes it just apt for the Fortnite gaming demands
Impressive NVIDIA graphics processor to bring you the best display outputs.
Solid-body build that facilitates the product's durability.
Customizable RGB lighting provisions
Organized top-notch laptop cooling system
Cons:-
The product is very expensive
The battery life is not so remarkable.
At the time of our research on "Best Laptop For Fortnite", we found a video about "11 Advanced Building + Editing Tips & Tricks" which is worth watching. 🏆📗👓
11 Advanced Building + Editing Tips & Tricks - Fortnite Battle Royale
5. Razor Blade 15 Laptop
People love the Razor Blade 15 laptop because of its sleek design, which does not in any way compromise its performance and service delivery.
This is one of the handfuls of products that combines both performances with prompt gaming features.
Users have described it as the laptop with the flashing speed since it doesn't even lag a bit- irrespective of the heavy gaming demands on the processor.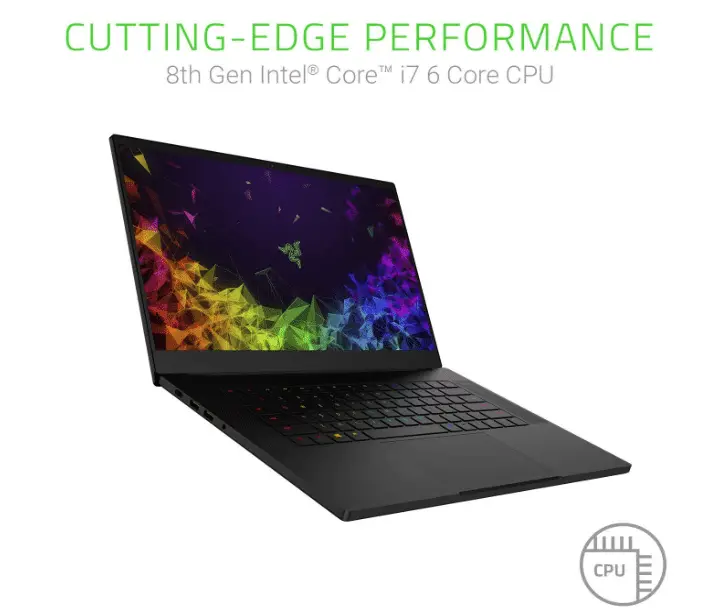 The product comes with a sleek 15.6 inches, bothered by a very thin and almost inexistent bezel framework. And what's more? The product does not look unreasonably huge, and you may ignorantly categorize it as one of those low-function laptops that qualify as a gaming model.
The manufacturer can successfully build a gaming model that combines portability with unmatchable display functions.
The 8th generation i7 8750H processor has a Windows 10 OS. The radon access memory is a huge 16GB, while the SSD provision is also an impressive 512GB storage.
If you can continue investing in this product, you're guaranteed no complaints when tackling the other players on Fortnite.
The SSD provision capacity on this device is one of the most accommodating- hence the reason for its high processing speed and performance.
Below are some of the Pros and Cons of The Razor Blade 15 Laptop that earned it a spot in our list of Best Laptop For Fortnite to get in 2022.
Pros:-
Sleek and compact design; makes the product one of the most portable gaming laptops you can carry anywhere. It is about the sleekest laptop, amongst all the Fortnite gaming laptops, and it's also the best budget Fortnite laptop.
High performance for all time, this laptop never lags.
The design is beautiful and appealing to almost every gamer you would come across.
Impressive battery life, to last for hours of gaming
Powerful graphics output, courtesy of the NVIDIA GTX 1070 GPU
Durable aluminum body material
Cons:-
The major con For this product is the fact that it is highly expensive
It does not come with an Ethernet cable port.
6. MSI GT75 Titan- 052 17.3" Laptop
The MSI GT75 Titan- 052 is another product that has proved its significance for gaming formats resembling those of Fortnite.
Many users who have tried the product for Fortnite gaming have commended the laptop's ability to deliver as required.
Now, one thing you'll find amazing about this product is its screen size and resolution display. The MSI GT75 Titan has a 17 inches screen and a full HD resolution of 1920 × 1080 pixels.
With this, there's no way you wouldn't be able to catch the full view that you need to finish all the required tasks on Fortnite- irrespective of what version you're playing.
In addition, the keyboard is probably something you've not seen. It is a brilliantly designed mechanical structured keyboard to give you good ease of control over the game.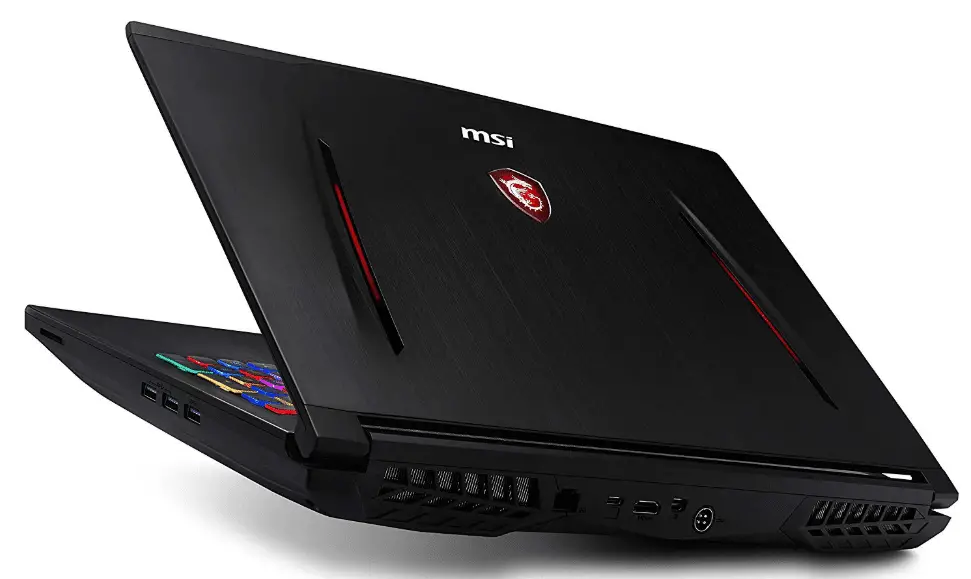 Aside from the fact that you'll be enjoying Fortnite- hitch-free, this is one of the laptops usable for a wide range of game formats.
Hence, you definitely wouldn't just be playing the Fortnite game alone. This is an advantage for you, which is part of what makes the investments worth it.
The MSI GT75 Titan has an 8th generation core i7 8750H processor with a DDR4 RAM capacity of 64GB 2133 MHz. Like the Razor Blade 15, the MSI GT75 Titan also has a 512GB SSD storage capacity.
Another feature that would keep you gaming all day is the NVIDIA GTX 1080p graphics processor. This product is VR-ready, while the LAN and Wi-Fi provisions are top notches. MSI GT75 Titan- 052 is the best laptop for Fortnite under 2500 $.
Below are some of the Pros and Cons of The MSI GT75 Laptop that earned it a spot in our list of Best Laptop For Fortnite to get in 2022.
Pros:-
High gaming performance with the best outputs
The mechanical keyboard structure is a vintage feature of this product
It has a remarkable cooling system that balances the heavy workload on the processor and the other components of the device.
Superb graphics card processor for ensuring optimized gaming display
Huge screen size for providing a detailed gaming view
512GB SSD storage capacity facilitates top-speed information processing
best laptop for playing fortnite
Cons:-
Here is another expensive Fortnite fit laptop, with a procurement price crossing over $2,000
Heavy and not so compact, hence may not be easily carried and used outdoors
7. Gigabyte Aero 15X V8 BK4 Laptop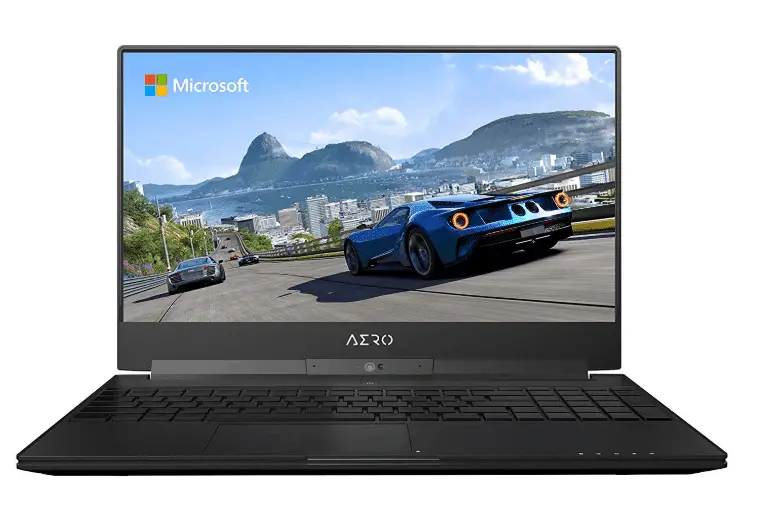 Now, if you're a professional gamer or even an upcoming enthusiast, this is one product you're likely to fall in love with readily. The Gigabyte™ company did not fail to deliver just what the everyday gamer requires for a suitable laptop.
With this product, your Fortnite gaming activities just came alive, and you may wonder why you hadn't discovered this option before.
This is basically because the gigabyte Aero is truly a valuable gaming machine, and there's no doubt that this laptop has been able to consolidate the manufacturing company's ingeniousness further- as perceived by the stakeholders in the gaming market.
Currently, it has one of the greatest prospects in the gaming laptop market, if you're looking for a product that would stand the test of time, you may have just stumbled on the right one.
The Gigabyte Aero 15X V8 is a 15-inch laptop with a 1920 ×1080 anti-glare IPS display. Users would probably love this laptop, partly because of its thin bezel edge. Its processor is the i7 8750H type, with a processing speed ranging from 2.2 GHz to about 4.1 GHz.
The RAM input is a DDR4 16GB 2666MHz capacity, while the storage space is fixed at 512GB M.2 SSD storage. You can also count on this laptop for processing speed and performance.
The product dimension is an estimated 14 × 9.8 ×0.78 inches, while the battery is a remarkable 94.24 Wh- which can last for up ten hours of gaming. Gigabyte Aero 15X V8 is a cheap laptop that can run Fortnite.
Below are some of the Pros and Cons of The Gigabyte Aero 15X V8 BK4 that earned it a spot in our list of Best Laptop For Fortnite.
Pros:-
Impressive screen display with a thin bezel border
Impressive graphics display for optimized gaming output
Battery life is one of the best you can find- for a gaming laptop
Speedy data processing
Cons:-
The body edges are not very aligned; it is a little rough
Relatively heavier than some other competing options
Best Laptop For Fortnite: What To Consider
After acknowledging that a laptop product looks cool and appealing to your taste, you must consider the following fundamental specifications.
If you fail to consider them, you'll discover that all you have, is probably a beautiful computer whose specifications fall short of what you need for successful Fortnite gaming.
Here's what we think about the following specifications in a laptop and how it affects your Fortnite gaming activities:
🎎Processor:-
Before you look too far, the processor on a laptop is about the first thing you should be examined before you buy any. If you enjoy playing any of the Fortnite versions, you'll need a processor designed for at least medium-scale gaming.
A low or unideal processor type would lag the game as it plays, and you'll end up not enjoying it as you should.
Most of the newer generation Intel processors- the core i3, Core i5, the Core i7, and AMD Ryzen 7- satisfy the basic requirements for Fortnite processing.
However, there are exceptions, and if you're a high-end player- who prefers gaming at increased framerates, then it is best advised that you adopt laptops with either of the Ryzen 7, i5, or i7 processors only. This does not mean all of them are yet valid, as some models, like the i7 7Y75, is not even a choice for you to choose.
🎃Dedicated Graphics Card:-
Dedicated graphics cards are an essential facilitator for gaming activities on any laptop computer. Based on function tendencies and other accompanying traits, the best graphics card for Fortnite gaming are yet MX150/GTX 960M card, the GTX 1050, GTX1060, GTX 1070, and GTX 1080p.
A good dedicated graphics card directly influences the type of resolution or setting on which you can play Fortnite.
🎭Integrated Graphics Card:-
The best graphics processor for Fortnite gaming is NVIDIA, while an AMD graphics processor would also do just fine.
However, you may not need a graphics card separately if you can get a GPU that would reach an FPS of at least a little over 30 FPS.
🎏RAM Provision:-
Most of the listed Fortnite suitable laptops above would have at least a RAM capacity of 8GB. Well, this is enough for Fortnite gaming- irrespective of whatever framerate or setting you're playing. However, depending on how much you've budgeted for the laptop, you may buy a product with a higher specification.
This could help your gaming one way or the other, but it's not a big deal if you stick to an 8GB device. Usually, buying a higher RAM capacity laptop would mean spending more- so if you're on a modest budget, don't let that bother you.
📗Can I Run Fortnite?
We already discussed the System requirements to run Fortnite, but the question is how can you test whether your pc is compatible with running Fortnite?
It's easy to navigate to
https://www.systemrequirementslab.com/cyri/requirements/fortnite/15349
and click on " Can You Run It" after that, I will prompt you to download one small app and it will start checking your system requirement to run Fortnite.
Other Factors To Consider Before Buying the Best laptop for Fortnite.
Now, asides from the fundamental laptop specifications, other factors are important but subjective to individual intending users. The following are some of the factors that you should consider based on your use tendencies:
Pricing
The prices of gaming laptops are relatively high, and it is common to see people have the wrong notion that you must have so much money budgeted before buying a good gaming laptop.
Although laptops with higher specifications would cost more, there are moderately priced computers that are also superb in function. When deciding on the best laptops for Fortnite, find and pick the products that match your price range.
After doing this, you may consider the best of the models on your list- based on the other influencing factors.
Portability of the laptop
Portability in a laptop is another subjective factor, dependent on the user preferences of the intending gamer. While some people may decide to play Fortnite only in their leisure time at night- after work, some people may like to game in between free hours within the day.
Someone who wouldn't mind gaming during their break hours would need to buy a laptop that can be conveniently carried about.
They would need to carry the computers from home to the office, to the library, and back home, while the user whose game time is only at night may not require a product that is so portable.
You'll need to decide your gaming tendencies to hit on the option that works for you finally.
📗 FAQs on Best Laptop For Fortnite
Below are a few queries on Best Laptop For Fortnite that everyone expects to answer, and I did include the same for my readers.
Can fortnite run on i5 laptop?
Yes, Intel Core i5 is the recommended processor.
Can you play fortnite on ps3?
Unfortunately, Fortnite Battle Royale is not currently available on Xbox 360 or PS3
What is the cheapest laptop that can run fortnite?
Dell Inspiron 15 7567 Laptop
How do I get fortnite on my laptop?
Navigate to the Fortnite site and click "Play Free Now" to install and then launch the game, selecting "Battle Royale" from the left-hand menu. You'll find yourself in the lobby. Once you're there, select your game mode.
Conclusion
The Epic Games™ Fortnite is here to stay, and there's no way you wouldn't be enjoying the game- once you've got the right device.
When going shopping, remember that there may be future modifications to the gaming app, so you should find a product that is a little higher in specification than you need.