Do you own a call center? Perhaps, you are an entrepreneur who runs a call center but is perplexed by the low sales and profits of your company. If both these sentences associate with you, then you have landed in the right place.
Owning and operating a high-performance business like a call center is no child's play. Managing tons of client calls, and keeping everybody happy at the same time, it's no joke.
However, if you are in that business, then you would know that call center agents require high-quality headsets.
That is what we are going to discuss in this call center headsets review. On that note, what works for one call center agent, might not work for the other.
Whether you like it or not, we are in 2021, where it is essential that your call center has the best equipment to keep your clients satisfied, employees productive, and balance sheet jiggling.
Usually, a common scenario found in any call center is similar to this.
Call center agent: Hi sir/ma'am, how may I help you?
Call center agent: Please tell me about the issue you are facing.
Client: I can hear your colleagues talking and making a lot of noise.
Call center agent: Hello, hello, ….
If this was you the other day or if you come across this kind of situation in your business, then you have problems. You do realize that the particular client may not call up again. This is a cut-throat business, where even the smallest errors can reflect poorly on you.
As an entrepreneur or call center agent, you cannot blame the work environment or situation. You have to find a way out or a proper solution. You do not want to find yourself in the bad books of your clients.
Without them, the dice will not roll. At the same time, it is not your fault. The background noises of your colleagues, screaming of the headphones, poor signals – these factors can immensely affect your efficiency in dealing with the client call.
When the hardware and software is poor, then your service is most likely going to match that. When you want to give your best shot to the client and retain them or solve their problem, then it is imperative that you have decent tools in your hands.
So, when you make or receive calls, using the right kind of call center headsets can make the difference. It is the game-changer between a client who is planning to switch over to another company or service provider or somebody who is planning to sue your firm.
Why is using the right call center headsets crucial for your business?
Unfortunately, the dice can roll both ways. Many call center firms tend to opt for low priced, poorly designed headsets. As a result of that, clients tend to hang up, and call agents are a frustrated lot.
Call centers are notoriously loud with several agents having a client call. It is similar to the New York Stock Exchange, minus the running and shouting around. This disrupts the effectiveness of communication.
Even a talented, skilled, and highly trained call center agent, may not be able to work up to their efficiency in this kind of environment. Not to mention, you also have multi-task during client calls.
So, your mind and hands are packed. Can you handle your clients and answer their queries without delays?
Yes, you can by making a wise decision, and choose a good quality, high-performance headset, it gives efficient customer service. This ensures that your clients are retained, and your call center agents are satisfied with their performance.
It is sort of a morale booster for them during this gloomy market. You want to explore the options that lie on the table for your business. Due to the fact that your office is an open floor, background noise is a common issue, but should not affect the productivity of your employees.
So, provide your call center agent with a noise cancellation headset or a smashing device. It helps in the reduction of background noise, a clear microphone for capturing audio, and having uninterrupted conversations with clients.
Criteria For choosing devices for your business:-
1. The longevity of the headset
The working period of the headset cannot be overlooked. A headset that breaks often, can increase your frustration at the same time, decrease your employees efficiency. You certainly do not want that to keep happening.
So, make sure that the device comes made from good quality material. You need to make sure that the ear cap does not come away very often.
2. The noise cancellation feature
This is a very obvious feature that you must consider on your headset. It blocks the noise that can penetrate the headset causing disturbances during a client call. Clients do not like to be put on hold often due to background noise and other kinds of noises.
Remember, it does not take very long to hang up. Yes, noise cancellation devices like Bose and Sennheiser are expensive in the price range of $300 and higher.
But they are durable and come with noise cancellation features, that are a shot in the arm for your call center agents.
Not to mention, you do not have to use high volumes that can drastically affect your hearing. Even on low volume, you can be audible to your client and yourself. Today, it is a common sight to see employees and workers roaming about wireless noise cancellation in the work area.
It keeps you in your own world, providing you with your concentration intact, even during breaks. How good and effective is that? We highly recommend the noise cancellation feature headset, despite its high price.
3. The comfort of wearing the device for long hours
The durability and the comfort of the call center headsets are equally vital for optimum productivity. You need to keep this in mind when choosing a headset for your business. Call center agents to work for long hours, 8-9 hours, or even longer during peak days.
Having said that, the most crucial tool is the headset. Now, a headset affects your ears, covers your entire head, and comes with a microphone.
Unless it is comfortable and convenient to wear, your employee might not be able to handle or deal with callers efficiently.
They cannot be seated wearing a heavy, poor fitting, or clumsy headset for long hours. That is unethical and illegal. You are putting your employee's health at risk. So, the headset must have a thick ear cover, mouthpiece close to the mouth, and headbands that are padded.
This does not pressurize the head. It enables your agent to wear the headset for extended periods of time without discomfort. A lightweight and ergonomic headset can do wonders for your business.
4. The technology and design embedded in the headset
A good headset is one that comes with unique and innovative features. Not to mention, the tool must have a good design as well. This makes it simple to use, setup, and upgrade. Today, in the market, you got several kinds of headsets.
They come with dual and single earpieces for your comfort. You can also have them in the head design. In most call centers, dual earpieces are used because it helps in optimum productivity when dealing with clients.
The audio quality of the call is not affected at all. Using the latest in technology also enables you to be cost-effective as you do not have to keep purchasing headsets. Most of the makers like Sennheiser and Bose, provide you with excellent features.
5. The price of the headset for your call center
Show the money and it will come to you.
This is perhaps the most important factor that many call center agents and entrepreneurs tend to slip by. In the name of cost-cutting, you tend to opt for those poorly designed and cheap devices.
It does not matter, whether you are among the top 10 call centers in the world or a startup. That is because, in the end, it boils down to the pricing. Keeping that in mind, you will find a wide range of headsets at different pricing to choose from.
In the market, you can find headsets as low as $50 to as high as $500. It does not mean, a $50 will last for a week or so. We can assure you that the headset priced at $50, will be the best amount that you spend. Word.
When you can afford those in the price range of $200, then go for them. The same can be said about the ones priced at $500. Yes, there are headsets in that range also, and it might sound crazy for some of you.
When you want an all-rounder, then this is the best way to proceed. While you may have succeeded in saving a few bucks on low-cost devices, you may not be able to achieve your ultimate goal, of retaining customers.
This is a vulnerable business, where you can easily find yourself standing all alone.
6. Where do you purchase headsets
The answer is quite obvious, you get it from Amazon. All you need to do is log on to Amazon. Then choose the headphones section and choose your pick. All the call center headsets that we have reviewed in this post can be found there.
We were quite taken aback by the numerous options. We are sure that you will find something that matches your budget and taste. Using Amazon as your primary purchase option comes with a very important advantage of reviews.
Usually, the maker says something, and the customer says something else. This is the most crucial aspect of any purchase. When it comes to headsets, it is absolutely imperative that you know what you are purchasing.
This is useful when you want to compare two similar kinds of headsets. You would know that clients are not particular about writing a review unless they want to compliment or complain about a product.
When you find the words, marvelous, fantastic, and great, then you know that they are there because it may be so. Likewise, when you read the words, garbage, useless, and poor, then you know that there is a reason for writing that.
Best Call Center Headsets: Our Top Pick 👌
We have provided a list of tools that are currently available in the market. We have compiled the list based on the ratings, quality of the review, and reliability. Most of the tools are made by top manufactures like Sennheiser, Jabra, and Bose.
They are mostly wireless, but we have also included wired devices. That is because they are more durable and reliable than wireless tools. Just like when you want to use quality software, you want to use the right tools for better efficiency.
We do not want you to take our reviews and opinions as the only determinant to buy the product.
1. Mpow 071
Mpow 071 is the first of our call center headsets up for discussion. We found this the ideal headset for call centers and remote workers. Priced at just below $30, this duo headset comes with a 4.5 rating on Amazon.
Mpow has never been a popular name in this segment. But, they have provided you with a ridiculously cheap headset. It comes with a USB cable having a 3.5mm connection. The device also has a noise reduction, that makes audio clear.
The wearing comfort was good. It is adequately supported by foam around the ear cap, offering you skin-friendly leather for taking and making calls. We found this ideal for client calls, music, and primary uses.
You do not want to compare this device with those high-end ones that are expensive.
Pros:-
The headset is priced cheaply.

It comes with a noise reduction sound card for low tones.

The earpads are solid and comfortable.

The leather used on the earpads is skin-friendly.

It can be connected to several devices.
Cons:-
You may not be able to wear it continuously for 8 hours.
Should you go for the Mpow 071? If you are looking at cost-cutting and a decent headset, then this is definitely one of those call center headsets that might catch your attention. The features and fitting are good, of course, plastic quality can be a hassle.
2. Sennheiser SC60
Sennheiser SC60 is the first of the few call center headsets that we have picked for you. This German manufacturer has been able to carve a name for itself in this segment. Most of their headsets are priced around $100-$200 price range.
But, we found this mono headset priced less than $50 and hence wanted to let you decide on it. This is a wired device that is lightweight and provides you with excellent audio quality. You are able to connect it with a USB and is suitable for studio use.
This stands out thanks to the fact that you can redial the previous calls and even reject calls using the call buttons. They are nicely placed for you to reach and use them. The audio quality is superb, thanks to HD sound.
The microphone comes with a bendable arm for perfect positioning. Products that come with warranties prove that the manufacturer believes in them. You do not have to worry about replacing it for 2 years.
Pros:-
The price of this Sennheiser product is the lowest.

The audio quality is good due to the HD voice.

It has a bendable microphone for proper position.

The product comes with a warranty of two years.
Cons:-
The ear pad quality could have been better.
When you are on the lookout for a premium headset but want it cheaper, then the Sennheiser SC60 is your ideal choice. You might want to give the SC-30 a whirl. Don't be surprised if you like what you hear and see.
3. Jabra UC Voice 550
Jabra UC Voice 550 is third on our list of call center headsets. But, can this headset be a worthy purchase?
Let us find out.
Firstly, this is a duo headset that comes with a 4-star rating on Amazon. This is a manufacturer who knows what they are making. As far as headsets go, they are quite good at it. This is a good choice for using a mid-range USB headset.
It comes with a noise cancellation feature along with a boom arm tip. Your call center agents won't feel any discomfort when using this device. They can work for long hours effortlessly thanks to the padding on the earpieces.
We liked a feature on this headset, known as peak stop. These get rid of harmful tones and audio is kept low to prevent damage. It has an intuitive call control and unwanted noise is completely removed from the background.
Pros:-
The headset is cheaply priced below $100.

The microphone is flexible and comes with noise cancellation.

The sound quality is sublime with HD.

The peak stop technology helps in offering low tones.

It comes with a flexible boom tip arm for the perfect microphone placement.
Cons:-
The build quality of the headset can be an issue.
Jabra UC Voice 550 is your go-to device when you are in search of a quality, affordable, and feature-rich headset, made by a reliable brand.
4. Sennheiser CC 550 IP
The Sennheiser CC 550 IP is the second of the call center headsets from the stable of Sennheiser. They seem to have got all things right about headphones. It is not surprising that their products are in great demand globally.
With a price tag of under $150, the device comes with a barrage of features. This is a duo headset and is a solid built one. We also liked the fitting. It also comes with a noise cancellation microphone that has a 300-degree adjustment.
This headset comes with an HD voice clarity that offers you excellent quality for any kind of call. The Sennheiser headset has a 2-year warranty. The German manufacturer has been able to make headsets that come with exceptional quality.
Pros:-
The build of the headset is good and is made of leather.

The microphone is adjustable to suit your comfort and audio quality.

It has ActiveGard technology for protection from sound surges and acoustic shock.
Cons:-
The product is priced high.
The Sennheiser CC 550 IP is your ultimate headset when you are looking for a comfortable, solid fitting, powerful tool. The padding on the ear cups helps in proper pressure and it also comes with a 2-year warranty.
5. Jabra Evolve 40 Mono
Jabra Evolve 40 Mono is another of the Jabra products that we will be seeing on this list of call center headsets. This device is priced less than $70 and makes a great buy for those wanting a fully loaded product.
The mono headset is comfortable to wear for those long hours of talk with your clients. The fitting is solid despite it being a mono device. That is because it is very lightweight.
A headset can be connected through your USB using the 3.5 mm jack. This gives you flexibility when talking and listening to music. It also comes with a feature known as busy light. When you are on a client call, then a light notifies others, that you are busy.
This feature is found on most high-end headsets that we have discussed at the end of this list. Overall, this office headpiece is good for plugging in and making those calls on Skype or other popular online voice call services.
Pros:-
The price of this headset is affordable.

The device is lightweight and can be worn for long hours of work.

The busy light notifies others, that you are on a call.

The headset works on most devices and voice call services.

The headset is built well and sturdy.
Cons:-
The body is made from cheap quality plastic, so durability will be an issue.
The Jabra Evolve 40 has fantastic audio quality and is priced well. If you are alright with the poor build quality, then you might want to go for it. Of course, you can make use of the Amazon return policy, if you feel so.
At the time of our research on Best Call Center Headsets, we found a video about "IF YOU HEAR THIS PHRASE, HANG UP IMMEDIATELY!" which is worth watching.
6. Logitech H800
Logitech H800 is probably one of the best wireless call center headsets in the market. You can find this product in use in several call centers.
Not to mention, it comes priced under $100 for decent features like Bluetooth and making calls from more than 30-feet away from your system.
It has noise cancellation and an equalizer that does a fantastic job. The quality of the audio is superb. The fitting is superb thanks to the padded earplugs. This is suitable to wear for 7-8 hours comfortably without any issue.
Its battery works for more than 6 hours, which is acceptable. Then you can recharge it using the USB cable. Lastly, you can connect this headset to any device that you want. Summing up, this is a solid product that has it all.
Pros:-
It comes for a low price for a wireless headset.

The microphone is noise-canceling.

There is a built-in equalizer.

It is a feature-rich product.

You can speak from 30-feet away.

It is a comfortable device that can be worn for extended working hours.
Cons:-
We felt that the build quality is not durable.

Talk-time needs to be improved.
Should you purchase the Logitech H800? This wireless call center headset is the perfect choice for those of you searching for an affordable, feature-rich device.
7. Plantronics Voyager Legend Wireless Bluetooth Headset
This is a fantastic product from the makers of Plantronics. It comes with a wide range of features like Bluetooth and wideband audio support.
We were delighted to know that it comes with a 90-minute full charge time. Smart technology enables it to answer calls as soon as you place it on your ear. Likewise, it redirects calls if you have placed the device down.
The noise cancellation was not up to the mark but was acceptable in a noisy environment. This is resistant to water. That means you do not have to worry about sweat or coffee stains ruining the device.
The talk time is good at 7 hours and then you have to recharge the device.
Pros:-
This is a water-resistant product for sweat and coffee.

It comes with voice recognition technology for efficient usage.

The pricing is good and affordable.

It works for 7 hours at a stretch that is ideal for call centers.
Cons:-
The build quality could have been improved.
Plantronics Voyager Legend Wireless Bluetooth Headset is your ideal purchase when your budget is $100. Not to mention, it comes with decent features like noise cancellation and smart technology for your convenience.
8. Microsoft LifeChat LX-6000
Microsoft LifeChat LX-6000 is a product from, yes you are right, Microsoft. Now, why did they lay their feet in this market, we have no idea. Unlike most of their other products, this one is cheaply priced.
Most of our readers might not have expected to see the name Microsoft in here. But, we are very much here on the list of call center headsets. We were pleasantly surprised by the good sound quality, at less than $40.
Feature-wise, it is quite good too. This is a noise-canceling microphone that comes with inline controls. It also has a headband that is comfortable and ear pads sufficiently foamed. You can find a call indicator light, enabling others to know you are on a client call.
Pros:-
The call light indicator is something found on high-end headsets.

The controls on the microphone and volume are good.

The setup is quite simple, requiring no software.

It comes with a 270-degree microphone.

The audio quality is good with wideband digital audio.

It is a noise cancellation headphone that does a decent job.
Cons:-
This is a product from Microsoft, so you get the drift.
Microsoft LifeChat LX-6000 is a cheap, robust, decent, and reliable product. Why do you want to let go of such a good product in the market? Unless you are a Bose or Sennheiser fan, there is no reason why you should not opt for this one.
9. Sennheiser OfficeRunner
Sennheiser OfficeRunner is a wireless call center headset. They seem to have nailed it in this segment. It can work for more than 380-feet in wireless. The device is lightweight at less than .8 ounces and you can find 3 style loops.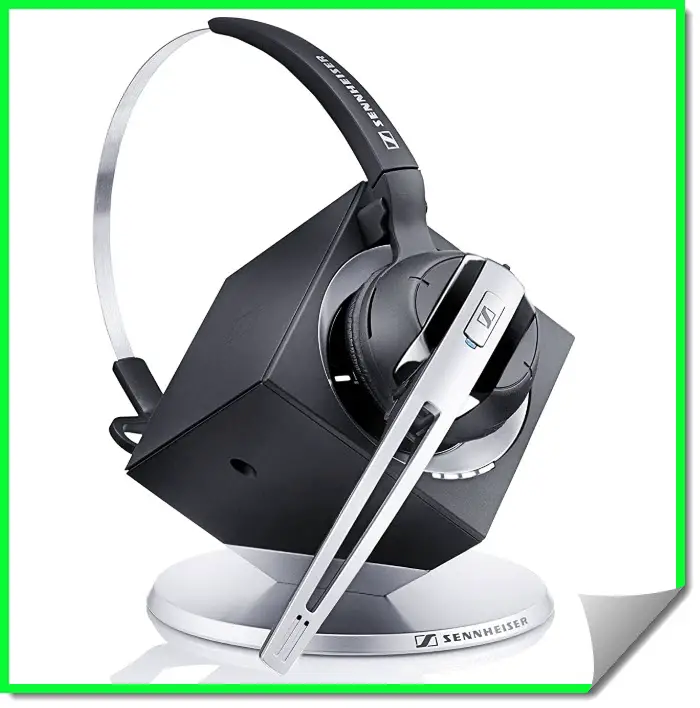 We preferred its noise cancellation abilities when compared to Bose.
It also comes with a 3-year warranty and offers you a 12-hour talk-time. For a bloated price, you can get similar features on a lot of lesser-priced Jabra or Sony. Sennheiser OfficeRunner has a product rating of 4.6 out of 5 stars.
Pros:-
This is a feature-rich headset within the $400 range.

Your call center agents can use it for more than 10 hours.

It is lightweight and you can wear it for more than 10 hours effortlessly.

This is a noise-canceling device.

We found the reviews to be exceptional.
Cons:-
This is a $400 range device, but we felt that it lagged in certain areas.
When you are not sure about spending $400 on the headset, then you will want to know that, it comes with a barrage of features that suit your requirements.
10. Plantronics CS510
Plantronics CS510 is a decent call center headset from Plantronics. This is an over the head wireless headset. It comes with a steady 4.2 rating out of 5 stars on Amazon. This product is priced less than the $200 range.
You have hands-free for up to 350 feet. We liked the fact that you have more than 13 hours of talk time. This system easily connects with desk phones too. Hence, it is suitable for work at home for individuals, entrepreneurs, and remote workers.
The Plantronics CS series has always managed to make noise in the market. It comes with the DECT technology that allows you to answer calls, hand up without being seated. One of the highlights of this headset is the battery life.
You can use it for more than 10 hours. Several users have commended it for that. The device is also intuitive and you can find your way through effortlessly. We also liked the noise cancellation features and audio quality.
Pros:-
The headset is comfortable to wear for lengthy work durations.

It comes with good audio quality.

The device is lightweight, and you can talk the whole day.

It is reasonably priced under $200.

The headset is easy to use.

The talk time is more than 10 hours in duration.
Cons:-
We felt that the buttons are cheaply made and can come out anytime.

At times, the voice reverberates in the device.
Plantronics CS510 belongs to the CS series and you know that you have something at hand. It is reliable, powerful, offers you a wide range of features, and comes with a 1-year warranty. If you are alright with the cheap quality buttons and voice issue, then go for it.
11. Mpow HC6 USB
Mpow HC6 USB is a quality headset that comes with all the bells and whistles you can expect from a quality device. It is suitable for conferences, webinars, remote workers, and call center agents.
This product is priced cheap and comes with a rating of 4.5 out of 5 stars. You will be pleasantly delighted to find out that it is the bestseller in the market. This is one of the cheapest call center headsets on our list, priced at less than $40.
Having said that, it comes with a noise cancellation design that is quite effective. The boom microphone is 270 degrees rotatable. It offers you proper positioning to the mouth and good quality audio.
You can wear it on any ear you want to. The headset is quite lightweight. We found the leather headband comfortable too. There is a 3.5 mm cable that helps you connect with a barrage of devices of your choice.
Pros:-
It is lightweight and provides you with adequate audio quality.

The product is one of the cheapest in the market.

The positioning of the microphone is good.

It comes with a 270-degree movement, which is the highest.

The design is ergonomic for long hours of use.
Cons:-
For a $40 device, reliability is always going to be an issue by default.
Mpow HC6 USB is your go-to product, not only when you are short on budget. But, when you are in search of a good quality headset that can take you on par with the high-end brand in this segment.
12. PD IPH-255 Optimo-X Duo Ear
PD IPH-255 Optimo-X Duo Ear comes with a decent rating of 4.1 out of 5 stars on Amazon. We felt that this product did not receive its credit, and hence have this on our list. Don't be surprised when you step in a call center or customer care support branch and find this tool used.
The simple design, stable features, and cheap price make this one of the most popular call center headsets. Not to mention it is compatible with a barrage of phone makers.
The design of the headset is comfortable and has a shock protection circuit that is smartly designed too. The microphone is slim and has a 120-degree turn for the adequate position at your mouth for optimum audio clarity.
We found the design to be ergonomic and the headbands are curved for suitable adjustment to both ears. The metal cap does not insert hair when you adjust the headband.
Pros:-
The design is elegant and intuitive.

It is smooth in use for the call center.

The audio quality is matchless.

The cushions come with ample foam.

The product comes with a warranty period of three years.
Cons:-
Few users have complained of compatibility issues.
PD IPH-255 Optimo-X Duo Ear is one of the most underrated call center headsets out there. One user was skeptical about ordering it from Amazon. But he was pleasantly delighted. He did not find any compatibility problems with his LG smartphone.
The audio was crisp and audible. He finds it comfortable to wear for long hours. When you want a decent product that comes with a noise cancellation feature, is robust and elegantly designed, then you know what to do.
13. Bose QuietComfort 35
Bose QuietComfort 35 is a product from the stable of Bose. There is no denying that Bose has managed to script a name for itself in the headphone segment. Their products are reliable, durable, and efficient.
Their headphones are sublime and matchless. You could walk into a crowded market wearing them, without hearing a dine. It is not surprising that, despite its steep price of $300, many remote workers, entrepreneurs prefer using it.
The call center headsets from Bose come with dual microphones, noise cancellation features, and thick earplugs, that do not come out that easily. You can wear them all day without inconvenience.
The audio quality is matchless, and CNET has given it a 9 out of 10. We agree with that. Talking about the performance, we could hardly hear anything despite wearing it in a noisy environment.
You have to try it out to believe it. The experience was surreal. Even with the likes of Sony that is known for producing the best sound quality, the Bose QuietComfort 35 is right up there. We also found that the controls are intuitive and of good quality.
Lastly, the ear cups are very comfortable to wear. We hardly felt them despite wearing them for hours at a stretch.
Pros:-
The product is intuitive to use

It comes with matchless performance.

The headset is durable and comes with a 12-inch USB cable.

It charges quickly and has Bluetooth.

The headset is comfortable to wear for an extended time.
Cons:-
Sadly, it is one of the most expensive tools in the market.
You will be delighted to know that the product has a 4.6 rating and has more than 1000 positive comments on Amazon. As if that were not enough, it is Amazon's choice product.
You can go for the Bose QuietComfort 35 when you are particular about the noise cancellation feature, sublime features, and intuitive functions. After all, it is a Bose product, and you know that they do not mess around.
14. OvisLink Cisco Headset
OvisLink Cisco Headset is our final headset in this review. A list cannot be complete without the mention of Cisco who is doing a decent job in designing some peerless devices. This tool comes with noise-canceling and is suitable for call center use.
The OvisLink Cisco Headset is one of the most sought after products by telemarketers, call centers, as well as customer support staff. We can see why it is because it comes with sublime features as well as ergonomic features.
It has a rotatable microphone boom, which enables you to take on either ear, the headset is wireless, and there is an adequate cushion. The headset is lightweight too.
We were also quite happy with the quality of the audio. The voice sounded natural and very audible. Since this is a noise cancellation headset, you do not get to hear too much from the outside.
The setup of the headset is quite simple, and anybody can get started easily. Users will be delighted to know that the product has a 2-year warranty.
When you see a manufacturer giving a warranty on their products, you know that your money and time are not going to waste.
Pros:-
It is comfortable to wear for long hours at work.

It comes with an ergonomic design that is suitable for your head.

The features are good.

The setup is quite simple and easy.

The device is affordable and reliable.
Cons:-
The durability is a cause of worry in this product.
A particular customer had to say this about the OvisLink Cisco Headset. He terms it as a lifesaver because he uses it regularly for work. He had pain in his neck and shoulders as the management refused to purchase this tool.
He says that it is the best investment he has made in a while as he has to hold the headset and type on the system. This is a huge relief for him. Coming with a decent 4.3 ratings on Amazon, we don't see any reason why you should not go with this product priced at $70.
📗 FAQs
(Q) Which is better, a wired or wireless headset?
As far as a call center goes, it is best to use a wired headset. Yes, this answer might baffle some users. You see, wireless headsets are good when you are working alone or at home, for personal use, or as an entrepreneur.
When you are a bunch of 40-50 odd people seated in a single hall or room, then there can be discrepancies in the wireless mode. The wireless headset is always welcome for call center agents, but there can be confusion in the signals at times, due to the proximity.
(Q) What is the best brand for call center headsets?
The brand name for the best call center headsets can vary depending on your usage and preference. If you go through the reviews, you will be astounded to realize that the opinion differs from user to user.
So, the best brand does not guarantee anything as far as a headset goes. Not to mention, electronic gadgets always come with some flaw or the other. Having this in mind, we thought that the reliable brand names are Sennheiser and Jabra.
(Q) What is the most crucial aspect of a call center headset?
A call center headset must be selected based on the brand and model. As we said, Sennheiser and Jabra are the best manufacturers at the moment. They are able to produce some of the best headsets that are researched and tested before selling in the market.
However, other makers like Mpow and Bose are good enough. We were not happy with the pricing of Bose ($300 and above). Otherwise, they are known to make some exceptional headphones that are highly spoken about in the market.
(Q) How many hours can headsets be used professionally, medically speaking?
If you own a business or work as a call center agent, then it is crucial that you are aware of this vital piece of information. It is advisable to use a headset for 2-3 hours at a stretch. Then a small break of 10 minutes is good.
When your business is heavy, in the sense, you get continuous calls, then your agents need to be rotated with adequate backup support. This is when the quality of the headset is crucial. A good quality headset prevents unwanted pain in the neck and ears.
(Q) What are some of the reliable sellers?
Call center headsets are sold almost everywhere. You can also find them in a flea market for a very cheap price. The main issue with electronic products is that there are plenty of fakes. You find it hard to tell a genuine from a fake.
Hence, we recommend an online retailer like Amazon. They got great service, their returns policy is good, and more importantly, you stand to get excellent discounts during sales, even on models like Bose.
Our verdict
We can vouch that all the products mentioned in the above list are peerless. They can provide you with the best quality sound and comfort for those long-dreaded hours. Talking to your clients need not be a cumbersome affair anymore.
Did we find some of the call center headsets above the rest? In our opinion, we felt that the Sennheiser SC60 was above par as far as competition goes. Most of the user comments were satisfactory and top-notch with both quality and comfort.
But, that does not mean the others are inferior or poorly designed in any way. You are welcome to try them out. As we keep saying, the best way to find out if the headset is good is to try them out.
In closing
Taking everything into account, the call center headsets are primary communication devices. When you want your agents and employees to get the job done efficiently, then it is imperative that you give them decent equipment.
Hence, selecting the headset model that is compatible, affordable, and more importantly comfortable for the usage of long hours, is vital. It also aids in keeping away those constant distractions in any office setting.
This way, your call center agents can work productivity and give their best to the satisfaction of clients. Nobody likes to work in a noisy environment, and clients do not like these distractions that make them further, frustrated.
This way everybody is happy at the end of the day. We do understand that purchasing a good-quality headset for your business can be overwhelming due to the options that you have. On that note, we encourage you to spend some time in research to find out the best headset model.
Making a good judgement for your business is crucial for your profits. When you are involved in a call center industry or work at home business, that involves spending long hours on call, with clients and colleagues, then a headset can make or break your source of income.
We highly recommend you take the suggestions of your employees and analyze the best headsets in the market. This enables you to understand the kind of call center headsets that work best for your business.
But, as we said before in the beginning of this review, certain products cannot be compromised on their quality. Remember, you are going to have them on for 8-9 hours continuously.
We sincerely hope that the listed call center headsets were able to meet your criteria and enable you to make the right decision. Please do remember, this is your dream and your business is at stake.
Using the above information, you can make a good decision.
Happy dealing with clients!