Looking for the Best Facial Recognition Search Engines or tools For Tracking Images? 🤔 We've got your back.
Let's explore this guide. 📗
Thousands of videos and millions of images are uploaded to the internet every second. With each second, 991 Instagram photos are uploaded, 1700 Tumblr posts, and on youtube, 84,000 videos are being viewed every second.
That's a vast amount of visual consumption in a single second. So it is evident that companies can target this market and find something profitable. 
With the help of facial recognition, the government and other secret services are identifying individuals in various photos, videos, and social media posts. Traffic police identify the number plates of the vehicles which break traffic laws.
These are just a few examples of facial recognition being used daily. In the past decade, facial recognition was prone to errors, and we were not getting satisfactory results. 
The whole game has changed after the introduction of AI and machine learning; with the help of algorithms, we can find many accurate photos quickly.
Today we will discuss some of the best facial recognition search engines and software you can use to find your image on the internet. Or you can use it to look for the product on the internet whose names you cannot find. 
Benefits Of Using Facial Recognition:-
Below are some of the benefits you get when using a facial recognition system.
First, with facial recognition, your surveillance will be much better in tracking down burglars, thieves, or other trespassers on your private property. 

Secondly, finding out the face takes only a second or two, which is quite beneficial for the companies as they don't have to waste time on manual verification before giving them access to the office. 

With 3D technology, the current facial recognition is almost foolproof, which is hard to beat in normal circumstances. 
Facial recognition technology will change the way we live
Best Facial Recognition Search Engines👌👌
Now we will talk about the best face recognition search engines, which will make it easier for you to look for the websites where your photos are and whether you authorize them. 
1. Google Face Recognition 
You might not know this thing, but you can search Google by Images in your Google search. Rather than putting a keyword for your search, you can insert an image or a link to your photo, and it will start showing you the pictures that have a similar face.
Google is a well-known name in the world right now. For many people, Google is the synonym for a search engine, and people don't know about other search engines in the market. That's how dominating Google is on the internet.
According to the latest reports, 96% of the users on the internet use Google search engines to find something on the internet. The remaining 4% is divided into other search engines. 
A face isn't unique as we think of it, and it does age when we grow old, so it makes the job much more difficult to find the images in which we can find ourselves.
But on the other hand, unlike fingerprints that require a sensor, a picture of your face can be taken anytime with the help of a camera.
As a result, we have more photos on the internet than anything else. You can google face recognition on your tablets, mobile phones, and even on your laptop. For that, you don't have to download separate software.
On your phone, you can see photos by Google; all you need to do is sign into your Google account once you are logged in. You can start looking for the photos from your gallery just by typing the keyword.
For example, if you are looking for a picture you clicked in January, you will get those photos on your mobile phone. 
How to Reverse Image Google Search on Desktop & Mobile (Fast and Easy Guide)
You can do several things with Google face recognition, and you can ask the software to combine the face groups, change or remove the label, and remove a specific image from your group of photos. 
2. TinEye Reverse Image Search 
Second, on our list, we have a TinEye reverse image search; it helps you locate the source images and helps you track the location of the pictures and where they appear on the internet. 
A search engine allows you to search your image using the URL and upload it.
Once you are done uploading your photo, you can click on the button in front of the search box, and the search for your image will start, and in a few seconds, you will have all the online pictures and from which website they belong. 
Images you upload on the website for the search are secured on the cloud so you can use them anytime and anywhere.
All you need to do is log in to your account. In addition, it helps you find images that are modified copies of your original image with the help of its MatchEngine. 
The match engine takes the uploaded image and searches the internet to find its duplicate, resized, and modified images. The software is backed by the technology of Tineye's image recognition.
It will help you find photos with a broad range of transformations, resizing, cropping, edits, color changes, etc.
With Tineye, you can find images that have been altered to be used without copyright. Furthermore, you can reconcile many pictures and collections against each other. 
Furthermore, the search engine will help you eliminate the reliance on the image's metadata for the verification procedure. The app is a fully hosted API, so you don't have to download any extra software on your phone or desktop to run the image search.
As a result, it saves a lot of your time and space. If you want to integrate the match engine into your software, you can do that, too, with the help of already-existing technology. 
3. Yandex Reverse Image Research 
Yandex uses reverse image search, developed using content-based image retrieval called CBIR. The company named the search engine Sibir is the Russian name of Siberia. 
In this reverse image research, the technology takes the picture that the user has submitted in search queries along with the sets of "visual phrases," which means the visual is converted into numerical representations of the image's key features.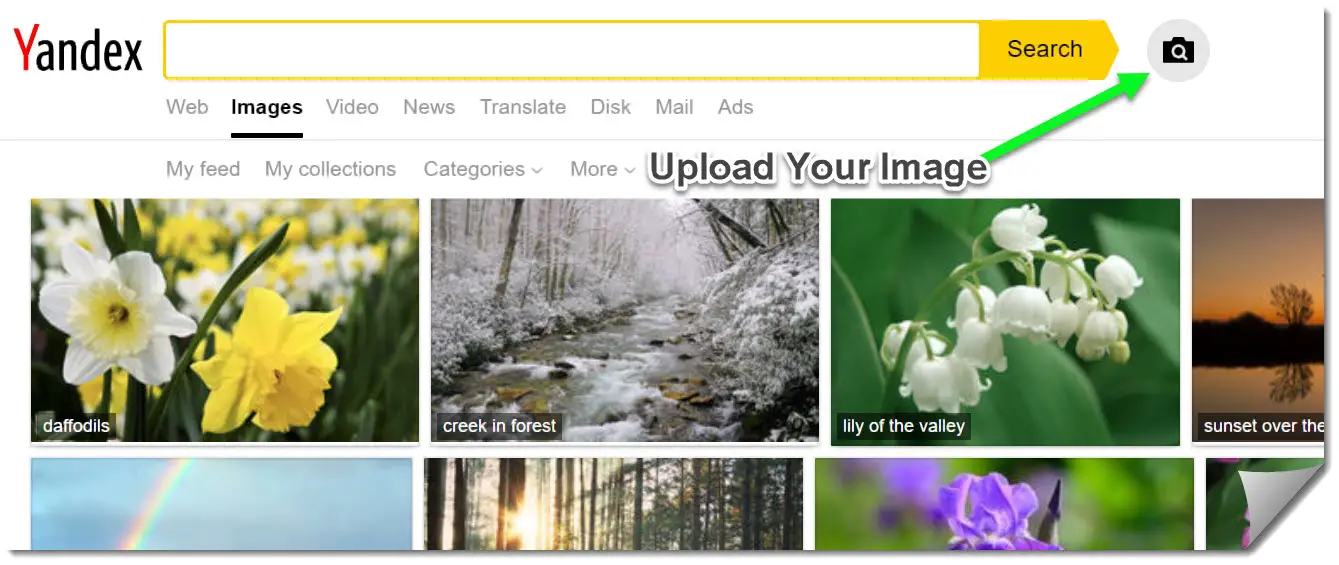 Once this visual phrasing is done, the search engine will try to find the same visual phrases in the images spread over the internet.
It only selects the photos with the same visual phrase, and those that don't have it won't appear in your search result. As a result, it improves the search speed by taking less time to go through the internet to find similar images.
Images with a higher number of matched visual phrases will be on the top, and from there, the number starts decreasing. This way, you get to see almost the same images as yours. 
In 2020, Sibir was only launched in Russia, Kazakhstan, Ukraine, and Belarus. The company studies visual research patterns and how people use this search engine.
According to the company, reverse image search is not in high demand, but its demand will rise with time. 
4. Bing Image Search 
Next, on the online facial recognition search engine list, we have Bing image search; it's an alternative to google images and shows you all the popular and trending pictures on the internet.

The layout of the Bing image search uses quite the same as Google. Thus, it will take less time to get familiar with it. 
One feature which makes it unique is the people filter, which gives you the freedom to choose the photos of people according to how the image has been shot. For example, if you click on the faces, the results will be only of the pictures that contain mugshots.
5. Pim Eyes 
Pim Eyes will get your job done when looking for a face similar to the one you have in your photograph.
The website has more than 900 million individual face data, so if you are looking for your local celebrity photos, we are sure you will find them with this website's help.
The website lets you search for the faces of more than 150 million sites to give you accurate results. More than 1TB of new images are being added to their database daily.
You can go for the premium version and ask for a notification in your mail when the website comes across any new image with the same face as the one you are looking for in your photographs. 
Its modern-day algorithms and machine learning provide you with the highest-quality search results.
It doesn't matter the size of the image and the color in which it was taken, even if it is in black and white. Still, the website's face recognition system will determine if the faces match those in your photograph.
Note:- I have written a post for people looking for the 17 Of Best Totally
Free People Search Sites
, do read it If you are interested.
6. Berify
If you are thinking about a website where you can log in, in just a few minutes, and the rest of the thing will be automated, then Berify is the thing for you.
The website doesn't take the help of the standard google images to look out for similar pictures, as it uses its proprietary solutions.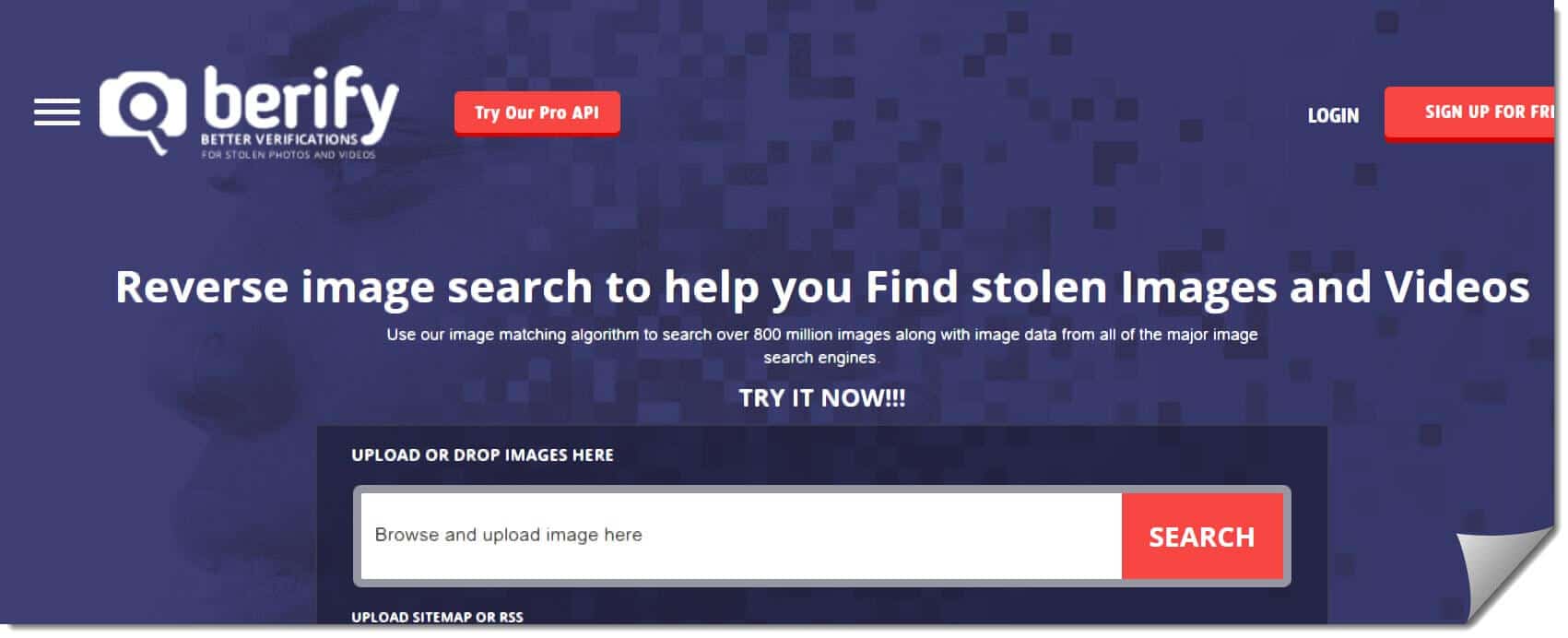 Likewise, if you have a video that is being stolen from you, and you don't know where it is, you can search for it on this website.
This is a unique feature that we couldn't find anywhere else. You can upload your image from multiple platforms; there are no restrictions that are holding you back in any way.
The website is used by lawyers, photographers, video or short movie makers, etc. if you are in trouble and want to find out who stole your image and is using it without giving your credits, this image search engine will be up for your help.
7. Social catfish Reverse Image Search
Now, we have Social catfish Reverse Image Search, a website that HuffPost recognizes for its face recognition service.
The first thing you see when you visit their site is at the top right corner of the search bar. You will see, "we respect your privacy."
Not only will they provide you with images of the person you are looking for, but you can also search for the Email address, phone number, and username.
Their reverse image search technique is different from the google search, which is used more commonly. 
Their algorithm uses the image's metadata and facial recognition technology to find relevant photos from social media and the internet.
Yes, this website lets you search even the phone numbers and the person's user name based on the photo you have given them. 
One small problem with this search engine; you can get an image for free. Not even a single picture can be taken from the website if you pay them. 
Find People and Verify Identities
8. EyeEm Vision 
If you look at the EyeEm website, you will think it's another stock photograph, but that's where you are wrong.
If you spend a little bit of your time on the site looking for the images you need for your project, you will find that many things make this website unique from others. 
EyeEm was started as a blog back in 2010. Still, as we know, in 2020, it has exploded into a community of 20 million creators putting images on the website so it can be shared with the world and others can recognize their work.
Now Search engines can detect emotions and the image concept to make the search much better and more relevant.
EyeEm vision uses auto-tagging technology, where the AI system recognizes a photographer's intention and creates tags for the image. Thus, the photos are now being shown much faster and more efficiently than ever. 
You might have your own set of tags, but there are tags that the companies are looking for in an image that you won't even consider.
With the help of EyeEm Vision, you get to have those tags in your image. Giving your photo a considerable boost in the image search from the moment they have been uploaded to the website. 
The website uses deep learning, and the information is gained from millions of images in the EyeEm community.
Not only does the platform find out the objects in the picture, but it also tries to find the context of the image and look for the idea behind it. What was the photographer thinking when he was taking that particular shot? 
The algorithm enabled the website to read the image and its concepts, which are important to photographers and business owners who buy those photographs.
The site is looking forward to continuing learning from its latest research and making its website and image search engine more accurate. 
9. Talkwalker Image Recognition 
In the past few years, we have seen image recognition gaining much attention from brands and marketing agencies. With every minute passing, the internet is filling with more and more visuals.
Statistics show more than 10% of the photographs were taken only last year. In addition, Instagram is one of the biggest platforms for sharing photos. As a result, more than 95 million photos are being uploaded on it every day. 
With the help of Talkwalker image recognition, we can now find the brands in the image even if the alt-text of the picture does not reference them.
In addition to this, the technology can help find out objects and scenes that are present in the images. People are now more into social media than ever before; thus, it's a significant market for brands to influence the audience and make them purchase their products. 
A single image with a brand logo might not bring any insight into the company, but when we analyze millions of photos uploaded on social media platforms.
We can see the bigger picture and find out what they like about the brand and which product is more demanding. Likewise, we can see if our campaigns can make the buzz of our new product or not. 
Furthermore, with the help of Talkwalker, you can see what other brands the consumer uses with your product so that you can collaborate with them in the future to release your products.
Cristiano Ronaldo, one of the biggest names in the world of football, earns more from his social media account on Instagram than he makes from playing football for a sports club.
All because of the power of image marketing. Talkwalker will greatly help if you are a brand looking to find your consumer niche. 
At the time of our facial recognition technology research, we found a video about "10 Mysterious Photos That Can't Be Explained," which is worth watching. 🤴
10 Mysterious Photos That Can't Be Explained
10. IBM Watson Image Recognition
There is no denying that IBM is one of the leading tech companies in the world. So it was fair for them to enter the Facial Recognition Search business.
IBM Watson uses the deep learning algorithm from machine learning to find objects and scenes in the photos you upload to their service.
In addition to this, it gives you the freedom to train a classifier to identify which can suit your needs. 
With the help of IBM Watson, you can upload a picture on the internet and classify it on the basics of its visual content, such as scenes, objects, faces, colors, food, and other subjects, which can provide more information on your image. 
Moreover, you can find out whether the images' content is safe from your explicit model. Likewise, it's an easy tool that will help label the photos with your training data so you can process them to build custom visual models for your project.
There are several users cases where you can use this API from IBM, one of the most common uses is visual inspection; for example, you can train a model, which will help you find out how much damage has been done to a vehicle and which spare parts will be needed to fix it. 
11. NeoFace Watch 
If you are looking for Recognition Search software that can help keep your community safe by watching people pass by. Then NeoFace watch is the perfect software for you.
It is used by several state governments but on a commercial level, and even border patrol uses it to find threats. More and more airports are now using this technology to find international criminals with no previous record. 
With live testing, NeoFace gives you the most accurate matching and is excellent in resisting aging and pose angle variations when searching for a face.
You can use it on multiple cameras set up to cover a large area such as airports, shopping malls, etc. moreover; it gives you real-time alerts if necessary. 
You cannot only find out the matching in real-time video feedback, but you can also run the archived videos and images to find a match. The interface is easy to use, and it won't be a problem for a non-tech to understand its functionality. 
When you install a camera with the NeoFace technology, it will help you track the individuals' faces even in a big crowd in real time.
It often happens when we have poor image quality, and it will be no use in finding the culprit. With NeoFace, you can now use these videos and pictures to increase the possibility of finding the correct identification. 
The software can provide you with correct recognition of the faces in an image of 24 pixels between the eyes. 
12. Amazon Rekognition 
Amazon Rekognition is a facial recognition search service that helps you scan mugshots and find out about the individual from public data. It is a cloud-based service under high scrutiny as it is used by law enforcement.
Rekognition is a developer tool with a cluster of functions for you. It includes facial recognition and pathing, where you can track the object through a video frame.
It also helps in reading the text in a video that is hard to read from the naked eye. 
Furthermore, you can use this cloud service for facial analysis and sentiment checks. It gives a tag to the images showing people with smiles and laughter and projects their emotions in a text format for a search engine to better understand the picture.
It uses deep learning technology to find the similarities between the faces and the images. The application is highly scalable and is used by several TV channels such as CBS, National Geographic, Sky News, etc. 
Besides, you can have custom labels to increase the application's detection capabilities, which will help extract the information that is helpful for your business in a unique way.
You can use it quickly to identify who the person is in the image, and Amazon Rekognition comes with a unique feature called celebrity recognition. It helps you find out whether the person present in your image or video is a famous individual or not. 
📗FAQ
Is there a face recognition search engine? 
Yes, you can easily use some great face recognition search engines to search using captured photos.
Some of the best facial recognition search engines are Google Face Recognition, TinEye Reverse Image Search, Yandex Reverse Image Search, Bing Image Search, Pim Eyes, etc. 
How can I find someone's face with a picture? 
To try and locate someone's face using a picture, you can utilize facial recognition search engines like Google Image Search, TinEye, PicTriev, Yandex, Bing Image Search, etc.
However, it depends on whether or not the person's photo is available online. 
Is there a free facial recognition site? 
PimEyes, one of the most recent face recognition search engines, looks for comparable faces across over 10 million web pages. Both free and paid choices are available. 
The only thing one can do with the free option is checked to see if a particular face is online.
With the membership service, you may use the company's other features, such as Deep Search, creating PDFs, and receiving notifications if your photos are found later. 
Which app can find a person by a picture? 
Google Lens, CamFind, Reverse Image Search on Google, TinEye Reverse Image Search, etc., are some of the best options to find a person by picture.  
Can Google Lens identify people? 
Google Lens in Pixel smartphones can now identify images and representations of famous people, including actors, celebrities, and politicians. 
When the ability to identify celebrities was added to Google Assistant's Lens remains unknown. During this week's VentureBeat Lens tests, the feature was found.
However, Google's further inquiries about the kind of people Lens can identify went unanswered. 
How do I do a Google face recognition search?
You can use the steps below to conduct a Google face recognition search:-
Step 1: – Go to the Google Images website (https://www.google.com/imghp).
Step 2:- Click on the camera icon in the search box.
Step 3:- Select "Upload an image" and choose a file from your computer or enter the URL of an image.
Step 4: – Click on the "Search by image" button.
The face in the photograph you supplied will then be matched against other images in Google's database. If any matches are found, they will be shown in the search results.
How do I do a facial recognition search?
Google Images, arguably the most well-known reverse image search engine, enables you to look up virtually anything, including faces. 
Click the camera symbol in the search bar to begin. Either upload a photo or input the URL of an image. Then, Google will discover comparable pictures.

 

After your search results have loaded, click the image and select Tools for further search options. There should be a Face option in the Type pull-down menu. After selecting that, you are ready to start.

 
How To Reverse Image Search (Google)
Can I search for a person by photo?
You can search for someone by photo if you follow these instructions. 
Open the Google app on your Android phone.

 

Tap Discover at the bottom.

 

Tap Google Lens in the search box.

 

To help with your search, take or submit a picture:

 

Then, choose the location you want to search in:

 

Finally, scroll down to the bottom to access the search results.

 
How do I Google someone's picture?
Use a saved smartphone image during a search.

 

Open the Google app on your Android phone.

 

Tap Discover at the bottom.

 

Tap Google Lens in the search box.

 

To help with your search, take or submit a picture:

 

Then, choose the location you want to search in:

 

Finally, scroll down to the bottom to access the search results.

 
Conclusion
There you have it, the best facial recognition search engines and applications to find the photos you need.
In 2022 we saw a great burst in image search as more and more people are getting smartphones, and apps are being developed to help you find out the product just by having a photo of it.
Amazon started showing products with similar E-commerce website features using the images you upload for the search. Thus, you don't even write the product's name; the application will detect it independently. 
You can say image search engines are improving every day, so we would like you not to settle at just one; you can try some of these from the list and see which one suits your requirement the best.
Make sure you play around with different keywords and search filters to find those beautiful images hidden in the depths of the internet. Now start your hunt for the best picture.