Audios and videos have always been a medium for sharing thoughts, art, and information and even are used for communicating. Conveying anything becomes easy and convenient through audio and videos. Also, videos and audio are chosen as a source of leisure for almost everyone. 
For instance, today's world has several platforms, like Netflix, Amazon Prime, etc., to instantly watch our favorite movies, shows, or animes.
But still, a problem persists for those who rely on other sources to get entertained, as in Torrent. These sites pose a problem in displaying a good quality video to their users. 
Other than this, if you consider using an inbuilt application to run your video, it might not play videos from any Torrent site. Facing the consequences, you have to miss out on your leisure, primarily on Linux. 
Considering that, we have come up with several video players for Linux that can be brought into your use easily. Installing these video players is a handy task. Therefore, you do not have to compromise your entertainment. 
Moreover, you get saved on the cost of having to buy subscriptions for legit platforms. Besides that, you are offered a variety of content to choose from, so boredom will no longer be your bother. 
You can count on these video players as per your convenience and the time that suits you well. Following is a list of some most prominent ones for Linux.
Best Linux Video Players – Our Pick👌
1. VLC Media Player – Best video player for ubuntu
VLC Media Player (Download Here) is one of the best Linux Video Players and the default player that a Linux-based system is equipped with! If not, it can be installed in no time to get the advantage of enjoying the videos in a higher resolution and better quality. 
VLC Media player is a free and open-source video player that supports almost all file formats, eliminating the user's need to switch platforms for converting a file and getting it played on the device. According to your device, VLC Media Player optimizes itself, thereby being the top choice of most users. 
Additionally, additional plugins can be connected to expand the reach of the media player, making it a user-friendly video player for the users. 
To watch a film on VLC Media Player, you do not have to wait for it to be downloaded; you can directly stream a movie and decide whether or not it's worth your time or your liking.
Also, you can format how your video is being displayed to you. The player supports both MPEG and DivX streaming. 
Moreover, if you wish to increase the sound of a video, you can do that easily, but only after the video is fully downloaded. You get to raise the volume up to 200%. 
Another feature the media player is equipped with is a "playlist function, " accessing which the platform simultaneously plays one film after another. This feature is an add-on for those who prefer watching shorter videos. 
VLC Media Player is a complete package that transforms and plays files of any format. It supports an audio feature that lets you play soothing music for hours, and you get to have a DVD experience with the VLC Media player! All in all, VLC is a prime choice for users. 
2. Miro Music and Video Player 
Miro put its base in the market quite a decade ago by supporting high-quality audio and videos. Formerly it was known as Democracy Player or DTV.
Miro Music (Download Here) brings the user to a never-ending beautiful world of audio, videos, and internet television that captivates you no matter how hard you resist. 
Every video you run on the video player continues seamlessly, leading you to a new and better experience. Not only is the video player meant for Linux, but Windows and macOS users can use it, too, without any trouble! All the videos of the RSS channel will be automatically downloaded on Miro, and then they can be further played accordingly. 
Also, you will be notified of any new videos on the platform. Miro supports various file formats such as MPEG, XVID, QuickTime, Audio Video Interleave, etc. If you want to convert these file formats, you have access to the "Miro Video Converter." 
Videos and audio from multiple sources are combined on Miro Music. Endless videos and audio can be played super easily on the video player. 
Other than this, you get to have the benefit of streaming a video directly on the platform, with this being one of the best Linux Video Players. Better quality videos from your favorite sources can be viewed with this video player on your device. 
Concluding, for Linux-orientated devices, Miro Music is a considerable choice. 
3. Bomi (CM Player)
Formerly known as CM Player and written in C/C++, Bomi (Get Here) is an easy-to-operate multimedia player that works efficiently for Linux devices. As a user, you get access to various audio and video formats. Your local files, CDs, DVDs, or remote URLs function smoothly on the video player. 
Bomi is equipped with features, one of which includes an interactive graphical interface. You get to acknowledge variant features in the "context menu" on the video player. 
Unlimited audio playbacks are possible with the media player. You only have to face the trouble of playing the first song or audio, and the list continues automatically. This makes the player convenient and relaxing for you as a user. 
The playlist played by you gets restored on the platform by default. As a result, playing your previously listed audios becomes a trouble-less task, saving the user a lot of time. Moreover, you can add your customized playlist to the media player. 
You can also download subtitles and preview them as your favorite movie plays on your device. The subtitles could be in any file format, and you can access different subtitles files at once. The clarity of audio and video that the user experiences on the video player are appreciable. 
Any file can be generated by simply entering the file's name; this makes working with the media player painless. As a source of entertainment, you can rely on Bomi. 
4. SMPlayer
Another on the list of the best Linux Video Players is SMPlayer (Download Here). The most extraordinary feature of the video player is its ability to access the user to play YouTube videos directly from the platform.
This is a time-saving factor because you do not need to switch platforms to view a video on YouTube and another on the video player. 
Anything you play on the video player for the first time gets saved automatically if you want to play the same list again. This can be customized anytime according to a user's wish and preference. 
Moreover, SMPlayer will resume any video from the same point you left it at. So, you do not have to be stuck at the media player for long in fear of missing out on something. Like other video players, SMPlayer is compatible with Linux and supports most of the common file formats. 
SMPlayer A Free Media Player with Built-in Codecs
Videos from Torrent-based sites can also be played on the media player. SMPlayer is innovative and simple to use. Seamlessly, your videos can be played on the platform for as long as you want! Considering SMPlayer as a Linux-based video player, the performance given by the media player is commendable. 
Every video or audio you like or wish to view or listen to can be operated on the media player. The GUI of the SMPlayer is clean and simple. There are no hard and fast rules to use it. 
Also, the video player supports icon themes that look lively and realistic, giving the platform a beautifying outlook! SMPlayer is a reliable and cross-platform software. 
5. Haruna
Haruna video player (Download Here) is a well-functioning Linux-based video player packed with a series of enhancing features to glorify the user's experience even more. 
The two most captivating and user-friendly features offered on Haruna are its ability to support multiple file formats, paving the way for the user to watch videos from any source instantly with just a click! Easy entertainment becomes possible with Haruna. 
Secondly, you can play YouTube videos on the media player without worrying about switching to different mediums to run and watch a video. Haruna is equipped with a minimal yet efficient graphic interface. 
The audio and video quality experienced by you on Haruna is satisfactory. Hardly are any lags or glitches faced by a user on the video player. On Linux, Haruna performs promising. 
You are also provided the benefit of creating a customized playlist, which your commands can control effortlessly. 
Moreover, as a user, you can also control and manage the playback speed on the video player! Be it at 2x or normal; any speed can be chosen accordingly. 
Adding to this, you can adjust the colors of your video instantly. Haruna supports handy keyboard shortcuts to help the user become better efficient and paced. The best Linux Video Players list doesn't end here; users can put additional subtitles and tweak the themes and fonts. 
6. MPV Player
MPV Player (Download Here) has fallen under the category of the most popular video player for Linux since its release.
With time, the media player has recorded tremendous growth. Without distraction, you can watch videos easily and smoothly on MPV. You are offered an ample amount of features on the video player. 
The most prominent of them is the ease of use that makes the video player a top choice for the users. MPV Player functions extraordinarily with Linux command-line tools.
The graphical interface is interactive and unmatched. The high-quality videos the player has to provide its users make it even more fun!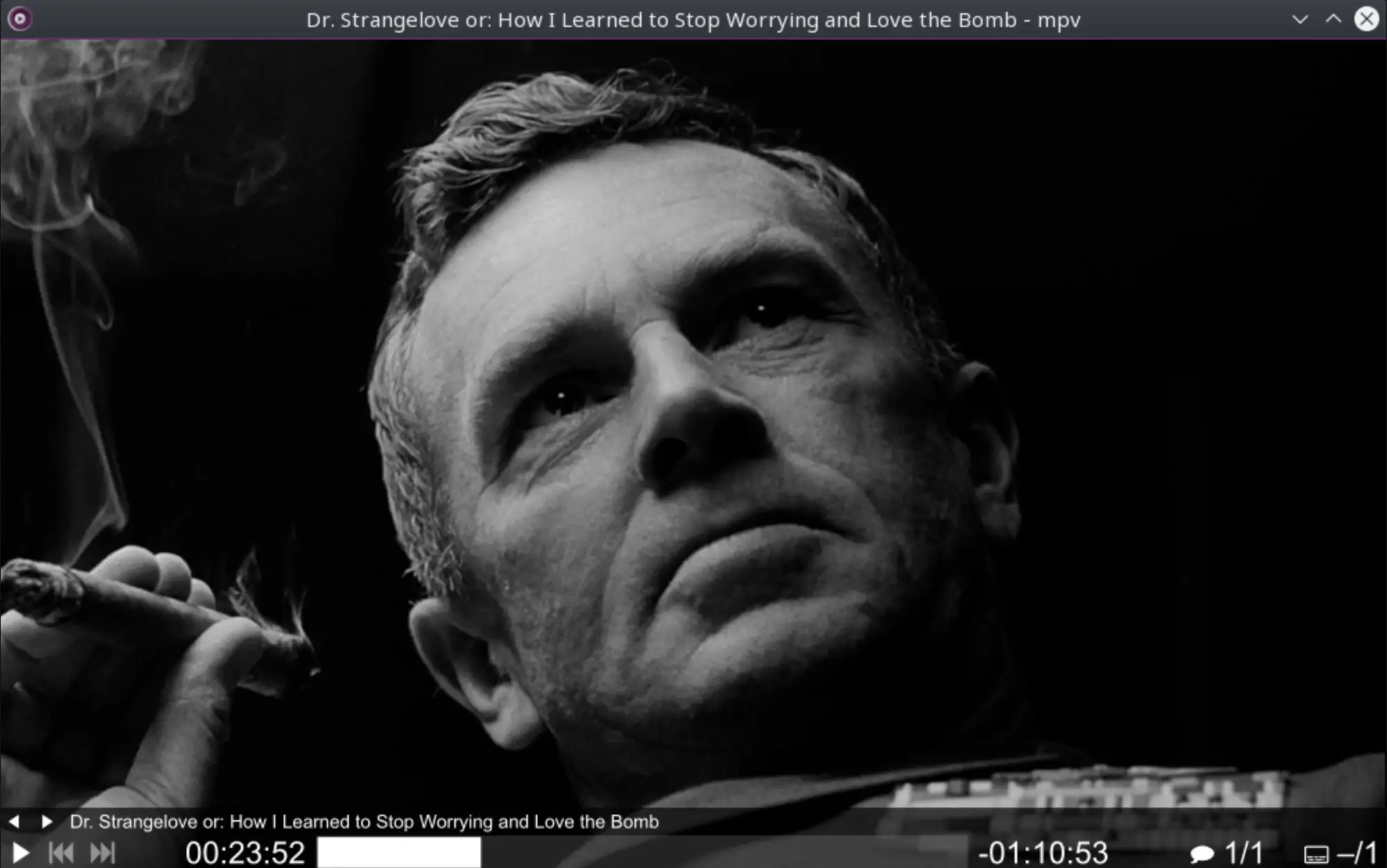 The inability of the player to offer a playback control and a full-screen button accounts for its demerits. Keeping them aside, MPV bothers the users with a minimal interface, but that doesn't mean any degradation in the quality of the videos. 
Apart from this, MPV, one of the best Linux Video Players, provides video output to users based on OpenGL, Vulkan, and D3D11, including all the prominent features that fascinate those who like to watch multiple videos from different sources. MPV lets you manage colors, has high-quality algorithms, and gives efficient frame timing and whatnot! 
Hardware decoding has become possible with MPV. It is a straightforward video player that is compatible with interacting with various sources easily. 
7. Dragon Player
Dragon Player (Download Here) is a simple-oriented multimedia player written in C/C++. Rather than focusing on features, the main objective of Dragon Player is to consider simplicity. The user interface offered by the media player is minimal and not complicated at all. 
Multimedia files can be painlessly played and managed on Dragon Planet because the video player is free and open source. Dragon Planet works on a Phonon technology where simplicity and efficiency are the prime concern. 
Moreover, Dragon Player resumes your video from where you left it last. Therefore, if you are occupied with something or the other, you can pause your video and continue watching it whenever you get free, without missing anything. 
According to the name of your file, the multimedia player automatically downloads the required subtitles. Special video display settings are provided to a user on the platform, wherein you can customize your video's brightness, contrast, or color in the best-suited way you want. 
Those wanting to play a video file through CD or DVD can consider the media player as Dragon Player allows users to insert CDs and DVDs effortlessly. Playing any video on Dragon Player is a handy task. 
Dragon player works seamlessly for the KDE desktop environment. Since the media player uses Solid and Phonon, it does not depend on any hardware abstraction layer or multimedia framework. 
8. GNOME Videos
GNOME Videos (Download Here) was formerly known as Totem. The video player for Linux is neither supportive nor modified. It is simple enough not to give some professionals a feeling of being created. 
GNOME videos have a "search list" for your local videos, meaning that all the videos you have previously watched can be searched instantly by accessing this search list feature. But, as experienced, the search list does not provide fruitful results. 
Like many others, the multimedia player does not have a playlist feature; this reduces the user's customizability and also a drawback of the video player. 
One considerable feature you can experience on GNOME Videos is a tab containing major channels, wherein you can look for certain videos. Still, new videos can not be added to them instantly. Moreover, GNOME videos are not promising in their video playback feature. Though it has a playback feature, it hardly functions well. 
GNOME Videos remains away from the hassles of beautifications and features; it rather focuses on providing a clean and flexible experience to the users. In that aspect, the multiplayer is appreciable. 
Newer videos or videos that are unknown to the player can be installed easily, as guidance for that is provided by the video player. You can also play or watch YouTube videos directly from the media player. 
All in all, if you are searching for the simplest video player, then you can go for GNOME Videos.
9. Xine Multimedia Player 
An open-source and free platform to play multiple audios and videos instantly on your Linux-based device is Xine Multimedia Player (Download Here).
You can play your CDs, DVDs and even VCDs on Xine. Performance-wise, the multimedia player is commendable. 3D videos run smoothly on the video player. This enhances the user's experience with the video player. 
The GUI offered by Xine Multimedia Player is innovative and extremely modified. The frame rate provided by the multimedia player adds to the beauty of Xine. Xine is simple and easy to use. It does not trouble the user in any aspect. It functions seamlessly even in the longer run. 
The speed that Xine Multimedia player has to offer is unmatchable. It works extremely fast, so you do not have to wait for your videos or audios to get played on the multimedia player. Like others, Xine is also compatible with most file formats. For instance, it decodes and supports MOV, WMV, AVI, and MP3 files. 
With effortless navigation controls and external subtitles features, Xine has become a great choice for its users. Other than this, you can customize a playlist according to your choices and preferences. Xine is a platform to provide utmost ease to users. 
The video player supports a full-screen display, a feature most of us might look for in a multimedia player. 
Not only this, but you also have streaming playback support on the video player. That is, the video will be continued from the same point it was left at! Increased efficiency has made Xine a credible video player for Linux. 
10. MPlayer
Lastly, we have MPlayer (Download Here). It is a free and open-source multimedia player that supports most file formats, providing convenience to the user in terms of the ease of playing almost every video from any source. 
Though the user experience on MPlayer is not very interesting or interactive, it paves its way because it supports a range of subtitles files for the user.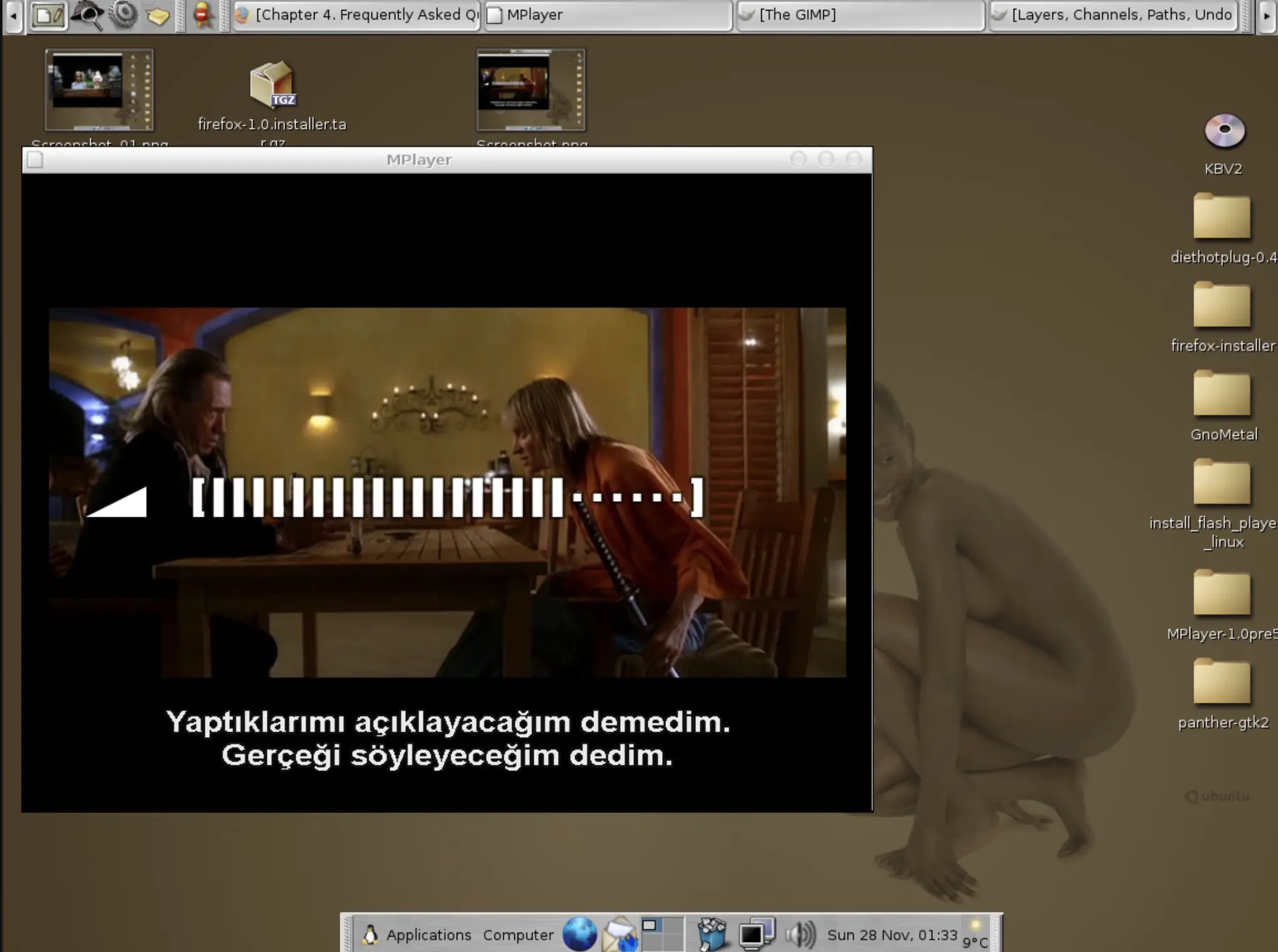 Any video that you play can be gloried with its subtitles, making it more enjoyable for you to watch the video. Whether your favorite film or shorter videos, anything can be viewed on the go with MPlayer. 
Along with this, the graphical user interface provided by the video player is not worth it. This contributes to the drawback of the video player. 
An appealing factor of MPlayer is that it operates smoothly, even with shortcut keys. Also, it detects any kind of bugs in the file, protecting your device from hanging or slow functioning. 
Also, no additional codecs are required for the video player to work. MPlayer has a range of themes to choose from, providing a vibrant appearance to the video player.
📗FAQs
What is the best Linux video player?
Today's world is completely based on technology. Whatever we want to search, we search it on the web; video players play an important role in this.
Some of the Best video players for Linux are VLC media player, SMPlayer, MPV player, Gnome Videos, Bomi (CMPlayer), Banshee music and Video player, and many more. 
Is MX player available for Linux?
No, MX player is not available for Linux. Still, plenty of other alternatives can be chosen instead of MX player, like VLC media player is an open source free video player that allows a user to play most multimedia files on Linux. 
Where is VLC installed in Linux?
The location of VLC is in the sound and audio category, you may click on that option, and you will easily find the VLC player. And if you are searching for its code, you should look at usr/bin, here, you can find most of the codes. 
How to uninstall VLC in Linux?
One can uninstall VLC using the terminal, first start the terminal by pressing ALT + CTRL + T key together, then type 'sudo apt-get remove VLC,' then press enter; it will ask for your account password, add the password, and you're good to go! VLC is deleted. 
Can I install VLC on Linux Mint?
The default repository for Linux Mint has VLC, the version suggested for those who are OK with the stable version for light use. Start the installation by entering the following command into your terminal. 
What is the difference between VLC 32-bit and 64-bit?
The only difference between these two is space. 32-bit has a maximum user mode memory address space of 2 GB, while 64-bits has unlimited maximum memory. 
Which is the most powerful video player for Linux? 
Again, the most considerable choice as a video player for Linux is VLC Media Player. Usually, your Linux-based desktop shall be pre-equipped with the VLC Media Player.
If it is not, you can install it super easily in no time. VLC Media player has one of the best video qualities a user can experience. 
CONCLUSION 
There's nothing as appealing as a free and open-source video player that understands your needs and takes care of your leisure and fun! All the above-listed Linux Video Players have an amazing user interface that gives the user a satisfactory experience.
You get to acknowledge a lot of features in these video players. Certain ones have to enhance and distinguish features, making themselves the topmost user choice. 
Audios, videos, and even internet radios can be accessed if your laptop has these video players. According to your preferences, you can go for any of these video players on your Linux-based device and enjoy your free time qualitatively.
Several others are not Linux based but fulfill the purpose well! You can try using them as well!