A wide range of people must work with various files and folders regularly and often face turbulences of being unable to locate or recall where they might have saved a certain file.
In such situations, sometimes it takes a lot of time to look for the same, thus eating away the time you might have allotted for some other task. 
To prevent or lessen situations like this from happening often, some software has been designed to look out for the searching part for you. To talk about, Spotlight would be the one we would like to mention first.
Spotlight is one such platform, which happens to be the default application for Mac devices, which aids you in looking for files, performing calculations, searching definitions, or searching system settings, making your work 10x faster and simpler. Besides these, Spotlight has some more fascinating features up its sleeves for you as well. 
In case you are looking for more amazing applications that resemble Spotlight in its numerous features, we list some of the best Spotlight Alternatives that might be perfect for you.
Best Spotlight Alternatives – Our Top Pick👌
1. Find any file – Spotlight alternatives To Search Beyond The Spotlight
Find any file (Download Here) is among the top Spotlight alternatives where the software uses the file system driver to execute the functions. 
To kickstart your work on this platform, you need to select a location where you would be interested in locating all the files you will be working on.
The locations where you could store your files can be network volumes, Finder selection, even a local disk, or any specific location where you would want to find your files.

This software lets you search extremely precisely by many file properties, viz. name, extension, size, range, kind, etc. 
When choosing the location for saving your files, a dropdown menu can be seen. From there, select a search criterion and a named operator.
For instance, let us say that you created a file somewhere on your local disk a few weeks ago.
So, you got to set up the criteria: "Find items – inside the local disk," "Name- begins with" ( put the approx name of the file you had chosen), and " Created date – is within the last". Then, click "Find" to look for your file on the local disk.
Find Any File gives its users a hierarchical view of the items that one looks for. Here, you could change it with the help of cmd+2 or just click casually on the "View" icon that you will find at the top left corner of the results window.
This view comes with the pattern of alternate black and gray rows, where the black ones are directly related to the file, and the gray ones just lead you to or show you the folder enclosing the file. 
This software can also look for textual context if it is located in most binary and plain text files. With the facility to include Spotlight results, it can also look for texts in PDF, Word, and Excel documents.
If you are searching for some images, the image preview browser helps you locate them easily. Here, you can save the lookups of your files ( they are supposed to have the extension ".faf" ).
Next, double-click on them in the Finder to have them begin with the search or even use the searched item as a pre-set. The results can easily be copied to the clipboard or saved to text files with the extension ".paths". 
This software lets you extract data from other apps, like Keyboard Maestro, PopClip, Alfred, and more. It comes with a free trial for its users, after which a subscription fee of $6 has to be paid to enjoy the benefits provided by this application.
Thus, working chiefly on various versions of macOS, Find Any File is an excellent option to consider as an alternative to Spotlight.
2. Alfred – Spotlight alternatives To Type Less, Say More
Alfred is another picked-out alternative to Spotlight that can be considered one of the best of its kind.
This platform is an award-winning one that accelerates your working efficiency with the aid of hotkeys, various ranges of keywords, text expansion, and much more.
Alfred has multiple features that give all its users an enhanced experience and ease the process of finding applications and files launched from the web or Store.
Once you are done with setting up the finalized hotkeys and keywords of your choice, you can make your search on your selected websites optimized to a great extent with the help of keywords and hotkeys. With these keywords, you save much time that might otherwise get wasted typing the same words repeatedly. 
This software comes with a Clipboard History, and Snippets feature that makes locating any sort of text, image, or file previously copied much simpler and lets you paste it again.
You could even create your snippets and make short abbreviations ready to expand them automatically into a full-text one, thus saving yourself a lot of time.
Working on heavy schedules can be a hectic journey; thus, Alfred allows you to turn your iPad or iPhone into a command center for your Mac. Alfred shares a deep integration with macOS and thus lets the users perform actions on files and contacts or even play a music player when required. 
On Alfred, you get to adjust the workflows to make the repetitive tasks automatic and modify the features' functions even more. 
Well, many more features like performing quick calculations of your math problems and copying the result of the same to the clipboard, tapping the 'Shift' key to get a preview of the content of a file (without actually having to open it), popping up of a phone number as a large text on your screen, etc. are feasible with Alfred software.
Alfred is a software designed for macOS and Apple users that can initially be availed with a free trial, after which you have to pay a minimum amount to access the premium version of the software.
The several features this app comes with can hardly beat any other and will serve you with great excellence and efficiency.
3. LaunchBar
LaunchBar can be considered one of the most efficient spotlight alternatives, which helps you immensely keep your daily activities on track and ensure quicker actions and functionalities. 
Like Alfred, LaunchBar is also capable of managing your events and setting up reminders, accessing contacts for better usability, and working towards bringing an optimized search experience for you.
Well, its intuitive UI attracts the eye of all the users, and the software also has in-store emojis, Safari-iCloud Tabs, Finder Tags, Reminder Lists, Safari-Reading Lists, and many more for delivering a better user experience throughout.
One could easily navigate through an item's metadata, viz. color profiles, image dimensions, Finder tags, viewing of the latest documents and other related files, disk capacity, keeping a record of word counts, and more.
One of the most amusing features is the live suggestions you could get during your search on Google, Wikipedia, or DuckDuckGo. Many other actions like Calculator or Calendar input comes with providing instant feedback for the query that has been registered.
Your experience on LaunchBar doesn't count when the Usage Statistics are calculated here. With Usage Statistics, you can get the correct insight into your daily access to numerous features.
You can even convert the selected text portion to uppercase, title case, kebab case, and many more. Integrating LaunchBar with Shortcuts, Services, and Automator is also possible here. 
Apart from the various features, we have mentioned in the above section, you can also get your hands on many other features.
It is an extremely simplified platform for all macOS users that lets you get access to an initial free trial, after which you have to pay a premium fee of $33 to continue further. 
SCOM1119 - What's New in LaunchBar - Preview
4. Raycast
Another alternative that we could take into consideration is Raycast. This can be considered software that is quite similar in its functionalities to Alfred. It is a free application launcher for your Mac device that is lightweight and snappy compared to Alfred and Spotlight. 
To keep a check on your day-to-day activities, you could easily type out "my schedule" and get the desired results.
Furthermore, Raycast lets its users block focus time and lets you join in conference calls through the application that you would prefer. Making to-do lists and setting up reminders can give you an overview of the tasks you need to work on. 
Through Raycast, you can take control of your Spotify or Apple Music accounts with the facility of just one hit through a button.
Playing the snake game or keeping an eye on the weather and your internet connection speed has also been easy and can be facilitated with a click or two.
You could create your extensions with the help of Raycast API and post them directly to the Raycast Store without a hitch.
Since it is an open-source community, you can easily communicate and connect with other developers and their extensions. This way, you could cheer each other to strive towards more and do better.
Floating notes is yet another fascinating feature that intrigues and aids a lot of users in taking down random notes whenever necessary. You could open links in the browser, folders, or any text editor to make searching more efficient.
Besides these features, there are plenty of features that this software comes with which will benefit you manifold times. Raycast is a free platform, and its uncountable features are a cherry on the top for all its users.
Raycast for Mac [Sponsored]
5. HoudahSpot – Spotlight alternatives To Find Files. Fast!
HoudahSpot is one such software worth mentioning when discussing the Spotlight alternatives.
This application lets you search for files by filtering through categories like name, text, author, file extension, recipient, etc. Customizing columns and setting up templates for repetitive searches are also feasible through HoudahSpot. 
On this software, you can view the preview of various files and images with the help of the Info pane, which also displays the file properties and other metadata.
HoudahSpot also lets you 'fold' the preview and displays only certain highlighted matches. This lessens your work and gets it done without consuming much of your time. 
This software makes it extremely convenient for users to look for files with common characteristics. HoudahSpot amalgamates with utmost perfection with other software like LaunchBar, PopClip, and Alfred through the URL facilities.
With HoudahSpot, you could find files that might otherwise be somewhat complex to look for. Such files can be emails regarding the resume or CV you have received in one year, images that can be as wide as 512 pixels, files created, modified, or opened in the past seven days, etc. 
You can improve your search experience by adding various criteria to make the search even more precise and to the point. The usage of '*' as a wildcard for partial matches is also doable.
Thus, you can easily get going with the application by initially trying out a free trial and then can purchase it for $40 from the Mac store for your device.
6. Curiosity – Spotlight alternatives To Find everything anywhere
The last one on our list of the best Spotlight alternatives is Curiosity. Well, it does serve the purpose of finding things on your system much easier through a simple search, but this tool offers a lot more.
The best part is that it is platform-independent, meaning you can use it on your Mac, Windows, or even Linux operating system. It is free of cost and connects dozens of apps on your system.
This simple tool has a much more complex backend that carries all your emails, calendars, cloud storage, files, and much more in a single place.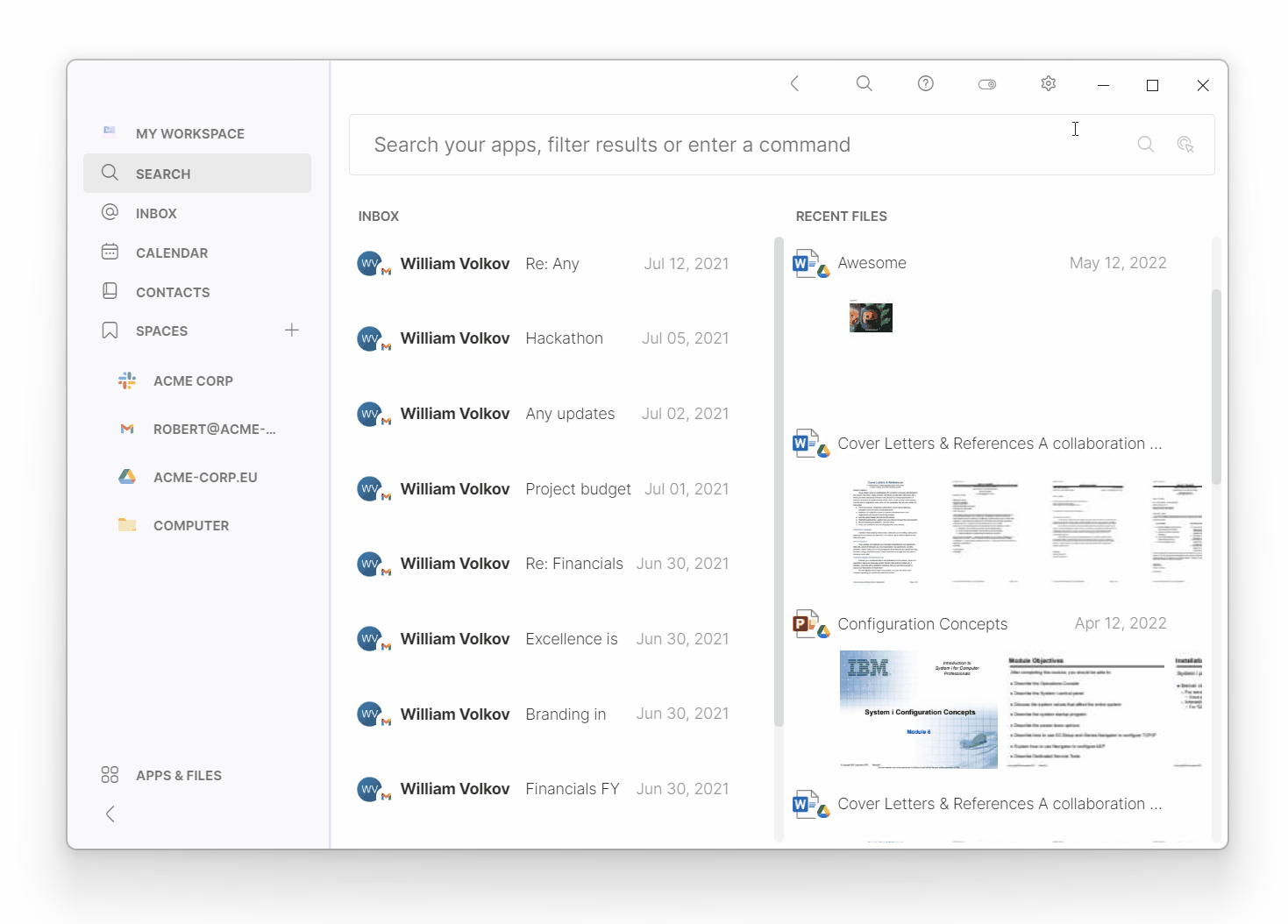 You do not need to open other apps such as Gmail, Calendar, download, or set on your system whenever you look for a file. Rather, use a simple shortcut, Alt + Space, to open the tool and type in what you are looking for.
An important update on this tool brings you the power of Indexing. Curiosity allows you to schedule indexing for your apps.
Not only this, you can check out which apps are currently being indexed, provide a grid view for the images, previews in the command bar, and much more.
CURIOSITY is an IMPROVED search system for Mac, Windows and Linux.
📗FAQ on the spotlight alternatives list
What is the best tool to know when searching for a specific file on Mac? 
The finest Mac search tools to be aware of include Alfred, LaunchBar, Spotlight, HoudahSpot, and others for finding any file.
In addition, these tools increase your productivity by using hotkeys, various keyword ranges, text expansion, and other features. 
What is the shortcut for Spotlight search on Mac? 
Show or hide the Spotlight search field using the Command-Space key—Press Command-Option-Space to do a Spotlight search from a Finder window.
(These shortcuts change input sources rather than displaying Spotlight if you utilize multiple input sources to type in various languages. 
Which tool can search for both files and applications on a Mac? 
Mac users have relied on the trustworthy and dependable Spotlight search for years. By pressing the Cmd + Space keyboard shortcut, you may look up files, carry out simple arithmetic, monitor the weather, and do much more searching.
Unfortunately, despite frequent Apple updates, Spotlight still lacks a few capabilities. Other tools you can try are Find any file, Alfred, LaunchBar, Raycast, Curiosity, etc.
Using Mac Finder to display hidden files 
The folder where you want to look for hidden files should be opened. Then, press the "Command" key while simultaneously pressing "Shift" and. """ (period). Translucent hidden files will be visible in the folder. 
How to Show Hidden Files on Mac | Apple Mac Tutorial
How do I do an advanced search on my Mac?

 
Enhance a search with criteria

 

Launch Spotlight or a Finder window to begin your search on your Mac.

 

Under the search area on the right side of the search window, select the Add button.

 

Select or add your search criteria in the pop-up menu on the far left.

 

From further pop-up choices that appear, select your criteria.

 
10 Advanced File Search Techniques
Conclusion on the spotlight alternatives list
Spotlight alternatives are a wonder, with Spotlight undoubtedly being one of the best. If you didn't use such an application before, it would be hard for you to have an idea of its miraculous power.
We recommend you choose the best one that would suit you and give it a try if you need it. We are sure you won't regret this decision even a bit!