So, you have listened to the Devil singing a song in the Netflix original Lucifer. The beauty of that music has left you in an aww, and you always keep reiterating "what was that song?". Well, name me as your Santa as I am going to take you to this musical tour, which will help you in identifying that song.
There are a lot of TV shows and web-series out there in the market that tends to leave an everlasting experience with its music.
Music apps like Spotify or Google Music might not have them but there are dozens of Music-identifier apps such as TuneFind or Shazam that will help you in doing that.
How many times when we are running errands or jogging around and suddenly a melodious pleasure hits you out of thin air. You want to enjoy that pleasure again and again and this from the comfort of your home.
For that, you need to have a sound identifier installed on your device. If it is then you can just pluck out your phone from the pocket and make your phone listen to that song. The Song Identifier such as TuneFind will not that identify that song for you.
What was the intention behind the creation of Music Identifier application:-
Apps like TuneFind, Shaza, TrackID came into existence as the demand for media and entertainment increased in the market.
After the introduction of the iPhone in 2007, the question "how far can you reach with this technology" was like a piece of meat in all the technological discussions. After the arrival of smartphones, the demand for digital media increased exponentially.
Now, everyone has their smartphones to consume content and there was a lot of content, therefore, the need for hours changed. Now the customers needed something to keep track of the songs giving pleasure to their ears. That was the reason behind the creation of a Music Identifier.
One of the biggest challenges was to create an enormous data-set comprising of all the songs. TuneFinde found the best way of doing this. They asked the customers to do that for them.
Not only TuneFinde, but there is also various other song identifying application out there in the market waiting for you to download them.
Let us have a look at some of these apps:-
Best Music Identifier To Identify Songs 👌👌
1. Google Assistant and Siri
These two artificial intelligence masterpieces are there for you when you want to identify songs. They are the quickest and most accurate way to identify music.
Just scream "OK Google, which song is this" in android phones and "Hey Siri, which song is this".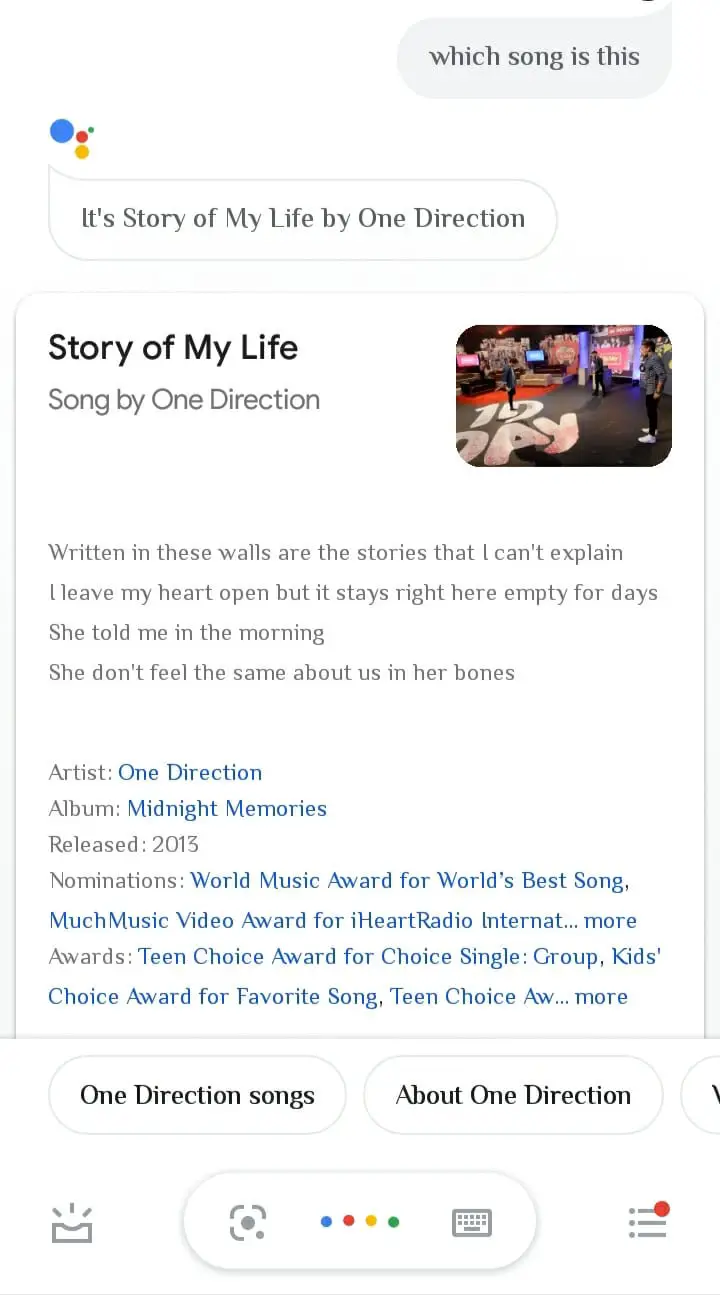 Note:- Make sure that you have enabled voice recognition.
Now play that track on some other phone and the artificial embedded in your Assistant will identify that song for you.
Apple Siri is based on Shazam's architecture(which we will study in detail) and makes the sound identification process very accurate and quick.
2. TuneFind
TuneFind (Visit Here) is like a jackpot for music lovers. It has all sorts of music from all sorts of platforms. It has songs from tv series or web series, movies, albums, games, etc. It accumulates music of over 100k web series, albums, games. 
One of the best things about TuneFind is that they give you an opportunity to add more songs. Once your song is approved, you can see it by going to the page of that particular web series, movies, albums, games, etc. This allows the site to build an enormous database of music.
To send your song or pole for the accuracy of a song, you first have to register. Afterward, you will hear sample songs and then you can cast your vote on the basis of their accuracy. 
TuneFind also has a paid membership program, where you can purchase songs.
Tunefind: Find music from TV and Movies
3. What-Song.com
What-Song.com is like a treasure for music lovers. It can also be referred to as an alternative to TuneFind.
What-Song.com offers you an enormous collection of music from its mammoth database consisting of songs from all genres and from different TV shows, web series, movies, etc.
You can just visit the website and look for your favorite melodious. The part about this is that it's completely free.
4. Shazam: Discover songs & lyrics in seconds
If you are a music connoisseur and you don't have Shazam, you are missing out on a lot of melodious fun. It has a collection that can be compared to infinity.
When you hear a song that you don't whether it's playing inside a mall or outside a library, you just have to pul-out your phone and open shazam in it, it will take over the identification process from thereon. After predicting the song correctly, it will give you options to download 
Shazam has a lot of other features accumulated in it, like putting out the lyrics of the song and showing the artist's detail. 
Shazam is there on all portable devices such as android phones, iOS, Apple watches, etc.
Download on Apple App App Store
5. Snapchat
Snapchat is not only used for making funny faces and creating streaks. It can also be used as a music identifier. If you don't want to use TuneFind or Shazam then you should use an app that most probably already exists on your phone, use Snapchat. 
Snapchat has an integrated Shazam algorithm built-in, by which one can easily use Snapchat as a music identifier.
To do that, open Snapchat's camera where that music is playing and then long-press on the screen. Doing this will activate your Shazam. And the song name with the artist name will pop up on your screen.
So, next time someone come-up to you start criticizing Snapchat. Just pluck your phone out and show them this magic.
6. SoundHound: – Music Discovery & Lyrics
Think of it as a sibling to Shazam. It is an excellent app available on both the android and iOS platforms. They hear the sound and identify the music based on their enormous data see. 
Shazam has the feature to identify the songs from the humming made by you as well, which makes it even more special and gives it some extra points over its comparator.
The only downside to this is that the results are not very accurate. But since no other program has this feature, therefore, SoundHond will always be rated above Shazam.
SoundHound has another demerit that it is flooded with ads. But, you can eradicate them my buying their premium subscription at $6.99.
You may like to read our guide on 15 Of The Best
Songwriting Apps
To Enhance Your Lyrics.
7. TrackID
TrackID is a free app that was made to identify music. It is very easy to do that in TrackID, after registration and the login process you have to press the purple button so that your device can hear the music.
After the completion of the recognition process, you will be redirected to the page. You can either download the music or stream it on Spotify.
The best part about TrackID is its offline mode. In the offline mode, the device captures the music for you and will show when you have an internet connection.
For example, you are going somewhere with a poor network and you hear a very enchanting and melodious song, you can just pull out your device can make it hear the song via TrackID. Afterward, when you have an established network you can see that those songs are saved in it.
You may like to read our guide on 7 Of The Best
BPM Counter
To Improve The Music.
8. MusiXMatch – Lyrics for your music
Even though, the MusiXMatch application is not famous as a song identifier. It is mostly used as a music streaming app and is very popular in that department because of its beautiful interface and the collection of thousands of lyrics. 
Apart from all these kinds of stuff, the MusiXMatch can also identify the song played from a nearby speaker. As it was first made and focused on the Music streaming part only, its music identifier is not that accurate.
MusiXMatch also allows users to sing along because of its karaoke feature, Therefore, it is good for practicing songs as well.
9. Beatfind Music Recognition
Beatfind is another music identification app. It is available on both iOS and Android platforms. It is a very simple to use application and is accurate at the same time.
Beatfind is powered by ACRCloud which allows it to store the identified song in the cloud, therefore, you would be to keep a track of your songs via history.
Beatfind also allows its users to share songs over various social networking sites such as Instagram, Facebook, etc.
This application will do wonders for all the party freaks out there with its flashlight mode, where your phone's flashlight will work with beats in a synchronized manner.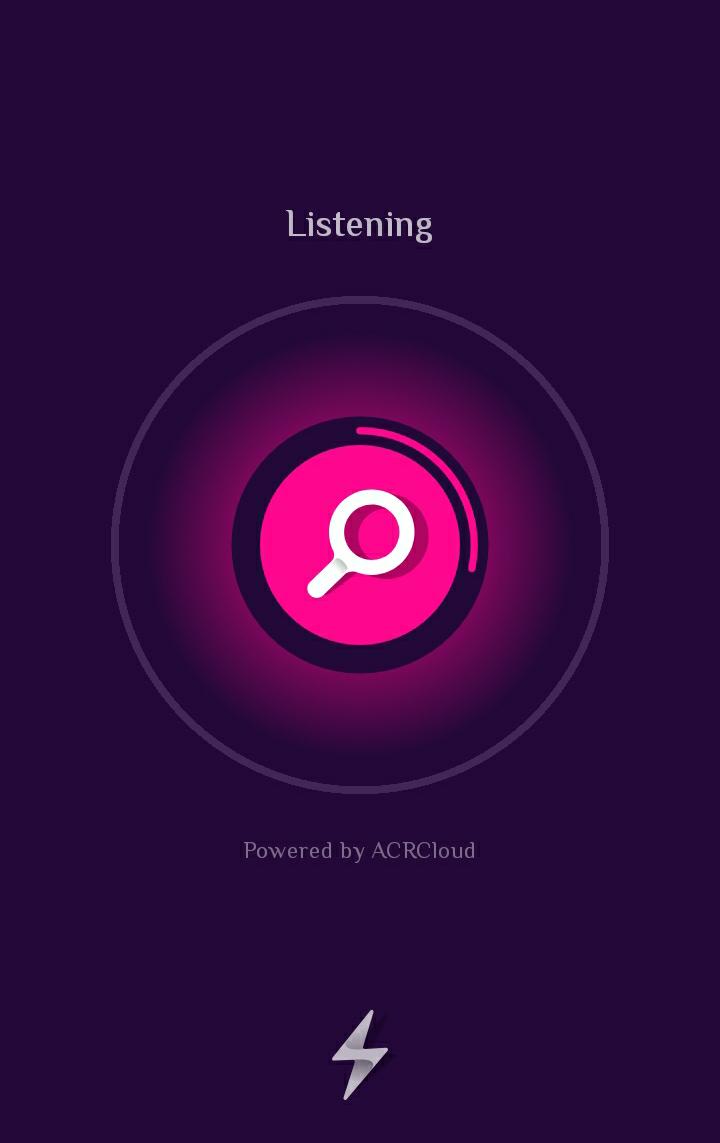 Download on Google Play Store
Working of Music Identifiers:-
Even though it may sound fun and easy to extract information from a song by just making your device listen to it. But there are a lot of complex algorithms running in the back to make your musical experience better.
Let us look at a step-by-step working of a Music Identifier applications and let's conclude is it or difficult:-
Step 1: the app that you are using will have enormous data of fingerprints of songs. These fingerprints(we will discuss it later on in this article) contains a unique pattern.
Step 2: When you get the device in the musical zone and press the record button, the app will hear that sound and within a couple of seconds of hearing that music it will create a fingerprint/unique pattern for that sound.
Step 3: Now, your fingerprint will be uploaded on the server where the database is. There your fingerprint will be checked for a look-alike.
If a ten-second sound is matched to a part of the song, results will be provided. Otherwise, you will receive an error notification.
The below video will help to understand how exactly these music identifier apps are working.
Now as I have promised you let's look at the song's fingerprints.
Audio Fingerprints/Unique Identifiers:-
Audio Fingerprints are also known as Unique Identifiers, these are sound waves made by drawing out apart from the whole song and creating a fingerprint out of it. These fingerprints along with the algorithms help the music identification program to identify music.
When a database is created, with different songs inserted in it, the developers make sure that they insert the fingerprints along with that song. So, that one the program can easily identify that song. 
But the question of accuracy will always prevail in our minds. The accuracy of the sound identifiers depends on the way you train your program. It is just like any other AI system.
Apps like Shazam and SoundHounds are considered the best in the business and apps such as MusiXMatch are not as accurate, 'cause they are trained to perfection.
Audio WaterMark:-
Audio WaterMark is a unique electronic identifier inserted in an audio signal. These are used to identify ownership of a copyright.
Audio watermarks are primarily used to secure the ownership of audio. As when someone copy that audio the unique electronic identifier that we have inserted will also be copied.
Therefore, watermarking is very important in enabling your copyright protection and ownership verification. There are a lot of incidents where the watermark has helped the owner from his content being stolen.
One of the most secure techniques of Audio WaterMarking is Spread Spectrum Watermarking.
In this, a narrowband signal is transmitted over a much larger bandwidth such that the signal energy presented in the signal frequency is undetectable. Therefore, it is almost impossible to remove it making your audio file very secure.
Audio Fingerprint Vs Audio Watermarking:-
The comparison between these two similar-looking technology is possible but finding a winner will be a foolish idea. That's because these two technologies serve differently.
Audio Watermaker is used to secure the ownership of audio. On the other hand, Audio Fingerprints are there to identify songs for you. 
In Watermarking the developers embed a unique marker in the content. That will help later on in getting its patent. On the other hand, fingerprints are sound waves made by drawing out apart from the whole song and creating a fingerprint out of it.
If you ask me which technology is cooler the answer would be "Audio Fingerprint". But if the question is which technology is essential then the answer would be "Audio Watermarking" 
Summary:-
TuneFind is a music identifier and a music player.

Apart from TuneFInd, there are many music identifiers such as Shazam, Google Assistant, Siri, Snapchat, etc.

Audio Identifier works as they first make a fingerprint of that song and then check for an identical fingerprint in its enormous database

FingerPrints are sound waves made by drawing out apart from the whole song and creating a fingerprint out of it. These fingerprints along with the algorithms help the music identification program to identify music.

Audio Watermark is a unique electronic identifier inserted in an audio signal. These are used to identify ownership of a copyright.