Looking for something to spruce up your pictures? Typography apps are a simple solution for publishers who use digital media.
They are compact applications that enhance the user experience of adjusting texts within a given design while fabricating a powerful design.
These apps can play a role in displaying a first good impression. It provides loads of elements such as text size, spacing, a variety of fonts, etc. 
'Fonts are too small!', 'the words are not visible', 'color of the text is not pretty enough!' All these problems can be solved with the simple use of typography apps, which are easy to use and efficient. If you are looking for the same, the top 10 applications are listed below: 
Best Typography Apps: Our Top Pick👌👌
1. Phonto – Text on Photos
This is a simple application that allows users to add text to photos. With a few minor tweaks, Phonto is available in both iOS and Android, easy to use, and described as fully customized.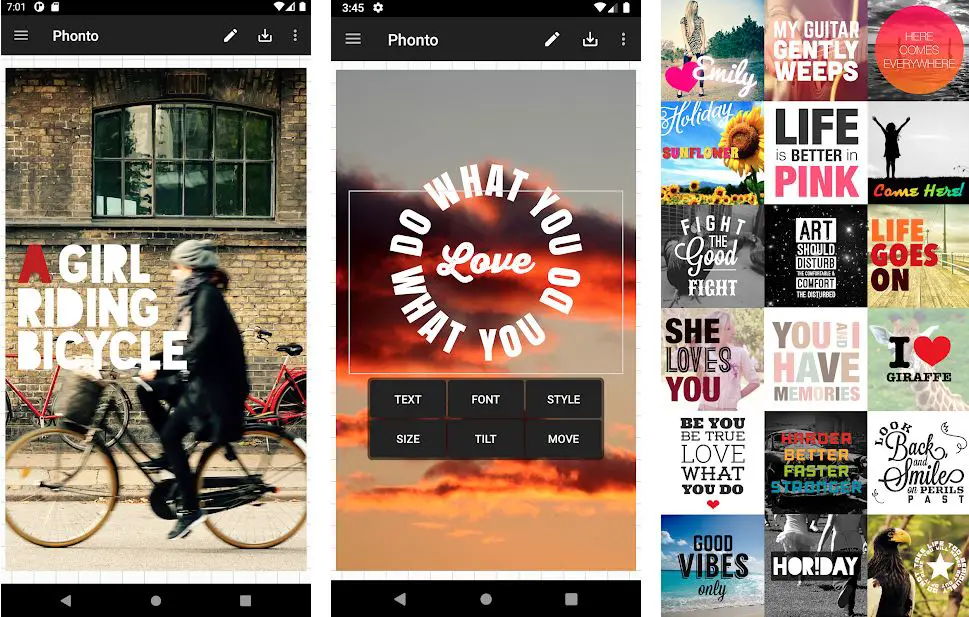 These apps can be used for both professional and personal use. On downloading Phonto you have an exclusive way of looking at photos. Typography apps like these have a combination of both photography and design. 
Phonto can be used when you need to customize a well-designed banner or when you need to show off your editing on Instagram. Making thumbnails for youtube videos is much easier.
The Phonto-Text on Image app is free for android and iOS. But if you want the extra Phonto Image Pack needs to be purchased from the In-App purchase. Additionally, an Ad-free version of the app can also be downloaded from In-app purchases. 
There are many features to look for in the Phonto app, few of those features:-
The text in the app can be rotated.

 

The text color, shadow, and background color are easily changeable.

 

You can blend the texts into the pictures.

 

Extra fonts can be added to the app and can be made useful in your projects.

 

Brilliant features like line spacing, letter spacing, stroke color, and width are included.

 

Shapes like rectangles, hearts, stars, etc, are available to spruce up your pictures.

 

You also have a multi-selection option, allowing you to edit the font texts all at once.

 
Phonto helps in making perfect posts or thumbnails and keeps a note record of your work or templates.  
The app contains ads, but if you want to enjoy an Ad-free app you can buy it from the In-app purchases. 
To download Phonto on Android.  
2. Font Rush
It is a powerful app in the typography apps category which serves as an editor which is easy to use and helps you tell your story in style. There are over 200+ fonts available in the Font Rush app which lets you create a unique and creative message.
The elegant features of this app make it user-friendly and magically turn your words into designer texts or fonts. User friendly and easy to navigate through the application. The app contains the least bothersome ads, and it is free for download.  
Boring pictures to Instagram-worthy posts or huge banner Ads that can be done using your phone, anything can be made look pretty using Typography apps, in particular Font rush. 
With Font Rush you can almost do anything to your picture as they give you options like:- 
Write on the pictures, make your own sentences.

 

You can add style to the font.

 

300+ fonts to choose from.

 

You can create flyers and share them with friends. 

 

You can create word art and calligraphy. 

 

You can change the color of stickers, text size, text color, text-shadow, background, and width of the text.

 

You can rotate the texts as well as the stickers they provide for beautification.

 

Borders to make your picture or layout look more defined.

 

The share option is available to send on WhatsApp or share on Twitter, Facebook, or Instagram.

 

The save to gallery option is also available.

 
3. AnyFont: Install all the fonts you love
This application is compatible with iOS and can be used as an extension for Word, Excel, and Powerpoint. It is rated as the most highly recommended app for font text.
This app is very safe to use and is based on our Natural language processing analysis which makes it effortless to use. On installing the app you get a FAQ and an introductory tutorial that walks you through how to use the app.
The fonts also have a feature of languages like English, French, German, Japanese, Russian, and Spanish. 
Installing Custom Fonts on iOS with AnyFont
This is one of the best from the Typography apps category which will change the theme of fonts on your phone.  
With AnyFont you can work with PowerPoint, word, excel, keynote and pages, office suite pro, and many more apps.

 

You can download 1000+ additional fonts from the In-App store.

 

It supports dark mode for iOS.

 

It allows you to download a single font or multiple fonts at once which will be installed on the device.

 

Use the fonts on Word, PowerPoint, Pages, and many more, to make a solid point about your presentation.

 

Available on iPhone, iPod touch, and iPad.

 
4. Fonts – Font keyboard for emoji, symbols & kaomoji
Typography apps usually are easy to manage and use, Fonty in particular is a wonderful application that has zero challenges to edit beautiful fonts and photos.
The app lets you customize your fonts, it lets you create, cut, slice, and make amazing clipart. Want the fonts to be in your handwriting? Then Fonty is the App to download. It is compatible with about 15 languages, which makes it easier and fun to use. 
Fonts App not only changes the font look and type, but it also makes the keyboard on your device look aesthetically good.
It adds color and design to the keyboard, there are a variety of designs you can choose from the app. This app also has a bunch of emojis that come with the app, made one of a kind for Fonts App users. 
Fonts let you choose your makeover for your boring keyboards. With solid features like:-
Bold, playful, gothic .etc, Fonts makes you stand out with the creative keyboard for any platform on your phone.

 

Fonts work on apps like Snapchat, Facebook, Instagram, Whatsapp, Discord and the list goes on.

 

You have amazing options like dozens of fonts, a huge number of sticker fonts, a lot of stickers and emojis.

 

Updates are added regularly to make the app more easy and more fun to use.

 

The bugs have been fixed in the new version.

 
Download App on Google Play Store
Download App on Apple App Store
5. PicLab – Photo Editor
Piclab makes adding texts to your pictures much easier than it looks. By choosing the font along with the design, typing out the text required, and placing it on the picture selected by following these steps you can beautify your photos.
It is available on both android and iOS platforms. Not only is this app useful for typography apps but it also gives a variety of tools like photo filters, effects, stickers, and drawing tools.  
PicLab lets you create unique designs using the tools provided in the app. Creating a meme on this app is easy and fun to play around with. 
The Features of PicLab contains:-
As a typography app, you get to choose from a stunning collection of fonts.

 

There are options to rotate, change the font color, font size can be changed, shadow effects can be applied and you can add multiple layers of font texts.

 

You have a choice to select from 20 of their in-app photo filters.

 

There are also options like adjusting brightness, saturation, contrast, exposure, and many more.

 

Easily crop the photos using the preset ratios for cropping.

 

Fun collage templates are available with the app. 

 

You can overlay the pictures with borders and a collection of shapes.

 

You also get a drawing and a collage tool.

 

You can upload, edit, and share as many photos as you wish, the app has all the options that a professional editor app would contain.

 

Can be used for both professional and fun creativity.

 
To download PicLab on Android. 
6. Text to Photo – Photos Text Editor & Text Quotes
Adding text to photos and quotes with a beautiful background is made much more uncomplicated with the Text to Photo app. Typography apps like Text to Photo make your work easier than ever.
Text on Photo - Photos Text Editor & Text Quotes
The app also offers you frames to give your picture more structure, your fonts can look more amazing with the color changing option. You can go pro on this app by paying a small amount for it, which leaves you with Ad-free use of the app and the addition of a few more fonts.  
Typography apps like this are bound to have bugs, but the Text to Photo app has been updated and bug-free, making the work experience much more sophisticated.  
The Stunning Features of the Text on Photo app includes:-
A huge font text and image library are updated on a regular basis.

 

There are 100+ fonts to choose from on the app.

 

The backgrounds are elegant and free to use.

 

You have a selection of images present in the app for you to choose from according to your desire.

 

There is a share option that allows you to share with your friends on social media.

 

You get in-app quotes you can choose from to amp up your pictures.

 
To download Text on photo on Android. 
7. PixelLab – Text on pictures
This application helps you change the font theme on your mobile devices. It is easy to use and you have three options, online, local, and custom to choose the fonts from.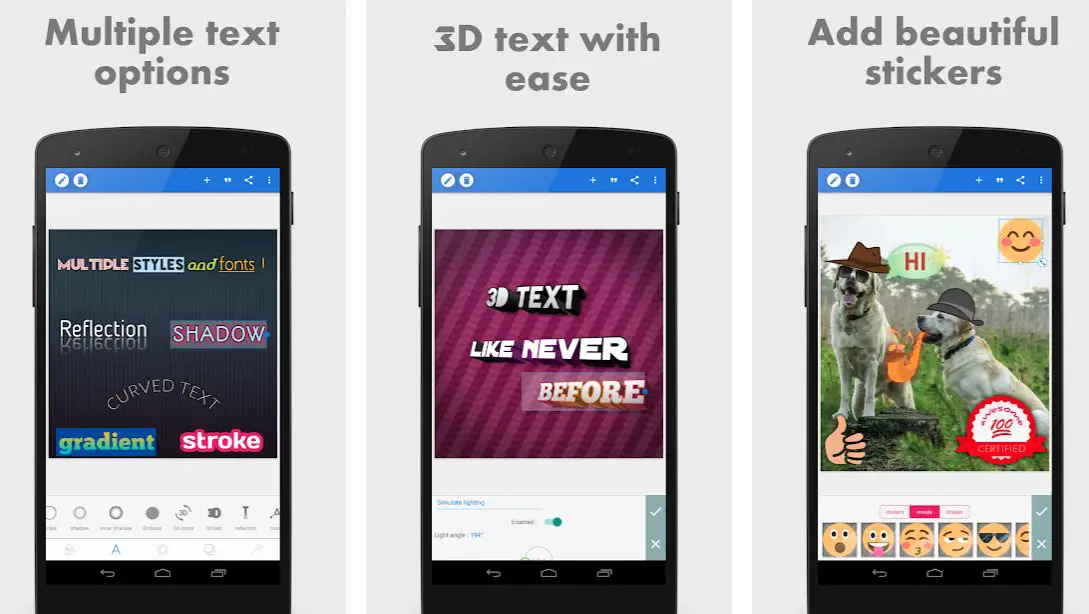 On the online tab, have your 6 languages to choose from, and you can download your favorite font. This typography app is available on both Android and iOS, the user interface is different on both the OS systems but the functionalities are similar.  
You have key features that make your picture pop out:-
Fun stickers and filters on photos.

 

You can rotate, crop, and straighten your photos.

 

You can also make the cut and size adjustments to the images.

 

You can draw, add text and create your own meme.

 

There is a new feature where you can remove the background.

 

The app developers have also improved the UI and the performance of the app.

 

You can browse quotes and export the image you have created to other social media.

 

3-D and stylish texts are present to choose from.

 

It's a clean interface, which allows you to do your job without any mess or confusion.

 

You get a lot of text effects like Shadow, Inner Shadow, Reflection, Mask, etc.

 
To obtain all these fantastic features download the app, either on Android or iOS, links are given below. 
To download PixelLab on Android.  
8. Fontasy – Google Fonts Browser
Fontasy allows you to browse all the fonts on google. About 600 font families are registered with Fontasy. It is free to use and can be downloaded on the Google play store.
This application does not let you change the font on your device but it can identify any font that you send from other apps and it also allows you to type out words and sentences in your favorite font and place them on your pictures. 
Features:-
You can search for 1000+ fonts from google. 

 

Helpful to find a font that can make your project stand out.

 

You can share the fonts you found with your friends.

 

You can find out about an unknown font that you like.

 
 While exploring Best Typography Apps to our readers, I found an awesome video on "5 Typography Tips & Tricks" which is worth watching.🤩🤩👌
5 Typography Tips & Tricks
9. Pixlr
This app acts as a platform for graphic designers. It gives you customizable templates, a drag-drop option, the use of multiple languages and it also comes with a variety of photos and templates.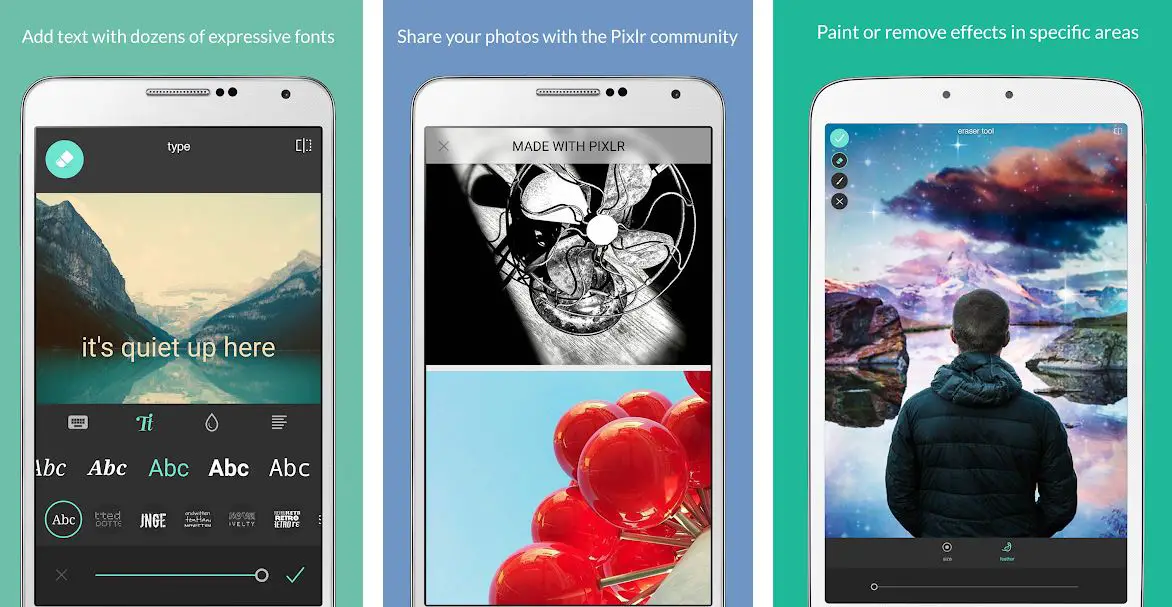 It allows you to edit images to be used in different graphic design projects. Pixlr is available on the web, Android, and iOS.
It gives you a free trial before you decide to buy the app for an affordable price on the Apple store. For Android users, it is available for free, with an extra additional cost for the pro version. 
Pixlr is a great platform because of the amazing features it contains:-
You get to choose from the preset colleges, grid styles, and backgrounds.

 

It gives you the ability to change the color of the photo.

 

You can amplify the tone of the photo but using the app's filter options, also contains options to warm or cool the photo.

 

You have 500+ fonts to choose from to add a glimpse of sparkle to your photo.

 

You can crop and resize the texts as well as the photos.

 

You can save your work and resume it later.

 

You also have the amazing feature to draw using pencil sketches, poster color, and more.

 

Dozens of borders are available to pick your style and work with it.

 

You have features to easily adjust the exposure of your photo.

 

You also get a range of pictures you can choose from to create beautiful quotes or captions.

 
10. Font Candy: Photo & Text Editor
Font Candy is available only for Apple users, it is free of cost and gives you a unique and creative experience. Typography apps like the Font candy let you take a picture on the app and edit it before you can save it to your gallery.
Gives you exciting font designs and many options to beautify your photo. The app has an inbuilt walkthrough process on how to use the app, it has a tutorial that will go over all the tools and features and create a perfect text overlay.  
The Features of Font Candy contain:-
You can choose from the categorized set of fonts available in the app.

 

The download is free, but you also have an option to subscribe weekly for more features.

 

Editing tools like text curving, shadows, and transparent control are available.

 

You have an option to choose from built-in custom quotes and artwork. 

 

Ability to change the background as well as add standard colors.

 

You have templates to design iPhone cases, T-shirts, magnets and more.

 

You can share your work with your friends.

 

Scaling and cropping options are available.

 

The addition of a fun animation option is available in the app.

 

You can save your own watermarks and designs with the subscribed platform.

 
To download Font Candy on iOS. 
Conclusion
These top 10 typography apps are the most amazing options to choose for your editing purpose. You can unleash your inner designer with these apps and their super features which are simple to use as well as user-friendly.
Each application is designed to give a fantastic experience with various forms of typography fonts.  
New updates are introduced for the addition of more fonts and designs. Now, you do not have to struggle to make a fun-looking picture or presentation, just download one of these apps and enjoy their features.