Picture yourself gliding through the city streets or cruising along a scenic beach promenade, feeling the wind rushing through your hair as you effortlessly maneuver on an electric skateboard.
Imagine taking that exhilarating experience to new heights with the added confidence of knowing your skateboard is waterproof.
The waterproof electric skateboard is the ultimate companion for thrill-seekers and outdoor enthusiasts.
This article delves into the world of waterproof electric skateboards, exploring their remarkable features, benefits, and the freedom they offer.
Whether you're an avid skateboarder seeking a new level of adventure or simply someone who loves exploring the outdoors, a waterproof electric skateboard opens up a world of possibilities.
Join us as we uncover the innovation behind this cutting-edge technology, discover the advantages of a waterproof design, and explore how it can revolutionize your skating experience.
With robust construction, sleek design, and advanced functionalities, a waterproof electric skateboard allows you to unleash your riding potential in any weather condition without compromising performance or style.
Are you ready to embrace the excitement of riding a waterproof electric skateboard?💁
Let's dive into the captivating world where adventure and technology seamlessly merge, empowering you to explore new terrains, chase your adrenaline rush, and redefine what it means to ride the waves of the urban landscape.
Best Waterproof Electric Skateboard – Our Picks
1. EXWAY Wave Hub Electric Skateboard
For riders seeking a waterproof, smooth, powerful, and adaptable electric skateboard, the EXWAY Wave Hub Electric Skateboard is the best option available.
You'll be able to go farther without stopping to refuel, thanks to the quick-swap battery and top speed of 23 mph. It can accommodate riders of all sizes, including adults and teenagers, with a maximum load capacity of 440 lbs.
The EXWAY Wave Hub Electric Skateboard is distinguished by its IP55 waterproof classification, which enables operation in damp or rainy circumstances.
The EXWAY Wave Hub Electric Skateboard will perform consistently in all weather situations, whether you're riding it to work or just for a leisurely ride.
The EXWAY Wave Hub Electric Skateboard is built with aesthetics and comfort in mind, in addition to its remarkable technical features. For riders of all skill levels, the cruiser-style deck offers a sturdy, pleasant platform to stand on.
Thanks to the provided remote, you have complete control over your ride, which makes it simple to change the skateboard's speed and power output.
The EXWAY Wave Hub Electric Skateboard is a dependable and fashionable option for riders of all skill levels searching for an electric skateboard that can handle a range of surfaces and circumstances.
Features:-
23 mph is the top speed
Quick-swap battery for extended trips without stopping to recharge
Riders of various sizes can use the 440 lb maximum load capacity.
Devices with an IP55 waterproof rating are appropriate in wet or rainy conditions.
Comfortable and stable cruiser-style deck
Remote for power and speed adjustments
Versatile enough to be used on a range of surfaces
Check Price on Amazon
2. Acton Blink S2
This water-resistant skateboard has been tagged as this year's best electric skateboard. Apart from being light in weight, it's also well built, fixed strongly, ad easy to use.
Its battery pack is powerful and offers a prolonged backup, and the control of the board is done by a remote, which can be handheld. Its design is one of the best as its polygon shape and innovative look attract you at first glance.
It also has black grip tape on the board's top, which is the center that enhances its security and firmness. This gives off one of the best performances you'll see.
Although not fully waterproof, the Acton blink S2 electric skateboard is partially waterproof as the board is water-resistant and may be damaged if used under heavy rain. The board is made with an aircraft-grade aluminum piece to make it more durable.
The Acton blink S2 comes loaded with a Samsung lithium-ion battery that charges fully in less than 45 minutes which is fantastic machinery concerning speed and mileage.
The batter can come with a single hub or a dual hub with a range of 14 miles and a rate of 15 – 18 MPH with an advanced braking system, LED lighting, and it offers three ride modes. It's got one of the easy to use aboard.
Pros:-
It comes packed with 14 miles when fully charged with a 15 – 18 MPH speed.
It comes with a custom-made LED lighting system, making night rides comfortable.
Offers a six-month warranty
Its remote control is Bluetooth operated
Cons:-
It's not thoroughly water-resistant, although its hardware is fully sealed.
This is not a board for tricks.
Check Price on Amazon
Acton Blink S2: My Favorite Electric Skateboard (Review)
3.

KooWheel D3M Electric Skateboard
Koowheel D3M electric skateboard: This short electric skateboard is light in weight and smartly designed with black grip tape and a seven-layer Canadian maple wood deck painted with black for easy maneuvering, flexibility, and cruise.
Its height would not affect placing your feet firmly on it. It comes with a swappable battery pack that ensures you stay on course for about 10 – 15 miles on a single charge and has a top speed of 27 MPH powered by a dual motor. Equipped with 2 in-wheels brushless hub motor of 350watts each, its torque is extreme.
The Koowheel D3M electric skateboard is known to be waterproof after passing the IPX4 certification test, and it's equipped with temperature control that enables it to attain its highest speed limit.
Pros:-
It comes equipped with an easy to change the spare battery pack
IPX-certified water resistance
Temperature control enables it to reach its top speed but can be slower in hot environments.
Cons:-
It's quite a new product with little or no customer feedback
It uses hub motors instead of belt motors which would make acceleration different from belt motors.
Check Price on Amazon
Better than Boosted? | Koowheel D3M Electric Skateboard
4. Inboard M1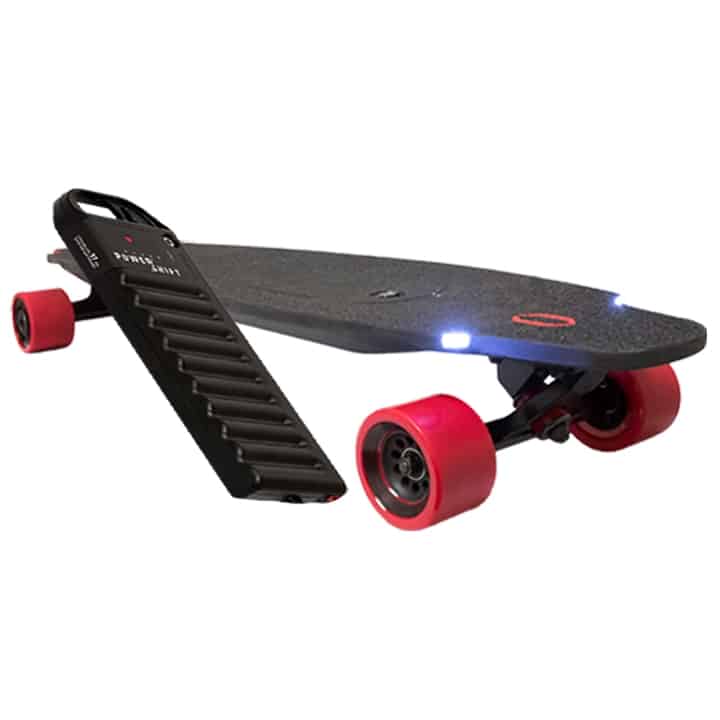 One unique characteristic of the Inboard M1 is its wheels because of its stability and speed. The wheels with two hub motors assembled into its rear tires are also said to be spin-free, meaning they can be rolled forward with a low battery or on a perpendicular slope.
The Inboard M1 also has a swappable battery system, where you can swap one battery for the other when one dies.
Its recycling braking system provides extra energy to charge the battery, increasing the extent for it to last long after charging. The Inboard is built with a passcode for security; the board unlocks when you enter the password.
The board is not fully waterproof; it was designed to be weather resistant and has that feature in three modes: beginners, advanced, and eco. This device is operated with remote control and offers its user a delightful riding experience.
Pros:-
The Inboard is known to go up to 7miles at 22 mph.
It's easy to ride and 100% safe to control and ride
The Inboard is durable with a one-year warranty on a production error
It can be driven with remote control on four riding modes
Cons:-
More expensive than other skateboards
The M1 is designed to go only 7 miles which is quite poor for a machine
If you're looking for a bike for tricks, this is not the one
Check Price on Amazon
5. Acton Blink S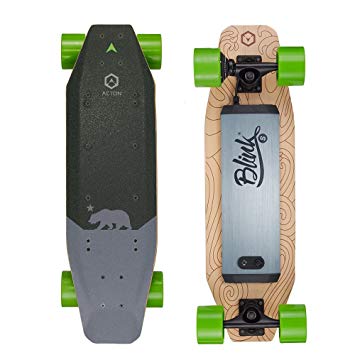 This was the first to be made in the line of the S series. This board is not too long but has a lovely and catchy eye design.
This skateboard is perfectly designed for beginners and pros, as the experience can be enjoyed with its original design, safety features, and dazzling colors.
The blink S has been designed with ita single hub motor, competent battery, regenerative brake, sturdy brakes, a well-built truck, and heavily carved board.
The hub is built to speed up from 0 to 15 mph within a few seconds with a controlling motor, a bearing, and a washer. The center of operation offers its best performance in all modes of operation, such as beginners, standard, and pro.
The board deck is compounded in lightweight wood and offers a rider's weight capacity of 235 LBS. The material has high tensile strength and an enhanced modulus of rupture.
The sturdy truck has a safe kingpin, a string base plate, a superbly wide axle and hanger, and shockproof bushing. The regenerative brake transforms frictional heat into energy, while the other way is from the heat generated through the speed of action.
The Acton Blink S is known to be controlled through a remote. The remote control can accelerate the Blink S, which draws more current from the battery.
You can control the skateboard using the remote to adjust the acceleration speed of the skateboard during inclined roads and curves or even going down a hill where the remote can be used to solve safety factors.
The technology is built to let it changes between the forward and reverse movement. The best way it's done is by firstly applying the brakes, then waiting for the skateboard to slow down before moving in the reverse.
Putting it in reverse immediately without applying the brakes first would cause the board to jerk, causing shocks and vibrating rapidly.
Pros:-
A high tensile strength lightweight
It can go up to 15 mph in a matter of minutes
A single charge can take one up to 7 miles
The remote control is done through the use of Bluetooth
Cons:-
At low battery, the braking system does not gradually slow down
Check Price on Amazon
At the time of our research on "Best Waterproof Electric Skateboard," we found a video about "Waterproof your electric skateboard how to 5 min easy DIY" worth watching. 🏆
6. The Maxfind Max 2 electric skateboard
The deck of this board is made from plastic compounds; its length is 32in, while its width is 9.37in. The synthetic compound this board is made of constitutes its waterproof qualities, makes it cheap to produce, and makes its production cost low.
The board shares the same technology as the Inboard in storing the battery within itself and the battery usage. This makes it efficiently waterproof as it shields the battery, the Bluetooth signal receiver, and the insides of the electric engine from the water.
The max find electric skateboard uses the same hub motor as the Inboard; it is cheap to produce and safely installed in the back of the skateboard, safe away from water or any boards, with an outer electric motor in a sealed pack.  All these features are perfect for an affordable electric skateboard.
The hub motor is a single motor that, no matter your weight, takes you up to 23 mph and offers a distance of 17 miles on a single charge. This power is emitted from a Samsung battery which takes about 1 hour to charge.
Pros:-
The deck is built with a mixture of PVC and PEA synthetic materials, which combine to give it an anti-slip new rubber surface that is free from scratch and repels slips.
It has a regular skateboard look because its design keeps its battery and receiver inside.
It has its heat cooling system on the wheels as an aluminum piece.
Equipped with cruise control which makes long journeys easier and more interesting
Cons:-
The brakes are too sensitive and can be improved upon
The remote control surface can also be developed.
Check Price on Amazon
MaxFind MAX 2 Electric Skateboard Unboxing & Review
7. Maxfind Dual Motor electric skateboard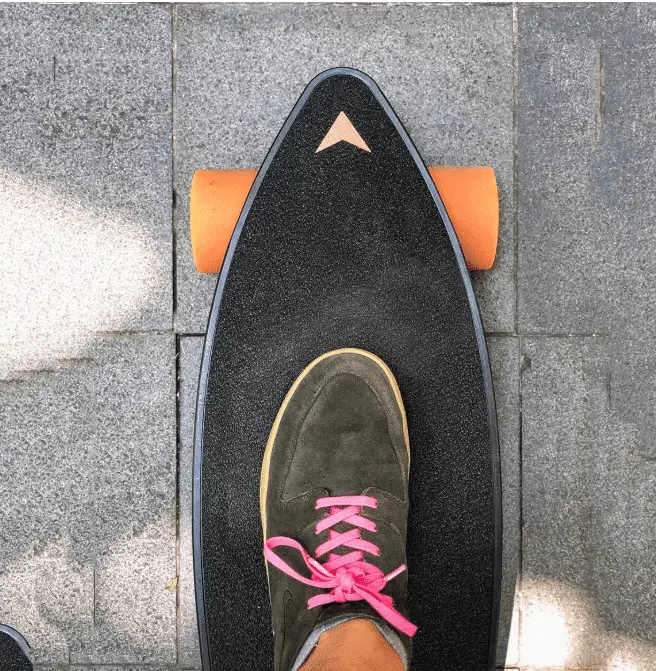 This skateboard is designed to be efficiently waterproof, with its motors safely packed underneath the board. It's quite affordable, boasts a speed limit of 17 mph, and can go up to 10 miles before getting low.
The board has a wonderfully built and durable design made from 8-ply maple. This is known as a strong wood material.
Its wheels are designed from an article named polyurethane which increases their lifespan and gives them a high rebound. The dual motor is lightweight, which makes it easy to carry around.
The remote control of this machine is wireless and easy to use, with buttons for speed, brake, and directions. The LG lithium battery inside the pack underneath comes 85% charged but only takes 30 – 45 mins to charge when it's run down.
The board is very stable and has a quality grip making it suitable for tough grounds and street experience with a 15% steep slope capability.
Pros:-
Because of its lightweight design, it's easy to carry around
The speed is one of the best around, and it has an excellent grip ability
Known to be a quick charge and excellent distribution time of power
Its remote is easy to operate and handheld
Offers a one-year warranty on production errors
Cons:-
Sometimes there's a delay in the powering of the remote
Check Price on Amazon
8. Acton Blink lite
this holds the records as the world's lightest hub motor electric skateboard, and it comes pre-installed with features that would make riding this skateboard interesting.
Its wheels are packed with a hub motor powered by a lithium-ion battery. It seems like it's a lite product; it goes 6 miles at its entire speed of 10 mph and weighs an impressive 7.7lbs, and there's yet to be a skateboard to break that record.
The blink lite comes packed with its battery and hub motor in a plastic container beneath the riding board, and it has fitted in light strips for safe riding at night and for the board to be visible.
The Acton blink lite to regenerate and save energy uses the regenerative brake system, and there's access to the official app of the blink lite system for IOS and Android through the board.
There are complaints of the remote being bulky and awkward to handle, but asides from that, it's easy to use. It comes built-in with an 8% steep slope capability.
Pros:-
Its design is unique to it because of how its nose and tail are designed
Custom-built with neon wheels and strip lights for a smooth and safer riding experience
The mileage and speed are fair as well as it is lightweight
Provided with a six-month warranty on any custom-made error
The remote control is built to integrate with Bluetooth connection and also custom-made with IOS and Android app integration
It's one of the cheapest motorized skateboards available for sale
Cons:-
The speed range and the distance covered are both very little
The batteries can be changed when low, so it has to be charged again before use
Check Price on Amazon
ACTON Blink Lite Review and Unboxing
9. Yuneec E-GO 2
This board comes prepared with an excellent performance built and high endurance. It is equipped with a single motor which is powerful at 400 watts.
It can go a career-high 18 miles at 12 mph. It's quite better concerning speed and range compared to other boards of the same quality. The only complaint from the Yuneec design is it's remote, which has a pretty funny functioning system.
The remote fits perfectly to be handheld though it has a button that adjusts the speed when swiped up or down. But this button is not used to gradually increase or decrease the skateboard speed.
The Yuneec E-GO 2 is built with polyurethane tires, and its big and quality design guarantees a turbulence-free ride every time.
The skateboard has a design that is meant to be eye catchy as its plank is designed beautifully, while its neon tires come in different colors such as blue, green, and pink.
Compared to its grade of boards, the skateboard charges the slowest, which takes about 3-4 hours before it's full; it also comes with a 10% hill climbing ability.
Pros:-
It's lightweight, which makes it easy to carry
The mileage is excellent, with its top speed and steep slope ability.
This skateboard is known to be well-built, long-lasting, and tagged as the best performer.
Cons:-
Little top speed gauge
Takes a lot of time to recharge
Check Price on Amazon
10. Raptor 2.1 Direct Drive Electric Skateboard
this board is tagged as the most expensive skateboard available; it's made with enough technology that makes it expensive and can work the distance for it to be crowned one of the best and perfectly made skateboards.
Its deck landing is made from alloys, making it strong, durable, and water-resistant. Its trucks are cut out of aluminum rather than the typical materials used to produce them, which makes them accurate and robust at high speed.
The skateboard's battery can take up to 25 miles at 28 mph when fully charged and would take twice as much time as possible compared to other skateboards. This battery uses a 4A charger, while other skateboards use a 2A charger.
The battery and its motor are enclosed together in a plastic box found under the board; this plastic is made to protect against water rush and flow.
The hub motors are also water-resistant, although this skateboard is quite heavy and would not be ideal if you want a skateboard that can be carried around.
Pros:-
These boards come equipped with colossal-size drive motors connected to precision CNC trucks known for their high-level handling and the rate at which it responds to action.
The raptor is custom-built with a large battery that can power the board for up to 25 miles at a speed of 28 mph.
The R-SPEC ghost tires off quick grip on demand and are made to move silently without much effort.
Their boards are tough and built to last and mount any challenge that comes their way.
There's a one-year warranty for production-made errors, and the battery charges very fast with our standard 4A charger.
Cons:-
They are quite heavy and would not be quickly moved around
Check Price on Amazon
11. OneWheel
This one-wheeled skateboard is known to be water-resistant but not entirely waterproof.
This board stands out from its competition because of its stability feature, which comes in the form of a self-balancing sensor inbuilt to it. This solves the issue of balancing this board when going for a ride.
The point of self-balancing is solved by placing your non-powerful foot on the back of the board while the superior leg is placed on the front of the board, putting pressure on its sensing pads, and this would automatically settle your balance as you lean in for the ride.
To change the velocity of your speed, you lean backward to slow down and forward to increase its rate.  Its users can integrate its official app into their IOS or Android phones.
The battery charges fully within 30 minutes, reducing the time it takes to power compared to other machines. Its fully charged battery can last for six hours.
Pros:-
It can go very fast at a top speed of 14 mph despite having a single motor attached
The fun in riding this board is done by leaning forward or backward to increase and reduce its rate.
It is infused with a smart self-balancing sensor which aids proper balancing as you're on the move.
This skateboard is lightweight and it's easy to handle
Cons:-
If you're starting to skate, this is not suitable for you
May not be ideal for a particular category of people
Check Price on Amazon
12. Pure Energy Electric Longboard
This longboard machine is built to ride to carry its rider through different road conditions to anywhere he/she wants to go. Equipped with a large lithium-propelled battery that gives power to the motor.
A nicely fit handheld device controls the board; its engine exhibits its 1200w by going a distance of 20 miles at a top speed of 21 mph.
The board is made with an excellent design, and you can change the mode of driving that suits you from the remote control. The performance of its giving is no equal match for the amount paid for this machine.
It has the speed, strength, and durability to go through any road design and unsuitable weather conditions. This board is lightweight, which aids in carrying it around.
Pros:-
This board is built to be quite fast and cover a far distance when fully charged.
Carrying the board around won't be an issue because of its weight
This board is created with a training mode for new learners
There is an alternative USB mode of charging when it runs down
Cons:-
Because of its sophistication, it may take a while to learn all its features.
It does not offer much inclination power, affecting its performance going up a hill.
Check Price on Amazon
📗FAQ's
Are any electric skateboards waterproof?
The majority of electric skateboards aren't waterproof. However, some boards are water-resistant. It means that the board will not let the water come inside easily. Therefore, you can easily drive it on a wet road.
Can electric skateboards be used in the rain?
Generally, riding an electric skateboard in the rain is not a good idea. Most electric skateboards aren't made to be water-resistant and can get destroyed if wet. Additionally, the slippery surface may make it more challenging to ride and manage the skateboard, raising the possibility of accidents.
The electronics on your electric skateboard should be protected from water damage if you must use it in damp weather.
Using a waterproof cover for the electronics or avoiding puddles and other areas with standing water are two examples of how to do this. After using the skateboard in damp conditions, it's a good idea to dry it out to avoid corrosion and other damage completely.
Is Meepo waterproof?
Meepo boards are resistant to water and will not allow water to enter inside the parts. You can drive the Meepo board on a wet road. However, do not submerge your board in the water.
Is the Jking electric skateboard waterproof?
The Jking electric board offers a waterproof surface. It is non-slip and makes the rides safer. You can try this for street wandering.
Can you ride skateboards in the rain?
It is recommended not to ride skateboards during rain or wet weather. It can lead to losing grip, becoming waterlogged, etc. It will tend to deteriorate from the inside.
Are boosted boards waterproof?
Boosted electric skateboards lack complete waterproofing. The skateboard itself is not made to be used in damp environments or submerged in water, but a water-resistant case shields the electronics and battery of a Boosted board.
Generally speaking, it is not advised to use a Boosted board in the rain or on damp surfaces since the moisture can harm the electronics and make the skateboard more challenging to ride and control.
The electronics on your Boosted board need to be protected against water damage if you have to use it in damp situations.
Using a waterproof cover for the electronics or avoiding puddles and other areas with standing water are two examples of how to do this.
After using the skateboard in damp conditions, it's a good idea to dry it out to avoid corrosion and other damage completely.
Does water damage grip tape?
To give the rider's foot traction and grip, the grip tape is a rough and abrasive substance put on the top of skateboard decks.
A layer of rough, porous material, such as silicon carbide or aluminum oxide, is typically used, bonded to a pressure-sensitive adhesive backing.
Water can harm grip tape by destroying the adhesive backing and making it less sticky. As a result, the grip tape may become less effective at supplying traction and may start to tear away from the deck.
Additionally, water can make the grip-enhancing material on the surface of the grip tape softer and less effective.
Wet grip tape on a skateboard is generally not advised because it can make the grip tape less effective and increase the risk of accidents.
To help prevent water damage and guarantee that the grip tape on your skateboard gives the best possible traction, it is a good idea to properly dry it out before using the skateboard once more.
Is the Meepo V3 waterproof?
Meepo V3 isn't waterproof like most electric skateboards. It is advised to use this skateboard during or after rain.
How long does the Meepo V3 battery last?
If you charge the Meepo V3 from empty, it will last up to 2  hours. The ER version takes about 2.7 hours.
What does a waterlogged skateboard look like?
The waterlogged skateboard will have a thick deck like cardboard. It will become much heavier. The board will tend to appear cracked and seem broken when bent. These are the signs of a waterlogged skateboard.
What is an off-road electric skateboard?
A particular kind of electric skateboard made for use on unpaved, unlevel, or rocky surfaces is an off-road electric skateboard.
The wheels and trucks on these skateboards are often bigger and more robust than those on ordinary skateboards. They also include stronger motors and bigger batteries to assist them move over difficult terrain.
Off-road electric skateboards can handle tough terrain more readily, thanks to features like suspension systems and higher ground clearance.
Electric off-road skateboards are frequently used for off-road excursions like exploring trails or backcountry roads or commuting on unpaved routes or trails. They can also be used for leisurely pursuits like skateboarding in parks, sidewalks, and city streets.
Is it bad if my skateboard gets wet?
In general, using a skateboard on a wet surface is not advised because doing so increases the danger of accidents and makes it harder to ride and manage the skateboard.
Additionally, skateboard parts like grip tape, bearings, and electronics can become harmed by water exposure (if the skateboard is an electric skateboard).
To assist in avoiding water damage and guarantee that it is safe to ride, it is crucial to completely dry your skateboard after it has gotten wet before riding it again. This may entail using a dry cloth to clean the deck and trucks and a towel or paper towel to dry the bearings.
When using an electric skateboard or another skateboard with electronics, special care must be taken to prevent water damage to the electronics.
Using a waterproof cover for the electronics or avoiding puddles and other areas with standing water are two examples of how to do this.
To maintain the safety of the equipment and its longevity, it is generally recommended to avoid using a skateboard in damp circumstances whenever feasible.
Conclusion
In conclusion, if you're searching for an exhilarating and reliable means of transportation to conquer any weather condition, look no further than a waterproof electric skateboard.
With its cutting-edge technology and innovative design, this remarkable invention offers the perfect combination of convenience, durability, and excitement.
By investing in a waterproof electric skateboard, you're gaining a practical mode of transportation and opening up a world of endless adventure.
Rain or shine, you can confidently ride through puddles and wet streets, knowing that your skateboard is built to withstand the elements.
Moreover, the versatility of a waterproof electric skateboard allows you to explore various terrains, from city streets to off-road trails, without hesitation.
Its robust construction and superior grip ensure a smooth and secure ride, making it suitable for urban commuters and thrill-seeking enthusiasts.
Additionally, the eco-friendly nature of electric skateboards promotes sustainable transportation, reducing your carbon footprint and contributing to a greener future.
By opting for a waterproof model, you can actively embrace an environmentally conscious lifestyle without compromising on performance or excitement.
A waterproof electric skateboard merges functionality, durability, and sustainability into a single package.
Whether you're an urban dweller looking for a reliable daily commute solution or an adventure seeker yearning for thrilling rides, this innovative marvel has got you covered.
So, don't let rain or wet conditions hold you back; unleash your inner explorer and embark on unforgettable journeys with a waterproof electric skateboard today.