Photographs are often underestimated. Sometimes, you would stumble upon an old picture of your family, and instantly memories come to your mind. It is the same with stock photos. They are in great demand in the market as of now. 
They are used not only by professional photographers for inspiration but by millions of bloggers worldwide. Stock photos are free to use; well, most of them.
Most websites like Unsplash, which we mentioned in this post, have free images. 
Besides bloggers, even designers search for images for motivation in their work. Several marketers, too, prefer using these images on their websites for promotional use. Sadly, these stock photos come with a drawback. 
The stock photographs are limited to only sites like Unsplash. You can find more than 1 million photos. Of course, you can find more than 100 million images in the premium version of Shutterstock. 
But that cost money. We will bring you some of the best alternatives to Unsplash free of cost. 
Best Websites like Unsplash – Our Top Pick 
When you search for sites like Unsplash, the first thing that comes to mind is the collection. Luckily, we have researched and found some sites and brought them to you for free stock images.
As mentioned above, the main flaw with free sites is the lack of options. They are extremely limited. Hence, you would consider using all the sites we discussed below for free stock images. 
Without wasting any time, you may want to delve into the article. 
We can assure you that these stock images are safe and do not have a legal problem. We have thoroughly verified the review process, legal issues, and business backgrounds. 
1. Pixabay
Pixabay is first on our list, and the website was released in 2010. Hans Braxmeier and Simon Steinberger founded it.
The site has been active since then, with several million users browsing it globally. 
You will be astounded to know that it has over 1,00,000 free images to download and use for your personal or professional cause.
It comes as no surprise that Pixabay is the number-one choice for many bloggers and firms. 
You can sign up on the site free of cost and start downloading images depending on your requirements. The best part about this site is that you can download illustrations and clips. We loved that part. 
Users can also browse through several categories and use the picture they want to download. Some categories include background, buildings, animals, food, people, fashion, and nature. 
We found that this site comes with high-quality images you can use in your projects and blogs. Not to mention, you do not have to register on their website to download. All the pictures are copyright-free, which means you know they are genuine. 
The user interface is excellent and easy to navigate. You can search for the images with the name and category. Then you can filter the picture depending on your requirements using portrait. It could be vector, photo, or clipart. 
Many users do not tend to use all the filters present on the top. Make sure that you do that. Then you can download using the right-click and save the image. It is helpful on your part to show the name of the person who has taken a photograph. 
So, when using the image, ensure that you do that. 
You can contribute photographs to them. Their curator ensures that the pictures are genuine, which they are very particular about. This is done for legal validity. You can now use images for print and digital without attribution. 
You can download Pixabay on your smartphone using their app. It does not get more convenient than this. 
Our only complaint would be that accepting user submissions may not always be safe. 
One customer had to say this about Pixabay. According to him, the site comes with exciting and beautiful pictures. They make his day. As they are free, it becomes invigorating. He uses the photos from the site on his blog. 
He finds Pixabay incredibly useful for both his personal and professional use. The customer is also satisfied with the customer service meted out to him. They notify him about the technical snag and fix it immediately. 
Summing up, Pixabay is doing a fantastic job by ensuring that the images are genuine and not fake. They are concerned about scammers trying to make the extra buck from them. They are serious about their site offering decent photos for viewers, and their license. 
You know you are dealing with something good because they are owned by a large firm called Canva. You can end up viewing most of the images in a safe environment that you might not be able to find on websites like Unsplash. 
2. FreeStocks
FreeStocks is second on our list of websites like Unsplash. Like Pixabay, this site has a barrage of free stock photo options for you.
The best part about this site is that you can upload photos for free.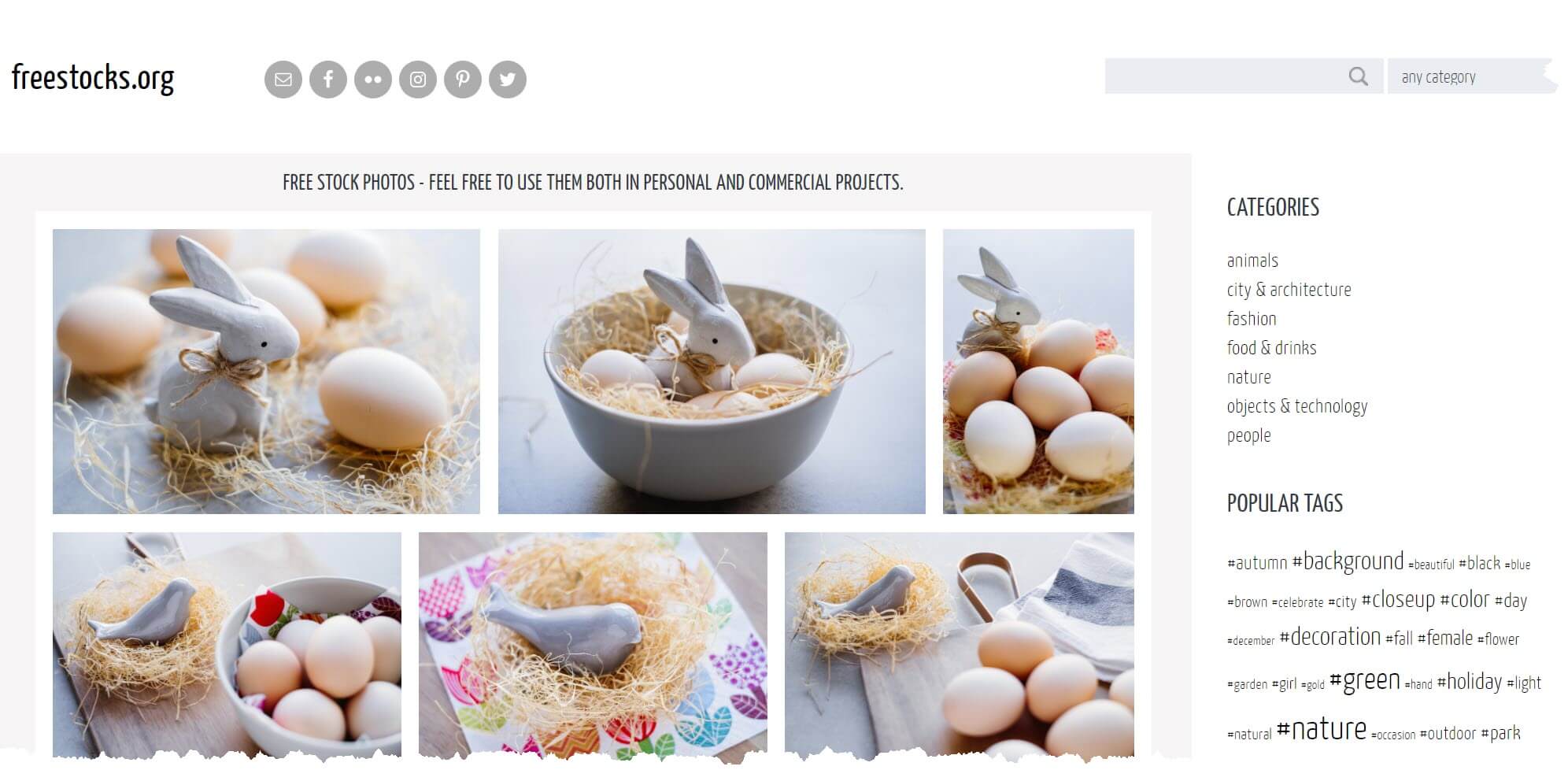 This suits firms and businesses to promote their food wares, especially in the hotel chain industry. The images are licensed by Creative Commons CC, which gives you the power to distribute the photographs without legal issues. 
You can share them as you want with whom you want. There are more than six categories of images that you can choose from. You have a city, nature, food, people, and fashion. You can browse through and click on the images to use them depending on your desire. 
We also loved the interface of the site. The homepage is clean and light. You do not have to be a professional photographer or somebody with immense technical knowledge to browse. You could be anybody with the urge to view some inspirational photographs. 
We ranked it lower than Pixabay, though we were more than happy using it because of the lack of flexibility. On Pixabay, you have tons of images to browse through and use. However, the pictures on the site come with excellent quality and clarity. 
Remember to make use of the keywords to find the right kind of image for your needs. Before we forget, illustrations cannot be downloaded from the site. You can also take a peek at the vectors on this site. 
According to a user, she said that FreeStocks is useful because of its easy user interface. She has never faced any issues when using their site.
The proper authorities have licensed the images, and now users can peacefully download them without fear.  
3. Pexels
Third, on our list of websites like Unsplash, comes Pexels. Many users have commended the ability of this site, thanks due to its numerous stock images. You can about find what you are looking for. 
Pexels is the brainchild of brothers named Bruno and Ingo Joseph. It provides you with thousands of free stock images. We loved how you could do what you wanted with it. 
You can contribute your work to this site without hassle. There is an option where you find contributed photos. Click on it, and you are done. When you want to browse the photographs on the site, you can click on the discover photos option. 
As a buyer, you can check the search bar and find out what might suit your needs. Similar to the previous site, Pexels is useful for bloggers. If you are a food blogger or an artist, you will adore this site. 
You have a leatherboard section where users with more downloads are shown. You can go through and find out more about them. The catalog on the site is excellent and now belongs to Canva, also the owner of Pixabay. 
However, we felt that the site takes the submission rights from users. This enables them to publish your photographs on other sites. Hence privacy infringements can crop up anytime.
It is safe to say that the developers knew what they were doing. Now, it is part of another company known for its serious work in art and development. 
Overall, when you are keen to find the best websites like Unsplash, Pexels takes the top spot, frankly speaking. We were highly impressed with the images' quality, the photos' clarity, and the site interface. 
It is an excellent site for free images, and there are plenty of categories to choose from. You can also search for them quickly using the keyword option.
If you are a professional writer or blogger, then this site can be ideal for your requirements. 
4. Foodiesfeed
Foodiesfeed, as its name hints, is a food photo site. Those of you, who love or adore any form of food, would find this site your nirvana.
These kinds of websites like Unsplash are rare because most sites focus on several categories. 
But, it is this lonesome that provides you with food. This is the idea of Jakub Kapusnak, a passionate food blogger and writer. Thanks to his authorship, you get an excellent food site and read his polished content for free. 
Sometimes, you can feel desolate for motivation to cook or post about food. Well, then, this is the site to go for. You can search for the photographs that you want using the search option. The site is a few years old but has massive food content. 
We were stunned by the number of photographs trending on it already. The great thing about this site is that you can view high-resolution food images. They always give you the feel of cooking and make something unique for your blog or visitors. 
We were not happy with the constant advertisements on the site. They put us off. Not to mention, the CC0 license cannot mix with the submissions. It cannot be very pleasant. The designer has also done an exceptional job with the site. 
So, what do we think about FoodiesFeed? It is one of the best sites for food lovers and bloggers alike. If you are a food blogger searching for some motivation to cook or write, this is your best option. 
However, we might add that their licensing model is inaccurate, but the images are safe and high-resolution. The risks in the images are none because there are no brands or people involved in them. 
At the time of our research on Best websites like Unsplash free, we found a video about "20 Amazing Photos You Should See At Least Once," which is worth watching. 😎🤩
20 Amazing Photos You Should See At Least Once
5. Burst
Fifth, on our discussion of websites like Unsplash, we have Burst. This site is completely supported by Shopify.
You are provided with stock photos for free. Similar to Pixabay, you can find a massive collection of photographs here. 
If you are somebody who is into business, you can use business ideas and learn valuable tips on social media promotion.
You can say that it is a site that provides you with free photos and helps make your website better and more efficient. 
The clients are mostly related to digital marketing. Others are welcome to try the site out for promotional content.
Shopify designed this site recently, in 2017 to offer images to users. When dealing with a powerhouse like Shopify, you know their brainchild has to be excellent. 
The license modes are useful. You can make use of the photos with a use clause. No, you have no copyright terms. 
What did we like about this site? The quality of the images is exceptional. They are on par with some of the best in the market. You won't be left disappointed on that note. The images are also styled authentically so you can use them on social media, e-commerce sites, and advertisements. 
We are highly pleased to have visited and experienced Burst. It is this when you are looking for a free stock photo site that wants you to keep coming back. It suits digital marketers who want to promote or use the content. 
Apart from that, we also felt that small firms could benefit from free general photographs. We do not have to remind you that Shopify also supports it.
6. Gratisography
Gratisography offers you some of the most creative forms of art. You can bet on this site to provide you with images for commercial purposes.
It comes with more than eight categories for you to visit. 
What we love about websites like Unsplash is that they come with breathtaking images. You would be surprised that some photos may not be found on other websites.
Founded by Ryan McGuire, a web designer, he provides authorship photos of more than 500 high-quality images. 
The license model of the site is also good because he is a single owner, and most of the images are his. The quality of the images present on the site is high resolution and suitable for your audience's Instagram communications. 
Does it come with flaws? You probably know what we will say if you have visited the site already. Yes, the collection is slightly on the smaller side. It never hurts to have an epic collection when it comes to photography. 
However, you can expect them to increase their collection very shortly. On the whole, this is a fantastic website for making use of legal photos. That is because the owner offers copyrighted images. 
But you may want to take the owner's opinion on some photographs that need clearance. Users can communicate with Ryan easily, as he is always available. Once you do that, you can use the images without any hassle. 
7. New Old Stock
New Old Stock is different from the other websites. This is an ideal stock photo site when you are keen on finding vintage photographs.
This website is mystic when you look at its beautiful photograph collection. 
Photographs are high-quality, and you cannot compare them with other sites. Maybe you are searching for some old images without copyright issues. Then this is your best option. 
So, why would you want to use this site? You never know what you might stumble upon. Sometimes old memories or something interesting. Perhaps, an old building was present in your locality or place of interest. 
New Old Stock was designed by a designer named Cole Townsend to make his vision of offering vintage photos to the public a reality. You can now find more than a thousand images for free. 
It is hard work because Cole has to ensure the photographs are authentic and verify them using the right tools. We like the license mode of this site as it is Flickr Commons terms. The images appeal to the eyes, and you can use them creatively. 
In today's high-paced world, having something that reminds you of the past is a good thing. It slows down things just a bit—a knowledgeable person doing the entire public favor by providing secure images and guiding you nicely. 
8. StockSnap
Eighth on our list of websites like Unsplash is StockSnap. You would be delighted to know that this is one of the largest image sites in the market.
The image categories are immense, and you can use them for free as they are under the CC0 license.
StockSnap.io is the product of two entrepreneurs, Marc Chouinard and Christopher Gimmer, who have also developed Snappa, a graphic design tool. Here, you are offered several thousand high-resolution images free of cost. 
Most of the photos cover a wide range of categories. They are provided to you in a very modern and trendy manner. We loved how the images were provided to you. The images can be used on blogs and advertisements. 
However, the CC0 mode has let it down considerably. It is without denial that Stocksnap.io is our go-to site for high-quality images, and you can find a huge range of photographs from different stock sites.  
9. Morguefile
Morguefile was released in 2007 and, compared to websites like Unsplash, comes slightly different from other sites listed above.
The images may not be as good as the ones found on Unsplash, but if you dive in, you can find some awesome photographs. 
That is because the site offers over 3,00,000 stock-free images that can be used on your commercial website. You need attribution for images unaltered. In this case, you can register on the site; it is a simple process. 
The developers probably got the name from the morgue file, which is used as classifieds in newspapers for flats having some issues.
But you can find a few high-resolution digital stock photography suitable for teachers, bloggers, designers, artists, and illustrators.
Do you want to visit Morguefile?  You want to do that because you never know what image you mind landing with. These photographs can enhance your creative pursuits and imaginative enthusiasm.
✅FAQ
Is there another website like Unsplash?
Pixabay is another website with an extensive database of quality images. Its orientation is more towards marketing and business compared to Unsplash.
You can also expect free vectors and illustrations from the site. Bloggers find the site extremely handy.
What is better than Unsplash?
The top alternatives of Unsplash include Pexels, Shutterstock, PixaBay, Flickr, Freepik, Adobe Stock, iStock, Vecteezy, etc.
Which is better PixaBay or Unsplash?
Pixabay exclusively does not offer photos. It provides similar content to Shutterstock, like photos, vectors, illustrations, and footage. However, Unsplash is limited to delivering pictures only.
Which is better Pixabay or Unsplash?
Unsplash offers more specificity compared to Pexels. You are most likely to find accurate options if you search for a particular image type or word.
What happened to Unsplash?
Getty Images acquired Unsplash in March 2021. The sum for which the brand was acquired is undisclosed. However, Unsplash continues to operate independently, being a division of Getty Images.
Where can I find copyright-free images?
Free Images is among the top sites to find free stock photos. Google images with usage rights, Wikimedia Commons, MorgueFile, StockSnap.io, Unsplash, Flickr, Picjumbo, etc.
Is Pixabay copyright free?
Pixabay is a comprehensive platform for creatives, royalty-free images, videos, illustrations, and music. The content is released under the Pixabay license. Therefore, it is safe to be used for commercial purposes.
Is Pinterest images copyright free?
You will not likely face legal issues using images for your DIY projects or recipes. The best method is to pin the images owned by you. There is also a sharing button on the site to make things easier.
Are Unsplash images royalty free?
The Unsplash community photographers offer images that can be used for personal and commercial purposes. The royal free photos can be chosen from a section under the Unsplash license.
Where can I find high-quality photos?
You will get hundreds of high-resolution images added to SnapStock.io; Pixabay has thousands of photos, illustrations, and vectors.
Other platforms include Pexels, Unsplash, Superfamous, Unrestricted Stock, Burst, Travel Coffee Book, etc.
Conclusion 
We hope you liked our post on some of the best websites like Unsplash. You see, you have several reasons to use photographs on your blogs and commercial sites. They enhance the marketing purpose of your blog, making your time and effort worthwhile. 
The high-resolution photographs appeal to your site and increase your internet traffic by more than 80%. Images can improve user engagement on your site, and you can also get more likes and comments on your social media profile. 
Using the right source is crucial. You do not want to get stuck in any legal problems in your country or region. While most stock photo sites are good and offer quality images, licensing can be a major headache if you are not familiar with it.
Hence, we listed websites like Unsplash, ensuring that our readers should not face any legal issues in their location. Consider using these websites when you cannot find the perfect photo for your website. 
Remember not to damage your brand value and checkbook using random photos or images found on Google. Yes, you can use it, but you do not want the law to follow your back.
These sites offer thousands of images and guidance to use images without copyright problems. 
All the above websites are useful, but only one stands out, in our opinion. That happens to be Pixabay. It is way ahead of the rest. You can find a massive collection of photos, illustrations, videos, photographers, and videos. 
What are your opinions on websites like Unsplash that we have discussed in this post? Did you go through and like them?
Let us know your views about them in the comments.