In the world of media centers, Kodi is a pacesetter. Being the most flexible and robust, with support for add-ons to steam and the ability to manage an in-home media library, it is hard to find a true competitor. Still, it is worthwhile to know what Kodi alternatives are available.
Critics have often talked about the "not great" interface and the amount of tweaking needed to maximize the service. These might be reasons to consider an alternative. In this article, I will introduce you to Kodi alternatives.
Without any further delay, Let's explore this guide.
As the world advances towards better technologies, things keep changing. These changes include the way we consume different forms of entertainment.
From the very old and ancient times, where the only form of entertainment was nukkad nataks, we've moved on to listening to radios and gramophones. Further, we moved towards videos when the television came into the picture.
Even television has changed a lot with time. Where there were only some countable channels on the TVs earlier, now there's no limit to the number of channels. Similarly, there's no limit to the form of media either wherein you can access the content.
Not only have the devices changed, but your options have changed as well. Now, people like to consume entertainment over multiple platforms.
Gone are the days when daily soaps, reality shows, and movies were the only option. Now, you can move on to web series and other online programs too on multiple OTT platforms.
However, managing all this diverse content available to you could be difficult unless you have the right application in your hands. Kodi is one such application for this purpose.
It's the perfect application for streaming content, be it on your television networks or other OTT platforms. Not only that, you can use the application to store and manage the content that you have in your drives as well.
Moreover, it's an open-source application. So, you're never limited or restricted to anything. You can easily integrate third-party plugins and add-ons to Kodi to extend its functionalities by many times.
With all such features and functionalities, this is surely an application you'd want to have if you're a fan of streaming and binge-watching TV shows, series, and movies. However, there's one small issue with Kodi.
While it's the perfect streaming application with no limitations whatsoever, its navigation is not at all easy. You need to do a lot of things yourself, and some of them might be difficult to understand.
You don't want your entertainment to be coming with that kind of pain in the beginning. So, it's natural for you to look for options. Luckily enough, we've got the perfect options for your consideration and needs.
Below are some of the best Kodi alternatives that you can check out for streaming your movies and other videos to consume content with ease and comfort and entertain yourself in the best possible ways!
Best Kodi Alternatives – Our Top Pick👌👌
Well, we've already said enough about Kodi and how good an application it is for consuming various content, along with letting you know the reason you might want to look for alternatives and options.
So, without any more talks and discussions, let's just take a dive into this list and description of some of the best Kodi alternatives available over the web to help you consume content and entertain yourself with more ease and comfort.
1. Plex: Stream Free Movies
With the most fantastic and phenomenal features and functionalities, Plex deserves to stand on the top of this list of the best Kodi alternatives.
There's nothing on Kodi that you won't get on Plex, and the exception is that you only get it in a better user interface with easier navigation.
Now, isn't that something that gave you the reason to look for an alternative in the first place? Well, here, you've found the platform that perfectly overcomes the issue.
Plex is designed on a client-server architecture, so be it online content or offline content, you can stream it with ease on this platform.
Moreover, since the platform is compatible with a range of devices, including televisions, laptops, personal computers, tablets, MacBooks, iPods, smartphones, etc., you've no limitation as to the devices either.
In fact, Plex easily connects with your set-top boxes too. So, you have multiple options as regards the devices on which you'll stream content using Plex.
Additionally, you have multiple options for content as well on this platform. You can choose from various categories and channels.
It has a broad media library that accommodates shows and series from many different OTT platforms. You have options to watch movies as well.
Moreover, just like Kodi, Plex also integrates well with other third-party plugins and add-ons for added features and functionalities in the application.
Plex Marks the Spot for Free Movies
Now, this is all a part of the free version of the application. You can get even more features like accessing movie trailers, syncing your photos to the application, and more in case you go premium.
Moreover, going premium is not even heavy on your pockets. It just costs $4.99 a month. That's something you'll spend happily for the range of features and functionalities that you get with Plex.
2. Emby: YOUR MEDIA, YOUR WAY
Another free Kodi alternative based on the client-server architecture, Emby, is great if you want a platform that's easy to operate and navigate through.
Considering its client-server architecture, you can easily manage and stream offline media and content over the server networks. Not only that, the platform makes it easier for you to stream other content through its live TV functionality.
A major highlight of the platform is that it has an add-on that connects with Kodi. So, in addition to streaming media from your offline library or Emby library, you even get access to the Kodi library.
With that, your options become unlimited. Moreover, the platform is more controllable considering that it has got advanced parental control features through which you can make sure that the children are consuming only the content that's right for them.
Additionally, you can manage subtitles and leverage other web-based tools for streaming as well using this application.
Moreover, the tool, feature, and functionality set expand a lot more if you go premium for the application, which only costs $4.99 a month.
Once you pay this amount, you can even get access to different modes for viewing and streaming content.
For instance, if you're watching a movie, you can switch the application to cinema mode or consider watching in the nighttime; you can shift to night mode. This gives for more immersive viewing experiences.
Another benefit of the application is that you never have to worry about the device you have. Since it's based on a client-server architecture, it's compatible with all kinds of devices, be it television, laptops, tablets, smartphones, set-top boxes, or even PlayStations.
With all of that, this will be the perfect platform for providing you with the most fulfilling streaming experiences.
3. Open Source Media Center (OSMC)
If a better user interface is what you're looking for when considering an alternative to Kodi, then just go ahead and blindly download OSMC.
It's the perfect platform, built on the lines of Kodi, only better, with a more easy-to-understand, easy to navigate, sleek interface.
Just like Kodi, Open Source Media Center (OSMC) also allows you to manage a huge library of content both online and offline. Moreover, the platform supports most of the add-ons available on Kodi. So, it won't be like you would be missing anything.
Not only could you use the Kodi add-ons on this platform, but OSMC comes with its own media store having a collection of a range of add-ons to add up to the features and functionalities it offers for media streaming.
Also, when you're streaming content, you never have to worry that a format may not be compatible. OSMC has a very powerful transcoder that is capable of playing every media format that exists.
With that, you have got multiple and unlimited options to stream content when you're using the open-source media center.
Also, if by any chance you're not able to decide on what to watch and need to know things about something you're planning on streaming, you can rely on the platform for the required information. You need not separately google anything.
The platform will do it all for you and show it on your screen, and then you can decide if you at all want to watch the show or movie or not.
The best part yet is that you need not pay a dime for using this platform. It's absolutely free, and there's no premium version. Ain't that great? So many features and functionalities and unlimited options for streaming, all free of cost.
What more reason could you ever need to download this amazing application. I guess none! So, go ahead and download it to start streaming the content of your choice in a more comfortable, easier, and entertaining manner.
4. Jellyfin: The Free Software Media System
Another free and open-source Kodi alternative on the list, this application might turn out to be even better than Kodi.
Just like Kodi, Jellyfin helps you manage and organize all your offline media files, be it audio or video, and you can stream them directly on the application.
Not only that, it has a server environment, so you can even take the offline media online and stream it there.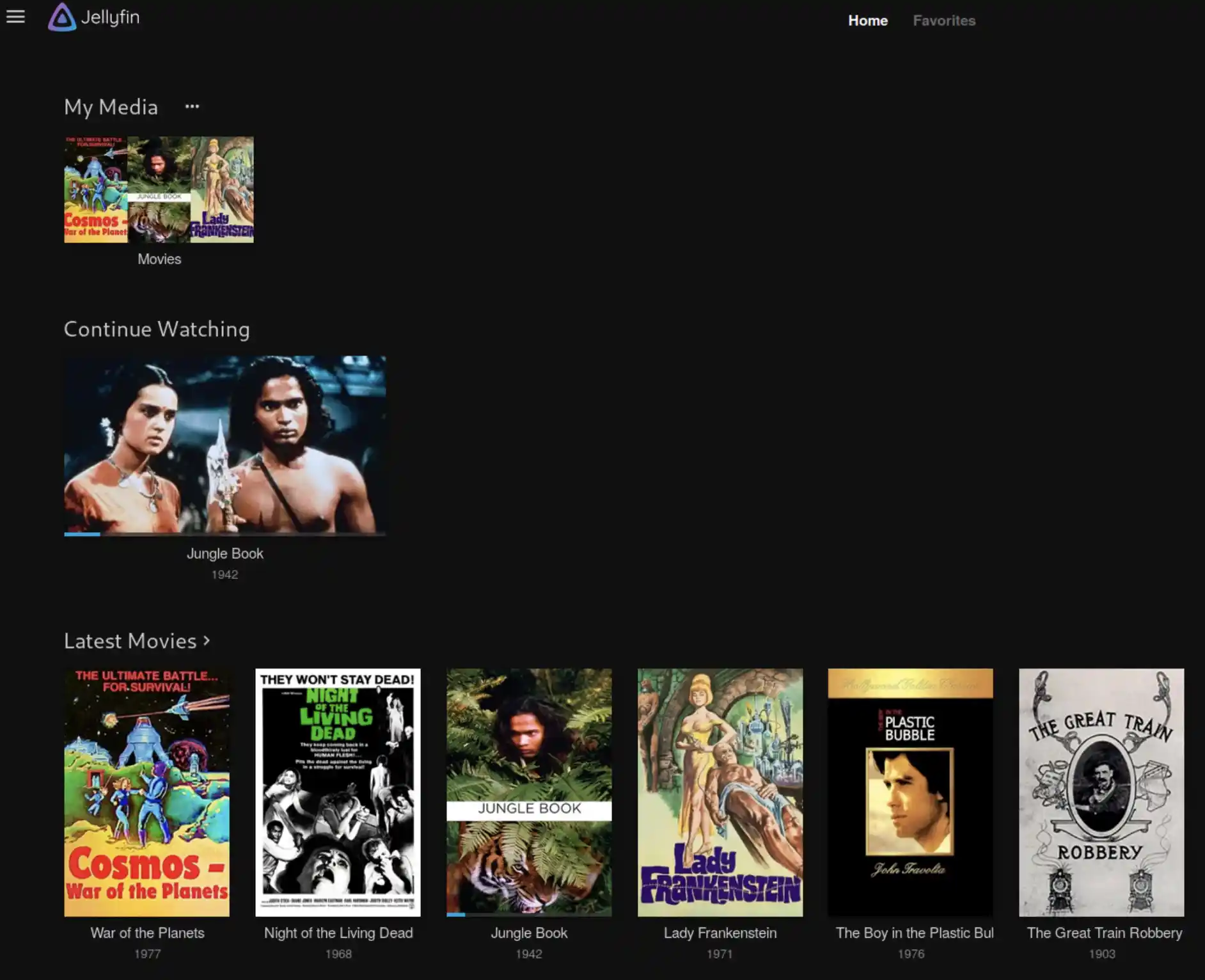 Now, that's something that blends both Kodi and Plex, two of the most amazing and competing video streaming platforms. With that Jellyfin, even though new, has a strong standing in the market, and that's why it takes its place on our list.
Not only does it combine the architectural design of two of the best video streaming platforms, but it does it better by coming with a much more navigational and sleek user interface that is easy to understand and operate.
Adding more to its brilliancy is its amazing media player with advanced features and functionalities like full-screen view, fast-forward, subtitles, voice control panels, and a lot more.
Moreover, it's easier for you to manage and organize your media and sound libraries in this application. Actually, you wouldn't have to do anything at all.
Jellyfin will arrange everything all by itself, and then you can just enjoy a convenient and comfortable streaming experience.
Moreover, if you're a music lover and have a huge collection of music, you can simply organize it in the form of playlists on Jellyfin and enjoy it on the go over its online servers.
Furthermore, you have live TV options on this application too. So, you can stream live TV if you like and even record the content with the DVR feature of the application.
With all these features, there would hardly be any reason for you not to try this application.
In fact, there's no reason at all, so you may as well go ahead and just download the application to start enjoying the unlimited content it offers with such brilliancy of features and functionalities.
How to install and Run Jellyfin media server at home from basic to advanced level.
5. Stremio: Freedom To Watch Everything You Want
If you're a fan of online OTT platforms such as Netflix and Prime, but don't subscribe to them considering their high subscriptions fees, then Stremio is the application that you'd like to use.
The platform is mostly free, except for a few server-based content that is paid, so you can enjoy a multiplicity of content from various sources, all free of cost.
The user interface of this platform is extremely sleek, much easier to understand and operate in comparison with Kodi.
In fact, if you're someone who doesn't seem to put well with Kodi because it requires you to upload and sync your offline media content manually on the application and list its sources as well, then Stremio is a great alternative as it's going to do everything for you automatically.
Not only can you stream all your offline media content on Stremio, but it even gives options to seamlessly stream all the content from multiple OTT platforms and other torrents.
Moreover, in case you're looking for a movie or show, and it's not available at the moment on any torrent or other source, the application will notify you about the same, along with information on when it might be available.
You may even turn on the notifications for when the content you're searching for is available. Moreover, the platform also notifies you about the new episodes or videos added to some content you have been streaming.
With all of that, streaming content over this platform is very sleek, comfortable, and convenient. What adds to the comfort is the multiplicity of the add-ons on the application.
Just like Kodi, even Stremio allows you to add to its functionalities. As such, you can easily integrate other applications like Twitch, etc., to this platform to enjoy a yet larger variety of content.
With all these features and functionalities, Stremio is the perfect platform, especially when the only reason for you not using Kodi was its DIY functionalities and difficult navigation.
Considering the fact that the automatic sync and modern user interface of Stremio overcome exactly the same issues. So, go ahead, download it, and you'll surely not regret using the platform.
6. Media Portal 2
If you're someone with a huge collection of external hardware like CDs, VCDs, DVDs, and other audio and media files and need the perfect player to stream the content contained in this hardware, then you're looking at the right platform as of now.
Media Portal 2 (Download Here) is particularly designed to stream content using external hardware sources.
Not only does it help you stream media, but it also connects to the web and gets all the information about the content you're streaming over it. Be it a video, movie, or audio; the portal will fetch the related information and even save the same for future reference.
Moreover, it provides support for your image files too. You can easily connect your graphics card to the portal and have it organize all your photos and pictures in a single place so that you may never lose them.
Furthermore, you can have a range of add-ons and plugins installed and integrated over this platform. Be it listening to FM, checking the weather reports, or remaining updated with other news, Media Postal 2 had an add-on for every functionality you need.
And the best part yet is that it's all free of cost. So, you never have to pay a penny to use this platform. However, it's not like it's all roses and no thorns here.
While it's a great application and a fairly good alternative to Kodi, it still doesn't have as many features and functionalities as offered by Kodi.
Besides that, there is one big limitation with this platform. As of now, the platform is available only for Windows devices.
So, basically, you're restricted to using this application on your personal computer or a smartphone with Windows technology. When considering that, it doesn't look as accessible and might be really difficult for you to download and start using.
7. Universal Media Server
As its name suggests, Universal Media Server will help you organize and stream media universally over a range of devices.
The only thing that is a must for using this platform is that the device has support for Java. Just in case your device doesn't have Java, you can download it, and then Universal Media Server will work well over it.
The platform has a very simple and easy-to-understand user interface that will help you stream all types of media, be it photos, audio, or video.
You need not worry about the format of these media files either because the server has a built-in transcode that makes it possible to run almost every media file irrespective of its format.
One great feature of this application is its ability to never compromise the performance by adjusting the speed of streaming based on the network connections that the server is able to catch.
With that, you always have immersive streaming experiences, comfortable and convenient at all levels.
One more amazing thing about this platform is that it's free to use. All you need to do is download it, make sure it's compatible with your device, which it will anyway be once you download and configure Java over it, and just start streaming your media files after connecting, configuring, and organizing them in the application.
All in all, although it has not got as great features and functionalities as Kodi or any of the other platforms we've discussed so far, it's still a considerable alternative, and you can surely give it a try if a cleaner application with a better and more friendly user interface is all you seek for streaming your media files.
8. JRiver Media Center
Unlike Kodi, JRiver media Center platform will not support a multiplicity of devices. Instead, it will only run on your personal computer. Nonetheless, it's a good alternative, totally worth the consideration.
Just like Kodi, it will serve as a platform where you can arrange and organize all your offline media files and stream them comfortably and conveniently over the in-built media player.
Besides streaming offline media files, you can also stream content from YouTube, RadioTunes, BBC, and a lot of other channels and radios on this application.
Moreover, it supports cloud-based platforms and applications, so you can easily pull your media from a cloud platform and stream it over this platform.
However, some things that you need to know about JRiver Media Center are that, unlike Kodi, it doesn't have many plugins or add-ons support, and your choices are very limited. One more off-putting thing about this platform is the fact that it's not free of cost.
You can definitely have a free trial for the application. However, once the 30-days free trial period is over, you need to pay. However, the price is very less at just $59.98, and this is the cost of a lifetime license.
So, if you really like the application during your trial period, purchasing it at a mere price of $60 for a lifetime is not going to hurt you at all.
Frequently Asked Questions
Now, we have told you about some of the best Kodi alternatives. Nonetheless, you may still have some questions. So, we have attempted to answer some of the most common questions that cross the mind of the readers.
1. Why should I look for Kodi Alternative in the first place?
Kodi is an excellent application for its purpose. So, most people think, why must they even look for an alternative.
Well, as mentioned above, the application is difficult to understand, and there are a lot of things that you'd have to do manually. It's for this reason that you might want an alternative.
Other than that, some people look for alternatives also due to the frustration coming from the extremely slow streaming in the application that interrupts their viewing experiences.
However, that can be fixed by clearing the cache and leaving sufficient storage space for the application in your device.
Also, some of the content on Kodi has come into conflict due to copyright strikes. So, most users are not able to find their preferred media and content, due to which they feel like moving to a different application.
So, these are some of the major reasons that you may want to keep your options ready.
2. What Should I check when looking for Kodi alternatives?
Well, there are a number of factors that you need to give consideration to when looking for Kodi alternatives. First of all, you must look into the user interface of the alternative and make sure that it's friendly and easy to understand.
Secondly, you need to check the device and media compatibility to ensure that the application will run on your devices and you'll be able to stream your preferred content.
You must also look into the availability of plugins and add-ons since that's the most prominent feature of Kodi. So, if an alternative application lacks these features, it's probably not really an alternative you'd like.
Also, Kodi is known for its ability to manage and organize your offline media content and files. So, you may want an alternative that can do the same for you.
Other than that, maintenance and pricing are some more factors that demand due consideration. Kodi is free to use, so you might as well want an alternative that's free.
Even if you're willing to pay, you need to make sure that you're putting your money into something better than Kodi.
As a matter of fact, Plex and Jellyfin come as the best alternatives to Kodi, and you can download them without batting an eye even once.
However, it all depends on your particular and specific needs and requirements. So, you'll need to give every single factor thorough regard and consideration before coming to a decision.
Final Words
Streaming media over different platforms has become an important part of our lives. That's how we entertain ourselves. Additionally, we want a platform where we can manage all the other offline data we have collected over the years before online streaming and content came into the picture.
Kodi is, without a doubt, a fantastic platform for this purpose. Nonetheless, there are issues that demand looking for options too.
With this article, we have attempted to present you with some of the best Kodi alternatives. You can give each one of them a try until you find what suits you. We hope this article has been helpful to you, and you're able to find the perfect platform to manage and organize your offline data while also comfortably streaming unlimited content.
Happy Streaming!