Do you have the curiosity to know about the Best Mini Electric Skateboard To Buy in 2022? 🤔 You can easily Find out now in this definitive list with our detailed review.
Without any further delay, let's find out. 👓👓
Electric mini skateboards are the best thing after sliced bread. And if you plan to roll into 2022 in style, fun, light, and affordable mini-electric skateboards are the way to go. 
Whether new to stake boarding or looking to upgrade your current skateboard, one of these electric minis should suffice.
However, picking one of these rideable technologies can be a bit daunting and confusing; with so many brands on the market and the holidays around the corner, a mini electric skateboard is the most affordable and exciting gift to a child, teen, or even an adult.
Besides, these 30 inches skateboards on wheels are durable, support your body weight, and are easier to maneuver through the traffic to your destination.
And yes, they are so light you pop them under your arm and walk into school or the office in anticipation of the close of the day.
So too much talk; let's head on out for the best skateboard (mini and electrical) for you. Here is a detailed review of the top ten mini electric skateboards to help you make a perfect choice. Not interested in reading all of it? Head straight to the features and what each offers.
Best Mini Electric Skateboard – Our Top Picks
1. Ancheer Mini Electric Cruiser Skateboard
As one of the underdogs of the mini electric skateboard world, Ancheer mini is the best portable and light cruiser skateboard that will conveniently carry you to the office, school, and mall or cruise down the street with your friends (or alone) without a bother. 
Capable of supporting a body weight of 260 pounds, Ancheer's decks are made with seven layers of Canadian maple wood; this gives the skateboard so much balance and incredible weight distribution, allowing you to enjoy every ride.
This high-quality deck sits on solid steel alloy 73mm polyurethane wheels making this the cheapest but great value for your money board.
A 29.4V Lithium battery powers the skateboard and has a battery capacity of 2200mAh. It produces a power of 350W and charges in 90 minutes to get you a top speed of 20Km/h allowing you to travel a minimum of 10 kilometers at speeds of 19 Km/h.
Features:-
Wireless remote control equipped with 2-speed mode high and low, reverse options

Quick slide booting allows you to get into speed faster than other skateboards.

Lightweight, durable, and easy to carry around

Great for kids 8 years and above for girls and boys
Overall, the Ancheer mini electric skateboard is a cheap, effective, and great way to get around without busting the bank.
Check Price on Amazon
2. Boosted Mini X Electric Skateboard
Boosted mini electric skateboards offer consumers and skateboard lovers the option of choosing between two of their best products; the Boosted Mini X and the Boosted Mini S.
Although their skateboard could do with a little upgrade, they remain one of the most reliable brands on the market due to the reliability and smoothness of the boards when you are on it.
So if you are looking for affordability, easy commuting, effortless and elegant designs that offer excellent balance and weight distribution, Boosted mini skateboards are the way to go.
The fishtail design allows you to make sharp 90 degrees turn, pivot effortlessly, and stop without falling off the skateboard. At 29.5 inches, the Boosted mini deck is made with a Deep Dish composite deck wrapped in fiberglass for a steady and firm grip. 
Furthermore, with a dual belt-driven motor producing up to 1000W of power, this electric board with its 80mm flex wheels is soft enough to handle the bumps on the road but also strong enough to carry you and all the tricks you will perform with the skateboard safely.
Features:-
Enjoy exhilarating speeds at 20 miles per hour with enough energy to get you up a 20 percent hill.

Carries a weight of 113 kilograms

Battery charge time of 105 minutes with an average distance of 14 miles

Remote control with three ride modes and brake power for smooth stops

Compatible with iOS and Android
The sleek and minimal design, durable build, long-lasting battery, and dual belt motor ensure you are never late for the office, school, or an appointment.
Check Price on Amazon
3. RazorX Ripstick Mini Electric Skateboard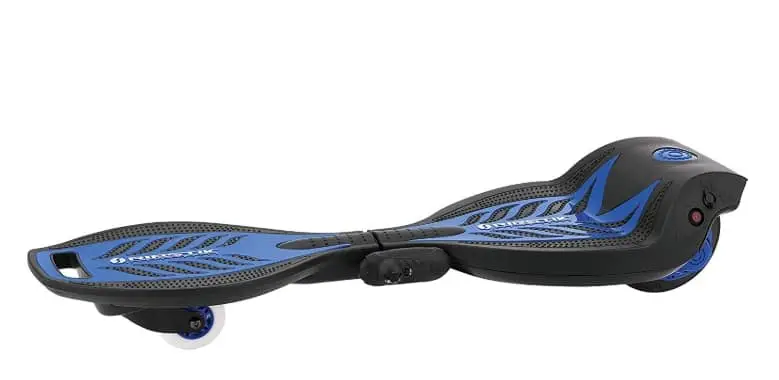 Are you a beginner looking for the perfect skateboard to kick-start your fun skateboarding life? RazorX is the one for you.
At 29.7 inches long, this 5-ply maple deck offers strength, flexibility, and stability as you cruise around the neighborhood, running your errands for the day.
The deck sits on an 80mm polyurethane wheel with a custom reverse option and increases confidence when making sharp turns.
At first glance, this very minimal design comes with an impressive price tag that is powered by a 125-Watt motor Lithium-ion battery with smooth performance speeds of 10 miles per hour for 40 minutes on a full charge.
Features:-
A very elegant and sleek skateboard that is super responsive to the wireless remote control wrist strap for speed settings

Rear-wheel drive for increased speed, balance, and excellent stability

Great for kids nine years and above accommodating a weight of 220 pounds

Very firm and well-balanced skateboard with reverse kingpin truck feature for stability
Overall, the RazorX mini electric skateboard offers a breathtaking and electrifying riding experience with enhanced steadiness and responsive features to make every ride memorable.
4. Acton Blink Lite 
When it comes to skateboarding, you have to talk about Acton. They make perhaps one of the smallest, lightest, and most balanced skateboards on the market, with sturdy wheels, motorized systems, and unmatched maneuverability.
The Acton Blink Lite is a high-performance electric skateboard for kids and teens. The board's build, design, and ergonomics make it the best for college kids or people who hate the commuting system in their neighborhood.
The skateboard will support a weight of 130 pounds and is super light for you to pick it up and slide it into your backpack or carry it in your arms when you are off it.
To create a beautiful, eye-catching design, Acton uses flexible wood as a deck and bright green wheels to contrast the color. Powered by Lithium-ion batteries, a full charge of 2 hours will take you up a 5 miles distance on a single charge at 10 miles per hour.
Below are some of the features of The Acton Blink Lite Skateboard that earned it a spot on our Best Mini Electric Skateboards list.
Features:-
The in-wheel motor allows you to ride it like a regular skateboard when the battery is dead or too low to zoom you around.

Bluetooth remote control with the super-responsive board and settings like forward, reverse, and just cruising to school.

Warranty of 6 months

Compatible with your smartphones

Built-in lights allow you to ride at night or in the dark. Excellent for students coming home at night after a late class
Overall, Acton mini electric skateboard has some of the best features, and even though we think the remote control needs some upgrades, the skateboard is worth every dollar spent.
At the time of our research on "Best Mini Electric Skateboard", we found a video about "10 Easy Beginner Skateboard Tricks" worth watching. 📗🏆
10 Easy Beginner Skateboard Tricks
5. Blitzart Mini Flash Electric Skateboard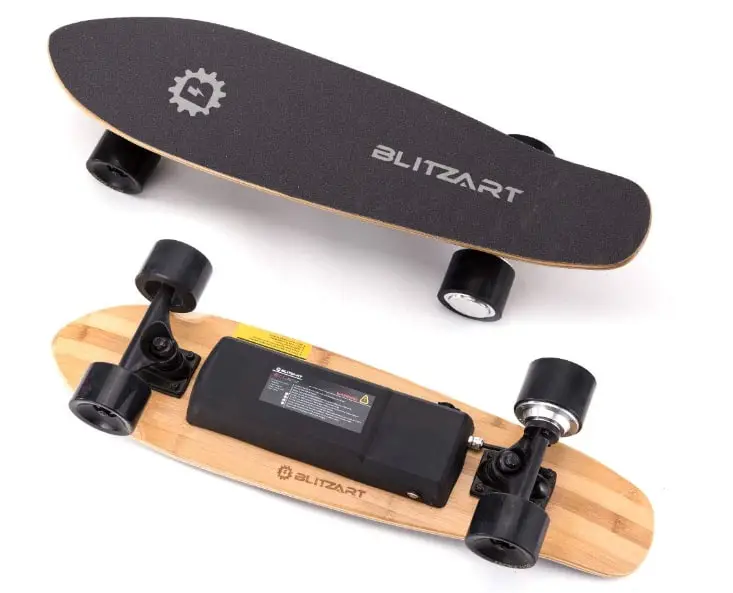 We promise you won't dash down the street like a flash, but you will enjoy the most exhilarating rides you have ever had on a skateboard.
Whether you are new to skateboarding or a pro looking to upgrade your skateboarding skills, this skateboard by a California company got your feet on a firm sandwiched deck of maple wood in between a bamboo deck and bottom for increased stability, flexibility, and sturdiness to ensure your weight is equally distributed for a smooth ride every time.
The 28 inches long deck is 8 inches wide and 5 inches high and sits on durable and sturdy 2.8 inches PU wheels. It is powered by a 24V – 4.0Ah Lithium-ion battery and runs on a 250 Watts brushless hub motor making it less prone to battery and motor problems like other skateboards.
Below are some of the features of The Blitzart Mini Skateboard that earned it a spot in our list of Best Mini Electric Skateboards to get in 2022.
Features:-
It Comes assembled and, on a full battery charge of 2 hours, will allow you to reach maximum speeds of 12 miles per hour at a 15-mile distance with an average range of 5 – 8 miles. 

An excellent starting point for beginners

A wireless remote control function that sits in the palm of your hand; easy to use, giving you full power to accelerate or slow down. It also features a wrist strap reverse capability.

Comfortably carries a weight of 250 pounds.

Kickstart like a regular skateboard when your battery is down, and still enjoy the thrill of riding on a Blitzart skateboard. 
Overall, Blitzart is one of the best boards on the market with an aesthetically looking design, and you will never ride another skateboard in your life again.
6. Maxfind Max C Electric Skateboard Updated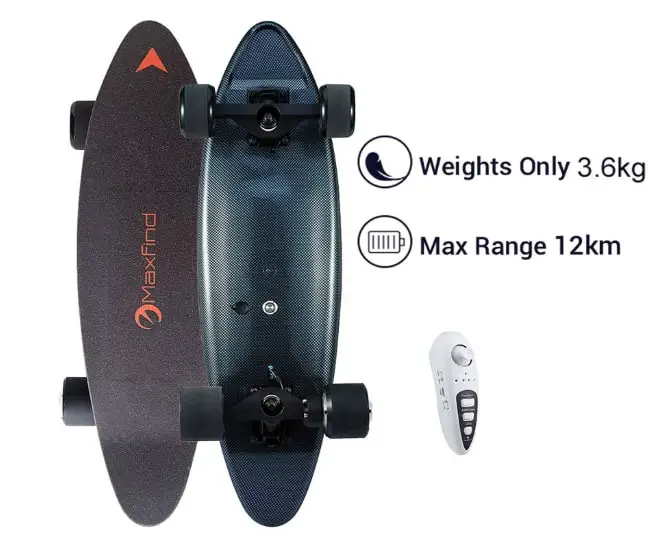 Enjoy the best ride on a skateboard that combines extensive research and technology to develop the lightest, best, and safest skateboard you can rock anywhere on the planet.
Maxfind is the only skateboard that is flight approved; now you can take your skateboard to enjoy some of the best skating ramps in the world, showcasing your skills and love for skateboarding.
This 27-inch carbon fiber material comes with 70mm polyurethane wheels and is equipped with 79.2 WH Samsung batteries (that can be swapped); with one hour of charging time, you can enjoy cruise speeds of 20 kilometers per hour.
The 500 Watts hub motor-driven skateboard is controlled with an ergonomic remote control producing an average speed of 12 kilometers per hour at 8-10 kilometers on a full charge.
Below are some of the features of The Maxfind Max C Electric Skateboard Updated that earned it a spot in our list of Best Mini Electric Skateboard to get in 2022.
Features:-
A board weight skateboard, well-design and easy to ride for beginners or pro accommodating a 150-pound bodyweight

Waterproof and excellent for riding on wet surfaces

Remote control with two speeding settings and super light

It comes in different colors allowing you to rock your style
Overall the Maxfind mini electric skateboard is one of the best in town. And if you are looking for a skateboard for your kids, especially the girls or kids in college, Maxfind will serve you well.
7. Swagtron Spectra Advanced Mini Electric Cruiser Skateboard
Let technology influence your ride with the new unibody, lightweight, durable, and carbon fiber deck of the Spectra Advanced mini electric skateboard.
Whether for a kid or young adult or commuting your daily route, you will not get another skateboard that understands your body, weight, and action to ensure that every ride is safe, fun, and effortless as possible.
The 19.4 inches Swagtron deck design is fitted with pressure sensors built into the deck with AI driving technology to assist you during turns and speeds. Still, it also adapts to your body movement, equally distributing the weight across the surface, creating incredible balance and an exciting riding experience.
The Spectra features a frontal dual regenerative hub motor design that maximizes battery life (charge time 90 to 120 minutes), and allows for a smooth, quiet, and efficient ride whether to school or just commuting around the neighborhood. 
On a full battery charge, the Spectra will surpass a distance of over 12 miles at 15.5 miles per hour, with an inclining rate of 15 percent.
Below are some of the features of The Swagtron Spectra Advanced Mini Electric Cruiser Skateboard that earned it a spot in our list of Best Mini Electric Skateboards to get in 2022.
Features:-
Downhill rides increase the charge on your battery, making you enjoy your skateboard for a long.

Supports a body weight of 187 pounds

Sync with your iOS and Android devices to monitor and control your speed level

LED lighting system for night rides lets other mobile transportation see you and makes you safe too.
Overall, the Swagtron Spectra uses technology, AI, and human ingenuity to create the best mini skateboard that literarily teaches you how to ride safely as your cruise around town with style.
Compared to some boards in this range, the Swagtron Spectra lags in speed as some skateboards go up to speeds of 25/30 miles per hour effortlessly.
8. Leafboard Plus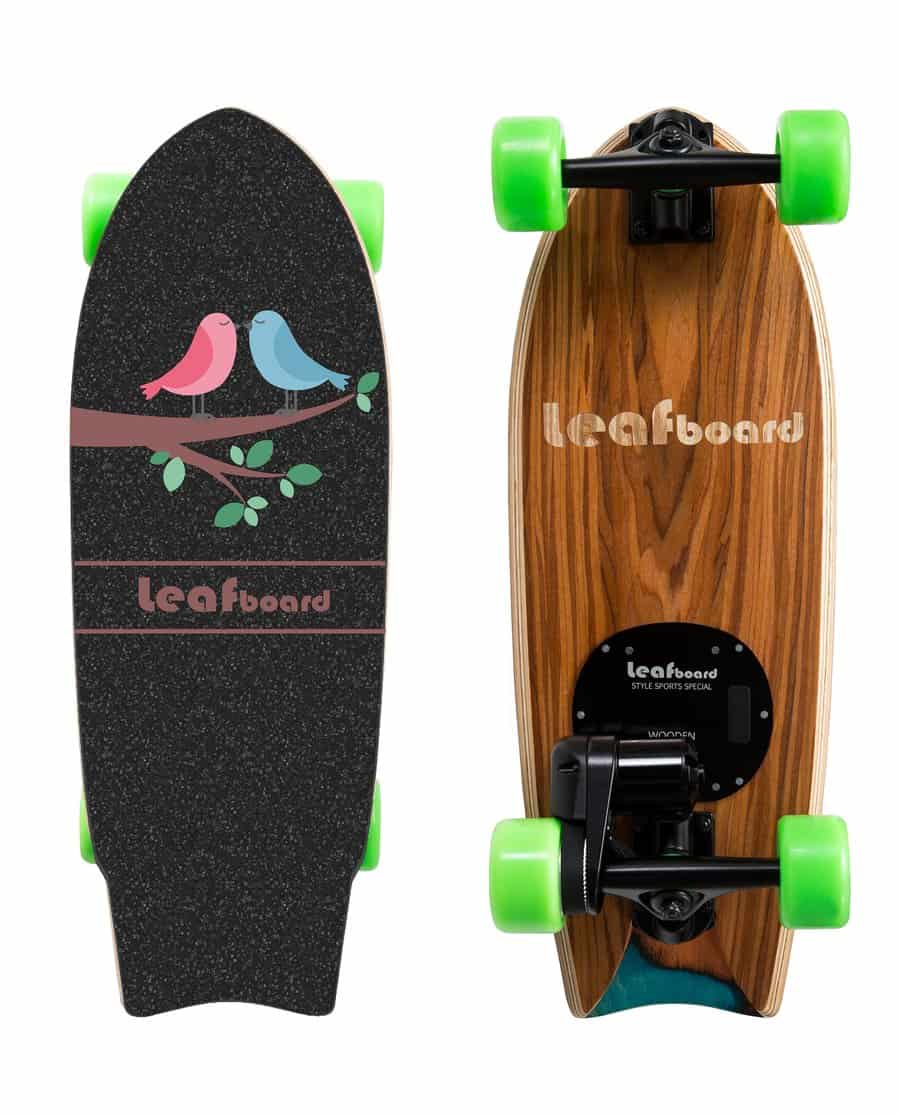 It should not be surprising to many people that a product from Leafboard made this list. After all, the Hong Kong company has become famous for selling some of the most impressive mini-electric skateboards on the market. This particular product is a top-of-the-line product from the company.
The Leafboard Plus comes with an external single motor power that climbs up to 1800W in full operation. At this level, you can be sure that sufficient power would be supplied to the board, equipping it to climb severe inclines around the city.
It comes with a three-mode control system, which starts from one for beginners to the third for pros. You can select and ride on any of the modes depending on your level. The deck is designed with a combination of Fibreglass, Carbon fiber, and Canadian maple.
A USB socket has been attached so that you can use the built-in battery from the board to charge your phone when necessary. 
One feature we find unique about this board is its design. With its five different deck styles and an equal number of grip tapes, you can get up to 25 combinations to design your unique board. It also has an attached backpack to pack your essentials during any ride.
Below are some of the features of The Leafboard Plus Skateboard that earned it a spot in our Best Mini Electric Skateboard list.
Features:-
Five different deck styles and five different grip tapes

Three different ride modes 

Unique style

External motor power of up to 1800W.
The Leafboard Plus has gathered many positive reputations for its compact size, balance, and stable ride. It is also quite affordable, although a few customers have complained that its braking system is not the best in the market.
9. Meepo Mini 2
Famous for producing some of the most budget-friendly boards in the market, Meepo again shows the quality it brings in manufacturing its Meepo Mini 2.
Although relatively new in the industry, the company has quickly gained fame for redefining how mini electric boards are produced. And it does this without costing so much. 
Meepo Mini 2 is a reliable skateboard, and users are not afraid to recommend it. There's so much about this product that you will soon forget it is a mini-board. The only drawback so far is the company's location in China.
Hence, shipping time and customer support may not be as fast as you want. The company compensates for this by offering free product shopping to most countries. 
On the features of Meepo Mini 2, one would expect that it comes with excellent specifications since it comes from a company with so much reputation. Of course, the board does not disappoint in any way. It goes on to offer its incredible specifications at an affordable price.
You will see a great balance between range, speed, great riding modes, and solid construction here. If you want to own an easy-to-ride + fast electric skateboard, this is the way. 
This board makes use of a 4AH Sanyo battery and Meepo Orange motor. The combination allows a range of about 10 miles when riding at 18 mph. That's quite an incredible balance considering that many fast boards do not offer so much range.
There are a lot of other things about the skateboard that excites users. When you brake, for instance, the battery can start recharging itself automatically. A full battery charge can offer you a ride of up to 2 hours.
One of the most prominent features of this skateboard is its ability to offer up to four ride modes. The different ride modes help you to grow in skill easier and better. 
Below are some of the features of The Meepo Mini 2 Skateboard that earned it a spot in our list of Best Mini Electric Skateboard to get in 2022.
Feature:-
Light construction 

Automatic recharging system

Four riding modes
Overall, this is a brand worth buying if you want an affordable skateboard that offers so much.
10. Hurbo Motorized Skateboard
This skateboard is not only compact but also affordable and comes with some incredible specifications. It is another excellent pick for riders looking for good mini skateboards that they wouldn't need to spend an arm and a leg on.
The skateboard is suitable for kids, thanks to how reasonable the top speed was made. During our review, we found, however, that the range isn't so great and many customers complained about it.
Perhaps the reason for the not-so-great range is that the motor is not as powerful as most others. Don't be discouraged, however, because it still offers a smooth ride, solid construction, and different riding modes, which we consider fascinating for its price.
Most versions of this board are built to combine the 250-watt brushless hub and a 24-volt battery pack. This means that the battery will be charged completely in about 2 hours and can go for a range of 6 miles at a top speed of 12 mph. 
Those specs may not be as impressive as most others in this list, but it is an excellent choice for kids or orders that do not want to go too fast.
It is also a cool choice if you don't mind charging often. The board offers to ride modes: beginner and advanced modes.
The board is constructed with bamboo and maple wood; its measurement is 35.4 x 8.0 x 4.7 inches. 
Below are some features of The Hurbo Motorized Skateboard Skateboard that earned it a spot in our Best Mini Electric Skateboards list.
Features:-
Two riding modes

24-volt battery pack

12 mph top speed.
This skateboard may not be the fastest, but its flexibility, durability, and weight compensate for its lack of speed. It is a good option for students to use around campuses.
Conclusion
While there are other mini electric skateboards on the market for you, these skateboards listed here are some of the best around and a great buy with value for the dollar for a kid, adult, or college student.
Whether new to skateboarding, you should get your rhythm with the following and master the skills and tricks of being a top-notch skateboarder.
There are a lot of factors to watch out for when buying a mini electric skateboard. Remember, if the skateboard is for a child, please do not allow them to cruise around without adult supervision.