Are you looking for The Best Projector For Bright Rooms to buy? 🤔You're in the right place.
In this post, we tested the 15 projects available for a bright room and created 7 of The Best Projector For Bright Rooms for our readers.
Without any further delay, let's explore this guide.
Projectors have eased viewing and opened doors into the world of comfortable entertainment. While having one means having a large wall to project it onto, it is the best alternative to television and a great way to enjoy cinematic brilliance in the comfort of your home, office, or anywhere.
However, projectors are known for dark spaces, and having one that works regardless of the light conditions is marvelous.
Luckily, technology has improved over the years, and projectors' quality has increased. Most projectors are packed with features that enable them to work in any environment producing impeccable clarity and color definition with less reflection at any distance.
This article has some of the best projectors for bright rooms that will transform any space, even the outdoors.
Best Projector For Bright Rooms – Our Top Pick👌
1.

Epson Home Cinema 2150 Wireless 1080p Miracast
From $1000 to $700, Epson 2150 is one of Amazon Editor's choices and right for several reasons. Epson is known for making exquisite display units.
Although newer versions are on the market, like the Epson 3700, this is a fabulous unit for anyone looking for a high-quality projector at an affordable price with all the features and then some. 
The unit weighs 7.7 pounds with 12.2 by 11.2 by 4.8 inches in dimension, making it super portable and easy to set up in any room.
Epson understands that you might not set up the projector in bright light. Hence 2150 works incredibly well in low lights, giving the same picture quality and color definition as in bright environs.
The Epson home cinema system is a full HD device with a widescreen view, a resolution of 1920 by 1080p, and the ability to project four times the image size on a flat panel of 60 feet.
Although it has a 2500-lumen lamp, it offers incredibly deep white and dark black making images as clear as watching it on a cinema screen.
Equipped with plenty of features, it has an a1.6 X zoom lens with ± 30-degree lens shift on the vertical and horizontal and a 200 watts lamp that offers up to 7500 hours of viewing in Eco mode or 4000 hours in normal mode.
Like most projectors, Epson 2150 boasts incredible picture quality and clarity with its  60,000:1 contrast ratio.
The Epson 3LCD optical provides excellent color definition eliminating rainbow images that make streaming videos, watching movies and series, and playing games amazing.
Now image quality without sound is nothing. To enable you to enjoy a real cinema experience in the comfort of your home, the unit comes with 2 in-built 10 watts speakers with depth, bass, and clarity ideal for any environment.
Epson 2150 is compatible with plenty of devices and doesn't lack connectivity ports. It will pair well with your computer, smartphone, tablet, console, Chromecast, Amazon, digital camera, Roku, Apple TV, cable, and DVD player.
Epson 2150 also offers wireless connectivity via Miracast in addition to others. Ports on this unit are a USB Type-A, Type-B, and 2 HDMI, including the MHL port, a stereo audio output, and VGA inputs.
Below are some of the Pros and Cons of the Epson Home Cinema 2150 that earned it a spot in our list of Best Projector For Bright Rooms.
Pros:-
HD crisp image quality and sound

One of the best for bright rooms

Compatibility allows for more viewing options

Lightweight, easy to use, and set up

Ability to project images in 3d and HD

3LCD projection method with a Polysilicon TFT active matrix drive method

Affordable and a great unit for the family
Cons:-
If you are into movies and want theater-like picture quality and sharpness, avoid this and go for DLP; if you are more into TV shows and sports… this is a great projector.
Overall, all Epson brand is excellent and worth the price. It renders with incredible clarity, contrast, definition, and a good way to start if you are new to the world of projector TV
Check Price on Amazon
Epson Home Cinema 2150 Projector & My Thoughts on it
2. DR.J Pro 3800L Portable Mini Projector 
Although not as expensive as other projectors listed here, it has astonishing features that will compare toe-to-toe performance, excellence, image clarity, sound, and ease of use to any brand on the market. 
It may not be the Epson, BenQ, Optoma, or other top brand name projectors, but it is a great place to start if you are low on cash but need a reliable unit that will deliver.
The projector will excite buyers with a price point of just under $100, cheaper than others with a thousand-dollar tag. However, let's look critically at this unit if cheap is worth it.
The 3800L is a portable mini projector weighing 3 pounds with dimensions of 9 by nine by 4 inches, it is not exactly put in your purse small, but it is light enough to carry around and set up anywhere in any light conditions.
The controls of the 3800L are located on the top of the unit, with the lens dial also near the lens, which includes the keystone adjustment and the focus dial.
All other functions, including the volume control, next/previous, and others, are slightly toward the back of the unit.
Compatibility and connectivity are not a problem on the 3800L projector; it works well with iOS and Android systems, smartphones, Chromecast, video sticks, live streaming, external sound systems, and many more.
Behind the device are the VGA, HDMI, USB, and other auxiliary outputs. The power cord port is also located here. DR.J Professional mini projector uses simple technology to make viewing interesting, fun, and easy for the whole family anywhere.
This mini projector is an upgrade from the HI-04 of the same brand with a lower native resolution; it has 1280 by 720 pixels, surely not as robust as bigger brands, but it will deliver superior clarity on images displayed on screens to  170 inches wide. It also supports 1080 pixels.
With 3800 lumens, a contrast ratio of 2000:1, and a five-layer LCD lens display with a vertical and horizontal lens shift of ±15 percent, you get sharp, distinct, and impressive brightness from the LED light source.
The company claims the bulb will last over 40,000 hours; we think it is achievable but a rather bold claim. However, compared with other projectors from this brand, the LED bulb is durable and lasts a very long time.
Below are some of the Pros and Cons of the DR.J Pro 3800L that earned it a spot in our list of Best Projector For Bright Rooms.
Pros:-
It comes with two inbuilt speakers with great depth and bass

Supports various devices and Operating systems

Dual cooling fans to keep the temperature regulated

Great projector for gamers, movie lovers, and all-round entertainment for the family
Cons:-
Not the best projector for office presentation
Overall, the DR.J mini portable 3800 Lumen projector is for anyone looking to expand how they watch television.
It may not have all the top brand specs, but it delivers excellent quality performance, image clarity, robust sounds, and color to satisfy viewers.
Yes, it has some limitations, but it is an excellent buy to keep the family happy in the dark or a well-lit room.
Check Price on Amazon
3.

BenQ TK800M 4K

–

Best 4k projector for bright rooms
Sports fan, video game enthusiast, or movie buff, the BenQ TK800M is the best bang-on-the-money bright room projector on the market. Hands down, it is the best, with very little comparison.
Many features make the BenQ TK800 stand out among projectors; asides from the beautiful portable design and lightweight, it is packed with features that will give you the ultimate viewing experience like no other.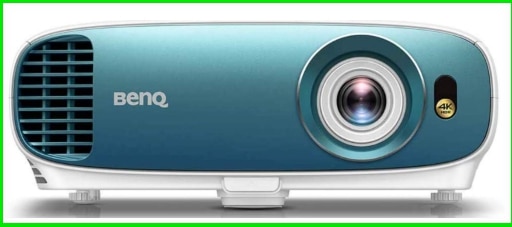 This easy-to-set-up unit offers marvelous clarity and definition with the True 4k ultra-high-definition screen resolution of 8.3 million pixels, increasing light penetration for superb brightness and creating the best viewing experience outdoors or indoors.
Now, the manufacturers did say it has 3000 exceptional lumens, meaning you can use literary watch a show with fewer dark portions even under bright sunlight.
Whether you are watching in the light or need the room a little darker, the BenQ TK800 will offer accurate color performance to 96 percent clarity eliminating dark like with the HDR-10 features.
The projector comes in great-looking colors and weighs less than 10 pounds with multiple ports, including 2 HDMI Type A, VGA, 3.5mm input and output, USB 2.0 type A, mini USB 2.0, power output, and other video-audio ports.
Below are some of the Pros and Cons of the BenQ TK800M 4K that earned it a spot in our list of Best Projector For Bright Rooms.
Pros:-
3-year warranty with over 15000 hours on smart mode

Excellent design and easy to use

Exceptional brightness with less reflection

Choose between modes and enjoy cinematic viewing

An in-built quiet fan keeps the unit cool

Align the image according to the location with the auto vertical keystone feature.
Cons:-
Could do with more 3d setting
Overall, the features and ease of use of the TK800 make it the number one choice for most people looking for their first projector.
Ultimately, the TK800 is bringing cinematic viewing into your space without stress. Whether you want to project in a dark room, the TK800 can handle dark room projections too.
Check Price on Amazon
4. Acer H7850 HD 4K DLP Projector
Known for making premium laptops, computers, and other display units, Acer knows the resolution and how to protect them.
The Acer H7850 is just one of those must-have projectors to have if you have the money and if quality matters in your choice.
While you can be sure of a home entertainment system that will change how you watch, its high-definition image display and resolution make Acer the best projector to watch anything on. Some features that have endeared many to the Acer court are:
A 3840 by 2160 resolution with 8.3 million megapixels on-screen gives images a sharpness and clarity that only Acer can pull off.
Furthermore, at a little above 5 kilograms in weight, this 40 cm wide portable projectile has 4K features that will support impeccable image clarity at low resolutions of 2160p.
It is HDR Rec. 2021 compatible with a TI XPR of 0.67 inches, a digital micromirror of 4.15 million, and a lumen of 3000, giving you high-quality images to ensure you never spend a dime at the cinema.
Besides the picture quality, Acer has an excellent compliant color wheel of RGBRGB rec.709 with a contrast ratio of 1,000,000:1 and zoom features of 1.6 times the original size; you know you have the cinema in your home with the Acer H7850.
Moving away from picture quality and clarity, the Acer has incredible sound too. To be one of the best, the sound should match the images; the Acer H7850 projector has two in-built 5 watts, speakers in the unit for audio quality that can wake the dead up.
The sound surround offers more depth, bass, and clarity to accompany the excellent visuals on this projector. The sound keeps you engaged and glued to the wall whether you are watching sports, movies, or music.
Connectivity is not a problem on Acer H7850; it comes with dual HDMI inputs, one of which is V2.2 HDCP 2.2 compatible, Ethernet, RS232, VGA input and Output, IR control, and audio jack with support for a 12-volt trigger.
Below are some of the Pros and Cons of the Acer H7850 that earned it a spot in our list of Best Projector For Bright Rooms.
Pros:-
It uses the Acer AcuMotion technology to enhance picture quality in fast-moving frames without blurs or stops. 

Get bright, sharp pictures from any angle with the 3000 lumens standard

Supports 4k resolution, HDR, and wireless projector technology

Excellent performance with incredible quality in color, visuals, and sound

Cost-effective, durable, lightweight, and portable unit

Extensive menu with a fantastic selection for a true cinematic experience at home
Cons:-
Dynamic range is limited in HDR

The cooling fan is audible, which is a distraction when watching a program

Too much light leaks from the front panel
Despite the cost of the Acer H7850, it is a marvelous projector, and if you are looking for a 4k projector with the perfect color, images, sound quality, and accuracy, this is a unit to have in your home.
Overall, it is a standard and durable unit worth recommending to anyone looking for a bright-space projector.
Check Price on Amazon
5. Epson 3700 70,000:1 3LCD Home Theater Projector
If you want quality time at home or need a projector that is equally good as the BenQ and Acer but affordable, the Epson 3700 will deliver more than expected. 
The Epson 3700 is the best for bright and darkroom alike, whether in a sitting room, outdoor lounge, man cave, or family room.
With excellent brightness and contrast of 3000 lumens and a 70,000:1 contrast ratio, this projector produces incredible image quality and colors in an FHD resolution of 1080 pixels for watching movies, sports, cartoons, and playing games.
This brightness and contrast ratio allows Epson to work perfectly in any light condition with a ridiculous view from any angle.
With Full high, definition widescreen experience and contrast, whites and blacks look amazing on this projector, making every show outstanding.
In addition to all-angle viewing, images on the Epson projector can be enlarged 1.6 times the original capacity enabling you to view images at almost 30 feet away with no blurring, color fading, or distortion in the output quality.
It also has a good lens shift – vertical ±60% and horizontal ±24%, which you can position in many different ways depending on what you are watching to create the best viewing angle.
It also uses Epson LCD technology to improve the picture quality and a menu setting that allows you to choose how bright or dark you want your viewing.
The Epson 3700 has stunning sound quality that matches the picture property with two 10 watts, in-built speakers. However, if you like loud, adding an external sound surround system is easy and will take viewing up a notch.
Connectivity ports are plenty on the Epson 3700; they include a VGA, and two HDMI ports, one of which is MHL compatible, allowing you to connect your smart devices via USB. 
Other ports are a mini USB, a 3.5mm audio output, and a Type-A port. It also supports wireless LAN mode and JPEG.  
Below are some of the Pros and Cons of the Epson 3700 that earned it a spot in our list of Best Projector For Bright Rooms.
Pros:-
It uses frame interpolation technology to make viewing fast-motion scenes look smoother, better, and sharper with less distortion and blurring.

Supports 3D viewing and Roku for live streaming 

Great backlit remote control

Have three mode settings – the eco, picture, and high modes

Great clarity and smooth images with the Epson 3LCD image Enhancement technology

Excellent for video games and movies with a super bright lamp

250-watt lamp with up to 5000 hours in eco mode

Full option controls give you the privilege to set the unit as you want
Cons:-
The fan is audible in the picture and high mode
Compared to other projectors in the same range as the Epson 3700 1080p, this unit is the best for bright rooms and dark spaces.
Although a mid-range in the Epson series, its ability to create sharp, distinct images, sound, mode, and setting options are some reasons to buy this projector; overall, the Epson 3700 is a great home theater projector worth the price.
Check Price on Amazon
Epson 3700 Projector Review
6. ViewSonic SVGA PA503S Home Projector
This is it if you want vivid colors, image clarity, and excellent sound in a projector. The ViewSonic home projector for a bright room will work as great in any light condition without compromising quality and style.
With amazing features, ViewSonic PA503S is equipped with True color technology and 3600 Lumen capacity; this projectile strikes the perfect balance of color and light to give you incredible clarity, sharpness, and definition in any environment.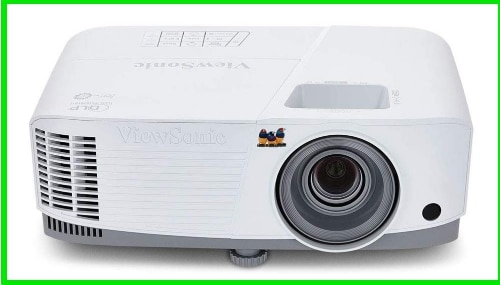 Although it has a screen resolution of 800 by 600, it will support files and videos in 1920 by 1080 pixels without any lag, distortion, or compromise on quality.
It features three resolution choices, including SVGA, WXGA, and XGA, making it the ideal multi-purpose projector solution for any environment.
Besides the 3600 lumens, ViewSonic can create astounding blacks and white with its 22,000:1 contrast ratio and aspect ratio of 4:3 for great color saturation.
It also has two audio speakers for a sound that matches the image quality and a cooling fan to regulate the projectors on movie nights.
Connectivity is not a problem on the ViewSonic; it has an HDMI, 2 VGA, one RS232, one Type-C USB, audio output/input, video output, and a monitor output port.
These allow for easy connection to other digital devices and HD sources like Blu-ray. It also comes with a cable box for streaming movies or shows from external sources.
Other specifications on the ViewSonic projector are a lamp power of 190 watts capable of producing 4500 hours on medium brightness and 15,000 hours on low brightness.
As mentioned, it can be installed anywhere due to its petite size of 11.6 by 4.3 by 8.6 inches and its weight of 2.2 kilograms.
Below are some of the Pros and Cons of the ViewSonic SVGA PA503S that earned it a spot in our list of Best Projector For Bright Rooms.
Pros:-
Lightweight, portable, and easy to use

Choose between 5 view settings depending on the mode and brightness of the space.

Incredible color accuracy and image clarity

Equipped with the Sonic Expert that projects an enhanced sound system for a truly cinematic viewing

Simple, intuitive interface and easy to set up
Cons:-
No lens shift

The zoom is 1X
Overall, ViewSonic is an excellent image with true color as you see it with your eyes on a screen in the brightest light.
A wonderful piece to have at home or the office, ViewSonic is a highly recommended brand for superior entertainment in all categories.
Check Price on Amazon
Final Thoughts on the best projector for bright rooms list
Finding the right projector for bright light can be like a needle in a haystack, but we have managed to get you some of the best on the market. The following projectors will deliver excellent performance, color definition, image clarity, sound, and ease of use.
Although they are slated to work exceptionally well in high ambient rooms, they will also perform amazingly well without compromising in dark or low-light spaces.
Projectiles are the new TV; a projector is for you if you like the cinematic experience. Hopefully, the choice to get one is easier with this list.