With the innovative inventions of various electrical gadgets, today the market is providing us with various electronic products which are not only highly technologically advanced with features that a layperson may not even understand but are also so convenient to use that it has almost minimized any manual work needed to enjoy gaming, coding or even watching shows or reading books.
All the gadgets are designed after prioritizing the optimum satisfaction of the customers. From foldable desktops to VR gaming sets, you name it, and the technology will bring it to your footsteps.
Then why should monitors stay behind the race of the most advanced and convenient electrical gadgets? We are here to provide you with a list of the best vertical monitors.
Why should you go for vertical monitors?
That being said, we introduce you to the best vertical monitors. Yes! You heard it right. Do you want to spice up the conventional landscape view of your desktops and laptops?
The vertical monitors are here for those looking for comfortable screens for coding, reading ebooks, playing games, or even scrolling social media. The portrait view will make your work more comfortable and convenient.
The vertical monitors are best for users who require multi-screen or split-screen setups. Enjoy the vertical view of your monitors to read your favorite book or complete your assignments.
Moreover, the vertical monitors will make it easier for you to fit more content on the same screen because of their adjustable alignments and compactable size.
Enjoy this factual guide to the best vertical monitors of all time and bring home the most suitable one for yourself.
Best Vertical Monitors – Our Top Pick👌👌
We have researched thoroughly to ensure all the features and advancements are available to you at affordable prices. Check them out, and you won't regret it.
1. Samsung Business SR650 Vertical Monitor
If you are looking for a slim, stylish, and expensive-looking monitor with a wide viewing angle and crystal clear picture quality, then the 23.2 inches Samsung Nusess SR650, one of the best vertical monitors, is the one for you.
Eliminate the hassle of going under or behind the table to connect external devices as t monitor features it has inbuilt USB hubs incorporating 2 USB 2. 0 ports and 2 USB 3. 0 ports.
There is no doubt that the device is designed to prioritize customers' health as an eye care mode is available, just like the dark mode, to protect the customers from eye strain. Moreover, the screen is rotatable.
You can rotate the screen from portrait to landscape according to your convenience. The device also provides you with multiple connectivity options to connect external devices.
Hence, if you are looking for monitors whose height can be adjusted and tilted to get you a better angle, the VESA-compatible Samsung Business SR650 will fulfill all your needs.
Pros:-
HDMI, DisplayPort, and VGA connectivity options are available for the users.
The full-focused feature brings the highest quality out of the images as bezels are eliminated to the maximum. The clarity of documents or pdf texts is on point, making them more readable even from a greater distance.
100×100 VESA support makes the leaping up of the monitor on the wall easier.
The rotatable screen allows users to change the view based on their needs.
Smart Eco Saving technology mode saves battery consumption up to 10% while maintaining the display quality.
An extended warranty is available on purchase.
A volume control option is available for external speakers.
Cons:-
No inbuilt speaker is available. The users are required to manage their external speakers when needed.
The portrait version may jiggle when in use.
The manual set of the monitor may be complicated at times.
Check Price on Amazon
2. HP VH240a
Try out this fantastic black matte-colored vertical monitor, which will provide you with the best HD-quality images with smooth clarity that won't blur even after zooming in.
The thin, frameless screen provides broader image quality and a voguish look for your dining hall setup.
Play any HD videos on any of the platforms, be it action-based or fast-paced scenarios; the 23.8 inch HD monitor will not let you miss any minor details, and it doesn't lag! It has an inbuilt speaker with great audio quality, around 2 watts every channel.
The rotatable screen allows you to rotate to a 90° angle for horizontal and vertical screen views. The monitor comes with multiple connectivity choices, including HDMI and VGA.
Windows and Mac OS are compatible with the matte black vertical monitor. The thin, almost bezel-less vertical monitor allows you to set up multiple monitors together without needing to bridge the gap between them.
The 100×100 VESA-supported monitor also displays sharpened words while viewing any text documents.
The widescreen helps incorporate a larger number of words than other monitors, thus eliminating the hassle of more scrolling.
Pros:-
The cushy stand that comes with the monitor enables the user to adjust the height and position of the screen according to their convenience. Now you are not required to go through the hassle of bending every time you want to look at the screen while standing. The adjustable height will make sure to reach you.
In-built speakers won't require you to buy additional external speakers.
The Energy star certified monitor will ensure the battery and electricity consumption is lowered even after the maximum use of the monitor. It will lower the amount of carbon footprint in the users and save their wallets from being a victim of high electricity bills.
The monitor comes with a one-year limited warranty.
5 ms response time will make your competitive and busy life more manageable.
The physical setup is easy and takes less time to get settled.
Cons:-
The inbuilt speaker audio quality is not up to the mark. You will need speakers with good audio sound to connect to it.
It may or may not come with the VGA cable mentioned in the description.
The color vividness is not accurate. It may not be suitable for professionals for whom color accuracy is a must, such as video editors or design illustrators.
Check Price on Amazon
📺HP VH240a- 2019 Unboxing and Review
3. Acer SB220Q bi
The Acer SB220Q bi comes with a 21.5 inches full HD screen and will not fail to display the highest quality graphics, such as videos and images, even at a faster speed or zoomed-in version.
The Acer SB220Q bi is the most suitable option if your priority is gaming. The frameless design will provide you with the image or video content at its most expansive size without having them compacted within a smaller-sized screen.
The thin-framed monitor will complement the wall of your house more stylishly and elegantly. The IPS display lets you experience vibrant images.
The color accuracy is commendable as one would not experience color differences viewed from different angles. The monitor comes with a tilt angle facility, both horizontally and vertically.
The monitor provides VGA and HDMI cords facility. This is the one for you if you are looking for a vertical monitor that can be leaned backward.
If you have a tight budget, then this will serve as one of the best vertical monitors under 100 dollars. Of Course, it fails to deliver a few facilities, but it does provide a lot considering its price.
Pros:-
The monitor comes with an LCD and has a 75 Hertz refreshing rate.
It features one VGA and HDMI port and comes with VGA and power cord.
The power cord is more than 6 feet, which makes it more flexible and easy to be wrapped around.
The IPS display screen allows a backward tilt up to 15 degrees.
The monitor is lightly weighted, which makes it easier to set up.
The monitor displays vibrant and accurate colors.
Perfect for gamers or college students packed with homework and assignments. The 21.5 inches screen allows you to open several tags on a single server.
Cons:-
Does not have in-built speakers.
It May do not come with an HDMI cord.
Does not support the VESA mount. Take note if you are looking for a monitor that can be easily mounted on your wall.
It cannot be tilted sideways.
Check Price on Amazon
#1 Best Selling Monitor on Amazon, Acer SB220Q Review, 1080p 75Hz IPS for $90
4. ASUS VN279QL
The 27-inch full high-quality display monitor has narrow scratch-proof bezels of hardly 8 mm, allowing the user to use it for multiscreen purposes.
It comes with an inbuilt stand that allows users to adjust the monitor's height according to their requirements.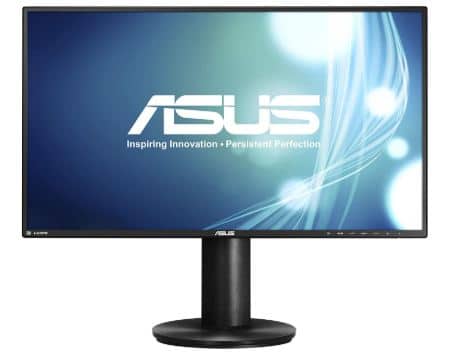 The ergonomic design highlights the feature of tilt, pivot, swivel, and height adjustments and ensures a comfortable view for the users.
One of its best features is that it has MHL (Mobile High-Definition Link) function, which ensures the viewing from mobile to the monitor in a more enhanced and nat way.
Three port options are available on the monitor. The swivel stand allows the user to use the monitor vertically.
Pros:-
It features ASUS VividPixel quality, delivering a more precise and detail-oriented picture quality.
It features the MHL function and has a 5ms refresh rate.
It has a Liquid Crystal Display.
The vertical rotatable monitor will help the users save space and are useful for those who are continuously in need of using multi-screens.
The IPS panel helps in delivering color quality.
HDMI/MHL, D-Sub, and DisplayPort are available.
Cons:-
The text may come off as a little bit more sharpened than needed.
The back has a non-removable flap, making it inevitable for the users to insert the cords comfortably.
It May not come with HDMI CABLE.
Colors may be washed out at times, and pixels may be visible if you are near to the monitor.
Check Price on Amazon
5. Samsung SE450 S22E450D
The Samsung SE450 business monitor is an eco-friendly device comprising 30 percent of recycled plastic.
The 21.5 inches desktop displays a high-definition quality display that offers an LED-backlit LCD screen that produces bright and clear images.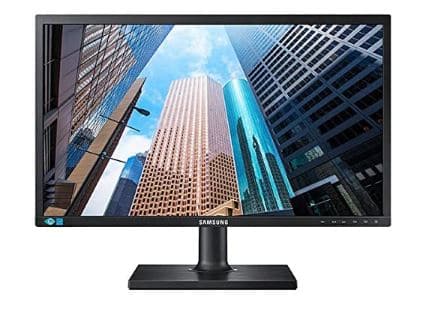 The standard features include a built-in stand that is responsible for the smooth tilting, swiveling, and eight adjustments of the monitor. The standard 100×100 VESA compatibility will make wall installation more convenient.
This display uses a low-glare TN screen to produce a crisp, vivid picture that promotes regular office activities.
Some unique features include Eye Saver Mode, Flicker-free, and MagicAngle technology. Check out one of the best budget vertical monitor of all time.
Pros:-
The eco-friendly monitor is designed to satisfy the needs of environment-conscious users. It is not only made up of recyclable material but also reduces energy consumption while in use. Less than 0.0005W is consumed in standby mode, and 0W is consumed in off mode.
The eye-saver mode is constructed in favor of the users who are required to work on screens at a stretch. The ode ensures that the brightness is adjusted so that it does not irritate the eye site and ensures fast and smooth working.
Multiple connectivity options ensure fast and easy connectivity with external devices. The Display port is responsible for connecting modern, advanced devices. At the same time, the VGA connectivity ensures a smooth connection with analog devices.
VESA-supported monitor.
Minor details are highlighted regardless of the background shade due to the mega-infinity dynamic contrast ratio.
MagicAngle processing provides enhanced color from a wide variety of viewing angles.
Cons:-
It may not come with an HDMI CABLE.
The monitor may be a bit heavy to lift, making it difficult to set up and install on the walls.
The color vividness is not accurate, and the display's brightness may be in a lower range.
Check Price on Amazon
6. Dell P2419H
The 24 inches LED-backlit monitor is the best option for you if you are looking for a monitor with a small monitor base that does not take up a lot of space.
The UTV-certified monitor prevents the emission of harmful blue light as it features a flicker-free screen.
We understand the pressure of workload, and our team has selected the best monitors to lessen your worries regarding your eyes. The three-sided thin bezel monitor will work at its finest when joined with other monitors.
The Dell Display Manager Software works as a cherry on top, as now you can organize your files and applications neatly and without any hassle.
The monitor comes with an improved cable management design and in-plane switch technology. The monitor features multiple cable connection ports.
The monitor is based on its flexibility in height adjustments. It can be tilted backward, forward, left, and right and can also be pivoted 90 degrees. The monitor is for you if you want to change your display from landscape to portrait or vice versa.
Suppose you are dealing with programming, excel sheets, Microsoft office, or such applications, then go for it. It is indeed one of the best vertical monitors of all time.
Pros:-
It has plenty of USB options and comes with seven to eight ports; a power connector, HDMI port, USB upstream and downstream ports, VGA connectors, a Display port, and a stand lock feature.
It comes with power, a display, and a USB 3.0 Upstream cable.
The IPS panel monitor delivers crisp text.
The VESA-mounted vertical monitor is easy to assemble without needing any screwdrivers.
Cons:-
The monitor does not incorporate inbuilt speakers.
It is not recommended for gamers because of the refresh time rate.
HDMI cable may not be delivered with it.
Check Price on Amazon
7. Acer CB272 bmiprx – Best vertical monitor for mac
The 27 inches vertical monitor has a high-definition display of 1920×1080 resolution with zero framed design.
The ergonomically designed stand can be used to adjust the height of the monitor.
One of its unique features is that it uses AMD Radeon FreeSync technology. Acer BlueLightShield and Flickerless technologies prevent your eyes from harmful colors.
Acer ComfyView and Low Dimming ensure that your eyes are relaxed even after working hours in front of the monitor by reducing the brightness when required and using anti-glare technology.
The IPS in-plane switching vertical monitor has a refresh rate of 75Hz and an amusing response time of 1ms VRB. It can be tilted from 5 degrees to 20 degrees and can also be pivoted.
It's time to sign out of relief as this monitor features two inbuilt speakers having 2 watts per speaker. Well, multiple ports have become common in every monitor, but its audio in and audio out ports may attract your attention towards buying it. Undoubtedly, it is one of the best vertical monitors.
Pros:-
AMD Radeon FreeSync technology prevents stuttering or tearing of the screen.
178-degree in-plane stitching makes the image visible from any angle, whether sideways or front view.
Inbuilt speakers eliminate the burden of finding external speakers.
Comfy view mode is to protect your eyes from itching or painting.
Cons:-
The speaker quality is not up to the mark, but according to the price, it is highly unlikely to get too many facilities.
The power button is at the back, which makes it difficult to reach.
Two power buttons are at the back of the monitor, which may confuse the users.
Check Price on Amazon
8. Samsung SH650 Series S27H650FDN
The 27-inch monitor is a business budget-friendly monitor from one of the best electronic brands, Samsung, which has tried its best to provide users with maximum facilities and comfort.
The monitor is known for its outstanding HD picture quality. 16:9 aspect ratio delivers minor crisp details of the image or text.
The appearance of the monitor is commendable as, unlike most of the previous monitors; the display has thin bezels on all four sides. The sleek and thin design accentuates your workroom and takes less of your space.
Just like other previous monitors, S22E450D has made sure to prioritize your health. The monitor provides eye comfort mode to provide security to your eyes and keep you fresh all the time.
Regarding versatile connectivity options, along with the standard ports, including HDMI and more, two extra USB hubs allow you to connect your external devices without waiting.
One of its notable features is that it uses Samsung's PLS panel technology for delivering vivid images. Do not worry! After all these features, if you are wondering about VESA compatibility, then let us tell you that it is 100X100 VESA compatible.
Most importantly, Samsung has made sure to make it its point to produce eco-friendly devices. The monitor is made up of 20 percent of recyclable materials. The power consumed by the device is also comparatively less.
When it comes to Samsung, no compromise is made with the quality of the picture. If you are a graphic designer or are searching for a monitor with high competency in photo editing tasks, then this is the vertical monitor for you.
Swivel, adjust the height, pivot, or tilt; the comfort will always be yours. Try out one of the best vertical monitors.
Pros:-
It comes with an HDMI cable.
Eye-saver mode is available.
It is easy to set up and does not weigh much.
The picture quality is on point. Mega infinity dynamic contrast ratio makes sure to display minor details in darker and lighter backgrounds.
VESA mount compatibility will let you mount your monitor on the wall.
Comes with three years extended warranty.
Cons:-
The menu can be a little difficult to understand, but once you get the hang of it, it won't be a problem.
Does not come with inbuilt speakers.
Check Price on Amazon
9. Samsung SE450 Series S22E450B
We can't help it if you see a maximum number of Samsung monitors on our list of best vertical monitors. It is Samsung, after all.
Our expectations for their electronic products are bound to be set high, and Samsung has not, in any way, let us down as another model from the SE450 series takes place on our list.
The 21.5 inches monitor comprises 30 percent of recycled plastic material and consumes less than0.0005W in standby mode.
DVI and VGA ports are available to the users. The small screen size makes it easier for the office workers who could just use up a little bit more of the tablespace.
Even after settling two of these monitors together, don't be surprised if there is still room left for you to scatter your work papers.
Well, what are you waiting for? Head on to purchase one of the best vertical monitors of all time.
Pros:-
VESA mount compatibility
High-quality image delivery
Suitable for office purposes because of its small size.
Eye-saving mode is available.
Eco-friendly monitor.
Cons:-
The monitor does not offer an HDMI port nor has inbuilt speakers.
It may not be tilted forward. Only a backward tilt is possible.
Check Price on Amazon
10. ASUS VA229HR
The 21.5 inches black monitor has a view angle of 178 degrees. The monitor is especially famous for its gaming features. We hope all our gamers out there have finally caught your attention.
The monitor offers an exclusive Asus game plus a crosshair feature to make your gaming experience smoother and more enjoyable. The IPS panel delivers vivid and accurate colors and provides a better viewing experience.
The 75 Hz fast gaming monitor ensures the user is not faced with blurring issues even while playing a fast-paced game. Yeah, rest assured, the ASUS VA229HR is here to let you all race your cars as fast as you can without blurring the display.
VividPixel Technology provides the users with minor details of crisp and clear images. The monitor even offers a pivot option not only in clockwise but also anticlockwise.
As the target audience of this monitor is gamers, the developers have made sure that the design and the features are built by taking suggestions and advice from pro games. After all, only a gamer can genuinely understand the need and requirements of their fellas.
On the other hand, the monitor is well-suitable for professional works as the images and texts displayed are crips, clear, and sharp. This can be counted as one of the best vertical monitors.
Pros:-
VESA mount supported monitor.
The monitor offers HDMI and VGA connectivity.
It comes with three years of warranty service.
LCD
Flicker-free technology is used to protect your eyes.
Cons:-
The pivot feature may sometimes work defectively.
The speaker quality is not remarkable.
Check Price on Amazon
11. Dell UltraSharp 1909W
Last but not least, the 19 inches monitors come with an LCD screen with TFT active matrix. With a response time of 5 ms, the vertical monitor has placed on our list of the top 11 vertical monitors of all time.
To make it convenient for the users, the control panel is set in the monitor's front panel. One of its commendable features is that it comes with a removable speaker. It is famous for its bright and crisp graphics and built-in USB hub.
The portrait is rotatable horizontally and vertically as well as upwards and downwards. The 77 Hz monitor has an image brightness of 300 cd/m2 and an image contrast ratio of 1000:1.
Pros:-
The vertical monitor comes with DVI, VGA, and power cords.
The removable speaker makes it convenient for the users to detach it when not required.
The monitor is light weighted, hence easy to set up.
Clear and vivid images are delivered.
Cons:-
Since it has a low resolution of 1440×900, it is unsuitable for gaming.
The quality of the speaker may not reach our expectations.
Check Price on Amazon
Wrapping Up
This concludes our list of best vertical monitors of all time. Did you find the guide helpful? We understand that deciding which electronics to purchase can be troublesome many times.
One can even spend months deciding the best electronic devices to buy, which would meet all the requirements at affordable prices. Our team has tried their best to research thoroughly and provide all our readers with the best options available.
The list is made up of taking into consideration various professions and hobbies which require vertical monitors. From gamers to just people scrolling down social media, we have prioritized all needs of people that may arise.
We are sure you have noticed the similar features shared by most monitors. For example, every monitor mentioned on the list is rotatable, has multiple connectivity ports, is sleek and thin with almost negligible bezels, is black, can be swiveled and tilted, comes with adjustable height stands, and many more.
But every monitor has its unique feature as well. The list is just an overview of the features of these various vertical monitors.
To know about these monitors in-depth, we recommend our readers go through their manuals where a detailed explanation is provided not only about the features but also about the parts of the monitors.
We hope that we were able to help you all out in deciding the best monitor for yourself. Let us know which of the ones made your final list and which one drew most of your attention that you couldn't help but buy.
Were we able to fulfill your requirements, or does our list need improvements? Always remember that our suggestion box will forever remain open for you all.
Let us know about your favorite vertical monitor that we may not have included in our list, and we promise to check them out and let all our readers know. After all, there is no end when it comes to electronic devices.
Our list will keep updating with the new launches of more vertical monitors. We will always ensure that you are updated with the latest features of the vertical monitors.