In this article, we are going to talk about some of the best known cute anime shows of all time. 
The Japanese language defines the term 'anime' as any sort of animated characters that might be regardless of any kind of style or origin, but the story is so only inside the country, outside the country, people know this Japanese Animation as a different artform altogether which is known as 'Anime'.
The first animation was performed in Japan in the year 1017, but the main style has been changing in different ways and evolving throughout the generations, even continuing in modern times.
Long back in history, the word 'anime'  had been derived from the English word called 'Animation'. Anime definitely has its original works but it also includes adaptations of light novels, video games, and Japanese comics, which are colloquially known as 'manga.'
This art form is known to include two types of animation which are hand-drawn and computerized animation, and the art has originated from Japan itself.
The fun fact about anime is that it is never restricted to one kind of audience,  it has been classified into numerous genres for various different types of audience, including the educated, niche audiences, and the non-manga. 
Anime is not only restricted to typical animation, there are other interesting methods used to perform the production of this art. Some of these methods are graphic art, digital sketching, characterization, cinematography, and photo manipulation, among others.
What is fascinating about anime is that there is a massive difference between western anime and anime production in Japan.
This difference is that the western form of animation focuses more on the movement of the characters, whereas typical anime production focuses more on the details of settings, use of camera effects such as panning, zooming, and angular shot details specifically.
With passing decades and advancing scientific development, the making process, techniques, and methods of anime production and execution have evolved graciously into anime, becoming a whole new cult or culture altogether. 
There are 430 different anime production companies that are present in the anime production industry at the moment. Some of the major famous studios that are present in this business are studios like Sunrise, Ghibli, and Toei Animation.
The year 1980 has marked an incredible rise in the international anime industry. This change has occurred due to the introduction of the dubbing industry and the addition of subtitle opportunities.  
Most of the anime characters have one similar feature in terms of appearance and that is their large and emotive pair of eyes. While these characters are usually designed, more importance is given to designing an expressive pair of intimidating, attractive, and interactive pairs of eyes.
It is often believed that for an anime character, what matters the most is its eyes. The more expressive its eyes are, the more at one it can be with the audience. 
The character proportions and features of these anime characters can be quite different from each other.
However, most of the time it is seen that the overall look, attributes, and aura of every anime character does have many similarities in terms of charm and appeal and can almost all the time be easily identified as an anime character even by a complete novice person.
After each anime character is designed, it is observed that each anime character is equally unique and eccentric.
Attributes of Anime 
This art form can easily be differentiated from other types of art mediums by its diversified art styles, methods, techniques, production process, and overall look and appearance.
The overall style and look of anime vary depending on its creator, artist, or the studio that produces it.  Some of the anime's interesting attributes are as follows:-
TECHNIQUE:-
Modern science has contributed to the latest scientific upliftment and technologies due to which in the latest generation anime production consists of a lot of use of computers and software to make it look and feel more realistic, technically correct, and appealing. 
The current situation marks the production and making of anime following a very typical animation production procedure, which includes storyboarding, voice acting, character design, and cell production.
The Japanese studios have been the master of this art form for ages. It is believed that these studios are accountable for giving anime a distinct set of conventions. Anime's basic focus has never been on movements.
It has rather always been on the overall appeal and look of the entire series or show. What is most important about this process is the creation of the background of the show. They say that this background is responsible for creating the overall appeal of the show.  
There is another massive difference between anime and American animation. This difference is that in anime, the animation is produced first and the voice acting is synced later but in American animation, the voice acting is produced first, and then the animation is produced and put to sync with the main voices.
Another fascinating aspect of anime productions is the cast of these shows, which look breathtakingly impressive and attract a large number of viewers and audience.
Anime used a large number of camera techniques which helps in adding more depth to the visuals. These camera techniques include panning, zooming, distance, and angle shots, and various other camera actions. 
CHARACTERS:-
Often depending solely on the storyline and the needs and aspects of the character certain exceptions are made by the animation artist to create highly deformed body structures of characters that need severe modifications.
In this art form, very realistic body proportions and sizes are used to keep it more real and appealing, and often these sizes accurately reflect the proportions of the average human body in reality.
The height of the head of the human figure is taken as a base unit for drawing the rest of the figurate. This head height may vary, but most of the characters are about six to eight heads tall. 
One common feature among most of the popular anime characters is their large and emotive pair of eyes.
When these characters are designed, specifically, more importance is given to designing an exclusive pair of intimidating, expressive, attractive, and interactive pairs of eyes.
Osamu Tezuka first started the idea, concept, and execution of large eyes in anime figures. Tezuka is known to be a very popular figure in the history of anime and Manga, whose style of art and design of characters breathtakingly displayed human emotions and expressions through the bold, big and vivid design of the human eye.
However, there are many exceptions to the conventional designs of the anime characters. 
It is sheer fun to watch the different crazy hairstyles these anime figures have which often are considered to be very unnatural and vividly colorful. These hairstyles are designed to give them a stylish tinge and display their individual characteristics in a better way.
It is not only just about the hairstyle but also about the hair movement as well. These characters are often given very vivid and unrealistic hair movements, which are incredibly exaggerated, and these movements are used to create the display of vivid emotions and expressions. 
GENRES:-
 'Shoujo' and 'Shounen' are two different kinds of anime that cater to children of both sexes and win over a crossover appeal. Anime has been divided into various different genres which are based on the main content or the target audience.
The difference between adult anime and anime for children could depend on many aspects like the storyline, the complexity of plots, po###rnographic elements, and more straightforward cinematography, among others.
MUSIC:-
Another unique feature of anime shows is the melodious and beautiful music that it offers. This feature is also responsible for attracting a massive amount of audience to watch anime.
This aspect is not only restricted to movies but also happens in television shows, where the opening of the show, as well as the credit deliverance section, comes along with really nice Japanese pop or rock songs, which are often recorded by reputed bands.
These songs are not only made for these films and television shows but also caters to the mass music market. Thus music plays a very important role in these kinds of films and shows to bring out the right emotions as well as attract an audience. 
Over the years anime has gathered and attracted a vast number of fans all across the world but still, it is believed that anime does not receive the right amount of appreciation and respect from the audience.
This kind of audience behavior is observed especially in the United States of America. It is often a misconception that because of anime's animated nature it might be made only for children and it does not cater to the adult audience at all.
This blame is an absolute lie! A part of anime is indeed aimed at children, but on the other hand, there is a vast part of anime that includes animated films as well as television shows and caters to the adult audience. Thus what matters the most is understanding the art form in its truest essence. 
Best Cute Anime Shows Of All Time 👌👌
Cute anime show which is made with cute anime characters. Being in the state of 'kawaii' is one of the smartest marketing tools for the anime industry.
Most of these anime characters are cute-looking and are often seen doing very cute actions to impress and attract the audience. Most of the cute anime characters are extremely good-looking and appealing.
They resemble the original human figure and sizes, but they are extremely cute and adorable. These characters can be both male and female but are mostly female and come with beautiful faces and body features.
These male and female anime figures have a unique sex appeal and are classy. They attract a vast number of male and female audiences, and although these are just animated figures, they have fan followings just like any other real male or female superhero.
Special efforts are put to design their looks, clothes, and appearances so that they can attract massive audiences to the shows. Some of the best cute anime shows are as follows:-
1. TSUREZURE CHILDREN
Tsurezure Children is one of the most popular cute anime shows that is available. The only reason for the audience to complain against this show is that the show's entire length is too short, and each episode is very small and often does not suit the expectations of the audience.
This show revolves around the story of the young love of a high school girl who is extremely cute looking and does everything that defines cute.
In the plot, all the characters of the story are almost given equal importance, and every character is evenly shown throughout the show.
There are multiple couples who are a part of the show, and each of them is loosely somehow connected with the other. The central concept of the show is the tension of proposal in adolescence and the fear of getting rejected by the one we love or like.
Although the show's concept is a mature concept by nature, it has been displayed in a very appealing manner, keeping in mind the idea of cute anime.
Another major concept of the show is the difficulty among couples to show more intimacy, which again is displayed in a very attractive manner bringing down the seriousness of the main subject. 
Another aspect of the show is that of an overprotective younger sister who is fearful for her brother and becomes exceptionally possessive. Just like all the other aspects of the show, even this aspect has been shown in a very cute and fascinating manner.
Light-hearted, heartwarming, comical, fun, entertaining, engaging, and extraordinarily cute are the words that can actually describe this beautiful show.
Every little aspect of the show is pleasing to the eyes and is extremely cute in looks and appearance. This attracts the maximum audience to this beautiful show. 
Kaji & Akagi - Best Moments, Tsurezure Children (English Dub)
2. THE MONOGATARI SERIES 
The Monogatari Series is one of the most popular and famous anime shows, which is loved by a vast number of audiences. This show is often considered to be the pinnacle of evolutionary anime.
This show comes under two different categories, namely a mystery thriller and a romantic comedy, and in both types, it stands out to be very vibrant and loved by the viewers.
There are many different instances of this show, which stand out to be some of the best kawaii moments of Anime of all time. The entire cast of the show is extremely appealing, and all of them look extremely cute and beautiful and are part of Koyomi's harem.
These cute girl characters of the show usually have a problem affiliated with supernatural oddities. The entire show is a character-based show, and the progress of this show highly depends on the dialogues and interactions of each character rather than the actions of the character. 
 The weightage is more on the interaction and dialogue of these characters, but this in no way reduces the idea of cuteness from the show.
The show continues to be very adorable and cute, and every little aspect of the show, as usual like any other cute anime show, is shown in a very cute and adorable manner, which is appealing to the audience.
This show has various instances where there is the presence of sexual eroticism but in a very cute manner where there is the addition of a lot of blushing and fidgeting instances to attract fans, which happens to be a fascinating anime technique. Overall this show is definitely one of the best and cutest anime shows ever. 
3. KAMISAMA KISS [KAMISAMA HAJIMEMASHITA] 
This is one of the finest cute anime shows of all time, and if one ever wonders what it feels like to be suddenly propelled to a god-like status, this is the show one must watch.
The lead character of kamisama kiss, who happens to be Nanami Momozono, suddenly one fine day gets the opportunity to be propelled to a God-like status.
Nanami, the character lead of the show, is known to have one of the most horrible fathers ever possible, a man who happens to be a gambling addict and who has already accumulated a large number of debts.
As this man was very afraid of people coming to claim back these loans, he acts like a shallow and irresponsible father and runs away, leaving behind his young teenage daughter alone piling in his debts. 
In no time, the young teenage daughter Nanami gets evicted from her apartment since she is left with almost no money to pay the rent of this apartment.
The poor daughter roams around on the road without having a single penny in her hand and has nowhere to go, leaving the audience in utter shock and distress.
Soon the plot develops surprisingly, and the man who Nanami had saved earlier from a dog's harassment turns out to be the real Angel who relinquishes his position, leaving this little girl to serve as the new land goddess.
But this work will not be very easy for her as before she starts her duty at the Shrine; she has to convince hot-headed Fox familiar Tomoe to help her carry forward this work.
This entire show is super fun and revolves around the budding relationship of these two characters – Nanami and Tomoe. This show is definitely one of the best cute anime shows of all time. 
4. NICHIJOU MY ORDINARY LIFE
This show is one of the best comical cute anime shows, which never fails to impress its audience and simply dazzles with great humor and super quirky and crazy kawaii characters.
The entire plot of the show revolves around three cute childhood friends who end up attending the same High School along with a cute android girl called Nano, a nineteen-year-old genius who is the creator of Nano and is called Hakase, and a cat named Sakamoto who can actually talk.
The entire plot is about the everyday Adventures of these six crazy characters whose days are either absolutely blunt and normal or are super fantastic and insanely absurd. 
The main highlight of the show solely depends on the crazy reactions of the different characters of the show, especially when something really crazy happens out of the blue.
This show is a masterclass comedy show which can lift up anybody's mood at one go. All the characters present in the show are exceptionally cute and adorable and can entertain a large number of audiences having different kinds of tastes and preferences. It is a super fun show and is definitely one of the best cute anime shows of all time.
Nichijou My Ordinary Life - Opening | Hyadain no Kakakata☆Kataomoi - C
5. LOVE LIVE! SCHOOL IDOL PROJECT  
This is another impressive, cute anime show that attracts a lot of audiences to this art form.
The plot revolves around Honoka Kousaka, who is a second-year student in a high school, and how she finds herself in a dilemma as she gets to know that due to the recent decrease in student enrollment in their school, the school is in danger of being shut down.
Later in the plot, she visits UTX High School and witnesses and Idol group A-rise attracting a large group of an audience; she decides to use this same technique to bring back the crowd to her school and save it.
However, this isn't going to be a comfortable journey for her because at the very first go when she tried to propose this idea, many people did not agree with her and resisted her idea severely. 
However, she does not lose hope and keeps trying along with her childhood friends and finally comes up with their own college band, which is called Muse.
Slowly with time, this band starts attracting a decent amount of crowd looking at which the students Council ends up agreeing to smooth reworking of this band. The president and the Vice-President of this same student Council end up joining this band as a delight to Honoka.
The plot progresses as later on in a show called Long Live, this band participates and ends up winning the first prize competing with the rest of the bands from all over Japan.
Unfortunately, this band does not continue performing as a band after this event, but it successfully attracts a large number of people back to the school again.
This show has a bunch of super cute looking girls who are dancing and singing their hearts out for a good cause, and their beautiful cute, and adorable looks ultimately justify the cute anime aspect of the show. This show is definitely one of the tops and most loved cute anime shows of all time. 
You may like to read our guide on the 9 Best
Cooking Anime
Shows Of All Time.
6. THE MELANCHOLY OF HARUHI SUZUMIYA
This show is another splendid specimen of cute anime and is known as a masterpiece in this field. Anyone who watches it cannot stop praising it and goes crazy over this show.
This show revolves around three amazingly cute characters who are Haruhi, Mikuru Asahina, and Yuki Nagato. All these characters are unique and are very different from each other, and none of them fails to impress the audience in a surprising manner.
All of these three girls are super cute looking and adorable and completely win over the audience of this show with their cute acts and expressions. 
Each episode of this show acts as an adventure for the audience, along with all the three crazy characters of the show. Haruhi is a very whimsical character, and all of her decisions are incredibly whimsical.
This entire thing has been so popular lately that there is an entire cult following this kind of behavior and is called Haruhism. This show is a must-watch for any person who is a Manga and anime fan and hasn't watched it yet. It is definitely one of the best cute anime shows of all time. 
7. THE PET GIRL OF SAKURASOU
This show is a very adorable cute anime show that revolves around the character of Sorata Kanda who has been kicked out of his own dormitory because of rescuing stray kittens.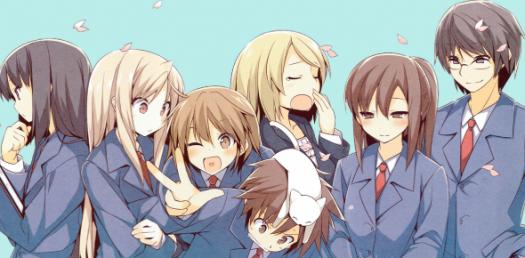 Once kicked out, he has no other choice but to go to Sakura dormitory, which is known to be home to many interesting characters who are very famous and popular for making different kinds of trouble.
Sorata desperately wants to move to a normal and ordinary dormitory and thus keeps on looking for people who are ready to adopt these street kittens that he has rescued.
However, the plot progresses with the change of plan when suddenly there is an entry of another character called Mashiro, a very cute and adorable-looking girl.
 This particular girl is known to be a world-class mangaka artist with extremely weird childlike behavior. After the entry of this cute-looking character, a weird liking sort of a connection develops between the two of them, giving the audiences a lot of fun moments and exciting hopes for the plot.
This new girl's character development is absolutely explicit and exceptional with a really interesting storyline.
The culmination of these two fascinating characters, along with the cute little kittens that the male lead is taking care of, make this entire show very adorable and definitely, one of the best cute anime shows ever. 
8. MISS KOBAYASHI'S DRAGON MAID
This is a really interesting show, which is entirely about a few cute anime girls in a maid's costume. Cute anime shows are entirely about the super cute anime characters in them, and this show ultimately justifies this fact while it presents its adorable female characters to the audience.
The plot of this show revolves around different characters, one of which is Tohru, who happens to be a dragon from another realm and is very grateful to another lead character called Kobayashi for removing a sword from her back. In return, this dragon offers to be her maid out of sheer gratitude. 
The plot progresses when the female character reluctantly agrees to the Dragon, and this Dragon's beautiful aura begins to attract other Dragons and different mythical creatures, all of who end up serving as maids in Kobayashi's households.
Each and every Dragon who comes to this place has a unique and individualistic story about how they have entered the human realm.
The bond between the female lead and all of these meals is positively overwhelming and makes this show a must-watch and is definitely one of the best cute anime shows of all time. 
9. FATE KALEID LINER PRISMA ILYA
This show is a very beautiful show which captures the magic of cute anime magical girls and enriches the audiences with brilliant visuals and a very nice storyline and gives the audience a chance to witness the splendid glory of the Anime art form.
The entire story revolves around the main character of the show who is Illyasviel von Einzbern, whom everybody knows as the foster sister of Shirou and the master of Berserker.
This show offers a variety of super cute looking characters who often steal the audience's hearts. The show provides a lot of good action sequences, a brilliantly thought storyline, and some super cute and interesting characters, which never fails to disappoint the audience.
With all the complexities and drama, this show is definitely a must-watch and is one of the cutest anime shows of all time.
10. CARDCAPTOR SAKURA
Sakura Kinomoto is the lead character of this show and is known to be one of the most magical characters in terms of quality as well as sweetness.
It is believed that it is her character that pulls the maximum audience to this show and makes this show one of the best cute anime shows of all time.
The story progresses with this female character unwittingly setting free a horde of magical cards at the age of ten. It is believed that these magical cards have scattered across all the corners of the world from a mysterious book she stumbles upon. 
The story continues with Keroberos, who happens to be a mystical beast, who emerges out of the book, which the lead character of this show unleashes. This beast warns the female character about her action of setting free the horde of magical cards.
These cards turn out to be very dangerous and independent and become the cause of massive mass destruction. It becomes Sakura's responsibility to retrieve these cards before they can cause any sort of harm or damage to the world.
Keroberos arms Sakura with a magical key and sends her to retrieve all of these cards from the world. However, such a big task can never be very simple and Sakura meets with various types of dangers and troubles while she goes to fulfill this task.
What is interesting about the show is watching how she overcomes all of these troubles and solves the problem for the world. This show is a great magical adventure show that comes up with a brilliant story in a super cute and adorable manner. 
Cardcaptor Sakura: Clear Card – Opening Theme – Clear
11. TORADORA!
This is a fantastic cute anime show that falls under the romantic comedy category and features anime's favorite Tsundere in Taiga Aisaka. Taiga is a fierce character who is very infamous in her school for her crazy nature.
For this fierce nature, she has earned the name of 'Palmtop Tiger' in her school. Another character in the story is Takasu who happens to have a very scary face and is often labeled as a delinquent.
Toradora! - Official English Trailer
The plot progresses as they soon discover that they are in love with each other's best friend. These two characters start spending more time in order to understand and plot how each of them can make their crushes fall in love with them.
The show offers brilliant moments of comedy and never fails to entertain its audience with super cute moments. This is definitely a must-watch and is one of the best cute anime shows of all time. 
12. CLANNAD
Clannad is one of the most popular shows belonging to the cute anime segment and is adopted from the visual novel game by keys. This show is known to be one of the best and the most well-known series in anime.
This show has a groundbreaking story that moves almost every viewer into tears and touches their soul. This show also offers many super cute and adorable looking kawaii girls who are so grateful that the audience is bound to fall in love with at least one of them, if not all. 
The show revolves around characters like Nagisa Furukawa, Fuko Ibuki, Kotomi Ichinose, Tomoyo Sakagami, and many others who are also equally adorable and have excellent character plots.
The beauty of this show often results in its audience's emotional teardrops as it absolutely hits the audience's hearts and becomes at one with their soul. This show is definitely one of the best cute anime shows of all time and is a must-watch for any anime and Manga lover. 
13. HANAMARU KINDERGARTEN 
This is a super cute and adorable cute anime show that is mostly targeted at teenagers an audience. The show revolves around three cute little kids who have been trying to get the attention of their caretaker cum teacher, who happens to be Tsuchida.
The funny storyline progresses as the audience gets to know that it Anzu who happens to be the main lead of the show, who has developed an acute childlike crush or infatuation towards the teacher Tsuchida. However, Anzu gets to know that the teacher is more interested in his colleague, whose name is Nanako. 
The entire show is explicitly funny as it continuously revolves around young Anzu trying to Grab the attention of Tsuchida and Tsuchida's in turn trying to Grab the attention of his colleague Nanako. A crazy sort of love triangle develops in the show.
The show offers a lot of moments that are extremely cute, adorable, and super fun to watch as these kids and their teacher does crazy stupid things to satisfy their own love interests.
Hanamaru Kindergarten definitely is one of the cutest cute anime shows available and is a must-watch for any anime lover.
14. HANAYAMATA
This show is all about cute girls doing cute things and is an excellent example of one of the most popular cute anime shows. The entire show revolves around this character called Naru Sekiya, who happens to be a very average sort of character.
Everything about her is very average including her grades, her athletic ability, and her talents. She has fascinating dreams of exoticism when she will reach her High School but unfortunately, this dream has not been fulfilled yet.
Any audience can at once connect to the exciting storyline and thought processes because everybody once or the other in their lifetime goes through these kinds of thoughts and feelings.
Naru comes across another exciting character whose name is Hana. She sees this character dancing and enjoying her heart out and almost ends up assuming that she is some sort of fairy.
Soon she realizes that Hana is no fairy but just an ordinary girl just like her. Hana has come to Japan to open her own club and is super fascinated by Yosakoi, which is a form of dance.
Naru was highly intrigued by Hana and her dreams; she immediately decides to help Hana achieve her goals. This show is all about a bunch of high school girls trying to learn a new dance form in a super cute and adorable manner.
The show offers splendid visuals, which are incredibly pleasing aesthetically and beautiful melodic music. All of this together makes Hanayamata one of the best cute anime shows of all time, and this show is definitely a must-watch for any anime and Manga lover. 
15. MONSTER MUSUME: EVERYDAY LIFE WITH MONSTER GIRLS
This is a super cute and adorable show which breaks all the stereotypical illusions that monsters have to be scary and aggressive. This entire show redefines monsters and shows a different exotic state of them with a touch of kawaii or cuteness.
The show revolves around a number of cute-looking Monster girls. All of them live with the main character of the show called Kimihito Kurusu. Each of the girls is seen to be vying for Kurusu's love and makes the entire storyline more eccentric, fun, adventurous, and interesting. 
Each Monster girl is unique and adorable in her own way and does not fail to entertain the audience with her cute and graceful charm.
However, the overall effect of the show might not be very cute as the show also has an erotic and sensual side where the cuteness of these girls is exploited to show their eroticism. This show is extremely interesting and is definitely one of the cutest anime shows of all time.
At the time of our research on Best Cute Anime Shows That Will Warm Your Heart, we found a video about "20 Things Can't Be Seen Anywhere But in Japan" which is worth watching.
20 Things Can't Be Seen Anywhere But in Japan
16. ITOSHI NO MUCO 
This show basically revolves around a very cute and adorable looking dog who belongs to the Shiba Inu breed and her owner Komatsu. This story is actually based on a real-life dog who stays in Japan and has 175K Twitter followers.
The show has a very simple plot and storyline and is all about the day-to-day adventures of this dog and her master. The overall animation style of the show is very simple and cute, and often critics call it silly.
This show is entirely meant for children and their entertainment. But at the same time, any adult audience who is a manga or an anime fan can equally enjoy the cute and funny show.
Sources say that the shockingly maximum amount of the fanbase of this show are adults. This entire show is warm-hearted and definitely deserves to be watched at least once. It is one of the best cute anime shows of all time. 
17. TO LOVE RU
This show is a typical love-related show that is super cute and adorable and has some of the fanciest cute anime characters of all time. A large audience is attracted to this show for its extremely adorable cast and extremely cute storyline.
The show revolves around Rito Yuuki, who happens to be the main character and is the love interest of several other cute girls of the school, who must actually compete to win his love.
Some of the super cute girls who are in love with this character are Lala- an alien princess and Rito's fiance, Sairenji- Rito's childhood crush, Yui- the one who followers strict discipline and Shizu, who is a ghost girl. 
The plot develops in a more complicated manner in the later seasons where new girls are added to Rito's harem, which also includes the super cute alien sisters 'Momo and Nana' along with Rito's cousin Mikan, whom he himself had adopted.
Each episode of this show is overwhelming and has tons of cute instances that never fails to entertain and over when the audience of the show.
This is definitely one of the most fascinating and cute anime shows and is a must-watch for anybody who is an Anime and Manga fan.
18. ATTACK ON TITAN JUNIOR HIGH
It is really shocking how this dark and gritting show like Attack on Titan manages to find its way into the list of some of the cute anime series, but here we are not talking about the original series, but we are talking about the adaptation of the show where all the characters are in their tiny form and attend the same High School.
The entire show is super cute and adorable. It never fails to entertain its audience by bringing up super cute instances and extremely adorable characters. 
This show is nothing like the original series; instead, it is purely dedicated to humor and fun and is re-made for a different audience altogether.
In this show, we don't have the aggressive man-eating Titans, but we have the kind of Titans that actually steal other people's lunch and make it all fun and frolic for the audience to watch.
This show is definitely a must-watch for any Manga and anime fan and is one of the cutest cute anime shows of all time. 
19. DATE A LIVE 
This is one of the most famous cute anime shows of all time and literally never fails to disappoint any of its viewers because it offers a vast range of graceful visuals and has a very interesting storyline.
This show and the entire plot revolves around a large group of beautiful, cute, adorable, and good-looking girls who are called celestial spirits.
These girls, who are in form of celestial spirits, are responsible for creating spatial quakes that cause large-scale devastation on the planet, including heavy loss of human lives and human property.
it is said that the super cute and good-looking girls activate the particular quakes in the subconscious state of mind when they are angered or saddened by something or someone. 
Another character of the story, whose name is Itsuka Shidou, has a massive responsibility. This character's responsibility is to date all of these girls and keeps them happy and lively.
It is his responsibility to take care of their mood and keep them in a calm and peaceful mood because the moment any of these girls enter a bad or angered mode, the entire planet will be at a loss.
All of these girls are living with this male character in his house and gives the audience an ample amount of incredibly cute and adorable instances to enjoy.
The entire show is a romantic comedy and offers its audience tons of funny moments that will break the audience into sheer laughter. For any Manga or anime fan, this show is a must-watch, and this show is definitely one of the best cute anime shows of all time. 
20. SWEETNESS AND LIGHTNING
This show is one of the best and most popular shows as it has some of the cutest characters in Anime of all time.
The main character of the show, whose name is Tsumugi, stands out gracefully in the entire show with her crazy performance and her level of cuteness. She also stands out to be one of the cutest anime characters in the history of Manga and anime.
Tsumugi is the singer of the famous song called 'The better Shark' song. She is also the daughter of Kouhei Inuzuka, whose wife had unfortunately passed away. Due to this, Tsumugi is left solely in the care of Kouhei Inuzuka. 
Kouhei Inuzuka is a highly inexperienced man who does not have any cooking ability and is very busy with his teaching job. He barely gets any time to take care of his daughter and ends up buying her packaged food from the market.
Later on, the plot develops when one of his students, whose name is Kotori invites his daughter to his restaurant. Kouhei is positively overwhelmed by this invitation and agrees to take his daughter to the restaurant that belongs to his student.
Kotori's mother stays away most of the time due to her work and thus, he planned that the three of them will cook a beautiful homemade meal for Kouhei's daughter Tsumugi at the restaurant.
This entire show is a beautiful heartwarming tale of family, friendship, and food that is definitely bound to touch the soul of its viewers and bring a smile to their faces. This show is a must-watch for any Manga or anime lover and is one of the best and cutest anime shows of all time. 
21. K-ON !
Cute anime often offers different shows where very cute looking adorable girls sing in bands and create a very stylish and fun image of themselves for the viewers.
This show is another fine example of such an ideology where a bunch of cute girls are a part of a musical band and will entertain the show's audience with their graceful actions and intense music.
One of the characters of this show, whose name is Yui, has absolutely no particular knowledge regarding any sort of music before when she had stumbled into the Light Music club.
Nonetheless, this character, later on, is very much convinced that she should join this club and give her dreams a brilliant chance. The Other characters of this show are Ritsu, Mio, and Tsumugi.
All of these characters come together to create a band of their own and perform at the school festival. The plot progresses as Yui learns to play the guitar for the band. The entire journey of this show is super fun and musical.
This show is definitely a must-watch for any animal or Mangal Lava and is one of the best cute anime shows of all time. 
22. TAMAKO MARKET 
This show had first aired on the television of Japan on January 10th, 2013, and this is still known as one of the most fun and best cute anime shows of all time. The plot develops in a colorful shopping district located in Kyoto.
The main character is Tamako Kitashirakawa, and she is the daughter of a cobbler who happens to be the owner of his own shop. This girl comes across a pink color bird who can actually talk and introduces himself as Dera Mochimazzi.
From then on starts the magical adventure of this pink color talking bird and the daughter of the cobbler. This entire adventure also creates a whimsical impact on the residents of Usagiyama Shopping District as well as Tomako's school friends.
The show offers some very cute looking and adorable characters, which does absolute justice to the concept of kawaii. This show is definitely a must-watch for any anime and Manga lover and happens to be one of the cutest cute anime shows of all time. 
23. KARE KANO 
This is a Manga anime series by Masami Tsuda and is known to be one of the cutest cute anime shows of all time. The show depicts the romance between two characters, one of who is a perfect student called Yukino Miyazawa And the other his academic rival whose name is Soichiro Arima.
The show not only offers the relationship of this couple but also offers their relationship with all other friends of theirs.
Such kind of love stories are not new in the world of Anime, and it is a technique by which different kinds of serious topics like other types of love stories have been shown in a charming and adorable manner by this art form.
The entire show keeps on progressing with the progression of the relationship between these two characters and different instances that come up while the drama goes on.
All the characters of the show are super cute and adorable and are fine specimens of kawaii. This is a very light-hearted show which can bring a smile to its viewers' faces at one go with its cute instances and characters.
This show is definitely a must-watch for any anime or Manga lover and is one of the cutest cute anime shows of all time. 
Conclusion
The entire world of anime is known to be super dramatic, adventurous, enigmatic, and fun. It never fails to offer new adventures and new surprises to its viewers.
Every type of anime is fun to watch. With the modern contribution of science and technology, each anime is more advanced and fancier and it is very difficult to choose between them. All of them as characters are improving, look-wise, and skill-wise with every single show or series.  
As mentioned earlier, anime shows are some of the best cute anime shows that are available. In this context, it is very important to mention that each and every anime show belonging to the cute type is absolutely amazing and unique in its own way.
This list is made purely by keeping in mind the uniqueness of each show's features and storyline, along with the adorable looks of the characters of the show.
This list has no mention of any competition between them. Each and every cute anime show is as good as the other. Honestly, it has been very, very difficult to distinguish among them in terms of betterment.