Calendars are not much different from any other tool. Everyone needs one to plan their day, week, or month — stay-at-home parents, busy professionals, and dedicated school teachers all need to keep track of special events and tasks.
As the digital world has come into being, calendars have progressed to new forms. Calendaring software is cloud-based and enables people to access their schedules from computers, laptops, smartphones, and tablets.
One of the most popular calendar apps that people use is Google Calendar. It's a convenient go-to solution for scheduling events and setting reminders.  
The issue with this calendar app is that it also allows users to share their calendars privately with others or publicly through Google Calendar's website.
We've gathered the best Google Calendar alternatives so you can create a schedule that's right for you. Many people are uncomfortable with Google knowing their schedule and other personal information.
Fortunately, plenty of options still offer easy scheduling and synchronization — and they don't involve handing everything over to any third-party vendors. 
Why is the Calendar Important? 

 
Google Calendar has become a popular choice for many individuals, thanks to its easy-to-use design and the presence of add-ons.
Google Calendar is free, and its add-ons make it easy to see events in your inbox and manage time easily. However, it may not be the right tool for everyone — some users might prefer using a calendar in their email, for example.  
One of the most common user experience issues with Google Calendars is that, although it can be accessed in various places with an internet connection, it cannot be accessed without one.
For instance, if you're using your phone and leave your house without your laptop or data plan, you will not be able to use your calendar unless you remember to add events before leaving. 
Google Calendar is a great choice for users who have Google accounts but not those who don't. Although it has some flaws, such as being unable to send text alerts for each event, it is a sensible option for those who already use Google products or need a comprehensive calendar with plenty of features. 
Furthermore, the limited integrations offered by Google Calendar are often inconvenient. So, now, without further ado, let's look at some of the other options available in the market for you to choose from. 
Best Google Calendar Alternatives – Our Pick👌
This is a list of the best Google Calendar alternatives on the market. We put together this list of alternatives to help online marketers and small business owners decide when to choose the right product for their needs.
In addition, we explain why each website is one of the best Google Calendar alternatives and its key features.  
1. Microsoft Outlook Calendar – Top google calendar alternative
Microsoft Outlook Calendar provides a wide range of tools to help you manage your business and personal schedules. This online calendar is a great choice for anyone who wants an all-in-one solution that can sync with their devices.
Outlook's calendar is another best google calendar alternative. It is a multipurpose tool for managing all of your data from email, notes, to-dos, and contacts on a single platform.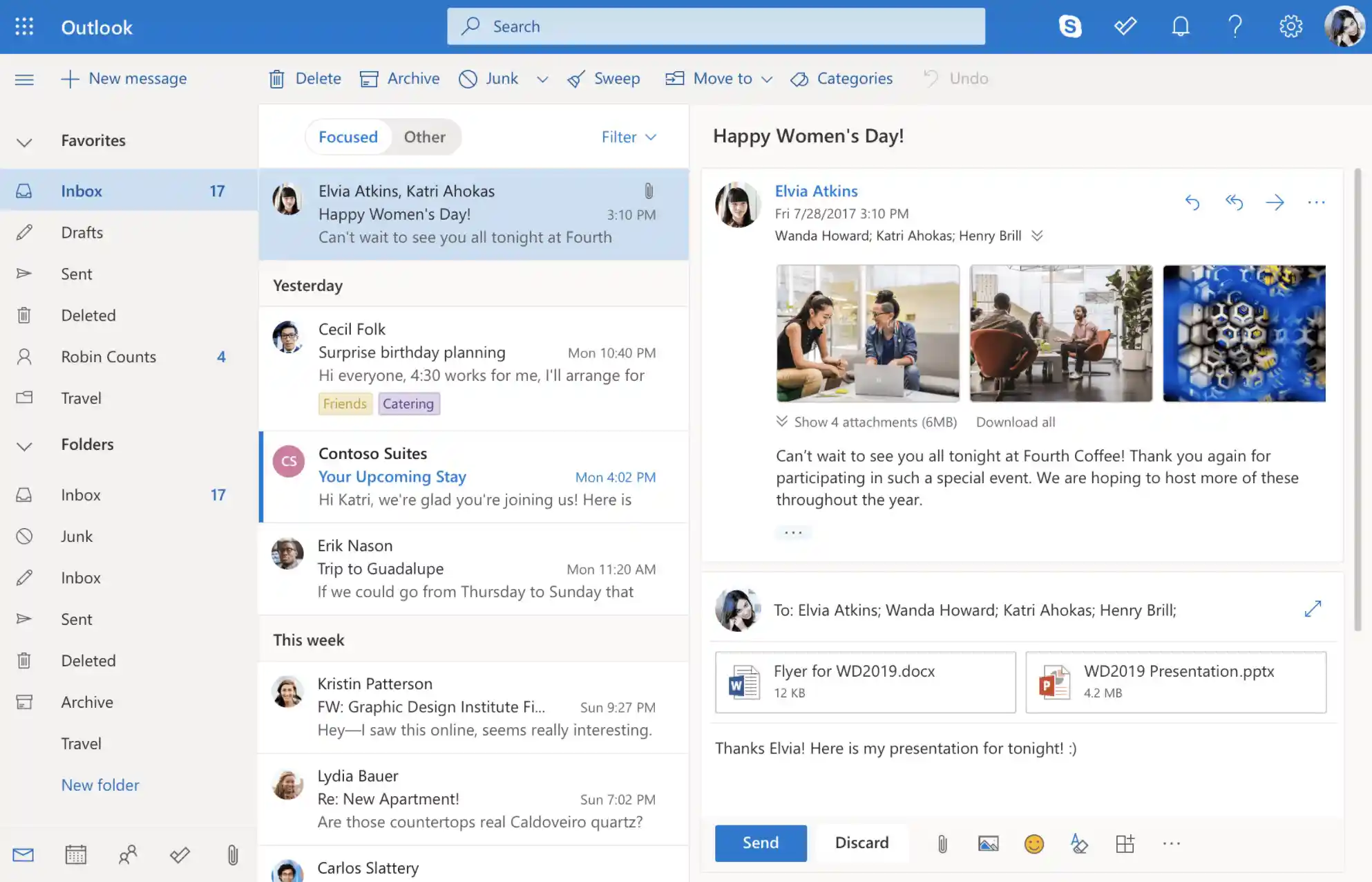 Its smart design offers a variety of customizable views, allowing you to stay organized on the go. In addition to its integrated mail service, it also boasts compatibility with Google Calendar and iOS devices.
Microsoft Outlook is a great tool for scheduling. You can view other people's calendars, you can even subscribe to their calendars, and you can easily add events with that large calendar interface. 
Top Tips to Manage Your Outlook Calendar 📅 (which are you using?)
Key Features:-
They can create events and appointments

 

Organize meetings

 

View group schedules

 

Ability to view multiple calendars simultaneously

 
Download the App on Google Play Store
Download the App on Apple App Store
2. Apple Calendar 
The Apple Calendar app is the best way to ensure you never miss a meeting or event with an easily navigable interface.
Automatically synced with your iPhone or iPad, you can have everyone's schedule at your fingertips. It also features support for iCloud, so your entries are backed up and available on the go!  
Apple's calendar is great because it's available on so many platforms and because the iCloud service makes it easy to sync calendar entries across devices.
For example, when you add holiday hours to the business calendar on your phone, they automatically show up in the web version of the calendar. And when your team member adds an appointment on their iPhone, it'll also appear in your email.  
How To Get The Most Out Of Apple Calendar
Key Features:-
It has options to add, modify or delete events easily

 

Set event alerts and notifications

 

Invite people to events

 

Auto Reply to initiations

 
3. Zoho Calendar

 
Zoho is an integrated business software suite that can help you manage your business or personal affairs in one easy-to-use package.
Zoho offers online calendar software to help you organize your appointments, meetings, and events in one place. This calendar works seamlessly with the rest of the Zoho applications to provide you with a holistic view of your business.
This Zoho calendar is another best google calendar alternative and is perfect for busy professionals or students who want to organize their time into manageable slots.
Introducing the all new unified Zoho Calendar!
It makes it easy to share your schedule with individuals or groups, download others' calendars, and sync with your Gmail account to create events that other users can edit.  
Key Features:-
They view and create events in various time zones

 

Embedded event description

 

Unified calendar view

 

Group calendar

 

Different themes to choose from

 

Ability to send and receive invitations

 
4. Mailfence

 
Mailfence users can feel comfortable knowing their emails are safe from third parties, and the Mailfence encryption protocols keep messages locked down. 
Mailfence lets you import your contacts from sources such as your device's address book, Google, Outlook.com, Yahoo Mail, and iCloud.
Mailfence integrates with many calendar applications, such as Google Calendar, Microsoft Outlook, Apple iCalendar, etc., to easily schedule meetings or send out event invitations.
You can use Mailfence on your mobile devices through a responsive web interface that makes it easier to send secure emails on the go. 
Key Features:-
Mailfence has a built-in Keystore to manage your OpenPGP encryption, making it easier to communicate securely with other people.

 

Mailfence allows encrypted messaging to those who don't use PGP.

 

Mailfence enables digitally signed emails using OpenPGP.

 

Mailfence integrates smoothly with Thunderbird and other email clients.

 

CalDAV, POP, SMTP, IMAP, CardDAV, ActiveSync support

 

Mailfence is highly customizable and can be tailored to any business. 

 
5. nTask 
nTask is a powerful project management tool designed to help teams and individuals organize and manage projects and activities and assign and track tasks.
Its flexible and expansive feature set makes it one of the market's most feature-rich project management tools — with tools that can be seamlessly integrated into Google Calendar.
nTask is an intuitive project-management tool that helps teams schedule, plan and manage projects and tasks. A flexible calendar view shows you what's coming up next, so you can adjust your plans accordingly.
It also features a meeting module for booking meeting rooms online and managing agendas, delegates, and time slots. 
Key Features:-
nTask can manage meetings.

 

Collaboration tools and Communication Tools

 

Meetings Reminder

 

due date and Deadline notifications

 

With nTask, you can schedule tasks ahead of time.

 

Integrations with third-party applications

 
Download the App on Google Play Store
Download the App on Apple App Store
6. Edo Agenda

 
Edo Agenda is an organizer designed to help you manage your tasks, notes, and calendar all in one place. The app offers a unique way of organizing your life by bringing together various aspects of your daily routine.
With Edo Agenda, you'll be able to schedule appointments, plan events, write down ideas on the go, and keep track of everything else in less time than ever before.
Edo Agenda is designed to work with any mobile or desktop device, whether you're browsing the web on your laptop or checking out your smartphone.
Its minimalistic user interface makes it easy to access any feature at any time. It's also optimized for cross-platform compatibility, so you can access the app if you're using iOS or Android.  
Key Features:-
Edo Agenda is a great organizer that allows you to schedule events, activities, and reminders

 

Edo Agenda collects meeting notes and manages projects

 

It also creates alarms and checklists

 

Organize and Capture  notes and ideas

 
Download the App on Google Play Store
Download the App on Apple App Store
7. DigiCal Calendar Agenda

 
DigiCal is the only calendar app you will ever need. Its beautiful and simple interface provides you with a wide range of view options — from month to agenda — it's completely up to you!
DigiCal also offers an integrated weather forecast with beautifully designed cards that can be placed onto any view in the app.
DigiCal is a flawless daily schedule for those on the go. It's hard to switch from Google Calendar to an alternative product, but with apps like DigiCal, it's easier.
Syncing with Google Calendar, Outlook, Exchange, and Apple's iCloud, it's easy to keep all your data in one place. 
Key Features:-
Supports seven agenda views

 

Six customizable calendar widgets to choose from

 

DigiCal provides easy access to detailed weather forecasts.

 

DigiCal has the ability to color-code events.

 

Built-in location search

 

Notification options

 
Download the App on Google Play Store
8. CalenGoo 
CalenGoo is another best Google Calendar alternative. It is a modern calendar app that lets you easily access your calendars. Its ability to sync with Google Calendar makes it easy for you to view your calendars online, offline, and on the go.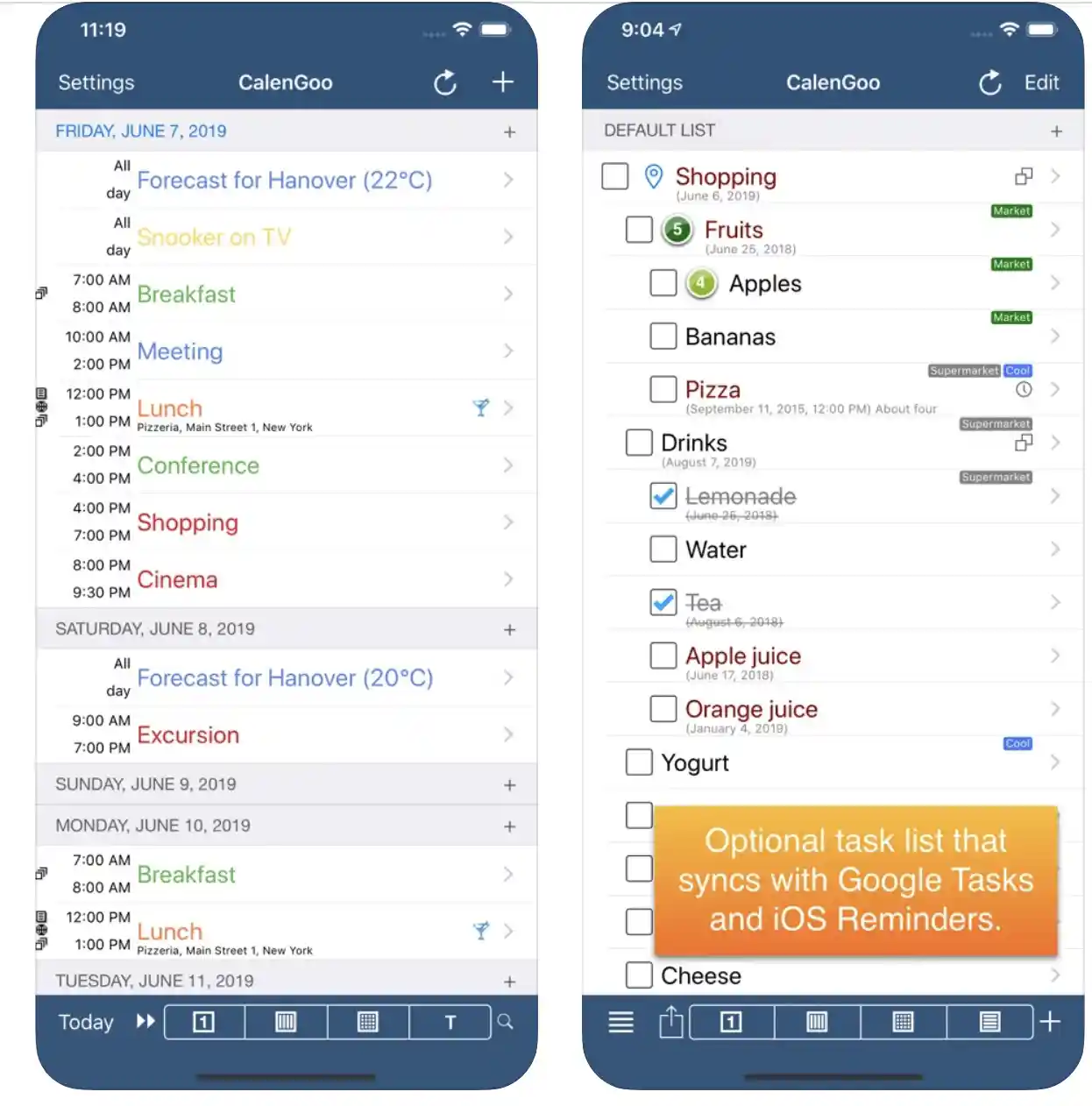 Initial testers have given the app rave reviews — with a sleek design and robust features that are useful at home or in the office, CalenGoo is suitable for extensive at-home use or long meetings at work. 
Calen Goo is more than a calendar app. It's for anyone who needs to stay on top of events, whether working on a project, planning a trip, or simply wanting to remember a birthday.
An iCloud-synced app with a familiar theme for Mac users, Calen Goo lets you add reminders and events to Google Calendar and iCloud Calendar. 
Download App on Google Play Store
Download App on Apple App Store
9. Jorte 
Jorte is the best calendar app that allows you to change the app in your way. The best part about Jorte is that it's designed for modern and digital lifestyles — with the ability to track meetings and events, Jorte makes sure you're always prepared and in the know.
The Jorte Calendar is the ultimate planner for personal and professional productivity. Customizable tasks, reminders, and notes make it easy to keep on top of deadlines, while the weather widget gives you a glance at the day's forecast.
Integration with news websites lets you easily link to relevant content around the web, while the customizable theme lets you throw in your design elements to stay up-to-date on current trends. 
Key Features:-
Sharing abilities

 

Create widget on Android devices

 

Record pictures and thoughts

 
Download the App on Google Play Store
Download the App on Apple App Store
10. Teamup Calendar 
If you're looking for a customizable and easy-to-use calendar, check out Teamup. Streamline team communication with this simple calendar app. You can share calendars according to individual preferences and get real-time notifications on updates.
Easily update and check off tasks and events and sync changes across the team. Teamup Calendar is a free, cloud-based scheduling tool allowing your team to manage events and resources from a centralized calendar.
Unlike Google Calendar, Teamup's platform is simple and accessible from any device. Its core features include reserving resources or event rooms, backing up your real-time data, and staying in sync with a dedicated mobile app. 
Key Features:-
Collaboration tools

 

It manages communication

 

It also has the Task management features

 

Group scheduling

 

Scheduling Employee 

 

Leave tracking

 
Download the App on Google Play Store
Download the App on Apple App Store
11. Business Calendar 
Business Calendar is a powerful google calendar alternative that lets you manage your business from one centralized calendar.
With integrations for popular business applications, you can sync your schedules from Salesforce, G-Suite, and more and view tasks from Todoist and file updates from Dropbox.
Using Business Calendar's advanced features, you can share your schedule with your team and customers via email or SMS, helping you efficiently organize all your meetings.
Business Calendar is a comprehensive business planner that integrates schedules, contact information, and other important business data into a single platform, allowing business owners to manage their work and life more effectively.
With its ability to auto-schedule follow-ups and recurring meetings, automatically create tasks for meetings and events, and more — it's no surprise that Business Calendar consistently ranks as one of the best project management plans on the market.  
Key Features:-
Smooth scroll 

 

Quick day view

 

Favorite bar

 

Google Task Syncing

 

Switching Easily Between Timeline Bars

 

View the Month, Day, and Events

 
Download the App on Google Play Store
12. Fantastical  
Fantastical gives you a comprehensive view of your tasks, events, reminders, and contacts in one place. Its native Calendar and Contacts integration can take care of all your scheduled events in one database.
For an enhanced productivity experience, the app allows you to add events easily from within other apps by typing in natural language. Fantastical has an intuitive design that makes adding, editing, and deleting events a breeze.
Fantastical - The Best Calendar and Tasks App You'll Ever Use
It sends reminders to your iPhone, iPad, or Apple Watch to ensure you don't miss any of your appointments, meetings, or deadlines.
Customers can even sync with their Outlook or Google Calendar accounts to get their information in one place. 
Key Features:-
Collaboration tools

 

Task management

 

Third-party integrations

 

Address book

 

Appointment scheduling

 

Availability management

 

Calendar sync

 

Customizable templates

 

Email invitations and reminders

 
Download the App on Apple App Store
13. TimeBlocks – Best alternative to google calendar for easy scheduling
TimeBlocks help you manage your time, plan your day, and focus confidently. It combines the functions of a calendar and to-do list into one intuitive tool that improves how you manage your daily tasks, set realistic goals, and achieve personal milestones.
Since TimeBlocks are available on all your devices, you can stay on top of projects at work or home without missing any important dates or deadlines. 
TimeBlock is a user-friendly and visually appealing tool that streamlines time management and helps you spend your time more efficiently — organizing your schedule intuitively and flexibly and removing the need for extra tools, such as separate calendars.  
Key Features:-
Drag and drop schedule-changing abilities

 

Quick type page schedule writing

 
Download the App on Google Play Store
Download the App on Apple App Store
14. Dollarbird – Google calendar alternative For Personal Finance
Dollarbird is an app that allows you to do all your financial planning, budgeting, and management with the people who matter most. 
With powerful artificial intelligence and machine learning algorithms, Dollarbird understands your financial preferences and patterns — making it easy for you to understand and achieve your financial goals.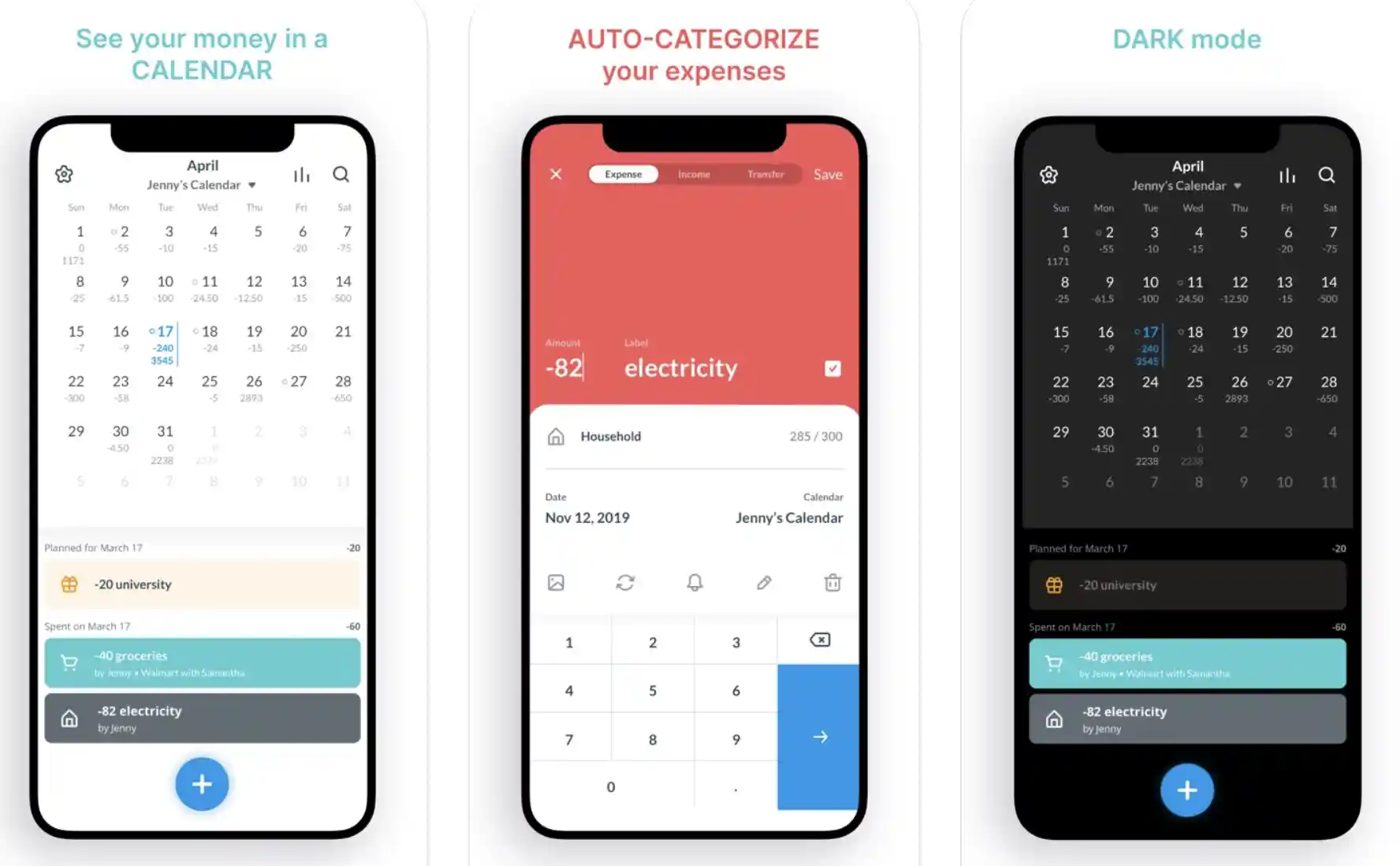 Dollarbird has the tools necessary to take over your finances, but it also understands how to help you accomplish your personal goals.
Users can categorize their expenses with one tap, saving them the time and energy they'd otherwise spend pouring over their bank statements.  
Key Features:-
Cloud to store information

 

Collaborate with friends 

 

Maximum flexibility

 

Share accounts

 
Download the App on Google Play Store
Download the App on Apple App Store
15. Etar – Open source google calendar alternative
Etar is an open-source calendar app based on the Android Open Source Project, developed with a focus on enhanced usability for modern displays.
It includes many features you would expect in a calendar app, including customizable views, color-coded events, reminders, recurrences, and more. 
Etar Calendar is an impressive alternative to Google Calendar with its wide range of features designed to optimize your work productivity. 
Etar Calendar can be integrated into any calendar app that utilizes the CalDAV protocol, allowing users to seamlessly transition from Google Calendar after setting up their new online calendar. 
Key Features:-
Uses Android calendar sync

 

Open Source

 

Agenda widget

 

Dark and light theme

 

Month View

 

Week view

 

Day or agenda view

 
Download the App on Google Play Store
16. CalendarZ 
CalendarZ is an app available on Android and iOS and is another best google calendar alternative. It is very advanced, with features like meeting reminders, missed call alerts, and Google Calendar sync.
It is a simple, easy-to-use calendar app that allows for customization. No more forgetting important dates and events — with a full range of colors and fonts available, you'll be able to make your events stand out from the crowd.
When you need to collaborate with coworkers on an event, CalendarZ's collaboration tools make it easy to keep everyone up-to-date on any changes. CalendarZ is an appointment scheduling platform for busy professionals.
With its effortless integration with existing calendars, the app lets users create, send, and accept meetings directly from their email inbox. Its simple interface allows users to create meetings with just one click. 
Key Feature:-
Schedule management

 

Integrated reminder system

 

All events Display 

 

Adjust everything Automatically

 

Landscape mode Display

 

Customization

 
Download the App on Apple App Store
17. WAVE Social Content Calendar 
WAVE Calendar is a free-to-use, beautifully designed calendar app. Its unique design allows you to create tasks for your events, starring the events you care about most and sharing them on social media.
With the WAVE Calendar, you'll never be late for anything again. Wave Calendar is a super easy-to-use and feature-packed calendar app, including a planner, schedule organizer, time tracker, and more.
It can show multimedia attachments such as pictures, videos, and documents to appointments and allows you to add multiple calendars to display side by side. 
Key Features:-
task management

 

reminders

 

display event

 

notification alert 

Wave Calendar has beautiful widgets

 
18. Time Tree 
Another one on the list of Google Calendar Alternatives is the Time Tree calendar app. TimeTree allows you to create different groups on your calendar, sharing only the events you're interested in.
It's an essential app for people with busy schedules, ensuring they never miss out on anything. 
With an easy-to-use interface, TimeTree makes it easy to invite people from various groups along with colors and the ability to provide a range of alerts.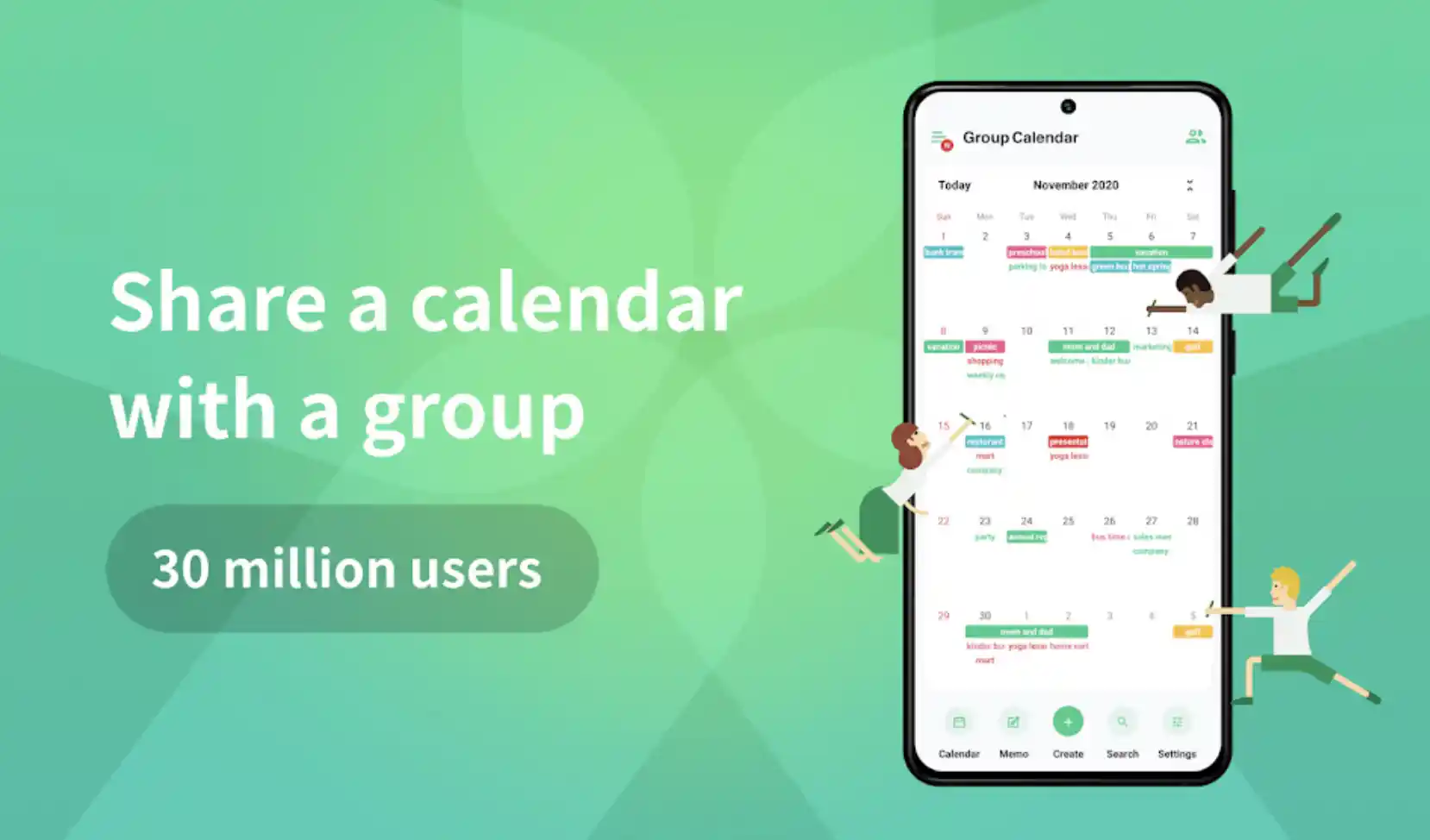 The TimeTree app keeps everything organized with handy features for anyone who juggles family, friends, and work. Users can create different event calendars to separate workplace events, personal appointments, and social activities.
The TimeTree app allows you to create Memos for all your thoughts. It's easy to share them with others, too! Create shopping lists, to-do lists, and more. It's up to you how you use them!  
Key Features:-
Scheduling and Shared Calendar

 

Calendar for multiple events

 

Shared lists and notes

 

Works on Mobile devices, PC, and widgets

 
Download the App on Google Play Store
Download the App on Apple App Store
✅FAQ
What is the best alternative to Google Calendar?
The top Google Calendar alternatives are Cal, TimeTree, TimeBlocks, Digical, Business Calendar 2, Jorte, Microsoft Calendar, Fantastical 2, etc.
What is the Microsoft equivalent of Google Calendar?
Outlook is the Microsoft equivalent to Google Calendar. Picking one from both will be based on the features you are looking for.
The best shareable calendar apps include Calendly, Teamup, Asana, Toggl Plan, etc. You can use Calendly to schedule meetings free from back-and-forth emailing. Asana can be used as a project management app.
Is there a free Google Calendar?
Google Calendar is a free calendar app that can be used for personal work. It will help you manage your time effectively.
What is the easiest calendar to use?
Google Calendar is one of the widely used apps for scheduling work. More than 500 million Gmail users find this a vital tool for their work management. It is available for Android and iOS and also has a desktop version.
What is better, Apple Calendar or Google Calendar?
Google calendar wins the battle when it comes to functionality and features. You can import an Apple calendar using Google's smart tools and integration capabilities.
Is Outlook calendar any good?
Outlook Calendar is a powerful tool and is free. The reliable customer support from Microsoft makes it an excellent choice for the average user.
Conclusion on google calendar alternative
Look no further! We've put together a list of Google Calendar alternatives to help you find the perfect calendar for you. Whether you are simply seeking an app for your personal use or seeking one to help manage a team of professionals, we have got you covered.
We know everyone has different needs and preferences, and we want to ensure you find the right match for your business needs and your team's work styles.