Did you get lost? That should not be happening in the 21st century. With all the data and tools available on the internet, it is simply unacceptable. This post will help you to find the Best GPS apps for Android.
If you are using an Android phone, you have more than enough resources to find your way to any part of the world. Of course, there are remote areas that may not be covered yet; but still, you can't afford to go blindly.
There is no new place meaning you won't go anywhere no one has ever been. If someone has been there then there must be data about the place. If not photos, a description. GPS App for Android is the answer.
Previously, reading a map and using compass directions was an admirable skill. It still is but not as relevant as it were.
Technology is revolutionizing every field and navigation is not immune to this. You carry your compass but don't forget to charge your Android phone.
The platform has multiple GPS apps that give you more than the sixteen-compass direction points. GPS apps on Android are elaborate and accurate.
The features are improving by day; the apps help you identify specific points. Besides sceneries and popular places wherever you are, malls, food points, gas stations, hospitals among other basic facilities are highlighted on the apps. You are simply safe with Android GPS apps.
No network coverage?
Not a problem. If you are deep in the desert or in a foreign country with expensive data roaming charges, you can use the app offline. Yes, you can download a specific map of your destination or base on your intended itinerary ahead of your travel.
You will miss nothing on the app while offline; all online features including voice will be available. While the apps offer the same services, there are wide variations on the basis of features.
Respective developers have unique creative levels that make each unique and suitable for different needs.
Best GPS Apps For Android: Our Top Pick 👌👌
1. Google Maps
Obviously, this was to come first. The app deserves attention, it is effective and efficient; whenever top apps on Android are being listed, Google maps will feature, every time; irrespective of the ranking criteria.
On navigation, it is the best. It has a full range of features that allow you to maneuver your dream destination while miles away.
Most people use it online, and it is efficient this way but that doesn't mean you can't use it in poor or no network coverage.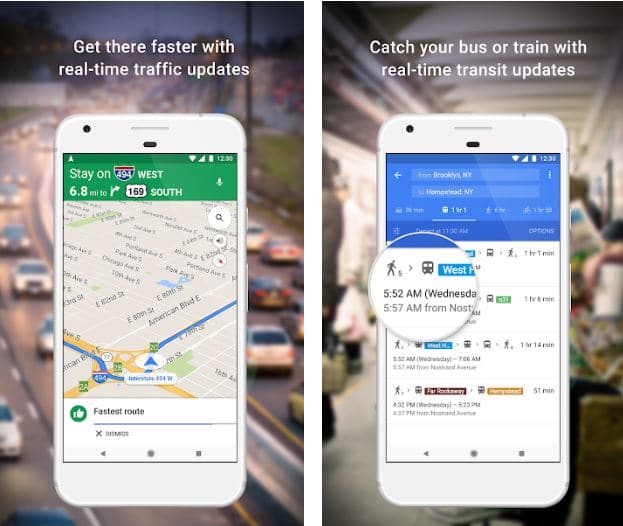 However, you need to customize the settings and navigate to special features to make sure all the features will be working when you get deep in the forest or desert.
You say you might not need a map in such an environment but it is everything you need.
Forest or desert has no landmarks, you will need more than the four or sixteen compass directions to get to your desired spots. Google maps are richer than you think.
To prepare for offline use; go to settings, a custom area then drags the window to a specific place on the map you wish to download. Usually, your local area is saved on the map; it updates whenever you are online.
The saved maps can easily be viewed on settings>Your offline areas.
Note: the App deletes offline maps after 30 days; you might want to download maps you need on the specific day of departure. Also, there is a storage limit of 2GB. Work your way around this by only saving the necessary places.
Top 10 tips for using Google Maps
Note:-
I have written a post for people looking for the
Text to speech apps
?, do read it If you are interested.
It is free to download this on your Android. You don't have to stick to Google products. This is equally efficient and effective. There are no hidden charges for this app, once you download it you are free to use the maps for as long as you wish.
The app is unique; there is no online option. This makes it ideal for all your GPS needs, whether you are in New York City with all the internet stability or deep in Amazon, this will be effective.
Downloading and installing the app is preceded by an automatic download of more than 200 maps of individual countries.
If you have space and want to explore the world on your phone, you can download all these maps. But you can opt to identify specifics and get them ready for your trip.
The maps are organized; you won't be confused. There is no standard of map categories, some are exclusively countries while some are in smaller regions; it depends on the population of a place.
It is easy to use. When in need of the map you downloaded, launch the app, and tap on Navigate.
The offline map will launch with all the data of that place. Enhanced features on the navigation include route simulation, route replays, and a live odometer. Yes, they work offline.
The app is a great trip planner. It gives you at least three route options where you have to choose the best based on your preference, whether it is an adventure, speed, or comfort. Each route has numerous waypoints for you to explore.
CoPilot - Built for Drivers
Besides, you can access hotels and restaurants while offline. The best part is you have a seven-day free trial for premium features that include 3D maps.
OsmAnd Maps & Navigation is next on our list of GPS apps for Android smartphones. If you are searching for a sublime navigation app, then it is this one. We felt that it is a reliable app that may be found for the Android platform.
The name does sound pretty awkward, and before you have second thoughts, you may want to read through this review. Why is that? One look at it, and you see how elegantly the display of the app is.
The best factor in that is, it comes for free. You do not have to shell out money for using top-notch services. When you plan to use this app in a single country, then this app is definitely worth trying.
You can need to use the pro version for just $6 and manage the features that you need for using one country. Of course, when aboard, you may want to monitor your downloads. Please avoid unwanted downloads; otherwise, you have to pay more.
The notable feature of the app is that you can use the navigation app offline too. We found it to work sublimely. Using minimum usage, you can find your way through the town, city, or even a rural area.
We strongly recommend this app for areas where the signals are weak. It could easily keep track of them seamlessly. Unfortunately, if you do not have a strong internet connection, then downloading can be strenuous.
The audio and visual support is excellent for walking, cycling, and hiking. You can find the best public mode of transport around the country using the app. Before we forget, this is an open-source app, and you can welcome to contribute if you can.
In fact, you may want to download it when going to sleep. It takes a painfully long time to do so. Having considered all that, this is an excellent offline GPS app for android devices. It works fantastic, and the features are unparalleled.
Best GPS Navigation App? (OsmAnd Review)
Sygic is another awesome navigation app for your device. You would be stunned to know that the app comes with more than 40 million downloads. Now, that is something to take pride in. The tool offers you downloaded maps when the internet is not strong.
You can find stable features, including voice-guided directions, turn-by-turn details, and the other routes if you need them. The speed is also displayed if you need them. However, when your requirements increase, then you might want to use the premium mode.
It comes for less than $14 or $17.99. Using the latter premium version, you can also make use of real-time traffic information. This is extremely useful when you are in a hurry to go somewhere.
There is one more subscription offering you intense features that regular users might want to purchase. However, we may not recommend it to you. Some of the features that come on the paid version are HUD mode, dashcam record, route adjustment, and others.
This is suitable for drivers or delivery individuals who need them for a living. Those of you who travel weekly or monthly once can use the free or $14 premium method. It may not be a Google Maps alternative but is capable of doing so.
Sygic GPS Navigation - Global Navigation App
These GPS apps for Android smartphones should be on your list if you are looking for a Google Maps version for your travels. Sygic cannot be compared to Google Maps, but it definitely is a second to none navigation tool.
Though some users felt that it is slightly outdated, we did not feel the same. The features are unrivaled; the app works like a charm when the internet blinks, giving you a robust app to use in the country.
Polaris GPS is another sublime navigation tool. Using the GPS app, you can make use of the free and paid mode. The free method is suitable but comes with plenty of advertisements, which can be not very pleasant, to say the least.
The paid version is decent and comes with a few transcendent features. Many users have felt that free mode is sufficient for their travels. Let us delve into the app and find out more. Polaris navigation app is not your Google Maps high-end app, but very close.
This app is meant for outdoor kinds of people. In a sense, when you like going on a hike, cycle in the woods, or deep into the forest, then Polaris comes to mind. Of course, you do not want to end up getting lost and having your family search for you.
The GPS apps for Android smartphone is an excellent option for hunting, sailing, and fishing features and maps. It comes with a sensor data and compass tool. This enables you to stay close to civilization.
A notable feature of this tool is that you can access Google Maps, MapQuest Maps, and Cycle Route Maps. As you can see, everything is loaded in here. All you need to do is download it and hit the road.
We also liked the trail recording, multiple coordinate formats, waypoint management system, and turn-by-turn directions. Polaris GPS is for those of you who want to feel that adrenaline rush during your weekends.
If that is you, then you will want to know that your companion is right here. Some users felt that it is outdated, but we thought that it works sublimely.
This is one app that genuinely tries hard to give you what you want: an all-rounder of a navigation tool that provides you with everything.
7. Maps.Me
Maps.Me is next up on our discussion for GPS apps for Android smartphones. The app provides you with an offline GPS map service for use on your device. We are amazed at the sheer number of offline navigation and maps.
You can download maps as and when you need them. For example, if you are cycling, walking, or driving along the road. This is free; however, you have to bear with the abundance of advertisements that come in the way.
You will be glad to know that the navigation app has taken data from Wikipedia. It means your data is accurate and consistent with current affairs. The location and areas are mostly correct, unlike some maps.
We were astounded by the in-built suggested itineraries. The app works well, ensuring that you find your way around without having to pay for anything. Many users have recommended the app, and it should be on your travel guide.
The navigation tool comes with a barrage of offline features, including updated maps, turn-by-turn directions through OpenStreetMap. You can find offline searching, bookmarking locations, and global support.
Maps.Me is a magnificent GPS app that should work most of the time. Users have complained of a few issues, but that is alright for an app that requires no money. It comes with no in-app purchases and exceptional features, making it an ideal option for your travel.
HERE WeGo is an app that is developed by Here Apps. It is ideal for those of you searching for an app that finds the shortest route in cities. You can see a detailed map of what you are searching for like public transport.
The GPS apps for Android smartphones enable you to book a cab from your location and find the best route for your destination. We found that the route planning features in this navigation app are exceptional.
You can find the best route for various modes of transport like bike route, hiking, and trekking. The public transport guidance system in the GPS app is flawless. We also felt that the tool comes with an intense collection of offline maps.
You will be delighted to know that the app comes with a list of more than 100 countries having maps that can be downloaded. Travelers can also find details about more than 1000 cities. The user interface is excellent and easy to operate.
HERE WeGo Maps is the unrivaled app that helps you find your way anywhere in the world. Those of you who travel a lot might want to consider having it. It can show you traffic details, public transit maps, customized by saving places, and it comes for free.
9. Handy GPS
Finally, we bring to you Handy GPS. This is a sublime navigation app, which can help to find your way around. The GPS apps for android smartphones come in three modes. One is the free mode, where you can work on offline maps.
But standard features are provided like updated information on the locality, direction you need to travel, speed, and so on.
These details can be saved on your android device if you want to. Besides, you can record the data of your journey so that you can verify it later on, in case you do get lost somewhere in the middle of the woods.
We liked the GPS satellite feature in this app because it works accurately. There is also a subscription model and premium mode that requires you to pay for it.
But the features are top-notch. They are something that you can consider utilizing if you are a frequent traveler beyond the woods.
We highly recommend the app for hiking, camping, cycling, and surveying. The features of this second-to-none tool are smashing. You can take a walk in the woods with your eyes closed using the app, thanks to its peerless network signals.
Handy GPS is one of the best navigation tools that you can come across today in the market. However, we felt that it might not be everybody's cup of tea. When you are particular about using a GPS app, then it is alright.
📗FAQs on GPS Apps For Android
(Q) Where are the GPA apps for Android smartphones got?
The GPA apps for Android smartphones can be obtained from the play store. These tools can be downloaded from there.
(Q) Are these apps safe to use on my android smartphone?
The apps are developed by major designers who are of good repute. Some of the tools mentioned in the list are free and open source. With plenty of community support and decent customer care, you can be assured of downloading a safe and powerful app.
(Q) Do these apps take a lot of storage space?
The makers have smartly designed them such that they do not occupy more space. You do not have to be concerned if your smartphone has less storage space.
(Q) Can the apps work in poor signal or connectivity regions?
Most of the GPS apps for android smartphones should work in low connectivity areas. But, not all of them can work or provide you with accurate information when that is the case. You might want to verify that before you download the app.
(Q) I want to save the area maps on my smartphone. Can I do that?
The area maps can be saved without any problem. You may want to use the GPS navigation apps that let you keep the maps of the area.
Conclusion
We have ended our discussion on some of the first-rate GPA apps for Android smartphones. If you own one, then we hope that your search ended well. But, as always, we encourage you to spend some time online to find the best GPS app for your requirement.
You see, unlike other apps, navigation apps can either make or break your journey. We do not want anybody to get lost. If you are based in a rural or locality with poor connectivity, then you may want to choose a powerful navigation app.
Likewise, if you are based in a congested apartment or city, then you can choose something like OsmAnd Maps & Navigation and Sygic. These two make it to the top of our list on GPS apps. However, you can have your own favorite, depending on your navigation.
Have you used any of the GPS apps for Android smartphones on the list already? How was your experience using the app? Do let you know about it because we want to hear all about it from you. All of the GPS Apps are useful but only if your smartphone is on; keep your battery charged!