Hey, Hologram lovers, are you looking for hologram apps that give you funny and futuristic pictures? Well, creating 3D holograms is comfortable with hologram apps these days.
You can see different functionalities in all the apps. Such apps are the ones that edit your pictures and offer you many photo editing options. These apps give a creative look to your images.
Using such apps, you can create funny pictures and surprise your relatives and friends. One can even edit videos in it. So, there are a lot of apps available for various purposes. Few apps allow you to see the original Hologram on your apple store and android device. 
In this era, we get through many innovative technologies that make our life easy and enjoyable. It gives a source of entertainment to all generations. The best part about these apps is they turn your mobile into a 3D projector.
Believe us, and you can impress people around you with these apps. Experience an entirely new adventure with these apps and something new to satisfy your adventure cravings.
Holograms can be adventurous as they have different themes in different apps. You can get various features to explore and enjoy with your friends and relatives.
Hologram apps are the new trend in youth and different age groups. People are doing crazy things with these apps.
You must be wondering how they are used and what kinds of available apps. Let us tell you everything about it in detail.
Best Hologram Apps – Our Top Pick 👌👌
Let us take you through a few best Android and Apple Store apps.
1. Assemblr – Hologram apps To Make 3D, Images & Text, Show in AR!
It is a beautiful app that helps you to create AR and 3D photos on your iOS and Android devices. With this app, you can make an augmented reality.
Its unique Augmented Reality (AR) technology creates impressive 3D graphics representing texts, images, and videos within a few minutes.
It also allows you to create posters that will give you 3D effects. 
BUILD 3D AND AR ON MOBILE PHONE! : Assemblr
It lets you make flyers, catalogs, picture books, packages, greeting cards, business cards, etc. An exciting part about this app is you can create a distinctive hologram by pulling an image from your gallery.
You must insert pictures, videos, or texts and make impressive holograms. 
If you wonder if it would be difficult, then you are wrong. It is effortless for beginners who can make incredible things. It is a one-stop content creation platform to match and fulfill all your needs regarding holograms.
If you are into the picture books or packaging industry, you must go for it. It possesses various features and is useful in many different ways.
You can save time by picking the best things from the 3D collection. It is such an easy-peasy tool that you would not require any tutorial for it.
It is for fun and your educational projects, teaching aid, textbook, and presentations.
Assemblr has excellent customer service, and if you face any problem or query, drop them a message on the Play store, and they will resolve it happily.
2. Hologram Ghost 3D Simulator
Yes, the name itself reveals its feature. Are you a ghost lover or scared of ghosts? If you love zombies, then that's fantastic. Here, let us take you through the features of this tremendous ghost-related Hologram app.
Spirits are something that many of us fear, and many are fond of it. It gives goosebumps if you even hear of it. Here is a chance when you can look at the ghosts. 
This Hologram Ghost 3D Simulator gives you a simulation of ghosts from your mobile device. If you are willing to scare your friends, you can do that with this app. It is perfect for playing a prank with your known ones.
You must let this app use your camera to project the holograms for real effects. It has a variety of features to explore.
This scary app can also be used as a theme popper at Halloween parties. Enjoy your evenings and get-togethers with these apps. 
3. Neon Hologram Tech Theme
Do you love dark colors or bright colors? If you like bright colors, this app is excellent for you.
It is easy to use the app with more than 50000+ downloads. As the name reflects, this app is famous for neon and dark colors.
When you download this app on your mobile device, you get many icons and dark color wallpaper themes to make your phone look lovely. It makes you excited to see such items in it.
You must download the CM launcher to open any theme in this app. It makes your themes compatible with your phone.
In this app, you get cool themes that can be a trendsetter at your parties and make you look cool with new and trending effects.
You must download this app to enjoy more fun with friends and relatives. 
4. Kitten 3D Simulator-Hologram – 3d hologram apps
Kitten 3D simulator is an exciting, free, and easy-to-use app. It is great for iPhone and Play Store users.
The 3D simulator is a nice hologram app to use. It has an excellent user interface that assists you in creating funny holograms on your mobile device. 
This app is designed for entertainment purposes and provides no authentic holograms. The 3D simulator gives your camera a realistic effect, which makes your life more exciting and funnier with your loved ones.
It is an excellent app; you can browse it like a pet cat on your device. It is adorable and exciting to play with it. 
It is light to use and download. The Kitten 3D hologram app has over 1,000,000+ downloads and is quite small.
5. HoloCam – Best hologram app for android
It is a great Android and iOS user app that allows you to create GIFs, emojis, text, and many more things. You can take photos and videos and share them with your friends.
Are you wondering what's in for you in this? There is no money involved in using this app, and quite easy to use as well. Now, creating funny holograms is a simple task. 
If you love animation work, this app will work wonders for you. With this app, you can create and bring your animated objects to reality.
The images and videos can be recorded in portrait and landscape modes. Share your creations with your friends and family on your social networks if you feel excited.
6. Hologram Dino Park Simulator
Dino Park Simulator hologram app is free for all users on Android and iOS devices. This app is created for entertainment only. It does not give any genuine holograms.
Dino Park is a simulator that gives you a realistic experience; however, it does not confine to any real authenticity. You can play this simulation game on your phone as it gives you a 3D hologram dinosaur. 
Your phone's camera will help you capture images for better use, so you must enable it. You will get three types of dinosaurs in this game: Raptor, Velociraptor, and Tyrannosaurus.
It also gives sound effects that give you real dinosaur sound on your device. 
7. Hologram Pet 3D Simulator
The hologram pet 3D simulator app is a mobile-friendly app. It is made for enjoyment and fun with friends and relatives.
If you are an animal lover, it will work wonders for you. Many people are fond of animals and often keep them as pets. Animals are worth keeping as they love the way no one can. Many prefer dogs and cats.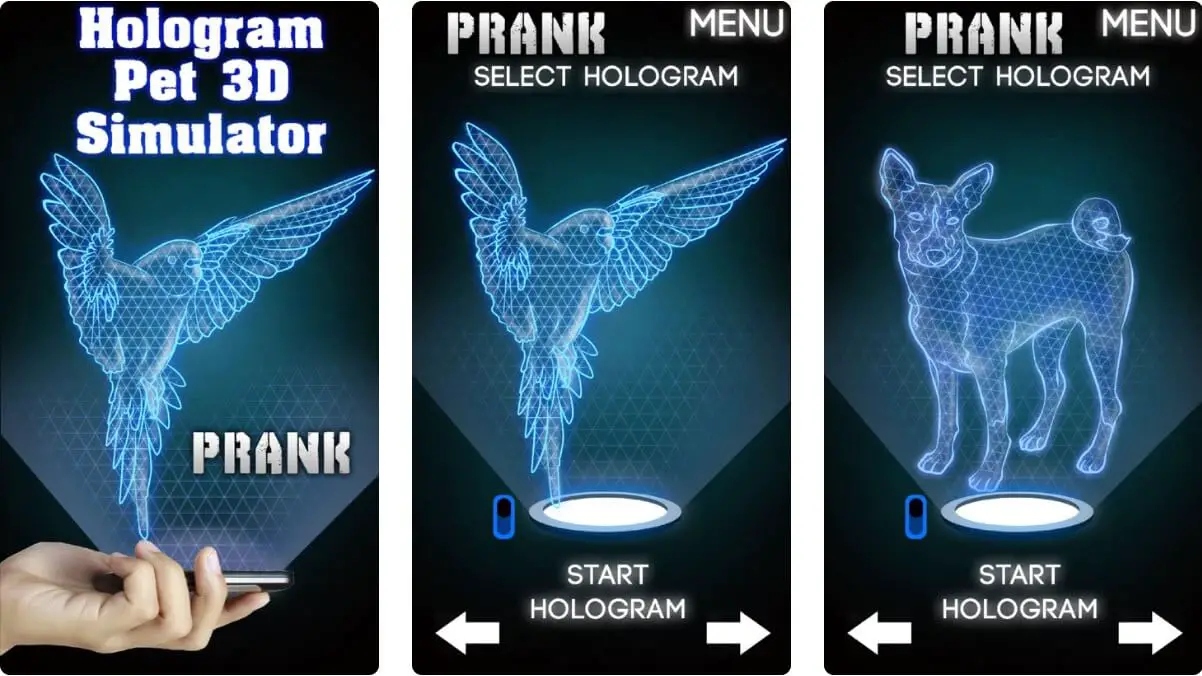 This hologram app is designed to give a pet hologram. It is only for entertainment purposes and does not provide any real holograms. Or, a scenario where you love animals but do not have any pets.
Then, in that case, download this app as it will give you a fake animation of your pets, and you can have fun with it. It will help satisfy your want for pets and make your life entertaining.
It is a simulator that will give you holograms of your choice in pets and have many features to explore. Now, you can download this app and enjoy the simulation of many pets.
8. Hologram Viewer
It is an excellent hologram app for iOS users, and you can use it for free. It is easy to customize this app and share fantastic personalized holograms with people around you.
One can even browse this app as an animation app that gives you many retro-futuristic animated designs. It has excellent animations for perfect animations for any occasion like a birthday or festivities.
It allows adding a greeting or custom message to appear along with Hologram.
9. Hologram Neon Keyboard Theme
With this exciting app, you can make your phone's keyboard look attractive. It is such a new and unique theme that one can easily fall in love with it.
You can download the Hologram Neon Keyboard Theme app for free, and when you download this, it acquires less space and will be helpful to download. The best part about this app is it is available in many languages. 
Hologram Neon Keyboard Theme is not restricted to English or Hindi but comes in many languages. One can customize your picture by adding them to it.
Neon Keyboard theme works great if you install the Kika keyboard before using it. Kika keyboard supports its usage and makes it compatible to use.
The neon light that comes out of it makes it more attractive to use. So, be ready and download it for fun.
10. Hologram Viewer Video
It is an app with an excellent user interface. The hologram viewer facilitates you with many functions.
It is developed for android users only. Those who find Hologram an exciting feature can then download this app.
It is an excellent use for entertainment purposes. One can convert the images of your choice into a hologram effect. 
You can view your images in the Holographic pyramid form. You will be surprised to see it. Display it to your family, friends, and relatives to surprise them.
If you want to make a simple hologram at your convenience, browse easy steps on this app. Create impressive holograms on this app and share them with your friends and relatives.
11. Alien Hologram
If you are a space lover or fond of species from another planet kind of alien, then you landed on the correct page. We have something amazing to tell you.
Yes, you thought correctly. We will notify you about this app, which has excellent features and is fantastic. However, remember it is just for entertainment only.
You will not get any real holograms from this app. If you are looking forward to having great fun and new trials in life, you must go on for it. 
Surprise your children with its effects; they would love to see them. Show them how alien is while telling its fascinating stories. Let Alien Hologram use your camera for realistic results, and it is a very addictive app too.
Once you start using this hologram app, then you will get its addiction. This app is quite light to use and is mobile-friendly. It will not let your phone hand and create disturbances with other apps.
12. HoloLens Skeleton Dinosaurs 3D PRANK GAME
The holo lens also has a fantastic user interface and is a mobile-friendly app. It is also a great simulator in mobiles for dinosaurs. You can get original dinosaur holograms in it.
This fun-loving app will give you 13 free dinosaurs where you are supposed to save coins and get through all the versions of dinosaurs.
It is merely for entertainment purposes and does not give any original holograms. 
You get realistic 3D hologram simulators with a camera that allows you to play the phone with a virtual dinosaur hologram. If you are fond of Holograms, then you can download this app, as it is beautiful.
Holo Lens uses the camera for more realistic effects in your holograms. You can get a feel of a full 3D Hologram for the HoloLens app without using any HoloLens.
13. 3D Colorful Hologram Keyboard
It is a simulated keyboard app for android and iOS users, which is free and easy to use. Hologram Keyboard Joke also provides funny themes to make your mobile attractive and exciting.
With this keyboard setting, you can even remove your default keyboard. This app is a great choice if you love special effects with fresh images and features like those in sci-fi movies. 
Are you wondering about people who struggle to type on an English keyboard? Do not stress out, then. It has a beautiful feature as a Hindi keyboard app. You can type in Hindi on your mobile devices and at your convenience.
In the themes of this app, you will get new emojis for all age groups. One important feature is to turn on and off its keyboard sound and vibration. 
14. Holapex Hologram Video Maker
Holapex is an exciting app for users to create fantastic videos on their devices. The developers of this app have made it a success.
It is an excellent app developed by Isaias Perez for iOS and Android users.
HOLAPEX APP HOLOGRAM VIDEO MAKER ANDRIOD APP
Holapex is easy and free to use. You can convert any picture or video from your gallery into an excellent graphic. You can also use this app if you have prepared any holograms at home.
You can create holograms without any hard editing or coding. You need to select any video or picture from your mobile and convert it into a good video for the Hologram Pyramid in a few minutes.
15. Vyomy 3D Hologram Projector
It is an exciting app that gives your pictures and videos a futuristic look. Vyomy 3D Hologram is a worth-praising app.
Believe us; you will be pleased to see and use this app. Futuristic looks give a real feeling and presence to your images and videos.
It has so many effects that are yet to be explored. So, bang on and download it soon. 
16. Holo – Holograms for Videos in Augmented Reality
Holo is the best to use. It gives a variety of options for realistic holograms for free. Holo has various features in it.
Some are for free, and a few are an option for purchase. You will be happy to see its amazing features. If you are fond of animals, it gives you options to add holograms of real animals and people. 
This is Holo - Mix your world
The 3D camera apps allow you to take photos and videos and get through the best holograms. You can place a hologram of your known and favorite characters and bring them into your real world. It is a great app to download.
18. Use Google 3D View 
Fancy having a T-Rex running across your kitchen counter? Or a Stegosaurus getting comfy on your bed? With Google's new augmented reality (AR) tool, you can choose from one of 10 different dinosaurs and place them anywhere you wish – and, if you use the feature on an Android device, you can even hear them roar.
There's no need to download an app: grab a smartphone running at least Android 7 or iOS 11.
Visit Google in your mobile browser or use the Google app to search for Tyrannosaurus Rex, Velociraptor, Triceratops, Spinosaurus, Stegosaurus, Brachiosaurus, Ankylosaurus, Dilophosaurus, Pteranodon, or Parasaurolophus (you can also
type Lion).
Look for the 'View in 3D' option towards the top of the search results and move your device around until the dinosaur appears, overlaid on your immediate environment.
You can rotate the reptiles, zoom in and out, or tap the camera button to take a photo or video – ideal for recreating a movie scene.
Select View Actual Size on an Android device to use the auto-scale feature or tap Object to examine the dinosaurs without background.
Each creature looks impressively realistic (not that we've seen a real dinosaur!), thanks to developer Ludia using technology from its Jurassic World Alive game.
✅FAQ
Is there a hologram app for iPhone?
Yes, there are apps that you can download on your iPhone. Some of them include Holo, which can work with the smartphones that come infused with ARKit. You can move around 3D holograms with those you want to interact with.
How do I turn a photo into a hologram?
You can turn a photograph into a hologram using simple methods. They are you need first to upload the image on your 2D to 3D service. Then it would help if you used the 2D to 3D service to choose the photograph you want to convert into the 3D.
Can you make a hologram of a person?
You can design a hologram of a person effortlessly. You can do that with the help of the apps to get a realistic image of them. Besides, you can also make use of a lookalike individual. You can also use VFX tools to bring the VFX to the subject's face.
Are holographic images real?
The holographic images don't necessarily have to be real because they are the permanent image of the light that comes back on the object. It comes in a 3D image, and you can move it around as you wish.
Can you make use of a smartphone apps as a projector?
Yes, there is the Epson iProjection, which is a projection app that you can make use of on your Android device. You can project the images using hologram apps or with the network functionality moving in and around the room effortlessly.
Who invented 3D hologram?
The 3D hologram was invented in 1962 by Yuri Denisyuk. It was used for that recorded 3D objects performed at the University of Michigan, USA. Based on the research done, the hologram apps were discovered and are in use today.
How are human holograms designed with the apps?
The human holograms can be designed with or without the apps. It depends on what exactly you are looking for. You can design them with the help of the apps as they are easier. Otherwise, you can split the laser beam into two separate beams using an angled mirror.
What equipment is needed to make a hologram without the apps?
You can make or design the holograms without the apps also using the holographic film plates. You can use the hologram developer and the laser. When you want to use advanced holography, you should make use of optical lenses and an anti-vibration method.
Conclusion
Here, we have described one of the best Hologram apps. If you are fond of bringing reality into your real world, these apps are great. Looking for great tools for holograms is not a problem anymore.
These tools give you the best features which can surprise the people around you. You can create such creative holograms that your friends and family will be shocked to see your innovation. Every app has features of its kind. 
Holographic objects are in trend these days, and most of us look for apps that are entirely free of cost. You can create amazing pictures, videos, and themes from these apps.
Capture these things with your device's camera. It gives a futuristic effect to your images. If you like movie effects, these apps work wonders for you. 
They will give an end to your curiosity. Edit yourself from these apps and see yourself in a celebrity manner, as you see in movies. It is great fun to use these apps, and you can enjoy them a lot.
It is always so good to try new and adventurous things in life. If you understand these things once, then it is great fun. These apps require a few manual and automatic operations.
These hologram apps are merely for entertainment purposes and do not give any hologram logos. These are the best apps mentioned that we have provided you. You can get the right projections, which only requires a little work.
Enjoy these apps and give a futuristic look to your images. You can play with these apps in your festivities and get-togethers, making your evening exciting and adventurous. Set the trend among your friends to be different from all. Go for it now and download it for fun.