We recently analyzed 23 of the most-rated Night Vision Apps in the Google Play Store.
Our goal?🤔
Came with the Best Night Vision Apps For Android Devices that will give our readers exactly what they want regarding pictures and video recording at night.
Let's get started. 📗
Having a smartphone is something everybody longs for, knowing that a smartphone has gone beyond making and receiving phone calls.
Many activities happen using a smartphone, which is why everyone uses it. Some people use it as their office; some use it to make money and so many other things.
However, when it comes to people who are picture freaks, they get a little disappointment with the quality of pictures they take with their phones, especially at night.
You need a flashlight to get a manageable shot at night or with low light, but the picture quality is still not what you expect it to be. Most people resolve to change their phones to a higher quality but are still disappointed.
Now you may begin to wonder how those favorite actors you watch in the movies always manage to get a very clear and high-quality picture at night.
It is no magic; most people know the night vision apps you can download to your mobile phone and take quality pictures.
Maybe you've never heard about it, or you've heard about it but think it's one of the numerous apps emerging daily that is out to drain your bank account.
But the fact is that night vision apps give you the quality pictures and videos you so desire, especially at night. It is also true that there are multiple night vision apps, and getting the right one that meets your criteria might be pretty difficult.
Now, that brings us to the reason for this article. Below are a few numbers of night vision apps that will give you exactly what you want when it comes to pictures and video recording at night.
Best Night Vision Apps – Our Top Pick👌👌
1. Night camera
The night camera captures great-quality pictures in low light and makes snapping pictures at night more fun.
Gone are the days when people complain about low-quality pictures or videos from their phones.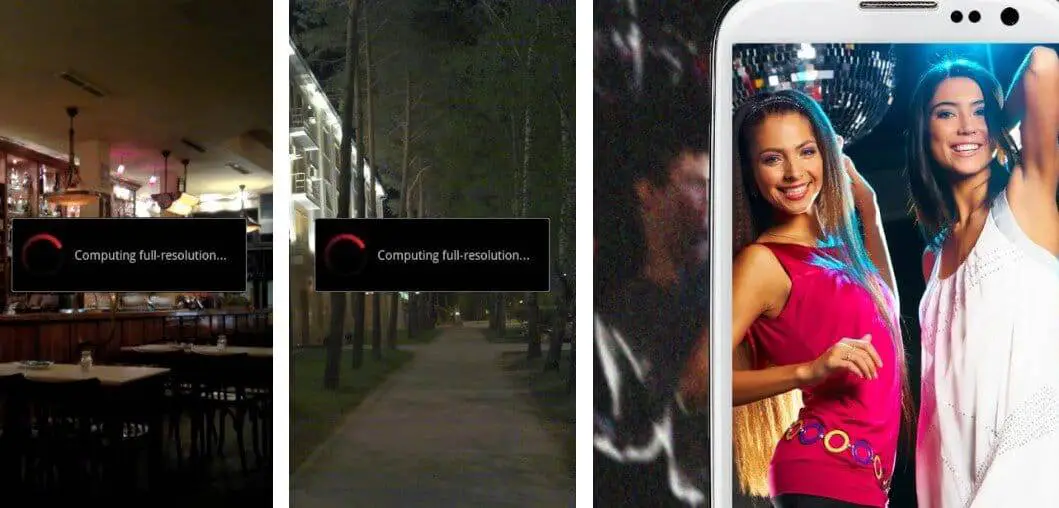 Although mobile phones have gone really advanced, they have better quality pictures than they used to. But, while the pictures seem like a photo shoot taken with a good camera during the day, the story is different at night.
Hence, the need for the night camera app. Using the night camera app, you will no longer need to give excuses for having low-quality pictures on your phone.
Features:-
It has multiple shooting modes and full camera control

It doesn't take blurry and noisy pictures

It has advanced low-light technology based on multiple explosion fusion.

It comes with a full resolution.
The Night camera is the perfect app for taking a nice shot at twilight, or at night, indoors, and in every other low-light environment.
The night camera captures everything at night, takes sharp pictures with no noise, and is way better than your regular phone camera.
Take your night fun to a new level by capturing the best shots ever using a night camera app.
2. Thermal Night Vision Color Filter Effect Camera
The Thermal Night Vision Color Filter Effect Camera app is a great enhancing tool for your phone camera, which enables you to get clearer vision at night. 
This app not only takes photos but also takes good video recordings at very low luminous light. With this app, you will no longer have a reason to complain about having a low-quality picture or video recording at night.
You no longer need to worry about getting the best out of your night outing because this app lets you get the best quality picture ever.
Features:-
It comes with a green amplification mode

It comes with a thermal effect and an amplifier picker

It can pick every color just as it is especially at night

It comes with a built-in library where you can save as many photos as you want

It is capable of zooming any pics 8x large

It has a front camera for your perfect selfie and a rear camera.

It has a photo video share, photo view night mode, and a video slider.
This app helps to improve your phone capabilities and provides you with great quality of what you can see at night.
So if you are partying at night, you no longer have a problem recording the party or taking some nice photos that will serve as a reminder for the night outing.
3. Night Vision Camera Simulation
the night vision camera simulator happens to be one of the best night vision apps that there is. This app uses a high algorithm technology for its image enhancer, allowing you to see objects clearly at night.
Night Vision Camera HD Android App
And it comes with various image processing filters that allow you to adjust the night view for different environments at night. And it is so simple to use that with a single click; you can take your picture.
How does it work?
The night vision camera can enhance the gray color, which your eyes cannot see, and interpret it into black colors.
The image algorithm allows you to see people and items in a dark environment, where normally you can't see using your normal phone camera.
Furthermore, knowing that every person possesses his/her level of distinction of dark colors, the app gives you three color match filters to choose the best filter for your eyes.
Features:-
It comes with three different color-match filters

It also comes with three-night color filters

It comes with an amplifier for night vision

The camera rotation is adjustable

It contains a compass feature that lets you use the app as your compass to get directions at night.
The night vision camera simulator enhances a higher quality of the picture at night and is quite better than what your phone will provide.
What you can't see using your normal phone camera at night, you would be able to see it using this app.
4. illumes (Night Camera)
Looking for that wonderful night camera that would illuminate every moment you want to share at night? Your search has finally come to an end with illumes.
Using the illume app, you can capture the most amazing and high-quality pictures and videos without the annoying flashes you use while using your normal phone camera.
Now, your night outs with your friends and family just got more interesting, because you can take photos and record videos which you can keep for reference purposes.
Once you launch the illumes app, the flash stays on, which allows you to capture the moments. You can also use the flash from it to search for missing items in places like under the bed, which is always unusually dark.
Features:-
Whether the flash is on or off, it still captures images and videos crystal clear.

It comes with a timer feature, so you can always set timers to when you want to take a picture.

You can set the flash to be on or off

It has a back and front camera allows you to take a selfie.

It comes with different colors of selfie effects, which are blue, green, red, and warm.

It is user-friendly and simple to use

It comes with no ads

It comes with a very clean design.
Using the illumes app, you can tap anywhere to capture an image and use your phone's volume buttons to zoom in or out. And to view the illumes gallery, you can swipe from right to left.
Illumes have lovely features and make your picture as clear as when it was taken during the day. The app can be used in simple terms, making having fun at night more fun for you.
5. Night selfie camera
The night vision apps will be incomplete without the night selfie camera. Most times, people love to take selfies of themselves while they are having fun.
But this fun can be short-lived if you use your normal phone camera because it fails you at night, especially when taking selfies. It doesn't allow you to enjoy the fun of selfies with your friends and loved ones.
But the night selfie app allows you to take great high-quality selfie pictures at night. And it happens to be one of the best apps for you. 
Features:-
It gives you all the details of any photo you capture

The videos being shot by this app usually come out very clearly and of high quality.

It is quite easy to use

It comes with a flash, but not the kind that emanates from your phone that makes your eyes red.

It allows you to take bright videos and picture selfies.
How to use the app:-
The first thing you need to do is to install the app on your phone

Once the app has been installed, you can update the app if you wish to

Go over to the settings, click on the setting button, and set the effect which you want

If you need a color effect, you can click on the color effect button

In the effect list, click on scene modes

Select either the front or the back camera.

You can also adjust the settings of the rear camera by selecting the rear camera and then the settings.

Go over to the gallery, select the gallery button, and then select photos

If you wish to delete your photo, there's a delete button for you to click

If you wish to edit your photo, then click on the edit button, likewise if you want to crop your photo.

It also comes with a rotate button that allows you to rotate your picture to whatever angle you want

You can flip and save your photos by clicking on the right arrow button.

You can also shoot a video if you wish.

It gives you an accurate detail of your photo when you click on the information.

It comes with a button that allows you to automatically take photos with the app or videos and watch them later.

Finally, you can share your pictures and videos on social media platforms.
The night selfie camera isn't one app that should be difficult to use, especially when you have been provided with a long list of how to use it and its features.
It is the best app you can ever download, and it makes your night outing fun because you can proudly take a nice picture of yourself to upload on social media, knowing that the picture or the video is of high quality.
6. Night Mode Camera (Photo and Video)
The night mode camera is a must-have app on your phone. It is very fast and simple for taking crystal clear photos.
Those beautiful moments by the seaside at night, or watching the moonlight that your phone can't capture, can be captured using the night mode camera app.
The app captures every tiny detail and leaves nothing out. The best part is that the camera sensitivity can be changed easily to achieve the best results with the lowest light.
Features:-
It comes with an amplifier picker feature

It has a color saturation picker effect

It includes both a front and rear camera

It comes with a led light

The photo mode is a full HD

It can be zoomed in or out eight times

It has an inbuilt library allowing you to save your photos and video easily.

It has the photo slider feature

It allows you to share your photos with friends on social media platforms
The night mode camera makes you eager to share your photos and video proudly on any social media platform because you know your pictures and video are crystal clear.
People won't help but ask what kind of phone you use to capture such great-quality pictures at night.
Your phone comes out as a professional picture using the app. Join millions of people and download the app to start enjoying your time out at night.
7. Night vision video recorder
Are you tired of taking blurry pictures at night? Or are you tired of having a bad recording at night? Your worry seems to have ended with the night vision video recorder.
The app is one of the best professional night vision apps that capture high-quality pictures and full HD videos with low light.
The app was built using ten years of image technology expertise to bring professional low-light pictures to your phone.
If you are going out on a date and want to capture the moment, this app gives you that great opportunity.
Below are some of The Night vision video recorder App features that earned it a spot in our list of Best Night Vision Apps to download.
Features:-
The app features high-quality color enhancements that maintain all colors in your photo. Unlike the other apps that give you green color effects

It comes with a slider that is easy to use and can adjust the sensitivity from low lights to complete darkness.

Eight megapixels high-resolution pictures

It can record full HD videos depending on the capability of your device.

It comes with both the front and back camera

It allows you to click pictures while you are recording a video

It comes with flash ability and supports camera zoom

Its shutter sound is customized

It is compatible with all devices, including tablets.
The night vision video recorder is one app you need to try. It is outstanding and records at full HD, meaning your videos and photos will look like a digital photo shoot. Try it, and you will not regret it.
8. Moonlight HD camera
Using the moonlight HD camera, you can see objects and images you can barely see with your ordinary phone camera.
It also comes with a high-technology algorithm that allows for image enhancement, which makes your pictures taken in low light very clear. Using the moonlight camera app, you can capture clear images at night, whether indoors or outdoors.
Below are some of The Moonlight HD camera App features that earned it a spot in our list of Best Night Vision Apps to download.
Features:-
You are allowed to save your pictures in the app's inbuilt gallery

It allows you to switch cameras for either the front or back freely

You can decide to share your photos with friends and family using the app

It comes with an adjustable light sensitivity

It allows you to zoom your images in and out

It only takes a single button press to save images

You can control the brightness, gain, shutter time, and zoom

It also supports the four-color modes, which are red, green, blue, and natural color

It comes with a timer that allows you to auto-take pictures at intervals

You can control the camera flash to maximize your ability.

It also supports multi-threading.
You can as well use the moonlight app to produce great photos not only the night, but also it captures great photos during the daylight.
All you need to do is to adjust the light sensitivity to what you want it to be. The app is great for taking photos at night and during the day, and you can share your lovely professional photos.
Download Here
9. Day-Night Camera HD
Are you hanging out with the girls at night? You sure don't want to disappoint your girls by giving them low-quality pictures or pictures that will come out very dark just because it's night.
Well, your girls might understand it's night, and the pictures can't be clearer, but why not surprise them by downloading the day-night camera app and taking a high-quality photo of yourselves?
This app is designed for photos and videos with excellent picture quality and various effects.
Below are some of the features of The Day-Night Camera HD App that earned it a spot in our list of Best Night Vision Apps to download.
Features:-
It allows you to capture pictures and photos with high-resolution HD quality using an excellent camcorder both during the daytime and at night.

It has a feature that allows you to detect faces

It comes with both a front and rear camera

You can select your scene mode and color effects with white balance and exposure.

You can always select the quality and video resolution that you need

You can set your video recording time

It works from any direction; it can be switched from right-handed to left-handed users without any pause on the GUI navigations.

The shutter sound is optional. You can choose to turn it on or off

You can use your phone volume keys to take pictures, zoom pictures, or change the exposure compensation

It can target your location

It allows you to apply date, location, and time on your photo

It works with low light and can switch between front and rear cameras.
The day-night HD camera lets you capture high-quality pictures and full HD videos that make your night outing fun and exciting.
You can use the app to take pictures automatically once it has come on, and it will capture clean HD photos for you.
The best part of the app is that it has an external microphone that gives your video shooting an audible sound. The best part is that the app is free and easy to use. 
Download Here
10. ToF Viewer (Early Access)
Have you ever wanted your pair of night vision goggles? Well, this app could be the next best thing. It uses the infrared, depth-sensing Time-of-flight (ToF) sensor in your device's camera to 'see' in the dark.
Night Vision in Honor View 20 (better mapping)
It's a cool idea, but there are two fairly big caveats. First, the app is still at the Early Access stage, so stability and reliability aren't guaranteed.
Second, only a handful of devices have a compatible ToF sensor, so Night Vision may not work on your device.
Conclusion
Hanging out at night just got more exciting because you no longer need to worry about how you can take pictures or videos with that favorite dress you wore at night or capture how beautiful you look on the said night.
Using the night vision apps, never again will you go out at night without being able to capture lovely pictures and videos that you can always look back to.
The best part is that most of the app allows you to include the picture's time, date, and location.  Your problem of choosing the best night vision apps has been solved using the apps listed above.
Those are the best and most professional apps that you can try. Try these apps, and you won't regret using any of them.