Has it ever happened to you that you forgot an important task on your mental list or missed an important meeting or interview? With the hectic schedules of our lives where there's always too much on our plate, managing our days can become hectic and difficult.
Daily planners can help, but you need to open them up and look through them, of course. But when would digital solutions and applications help you then?
Considering the need for organizing your days, Todoist comes as an amazing application to create To-do lists and plan your days well in advance.
Not only would you have all the details about the tasks you need to perform, but the digital application will also provide you with timely reminders so that you may never miss out on anything.
With that, Todoist is a boon in our hands for going through a smooth and managed professional life.
However, that's not the only tool out there, and it does make sense to look out for other tools and applications that would serve as equally good planners and organizers. Who knows, you might even find something better!
But, exploration is a hectic task in itself. You need to look through a lot. Well, lucky for you, we've made everything easier. We've done all the exploration so that you wouldn't have to.
All you need to do to find an alternative to Todoist is read this article, wherein we've compiled some of the best Todoist alternatives after extensive research for you to check out.
About Todoist
As you already know, Todoist is a tool for managing your tasks and workflows. It's one of the best tools for the purpose and will help you manage your days, weeks, months, and even years in a row.
You can set task lists, set reminders, automate tasks, and can even have constant notifications about the tasks that you're yet to strike off from your list.
However, this brilliant tool is nothing more than creating and managing lists and lacks some other necessary project management features such as scheduling meetings, keeping track of the tasks, or editing the tasks that are already completed to assign any corrections.
All these features are available in the other alternatives that we've put and reviewed in our list. So, looking out for an alternative was fair and wise, after all.
But while you look for it, how do you know what's the best among these nine best Todoist alternatives to suit your needs and requirements?
Well, an easy way of knowing what's the best-suited tool for you among all the best on the list is knowing everything you need to look for in a tool like Todoist.
So, let's have a look at every factor you need to put into consideration when looking out for a project management tool or work organizer.
Best Todoist Alternatives – Our Top Pick👌
Even when you have the best things, you'd want to look for something better than the best. Looking for alternatives is never the wrong thing to do. So, why not do it for a planner like Todoist too?
Well, we've done the job for you. Following this article, you can find detailed reviews of nine of the best Todoist alternatives. Let's get to them without any further discussions.
1. Google Keep
Google has always been at the forefront of coming up with applications that bring ease to the life of its users. It's not staying behind in bringing that ease for helping people manage their schedules either.
With Google Keep, it's easier than ever to keep track of everything that you need to do during the day. It's an application for you to take important notes. You can take these notes through texts, audio, videos, and lists.
Not only can you take notes in multiple formats, but you can even sync them with your Google Drive. This way, all your notes become accessible on any device from anywhere.
Additionally, Google Keep has other advanced features like text-to-speech through which you can convert your audio to text and text to audio in real time.
This way, you need not type in your notes or checklists and can even listen to the checklists when there's a need.
Moreover, you can sync the application with Google Calendar to manage and schedule your days well in advance.
In addition to this scheduling, you can even set reminders in Google Keep as well as Google Calendar to make sure that you never miss out on any important tasks.
The best part yet is that you get all of this free. With that, Google Keep is one of the most popular Todoist alternatives, and you're surely going to love managing and organizing your schedules with it.
Download the App on Google Play Store
Download the App on Apple App Store
2. Microsoft To Do
Microsoft is a complete package for managing your tasks and jobs. From creating documents to sheets, presentations, databases, and more, to managing your emails and internal business communication, Microsoft Office 365 has everything in it. Microsoft To-Do forms a part of this very suite.
It helps you create checklists for days in a row. You can plan your days, assign tasks, set reminders, and even sync them with your emails. This way, you'll never miss anything on your list.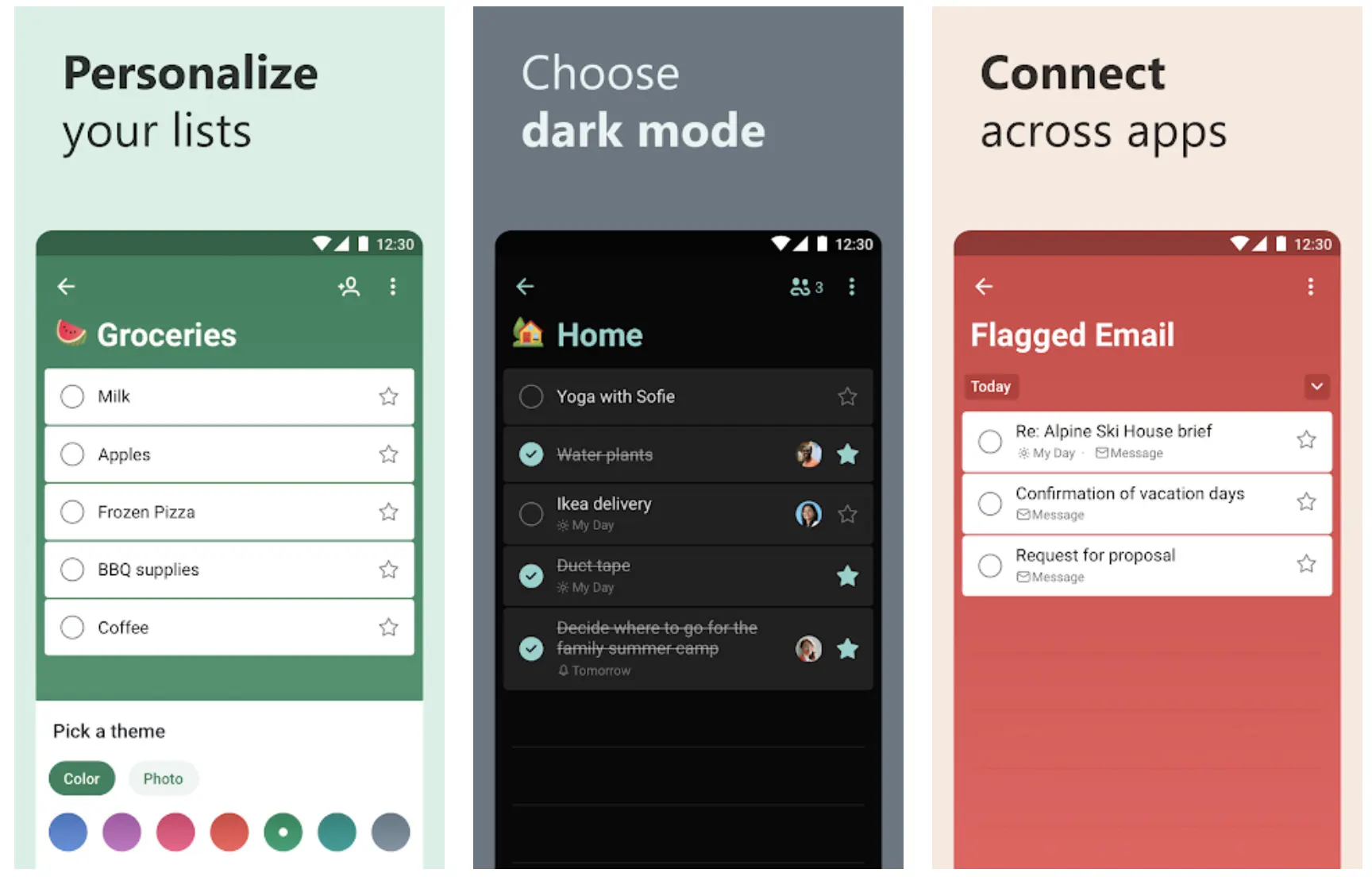 Moreover, the tool provides you with options to create multiple lists at once. You can even share these lists with your team. So, it becomes easy to assign tasks and schedule meetings using Microsoft To-Do.
Additionally, you can have custom themes for the lists. They don't do much good except for giving your lists a more appealing and attractive look. However, it still feels good to see quite an engaging tasks list and might encourage you a bit for the work.
Besides that, you can even star mark the tasks that are a priority, and once someone is done with the task, they can just tap it to strike it off the list, indicating that the task is completed.
Moreover, it's easy to edit the tasks within the list. So, once a task is completed and the concerned person who assigned the task needs some edits, the person can reopen the task and add notes to it as well.
The below video from Kevin will help you to learn more about this tool.
🧙‍♂️ Microsoft To Do Tips and Tricks
All of this makes management of your tasks and jobs for individual as well as team purposes extremely easy and smooth.
And you get this all for free. So, everything with nothing to pay at all. Isn't that just great?
Download the App on Google Play Store
Download the App on Apple App Store
3. Any. do – To-do list & Calendar
Another free alternative to Todoist, Any.do is a well-built tool with a clean, sleek, and easy-to-understand user interface to make your work management, planning, and organization smooth.
You can easily create task lists on this tool and share them with your teams. Additionally, you can talk to your teams within this tool.
The tool also has an in-built calendar that you can use to keep schedules and set meetings. Other than that, you can share and transfer files within the tool. With all of that, Any.do makes working with teams easier and more convenient than ever.
Moreover, the tool also helps you set reminders for your tasks and meetings; and you can set these reminders based on your locations.
So, even if you're moving around, traveling, or having a fun time, you'll know your tasks and jobs and can manage them easily. This way, you'll not lag on your tasks, jobs, and schedules, even on vacations.
In addition to all these free features, the tool also comes with a premium version that you can use to have your task lists more personalized.
You can change the themes and colors in the list. This gives a better appeal to your checklists, and you can stay more motivated to work.
Organize Your Life with Any.do
Another good thing about this work organizer tool is that it provides a personal assistant, which adds to the ease and simplicity of managing and planning your work and schedules.
Download the App on Google Play Store
Download the App on Apple App Store
4. Trello
If you're looking forward to working in a team and struggling with task management and assignment, then Trello is a tool you must try without having any second thoughts in mind.
This is one of the best tools available for organizing works and projects within the teams, with its amazing features for creating kanban charts and task lists.
You can even differentiate projects and tasks with different cards, and it's easier to assign the tasks to different personnel in the team through these cards.
Moreover, Trello provides more advanced task management features to add timelines and due dates to task lists and cards.
Additionally, different team members can comment on tasks and cards to make sure that each job is done perfectly and that any changes or edits needed are made instantly.
Also, the tool has features for time tracking, which makes it possible to see the progress of the tasks and jobs and figure out how well they are being performed.
The best part yet is that you can have one account for the management of multiple projects simultaneously in one go, and all of this comes for free.
With these intuitive and advanced features and functionalities, Trello is a tool for the picks. It comes as a very amazing alternative to Todoist, especially when it comes to working in a team and managing huge workflows.
Download the App on Google Play Store
Download the App on Apple App Store
5. Meistertask
Another project and task management tool that you can use to manage your team workflows, Meistertask better, is an amazing alternative to Todoist, and it's free to use.
It helps you work in teams by assigning tasks and projects and makes all the workflows smoother than ever.
The tool has a user-friendly interface with customizable dashboards that you can use to have a single-screen view of all your projects, tasks, assignments, and work progress.
It also provides the option to put notes and comments within the tool about different tasks and has in-built chat features that you can use for brainstorming with your team.
Besides that, the tool allows you to integrate with other workflow management tools such as Slack, etc., which only means that you can extend the functionalities of the tool by many times.
With all of that, this tool will never leave you hanging about your tasks and workflows and will make even remote working smoother, effective, and more efficient than ever.
Download the App on Google Play Store
Download the App on Apple App Store
6. Asana
If remote working in big teams and collaborations is your thing, then you will be much better off with Asana than with Todoist.
This tool is made for the management of large projects. You can set up as many projects as you like in this tool with as many teams as you want.
It's easier to keep track of time and work out everything in the right order with the feature to schedule your tasks based on different timelines.
Put an end to workplace silos with Asana
You can even let your entire team know the flow of the tasks and set priorities for them by assigning task dependencies. Moreover, you can make sure everyone is well on track with their jobs and tasks by setting up strict time-tracking and deadlines.
The tool even helps you set reminders for the tasks. You can do that for yourself as well as your team.
Additionally, setting up the projects in Asana is extremely easy with in-built project templates. So, you need not think much when using the tool.
You can just go ahead and pick up your preferred template for the project, enter in your project details, assign the tasks within the template, and you're all done.
It's that easy and simple with this amazing tool, and that very thing makes this tool a stellar alternative to Todoist.
Download the App on Google Play Store
Download the App on Apple App Store
7. nTask 
One of the best Todoist alternatives you can get on the market right now is nTask. The application is a task management and project management tool which allows the managers and their team members to organize and manage their tasks and activities according to their needs and requirements.  
The application is a note-keeping, documentation-gathering behemoth that also gives you the ability to manage all of the different meetings that you conduct regarding the project at hand.  
nTask - New Look Still Simplifying Project Management
The application allows you to have a remote project management experience through the web application and mobile application, helping you to manage and execute all of your tasks and activities from anywhere around the world.  
Some of the other features that the application has to offer are risk management and issue tracking, which allows you to have a bird's eye view of all of the scope creeps and issues that might haunt your project from the very start.  
The application also provides Kanban boarding and Gantt charting features that allow the users to view all of the data that they have input inside the interface from a whole different angle. It also helps in weeding out the task dependencies inside a project.  
Another great feature that this application has to offer is a time tracking & timesheet management feature that allows the users to keep track of the time that they spent on the tasks and processes regarding the project in question.  
This time data is beneficial for the managers as they have to check the productivity of their team members and make the right staffing decisions in the future.  
Download the App on Google Play Store 
Download the App on Apple App Store
8. Azendoo
Azendoo is a tool that will serve as one of the best Todoist alternatives, especially when you're working remotely and managing large teams and overwhelming workflows.
It's not just a tool to create task lists or assign work, but it's a complete workflow management platform that helps you drive easy conversations with your team and make sure that all your jobs and tasks are done well within the deadlines and that too smoothly and simply.
You can just put the tasks and assignments in the tool and assign them well to your team. You can ensure that the concerned person notices the assignment and gets to the job by tagging each individual in his/her respective task.
The tool also has a calendar that you can use to check the things on your list and make sure everything stays within the deadlines.
Additionally, you can make sure that every task is done right. You can keep tracking the work progress and constantly make edits to the tasks being done to make sure that everything is well in line with your exact requirements.
With all that, remote working becomes much easier, better, and more efficient. You get better control over your teams and make sure the jobs are assigned and done on time while ensuring that everything is going smoothly and right. You can't ask for a tool offering more than that.
Download the App on Google Play Store
Download the App on Apple App Store
9. Google Tasks: Get Things Done
Google Tasks is yet another application provided by Google to make its users' lives easier. It's more than just taking notes and making checklists like Google Keep. Although it's not as good as Todoist, it still serves as a good alternative.
It helps you create, edit, and delete tasks and have your entire day planned well in order. You can add subtasks to set a hierarchy or pattern to accomplish an entire task.
If you need more details about the tasks, you can just have them with additional notes that the tool provides you for writing.
Additionally, you can make multiple lists for different tasks on your schedule. Moreover, you'll have every task notified to you, so you wouldn't miss out on any important task or job.
In addition to having notifications, you can even sync the tool with your Google account and Google Calendars, which makes sure that you can set due dates and deadlines for your tasks, manage them in your emails, and have your tasks managed very smoothly without any difficulties or missing out on the deadlines.
The only issue with the tool is that it comes for a price. So, you might not be able to afford it. However, if you're willing to put in the money, then just start with a basic plan, see how it works out for you, and then you can move to more premium plans if you like the tool. 
Download the App on Google Play Store
Download the App on Apple App Store
10. Clarizen
Clarizen is another project management and communication tool serving great Todoist alternatives. It not only helps you to create lists of the tasks you have inline, but you can even organize entire workflows for your tasks. 
You can schedule the tasks with proper procedures, steps, and notes. This way, it would be easier for your entire team to understand the tasks.
Moreover, you'll not have to create monotonous and regular tasks. You can automate them in the tool and set constant reminders and alerts for those tasks.
Additionally, the tool helps you keep a constant watch on how the tasks are carried out. You can share important information about the projects on your task lists and even direct edits to the completed tasks.
This way, you can ensure that the tasks are progressing in the right direction and well within the deadlines.
With all of that, it's a tool you'd love to try for better managing your team and tasks and making sure that your projects get completed smoothly and efficiently within timelines.
So, these are nine of the best Todoist alternatives. You've read a lot about all these alternatives, but what about Todoist?
While looking for alternatives, it's only fair that you know about the primary tool itself, whether you've been using it or not. So, let's dig into some details about Todoist itself.
What to Consider When Looking for a Work Organizer and Project Management Tool?
When you're looking for a tool to help you schedule and manage your tasks, you want to make sure that it's easier for you to create the lists and have a complete track of your jobs and workflows.
You also want to ensure that you can schedule your meetings and comment on the tasks and jobs for your team in case you're looking to manage collaborative workflows with the tool.
Besides that, it would help if you could add more projects to the organizer, even keep notes, and provide the users with descriptions of the tasks they need to perform.
Well, that's a lot of information to take in at once. So, let's create a point-by-point list of all these factors with more detailed explanations of how having these features in your work organizer and project management tool will help you smoothen your job. 
1. Task List Creation
This is the first thing that you need to have in your work organizer, and as a matter of fact, every work organizer and project management tool will have this feature. So, you don't need to look for it. What you need to look for is the ease of creating the task lists in the tool.
Some tools allow you just to create the lists, while some others allow you even to create sub-tasks, add notes and descriptions, and set timelines and procedures for the tasks.
It's better that you go for the second option because that will help you keep better control of the jobs at hand.
2. Scheduling Meetings
Not many work organizers come with the features for scheduling meetings, but some do come with this feature. The feature specifically helps when you're trying to manage teams and do collaborative work, and that too remotely.
If you can schedule meetings with your work organizers, you can ensure that they're conducted on time, with every team member present.
This feature will come in handy even if you're using the tool for personal purposes, as you can add meetings you have to your schedule and make sure that you never miss out on any of them.
3. Reminders, Notifications, and Alerts
What if you put a task on your list but forgot to do it? This is where the features to set reminders, alerts, and notifications come in handy.
With such features, you can ensure that your work organizer automatically reminds you about the tasks you forget to do. You can set notifications and alerts about the due dates and coming deadlines.
This way, none of your tasks would go off the hook, and you'll be better prepared to perform all your tasks well within your schedules and deadlines.
4. Communication Features
This feature becomes essential when using the work organizer for working in teams. With in-built communication features like chats and comments in your work organizer and project management tool, you can have an easier conversation with your teams.
You can discuss, brainstorm, and explain the tasks to the teams and even assign any changes or edits to the tasks already done right within the application.
This helps you manage the teams more efficiently and bring more productivity to the jobs that you have at your hand.
5. Pricing
How much money you're putting into the tool is also an important consideration. As such, you need not pay any money because most work organizers and project management tools are free, at least for their basic plans.
However, with a basic tool, you'd get basic features. So, when considering the pricing, you'd need to consider your needs and requirements.
If you can do with the basic features and functionalities, you should stick to them. In case you want to go more advanced and premium, it would be best that you first try out a tool you think is good for you.
You can take up free trials for different tools too. In any case, make yourself satisfied and happy about the tool you're putting your money into.
✅FAQ on todoist alternatives
Which is better, TickTick or Todoist? 
There is so much common between both TickTick and Todoist. However, there are some differentiating points. for example, there is a folder feature in TickTick that allows you to manage your lists, while there is no such feature in Todoist.
On the other hand, Todoist comes with a karma feature to help you figure out how productive you have been throughout the week, and there is nothing like that in TickTick. If you are in search of a very flexible as well as productive option, TickTick is a better option.  
Is Todoist better than Evernote? 
If you are searching for a smooth and integrated transition from handwritten notes to digital To-Do Lists, Evernote is an ideal option. It comes with a capable free package, and it's a bit challenging to find a downside.
On the other hand, Todoist has nothing for you if you have the habit of procrastination. But you will do your tasks even with Todoist if you are a doer.  
Is Trello or Todoist better? 
Both Trello and Todoist are completely different if we look at what both these platforms offer. Trello allows you to manage all types of complex collaborative projects and integrate all your project management tools in one place.
On the other hand, Todoist is more of a task planner and to-do list application designed to help you plan your personal and work schedules.  
What are the disadvantages of using Todoist? 
Limited recurring tasks and limited organization are two major disadvantages of using Todoist. You cannot create recurring tasks on the application.
It means that recurring tasks are usually limited to simple actions without steps. And limited organization means you have to sort all the items manually or only by the due date.  
Is Todoist better than things 3? 
If you are a casual user, the free plan of Todoist is more than just enough for you. It's more expensive than Things 3, which is a much better option, as it also works perfectly on all devices, including apple products.
Even if you want to choose the free version, it will allow you to assign multiple users to all types of project spreads and can share the workload with everyone according to your preferences.
And, if you prefer using apple devices only, Things 3 is worth looking at, but not if you use other devices for productivity. And that's why Todoist is a much better option than Things 3.  
How do I get free Todoist premium? 
Todoist is available free of cost on the App Store as well as the Google Play store, and you can use a lot of features without investing anything.
However, if you want to use the premium features of the app, you will have to go for different types of in-app purchases available at affordable rates. And there is no legitimate or safe way to get in-app purchases free of cost. 
Final Words on todoist alternatives
So, this was all that is to say about work planners and project management tools. Managing our days, tasks, and jobs is an important part of our professional life.
It gets us going. So, having the right work planning and management tools at your hand is essential.
There are many tools for this purpose, and Todoist does the job well to a very significant extent. But it does lack some essential features that might just be covered by some other tools, free of cost or for a price. Whatever the case may be, looking for alternatives might help.
We hope that this article about the best Todoist alternatives has come of help to you, and you can find the right solution for managing your work, planning your days, organizing your teams, and smoothening your workflows.