Have you ever wondered about the various processes involved in making a film or a video and what software is involved? If you are a filmmaker or desire to become a good filmmaker, this article is perfect for you.
In this article, we will cover the best apps for filmmakers. You might be wondering what all filmmaking apps/software do. 🤔
A filmmaking app/software can help you assist in scriptwriting; you can also make script notes easily with the apps these days; not only these you get handy tools to edit pictures, correct light, etc. and you can even find the most suitable place for shooting with the help of filmmaking apps. Let us have a look at the best apps for filmmakers.
Must-Have Apps For Filmmakers and Video Production
1. Adobe Premiere Pro
Adobe Premiere Pro, as the name says, is designed by Adobe to give your videos a professional look. This software is an editing tool that helps a filmmaker enhance the video's quality by providing various features. 
The software offers its users a large variety of tools to let out their talent and creativity and give their work a professional touch.
Adobe Premiere Pro offers features such as VR Rotate Sphere, fine-tuning audio, effects, transitions, multiple video types, video titling and graphics, and much more. The software is available for a 30-day free trial and has amazing subscription plans starting from $19.99.
Pros:-
VR video and VR audio editing options

Motion graphics and text options

Audio editing, voice-over, background music

Flexible interface
Cons:-
High system requirements for efficiency

The subscription price is high and comes with a limited trial offer.

Rendering speed is slow as compared to other software.

Some graphics need improvement and more compatibility with after effects.
Premiere Pro 2021 - Tutorial for Beginners in 12 MINUTES! [ COMPLETE ]
2. StudioBinder 
Launched in 2014, StudioBinder is one of the essential software you need to have while making a film or working on any film or video-making project. This all-in-one software enables its users to perform various tasks offering web-based filmmaking. StudioBinder offers several features such as:
Contact Lists:– The software helps the user to manage the list of contacts and helps to send messages to various people such as crew, vendors, clients, etc.
Script  Breakdowns:– This is another distinctive feature of this software; this feature helps to import the script and add scene breakdown notes, shooting locations, and prop elements that need to be there in that scene.
Call Sheets:- You can now create call sheets for call times and upload the documents easily with StudioBinder. You can easily send mobile-friendly call sheets and track the status of it being delivered and viewed by the person or not.
StudioBinder | Free Production Calendar Software
Not only this, StudioBinder has several other effective and time-saving features to keep all the things in your pocket. You can also check the detailed features.
Pros:-
You get an option to prepare and send call sheets.

Script Breakdowns

Easy to use

Helps in managing shooting schedules
Cons:-
A bit costly pricing if you are working on a small project.

Customer Service is not available on weekends.

Not available on Windows or MAC. Only web vesrion is available.
3. LumaFusion 
LumaFusion is a mobile video editing app created by Lumatouc, a professional video editor team. It is a one-stop feature-pack application for all filmmakers or video editors. You get a variety of video editing tools as compared to other traditional video editing apps or software.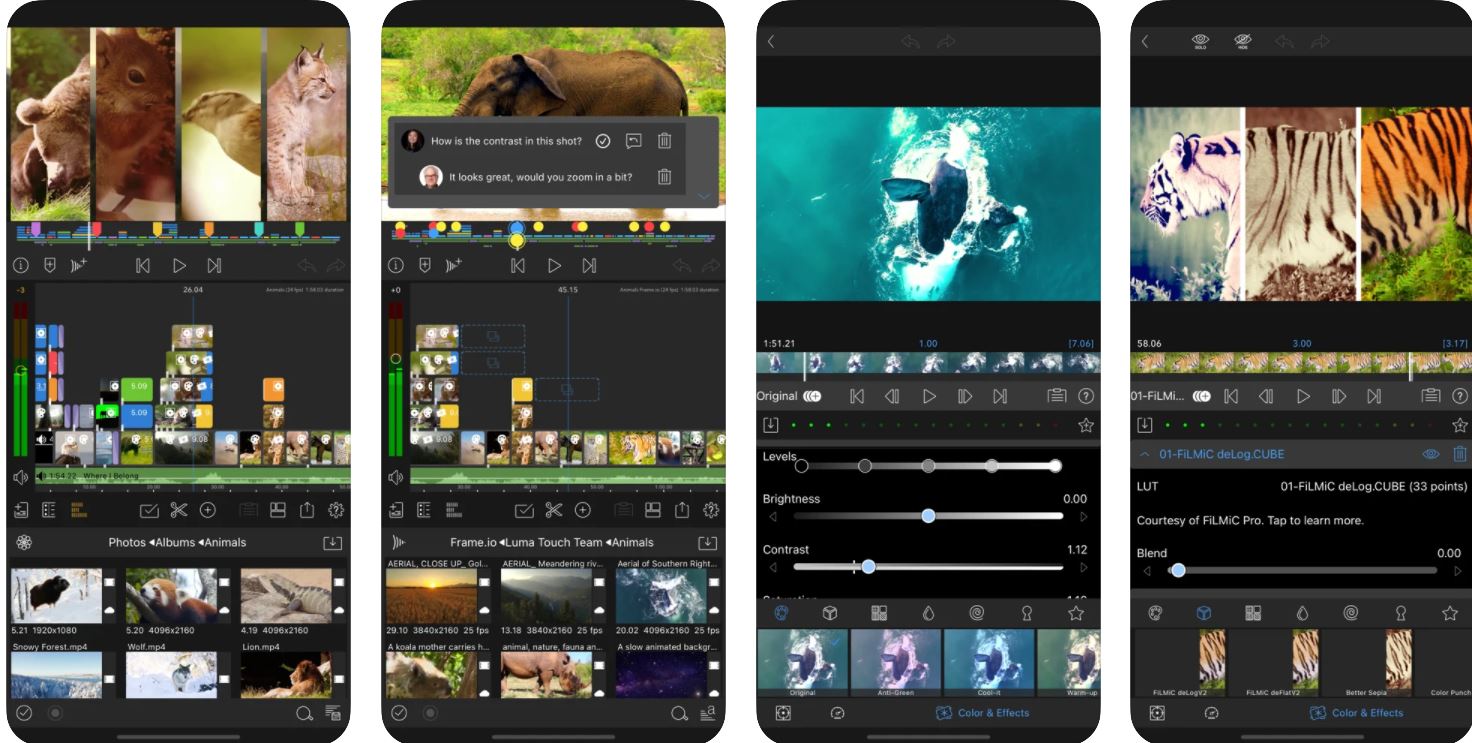 This mobile application offers users a wide range of features that even some desktop apps fail to provide. Some of the most important features of LumaFusion are- 
You get dozens of transitions

6 video/audio tracks for photos, videos, audio, titles, and graphics

Save and share motion and effects presets

Create slow-motion/fast motion forward and reverse

Add audio filters and EQ.

You can import multiple media files from Box, Dropbox, Google Drive, OneDrive, and iCloud Drive.

Easily share to the Photos app, Facebook, YouTube, Vimeo, Box, Dropbox, Google Drive, OneDrive, iCloud Drive, or "Other App," including Airdrop to your Mac.
You might be wondering about getting these many features in just a mobile app. But guess what? There are many more features available in LumaFusion with a minimum subscription price of $19.99.
Pros:-
Display your Preview on an external monitor

Add markers to communicate about edits

Listen to your mix while adjusting track levels

You get a bunch of amazing features with a low-cost subscription

User Friendly
Cons:-
Media imports can be slow

FTP transfer doesn't work properly

Requires a good space to work smoothly
Download the App on Apple App Store
4. Digital Clapper 
Clapper is the essential element of every shooting. Digital Clapper as the name suggests, is an app that helps the producer or the filmmaker simulate the analog variety. It helps to synchronize sound and pictures with time snapshots.
This android app also offers some great features to its users other than synchronizing; those are as follows:
It has a countdown feature.

Five seconds countdown with beeps

Timecode generator

Take and date display
Pros:-
User Friendly

Simple app but could save you if you forgot to bring a clapper to set

RGB Test Pattern with 1khz tone

Countdown with beeps

Timecode generator
Cons:-
Your video camera might not record a beep voice

You must check the beep voice beforehand or connect the external mic with Digital Clapper and the camera.
5. Sun Surveyor
Some users might not look very useful, but it is of great help indeed. Sun Surveyor is the handiest app that you must find.
The app helps predict the position of the sun and the moon and sunrise and sunset so that the filmmaker can work accordingly and set the location of shoots keeping in mind the shadows and light of the sun or moon. 
You can have a bunch of features while using this app, such as the position of the sun and moon, a 3d compass to help you with the position of shadows, an interactive map, a street view, and much more. 
Pros:-
It comes with photography tips

Works Smoothly

Helpful for shadow shoots
Cons:-
Only compatible with iPhone and iPad

No detailed weather information.
Download the App on Google Play Store
Download the App on Apple App Store
6. Adobe After Effects
Adobe After Effects CC, as the name says, the software is primarily designed to make visual effects and motion graphics for web videos, films, ads, etc.
It can help filmmakers to add different effects to the texts and visuals, such as spinning words, 3d texts, motions, etc. The software also has a free trial; the subscription plans start from $29.99/ month. The features provided by Adobe After Effects to make your visuals attractive are:
Enhanced 3D Pipeline

VR Converter

Data-Driven Animation

Immersive Virtual Reality Effects

Lifelike Virtual Reality Videos

Dynamic Transitions

Advanced Effects

Extract Cube map
Pros:-
Comes preloaded with multiple effects and customizations.

Its perfect for creating visual and motion graphics

It also comes with various Audio Editing options.

Plugin Compatibility

Fast animation

Adobe After Effects has a comprehensive online portal with tons of tutorials and comprehensive manuals to refer to.
Cons:-
A bit difficult from a learning perspective.

It might look costly to those working on small projects.

Some of the scripts can be difficult.

Absence of a mobile app.

The software is too heavy.

Some files might require a lot of space.

Lags in title sequence creation.
Learn After Effects in 10 Minutes! Beginner Tutorial
7. MAVIS- Pro Camera
Mavis- Pro Camera is an IOS app designed for ultimate quality filmmaking. Making professional video camera quality videos is no more a difficult task now; you just need Mavis- Pro Camera app.
This unique professional app allows its users to shoot high-quality videos from iPhone, and that too with a bunch of customizable features such as:-
Full-screen mode

HD, 2K, and 4K* recording

View shutter in angles and speed

Focus peaking and Expanded focus help ensure your shots are always in focus.

Select external audio input from Lightning connector or analog input

Zebra overlay helps ensure your shots are never overexposed

Manual controls for Shutter, Focus, ISO, Color Temperature

Shutter lock

Digital Zoom in 1080p
Pros:-
Provides HD quality resolution for video shooting.

Provides Timecode

You can make professional videos easily.

Multiple saving and sharing options.

Customizable audio controls

Supports external audio input

Subscription prices are very minimal. Plans starting at $5.99

Available in different languages
Cons:-
The video might freeze for 2-3 seconds

Not available for Android and iPad

Stabilization on iPhone 8 plus not working

No shortcut button for looking at the previous photos/videos.
Download the App on Apple App Store
8. Quik by GoPro – Best filmmaking apps for android
Quik app, designed by GoPro, gives you some amazing features to add transitions to your videos. The app is primarily designed for editing your videos.
The app enables its customers to shoot HD videos in 1080p or 720p and also allows you to save your project as a draft for up to seven days.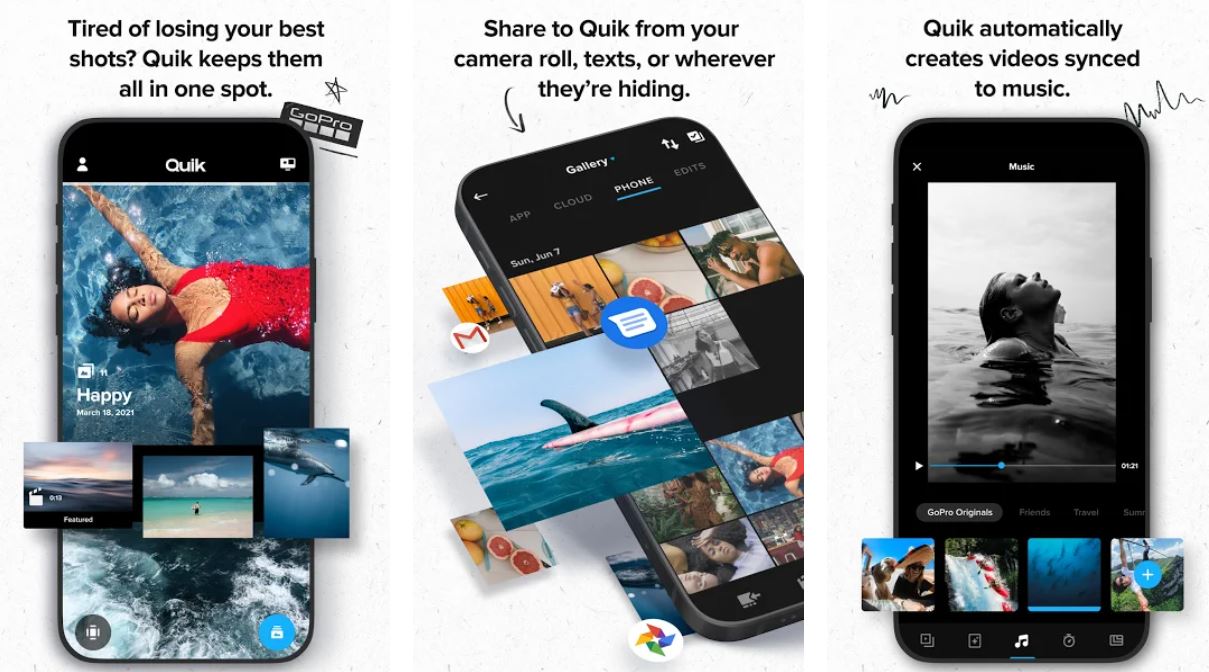 Quik analyses your video to detect the colors and different faces and suggest the perfect frame for your footage.
You also get an option to choose themes amongst the 26 pre-installed themes provided in the app. There is also an option to choose a different text font and different filters for your clip.
Pros:-
Shoot 1080p or 720p videos

Save drafts up to seven days

Access to 100+ free songs

AI editing assistance

26 pre-installed themes

No subscription charges

Available for iPhone, iPad, and Android
Cons:-
Limited controls and options

Trim option not available

It might be glitchy sometimes.
Download the App on Google Play Store
Download the App on Apple App Store
9. Artemis Pro
Artemis pro is a viewfinder app designed to help you find the true view of your field. The app enables its customers to enter their specific camera sensor, choose their lenses, see the actual view of their field right on their screen, and helps to analyze what all things are lagging.
This powerful digital viewfinder app was awarded an Emmy Award in 2018 for its contribution to filmmaking. Not only this, it has some extra features as well:
You can record the video, trim the ends, and add title cards.

The app has many in-built looks that you can use; you also get an option to create your looks and import Photoshop curves.

It also has a library of silhouettes that can be used as virtual stand-ins on the live camera feed and in storyboards.

You get the option to create custom frame lines according to your size and aspect ratio.
Pros:-
Perfect app to find the perfect view

A perfect tool for both moving and still images.

A super handy tool

Provides exact measurements
Cons:-
Average users find it a bit costly.

Might crash sometimes

You might get a blank screen that freezes
Download the App on Apple App Store
10. Celtx Script – best cinematography apps for android
Celtx Script is a scriptwriting app that will help you to create a perfect formatted script with very high and enhanced level words.
You get an option to choose what type of script you want, such as screenplay, stage play, comics, and much more. The app is available on both android and iOS.
Celtx - Free Scriptwriting and Pre-Production Software - Make Great Content
The app provides an all-in-one solution for writing, planning, and managing media production. It has a unique feature that allows multiple users to edit a single document and allows users to discuss and edit the script within the system itself.
Besides this, there are other features as well:-
Collaborative scriptwriting

Advanced suggestions

Pre-made templates

Easy script formatting tools

Easily convert your document file into a pdf

Option to easily organize story structure with plot points.
Below are some of the Pros and Cons of The Celtx Script that earned it a spot on our Best Apps For Filmmakers list.
Pros:-
All script writing functions are free

Cloud-based tools

Truly all-in-one

Industry Standard

Instant Organization
Cons:-
Some features might not work properly for some users

Sometimes Glitchy

Sometimes you can face difficulty in saving drafts.
Download the App on Google Play Store
Download the App on Apple App Store
11. FiLMiC Pro
FiLMiC Pro is an incredible app designed for video production and shooting. The app turns your phone easily into a video camera, providing several professional features that are too customizable. It is immensely advanced as compared to other standard video shooting apps.
FiLMiC Pro v6 for Android
This iOS and android app enable its customers to easily and virtually turn their phone into a high-level professional camera. The subscription price starts at$14.99. Some of the best and unique features of FiLMiC Pro are:
Manually Change the exposure

Shoot in different aspect ratios

Auto-mode

Provides Manual Lens Array

Premium Audio Controls

Customizable frame rate 

Full Control over red, blue, and green color channels.

Histograms for a detailed view of composition

Customizable exposure and focus

False Color maps

Slow and fast motion FX.

Time-lapse recording.

Focus Peaking

Bitrate

Redesigned Reticles

Standard, manual, and hybrid shooting modes. A shooting style for any skill level.
The features are not restricted to this list; there are many more!
Pros:-
Full manual controls for exposure, ISO, shutter speed, focus, and zoom.

Take professional-quality videos with your iOS device

New features include external audio monitoring, Chroma Key, and Screen Display options

Live scene analytics.

Third-party hardware support.

Enjoy three separate shooting modes, including Event Mode with a record/pause/record function.

Log format support extends the dynamic range.
Cons:-
No post-shoot editing.

Requires a good phone space

High subscription pricing

Some integral features require in-app purchases.
Download the App on Google Play Store
Download the App on Apple App Store
12. Adobe Premiere Rush
Designed by Adobe, it is a smaller or lite version of Adobe Premiere Pro. Even after being a lite version, it has more amazing features than a standard video editing app.
Adobe Premiere Rush is a professional video editing app designed for the post-processing part of the project.
Adobe Premiere Rush Features | Adobe Creative Cloud
What's more interesting is that the app is free on macOS, iOS, Android, and windows desktops. So you have the golden opportunity to make your project look professional by editing it with the features provided in Adobe Premiere Rush.
It has several in-built features such as:-
Tailor Transitions

You can change the speed with the help of professional pace-changing tools

Easy-to-use video editing tools

You can cut and duplicate clips

Enhance your videos with preset and manual color correction.

You can adjust the audio of the video clip and there are tools to trim the audio as well.

Add attractive texts to your video clips

Customizable Fonts

Add titles using motion graphic templates

Different cool transitions to give a professional touch to your work

You get multiple sharing options

And much more.
Below are some of the Pros and Cons of The Adobe Premiere Rush that earned it a spot on our Best Apps For Filmmakers list.
Pros:-
Simple interface.

Well-designed and organized layout

Easy sharing to social networks

Compatible with different devices

Free of cost

Allows you to shift between Premiere Rush and Premiere Pro easily

Good color and title tools.

You can make cuts from other videos and make a unique video.

Easy to incorporate soundtracks and narrations
Cons:-
Limited transitions

A bit high learning curve

Requires a lot of memory to use it

Slow rendering.

Not for a beginner

Crashes frequently
Download the App on Google Play Store
Download the App on Apple App Store
13. KineMaster
KineMaster is a simple, user-friendly video editing app for iOS and Android users. It is a great option for beginners, intermediate video creators, or short filmmakers. You get basic editing tools such as trimming videos, adjusting brightness, contrast, etc. 
Download KineMaster 5.0 - Your Ultimate Video Editor
The app is designed to give your project a semi-professional look. You can work with limited features if you desire to work for free, and you can also purchase a subscription if you desire to work with a professional and advanced bunch of tools.
KineMaster offers its customers the following features:-
Audio Tools

Speed Control

Animation Styles

Video Capture

Voice-Over

Overlays

Multiple Layers

Frame-by-Frame Trimming

Social Media sharing

Different style Fonts 

Slow Motion 

Transitions

Attractive Backgrounds

Picture slideshow
Below are some of the Pros and Cons of The KineMaster that earned it a spot on our Best Apps For Filmmakers list.
Pros:-
Cutting and trimming tools

Addon feature

Good in adding music in the background

Merge pictures and create a video

Free trial

Ease of video editing 

Built-in animated titles that look very professional

Low-cost Subscription price

Support for multiple video and audio layers
Cons:-
Fewer options for customization

Uses watermarks and ads on the free version.

Basic color correction tools.

Too many ads

Not for professional filmmakers
Download the App on Google Play Store
Download the App on Apple App Store
14. Frame.io – Best free apps for filmmakers
Frame.io is designed for filmmakers to work together collaboratively and give feedback on the system. Frame.io offers time-based comments and video annotations so you can draw directly on video frames to communicate your feedback accurately. 
You can share your video directly with your client, and the app also allows you to take live real-time feedback, which helps you to improve more.
Some features of the app are:-
Time-based comments and video annotations so you can draw directly on video frames to accurately communicate your feedback.

Face ID for added security.

Advanced search and filter

Real-time comments
Below are some of the Pros and Cons of The Frame.io that earned it a spot on our Best Apps For Filmmakers list.
Pros:-
The upload speeds to frame and from Frame to Vimeo or Dropbox are fast!

Simple UI.

Customizable privacy settings

Secure Storage

Side-by-side comparison

Stunning presentations.

Team permissions and media access.
Cons:-
Not functional on iPad

Limit of 5 team members at a time.

Difficulties in commenting in landscape mode.
15. Helios Pro
Helios Pro is an app tracking light and shadows for your shoot location. Many of the apps might give you the location of the sun or the moon, but Helios Pro helps you to get an exact insight into light and shadow.
With the help of this app, you can even create 3D models of landscapes, cars, animals, etc, with perfect light and shadow.
Some of the features are:-
Multiple ways to export data

iPad and iPhone compatible

Scarily accurate alchemy and celestial mechanics.

Night-shoot planner to see the optimum dates and times to shoot the Milky Way.

Multiple tools to explore sun, moon, and star data

Perfect analysis of light and shadows.

Beforehand preparation according to the position of light and shadow.
Below are some of the Pros and Cons of The Helios Pro that earned it a spot on our free cinematography apps list.
Pros:-
Night Shoot Photography 

Exact information related to shadow and light

Easily create 3D models

Super wide-angle camera
Cons:-
Poor compass accuracy

Expensive subscription.
Download the App on Apple App Store
📗FAQ
What app do professional filmmakers use? 
Adobe Premiere Pro, StudioBinder, LumaFusion, Digital Clapper, Sun Surveyor, etc., are some of the most preferred apps used by filmmakers in 2022.
These apps enable modern filmmakers to enhance overall productivity and work more efficiently without unnecessarily spending a lot of time.  
What is the best filming app? 
Artemis Pro, Scriptation, Helios Pro, LumaFusion, Upcast, etc., are among the best filming apps available on the App Store and Google Play Store and can reduce a lot of workload from the shoulders of filmmakers.  
What programs do film producers use? 
Adobe Premiere Pro, The Foundry Nuke, Final Cut Pro, Lightworks, FUSION 17, etc. are among the most popular programs used by film producers to smartly streamline all the tasks related to film production, even on the go.  
Which app is used to make films? 
iMovie, Adobe Preimiere Rush, FilmoraGo, VivaVideo, InShot, etc., are some of the most prominent apps used to make high-quality films with the help of some amazing, readily available features.  
Which app is best video maker? 
InShot, FilmoraGo, KineMaster, Splice, VivaVideo, etc. are top video maker apps and are more than just enough to meet all your video-making requirements across phones and tabs.
How can I publish my movie? 
Film Festivals, submitting for film awards, Broadcast Television & Netflix, Theater Release, Digital: Video-On-Demand/Pay-Per-View, etc. are some of the best options to explore if you successfully want to publish your movie.
The next focus should be on marketing, public relations, building e-mail lists, educational license agreements, etc. to make it a success.  
What are the eight elements of the film? 
Plot, Structure, Characterization, Scenes, Visuals, Dialogue, Conflict., and Resolution are the 8 most important elements of a film and are equally crucial for overall success.  
Can short films make money? 
They don't in the majority of cases. Rarely certain events may give out cash prizes; in such cases, they might recoup part of their costs.
There is also the even slimmer possibility of distribution, but even then, it is most likely to bring in little to no money. In essence, short movies don't bring in money. 
How can I make a movie?

 
Here are some basic tips you should work on to start making a movie.  
Look for your script. No of their budget, all movies begin with a script.

 

Make a budget. As soon as you have your tale, calculate the cost.

 

Employ your team.

 

Do your casting.

 

Prepare for the shoot days.

 

Be mindful of the editing.

 

Send your movie to festivals.

 
How do you write a film script?

 
There are some important steps involved in successful film script writing. Here are some of the most useful ones.  
Discover the Art of Screenwriting.

 

Read the scripts, then see the companion films.

 

Practice.

 

Find a mentor for screenwriting.

 

Get a job or an internship in the field of screenwriting.

 

Study the screenwriting industry.

 

Develop Your Network in Screenwriting.

 

Keep expanding.
How do I get my movie seen?

 
Here are some of the best ways to see your movie by a decent number of viewers.  
Curators and Online Short Film Festivals.

 

IGTV and Instagram.

 

Watch on Facebook.

 

The Film Fund: Chat Community for Authors and FF Studios.

 

Twitter.

 

Your email database

 

Meetups and screening events for local films.

 

YouTube.
Conclusion on apps for filmmakers list
Manual processes may be hectic and take much more time to avoid these obstacles; everything can be done these days digitally. Here is a list of different apps every filmmaker must have to make his/her project professional.
These apps assist filmmakers with everything from script making to video editing, making call sheets for the crew members, and much more.