Do you have the curiosity to know about the best GoPro gimbal to buy? 🤔 You can easily Find out now in this definitive list with our detailed review.
Without any further delay, let's find out. 👓
Sometimes the only thing between the quality of your video and how professional you want it to be is that you do not have anything to control the shakes.
Professional GoPro camera coverage is amazing; it is what you want and needs to take your work quality to the next level. You can improve the quality of your work by having a great gimbal stabilizer.
There probably was never a time when people thought investing in a GoPro Gimbal was not worth it. However, there is a persistent question of which GoPro gimbal out there would be a good buy, not just in terms of the cost but its performance.
With many options, it could become even more puzzling as to which GoPro Gimbal will be the best for you and which will help you improve your image quality.
With things like handheld, 2-axis, and 3-axis to bother about, there is no wonder getting a GoPro gimbal have you a little confused.
This article breaks everything down, from the best GoPro Gimbal there is to explain the types that exist and what you should look out for when buying yours so that you have an informative buying guide to help you choose the best out there.
Best GoPro Gimbal – Our Top Picks 👌
1. GoPro Karma Grip
If you need a gimbal that is easy to mount and handle, you will have a good deal with the GoPro Karma Grip.
Made by GoPro, the Karma Grip is an impressive addition to help you get your stable motion footage as long as you have a little patience because when you power it on, you may encounter a little delay before it is all up and running.
After it is all setup, expect to have nice stable footage at the end that will make you grateful you decided to spend the extra cost on the Karma grip.
Features:-
It can be controlled with a remote
It is a 3-axis stabilizer
Inbuilt battery
The battery runtime of 105 minutes
Compatible with Hero 6 Black, Hero 5 black, and with the help of an extra attachment, Hero 4
Manufacturers are GoPro
It has a carry case
USB connection
Pros:-
It provides very good footage stabilization
It has a case for storage
The remote control functions make it easier to operate
The gimbal is highly durable
It is easy to mount, making it perfect for shooting different scenes.
It can work in inversions and tilt, giving you consistency in your footage
The battery charges the camera
Cons:-
It is pricey, and so are the accessories like the extension cable
Some users find its size to be bulky
There have been complaints of bugs that cause a "USB connected" message to appear on the screen.
Note:- Regarding the USB-connected message, some users have found that changing the memory card or using it without one fixes that, and you will have to buy extra accessories if you want to use it with a Hero 4.
As long as you don't have a problem with space when moving around, you will surely enjoy this Gimbal, which puts it in our best GoPro gimbal list.
GoPro Karma Grip - Hands On Review
2. EVO GP-PRO 3-Axis GoPro Gimbal
The EVO GP-PRO is a gimbal that will take any footage to the next level by offering versatility, stability, and professional support.
Because this gimbal is built to support and be used by professionals, it has connections and attachments that make it compatible to be used with the kind of gadgets a professional would use; in addition, the gimbal is built to be versatile, to be easy to use, and startup and to run for a long time with the inbuilt battery charging features.
Features:-
Manufacturers are EVO
It is compatible with the GoPro Hero 3 and 3+, GoPro Hero 4 silver and black, GoPro Hero 5, GoPro Hero Sessions, Garmin Virb Ultra 30, and the Nikom KeyMission 170.
It has controls on the joystick.
It has a 3.5mm AV audio cable that can be connected to an external monitor
It offers different options for mounting
The controls allow you to have four different modes
The inbuilt battery runtime is 5 hours
Aluminum body
Pros:-
The aluminum body helps to improve durability.
You do not have to extract footage before viewing it, as it can be connected to an external monitor.
It is compatible with a good number of GoPro cameras
It can be mounted on a tripod
The battery life makes it convenient for extended usage
The inbuilt charging is a great advantage
Despite that, it is targeted at professionals. It is easy to use and startup, making it convenient for beginners.
Cons:-
Few users found this gimbal on the heavy side.
Notes:- If you are looking to boost your video quality and you do not mind the weight, the EVO GP-PRO is great, and the fact that it has an inbuilt charging allows you to leave some extensions at home while you carry it to work; therefore reducing the overall weight.
Check Price on Amazon
3. Feiyu WG2 PRO Edition – Best GoPro gimbal stabilizer
Do you cringe at getting stuck in a downpour while shooting, or do you simply want a gimbal that can work with different weather conditions?
The Feiyu WG2 pro is the gimbal for you because not only does it have amazing stabilization, but it is also waterproof.
In addition to being waterproof, this gimbal is built to be worn, making it very convenient for moving around with and taking a brief dive because you do not want your Feiyu WG2 underwater for an extended time.
The other interesting features of this gimbal are as follows:-
Features:-
Manufacturers are Feiyu
It is lightweight to suit wearable features.
It weighs 265 grams
It has an inbuilt lithium battery with a runtime of 2 ½ hours
It can be connected to the mobile phone app
It has an autorotation feature
It is a 3-axis stabilizer
The Feiyu WG2 supports Hero 5 Black, Hero 4, Hero 3+, YI 4K, SJCAAM, AEE, and Hero 4/5 sessions.
Pros:-
The lightweight makes it convenient to wear when shooting
It can easily be attached/mounted on wearables like a helmet or a bag pack
The waterproof nature allows it to function for some minutes under fresh water
It has a durable metal body
It can be used to capture water sports
It is suitable to use in the rain and the snow
It has a 360o rotation
It can be worn as well as mounted
Cons:-
The battery lasts only for 2 ½ hours, which is considered short
Notes:- If you use this gimbal for extended hours, you may consider having a charging source close by; the good news is that it charges fast.
The waterproof feature allows it to be used for up to 1m under freshwater but is not advisable under salty water because of the metal body, which puts it in our best GoPro gimbal list; however, you can rinse off the salty water just in case.
Trying New Gimbal Modes! Feiyu Tech WG2 Gimbal Review | JordanBoostmaster
Note:-
I have written a post for people looking for the
Best Gimbals for iPhone
to buy?; read it If you are interested.
At the time of our research on the "best GoPro gimbal", we found a video about "20 Tricks You Should Know Before Taking a Photo" worth watching. 🏆
20 Tricks You Should Know Before Taking a Photo
4. Removu S1 – Best gimbal for gopro hero 10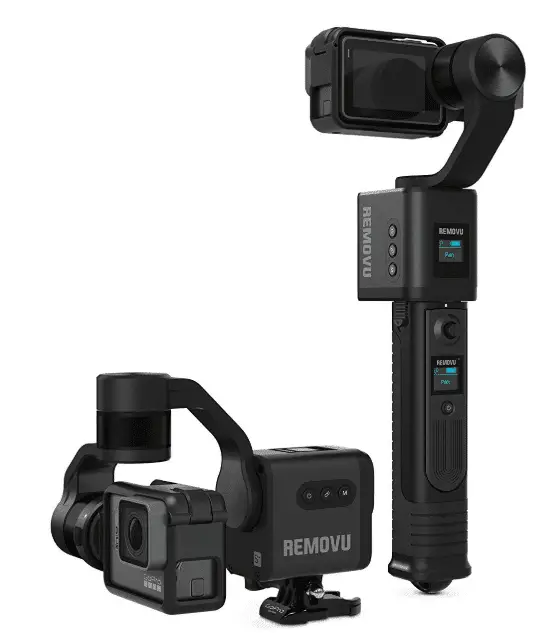 This gimbal is strong competition for both the Karma grip and the Feiyu WG2 gimbal already listed, and with good reason.
With the waterproof function and advanced features that make it convenient to shoot a video in the rain and get a stable video, the Removu S1 is considered very advanced and handy for gimbals.
Also, its remote control and Bluetooth compatibility are commendable wireless features.
Below are some of the Removu S1 waterproof GoPro Gimbal features that earned it a spot in our list of Best GoPro Gimbal.
Features:-
The manufacturers are Removu
It is waterproof
It can be remotely controlled from a distance of up to 10m
Controls are available on the joystick
It weighs 380 grams without the battery
The battery runtime can be up to 5 hours with a charge time of 2 ½ hours
It has a Bluetooth compatibility function.
It is built to be compatible with different GoPro versions with consideration for future designs.
Below are some of the Pros and Cons of Removu S1 that earned it a spot in our list of the best gimbal for gopro hero 5.
Pros:-
You can use this gimbal in the rain.
The mounting is easy and versatile, so you can decide to wear it, hold it or mount it on a bike or skateboard, or the sort.
Partly durable build
It is a good stabilizer with good angles tilting and rotating
The battery is removable so that you can carry a spare with you.
It comes with a carry-along bag.
The remote is detachable, which makes it easy to mount it anywhere and control it from the 10m range.
Cons:-
It weighs more than its competitions
The distractor motor gets noisy with Hero 5
Notes:- Even though the weight can make it uncomfortable to wear for a long time, you can always mount it and control it from a distance for convenience.
Check Price on Amazon
5. DOBOT Rigiet – Best cheap gimbal for gopro
The Dobot Rigiet gimbal is a great gadget anyone who plans to take action videos or pictures should have because it works with both GoPro and a smartphone, giving it a higher number of compatible devices than the other gimbals in this list.
this makes this gimbal incredibly handy for people who do coverage with multiple devices, so you do not have to have a gimbal for every device, which reduces the bulk of your gadgets.
Since it is versatile, the price tag appears cheaper than it would have been if you had to buy one gimbal for your GoPro and another for your smartphone.
Below are some of the features of the DOBOT Rigiet (Go-Pro and Smartphones) that earned it a spot in our list of Best GoPro Gimbal.
Features:-
Manufacturers are DOBOT
It is compatible with GoPro, Android OS, iOS, and other action cameras.
It is a 3-axis gimbal with a pan of 300, a roll of 270, and a tilt of 300
Stability precision is up to 0.001o
It weighs 480 it comes with a carrying case
It is a handheld gimbal
The body is made of aluminum
Below are some of the Pros and Cons of DOBOT Rigiet (Go-Pro and Smartphones) that earned it a spot in our list of Best GoPro Gimbal.
Pros:-
Beginners can use the gimbal with the help of the manual.
It has batteries that last long on run time
Durable body material
The auto-tracking feature is precise and reliable, helping to improve stability.
It can be mounted on a tripod.
It can be used with both action cameras and smartphones.
Cons:-
It cannot auto-track small objects.
Notes:- This gimbal has a high customer rating and is worth spending because of the precision and stabilization you can have even with shooting a live video and the versatility with compatible devices.
DOBOT Rigiet - The Most Advanced Gimbal for Smartphone and GoPro
6. Hohem iSteady pro – Best budget gimbal for gopro
One of the leading features of this gimbal that make it preferred among others is that it is worth the money and is not expensive. In an era of expensive gadgets and gimbals, Hohem has been able to provide an economical and efficient version.
In addition to its affordability, the iSteady Pro has features and a design that will help you achieve stabilization on your videos and commendable battery life.
Below are some of the features of the Hohem iSteady pro that earned it a spot in our list of Best GoPro Gimbal.
Features:-
Manufacturers are Hohem
It is compatible with GoPro Hero 3, Hero 3+, Hero 4, Hero 5, Hero 6, Yi 4K, AEE, Sony RXO, and SJCAM.
It has a mobile app
It has an inbuilt battery of 4000mAh, giving up to 12 hours of runtime.
It can be charged both directly and with a power bank
It is a 3-axis gimbal with a 320o pitching angle, 320o rolling angle, and 640o panning angle.
Controls are on the joystick
It has Bluetooth compatibility
Below are some of the Pros and Cons of Hohem iSteady pro that earned it a spot in our list of Best GoPro Gimbal.
Pros:-
The gimbal can be used to charge the camera and smartphones
Long battery life is a huge advantage for extended usage.
It is silent during the operation
The gimbal has an ergonomic handle design.
It is cheap (less than $100)
It has an LED light battery indicator
It has four different shooting modes.
Cons:-
The specs may not meet up to the needs of more expert videographers
Notes: if you do not demand too much of your gimbal and you are still a beginner or intermediate level, you will enjoy this gimbal because it is affordable and efficient.
Check Price on Amazon
Some other gimbals that are great and fall among the top ten are:
Best GoPro Gimbal: What To Consider
Different gimbals have different specs that all serve different purposes, and just like any other gadget out there, you may not necessarily need all the specs; hence what you need should guide you to buying the best GoPro gimbal out there.
Notwithstanding, a few things will serve as guides to help you end up with the best gimbal for you, which are as follows.
Compatibility with GoPro cameras:-
Some gimbals have a long list of devices they are compatible with compared to others, and some are compatible with other action cameras that are not GoPro and even smartphones.
Your gimbal compatibility with devices is very important, even if you do not have multiple devices. You may want to use it on another device or change it late. Something that affects the gimbal's compatibility with a camera is.
The price of the Gimbal:-
If you are working with a budget, you should know that the price of a gimbal will be a necessary pointer as to which of them you should buy.
Although gimbals are generally expensive gadgets owing to their performance and their newness in the market, however, cheaper and more affordable options are in the works by brands, and the iSteady gimbal is already an existing affordable gimbal option out there for you.
When working with a budget, the aim is not to go for the cheapest but rather to get the best that your intended budget can buy, don't go too cheap at the compromise of features and performance that you may need, and don't buy one simply because it is expensive expecting it to be the best.
The Type of the gimbal:-
There are different types of gimbals out there and, frankly, different classifications as well. The classifications are either 2-axis or 3-axis gimbals, electronic or manual gimbals, and wearable or handheld gimbals.
Each category you may consider will depend on how you intend to use your gimbal and what for.
For instance; a 2-axis gimbal does not rotate as much as a 3-axis gimbal; hence will be cheaper and have less coverage; an electronic gimbal may be more convenient but professional/expert videographer tends to prefer the manual; wearable vs handheld or mountable will depend on the kind of scene you want to shoot. In the end, you consider the category that relates best to you.
The weight of your camera compared to the allowable weight of the gimbal:-
Every gimbal has an allowable weight with which it can work, be it the weight of the camera or smartphone. Since chances are that you would have purchased the camera or smartphone you use before the gimbal, you have to be guided by how much it weighs about how much weight the gimbal can take.
It is advisable not to use a camera that weighs outside the minimum or the maximum limits of the gimbal you intend to buy. However, note that you must add the cumulative weight of everything when coupled for cameras with detachable pieces.
The battery life:-
Many times you may have to shoot your video or your image out in the field without any major access to electricity or an AC socket and in these kinds of cases, your battery will have to last you through your shoot.
A spare battery is an option, but for gimbals with in-built batteries that cannot be removed, the battery life becomes even more important than the ones that can easily be removed. Also, a gimbal you can charge while using may compensate for short battery life.
The durability:-
The durability of a gimbal depends on how rigid it is; can it survive a fall? And from what height? How long will it stay in good working condition? How resilient is the body material to use and weather?
These are important considerations because while you plan to handle your gadget with care, accidents sometimes happen, and if your gimbal falls from a short height and starts malfunctioning, it is not durable.
Overall, a metal body is more durable than plastic but is also susceptible to wear and rusting.
Your usage:-
how you intend to use your gimbal and what for can go a long way to tell you what you need. For instance, what you need to make a good steady YouTube home video will be less than what you need to record a sports game session.
The speed of movements you need to record, and what you will be recording will matter because some features may work better with a larger object in focus.
If you do a lot of shooting outdoors where you may be exposed to weather conditions like rain and snow, you may want to consider getting a gimbal that is built for that, as the temperature also affects how and when a gimbal can work.
Types of Gimbal:-
There are different types of classifications by which gimbals are grouped, and three of them are discussed further below:
Category 1:- Wearable vs handheld vs mounted
This category deals with how a gimbal is mounted and where it can be mounted. Even though many gimbals out there can be mounted either way, it is still important to consider this.
Wearable gimbals are usually expected to be smaller and of lighter weight, and the others are carried on the body; they are usually attached to backpacks and helmets and use a different mechanism for attachment.
Handheld gimbals have a stick to hold it with, much like a selfie stick and just like wearables; this is required to be lightweight; otherwise, it will tire out the arms easily, or it will be too much load for the stick to bear.
Mounted gimbals, on the other hand, are designed to be mounted on things like a tripod, a bicycle handle, a pole, etc. they have a wider range of places they can be put and are usually heavier than the previous two.
Category 2:- 2-axis vs 3-axis
The difference between these two means the gimbal's axis helps stabilize the video. The two-axis gimbal will do its stabilizing effects along 2-Axis while the 3-Axis will do its long 3-Axis.
While, at first glance, the three-axis may seem like the better choice, you have to consider what you need the gimbal for and what coverage you will be making; if you want only to take pictures, then there is no need to spend the extra money for a 3-Axis gimbal as the 2-Axis is the cheaper option and will perform just as well with photographs.
While if you are going to be making videos, then you may want to consider the 3-Axis as their difference starts to show when you make videos, and the 3-Axis has more stability.
Nonetheless, the three-axis gimbals are generally more expensive, bulkier and weightier than their 2-axis counterpart and use up more power during its run time. All these should be considered, and if you need a 3-Axis gimbal, then be prepared for the battery, the cost, and the weight.
Category 3:- Electronic vs manual
Even though all the gimbals listed in this article are electronic, owing to their popularity, there are manual gimbals. With electronic gimbals, all the functions are controlled by a mostly brushless electronic motor; this makes them easier to set up and use and helps them have some automatic functions.
On the other hand, manual gimbals are cheaper and require a manual configuration to set them up to be right for use; it is usually bulkier and heavier but cheaper and has some instances where they may perform better than electronic ones.
However, the tech of the electronic gimbal is improving and getting cheaper; this has increased popularity.
In conclusion, you can get amazing gimbals out there but getting the best one means ticking the right boxes and bothering about the right features.
Above is a list of the best gimbals out there, reviewed and with their links, but if you want to pick outside of those, you may consider reading through the buying guides and understanding the type there.