Do you have the curiosity to know about the Best Laptops for Nursing Students to buy in 2022? 🤔 You can easily Find out now in this definitive list with our detailed review.
Without any further delay, let's find out. 👓👓
Our best laptops for nursing students list aim to help you find a perfect system for your everyday work as a nursing student.
The process of becoming a nurse is often a hectic one. So much to learn, an extensive course load, often sleepless nights to prepare for exams and tests, and periodic term papers to complete.
A good device often has the effect of making your workload seem just a bit less stressful.
Before purchasing a laptop, there are several factors to be considered. These factors include average battery life, amazing performance, good connectivity, portability, and durability, and all these were weighed before putting this list together.
With the above-considered factors, this our educated research walks the fine blend between cost, productivity, and adaptability to personal use.
We considered the criteria and recommendations from top nursing schools while putting together this list.
This list should serve well for the fresher and the older student looking to purchase a new laptop to meet up with the latest software versions or for personalized nursing-related software.
These devices will help maximize productivity and help lighten the burden of your demanding career.
Best Laptops for Nursing Students – Our Top Pick
1. Apple MacBook Air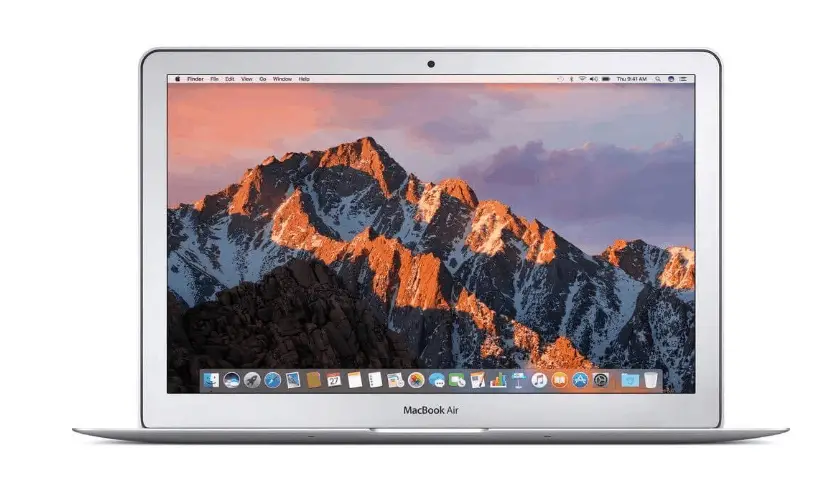 This device is strong and efficient. It comes with Intel Core 5 with 8GB LPDDR3 RAM. With this, the nursing student can comfortably run the software she wants concurrently.
This device guarantees work to speed with credit to its 128GB or 256GB SSD hard disk. the size depends on the variation you choose to go for.
The MacBook Air sports a Retina Display. Although it produces sounds from the fan while trying to cool down a processor when it is overtaxed, a quick restart of the app immediately quiets it down.
It has smaller bezels, a Touch ID, a T2 security chip, a larger trackpad, and a smaller design. This computer allows you to carry out whatever task you want. It has a familiar feeling and works as expected.
Specifications:-
1.6 GHz dual-core Intel Core i5 (Turbo Boost up to 2.7 GHz) with 3 MB shared L3 cache
8 GB of 1600 MHz LPDDR3 RAM; 128 GB PCIe-based flash storage
13.3-Inch (diagonal) LED-backlit Glossy Widescreen Display, 1440 x 900 resolution
Intel HD Graphics 6000
OS X El Capitan, Up to 12 Hours of Battery Life
Pros:-
It has a Retina Display
Touch ID works perfectly
The battery life is great – about 11 hours on backup power
Great new trackpad
Very lightweight – about 3lbs
Wonderful build quality
Cons:-
The display could be a touch better
MacBook Air 2018 Review: Apple's Most Popular Mac Gets Overhauled
2. Acer Aspire E 15
This model of Acer's budget Aspire E15 line is somewhat heavier and thicker than an ultraportable, it also comes with a 15.6-inch display.
It has a high-performance level, given that it carries an eighth-generation Intel CPU. This system has the average ports for routine use, a discrete graphics card for casual gaming, and even a DVD drive.
These features are important as you wouldn't want to be stuck in school with a low-performance laptop. For its price, it seems to have considerable ok value. The Aspire's tapered shell gives the laptop a sleek look, making it look professional.
A particularly nice design touch is the removable panel on the bottom of the Aspire, which is perfect for swapping in a bigger SSD or upgrading the RAM to a maximum of 32GB.
The bad news is that the 15.6-inch display that the Acer Aspire E15 carries is disappointingly dim. It can only be managed in an indoor viewing, an office setting, or a den, but once used outdoors, the user has to squint, aside from its bad screen. This laptop is good for running multiple activities at once.
Specifications:-
7th Generation Intel Core i3-7100U Processor (2.4GHz, 3MB L3 cache)
15.6″ Full HD Widescreen ComfyView LED-backlit Display supporting Acer ColorBlast technology
4GB DDR4 Memory, 1TB 5400RPM HDD
Windows 10 Home
Up to 12 hours of Battery Life
Below are some of the Pros and Cons of the Acer Aspire E 15 that earned it a spot in our list of Best Laptops for Nursing Students.
Pros:-
High performance
The widescreen is seen by many as advantageous
It has great battery life – about 12 hours on backup power
Upgradable memory – up to 32GB
Fine design
Cons:-
It is slightly heavy and bulky
Check Price on Amazon
This nice device enters the list of The best laptops for nursing students in 2022 for many reasons, one of which is the great battery quality.
This laptop sports a base model of 120 GB SK Hynix SC311 SSD but is easily upgraded to a 500 GB model. It is light and solid.
The computer comes with a 13″ screen and is slightly thin.  A wonderful feature if you consider that you might want to take classes with it. The XPS 13 has a decent-sized trackpad and a very nice tracking surface. The software controls are averagely flexible, and the display is good.
The battery life of this laptop is good enough, perfect for a student as you don't have to carry a charger everywhere. This Dell computer is equipped with a very good cooling system.
One downside is the unclear webcam, but that should not be much of a problem for the nursing student.
Specifications 
7th generation Intel Core i5-7200u 2.50 GHz Processor
8GB lpddr3-1866mhz included; 8GB maximum
256GB SSD storage; No Optical Drive included
13.3″ QHD+ (3200 x 1800) infinity-edge Touch Display
Windows 10 operating system; silver
Below are some of the Pros and Cons of the Dell XPS13 9360 that earned it a spot in our list of Best Laptops for Nursing Students.
Pros:-
Great battery life
Thunderbolt 3 port
It is very portable thanks to its design
Cons:-
Check Price on Amazon
Dell XPS 13 (9360, Kaby Lake) Review - Still the Laptop to Beat?
Note:
– I have written a post for people looking for the
Best Laptop for Realtors
To Buy, do read it If you are interested.
At the time of our research on "Best Laptops for Nursing Students," we found a video about "10 First Aid Mistakes Explained by a Professional" worth watching.
10 First Aid Mistakes Explained by a Professional
4. Microsoft Surface Pro 4
This is about the most pricey laptop on the list so far. While some may argue its price as a reason why it is not appropriate for the nursing student, one must realize that it is a great multi-purpose laptop and will cater to all the nursing students computing needs.
If you are ignorant of this laptop, you should be informed that the Surface Pro lineup is a series of premium laptops offered by Microsoft.
Surface Pro 4 is a 2-in-1 touchscreen laptop that is lightweight and easy to carry anywhere. The justification for its price is its sturdy body made of magnesium casing.
This beauty comes with a 12.3-inch Pixelsense display with a resolution of 2736 x1824. The display gets bright, and it has a great viewing angle too.
A great feature to note is that one can view the display of this laptop at any angle. This is credited to the kickstand which Microsoft has offered on this laptop.
This is handy if you have group work and need to explain things on your laptop to other students. One other great detail is its surface pens. With this, one can take notes or draw anything. The pen comes with a few handy shortcuts.
For instance, clicking the back of the pen will open one-note, and double-clicking will take a screenshot.
Note:- This Surface Pro 4 is an older model. The latest Surface Pro doesn't come with a Surface Pen. You'll need to purchase it separately. Keep this in mind while purchasing.
This surface pro 4 comes with amazing performance. A 256GB SSD and 8GB RAM make it a bargain.
It does not come with the latest processor, but the 6th Gen Intel Core i5 can easily handle any task flawlessly. The SSD is phenomenal, with a read speed of 608MB and a write speed of 113MB.
unfortunately, for this computer, one needs to separately acquire the type cover ( set of keyboard and trackpad) and this costs about $100. Of course, the type cover is of great quality, but selling it separately does not just seem nice. It, however, comes with 5-6 levels of backlit to choose from.
Without the type cover, the Surface Pro 4 weighs only 1.7 lbs (0.7 kg) and along with the type cover, it weighs 2.34 lbs (1.04 kg). This makes it the lightest in the market.
The downside is the battery strength which gives about 6 hours on nonpower-dragging tasks like Microsoft Word. While playing some games, you'll get around 2 hours of battery life.
Specifications:-
Screen Size: 12.5 Inches.
Storage: 256GB SSD.
RAM: 8GB.
Processor: Intel Core i5 (6th Gen).
Graphics card: Intel HD graphics.
Operating System: Windows 10 Pro.

Below are some of the Pros and Cons of the Microsoft Surface Pro 4 that earned it a spot in our list of Best Laptops for Nursing Students.
Pros:-
Very slim and lightweight.
very good display.
Perfectly suitable for a nursing student.

Cons:-
Check Price on Amazon
Surface Pro 4 Review: The Laptop of the Future!
Note:-
I have written a post for people looking for the
Best laptops for artists
To Buy. Do read it If you are interested.
5. Asus Chrome book Flip – The best affordable laptops for nursing students
Asus Chromebook flip is more expensive than the usual price range of Chromebooks. It costs around $500 because of its great specifications and premium quality build.
The body of the laptop is made of only metal. The laptop carries a full HD touchscreen display with a resolution of 1920×1080. This display isn't great enough to use in outdoor settings, but it's quite admirable indoors.
The display has an RGB rating of 75% and an Adobe RGB rating of 58%. The laptop can be used as a laptop or a tablet. It can be flipped at an angle of about 360 degrees.
Regarding memory, it comes with 64GB storage and 4GB RAM. The processor is an Intel Core m3 making it easy to multitask on the laptop.
This Chromebook weighs only 2.65 lbs (1.2 kg) which is easy to carry anywhere, especially from home to school/college. A lightweight laptop is always a good thing to have for nursing students. Port selection isn't very great I would say. There are 2 USB Type-C (one on each side) and a Micro-SD card slot.
The keyboard and trackpad on this laptop are average but it has a backlit which will be useful while using the laptop in late night.
The 39-watt-hour battery on Chromebook Flip can easily last up to 8 hours on a single charge. This is the most important thing for any student I would say. You need to have a laptop with a long-lasting battery to bring it to school or college without any battery worries
Specifications:-
Intel Core M3-6Y30
4GB DDR4 SDRAM
64GB SSD
12.5-inch Full HD display
2xUSB 3.1 Type-C, microSD card reader
A weight of 1.2kg
Below are some of the Pros and Cons of the  Asus Chromebook Flip that earned it a spot in our list of Best Laptops for Nursing Students to get in 2022.
Pros:-
Slick design
Crisp, colorful screen
Reliable performance
Cons:-
Quite pricey for a Chromebook
Limited connectivity
The speakers are not of the best quality
Check Price on Amazon
6. Lenovo Yoga 710:- Best Laptop For Radiology Student
It's quite affordable at $800; the 14-inch Lenovo Yoga 710 combines strong performance, discrete Nvidia graphics, long battery life, and a vibrant, 1080p display into an attractive little package.
The Yoga 710 looks far more expensive than it looks because of its silver aluminum chassis. It weighs about 3.4 pounds and is 12.7 x 8.8 x 0.6 inches. The Yoga 710 has a 360-degree hinge that allows it to flip easily.
You'll only find the bare-essential ports on the Yoga 710. The left side is home to the power jack, SD card slot, and headphone jack, while the right has two USB 3.0 ports and a micro HDMI port.
It has a beautiful display and a powerful brightness, literally outshining the 247-nit category average. The 4.1 x 2.7-inch trackpad is spacious, comfortable, and responsive to gestures.
The Yoga 710 produces a clear and loud sound. You can flip the Yoga 710 around daily without fretting about the battery. The 720p webcam on the Yoga 710 is could be better but the Yoga 710 stays nice and cool during use because it doesn't heat up.
Specifications:-
14″ Full HD 10-point multitouch screen for hands-on control
7th Gen Intel® Core i5-7200U mobile processor Ultra-low-voltage platform.
8GB system memory for advanced multitasking
256GB solid-state drive (SSD)
Windows 10 Home 64bit.
Backlit Keyboard.
Below are some of the Pros and Cons of the Lenovo Yoga 710 that earned it a spot in our list of Best Laptops for Nursing Students.
Pros:-
Small for its screen size
Vivid display
Very good battery life
Cons:-
Blurry webcam
Fewer ports than competitors
Check Price on Amazon
7. HP Spectre X360
The HP Spectre X360 comes with excellent speakers and a gorgeous touchscreen. The laptop is shiny aluminum and carries a microSD card slot, a power button with embedded indicator light, a 3.5mm headphone jack, and a USB 3.1 port.
It has both USB Type-A and USB Type-C, and either of the Thunderbolt ports can be used for charging. The laptop is light and easy to carry with a comfortable large touchpad.
It has hinges that enable it to switch from laptop to tablet and still hold the Spectre x360's display while interacting with its touch interface. A full-sized keyboard sits just above the touchpad and functions perfectly. Great for typing.
It comes with Windows 10 and an HP stylus pen which can be used for drawing or jotting notes. The interaction between the stylus and Spectre x360 is seamless, with digital ink flowing from the pen with ease. It is convenient because you can also use the stylus charger for it.
Specifications:-
CPU: 1.8GHz Intel Core i7-8550U (quad-core, 4MB cache, up to 4GHz)
Graphics: Intel UHD Graphics 620
RAM: 8GB DDR3
Screen: 13.3-inch FHD (1,920 x 1,080) touch panel (WLED, IPS)
Storage: 256GB SSD (PCIe, NVMe, M.2)
Ports: 2 x Thunderbolt 3 (USB-C), 1 x USB 3.1, 1 x microSD, 1 x 3.5mm audio jack
Connectivity: Intel 802.11 b/g/n/ac Wi-Fi, Bluetooth 4.2
Camera: HP TrueVision FHD IR webcam
Weight: 2.78 pounds (1.26 kg)
Below are some of the Pros and Cons of the HP Spectre X360 that earned it a spot in our list of Best Laptops for Nursing Students.
Pros:-
Stylus Pen
Amazing speakers
Beautiful display
Powerful battery
Cons:-
Weak hinges
Poor Keyboard layout
Check Price on Amazon
8. Asus Zenbook 13:- Best Laptop For Health Science Students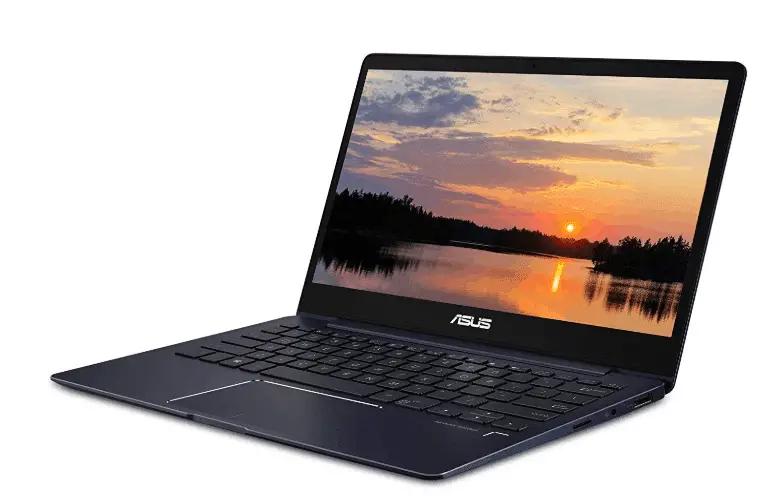 Asus Zenbook 13 has a beautiful design and a very sleek keyboard. It is also impressively lightweight and thin, even while having very powerful components.
This laptop is perfect for students. It gives a great experience for a little cost because it carries an Intel Core i5 processor and an Nvidia GPU. It might not be okay in terms of speed, but it has a killer display and a keyboard that's so sleek.
The next time you find yourself running late and looking for a mirror, check on your hair, look into the lid of the Zenbook. It is shiny and reflective enough.
The laptop has a microSD card reader, a USB 3.0 port, and a 3.5mm headphone jack. There is also a USB Type-C port, a USB 3.0 port, and a full-sized HDMI port.
The Zenbook's keyboard has a white backlight with several intensity levels, which can help you type in the dark. With Asus Zenbook and a price of $987.99, you can't possibly make a wrong choice.
A standard keyboard is backlit with white light and several levels of intensity. The chiclet keys offer 1.4mm of travel and are incredibly comfortable to type on.
We use a lot of keyboards, and most take some adjustments before we get into a flow. With the new ZenBook 13's keyboard, however, it was love at first type. The laptop also comes with an option of a Stylus for jotting.
Although the display is FHD (1,920 x 1,080), it has the impression of being on a higher resolution because of its brightness. The Asus Zenbook touchpad works with gestures too.
Specification:-
CPU: 1.6GHz Intel Core i5 8250U (quad-core, 6MB Cache, up to 3.40GHz with Turbo Boost)
Graphics: NVIDIA GeForce MX150 (2GB DDR5 RAM), Intel UHD Graphics 620
RAM: 8GB LPDDR3
Screen: 13.3-inch, FHD (1,920 x 1,080) wide view touch display
Storage: 256GB SSD (SATA3)
Ports: 1 x microSD card reader, 1 x 3.5mm combo audio jack, 2 x USB 3.0 Type-A, 1 x full-sized HDMI, 1 x USB 3.1 Type-C
Connectivity: 802.11a/c Wi-Fi, Bluetooth 4.2
Camera: VGA webcam
Weight: 2.5 pounds (1.12 kg)
Size: 12.2 x 8.5 x 0.5-inches (310 x 216 x 13.9 mm; W x D x H)
Below are some of the Pros and Cons of the Asus Zenbook 13 that earned it a spot in our list of Best Laptops for Nursing Students to get in 2022.
Pros:-
Nice battery life
Fast fingerprint sensor
Stellar display
Cons:-
Sloppy touchpad
HDMI port should be USB-C
Check Price on Amazon
Asus ZenBook 13 (UX333) Most Compact 13.3" Laptop
9. Dell Inspiron 13 5000:- Best Laptop For Biology Students
This laptop/tablet hybrid device comes with a touchscreen connected to a 360-degree hinge which allows it to be flipped around to form a tablet. If you're low on funds, this laptop might be for you.
It has a smart design and a wide range of specs. The laptop has a gun-metal grey color adorning most of the machine.
Although the laptop is not very thin and light, with dimensions of 325 x 224 x 20.4mm and a weight of 1.62kg, it's still a good one because there are three USB 3.0 ports and an HDMI.
It comes with a headphone jack, SD card reader, and a Kensington lock slot for keeping this laptop affixed to a desk. Great for reading, right? The laptop is also equipped with a backlit keyboard and a good trackpad.
This laptop has a bad side, though, as the screen is a little dull but it has a good audio system to listen to lectures.
Specifications:-
13.3-inch Full HD display
Convertible design with a 360-degree hinge
Intel Core i3-6100U, i5-6200U or i7-6500U
4/8/16GB RAM
500GB HDD or 256GB SSD
Below are some of the Pros and Cons of the Dell Inspiron 13 5000 that earned it a spot in our list of Best Laptops for Nursing Students to get in 2022.
Pros:-
Stylish metallic-grey design
Good performance
The keyboard and trackpad are beautiful
Cons:-
Very poor screen
The touchscreen is sometimes unresponsive
Poor battery
Check Price on Amazon
Conclusion
It can be tasking trying to decide and choose laptops. Laptops for nursing students should be durable while giving out good-quality output. The laptops mentioned in this list have been chosen because of their great specs.
They should help you make great choices because many of them are also budget-friendly. Also, many of these laptops on the list have qualities that will assist in your research and daily lecture. You can also use some of them during clinical.
Most laptops mentioned in this list have backlit keyboards, so you don't have to worry about late-night reading and light availability.
Also, a good number of them come with a stylus pen. This is a good feature because, as nursing students, it is expected that several drawings will be carried out during your course of study. You can conveniently make your diagrams and sketches without stress.
In the list, some laptops can be flipped—making them great enough to act as a tablet and a laptop. This is quite beneficial because it makes for easy usage. You can carry it in your hand while performing several other tasks. This list will help you make a great choice.