Are you searching for the Best Over Ear Headphones For Working Out in 2022? 🤔
Many sweatproof over ear headphones are out there, but how do you know which ones will benefit you? Lucky for you, we've put together a list of the best ones in this review.
Without any further delay, let's get started. 📗
The gym is one of the essential routines of people's life these days. Everyone wants to start fit and healthy. People try challenging exercises to get in shape and lose the right amount of weight.
Working out is fun with the proper equipment and some entertainment. Well, one standard tool that people use during exercises is headphones. Music can give you the energy to work out and inspire you to work out every day for long hours. 
Music has become essential in every gym. Whether you are on headphones or it is the gym speaker on, you will enjoy exercising in such an ambiance.
Music also keeps you boosted with energy and away from the noise of machines. Headphones today are ubiquitous among gym-goers. It is a necessary gadget for people.
You need some motivation when it comes to workouts, and what can be better than good music? A wide range of headphones available in the market is perfect for workouts.
Here, we list the best over ear headphones you can use while working out.
Best Over Ear Headphones For Working Out 👌
1. Sony Noise Cancelling Headphones WHCH700N
Noise-canceling headphones are a trend these days, and with added features, it is one of the best over ear headphones for working out.
One of the main features of the headphone is that it is Alexa voice control-enabled. Thus, you can voice command the headphone to play your favorite songs.
The headphones are also free of wires, making them easy for you to use. Now, you don't have to worry about untangling your headphones every time you step out.
The noise cancellation feature also helps you enjoy your music and make you feel isolated from other people while working in the gym. 
Well, exercise requires the rigorous working of hands and legs. Therefore, changing songs or trying any music player function in between workouts is always tricky. Alexa voice control is the best feature that makes the headphones instantly accessible. 
If you are worried about activating Alexa while working out, it's easier than you think. You must touch your right ear headphone cup for three seconds and activate Alexa. The headphones also have Bluetooth, calling without using hands, NFC, and other applications. 
Backup wires are what you need. You might often run out of battery while playing music for long hours.
But don't worry; the headphones also have cables that can work as a backup. With these headphones, you can extend your music and workout sessions up to fifty hours. It has an excellent swivel design with DSEE and 4mm drivers.
These headphones are nothing like those hard earphones, which cause pain in your ear after putting them on for too long.
The slider headbands are adjustable, and a metal slider included helps to get to the perfect comforting size. It also has soft ear pads that are a perfect fit and comfortable on the ears. 
On one single charge, you can enjoy thirty-five hours of non-stop music. You not only try noise-canceling music but can also easily connect it to your smartphone with a single click. The headphone cable comprises the Neodymium magnet cord, which is approximately 3.94ft long. 
Below are some of the Pros and Cons of the Sony WHCH700N that earned it a spot in our list of Best Over Ear Headphones For Working.
Pros:-
Better music experience with no interruption of background noise. 

In-built next-generation AI Technology.

The built-in microphone enables you to take calls without using your hands. 

With one single charge, you can enjoy 35hours of nonstop music. Then again, fifty hours of wired music. 

You can quickly work from home with these headphones and take calls. 
Cons:-
The material is cheap, and the sound quality is not up to the mark.

PC support is a nightmare. 
Check Price on Amazon
Sony WH-CH700N Review - They're A Lot Better Than I Expected
2. RCA Active Noise Cancellation Headphones
RCA offers the ultimate upgraded version of Bluetooth headphones with maximum playtime benefits. Music and its feel can only be enjoyed in a moving way when the sound quality is free from any sort of outside noise.
In this case, RCA offers you upgraded and more innovative headphones with active noise cancellation. Experience a more peaceful world and a depth of sound with these headphones. The RCA serves you with the minimum charging time and maximum playing time. 
There are also specific instructions that are given just to make your battery life last longer. The design of these headphones is also very ergonomic and comfortable to fold, just to make it easy for you to carry them. Not only is it portable, but it also allows hands-free calling with clear sound quality.
The generation of Bluetooth headphones has the maximum features that make it worth buying. It is also very comfortable to wear and won't hurt your ears much because the ear pads are soft. The best part is that the design is made so that it can fit almost all head shapes. 
Below are some of the Pros and Cons of the RCA Headphones that earned it a spot in our list of Best Over Ear Headphones For Working Out.
Pros:-
It provides a maximum playtime of thirty hours with fast charging in 1.5 hours. 

Active noise cancellation is its main feature, making it unique among all Bluetooth headphones. 

Call quality is also clear, and you can enjoy hands-free calling without interruption. 

The controls of these Bluetooth headphones are highly responsive and easy to access.
Cons:-
There is a flaw in the main design, which reduces its popularity here. 

The sound skips are consistent and get easily disconnected, as well. 
Check Price on Amazon
3. vipex Active Noise Cancellation Headphones
Music means no interruptions and to be more precise about the clarity. Advanced noise cancellation determines powerful and advanced features, which improves this headphone model.
The active Noise cancellation feature helps you cut off the unwanted noises of cars and other engines. 
vipex Active noise cancellation headphones give you the ultimate experience of your favorite music. They have an active noise cancellation feature, making them stand out among all other brands.
They are advanced Bluetooth headphones that let you get lost in your music and forget the outside world.
It is a matter of fact that noise cancellation goes with both wireless and wired headphones. The sound quality of these headphones is in excellent condition, with bass adjustments just right. 
The vipex active noise cancellation headphones render your ear with crisp music. It is because of the high audio quality. You can enjoy your music time alone and just be busy with yourself, avoiding all other unwanted noise. 
Also, its battery life lasts longer and increases your playtime by ten percent with a fast charging facility. It's like you charge your Bluetooth headphones for five minutes and enjoying 2 hours with that charge without any interruption. 
The earbuds are soft protein, protecting your memory and providing comfort. It can rotate up to 90 degrees and promises a higher level of comfort than other Bluetooth headphones. 
Below are some of the Pros and Cons of the vipex Headphones that earned it a spot in our list of Best Over Ear Headphones For Working Out.
Pros:-
With less charging time and longer battery life, it stands out among all other headphones. 

It is made of memory protein, making it soft and highly comfortable to wear. 

The audio quality is high, with all the proper adjustments needed to increase its sound quality.

Its advanced technology and active noise cancellation features make it stand apart. 

Its hands-free technology is unique in comparison to other Bluetooth headphones. 

It is best over ear headphones for working out sweatproof wireless
Cons:-
The reconnection issue persists, and it takes time to set up the connection again for hands-free calling or listening to music.

It might not support all mobile operating platforms. 
Check Price on Amazon
4. Bose QuietComfort 35 Bluetooth Headphones
Music, at its best quality, is preferred by users around the globe. These headphones let you forget the whole world and just get lost in your world. They move you from within with their fantastic sound quality.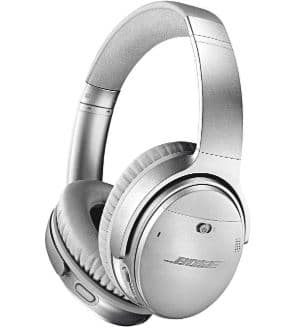 Now you won't get disturbed and distracted by unwanted noise. There will be no noise that is going to come your way as it will be just you and your music. 
These headphones are wireless and have so many advantages. When such amazing benefits get combined with features like Alexa, then there is nothing that will bother you. You can manage all your work and access all the necessary information with a click. 
The Bose series is an app-powered control headphone that just got smarter. It allows you to control your headphone with only one application that can access all its controls.
The controls include volume adjustment as well as a noise cancellation option. Frequent software updates are also accessible. Mobile users can use these headphones as this application is available in every store. 
Below are some of the Pros and Cons of the Bose QuietComfort Headphones that earned it a spot in our list of Best Over Ear Headphones For Working Out.
Pros:-
It has three different levels of noise cancellation that enhance your listening experience.

The model has Alexa, so you can easily manage everything over your voice command. 

Pairing your mobile phone with these Bluetooth headphones is effortless because of their personalized settings. 

The customized application is the Bose connect, available in any OS, be it Android, iPhone, or windows. 
Cons:-
The firmware updates are a problem that cannot be ignored. 

It keeps disconnecting and has to be reconnected very often.
Check Price on Amazon
Bose QC35: Best Noise Cancelling Headphones?
5. TREBLAB E3 – Best wireless over ear headphones for working out
Music can drastically change your mood and boost your energy while exercising. You can work out for long hours with enough power using these headphones.
The Bluetooth 5.0 feature and 50H Type C- battery with high definition microphone makes it perfect to use for any kind of outdoor activities. 
You might wonder about what to do when the battery runs out. The headphone set includes a 3.5mm audio cable. This has voice assistant support for many platforms, be it Alexa, Siri, Google Assistant, or Bixby. You can simply handle video and phone calls from work and increase productivity. 
You can use it for a long fifty hours with a full charge. With only five minutes of charge, it can work up to ten hours. The noise cancellation makes it the best of all. 
One of the fantastic products of Produtech corporation, the TREBLAB, offers an ergonomic design with cutting-edge technology.
You can trust the soft material of the ear cup, which keeps your ears comfortable and away from any kind of pain. No more pain with headphones; now, you can try any activity by wearing them on your ears. 
Bluetooth 5.0 works perfectly and connects devices instantly without disturbing the connection. Also, you can easily accept calls without using your hands.
Since the sound quality is highly defined, you won't face any problems while working or driving. The latest technology makes it one of the best over ear headphones for working out. It is not only comfortable but also cheap and affordable. 
Below are some of the Pros and Cons of the TREBLAB E3 – Ultra-HD that earned it a spot in our list of Best Over Ear Headphones For Working out.
Pros:-
Ultra HD sound with deep bass and an unbreakable Bluetooth connection. 

The noise cancellation E3 feature is best for headphones. 

It is comfortable and has excellent battery power. 

It allows you to connect the audio cable with any operating system, i.e., Alexa, Google Assistant, Siri, and Bixby. 

The type C charger is included that comes with a one-year warranty.
Cons:-
Headphones damage too quickly.

You might not be able to talk with the audio cables. 
Check Price on Amazon
At the time of our research on Best Over Ear Headphones For Working Out, we found a video about "10 At-Home Exercises to Get Rid of Belly Fat In a Month," which is worth watching. 🤴😎
10 At-Home Exercises to Get Rid of Belly Fat In a Month
6. JLab Audio Flex Sport Gym Workout Headphones

 
JLab is a company that came into the business in 2005. Since then, they have consistently improved the quality of devices and invented special tools that help us in our daily lives. Their products mainly revolve around music technology. 
The latest addition to their market is the JLab Audio flex sports gym workout headphones. These headphones are unique and motivate fitness enthusiasts to work out more. 
These sports workout headsets are designed to have a firm grip on the ears while users perform a heavy workout.
There are times when an immense amount of sweat is released from your body. However, the advanced design of this handset makes it stick even with sweat running across your ears and your head. 
It is a convenient device to keep the music playing without the hassle of managing wires. The headset is connected to Bluetooth, which helps us to listen to music whenever we desire. These headphones are hassle-free as there are no wires included. 
JLab provides the best sound quality for every product they design. These headsets also offer premium sound quality with compact bass sound. However, it doesn't make your bank run out of resources. It is very affordable, and one can have access to it easily. 
The headset is designed in such a way that it blocks any ambient sound from entering the headset. Thus, one will face no disturbance while listening to their favorite songs and working out.
We often need to take out our phones to pick up a call while connected to a Bluetooth headset. However, the JLab Sports Gym Workout Headphones end this issue too.
The earphones have a universal mic. Therefore, one can relax and enjoy their workout session, while if a phone call appears, the headphones will connect the call.
Below are some of the Pros and Cons of the JLab Audio that earned it a spot in our list of Best Over Ear Headphones For Working Out.
Pros:-
You can enjoy up to twenty hours of Bluetooth Playtime with these headphones.

The headphones are a Comfortable Fit on your ear and are easily adjustable. 

Premium Sound Quality headphones are best for gaming purposes. 

Universal Control and voice assistants make it the best in the market.

The gadget comes with a Two Year Warranty/30 Day Guarantee.
Cons:-
As these headphones are for rough use, there are chances that due to sweat, the headsets might have a foul smell in them.

Sometimes, the Bluetooth doesn't connect to the specific device it should be; thus, creating a bug.
Check Price on Amazon
7. JLab Audio Omni Premium Over-Ear Headphone
Headphones are essential these days; the most common feature everyone looks for is noise cancellation. Hence, this JLab Audio Omni headphone for working out deserves to be listed here. It has extensive features and is best to handle during activities. 
The headphones are profoundly comforting and have effortless controls. Various features of the C3 sound make it unique and quite popular in the market. Omni is the best headphones to listen to music, watch videos, and entertain yourself while working out. 
We all know how the gym works. There are a lot of machines and people use these to keep themselves in shape.
However, no one likes the sound of tools. So, here comes the role of these headphones as it provides you with fantastic music and songs without any disturbance of background noise. 
The crisp, clean, and great immersive sound with high bass make it perfect for 40mm drivers. You will instantly be pumped with energy and great music.
The compact headphones are easy to carry, and the hinges make them easy to clutch. It is automobile friendly, and it is convenient to travel with. 
The cloud foam cushions and eco-friendly leather makes it comfortable to wear for long hours. Now, you don't have to worry about pain in your ears due to long hours of usage. Relax and enjoy the fantastic music comfortably. 
Also, get rid of all the frustration of untangling your audio wires. These Bluetooth 4.0 headphones are great for enjoying music, even around thirty feet away from your cell phone.
The auto flat cable is also available in case of low batteries. You can easily carry the headphones to dance, work, and camp with them. 
Below are some of the Pros and Cons of the JLab Audio Omni Premium Headphone that earned it a spot in our list of Best Over Ear Headphones For Working Out.
Pros:-
Connect your headphones with your car stereo or anything related to home theatre and enjoy music. 

The universal mic helps you accept calls and talk without distractions or disturbances. 

Contains LED lights on Bluetooth headphones. 

Cloud foam cushions and eco-friendly leather material makes it a perfect headphone to use during games. 

It contains a travel case and a USB port for traveling. 
Cons:-
The mic does not allow me to take calls on Samsung mobiles.

It does not lock when you fold the ear cups. 
Check Price on Amazon
8. Skullcandy Crusher Over-Ear Headphones
Headphones are essential gear for gymnasiums and other sports events. You don't want to be bored while practicing your skills. Its noise-canceling headphones help you to practice without any disturbance.
The highlight of this model is its voice-canceling quality. This Skullcandy crusher is excellent for playing games and watching movies too. You can view your favorite videos without any disturbance. The premium bass feeling makes it a high-definition headphone with high-quality HD sound that gives you a home theatre feel. 
The battery backup of the headphone is outstanding; however, if it runs out, you can always use the audio cable. The wireless headphones can work up to forty hours non-stop.
Another extensive feature of these headphones is the dual-driver immersion. The two full-range audio drivers, which are 40mm, are best with two extra subwoofer drivers. These two work together to form high-quality immersive audio with a powerful bass experience.
You can easily control the bass levels and adjust them per your preferences. The fine-tuning facility is a unique feature of the Skullcandy headphones, making it one of the best over ear headphones for working out. This gives a perfect balance of sound quality. 
The wireless Bluetooth connection can serve you continuously for up to forty hours with a full recharge. You can enjoy the crusher getting along and enjoy every bit of it.
Another great feature of the crusher is its rapid change functions. The rapid change feature offers you up to three hours of music listening in only ten minutes of charging your mobile phone. 
The noise isolation is also an important feature and helps to deliver refines and rich acoustics, which can be easily auto-tuned. All these are responsible for the car-tuned drivers. The memory foam material not only keeps your ears comfortable but also enables you to cancel background noise. 
Below are some of the Pros and Cons of the Skullcandy Crusher that earned it a spot in our list of Best Over Ear Headphones For Working Out.
Pros:-
The material quality of foam and leather is highly durable and keeps the device safe. 

It has a fantastic battery life of forty hours of continuous use with a full battery charge. 

It has excellent sound quality and cancels background noise to produce high fidelity and powerful bass. 

The headphones have a good value and are affordable. 

Comfortable and great pairing connections.
Cons:-
The adjusting headphones might break while fitting them on.

The foam of the ear cups might come out quickly. 
Check Price on Amazon
9. Sharper Image OWN ZONE Wireless Headphones
Sharper Image Own zone headphones are fabulous headphones that help in watching TV with a whole new experience and keeping balance in the family.
We often face problems while watching movies, especially when it is game night and we have kids around. Everyone wants to experience trouble-free time while watching TV. 
Hence, these headphones are the perfect replacement for other headphones as they are specially designed for watching TV without interruptions.
These rechargeable TV headphones are one of a kind. Now, one can simply watch TV without disturbing others in the house and without being disturbed by others.
You can watch movies and other shows while your better half sleeps beside you. With the help of these headphones, you can watch TV anytime and without disturbing the people who stay with you and are busy with their work.
One of the best things about these headphones is that you need not connect them to Bluetooth. Sometimes, it becomes tough to compare any headset with the TV due to Bluetooth issues. However, you can use an AUX cable, Black optical cable, or RCA to connect these earphones. 
The connected data is up to 2.4GHz and can transmit wirelessly up to 100ft. It is everything you ever wanted.
One of these headphones' amazing qualities is that they work up to 10 hours. Therefore, 10 hours of uninterrupted entertainment. Besides, the headbands are soft ear pads and are very suitable for earbuds. 
Below are some of the Pros and Cons of the Sharper Image OWN ZONE that earned it a spot in our list of Best Over Ear Headphones For Working.
Pros:-
The Own Zone headphones surround us with sound and nothing else; that is, you won't be able to listen to outside disturbances.

It is effortless to connect and doesn't make watching TV a hard thing. Bluetooth is not required. Therefore, it is hassle-free.

The digital technology sound is up to 2.4GHz and can transmit wirelessly to 100ft.

It can be connected to any model of the TV as long as the TV has an AUX cable, RAC, or Optical cable.

These are rechargeable headphones and hold a charge for up to 10 hours.
Cons:-
Due to connection with AUX, RA, C, or optical cable, sometimes there is difficulty in maintaining contact.

The headphones might face bug issues and can turn off without any warning.
Check Price on Amazon
📗FAQ's
Below are a few queries on Best Over Ear Headphones For Working Out that everyone expects to answer, and I did include the same for my readers.
Are over the ear headphones good for the gym?
Yes. Over-ear headphones are specifically designed for fitness freaks who frequently go to the gym.
The sweat-resistant feature of these earphones will not hamper their performance in the long run. Moreover, they have deeper bass that will allow you to enjoy music better while working out.
Are Sony headphones good for working out?
Yes, Sony has been renowned for providing superior-quality sound systems for years. It is even true with its range of over-ear headphones for working out.
You can consider buying Sony Noise Cancelling Headphones WHCH700N if you love to listen to music during your gym session.
These earphones are lightweight and ensure an excellent sound experience. Moreover, its voice cancellation is highly impressive.
Why do weightlifters wear over ear headphones?
For a steady tempo when you perform lifting exercises or run, over-ear headphones work effectively.
These earphone models block the nearby distractions and keep the bodybuilders focussed on their exercise routine.
 Is it better to work out with AirPods or headphones?
You can listen to music on Airpods when you work out, but they are not sweatproof or water-resistant enough to last for long.
Thus, it is recommended to use over-ear headphones over Airpods. Moreover, they won't drop while exercising, unlike wireless earphones.
What is the difference between noise-canceling headphones and ordinary headphones?
Noise cancellation prevents unnecessary noise from entering the headphones while listening to songs or talking to someone.
These headphones are designed exclusively to improve your song experience, thus blocking any noise that creates disturbances. On the other hand, standard headphones do not stop outside noise from entering the headphones.
While using regular headphones, one experiences outside noises while listening to songs, thus causing interference.
Can we use over-ear headphones for mobile gaming purposes?
Yes, one always prefers noise-canceling headphones over standard ones, especially for gaming purposes. While gaming, it is vital to be fully attentive to the game, as certain games like PUBG, COD, and many more need our full attention.
With noise-canceling headphones, we can be more alert in the game, such as hearing the footsteps of other fellow gamers or enemies. It helps one to win the games easily.
Are the noise-canceling headphones entirely noise-free?
No, noise-canceling headphones are not entirely noise-free, but it keeps away most of the sound, causing us to be attentive and work without any disturbance.
However, if you listen to music near a construction site or where there is a lot of traffic, some noise might enter the headphones. However, the sound coming from the headphones is much slower than outside commotion.
What is dual-driver immersion?
Dual-driver immersion is a technology introduced in the market by MI for their earphones. It has a dual dynamic system that maintains the two states of music simultaneously.
It delivers rich bass as well as crisp treble both at the same time. This feature or technology helps us have a better experience listening to music.  
Some songs hold a lot of importance due to their compositions and bass. However,  the previous earphones could not deliver the right sound quality. Thus, this dual-driver immersion technology is beneficial for all music lovers.
Are wireless headphones worth buying?
Wireless headphones are handy and provide us with hassle-free, uninterrupted music. It makes us feel free while listening to music.
Before the innovation of wireless headphones, we had standard earphones connected to a device with wires that were tough to maintain while doing other chores due to the cables.
However, with wireless headphones, things have become much easier.  We can now ride our bicycles properly without tangling into wires and enjoying music. Moreover, one can even exercise and listen to music conveniently using wireless headphones. 
Therefore, wireless headphones are worth buying.  In this fast pacing world, people tend to prefer wireless headphones rather than using standard earphones with wires connected to it.
Conclusion on best over ear headphones for working out
Music is said to inspire you and boost your energy. From the above-given list of best over ear headphones for working out, you can easily choose one for you. Now, enjoy going to the gym and other sports with high energy and a good music experience. 
You can also enjoy movies at home and play games with these excellent sound-quality headphones.