Computers are getting smaller and smaller daily, and in 2022 you can carry them in your pockets. But when you carry a mobile phone in your pocket, you still can't use it to present PPTs and documents to your colleague.
Also, when it comes to writing something on the doc files, you will not use the small screen of your mobile as it will put a lot of strain on your eyes. 
But carrying a laptop is not a great option when you can have a tablet with you, which can do all the work of the laptop while still being compact. Yes, you can't play AAA game titles on your tablet, but for that, we have chunky laptops.
If you want to edit videos for your next online ad campaign or photoshop a photo from your photo session, you can use a tablet to do all the work.
Today we made a list of some of the best tablet with keyboards that you can buy to replace your current desktop at home. 
Best Tablet With Keyboard – Our Top Picks 👌
8. RCA Voyager Pro 7 – Best tablet with keyboard 2022
RCA was knocked out of the park with their Voyager Pro 7 tablet with a keyboard. It is a laptop with bare minimum features, which you are looking for if you want something for your kids to have for their educational purposes.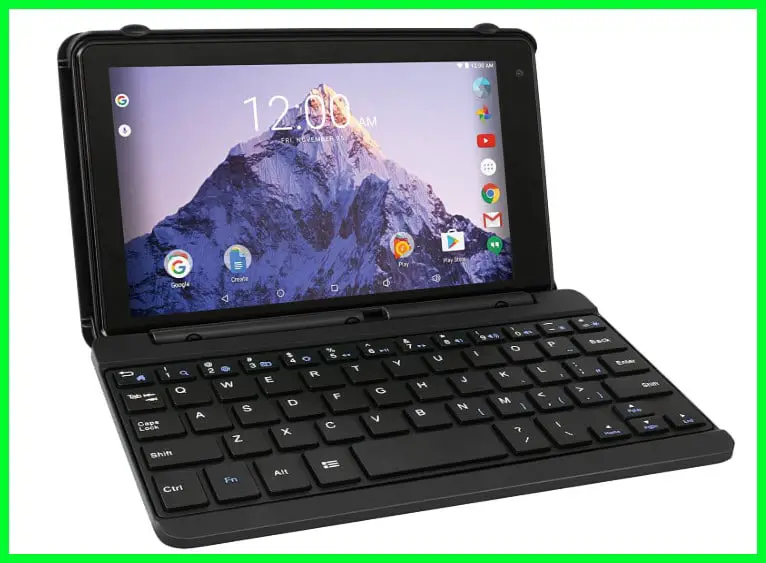 It's a bargain, as it costs only 50$ and is one of the cheapest tablets available. If you are not a heavy user and need a tablet at home for basic needs, this tablet with a keyboard will work perfectly. 
The RCA Voyager comes with 1GB DDR3, which is good considering the price. On the other hand, you can run almost any app on this tablet without lag, as it is based on the Android system.
The onboard memory is 16GB, and you can use it to store any doc files you want, but don't think of downloading movies on this device cause you are going to fill it up quickly if you do that.
The quad-core processor, which is clocked at 1.2 GHz, is ok. We can't say it's excellent, but we are not expecting much at this price. It uses Android 6.0 Marshmallow as an operating system. It's nice as it allows you to do lots of internal customization.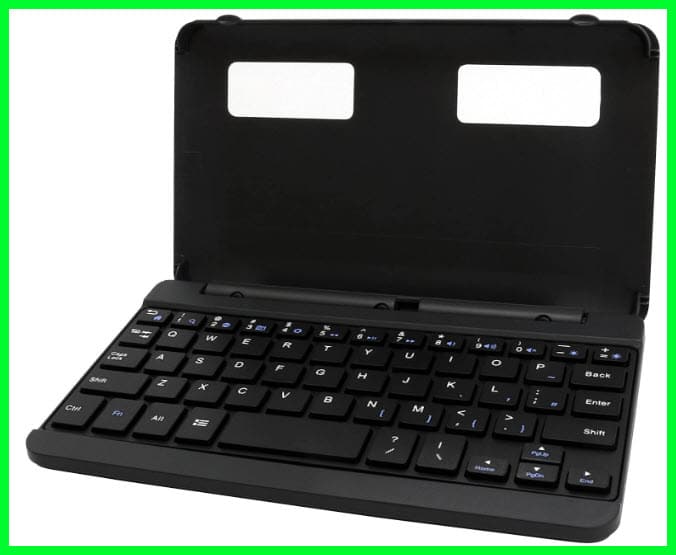 In addition, the tablet weighs only 256 grams, making it easy to carry in the bag with its sleeve. The all-over plastic body surely doesn't look good when using it.
One of the most significant issues with the design of this tablet happens on the bottom, where you can see the charging port with the three screws present to you in the open. 
Below is the summary of the main Pros and Cons of the RCA Voyager Pro 7 that earned it a spot in our list of the Best Tablet With Keyboard.
Pros:-
First, it is affordable even if your kid breaks it. You won't be angry at him as it doesn't cost too much to buy a new one.

This tablet needs to be the first one you will buy for your kids as it is sturdy and does almost everything you want from a tablet.

Likewise, Android 6.0 gives you one of the cleanest Android experiences on the tablet. 

Furthermore, in this form factor, you get a beautiful screen that can play high-definition videos.
Cons:-
The design is the primary concern we have with this tablet. It just does not look good from any point of view.

The 1GB RAM is enough to run a single to two tasks simultaneously, but this tablet will lag if you run three jobs simultaneously.

Also, the audio quality of the speakers is not good at all. You will hear all the mushiness when an audio clip is played through the speakers.
RCA Voyager 7" 16GB Tablet Android Review! (Marshmallow)
7. Huawei MediaPad M5 Lite Tablet
We know the M5 is not a perfect tablet, but we have put it on our list for a reason. And that's because it's still a great tablet to own due to its built quality, fast charging feature, and vivid display.
The 10.1-inch screen comes with a 1920x180p resolution. You can play games, watch movies and work on it without running out of battery. When playing games on it, you can easily use it for up to 7 hours without charging even once in the middle.
Also, the four speakers on each corner give you an excellent immersive experience when watching movies and YouTube videos.
In addition, these speakers are fine-tuned by Harman Kardon and optimized to give you a high treble with less distortion. 
Below is the summary of the main Pros and Cons of the Huawei MediaPad M5 that earned it a spot in our list of the Best Tablet With Keyboard.
Pros:-
First, the Kirin octa-core processor allows you to run all your games in a high setting without any stutter and lag. 

The processor is clocked at 2.4 GHz so that you can back up all your multitasking work without any problem.

In addition, there are five different eye comfort modes for you to choose from when using this device. 

Thus, providing you safety from harmful blue light, which comes from other tablet screens.

Moreover, the RAM present in the system is 3GB, which you can use for gaming and other office work. 

The device is powered by a 7500 mAh battery with quick charge support.

Lastly, the OS is based on Android 8.0 to give you a pleasant and smooth experience while moving between the apps.
Cons:-
No audio jack is present on the M5 tablet, so you must rely on the speakers and the BlueTooth devices to listen to podcasts and music. 

The OS doesn't allow you to transfer your installed application from internal memory to external memory, which could be a problem for those who like to install many applications in their system. 
Huawei MediaPad M5 Lite Full Review
6. Apple Ipad Air
Apple is one of the biggest names in the tech world, and people all over the globe wait anxiously for their new models to buy.
It is hard to get away from Apple's ecosystem once you join in, as it works so seamlessly that you won't find any other OS so easy to work with. In truth, the 2019 Ipad Air 3 holds some serious power.
If you truly want to enjoy the apple Ipad with all its functionality, you need to have its keyboard case.
When you put these two together, it becomes one of the best Apple tablets with keyboard configuration. You can use it to edit your videos on Apple's final cut pro, which is one of the reasons many people buy Apple Ipad and laptops in the first place. 
Below is the summary of the main Pros and Cons of the Apple Ipad Air 3 that earned it a spot in our list of the Best Tablet With Keyboard To get in 2022.
Pros:-
Apple won't disappoint when it comes to the design and aesthetics of their devices, and the same goes for the Ipad Air 3. Its compact design makes it easier to hold it in your hands.

The weight distribution is done so that you can balance it with one finger in the center of the tablet. 

This Ipad comes with some of the cheapest Ipad accessories. So you can have them all and use this as a fully functional Apple laptop. 

The USB-C allows you to fast charge this device, so you don't have to wait hours for this device to charge up its battery.

Moreover, speaking about the battery, it can last for 10 hours of heavy use. Also, it comes with Apple's A12 Bionic Chip. Thus, you can run all the applications you use on your Macbook without any problem.
Cons:-
First, this Apple Ipad Air 3 still used 1st gen Apple Pencil technology.

Even in 2022, the design still, for the most part, remains the same, which doesn't wow us that much.

We only get two speakers instead of four with such a big device. 
5. Microsoft Surface Pro 5 – Best tablet with keyboard and pen
It's the year 2022, but we are still obsessed with Surface Pro 5, and that's because this tablet with keyboard is still relevant and is still a formidable device even after the release of Microsoft's latest Surface Pro 6.
The newest generation of this tablet has the same number of ports, along with the same configuration. 
Also, you can ask for Intel's i7 processor for this tablet if you want to use it for video editing and photoshop work. But Microsoft is offering a lot of configurations for this device.
You can choose the LTE option, which will cost you more, but you don't have to rely on WIFIs and hotspots to surf the internet. The 12.3-inch display comes with a 2736×1824 resolution with a 3:2 aspect ratio.
Thus, giving you more vertical screen space to work on your video timelines and edit your documents without having to scroll too much. 
Since the release of the new surface pro 6 you can now get Surface Pro 5 at a much lower cost and on sale, which is an excellent deal to grab if you find a chance.
The 4GB ram, present in the surface pro 5, is sufficient to back you up with the multitasking and heavy RAM-centric processes. And if you are buying the i7 model of this device, you are getting a full mobile-based intel chipset that can easily handle all the processes without breaking a sweat.
Below is the summary of the main Pros and Cons of the Microsoft Surface Pro 5 that earned it a spot in our list of the Best Tablet With Keyboard To get in 2022.
Pros:-
First, the battery life of the surface pro 5 is hugely improved from its previous models, and you can easily expect the device to last for up to 13 hours.

The ability to get the best of the hardware in such a small factor makes this tablet stand out from the rest. 

Also, the company gives you so many options in terms of hardware that you can configure your tablet on the basics of hardware. 

There's no difference in the device's portability when you compare it to its latest version, which is the surface pro 6. Both of these tablets measure 11.5 x 7.9 x 0.33 inches.

This 2 in 1 tablet is an excellent option for people looking for a laptop but in a much more compact space. 

When it comes to performance, you can't doubt surface pro 6 as it comes with intel's chipset, and you can purchase a high-end CPU model if you like. 
Cons:-
Being such a compact piece of machinery, this tablet is not good when it comes to hearing dialogues from the movies and listening to songs of your favorite artist.

Surface 6 Pro and Surface 5 Pro do not support the Thunderbolt 3 connection.

Lastly, as a laptop replacement, it should have at least 2 USB 3.0 ports for connecting peripherals. 
4. Dragon Touch K10 Tablet
Suppose you are looking for a tablet with a big screen with high brightness at an affordable price. Then it would be best if you got this Dragon Touch K10 tablet.
This is one of the best tablet with a keyboard that delivers excellent screen resolution and excellent color contrast. Thus, making your video-viewing experience exceptional.
It packs Android 8.01 out from the box, which you can update once you connect it to the internet. The 10.1-inch screen gives you all the screen space you need to watch your favorite movies along with reading time.
Moreover, with its 16GB of internal memory, don't think about running out of space quickly. You can expand the storage up to 128 GB with the SD card. The IPS display gives it an excellent viewing angle with high brightness.
In addition, the quad-core processor set up on this device is clocked at 1.3 GHz, packed with 2GB of RAM. As a result, you will have a pleasant and smooth gaming experience, and working on doc and pdf files will be a piece of cake for this processor. 
At such a low cost, you are getting both front and rear cameras, meaning you can take both pictures from this device and use it for video conferencing. You can use the micro HDMI port to share the display with your TV if you want to show a presentation to your colleagues.
Moreover, one of the biggest problems with tablets is finding the right screen protector. But that's not the issue with the Dragon Touch K10, as it already comes with the pre-installed screen protector.
The full Android OS supports every single application on your mobile phone. So now you can play your favorite PUBG on a big touch screen like this and win a chicken dinner with your friends.
Another great feature about this device is that it comes with a GPS, so you can use Google Maps to reach your location in a new city. 
Below is the summary of the main Pros and Cons of the Dragon Touch K10 Tablet that earned it a spot in our list of the Best Tablet With Keyboard To get in 2022.
Pros:-
First, it's a big 10-inch screen. Watching content online and on streaming services such as Netflix and Amazon's Prime Video is excellent. 

It's light in weight, so once you have it in your backpack, you won't be able to feel its weight.

With a great screen comes a great battery, so you can watch movies on the go without charging it repeatedly.

The touch is quite responsive, and you won't feel any lag anywhere on the screen. 

Moreover, the screen resolution is at the sweet spot where it doesn't hurt your eyes at night, and you can easily see the text even in a brightly lit environment. 

It is fast and easy to set up, and once you power it on, you will be up and running your applications in no time. 

If you are looking for a tablet that comes with a great screen and fairly good processing power without spending more than $500, then this is the go-to option for you, without a doubt. 
Cons:-
The screen protected by the plastic sheet can crack up sometimes when you are charging it up, so don't keep it up for an overnight charge.
3. Fire HD 8 Tablet
When the tablet war was going on, Amazon came with its Fire HD 8 tablet with a keyboard. Now you can do the work and watch movies on this tablet. But you can talk to it with the help of Alexa, which is built inside the system.
In addition, you can run this system without using your hands with just voice commands over Alexa. The 8-inch touch screen present in this tablet is excellent and offers nice viewing angles.
Likewise, talking about the audio experience, we have no complaints whatsoever. With fire HD 8, you are getting a 2-megapixel front camera, which was missing from the previous iteration of Amazon's tablet lineup. 
Now the tablet supports up to 400 GB of external storage without a problem. You can just put it in there and an SD card and forget about your worries about the space being used up. 
Not only this, but Amazon has also packed show mode features with this tablet, which makes your tablet turn into an echo show device.
But the feature will only work when you put the system on the charging station; otherwise, your system will go on standby—interrupting your echo show in the middle. 
Furthermore, when we use it as our daily driver, we found out that the battery life is a bit downgraded with this one as the previous generation tablet from Amazon provided us with 12 hours of battery, in contrast to fire HD 8s ten-hour battery.
We discovered the reason behind this battery backup shortage: the always-ready Alexa voice assistant that is on throughout usage. You can't turn it off manually.
Below is the summary of the main Pros and Cons of the Fire HD 8 Tablet that earned it a spot in our list of the Best Tablet With Keyboard To get in 2022.
Pros:-
Starting at just 80$, this tablet has one of the best-built quality and is quite sturdy to use daily. 

The quad-core processor clocks at 1.3 GHz, which is relatively good and can run all the applications without extra load time and lags.

It has an Android-based operating system, which is a good thing as the software is specifically optimized for this tablet's processor and RAM. 

Also, you can buy this tablet if you are looking for an assistant voice speaker in your home.

This is because the speakers present on this tablet are good and can deliver high treble with a punchy bass when you need it. And Alexa is a bonus to this whole package. 

There are several color options to choose from when buying this tablet.

Thus, you can select the tablet's color according to your liking.
Cons:-
All the models of the Fire HD 8 offers 1.5 GB of RAM. We expect more memory in the higher models, as 1.5 GB is just a bare minimum.

On the other hand, even though the screen provides a great viewing angle, it still lacks pixel density as the screen resolution is just 800×1280 pixels.
All-New Amazon Fire HD 8 Tablet (2018) | Unboxing & Review
2. Fusion5 Ultra Slim Windows 10 Tablet PC
Missing the top spot and coming in the second position, we have the Fusion 5 Slim Tablet. This tablet with a keyboard comes with full-fledged Windows 10. So you can use it as your daily computational work.
You can install all your windows software needed to complete the task at work or college. You can make presentations on it by using Microsoft's PowerPoint software.
Also, you can use it to browse the internet by installing Google Chrome or Windows Edge. The choice is yours. 
The screen resolution is excellent, providing a bright and clear picture so you can enjoy your favorite videos when you are free from work.
Moreover, you are getting 4GB DDR3 RAM in this system; this is quite a lot compared to the laptops that offer just 2GB of RAM at the same price point.
The touch sensitivity of this tablet is good, and you will not feel any lag between your touch on the screen and clicking on the screen. With the USB connectivity port, you can plug in the mouse and keyboard of your choice and use it according to your needs. 
The battery life with full-screen brightness can last up to 8-10 hours, depending on your usage.
In short, if you are looking for a tablet that can help you with all the office-related tasks while still coming in a tablet form factor, then you need to have this Fusion 5 slim tablet with a keyboard as fast as possible in your backpack. 
Below is the summary of the main Pros and Cons of the Fusion5 Ultra Slim Windows Tablet PC that earned it a spot in our list of the Best Tablet With Keyboard To get in 2022.
Pros:-
The screen resolution is Full HD, meaning you can play YouTube videos at 1080p without any problem. 

Furthermore, it has an HDMI port which you can use to share the screen on your TV screen. 

Also, talking about the ports, this tablet provides you with many ports for connectivity, almost like a laptop. 

You can use a USB port to connect a mouse and other peripheral devices according to your requirements. 

Moreover, for light gaming, you can connect it to an XBOX controller, which will work seamlessly. 

The Atom processor inside this tablet can quickly run all the windows applications, but you can put a lot of pressure on it by running chunky software as it will crash. 

You can run a full copy of Windows on Fusion 5, which is quite a big deal when looking at this tablet's starting price.

The WIFI card gives you excellent internet connectivity, and you can do all your work online without seeing a single dip in the signal. 
In addition, the 5 MP camera gives you nice photos and a great lens for video conferencing. Most laptops won't even stand a chance with the camera put on this laptop.
Cons:-
The tablet's chassis feels a bit of plastic, which gives it a cheap look and feel when you are using it.

Also, the sound quality is not good, even though it has two built-in speakers. There's no base to the speakers, and when you crank the volume to 100, the audio starts to crack up a bit. 
1.

Samsung Galaxy Tab A 10.1 32 GB Wifi Tablet Black
Holding the pole position on our list of best tablet with keyboard is Samsung's Galaxy Tab A. this tablet with keyboard is one of the essential tablets manufactured by Samsung in a long time.
Which completely changed the way people look at and use tablets. Now with this tablet, you can do every single task for which you usually would need a laptop.
Starting at just $149, this is one of the most cost-friendly tablets you can find on the internet, packed with so many features that we can't resist but put it on the number one spot on our list. Not only this, but you also get the full support of Google Play and Google Maps with this tablet. 
As a result, whatever games and applications you have on your smartphone. You can now have them on Samsung's Galaxy Tab. in addition, with its sleek design, you will be leaving no eyes unturned.
When talking about phones which use the same kind of protection, they only go as far as 2mm in thickness. But Samsung took extra precautions with the screen with this one.
Besides this, Samsung surprised many tech enthusiasts by putting a 3.5mm headphone jack on this tablet. Because in the previous iteration of its tablet lineup, Samsung has removed it and its flagship smartphones.
You are not getting a fingerprint sensor, but that's not a big deal when you use a tablet; not many tablets use fingerprint technology, even in 2022. 
Below is the summary of the main Pros and Cons of the Samsung Galaxy Tab A 10.1 32  that earned it a spot in our list of the Best Tablet With Keyboard To get in 2022.
Pros:-
First, the tablet runs on the Android system with dual 1.8Hz processing power.

Secondly, the base model of the tablet comes with 32GB internal storage, but you can go up to 128 GB internal memory. 

Furthermore, it supports micro SD expansion and allows 512 GB of SD storage. 

Moreover, the display resolution is 1920×1200. Thus, this tablet gives you a full HD experience, and enjoys crisp videos with high pixel density.

Regarding the battery, you can watch YouTube videos for 13 hours without taking any breaks, as it comes with a 6450 mAh battery. 

The corner-to-corner display makes this tablet look almost bezel-less. As a result, it has a beautiful screen-to-body ratio.

Moreover, it uses a type C connector to charge and transfer files so that you can charge this tablet in a much shorter time than other tablets. 
Cons:-
The graphic power is a bit on the lower side, so if you are considering using it for games, you need to look for another tablet.

Even though it's an old Samsung UI that has been used by almost every other tablet from Samsung still, it's a bit laggy when doing a lot of multiprocessing tasks. 
Conclusion 
These are some of the best tablet with keyboard you can find in the market. All of these are handpicked by our tech experts and will deliver you the best of performance in all kinds of situations.
You can use them for watching Netflix, Prime, Hulu, Disney+, and whatnot. Also, you can do all your office work on it. Most of these are packing 4G support; thus, connectivity won't be an issue using these tabs.