The genres of books are endless, and there is no limit to the category of the books. You can find romance novels, a classic one, sci-fi, adventure, and many more.
Book lovers are always on the go to search for more and more exciting and captivating books. The voracious readers know that there are never enough books on the shelf.
Looking for more books in the same genre can be a challenging task. You must pick up your pen and paper and do all the research. And what if you are missing some great books or genres you haven't yet discovered?
It's difficult to read the reviews and check ratings about the book. Make a list of your favorite book and divide it into what you have read and whatnot.
Sounds like a lengthy procedure. So to help you get acquainted with a new genre, find new bookmates and fellow readers, and get some exciting recommendations, we have a list of excellent book recommendation apps.
These book recommendation apps have unique features that help you create your library and improve your reading experience.
Best Book Recommendation Apps – Our Pick👌
1. Goodreads
It's impossible to talk about books and not mention Goodreads. Goodreads is one of the famous and well-known reading and books places.
The app's quality is excellent, and one can use an unlimited feature. Since Amazon acquired Goodreads, the user base has been boosted, and you can see customers worldwide.
The kindle is synced with Goodreads, so if you are an Amazon subscriber, you can enjoy the app. coming to the app Goodreads is home to many books.
You name the category, and you may find it here. You can find genres such as romance, thriller and suspense, sci-fi, gore, rom-com, classics, best-selling, young adult, fiction, non-fiction, and many more. You can click into a single category and see a whole ocean of books, from the oldest to the newest.
In Goodreads, you Can first-rate the books that you have already read. Write the negatives and positives, whatever you want. The app will start recommending you books upon your rating of other readers. So suppose the app might recommend new thriller novels if you have given higher ratings to thrillers.
The users of Goodreads have a steep learning curve as the app keeps suggesting interesting and hooking books. So after Goodreads, you will get into the habit of reading even if you didn't have one.
We know how much readers are obsessed with organizing their bookshelves and wishlist. A particular genre should go in the specific section. Goodreads has the feature of creating a wishlist, wherein you can stack up all the books you want to read later. So you don't have to research what to read next.
You can create your virtual library and keep the books you want to read or have already read in a categorized manner.
The bookshelves could be divided into themes such as reading, currently reading, and reading. You can stack your new books here. Along with that, you can add reviews and ratings to these books. 
The app allows you to add tags such as read again and many more per your wish. If you search for a particular book and review it, you can scan the book's barcode or browse it. 
Every reader has a favorite author, and we follow them on their reading. The app has an exciting feature to follow the author and know what they are reading. You can even choose to see their review about a book. You can track your friends and see what they are reading.
If you enjoy discussing books and sharing opinions with other readers, the app has a feature where you can discuss with different communities and groups.
The app allows you to interact with people by allowing a user to comment on another person's review and share opinions. 
Other features of the books include interesting quizzes for consistent readers, free giveaways for various participants, and many events like this. The app will change the way you manage your reading habit.
Download the App on Google Play Store
Download the App on Apple App Store
2. BookSloth – an app that recommends books based on what you've read
One of the app's unique features is that it gives the user a calm and cozy feeling. As the name suggests, the app is for people who enjoy reading while sitting in one place the whole day. So BookSloth is one of the excellent book recommendation apps that will help you find your next best read. 
The main focus of the Booksloth is the young adult novel. This app is for you if you are into modern rom-com, thriller, suspense, or murder mystery.
Along with the recommendation, the app has various features that will help you build a passion for reading. 
Like how marriage-based websites and other apps use your profile to match you with other people, in BookSloth, you can make your profile, and according to your book's preferences, you will be matched with a fellow reader.
Now, what could be more exciting than having a reading mate with the same taste in books as you? 
You can follow your friends and readers you admire to keep track of what they are reading. Regarding the recommendation, BookSloth gives you a personalized and curated list for your next read based on what you have read earlier. It even notifies you about the new releases and new authors in a genre of your choice. 
You can make a wishlist of your books and share it with your friends via Instagram, Facebook, email, etc. You can join the discussion group that frequently discusses your interest in books. This way, you can connect to more communities and recommend books to each other. 
Booksloth also provides the feature of keeping track of what and how much you read daily. It rewards you if you read classics. The book is an excellent way of making reading fun and sharing it with others.
Download the App on Google Play Store
Download the App on Apple App Store
3. Inkitt
Inkitt is a massive home to thousands and thousands of books. You can find many categories of books here. It ranges from sci-fi, classic fantasy, horror, and many more.
We can say that it is no less than a paradise for a book lover. You can get here new fiction and free books and articles to read.
The app gives you recommendations on what to read next according to your preferences for the books you read earlier. Not just this, you get a recommendation from new genres and authors because there is no harm in exploring. 
Recommendation of good books is not the only positive thing about Inkitt, and it even allows you to read some books offline. You can download it and read it for free. The app also notifies you about the new releases of the author you follow, so you never miss your favorite authors' books.
The app is customizable; you can change the recommendation preferences anytime. You can read reviews and ratings from others who have read the book.
You can give your ratings about the book that other people can see. You can change the app's background, size, and text fonts per your mood if you wish. 
The app also has the auto-scroll feature for the app readers. You can tap and hold the screen for a few seconds, and the screen will start scrolling. Inkitt can solve your problem of what you should read next, and because of its good user experience, it is trusted by 700,000 people.
Download the App on Google Play Store
Download the App on Apple App Store
4. Bookshelf
Bookshelf is one of the top book recommendation app likewise based on the library you have created. It generates recommendations from the genre you read more about.
Bookshelf suggestions also include new books, so you don't miss anything. You can share your recommendation with your friends via email, Facebook, Instagram, and many more.
As the name suggests, the app helps users organize a virtual library. You can choose different tags such as read, currently reading, and already reading and add your books accordingly. You can add some customizable tags if you want to organize your shelf in a more detailed way.
You can create a book catalog for your library. You can add books to the catalog easily by scanning ISBN barcodes. You can use the other ways, too, like searching for a title and author. 
You can be a little more creative by adding multiple custom shelves. You can add notes and information regarding a book for later reference to add more private touch.
It also allows you to sort books in your library as you want. It can be based on title, reading sequence, or several book pages. 
If you want to highlight the book you forgot to read, you can add a filter to display the unread text. Reading is a good habit, and the app helps you build it through an inbuilt tracker. The app also provides you with your collectibles and book collection value.
The app has the solution if you just lent your books to your friend and forgot about it. It has a feature where you can track your borrowed and lent books. You can rate books over here to help others pick the right book. 
Now the most crucial feature of the app is that it stores your library's data. If you lose your device by any chance, you can log in with another device and get your library; in fact, you can arrange it in a good read.
Download the App on Google Play Store
Download the App on Apple App Store
5. Reddit – Dive into anything
Reddit is one of the most popular apps nowadays. There is a lot of information you can get there about anything. There is a subreddit on various topics, such as memes, jokes, movies, lifestyle, and many more, where people share their opinions and discuss them. 
There is some good subreddit about finding your next book recommendation, too. To do that, you have to search books or novels and see multiple results.
The subreddits are made on the category or genre of books such as sci-fi, romance, thriller, etc. It could be upon an author's name. You can choose the subreddit you like.
In a particular subreddit, a community of people reads similar books. People recommend books by posting quotes or some information about books. You can read the comment and even add a comment yourself.
People discuss books here and share recommendations. You can find a fellow reader with the same taste too. Some events and activities are conducted in the subreddit to participate. You can be part of as many book communities as you want.
There is also an exciting question asked about a book in the subreddit. You can read some insightful answers written by readers. If you are lucky enough, you may find some great authors too.
You can click on the hot post and see the subreddit's most viewed and appreciated posts. There are also quizzes and giveaways to participate in and earn rewards.
Download the App on Google Play Store
Download the App on Apple App Store
6. StoryGraph
StoryGraph is another good book recommendation apps. In this app, you can track your daily pages and make a habit of reading.
You can choose books based on your mood and read them. Your tracking results will be displayed in cool graphs and charts, which will help you to know how much you have succeeded in your goals.
Recommendations generated by Storygraph are developed. The app tracks the data of your previously read books and all the books you have wishlisted and suggests your books.
You can even cluck in a particular category to get a recommendation. There are various genres of books in the app which you can try. If you want a specific recommendation, you can add a filter according to your preference.
The app gives a feature wherein you can create your personalized library and sort out the shelves according to the status of books. The frames can be read, read, and to be read.
If there is anything extra you want to add, you can customize it. There is also a section of did not finish a book where the app keeps all the half-read books.
To make your reading journey more interesting, you can participate in challenges such as reading a 300-page classic or reading from different genres. The app also enables users to create a customized challenge for themself and share it with friends.
You can import your Goodreads account into StoryGraph, and it will categorize your library as it is. You can follow your reader friends and share recommendations.
There is also a feature of annual reading page goals where you can set a yearly reading goal. And finally, you can find similar users and share books to expand your reader's community.
Download the App on Google Play Store
Download the App on Apple App Store
7. Litsy

 
Litsy is the best way to connect one reader to another. You can create a community or join one. The app helps readers of similar interests to share opinions and discuss the books. You can know which book is trending and get a real-time book preview. You can share your Wishlist with other people as well.
The app recommends the book not through AI but by real people with similar tastes. You will get a community of passionate readers to help you find some worth-reading gems.
Like Instagram, you can share your reading moments through posts such as a favorite quote or place to read. You can ask exciting questions about a book or comment on someone's post.
It also gives a small journal space to capture all your creative thoughts about reading. You can create a wishlist and browse new books to check reviews and ratings. 
Several activities are hosted in-app, like book night, quizzes, debates, and more. The app gives a refreshing reading experience that motivates users to keep reading.
Download the App on Google Play Store
Download the App on Apple App Store
8. Thriftbooks
Thriftbooks were created to help people to buy a used books. This initiative could help readers buy at a much lower price, and the buyers earn money through books. So the books will keep circulating, and everyone can read books without investing much.
But the additional feature of the app is that you can also create a Wishlist and stack the books you want to read in the future.
The app suggests the user books based on your wishlist and what you have read. You can get recommendations from different genres also. 
The app focuses on motivating people to read more and more books, which is why it gives reading rewards. You can track your reading habit, and if you are consistent, you can get discount coupons.
The app has a large category of books to choose from. Not just fiction, non-fiction, or classic, the app has books related to art and music, psychology, biographies and memoirs, children's books, and so on. 
You can listen to audiobooks and read some free books. The app is available in different languages too. You can change the font according to your will and customize it. Litsy helps users connect to a reader's community and find their Wishlist book.
You can try these too.
Download the App on Google Play Store
Download the App on Apple App Store
9. Facebook
There are several groups and book communities that you can find on Facebook (Visit Here). You can search for a particular category, genre, or author, and you will be shown a list of hundreds of pages related to it. You can join one of them and be a part of it.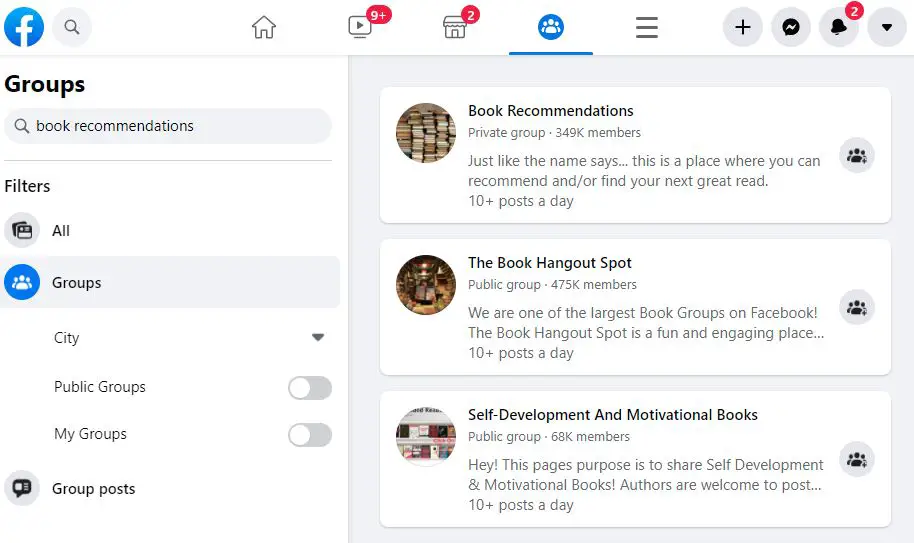 People post about their recent reads and review the book over there. You can ask them about their experience. Some people recommend books too. You can find a reader niche of the same taste. There are fun activities, such as quizzes, and you might win a giveaway if you are lucky. 
You can sell and buy collectibles and add more books to your collection. You can share a post of you reading some favorite quotes from the book and your reviews about it. The community keeps organizing events for the readers.
If you think you have sufficient knowledge, you can also answer some questions and suggest others of your recommendations. You can even share it on your timeline to show what you are reading.
Several roles are given to the active members of the group. You can create significant diversification in your book collection through recommendations from people worldwide.
10. Quora
Just like Facebook, Quora also has some great book communities or groups. You can just search for the genre you want and choose one group that seems fine. People post their reviews and opinions about the books but are alert to spoilers.
You can ask people for recommendations and bookmark the answer that seems perfect to you. Even Quora communities organize fun even to keep members engaged.
You can read about the experience of people from different countries. These are great apps to try on if you want recommendations from people rather than your reading history.
Download the App on Google Play Store
Download the App on Apple App Store
You may like to read our guide on 13 Best
LibGen Alternatives
For Downloading Your Favorite Books.
What are the uses of book recommendation apps? 
Using technology or AI, book recommendation apps help you select the book that keeps you hooked. To invest in books well, you should invest in the books you like. Book recommendation apps help save a lot of time, effort, and money.
Try to refer the best book to you based on previous reads or from people of the same taste as your book recommendation apps.
You get several features, such as maintaining a virtual library to keep your reading habit organized. They are options to connect to a community and like-minded readers. With vast categories, you can explore the other genres too.
So these apps will be helpful when it comes to developing a good and consistent reading habit.
✅FAQ
Is there an app to recommend books?
Goodreads, BookSloth, Bookshelf, Inkitt, Reddit, etc., are some of the best and most preferred book recommendation apps; you can try to get the best recommendations based on your interest.  
Where can I find the best book recommendations? 
Amazon, Goodreads, Bookish, LibraryThing, BookBub, Olmenta, etc., offer recommendations across multiple languages, categories, genres, etc.  
How do I get book suggestions? 
You can try out platforms like Goodreads, Bookish, LibraryThing, BookHub, Whichbook, etc., to get the best book suggestions so that you can easily read some of the best books available across languages, categories, and genres.  
What is better than Goodreads? 
BookSloth, Reddit, Bookshelf, Facebook, and Quora are the best Goodreads alternatives you can check out to explore a massive range of books, book reviews, recommendations, and much more.  
Is Goodreads completely free? 
You won't need to pay to access the website or mobile app of Goodreads because it is a free book review and suggestion service unless you're an author hosting a giveaway.  
Is the GoodNovel app legit? 
The website GoodNovel is reliable. It does not, however, adhere to the typical business model that most authors are familiar with. Yes, traditional and independent publishing is what I'm referring to.
Chapter-by-chapter pay-to-read is a model that Goodnovel.com uses that was made popular by Chinese and South Korean web novel companies. 
Conclusion
You can find many book recommendation apps on the internet, but these are free apps and have some unique features. These apps are trusted by a lot of people all over the world.
You can pick one of these suitable and make it your book recommendation companion. We hope that you find this article helpful.