In every industry, there will always be debates about which brand is better and the music streaming industry is no exception. So, we have Deezer vs Spotify vs Soundcloud, a choice must be made according to your needs.
Music is perhaps the most accepted form of art all over the world. It is one thing common to all parts of the world. One unique thing about music is that even when it comes to a language the listeners are not familiar with, they can still dance and relate to it.
Certainly, this ability to relate to music in an unfamiliar language can be credited to catchy beats. But then not all songs have conspicuous beats. In certain cases, the credit goes to the singer's soothing voice or cadence.
The versatility of music is such that it finds usefulness in medicine, in recreation, at parties, and all types of events.
There is a song for all kinds of moods and all types of events and there are even songs to help people with clinical depression and to ease stress. The versatility of music is indisputable.
The world has a very large catalog of songs; there are millions of songs to experience and thankfully, there are many streaming platforms through which you can access these songs. Such platforms include Deezer, Soundcloud, and Spotify. These 3 platforms are atop the log of the best music streaming platforms available currently.
While they all have the same basic function – to stream music 🎼– they also have varying unique features. These features will be the determinants that drive the choice of the platform that suits your needs.
To assist you with this choice and to give you some direction, we compare Deezer, Spotify, and Soundcloud in this article. In the subsequent parts of this write-up, features of these platforms like content, navigation, reach, devices supported, plans available, and many others are juxtaposed.
Deezer vs Spotify vs Soundcloud: Platform Overview
Deezer is the first legitimately established music streaming platform in France. It was founded by Daniel Marhely first as blogmusik.net; blogmusik.net was quite successful but the site had rights issues so it was shut down.
However, about a year later (in 2007), it was rebranded as Deezer and has grown from being just one of the music streaming sites in France to one of the best in the world.
At the moment, Deezer serves about 14 million active users in over 180 countries and the platform has a library of about 100 million playlists with 50 million tracks. The Deezer editorial team has about 50 members who make sure that the sounds are produced the way you hear them.
Spotify started operations in Sweden about 12 years ago. Spotify was founded by Sven Hans Martin Lorentzon and Daniel Ek in 2008 following its incorporation in 2006.
At the start, the platform was a peer-to-peer channel for music distribution but the services were later improved to a server-client distribution channel.
Towards the end of 2019, Spotify had over 270 million active users and 124 million subscribers with markets in at least 80 countries. The platform has over 3 billion playlists consisting of over 50 million tracks and 700 thousand podcast titles. So far, Spotify has generated more than 15 billion Euros in revenue since it started.
Soundcloud is perhaps the platform with the most range of audio productions including podcasts, demos, and many more. Soundcloud was founded by Alexander Ljung and Eric Wahlforss in August 2007.
One year and two months after (October 2008), the website became functional. Alexander Ljung was a sound designer and Eric Wahlforss was an electronic musician.
Their initial goal was that Soundcloud would facilitate musical collaborations but the platform soon became a channel for musical distribution. By March 2019, Soundcloud had over 76 million users registered on the platform with about 175 million monthly listeners.
Deezer vs Spotify vs Soundcloud: Content Library
For users of music/audio streaming platforms, one of the most important things is content. You want to have enough to choose from and you also want to be sure that you are choosing from a pool containing options you desire.
Deezer Content:-
Deezer has over 56 million songs available currently and these songs are from popular genres like rap, pop, RnB, blues, African music, and rock.
Other genres like metal, jazz, electronic, Asian music, Latin music, reggae, Brazilian music, and many more are also available on the Deezer platform.
There are many Deezer playlists for different moods and conditions such as workouts, parties, romantic moods, throwback playlists, relaxation, and a range of thematic playlists.
There are mixes themed on different genres, decades the songs were released, and for different moods. It does not stop there with Deezer, they also have charts that guide you to the newest and hottest releases in town.
There are charts for the top 100 releases from countries like the USA, the UK, Germany, and Brazil. There is also a worldwide top 100 chart, a chart for the artists and albums with the most streams.
Deezer also has the unique Deezer next playlist which is a playlist with songs from new artists on the radar. This playlist is a collection of songs from artists who are expected to become the next big thing.
On Deezer, you will also found podcasts and radio stations where you can listen to kid shows, football, and some others.
Spotify Content:-
Spotify on the other has about 50 million tracks with over 2000 genres (quite massive). Some of the genres available on Spotify include the usual suspect rap, pop, techno, rock, jazz, RnB, indie pop, classical, folk, and many more.
Spotify also has special playlists and charts themed on artists, genres and mood. Some of the playlists themed on different moods are good news, sunshine, nice and slow, Holocene, humble, say something loving, bounce back, and confidently lost.
There is also the best new music playlist combined weekly, new music Friday, and the free form playlist which is a playlist focused on works from the United Kingdom.
Charts are also present on the Spotify platform, with charts like Top 100 on Spotify, the official chart UK top 40, Global top 50 on Spotify, United States top 50 on Spotify, top hit music charts, and the chart for songs with the most streams on Spotify.
There are also playlists for workouts one of which is cardio and there are party playlists like teen parties and summer parties. Playlists themed on certain periods are not left out.
These playlists include the greatest songs ever and I'm an 80's baby. Like Deezer, Spotify also has a playlist dedicated to promoting new artists, this playlist is called Fast Rising New Artists. You also get to listen to different podcasts exclusively on Spotify.
Soundcloud Content:-
Soundcloud has a huge database of over 200 million tracks with varying genres. Top of these genres includes hip hop, house, RnB, rap, electronic, rock, pop, and classical. Some of the other genres supported by Soundcloud include alternative, country, jazz, reggae, blues, and dance.
On Soundcloud, there is a range of playlists themed on different items like nations, cultures, artists, activities, moods, and special world celebrations.
There are nation-themed playlists like essential music aus der Schweiz (Switzerland), musica esencial de Espana (Spain), musica essenziale dall'italia (Italy), musica essencial de Portugal, and essentiele muziek uit Belgie (Belgium).
There are also mood playlists like deep listening and relaxation, sex-positive raps, singing through sadness, and love hurts. Artists with featured playlists include Future, Chance the Rapper, Lil Pump, Juice WRLD, Claptone, Little Simz, Avicii, Kehlani, Jay Prince, and many more. You can also access different podcasts on Soundcloud.
At the time of our research on Deezer vs Spotify vs Soundcloud, we found a video about "12 Famous Celebrities That Came From SoundCloud" which is worth watching. 🤴
Deezer vs Spotify vs Soundcloud: Connection and Offline Use
People also desire a platform that goes just beyond streaming, they want a platform through which they can still access their favorite songs or podcasts even when the internet is unavailable.
Sometimes, streaming is too expensive and it consumes too much power, hence the need for offline use. Generally, most platforms solve this problem by allowing downloads for offline use.
Offline Use and Connection on Deezer:-
Deezer comes with 5 subscription plans, 4 of which are premium. Of these plans, the free plan does not have the offline mode feature. Thus, users on that subscription will not be able to enjoy the services.
However, with the lowest premium subscription, the users are granted permission to download music for offline use. By paying 4.99 dollars, one gets the basic features of the Deezer premium plan. Every paid plan offered by Deezer comes with the offline mode feature.
One thing to note is that you can only download songs from a playlist and the playlist may be created by you or one that is already available.
To download on Deezer mobile, you open the "favorites" menu, you choose the album or playlist you want to download then you toggle the slider to download – pretty simple.
Deezer tries to help you minimize your cost so by default the application will only download playlists/albums over Wi-Fi but not on mobile data.
If you desire to download through mobile data, you can change this under the "audio settings" menu (favorites> Settings > Audio Settings). Also, to switch to offline mode, you open the "favorites" menu then select "settings" then scroll to find the "offline mode" option where you can toggle it on or off.
Offline Use and Connection on Spotify:-
This service is not limited to Deezer as it is also available on Spotify. By subscribing to the Spotify premium plan, Spotify users gain access to the offline mode feature of their platform.
This plan allows you to download up to 10 thousand songs each on up to 5 devices and save them for use later. However, one thing to note is that you cannot download a track or song on its own. You have to download either a playlist or an album.
This option is available through the settings menu under the "playback" option. You toggle "offline" on to go into offline mode. This way it will download the playlist or the album you choose and you will be able to play those tracks offline.
Spotify also comes with the option to prevent the app from using mobile data. This way the app only uses Wi-Fi when not in offline mode.
Even if your mobile data is turned on, the app will automatically turn on offline mode. These are all ways to reduce the cost for you because mobile data can be pretty expensive.
Offline Use and Connection on Soundcloud:-
The offline option is not available on the free Soundcloud but is available on the paid plan, Soundcloud Go and Soundcloud Go +.
On Soundcloud, you can download the playlists you created or any other playlist at all easily with the "download" button beside the likes. You can also download the songs under your likes so you can listen to them offline.
This can be down clicking the download icon beside "shuffle" on the "Likes" page. On Soundcloud, you cannot download a track on its own too.
Whenever you add a new track to the playlist or your "Likes", it will be downloaded for offline listening too. For Apple devices, at the lower portion of the screen, you will see a bar showing you the download progress of what you are saving while for Android the progress is shown in the pull-down menu.
You can also save your library for offline access. This option downloads all playlists and likes on your Soundcloud at that time and at the times to come. This option can be activated under the "offline listening settings" menu.
Also under this menu, you can restrict download to Wi-Fi networks only to reduce costs and save your mobile data. This option is available as "Only save via Wi-Fi" and you may toggle on or off as desired.
Deezer vs Spotify vs Soundcloud: Platforms & Devices supported
So after coming this far, you may have finally found the streaming platform you prefer but then will it work on your device? How does it work on your device?
Platforms and Devices supported by Deezer:-
Deezer supports a marginally broad range of devices and operating systems. You can use it on your desktop/laptop, mobile phones, tablets, smartwatches, smart speakers, voice assistant devices, smart TVs and it can be used in your car too.
To use Deezer on your laptop or desktops, you can either go through internet browsers such as Chrome, Mozilla Firefox, Internet Explorer, Microsoft Edge, and Safari. All you need to do is log on to Deezer.com and voila! You are now rocking with the Deezer.
An alternative to using web browsers on PC is the Desktop App. The desktop app is supported on Windows and Mac PCs. The minimum requirement for Windows devices is Windows 7 while for the Mac devices, a MacOS 10.10 is the minimum required.
The desktop app offers hours of video and hotkey controls but the offline mode on the desktop app can only be used on these plans: Deezer Family, Deezer Student, Deezer Premium, and Deezer HiFi.
On mobile devices and tablets, Deezer is supported by Android, iOS, and Windows. Android devices have the broadest range of support because all devices with OS from Android 1.6 are supported by the Android app.
For iOS, only iPhones, iPads and iPods with OS from iOS 10 are supported while for Windows, only Windows 10 devices are supported.
For smartwatches, Apple watches from iOS 10 are supported while Wear OS watches from Android 4.3 are supported. Deezer can also be used on Fitbit (Versa 2, Versa and Ionic) and Garmin smartwatches but they require a paid subscription
Deezer works on a range of smart speakers including Yamaha MusicCast, Ultimate Ears, Sony High Definition Audio Range, Samsung Wireless Audio 360, LG Music Flow, Bose Music, and Amazon Echo.
Some of these speakers are well suited for the Deezer HiFi plan and they include Band & Olufsen, Bluesound Network Player, Control 4, Devialet Phantom, Sony High Definition Audio Range, and Yamaha MusicCast.
With Amazon Echo, you can set up Alexa to control your Deezer playlist by enabling your Deezer account through the Amazon Alexa app. Alexa is not the only voice assistant that can control your Deezer.
Siri and Google Assistant can also be used to control your Deezer. For Siri, it only works on devices with iOS 13 and above. With these voice assistants, you can switch playlist, genres, mood, and many more.
Deezer also works on a long list of smart televisions including Amazon Fire TV, Android TV, Chromecast, LG TV, Panasonic TV, Philips TV; Portal from Facebook, Roku, Samsung TV, Sony Bravia, and Xbox One.
Some Bang & Olufsen TVs are also supported and they are BeoVision 11, BeoVision 12 New Generation, BeoSystem 4, and BeoPlay V1. The Chromecast and Xbox One TVs support Deezer HiFi.
There is more to Deezer! You can also travel with Deezer in your car. Deezer can be accessed from the dashboard of certain BMW cars but this is not where it ends.
Deezer can be accessed on Fiat 500X and Jeep renegade by connecting your Deezer account to the Uconnect LIVE system.
Asides these, there are certain Android applications and iOS applications that can be used to connect to your Deezer to your car. The Android apps are Android Auto, RockScout app, and Waze while the iOS apps are Waze and Carplay.
Platforms and Devices supported by Spotify:-
Spotify also works on a range of devices including desktops, laptops, smartphones, tablets, speakers, game consoles, smart TVs, smartwatches, and cars.
While your Spotify can be logged in on so many devices at once, you can only play on one device and you can download for offline listening on as much as five devices at once when you are on the Premium plan.
Spotify offers 3 main ways to log into these devices. You can log in through Spotify Connect, using your email address & the corresponding password or by pair with your phone or computer through the Spotify website.
For desktops and laptops, you can either access through the desktop app or a web browser using the Spotify web player. The web player supports 4 browsers: Chrome, Mozilla Firefox, Edge, and Opera.
The desktop app works on devices running on Windows 7 and above and devices running on Mac OS X 10.10 and above. You will usually have the best experience on the latest version of the operating systems.
Spotify works on iOS and Android devices, the Spotify mobile app works on Android devices from Android 4.1 and above. For iOS devices, the mobile applications work on iPhones, iPads, and iPods with iOS 11 and above.
Spotify also works on Apple Watch, Samsung smartwatches, Wear OS from Google, Garmin smartwatches, and Fitbit smartwatches. Apple watches supported should be connected to a device with a minimum of iOS 11 and have a minimum of watchOS 4.0.
For Samsung watches, Galaxy Watch should be connected to a device with a minimum of Android 5.0 & 1.5 GB RAM or not lower than iPhone 5 running on at least iOS 9.0.
Gear S3, Gear Fit 2, Gear Fit 2 Pro, and Gear Sport should be connected to an Android 4.4 or higher with at least 1.5 GB RAM or at least an iPhone 5 running on nothing below iOS 9.0.
The WearOS works with devices running on nothing below Android 6 or iOS 11. It requires that you download the Spotify app on your watch and pair the watch with your phone, tablet or desktop/laptop. On Garmin smartwatches, Spotify supports only premium plans.
The Spotify app is available for download on Garmin through the Connect IQ app which you can get on your devices' app store. Spotify works on only Fitbit smartwatches on the premium plan.
First, you need to download the Fitbit app on your mobile device then you install Spotify and log in. Fitbit smartwatches supported include Fitbit Ionic, Fitbit Versa Lite, Fitbit Versa, and Fitbit Versa 2.
In your cars, you can also use Spotify through Android Auto and Apple Car Play. Android Auto requires a mobile phone running on at least Android 5.0 while Apple Car play requires at least an iPhone 5 preferably running on iOS 9 or above.
Not all cars support Android Auto or Apple Car Play but you can check on the corresponding websites of these platforms for the brand of cars supported. These platforms offer added features like making calls, receiving calls, and sending messages. 
The following cars have their inbuilt Spotify on certain models of their cars: BMW, Buick, Cadillac, Chevrolet, Tesla, Volvo, Mini, and GMC. Spotify can be connected to your car from your mobile devices using Bluetooth, using an AUX cable or a USB cable.
You can also use Spotify with Google maps in a way that they do not interfere with each other. Playback controls for Spotify will be displayed even while the Google maps are being used for navigation.
You can use Spotify on your smart televisions by downloading the Spotify app from your TV app store and pairing with your phone through the Spotify website. This way you can use Spotify on your TV with your phone as the control.
On Apple TV, you can install the Spotify app on 4th generation devices and above while earlier generations require that you use Airplay.
For all generations of Apple TV, you can connect Apple devices and use them as control through Spotify connect. Google Chromecast is another smart TV that works with Spotify, you can play Spotify on it using your mobile devices and Chrome browser.
Spotify can also be played on your television using game consoles like Play Station 3, Play Station 4, Nvidia Shield, and Xbox One. For Play Station 3 and 4, get the Spotify app on PlayStation Music, log into the app and then pair your Play Station console to your computer and phone.
You can choose to play Spotify on your TV through your phone or you can choose to just listen while you relax and play your games.
On Xbox One, you get the Spotify app from Microsoft Store, install it then pair it with your phone or computer. Xbox One features the voice assistant, Cortana with which you can control Spotify while you play your games.
You can choose to play Spotify on your TV using your Xbox one or you can choose to just listen while you play your games. With the Nvidia Shield, you get to play Spotify directly on the Nvidia Shield Smart TV while you enjoy your game. The Nvidia Shield TV comes with google assistant with which you can control Spotify as you listen.
It does not end there with Spotify because you can also use them on smart speakers. Spotify currently supports about 53 smart speakers including but not limited to Amazon Echo, Amazon Echo Dot, Sony LF-S50G, Google Nest Max, Ultimate Ears Blast, Bose Home Speaker, Bluesound Pulse Mini 2i, Simplehuman sensor mirror hi-fi, Sonos One, Google Home, and Google Nest Mini.
The voice assistants like Alexa, Siri, and Google Assistant on these speakers can be used to control Spotify while you listen.
Platforms and Devices supported by Soundcloud:-
Like the other 2 platforms, Soundcloud also works on multiple platforms and devices. These include mobile phones, tablets, laptops, desktops, smart speakers, smartwatches, game consoles, and even some smart TVs. However, unlike the other 2, there is no support for cars and Apple TVs yet.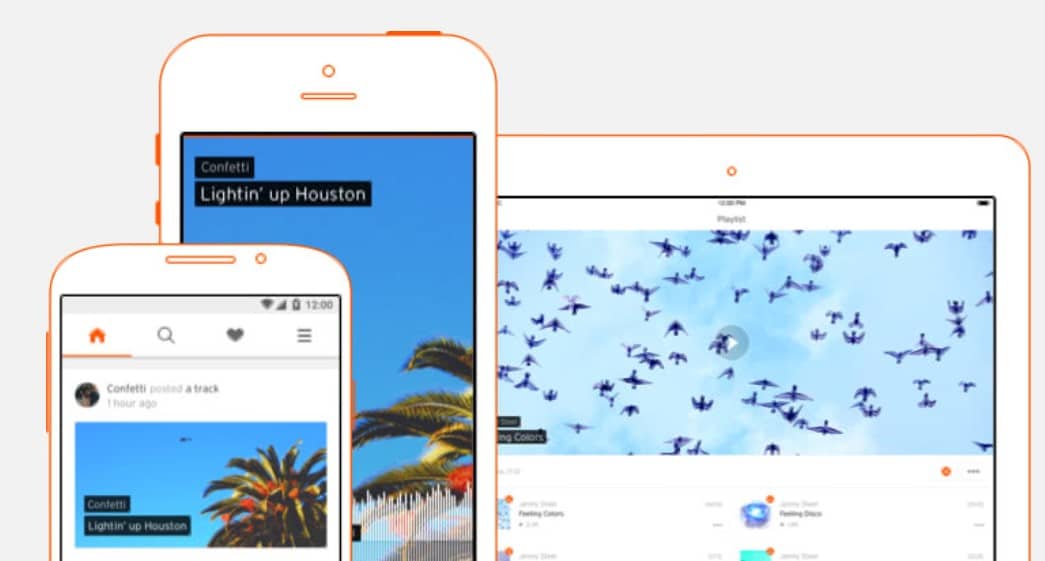 Soundcloud works on Android devices running on a minimum of Android 5 and Apple devices (iPhones, iPods, and iPads) running on a minimum of iOS 11.
On desktops and laptops, you can use Soundcloud through Mozilla Firefox, Internet Explorer 11, Chrome, and Safari 8. For Firefox, version 11 and above are supported while for Chrome, version 40 and above are supported. Soundcloud also supports Tor but the functions are limited on this browser.
So far, Soundcloud only has an app in beta testing for Windows 10 devices (for desktop, laptops, tablets, and phones). Users with all subscription plans can use this app but subscribers on Go+ will have access to full services on the app.
The app allows the use of Cortana – Windows voice assistant – to control the activity of the Soundcloud app as it plays. There is currently no desktop application for Mac laptops and desktops.
Soundcloud does not fall short in the smartwatches section too. Soundcloud can be played on Samsung smartwatches through the Soundcloud Pro app available in the Galaxy store.
Samsung smartwatches supported by Soundcloud include Gear S2 and S3 devices. Soundcloud can also be used on Apple watches.
Smart speakers like Sony SRS-X77, Sony SRS-X88, Sony SRS-X99, and LG Music Flow Range support Soundcloud. There is also support for the Google Chromecast smart TV using the Soundy app. The Soundy app is usable on Android phones, iPhones and iPads.
Soundcloud also works on the Xbox One game consoles with the official Soundcloud app on the Windows store. With the Xbox One console, you can control playback using Window's voice assistant, Cortana.
You might have to pair your phone to your Xbox One to play Soundcloud on it. On the Xbox One, a code is displayed on the screen then you will enter it on the Soundcloud website through your mobile phone or computer. There is no support for Apple TV and Carplay at the moment.
Deezer vs Spotify vs Soundcloud: Subscription Plans
So far so good, we have seen all the juicy features these platforms have. The devices supported, the platforms on which they can be used, the products you can use them on, how to use them offline, the features that help you conserve mobile data, the genre of music available, the number of music available, and the content available on these platforms.
But then these services and features are not all available free of charge, there are different subscription plans with different features on offers and you can make your choice based on what you need from the streaming platform.
Subscription plans offered by Deezer:-
Deezer has 5 plans on offer or perhaps 4 considering that one of the plans is the Deezer Free plan but on the website, it is listed as a plan so we have to accept that there are 5 plans. The plans offered by Deezer are:
Deezer Free

Deezer Premium

Deezer Family

Annual Plan

Deezer HiFi
On the Deezer Free plan, you get to pay nothing/ zero dollars/ nil/ nada and still have access to the over 56 million tracks on the Deezer platform and shuffle play.
However, your experience may be disturbed by ads, you do not get unlimited skips, you do not get six profiles and offline mode is not supported.
Thus you cannot listen to music, podcast or radio stations on Deezer unless you are connected to the internet. As mentioned before, you pay zero dollars for the Deezer Free Plan.
The next plan is the Deezer Premium plan, on this plan, you get a 30-day free trial period before you start paying 4.99 dollars every month. On this plan, there are no ads so you have a better experience than on the free plan, you have access to the 56 million tracks on Deezer, and you get unlimited skips.
The premium plan also supports the offline mode so you can save your favorite playlist or album and listen to them when you are not connected to the internet.
On Deezer Premium, you get to choose the song you play, you have access to the lyrics of whatever you are listening to, and the audio quality is better than in the free plan (320 kbps).
One feature unavailable in the package of the premium plan is the 6-profiles feature; you can only have one individual profile on Deezer Premium. The Deezer Premium plan is available on all devices supported by Deezer.
The Deezer Family plan is a way of connecting you and your family to Deezer at a cheaper rate. This plan comes with six individual profiles that can be distributed amongst your family members and you pay 7.49 dollars per month.
This total would have been approximately 30 dollars per month if you were to have six individual profiles on the premium plan.
Other features available on the Deezer Family plan include parental control with which you can monitor what your child listens to and cross-device listening which allows you to play Deezer on up to 13 devices at once.
You also get to enjoy lyrics, SongCatcher and flow across all profiles on the plan. Asides these, you get to enjoy the features on the premium plan including high-quality output (320 kbps), unlimited skips, choosing the songs you play, no ads, access to about 56 million tracks, and offline access to playlists & albums. The Family plan does not come with a 30-day free trial period.
The Annual Plan is a discounted plan. You pay 49.90 dollars at once for premium access all through the year instead of paying 4.99 dollars monthly (a total of 59.88 dollars).
The Deezer HiFi plan offers quality sound output and it goes for 9.99 dollars per month. This plan allows you to listen to audio in FLAC (Free Lossless Audio Codec) format.
FLAC ensures that the file size of the audio content is reduced but the quality remains unchanged; You perceive the songs as if you were in a studio. The HiFi plan also gives you access to cross-device listening and you get access to tracks from 360 Reality Audio before users on other plans.
On the HiFi plan, you enjoy the benefits of the premium plan too including choosing the track you want to play, unlimited skips, ad-free experience, offline access, synchronized lyrics but you do not get six individual profiles on this plan.
Subscription plans offered by Spotify:-
Like Deezer, Spotify also comes with multiple subscription plans (in this case 4 plans excluding free access). The plans all come under Spotify Premium and they are:
Individual Plan

Family Plan

Student Plan

Duo Plan
When you use a free Spotify account, shuffle play is available, a daily mix playlist is available, and you have access to all the playlists available.
However, the skips are not unlimited, the output quality is not at the highest, Spotify radio is not available, there are ads, no offline listening, and you cannot choose a song to play.
But on all premium plans, you can download the tracks for offline listening, there are no ads, you can choose the song you want to play, very high-quality audio output (320 kbps), and you have unlimited skips. But the premium plans still differ slightly from one another.
The Spotify Individual Plan is like the basic premium plan. You get to choose the track you want, very high-quality audio (320 kbps) is available, ad-free experience, unlimited skips, and all other general features of the Spotify premium plan.
This plan costs 9.99 dollars per month but there is a 1-month free trial for new users or users who have not used the premium trial before.
The Spotify Family Plan allows six individual accounts for members of a family living in the same house. Spotify verifies that the users all live in the same house but access is not limited to that house.
This plan allows you to enjoy all the features of the premium plan with 5 other family members. Features like unlimited skips, very high-quality output, offline listening, and ad-free experience will be available to all accounts on this plan.
Asides these, you get to create a family mix containing songs you enjoy with family and this mix will be exclusive to the family. There is also the parental control feature to monitor and block explicit content.
The Spotify Family Plan costs 14.99 dollars per month and there is a 1-month free trial for new users or users who have not used the premium trial before.
The Spotify Student plan is for students in accredited higher education institutions. This plan grants one student access to the usual features of the Spotify premium plan such as ad-free experience, on-demand playback, unlimited skips, and offline listening.
Apart from these features, the student also gets a Hulu plan but this comes with ads and they also have access to series & TV shows available on Showtime. This plan costs 4.99 dollars each month and there is a free 1-month trial for new users or users who have not used the premium trial before.
The Spotify Duo plan is not available in many countries yet but it is available in countries in Europe and Latin America. The plan is similar to the Family plan except that it comes with only two premium accounts instead of six.
The 2 people using the premium accounts must live at the same address. The Duo plan gives access to all the general plans available on Spotify premium. You do not get ads, you get unlimited skips, on-demand playback, and high-quality audio output.
Asides these, there is the Duo Mix which is a playlist of the song you and the other duo user listen to. This playlist is regularly updated as you listen to more music.
To subscribe to the Duo plan, one person creates an account, logs in and invites the other person using any of the options available.
The other person accepts the invitation at home (the same address), confirms the details, and voila! If you had been on Spotify premium individual plan before switching to Duo plan, your playlists, recommendations, and music remain unchanged.
The Duo plan costs 12.49 Euros (about 14.18 dollars) per month and this is cheaper than 9.99 dollars for 2 people on the individual plan. You also get a 1-month free trial and you can opt-out whenever you want.
Subscription plans offered by Soundcloud:-
Soundcloud has 3 subscription plans for those who upload content to their platform and 3 plans for the consumers of the content on their platform. The subscription plans for the uploaders are:
Soundcloud Basic

Soundcloud Pro

Soundcloud Pro Unlimited
The plans for the consumers are:
Soundcloud Free

Soundcloud Go

Soundcloud Go+
Soundcloud Basic is free of charge and you get 3 hours of upload time per month, you see basic stats showing how your content is doing, and you have basic embed controls.
With Soundcloud Pro, you get 6 hours of upload time and you get advanced stats. These stats include the number of plays by country, the number of plays from different Soundcloud sections, the number of downloads, likes, reposts, and the number of comments by your audience.
You also have real-time stats showing you how your track is performing every hour and you have the feature (spotlight) that allows you to pin playlists to your profile.
With Soundcloud Pro, you have access to Quiet mode and you can replace tracks. This plan costs 7 Euros monthly or 5.25 Euros monthly if you are paying for a year at once.
Soundcloud Pro Unlimited offers the most features. It offers unlimited upload time, scheduled releases, it gives you all the stats you need, replaces tracks, and you get to access Soundcloud at a discounted price.
This plan costs 11 Euros monthly or 8.25 Euros per month if you are paying for a year at once. You also get access to high-quality audio and offline listening.
On the Soundcloud Free plan, you get access to the over 120-million track library of Soundcloud but no offline access feature. You also experience ads 7 previews while you use the services and you do not get access to premium tracks on GO+.
The Soundcloud Go plan gives you access to the Soundcloud library and you also get offline listening access and experience no ads while you use the service.
The plan costs 4.99 dollars per month on Android and web and 5.99 dollars on iOS devices. You get a 30-day free trial before you start paying.
The Soundcloud Go+ gives you access to all the features of Soundcloud. You have access to the Soundcloud library and premium tracks which equals over 150 million tracks. On this plan, there are no ads or previews and there is offline access.
This plan costs 12.99 dollars on iOS and 9.99 dollars on web and Android. It also comes with a 30-day free trial before you start paying.
Deezer vs Spotify vs Soundcloud: The Rundown
Content:-
Spotify offers the most diversity when it comes to genres, with Deezer and Soundcloud offering almost the same range. Of these 3 platforms, you can listen to radio stations with Deezer although all 3 support radio stations.
They all have quality playlists but the playlists from Deezer and Spotify may edge the playlists on Soundcloud slightly. Soundcloud has the most options to choose from with over 200 million tracks and with artist-themed playlists, it is easier for fans to follow their favorite artists.
Offline Use and Connection:-
These 3 platforms offer the same solutions for offline listening but Soundcloud has the best user interface when it comes to navigating the options for offline listening.
It also has more options for offline listening than Deezer and Spotify. Deezer has the cheapest plan that supports offline listening with Soundcloud following closely and Spotify has the highest price (although the plan for students is the same cost as the Deezer plan).
Platforms and devices supported:-
Deezer is supported by more platforms than the other 2 while Spotify is supported by most devices. Soundcloud supports fewer devices and platforms and its accessibility on Apple devices is quite limited. Deezer is more tolerant of the older operating systems than the other 2 because it gives room for older OS more than the other 2 platforms.
Spotify can be used on more cars with some cars even having Spotify apps of their own. It can also be used on 53 smart speaker products which are more than what is supported by the other 2 platforms.
But Deezer supports more smart televisions than the other 2 platforms. Of these 3, Soundcloud is the only platform without a fully launched desktop app and it has no app for Mac PCs. Spotify and Deezer have a broader range of platforms and devices supported than Soundcloud.
Subscription Plan:-
Of all 3 streaming services, Deezer has the cheapest plans followed by Spotify. But Soundcloud has marginally higher prices for both uploaders and streamers. Although Soundcloud has the largest content library, it is not as cost-effective as the other 2.
So we have done a rundown of the costs, the range of devices supported, the offline availability of services, and the content of these streaming platforms. Over to you readers to decide which platform is fanciful to you.