Busy lifestyles and negligence towards food consumption habits have become a major topic of concern and also a life-threatening issue for a lot of people.
Having to travel here and there with all the stress in mind and ignorance towards what people are eating, has resulted in most of the people becoming food allergic.

According to a survey, 2 out of every 25 children below the age of 5,  and 1 out of every adult population is suffering from food allergies. Although the problems with children might not persist as they grow up, with adults, the issue might be for a lifetime. If not diagnosed properly, it might even result in severe ailments or even death.

But with technology, things have become way easier than before. Now with just a tap on your screen, you can control and manage all your allergic issues very easily and efficiently.

Several apps can distinguish your allergens and create your personalized food intake plan at your convenience. You also have the option to track which restaurant is best suited for you accordingly.

So, the following are some of the best food allergy apps you can always rely on! For all those getting serious triggers, here's the solution!
Best Food Allergy Apps – Our Top Pick👌👌
1. Find me Gluten Free
Having food allergies can be annoying. To help you with that, here's one of the best food allergy apps. Find Me Gluten Free allows its users to access the best gluten-free restaurants and locations nearby.
You can either enter your destination, your current location, or simply switch your GPS on and find several restaurants around you.
Not only gluten-free restaurants but also celiac-friendly spots can be found easily around you. This app is a boon for those who travel a lot. Going to an unknown place and finding extremely good and gluten-free restaurants nearby saves a lot of time for travelers. 
Adding to this, you can even look at the restaurant's menu and search for gluten-free options. For future reference, your favorite restaurants can be saved and preserved as well.
Also, for those who are conscious about their diet and eating out, this app is the best! You can always modify your searches and get the best-suited restaurants customized for you and be burden-free. 
You get to choose the desired restaurant from a series of options such as most celiac friendly, dedicated gluten-free, best rated, closest, by address, etc., which makes the user's work a lot easier and thereby makes the app user-friendly. 
Adding to this, the app provides you with a complete direction guide to reach the restaurant you searched for!
Download the App on Google Play Store
Download the App on Apple App Store
2. Alerje – Food Allergy Apps To Find Safe Products
After being diagnosed with life-threatening food allergies, nothing can be better than managing your food intake and focusing on having a balanced and nutritious diet. 
Based on innovations, Alerje allows you to create your unique food allergy profiles where you can balance and manage your food intake and always opt for better diet options! 
On Alerje, you can also share these profiles with experts to communicate easily about the allergen and also get personalized allergy-friendly recipes for you. Tracking your daily meals and preventing any future reactions is also another feature of Alerje.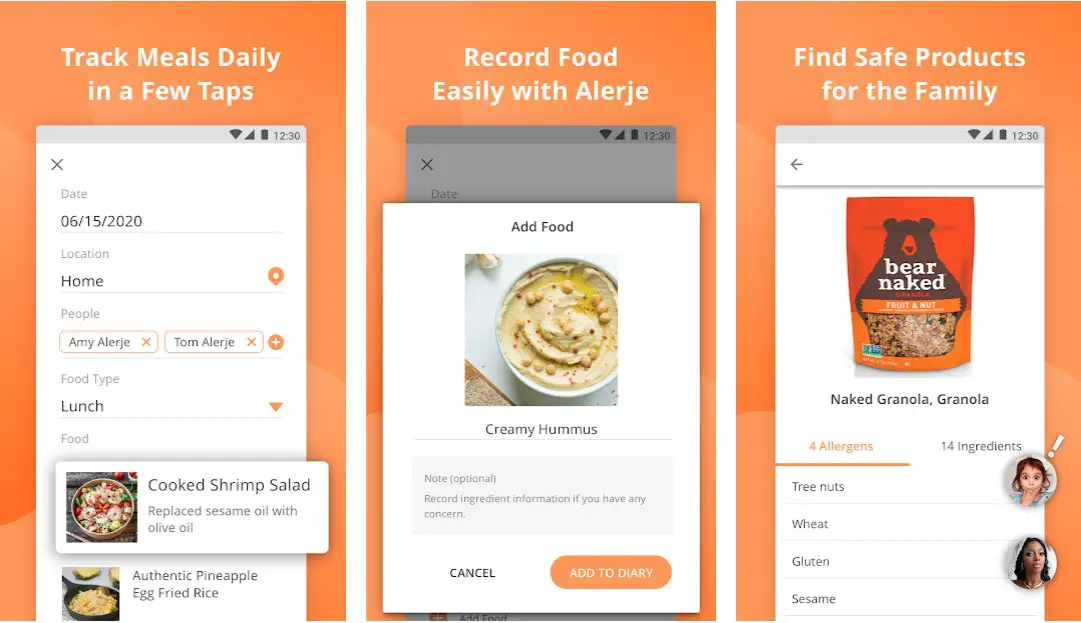 On Alerje you'll always be reminded of taking your medications on time. In case of a missed dose, you will be alerted. Not only you but your allergist will also be reminded of your missed doses and you will be regularly given reminders of self-care (as like not to avoid exercise or have a shower).
Alerje has safe and sound solutions for you and the whole of your family. It focuses on the fact that food allergies should never spoil your good moments! On Alerje, a user can create an unlimited number of food diaries. 
The user can also receive the most appropriate recipe recommendations. Also, based on your food allergies, you get a database of meal ideas for breakfast, lunch, and dinner. 
Adding to this, you can also scan the barcodes of products anywhere to check the ingredients before you eat them. You can also create your recipes and upload pictures of them on the app. The users also get access to food journal entries at any time.
Download the App on Google Play Store
Download the App on Apple App Store
3. Spokin
Control food allergies before they control you! Spokin helps you manage that. With Spokin you can always find bakeries, restaurants, hotels, ice-cream shops, grocery stores, etc. nearby which are extremely safe to visit. 
You can also communicate with other app users who live in your area or nearby you who share the same allergies as you! 
Spokin has a feature to even text these people so it ends up being a socio-friendly app, which attracts users towards it. On Spokin you can find new products that are already filtered by your allergens, easily and efficiently. 
Adding to this, you can also see reviews from people who have already tried those products, to get a better understanding of whether or not to buy them. In case of any queries of yours, you always have Spokin's brand partners to answer your questions. 
Moreover, you can find and know about anti-allergen doughnuts, cookies, cakes, etc., from Spokin's Verified Bakery Partners, both online and in person. A user-based recipe option makes the app even more reliable. 
As per your food allergen and your diet requirements, you can customize your breakfast recipes, cake, and cookies recipes, and whatnot!
Download the App on Apple App Store
4. Food Intolerances
Do you have food intolerances and do you too worry about what to eat? Get helped with the Food Intolerances app. The app enables you to add more variety to your diet and have a food list ranging from necessary goods to extremely exotic products. 
A diet high in nutritional value can be obtained by using the app. A lot of vitamins and minerals can be added to your diet as well. The app also explains the why and how of food allergy including the science behind it. 
Moreover, the app explains peanut allergies, histamine intolerances, and chemical interactions that cause food allergies.
The app provides a report about your food containing the total amount of histamines, tyramine, salicylate, fructose, nickel, and sorbitol. This feature makes you aware of the plating you are going to have and the allergens you need to be safe from! 
You also get a detailed description of whatever you're consuming. This feature makes the app extraordinary, which might be the reason for the app winning multiple awards.
Also, you get several allergy profiles on the app based on your preferences. Thereafter, you can minimize or prohibit the intake of any kind of allergen into your diet and you can go for picking up the diet plan that suits and matches your basic and topmost requirements. 
This is the least you can do to prevent certain life-threatening diseases and be aware of them.
Download the App on Apple App Store
5. Yummly Recipes – Food allergy apps To Personalize Your Feed
With Yummly you need to believe that yummy food can be anti-allergic and tasty too! As the name suggests, this is one of the best Food Allergy Apps that offers you a wide range of recipes to choose from! 
You can simply specify your dietary needs and add your food-allergy demands along with your tastes and preferences, and in no time you will be rewarded with a lot many varieties of recipes! 
Even when you do not have so many ingredients at home and you are too lazy to go to the grocery, you can still find some of the other recipes for you on Yummly.
Yummly comes with the major objective that health and taste can go hand in hand, and being a user of Yummly a person does not need to worry about what to eat and what not to eat. 
It captivates users' attention by not forgetting about their nutritional needs. The user can get a simple, easy, and quick nutritional diet recipe just a click away! 
Even if the recipe on Yummly is exotic(like pasta or chicken salad) or the one you crave( like chocolates and desserts), it's still nutritious and it definitely matches your food-allergy needs, and so, we all know that nothing can be more tempting than a diet recipe that does not include only salads and soups! 
Yummly has over 2 million different recipes. On Yummly, you can get a breakfast recipe, for lunch, for dinner, for desserts, for drinks and sides as well! So, for all the food lovers, yummy is the stop!
Download the App on Google Play Store
Download the App on Apple App Store
6. AllergyEats
Being a messiah for food-allergic people and for those who have to travel to places, AllergyEats is like a community of people built together to help and get helped, for those who suffer from mild or severe food allergies. 
You can visit a restaurant to dine in and then help share your ratings and reviews with other people so that they can easily find a better restaurant that accepts their food preferences and offers a vast range of delicious food items.
If you want your meal to be brought out separately to avoid contact, you can surely rely on AllergyEats.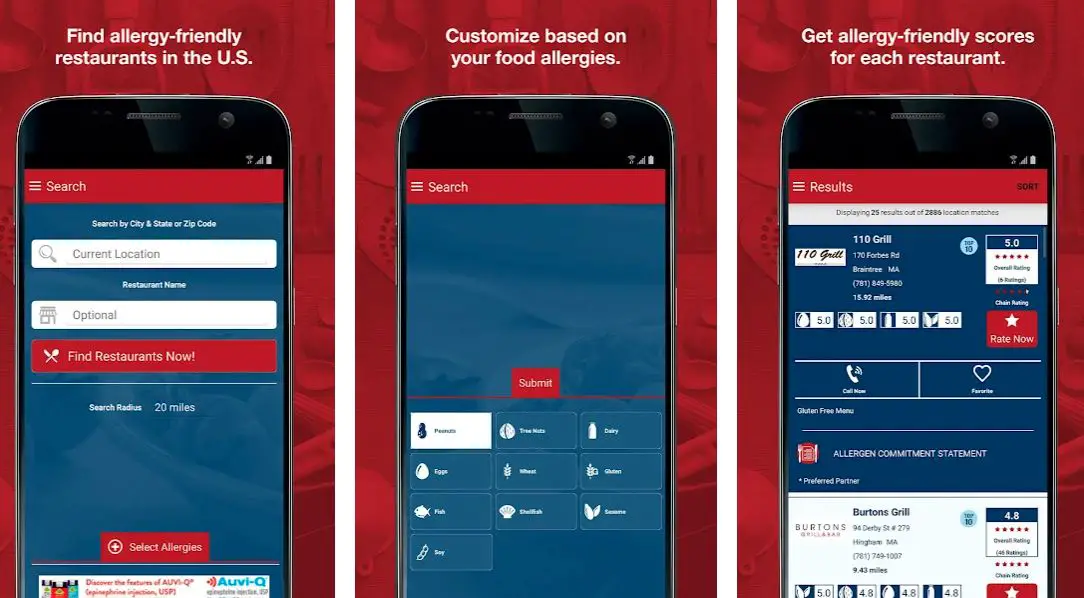 On AllergyEats you can also put your allergies in the reservation so that when you visit a restaurant, the people there might help you in finding the food that is the most suitable for you. 
Adding to this, a user can also win points, for this, you need to become a registered user. After getting registered you also get the privilege to rate the restaurant for future references and for every rating the user earns points on AllergyEats. 
It is amongst the best food Allergy apps that provide you with multiple allergen-free restaurants around or near you. For those who have a hectic life schedule and have to travel usually from one place to the other, AllergyEats is the solution!
An app at your fingertips where you can read about several restaurants and get absolute knowledge of what suits your demand.
Download the App on Google Play Store
Download the App on Apple App Store
7. Ipiit
Grocery shopping is on the go with the Ipiit app. Highly recommended by nutritionists and MDs the Ipiit is a food scanner app that makes sure to help you check all the products around you and in your grocery stores for food allergy triggers, certain specific ingredients, and all the nutritional facts.
You can scan various bar codes and easily select your preferences of food, like Gluten-free, Lactose-free, and non-GMO(Genetically modified organisms). 
You can also compare products and ingredients based on their calories, fat, sodium, carbohydrates, fiber, sugar, protein iron, etc. Ipiit is an app for those who usually have to travel from one place to another and more importantly for those who are super conscious of their health.
Also, on Ipiit, you can create personalized preferences based on your allergies. Super easy and best recipes can be found and created here. 
The Ipiit app is also aware of the ingredients to avoid and other health considerations. It helps you to maintain a customized diet plan, eliminating certain allergy-causing food items such as peanuts, milk, and other protein-related items.
With Ipiit, the user does not need to worry about exploring places because, at any place or store, you can simply scan the code for an item and easily have access to the most suitable products as per your food allergy needs. So, the app turns out to be a user-friendly one.
8. The Gluten-Free Scanner
Using the gluten-free scanner app you can easily scan barcodes already found on the products you buy. The up-to-date database of all the foods and drink products is already preset on the app. 
The app works simply and fast, using your phone camera to scan the barcodes of the products you buy.  The app also has an expert team of dieticians, nutritionists, and researchers who take care of the accuracy and efficiency of the database. 
You get to shop in the smartest way possible by using the gluten-free scanner as you can easily discover new foods that are gluten-free and get them for the best prices.
With the app, over 500,000 plus food items can be checked with absolute accuracy. Not only once, but the codes are scanned and analyzed thrice to provide better protection. 
This is one of the best food allergy apps for every individual who wishes and wants to be extremely aware of their food intake. You can scan codes for almost every product you find in your grocery shopping.
On the app, you get a list of all the ingredients and nutritional information about the products. You can also get a ready-made product list. 
In case you also have certain other dietary requirements, you can always update your food preferences in your profile by choosing from 14 different allergen options, and the app then filters the products that do not contain the required products.
Download the App on Google Play Store
Download the App on Apple App Store
9. Medical ID
The most distinguishing feature of the Medical ID app is that the user can easily and efficiently have access and support from various profiles, for example, your husband, wife, children, etc. All your medical data can be quickly accessed even from your lock screen.
The user can always keep their GPS on and share their current locational information and can immediately get an alert if something goes wrong. You can also have the location of your nearby hospitals just one tap away! 
The app also has a feature of calculating the body mass index(BMI) of an individual and can then detect if the person is overweight, underweight, or perfectly balanced.
You can easily detect your medical conditions, find out what you are allergic to, get recommended medications, as per your weight, height, and blood type. 
On Medical ID the experts use your location to determine if Enhanced Emergency Data service is supported in your area.
The user can also use it to make an emergency call using the lock screen. Medical ID app helps its first responders access their critical and serious medical information even from the Lock screen, without even needing your passcode.
They can see information like allergies and medical conditions as well as who to contact in case of an emergency. The app is best suited for those who have critical health issues as the app is user-friendly and the user can immediately contact medical experts without even having to unlock the Phone.
Download the App on Google Play Store
10. mySymptoms Food Diary & Symptom Tracker
The symptoms app is perfectly suited for those who have IBS/D triggers. On mysymptoms, the user can keep a track record of their food-allergy symptoms, their diet, their medications, their sleep, their stress record, their exercise record, and almost everything so easily.
 On the app, you can analyze patterns between your dietary habits and your food-allergy symptoms. After that, you can easily modify your diet schedule. You can set timelines for your sleep and exercise too.
Along with this, you can also schedule your breakfast, lunch, and dinner as per your preferences. The app provides you with a personalized food diary where you can keep a record of your daily plan accordingly. You can also get personalized recipe ideas for breakfast, lunch, and dinner. 
The food diary has separate records of your daily diet and your sleep, stress, and exercise schedule as well. With mySymptoms you can anytime share your records with professionals if the problem persists. 
The app suits people who want all their allergy records in one place. The most preferable feature of the app is that the user does not need to switch to other apps to get diet plans, recipes, exercise recommendations, etc., with just a click he/she can get it ready in absolutely no time. 
This makes the app even more extraordinary. So, overall the app is reliable for its users because it provides detailed information about everything that the user needs to know.
Download the App on Google Play Store
Download the App on Apple App Store
What causes food allergy?
If your body is food allergic, your immune system signals your cells to release immunoglobulin E, an antibody that helps to neutralize the action of the food that caused an allergy.
Therefore, if in the future you tend to consume the same food product, a chemical called "histamine" is secreted into your blood, thus resulting in allergy symptoms.
The symptoms might include – dizziness, nausea, itching, rashes, and sometimes even vomiting. If not taken proper care of, a minute food allergy can turn up to be the most dreadful life-threatening symptom thereby being unbearable for the patient. 
Increased food allergies can result in a disease called anaphylaxis. Having this ailment results in tightening of airways and a swollen throat. To prevent any such thing from happening, the person should avoid intake of foods that are rich in proteins such as milk, soy, peanuts, and sometimes even wheat. 
Fruits like kiwi and melon should also be avoided. Also, nuts should not be consumed by a patient having a food allergy. Regular exercise and better sleep are a must in such cases.
Why Are So Many People Allergic To Food?
When to consult a doctor?
If suddenly after consumption of a particular product your body starts behaving abnormally then you should immediately consult a doctor.

It is advised to consult a specialist as soon as the problem prevails. When an allergic reaction can be seen happening to you, you can refer a doctor to avoid any further complications. In case you observe symptoms such as rapid pulse, or hypotension seek emergency help because these symptoms can be associated with Anaphylaxis.
📗FAQ 
What is the best allergy app for Android? 
Find me Gluten Free, Spokin, Food Intolerances, and AllergyEats, etc. are some of the best energy applications for Android, you can use them to find the best gluten-free restaurants in your surroundings, record meals, track foods, and find a wide range of safe products for your family. 
Is there an app to help with food allergies? 
Yes, AllergyEats is one of the most reliable applications to help you with food allergies. The website was started by Paul Antico in 2010 when he found it difficult to explore restaurants where he could go with his family with food allergies.
Now, the AllergyEats application is easily available on the App Store and Google Play store and is helping a lot of people eat safely without worrying about different types of allergies. 
What is the most accurate allergy app? 
My Pollen Forecast is one of the best, most accurate pollen and allergens trackers. With this simple but highly effective application, you can view the forecast for hay fever for the next two days, and can also maintain a diary of your symptoms.
The app even enables you to be prepared for different types of allergies, including asthma difficulties. 
Is there an app for nut allergies? 
Ipiit is a very decent application that helps you scan different types of food so that you can easily avoid consuming foods to which you are allergic, including foods containing nuts. 
How do you track food sensitivities? 
You can use a food diary to track your allergies and their triggers. All you have to do is to record what you eat, especially when you get different types of allergy symptoms. And, these days there are so many food allergy applications are readily available on both the App Store and Google Play store. 
Is there an app for dietary restrictions? 
Spokin is how wonderful application, particularly designed for travelers with dietary restrictions, and can be immensely helpful if you want to eat healthy, avoiding foods you are allergic to. 
Is there an app better than MyFitnessPal? 
Lifesum can be one of the best alternatives to MyFitnessPal, and offers a wide range of features like digital self-care, healthy diets, calorie counters, and much more. 
What is the best food scanner app? 
The Gluten-Free Scanner is one of the best scanner applications you can rely on to scan barcodes on the products before buying.  
Is MyPlate app free? 
Yes, MyPlate app is available free of cost and offers meal ideas along with personalized plans to meet dietary goals for protein, dairy foods, vegetables, grains, fruits, etc.  
Is MyPlate a good app? 
Yes, it is a very good application, mainly because of ease of use, clean interface, minimal junk, advertisements, or any other type of annoyance. Additionally, you get some amazing features like goal percentages, calorie intake, and a detailed analysis of macro nutrients. 
Is MyPlate app accurate? 
MyPlate offers an excellent database of foods and is more often than not accurate. There are so many other highly accurate applications, but if you want to enjoy a wide range of features free of cost, MyPlate is without any doubt a very good option. 
What is the best free macro app? 
MyFitnessPal is right on top as far as the best macro-tracking applications are concerned. The app offers an extensive database of food and enables you to scan barcodes. And, more importantly, the simple user interface makes it one of the best choices for both play beginners as well as advanced users. 
Conclusion on food allergy apps
Food allergy is not as big of an issue to not get treated. You only need to be well and fully aware of your eating habits and the reactions of certain food items to you and your health.

Being a little careful about your daily life schedule and habits can lead to a way out for you. Moreover, nowadays everyone has their phones always with them then the installation and use of these food allergy apps can prove to be very beneficial for people. With controlled perspectives and beliefs, things can be better for all. So, get up and get going always.