Are you in search of useful software programs that can play a significant role in your daily life? If that is the case, then you are reading the right article. In this post, we are going to take a look at NirSoft freeware utilities and how it affects the working on the Windows 10 PC. 
For those of you working on the Windows operating system, would be aware of its usefulness. You do know that the operating system comes with its advantages and drawbacks. Hence, Nir Sofer came up with an idea to design software that can be used on the operating system. 
Millions of users have benefited through his initiative that he started since 2001. From the year 2004, he went live with Nirsoft.net. The website contains more than 200 software programs for your use. 
The freeware utilities are related to password recovery, network, IP address, Windows tweaks, and others. You would be delighted to use them because they make your life simpler and a lot easier to work on the Windows operating system. 
The software programs that are developed by NirSoft come under 100KB. That means you can easily download them and work using them quickly. This is a very efficient form of working using the software. 
Not to mention, the website comes without any advertisements, limitations, and others.
This article will represent my top Nirsoft tools and in no particular other.
Best Nirsoft Freeware Utilities For Windows 10
Nirsoft: Password Recovery Utilities
This Nirsoft tool shows passwords for Internet Explorer (Version 4.0 – 11.0), Mozilla Firefox (All Versions), Google Chrome, Safari, and Opera.
It works to recover passwords on any website including even popular ones like Facebook, Yahoo, Google, and Gmail. This password must have however been stored by your web browser.
It has a" save selected items" functionality that allows recovered passwords to be saved in text, html, csv or xml files.
This Nirsoft password recovery tool reveals the passwords stored behind the bullets in the standard password text-box of the Windows operating system and Internet Explorer Web browser. The revealed passwords can then be copied and saved.
Also Read: How to fix vcruntime140_1.dll missing error?
This Nirsoft password recovery tool will reveal the passwords and other account details for Outlook Express, Microsoft Outlook 2000 (POP3 and SMTP Accounts only), Microsoft Outlook 2002/2003/2007/2010/2013/2016 (POP3, IMAP, HTTP and SMTP Accounts), Windows Mail, Windows Live Mail, Mozilla Thunderbird (If the password is not encrypted with master password), Group Mail Free, Hotmail/MSN mail – If the password is saved in MSN/Windows/Live Messenger application, Gmail – If the password is saved by Gmail Notifier application, Google Desktop, or by Google Talk.
Nirsoft – Network Monitoring Tools
The WifiInfoView is another utility software that can scan your internet connection that is located in your area. What do you do with that information? You can find out the IP address, name of the network, MAC address, model of the router, and channel number. 
Other information is also provided to you. This detail enables you to get a better understanding of the connections in your area so that you can consider using the best network. Depending on your requirements, you can subscribe to it. 
In the end, you can do two things using this software. You can purchase the best internet package for yourself and find out the types of networks that are operating in your area. If at all, you are not satisfied with your speed, then you can find the fastest network near you.
This lightweight utility runs in the background monitoring the activity of wireless networks around you. It operates by displaying for each detected network the SSID, Last Signal Quality, Average Signal Quality, Detection Counter, Authentication Algorithm, Cipher Algorithm, MAC Address, RSSI, Channel Frequency and Channel Number.
The Wireless Network Watcher keeps an eye on your network that you are using. In a sense, you can find out the devices that are connected to it. The devices can be your laptop, PC, or your smartphone. 
The primary use of this program is to make sure that there is no unauthorized access to your network. If at all there is, then you can get all the details from the software and then take necessary action. 
The data that is provided to you include the device name, IP address, and the timings of the connection. This detail is beneficial for understanding and knowing the safety of your connection. 
Another method to find out if your internet connection is safe is to find out the speed. When you feel that the speed is on the slower side, then you can download the program and run it. Otherwise, also, it is in your best interest to download it and use it. 
These days, it is common to see and hear third parties gaining access to your internet connection. When they do, they can also access your sensitive information and misuse it. However, using this data, you can find out if your connection is secure or not.
It is a tool that scans your network and displays all the current connections on your network. It displays the IP address, MAC address, the company that manufactured the network card, and optionally the computer name for all the devices connected to your network.
Hosted Network Starter
The Hosted Network Starter is a fantastic software tool that enables your device to become a hotspot. How do you do that? Download the program, and then make your username and password of the Wi-Fi.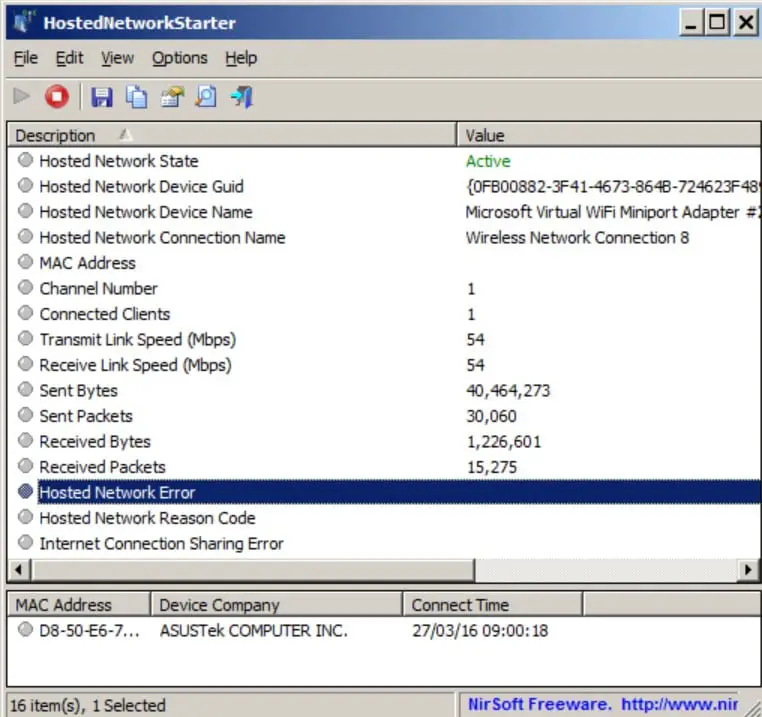 You can then use your device, whether it is a laptop or PC, to become a hotspot. Of course, the devices having access to the Wi-Fi in the locality, need to use the password. Those of you, who own routers without the Wi-Fi, can make use of this arrangement. 
So, you can share the network when you own a router and do not have a Wi-Fi connection. Apart from that, you can increase the signal range by using your device as the receiver. The other tools can access the internet through your device, just by using the same password.
This utility doesn't require any installation process or additional DLL files. All it takes is to copy the executable file (BluetoothView.exe) to any folder and run it. Moments later, BluetoothView will start to gradually display all detected Bluetooth around you.
Nirsoft: Internet-Related Utilities
This utility allows one to find the information related to an IP address. Information like the owner of the IP address, the country/state name, IP addresses range, contact information (address, phone, fax, and email), and more.
It basically scans the cache and history files of your Web browser, then locates all search queries that you made with popular search engines (Google, Yahoo, and MSN) and with popular social networking sites (Twitter, Facebook).
This nirsoft utility tool is useful if you ever need to watch a video online. As far as the video file is stored in your browser's cache, this utility can help you to extract the video file from the cache and save it for watching it in the future.
This Nirsoft utility is basically a screenshot service. It enables one to save a screenshot of any Web page into a file. It automatically creates a hidden window of Internet Explorer, loads the desired Web page, and then saves the entire content of the Web page into an image file (.png, .jpg, .tiff, .bmp or .gif).
Top Best Free To Do List Tools
Nirsoft: Freeware System Tools
If you ever need to know what activities are started up with your Windows OS, this is the app for you. It lists all applications that are loaded automatically when Windows starts up. For each application, it lists Startup Type (Registry/Startup Folder), Command-Line String, Product Name, File Version, Company Name and Location in the Registry or file system.
This utility is important for displaying device drivers currently loaded on your system. It will also display the load address of the driver, description, version, product name and company that created the driver.
This utility shows USB devices currently connected to the system as well as USB devices that have been previously used on the PC.
For each device, it displays device name/description, device type, serial number (for mass storage devices), the date/time that device was added, VendorID and ProductID.
Nirsoft: Desktop Utilities
This works similarly to file explorer. It allows you to easily search files in your system by wildcard. This utility works on any version of Windows starting from Windows 2000 and up to Windows 10. Both 32-bit and 64-bit systems are supported.
This utility gathers information about all programs installed on your system and displays the details of the installed programs in one table.
It will work for your local system, for a remote computer on your network, and for external hard-drive plugged to your computer.
This nirsoft utility provides a quick and easy way to control the sound volume on your system – simply by rolling the wheel of your wheel mouse.
WhoisThisDomain
The WhoisThisDomain program is another exciting software that can provide you with immense details about the domain. If you are domain flipper or somebody who is intrigued by domains, you will find this application helpful. 
It comes like the Who.is application. But, it is much simpler and easier to use and implement. You can find out a lot of information about the domains; then, you can use other tools. The best part about this is, it is free of cost. 
You can also search on several domain names and have all the information listed to you in a single file. Sounds quite easy and straightforward. Why won't you make use of this application and find out what exactly you want to? 
QuickSetDNS
The QuickSetDNS is a simple application that lets you switch the DNS servers from multiple networks immediately. You are provided with a list of the DNS servers that are there. Then you can choose the one that you are keen on using. 
If at all, you find the new DNS server not working or having an issue, then you can always switch back to your older one or make use of a new DNS server. However, you can also allow the network to choose the right server in your locality automatically. 
You may ask why should you switch DNS servers. There are several security reasons for that, primarily when you are residing in an overcrowded area like apartments or a small locality. The chances of your security getting compromised are always there. 
SpecialFoldersView
The SpecialFoldersView program can offer you the essential Windows folders that are difficult to find for you. Some of them might be hidden from you for various reasons.
Perhaps, you are working in an office environment and want to find out something but are unable to find the folder. 
Once you download the program, you can view all the invisible folders in front of your eyes — for example, the history folder in most PC or laptop, or the startup folder. Of course, you know how to access the temporary folder, but you can make use of this application and find it out. 
This is ideal to use in all working conditions. 
BlueScreenView
The BlueScreenView is a software that comes with the ability to detect issues with your screens. At times, when you are working, you may find a blue screen of death (BSoD). It happens when you are messing around with your PC or laptop. 
However, you can download this program, and it extracts all the information about the problematic file. Apart from that, you are provided with the leading cause of this issue to have a better understanding of the problem. 
In some cases, it is not able to show you to exact reason for the problem, but you are offered ample details about the issue. This information can be shared or showed to a professional expert who can understand it and solve the issue. 
There are forums related to this matter, where you can discuss and find help with it. 
AdvancedRun
The AdvancedRun is a software that helps you with your startup configuration. When you are having issues with your setup to startup, then you can make use of this program. You may need it when you want to use a Windows 98 supported program in a Windows 98 environment.
The programs with more importance for the CPU efficiency is begun first. It can be done when you download the application. Supposing you want to operate a high-performance file, then this software can immensely help your cause. 
You can save the software and then load them when you want to begin the software. 
NirSoft.net review
What is NirSoft, and why do you want to make use of it for your regular needs? Like we read in the earlier part of this post, NirSoft is a developmental website that consists of many software that is suitable for working on Windows OS. 
Nir Sofer designs these. For more than 15 years, Nir Sofer has been developing high-quality software for Microsoft devices. Most of the software comes with very few or no bugs. Hence, their popularity. 
The software was developed since 2000, and it has been going stronger once they went online from 2004. You would be delighted to know that you can find more than 100 software programs on their website. 
They are free, and you can use them for your requirements. You could be a student, working professional, software programmer, or just about anybody. Another thing to note is that their website does not come with those annoying advertisements or pop-ups screens. 
You can find several programs on their website. Hence, you need to be specific about what you are looking for. A better idea will be to type in the exact keywords on Google or search engines if you are searching for a freeware utilities on NirSoft. 
That is because their homepage can be slightly messy and unorganized. Amateurs or newbies can find the going tough on their site. Hence, as we said, you can find what you are looking for directly by typing in the appropriate keywords. 
You can also download the NirLauncher, which is located at the top. It is a custom search engine or a package that runs all the program software once you have downloaded it. The webpages of the products are organized well. 
You can find what you are looking for and move around with ease. They are repeatedly visited often by users. Of course, you would want to know that the links, which you have downloaded are near the lower part of the webpage. 
They come with plenty of details like the description, switches, and other vital information for your requirements. Another feature worth noting about the NirSoft programs is that they come with a translation system that lets users contribute through different languages. 
Most of the sites do not provide this kind of feature. However, on NirSoft, you can find the translations of the different languages once they have been released. The software comes with a size of less than 100 KB.
This is due to the programming used by C++. In other programs, installation packages and dependencies are added to the program that is to be downloaded. These require more space. On the whole, the website NirSoft comes with adequate program software for one and all. 
NirSoft top programs
We have listed some of the top programs that are downloaded often for your benefit. Now, the show has been going on since 2001, so few programs on this list might be outdated for some of you. 
The browsing history view has been around for quite some time. The application helps you to read the browsing information of Firefox, Safari, Chrome, and IE. It then lists all these on the interface. 

The CurrPorts is another software that comes with a wide range of processes and ports that are suitable for similar data. 

The DNS query sniffer comes with a list of the queries that are related to the DNS system.

DriveLetterView provides you with a wide range of drive letters that are connected to the devices before. 

The Quick Set DNS is a tool, which provides you to interchange between the different DNS server configurations.

The NirCmd is a tool, which provides you with the ability to operate on systems that run on the commands. 

The TFSLinksView offers you with junction points and symbolic links on the interface.

The Volumouse comes with the ability to allow you to access the volume of audio parts using your mouse. 

The Wireless Net View allows you to scan the activity done on the wireless network and then log on to it if you want. 

The Wireless Network Watcher not only scans the wireless network but also provides you with a list of the devices and PCs that were connected to it. 
Advantages of using NirSoft software
The NirSoft software programs are a boon for millions of users worldwide. The main benefit of using them is they come free. Now, when you want to make use of software, you got to pay for them. 
Unlike them, these are free to use. We are not talking about 1 or 2 software, but more than 200 software. The software is portable and small to use as they come less than 100KB. That means they can be operated from anywhere you want. 

You can work on them using your laptop, PC, or smartphone. The layout is similar, which makes working on them simpler. Not to mention, they come with similar layouts. Hence, the chances of getting confused when using them or getting into a dilemma are not there. 

You feel at home when downloading, running, and using them. Most of them also come with features like sorting the data and exporting the data. Finally, you can run them using the command line. 
Tips when using NirSoft software 
It does sound easy and straightforward to download and use the data; however, you may want to know some tips that can make your experience pleasant. Some of the other aspects may be overlooked. Hence we want to enlighten you about them. 
If you are a coder or want to become one, then you may find the samples of the code useful. Nir Sofer has published most of his code on the webpage. You may want to be inspired to become a software developer using the code. 
You can donate through the page found on Nirsoft, net. ometimes, when you load the website, you may get warnings. That is because the HTTPS is not enabled. Hence, when you load the website https://www.nirsoft.net/, do not become alarmed. 
When downloading the software programs from the website, you may want first to download the NirSoft launcher. This way, you can download and then use the applications on your PC or laptop. 
To download all the software programs that you find useful, you can make use of the link on the file. This panel contains all the downloadable files. The blog is always updated, and you will want to go through it to understand the different abilities of the tools that are downloaded. 
What do we not like? 
Whether you are an amateur or professional, you may face a few issues when using the applications. You will find yourself in situations where the programs reveal too much data. For example, if you want to use their password software program, then anti-virus solutions tend to target them. 
Until 2008, Nir Sofer published what he called a false positives list. But, it started to impact the website negatively. Hence, it was stopped. Users were profoundly unimpressed due to it. Not to mention, his site could be suspended. 
Users who do not have sufficient experience in using these software programs may not want to use the website due to this issue. Another problem which we faced was the similarity of some programs. 
Now, most of the programs are used to perform a single or particular task. Like you read in this post, most of the programs are small in size to download, which is fine. However, some programs are similar. 
When you have to perform some tasks, you have to download about 10 software programs, and that can be annoying, to say the least. We hope that Nir Sofer does something about that shorty. 
Rounding up
Well, there is no denying the fact the NirSoft is a boon to millions of users globally. If it were not that good, they would not keep coming back. We found that the software programs are high-quality and extremely suitable for Windows operating system. 
Nir Sofer keeps pushing himself to publish and update the existing software programs on a regular basis. You can find the kind of program you are looking for to help you with daily requirements. 
It is ideal for people in all sectors. There is something for everyone in it. All you need to is have the patience to search for it. They are useful and straightforward and lighten up your work. Users are astonished by the fact that they were not aware of the existence of this kind of facility. 
When given in the right hands, they are helpful and efficient. They process your data quickly due to the C++ programming that is robust. 
Even though with upgrades in Windows OS many of the utilities in Nirsoft may increasingly become obsolete, from personal experience I often go back to see what's available on Nirsoft. Often I find something very useful that I may have had to pay for elsewhere.
Please do tell us what you think of the NirSoft freeware utilities. Have you used any of the above, then do share your experience with us, we will glad to hear from you.