Watching your favorite movies and shows with your family and friends is always one of the most exciting things. Many applications and websites are designed to give you an exclusive viewing experience when you are with your loved ones.
But what about when you are not actually "together"? What about when you are residing hundreds of miles away from the most special people?
More often than not, you have no other option but to ask or recommend your friends to watch something interesting at the same time, but that doesn't give you the pleasure of enjoying the content of your liking "together." And that's when watch2gether comes to the fore!  
What is watch2gether?💁

 
Watch2gether is a very popular platform that allows you to watch the content of your choice "together" with people of your choice, but most importantly, in "real-time," even when you are apart!
It has been a wonderful way for those who stay away from each other but don't want to miss the chance to enjoy their favorite video content together.
Not only exciting movies and TV shows, but you can also enjoy a wide range of content, including YouTube videos, on the platform without any problem whatsoever.  
But why are we looking for watch2gether alternatives?🧐
That's an interesting question! If the platform offers many real-life buddies, why do we need to look at other similar, competitive platforms?
Here is the most logical answer! Like any other technical entity, there are some glitches noticed in watch2gether. And trouble while streaming videos have been the most common one for quite a while now, even with the watch2gether extension.
Too many irrelevant advertisements throughout the content browsing are something I have personally found very, very annoying! And that's why I have decided to explore some of the best watch2gether alternatives.
How about checking if the platform is too hyped and if some other competitors are doing a lot better? Nevertheless, if these alternatives are better than watch2gether is a discussion for some other day, but you at least have so many more options!
And why would you stick with only one if you can try more? Let's closely look at some of the most popular alternatives to watch2gether.  
Best Watch2gether Alternatives – Our Top Pick👌
1. Hyperbeam

– watch2gether alternatives To Synchronize audio & video
Hyperbeam is the first website to feature in this exclusive list of the best alternatives to watch2gether.
And I have quite a few reasons for it too! With this excellent platform, you can enjoy your much-awaited movie nights with your distant partner or friends without any hassle whatsoever.
Thanks to the newly improved user interface, starting a watch party with literally anyone is as easy as ordering your favorite cuisine and staying close even when you are apart have got a completely different prospect with Hyperbeam!  
Designed by Tutturu, Hyperbeam has everything you expect from a reliable video-syncing platform. The overall look is so clean, it works very smoothly, and it gives you an amazing platform to become everyone's favorite virtual party host.
A virtual room in the platform enables you and your buddies to share a multiplayer web browser with anyone you want.
That's not all! You can visit almost all the websites through it, and you can even pass control of the watch party to anyone you want!
With Hyperbeam, you no longer have to bear with screen-sharing to enjoy an experience of "togetherness" while staying away from each other!  
Features of Hyperbeam:-
Allows you to explore the web in excellent sync

 

Pass around the control and collaborate with participants effortlessly 

 

Multiplayer, clean, and very smooth embedded browsers 

 

Suitable for almost all types of events and movies 

 

Very polite and responsive customer service 
Availability – Web, Windows, and mac | Ratings – 5 / 5
2. StreamParty

– sync video Easily
StreamParty is the second on my list of the best alternatives to watch2gether. It is undeniably one of the largest video-watching communities that allows you to watch videos with your favorite people you care about the most.
Don't have any friends as crazy as you are? You don't have to worry, as this website also permits you to explore like-minded people, befriend them, and watch a wide range of video content in which you both have mutual interests!
Search someone like you, discuss a bit, search a bit, and there you go! Automatic synchronization is one of the fascinating features of the website.  
You don't have to worry about keeping your favorite videos In Sync manually, as the website itself makes sure all your videos are saying even with pausing or skipping.
With the help of an integrated chat and video chat, you will constantly get an experience like you are enjoying your favorite content in your living room!
StreamParty is one of the most preferred communities of video addicts from different parts of the world, and you have a great chance of becoming friends with some of the most exciting people! And that should be something really, very interesting for you!  
Features of StreamParty:-
Automatically keeps videos synchronized.

 

Integrated chat and video chat for an exclusive watch party experience 

 

A massive community of crazy video addicts 

 

Allows you to discover the content of your choice

 

Unlimited public parties are available 
Availability – Web | Ratings – 5 / 5
3. Syncplay  
Syncplay is also one of the most reliable watch2gether alternatives widely popular for giving an exciting shared viewing experience irrespective of the distance between you, your family, and your friends.
It brings family members and friends together to watch movies, TV shows, animations, and other entertaining content.
How does it work? The Syncplay client smartly launches a shared media player on your screen, connects it to a secure server, and joins a virtual room. Seeks pauses and all other aspects of video playback are more than just suitable for a decent watching experience.  
It smartly saves your watching interests by tracking what you have been watching with your buddies and supports you with a customizable experience.
Another great thing about Syncplay is that it gives you the option of what type of files you want to send to the server. It means your privacy and security are always in your control when you enjoy watching movies and videos on Syncplay.
To ensure even better security, the server works in "room isolation" mode, meaning others only process any information shared by the clients in that virtual room.  
Features of Syncplay:-
Easy to stream videos from various media streaming platforms 

 

Powered by MLV media player and VLC media player 

 

Quick to share with whoever you want to watch with 

 

Very clean and simple user interface 

 

Allows you to report bugs 

 
Availability –  Windows, Linux, *BSD, macOS | Ratings – 4.8 / 5
4. Rave – Watch Party
Rave is undeniably one of the best watch2gether alternatives, with some exciting content updated regularly. With the application, you can easily enjoy a wide range of content from multiple providers, including Netflix, YouTube, Prime Video, Disney+, etc.
With your best buddies and that too, while chatting in perfect sync! The platform allows you to connect seamlessly with the people of your choice via text or voice message while you enjoy watching together.  
Host your virtual movie nights on Rave! 🍿
You can even create a watch party by adding the audience of your preferences, irrespective of how far you are from them! What more? Rave also enables you to upload movies and songs for global movie nights.
Creating unique song mashups is also super easy with the app. In short, Rave can be the ultimate mode of entertainment not only for you but for your crazy friends and family members as well!   
Features of Rave:-
Easy and quick to connect with your friends 

 

A wide range of content from various OTT platforms is available 

 

Enables you to share videos through Google Drive 

 

Rave DJ for mixing multiple songs 

 

Engaging chat feature for discussing and watching at the same time 
Availability – Windows, Mac, iOS, and Android
Ratings on Apple Store – 4.6 / 5 | Ratings on Google Play Store – 4.5 / 5  
5. Kosmi  – watch2gether alternatives virtual entertainment hub
Kosmi is your ultimate entertainment universe full of exciting content uploaded not only for you but for your crazy crew as well!
One of the most popular watch2gether alternatives is not only about watching movies or videos together.
It also enables you to experience the magic of online gaming, music, and much more – all in one place!
Kosmi expertly integrates with a wide range of famous entertainment services and platforms and helps you with massive content – all free of cost!
You can ask your friends to join, explore from a deep ocean of videos, and decide what you want to watch together!  
Versatility is something I have admired the most when it comes to Kosmi. It enables you to share and watch movies and makes it super easy to share screens, files, and even native integrations.
Yes, all that on a single platform! Why would you bother searching for different sources of entertainment to hang out remotely with your friends if you can do it all in one place on Kosmi?   
Features of Kosmi:-
A massive range of video content available at your fingertips 

 

It also allows you to share files, screens, and more 

 

Super easy to host as well as join

 

Highly customizable watching rooms 

 

Integrates easily with multiple OTT platforms and service providers 
Availability: Web and Android   
6. invited.tv  
Invited.tv is another great reliable form for watching movies, animations, YouTube content, and more together with your friends with the help of a shared virtual browser.
Whether planning for the weekend or anticipating a night party, you can rely on invited.tv for an excellent, never forgetting watching experience.
Connecting through the platform is as simple as it gets. All you have to do is to send an invitation to the people of your choice, and they can connect seamlessly and instantly, irrespective of where they are.  
Thanks to the dedicated invited virtual browser, the website enables you to start a private watch party and share it through any site.
You can reduce the distance from your friends with the help of video chat can low latency voice, all included in the platform itself. Control the virtual browser how you want, and choose what to watch whenever and with whoever you want!  
Features of invited.tv:-
Some of the most amazing content available free of cost 

 

It covers you with videos from multiple platforms across various genres

 

Simple, easy, and very quick to connect 

 

Invited virtual browser for sharing stream from any website 

 

Video chat with a low-latency voice for a wonderful "watch together" experience

 
Availability – Web | Ratings – 4.7 / 5
7. OpenTogetherTube  
OpenTogetherTube is another decent real-time video synchronization and video-playing platform known primarily for its simple yet highly effective user interface.
Entertainment should be made easy, and that's the biggest highlight of this website, as it doesn't require you to sign up or log in.
Visit the website, make your video room, or check out various other rooms and get yourself in for a beautiful viewing experience.
Inviting your friends to OpenTogetherTube is also very, very simple! 
It allows you to add videos from popular sources like YouTube, Dailymotion, and Vimeo. And you can, of course, expect for addition of more websites in the future!
With a cool synchronized playback, you can hit the play button, and the video plays for everyone added to the video room. As simple as that!
If you have a squad who comes back frequently to enjoy watching videos together, you can easily opt for permanent rooms with a custom URL that doesn't change.
So, this can be your go-to platform if you have buddies who regularly get together to be a part of the remote video-watching experience.  
Features of OpenTogetherTube:-
Allows you to create customizable video room

 

Real-time synchronized playback

 

An optional voting system with the dark theme

 

It doesn't ask you to sign up

 

Multiple video sources are available in one place

 
Availability – Web | Ratings – 4 / 5
8. Teleparty  
A completely revolutionary and new way to enjoy TV shows and movies together! Netflix Party is now Teleparty, has got a lot better, and is among some of the most promising watch2gether alternatives.
It doesn't matter where you want to watch your favorite video content; you can watch it from the Teleparty platform!
The website allows you to create exciting watch parties in seconds right on platforms like HBO Max, Amazon Prime, Netflix, Hulu, Disney plus, and many more.
Teleparty features a wide range of content across multiple genres and covers you irrespective of your choices and preferences. 
Syncing Teleparties is one of the most exciting things on this platform. You can precisely sync with your entertainment partners and enjoy high-definition video quality without a lot of buffering on your desktop and your mobile phone.
I love customization and always admire the applications and websites that allow even a bit of it. Teleparty is another face of customization that enables you to choose from fun nicknames and user icons.
And, to make things even more interesting, you can also explore a large array of themed icons right on the homepage of the website.
Teleparty is a deadly combination of entertainment and togetherness with a pinch of customization.  
Features of Teleparty:-
Supports a wide range of leading streaming sites 

 

It makes syncing super easy and fun

 

Easy to use on both desktop and mobile 

 

A wide array of customization options is available 

 

Highly interactive and clean user interface 
Availability – Web | Ratings – 3.9 / 5
9. Togethertube  
Togethertube is last, but surely not the least, on my list of the best watch2gether alternatives and is packed with some fairly useful features.
With a synchronized player, you and your friends can see videos simultaneously and without much effort. You will feel like you are sitting in front of the same screen.
And every chat room has a built-in chat system that fulfills all your communication requirements.
All your watch partners are allowed to vote and add any video of their choice, and they can also decide which video should be played next.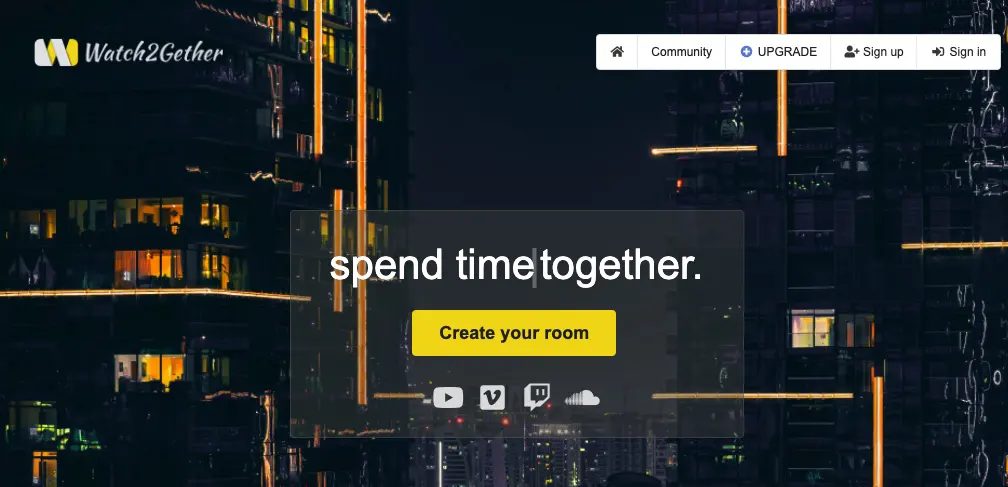 More importantly, you also get a configuration option in the room through which you can configure your watch room the way you want.
For example, if you are a host and want to restrict someone's ability to vote or control the room, you can also do that without much fuss.
How about trying your experience as a DJ? How about enjoying your favorite indie tracks on Soundcloud? Togethertube gives that option to you as well!
Fire up your chat and watch room with a customizable playlist for your buddies and make them feel special!   
Features of Togethertube:-
Allows you to create your watch room with complete control

 

Upload interesting videos for a large audience and gain the popularity

 

Built-in chat system for an excellent communication experience 

 

Synchronized player to watch videos simultaneously with multiple users 

 

An exclusive voting option available for better viewing 
Availability – Web | Ratings – 3.5 / 5
✅FAQ
How can I watch videos at the same time?
Watching your favorite videos with your friends simultaneously is simple, thanks to services like Watch2Gether, Hyperbeam, and Streamparty.
How can I watch local files online with my friends?
The only risk-free and efficient option to watch local files online with peers is through screen sharing. One of the most well-liked programs specifically for this function is Syncplay.
You can also experiment with other techniques, such as uploading files to YouTube and watching on FileParty.
What can you stream on Watch2Gether?
With Watch2Gether, streaming of movies, TV shows, YouTube videos, and other online films is simple.
How do you watch YouTube together?
The best method to view your favorite YouTube videos with your loved ones is through Airtime. To get started, you must download Airtime, create a profile, and add as many contacts as you like.
But they also require an Airtime subscription! You can quickly make a room from the home screen and invite friends to watch YouTube together.
Is watch2gether safe?
Watch2gether is mostly risk-free and lawful, and it's only known for "innocent hanging out" with pals who aren't seeking to hack or breach data.
Some reports, however, claim that the platform has not been adequately controlled and may not be entirely secure, especially for kids. This includes the possibility of finding adult content, such as s#e#x, violence and explicit language.
Can you watch Netflix on Watch2Gether?
Netflix and the Watch2gether player are incompatible. The business has just recently begun to provide a choice, though.
Almost any Netflix URL can be pasted into your private room using the beta W2gSync's unique window. Everyone added to the room can easily watch the video once it has begun.
Is Scener safe to use?
Not at all; Scener is not safe. Even in the worst-case event of a recently lifted global quarantine, you shouldn't utilize it.
Does everyone need Netflix for Watch2Gether?
Not! There is no connection between Netflix and Watch2gether. On Watch2gether, you can watch your favorite shows with friends even if you don't have a Netflix membership.
How can I get Netflix free?
There is no free Netflix option that is authorized by law. However, you would like to investigate several options for accessing Netflix for free.
Which country has free Netflix?
Netflix, one of the most well-known and significant streaming services, is offering a free mobile plan to its clients in Kenya in the latter half of 2021.
This way, Kenyans can access roughly 25% of the movies and TV shows available on the massive OTT platform.
Is Netflix free in Vietnam?
Only a month after Kenya, Netflix in Vietnam introduced a free package. Vietnamese citizens can enjoy streaming Netflix for free and without any ads!
Does any VPNs still work with Netflix?
One of the most effective VPN solutions for Netflix is ExpressVPN. It includes a specific Netflix section on its home page despite being far more expensive than its rivals, such as Surfshark and NordVPN.
For rapid and secure access to Netflix, it also supports users with numerous VPN server locations.
What can you stream on Watch2Gether?
Users can watch videos together in real-time on the website Watch2Gether. The platform, including TV series, motion pictures, and user-generated content from websites like YouTube and Vimeo, support a wide variety of video content.
On Watch2Gether, users may build "rooms" to invite others to view videos. The platform synchronizes the playback of the movie for all users present, enabling them to view and interact with it in real-time.
Thanks to its chat feature, users can converse with one another while watching a video on Watch2Gether.
This makes it an excellent platform for watching movies together, hosting remote viewing events and watching sports with pals.
Conclusion on the watch2gether alternatives list
That's all about my top 9 watch2gether alternatives you can rely on to have a nice watching-together experience. These platforms are easy to access and full of a massive range of content.
Try a few with your buddies, then decide which option is the most preferred! And, if you have found another website/application with similar features and decent experience, don't forget to mention it here for our audience and share watch2gether reviews with us.