Android TV is changing the face of televisions, it is more than just an ordinary Television, it is more like a Television with an operating system on its own, to enable you do what you normally cannot do with ordinary TV's hence the reason it's been called a smart TV.
Android TV's give you the opportunity to run your favorite applications whilst still giving you the best experience of a television.
Here is a list of the Best Android TV apps that I consider a must-have on your Android TV to get the most out of it.
List of Best Android TV Apps For Your Android TV
1.Netflix
Netflix is considered one of the best video streaming applications. If you are someone who loves to binge watch favorite series or movies, then the Netflix is a must-have an app on your Android TV.
Netflix has gone global and still has the most considerable price amongst other video streaming services.
Luckily, this application comes already pre-installed in most Android televisions but if you don't have this or still need a Netflix app you can download it from Google play store.
2. ES File Explorer
There is no operating system that does not have already pre-installed a file explorer, how else would you be able to organize your files.
Remember, Android TV's are more than just televisions, there run on an operating system and the best way to keep your downloaded files, images, music and basically every download organized if not through the use of an explorer.
The ES explorer is one of the best file explorers, not only does it let you organize your files, it also allows you to transfer files from your computer via an FTP or SFTP session. Download it here
3.Haystack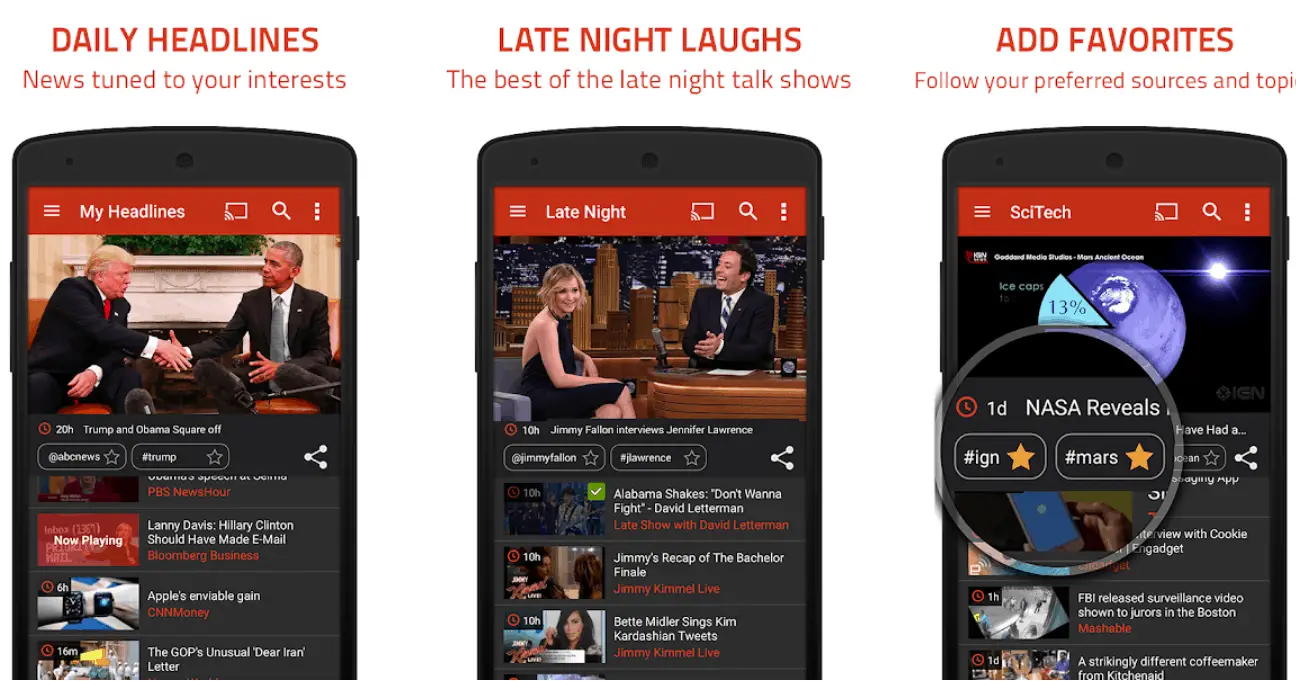 We cannot mention the best television applications without mentioning Haystack. This application was recognized in 2017 by Google for the 2017 Google play awards for the best TV experience award.
Haystack provides you with the best news in real time. What is most fascinating about this app is that it lets you select your interest and your preferred sources.
It will then take your interests from what you selected and ensure that it provides you specifically with your preferred and most needed information. You can get this here
Google Drive
Having easy access to your files by just connecting to your cloud is one of the good things about using an Android TV. This gives for very easy access to your files.
With your Google drive installed on your TV, you can easily store your files on the cloud and access them easily on your device. Follow the link to have yours installed
Spotify
Music is life and it is essential in my honest opinion that you have this application on your Android TV.
Spotify lets you stream your favorite music right on your smart television. This application comes free but the paid version gives you unlimited access to music, allows you to skip music and you'd be free of ads. You can get it here
Air screen
It is really amazing how innovations are making things easier and more enjoyable.
Do you know that you can now cast your android screen to your Android TV and air screen is the best app to provide that service for you? With the use of an air screen, you can share all kinds of the operating system with your Android TV.
The fascinating thing is that it allows you to use your internet connection to share your screen with your friends and families. Download
Mobdro
Worthy of mention is this amazing app. This app streams video contents right to your Android TV, what is even most amazing is that this app comes absolutely free.
It searches the internet for contents that you must have indicated interest in, giving you an opportunity to stream your favorite contents.
This is not available in the store. You need to sideload (I.e install it) in your device. You can get Mobdro APK from here
How to Download Mobdro APK File and Install it
Gaming App
The truth is I cannot specify the particular game that you should have installed on your Android TV but if you are a lover of games then you should definitely have your favorite game installed on your android device.
If you have no idea of which game to choose, they are a plethora of games on the Google play store.
These applications aforementioned basically cover everything you need to do on your Android TV from games to music to file arrangement. You can decide to explore the Google play store and download any other app of your choice.