This is a complete guide to Best Cheap Trail Cameras in 2022. 😎
And let me be clear about something:
We bought 13 budget Trail Cameras available in the current market and reviewed them based on trigger time, Camera Reach, battery life, and detection range.
Finally, We came to 7 Of The Best Cheap Trail Cameras for our readers. 📗
Let's dive right in.
Technology has been the defining moment of the last decade. In the last decade, the world witnessed an increased influx of high-end technological gadgets that have been pivotal to the success and advancement of the human race. And one major drawback of expansion and globalization is a crime.
Over the years, criminality has been a thorn in the path of the advancement of the human race, partly caused by the unbalanced economic stratification of human populations.
With rising criminality, there has been a need for personal security. Technology has ushered in state-of-the-art gadgets designed to protect people in homes, schools, public buildings, bars, and many locations in major cities, suburbs, and even the countryside.
However, no security gadget beats having an "eye in the sky." A gadget that will be there for you when you're not, constantly monitoring activities around your home and giving you the protection and record you need against intruders. And this gadget is called a Trail camera.
The trail camera for security has a rugged build and is designed to be the proverbial "eye in the sky." If you own one of these, your decade will start with a secure flying start.
To this end, we have curated some of the best, if not the Best Cheap Trail Cameras for security coming into this decade.
Best Cheap Trail Cameras: Our Top Pick 👌👌
1. Browning Strike Force Sub Micro 10MP
The team researched and discovered that the Browning Strike Force Sub Micro 10MP is arguably one of the Best Cheap Trail Cameras in 2022. This trail camera model has reached the top of our list.
The Browning brand began its operations dating back to the 19th century in 1805. They are a brand that started as a hunting gear production company, and to date, they have delivered premium quality hunting gear equipment.
Their foray into creating cameras has seen some consistency in creating high-end surveillance cameras for the security industry. One of their best camera creations is the Browning Strike Force Sub Micro 10MP.
This camera has a trigger time of 0.67 seconds, and in our realm of awesomeness, this trail camera boasts some supercharged lightning speed compared to other trail security cameras.
It has a pretty nifty dimension that measures 4.5 x 2.5 x 3.2 inches, and its general weight is a miserly one pound for a trail camera with its capabilities.
Below are some of the features of the Browning Strike Force Sub Micro 10MP that earned it a spot in our Best Cheap Trail Cameras list.
Features:-
It supports HD video recording plus sound that is between 5 seconds and 2 minutes in length.

The flash range on this camera has a reach of 100 feet

It supports six triple A batteries, and the battery activity time is pretty extensive, so you don't need to worry about it switching off when you need it the most

There is a pre-installed Browning Buck Watch time-lapse viewer software embedded in the Browning Strike Force Sub Micro 10MP trail camera

It has a great dynamic detection range

The picture and video production quality are very sharp
For a budget lightweight trail camera that can understand the environment and create stunning imagery, the Browning Strike Force Sub Micro 10MP should be a go too security camera for your personal or corporate security.
Check Price on Amazon
2017 Browning Strike Force HD Pro Trail Camera Review / Placement at 74 feet
2. Moultrie A5 Low Glow Game Camera
The Moultrie A5 Low Glow Game Camera is a state-of-the-art camera designed to capture infrared imagery.
The Moultrie Feeders brand came into its inception in 1980, and over the years, it has been a brand that has consistently delivered premium quality infrared cameras to its customers.
The Camera itself consists of a 5.0MP Low Glow Infrared Game Camera with an array of unique features to its image creation capacity.
Setting up the Moultrie A5 is super easy, and the capturing range extends up to 50 feet. It is also a trail camera that conveniently captures day and night footage.
Below are some of the features of the Moultrie A5 Low Glow Game Camera that earned it a spot in our Best Cheap Trail Cameras list.
Features:-
It supports capturing videos at night with a dedicated nighttime illumination feature

The flash range covers up to 50 feet

It has a long range of 890nm

It has a picture delay system ranging between 1, 5, 10, and 10 minutes

It also comes with a Camera ID stamp, moon phase, date, and time

The camera consists of a 5.0 MP Low Glow infrared capture lens

There is a dedicated memory card slot that supports an additional 32GB memory card (this is not attached to the device package

The 4 C-cell batteries can support capturing over 8000+ images
This camera amazed us during testing. One major kick we got from this camera is that with it installed in your perimeter; you can pinpoint the exact time an intruder attempted or is attempting to make away with your prized possessions.
Check Price on Amazon
Moultrie A-5 Low Glow Game Camera
3.

Covert LTE 4G Trail Camera with Freedom Mount
The Covert Special Ops Code Black 3G 60-LED Cellular Wireless Game Camera is a trail camera built for rugged performance. Its dimensions make it an easy carry-on gadget for security and survey.
The Covert Special Ops Code Black 3G 60-LED Wireless Game Camera is a newer version of the Covert Special Ops Code Black Camera.
One standout feature of this trail camera is that it is retrofitted with super-fast 3G signals that boost performance and a durable battery with an extended activity life.
This trail camera can send photos discreetly through emails and text. To get this functionality running, it utilizes an AT&T SIM card that has been pre-activated to send photos through text messages directly to your phone or directly to you your email address.
Another kick out of this trail camera is that the manufacturer incorporated 60 invisible flash LEDs into the unit, and these flash LEDs have an unparalleled flash depth of 60 feet.
Below are some of the features of the Covert LTE 4G Trail Camera that earned it a spot in our list of Best Cheap Trail Cameras to get in 2022.
Features:-
It has a 3-5-8 MP resolution

It has a wireless MMS capacity

Retrofitted to the unit is a color viewer with a 2-inch dimension

There is a mode for time lapse

Presence of a timer switch that runs in 2 phases

The memory capacity supports a 32GB SD card

You can easily adjust the sensitivity through 3 adjustable levels

It runs using 12AA batteries that can capture 3000 pictures

Temperature/time/date and moon phase stamps are present in this unit

It doubles as a trail camera for surveying or wildlife scouting, and it is also a good trail camera for security
Considering all the amazing features; durability, battery life, 60 invisible flash LEDs, and its unique ability to capture stunning images at a 1-minute interval, this trail camera is arguably one of the finest. With this Camera, Wildlife scouting and security just got a major upgrade.
Check Price on Amazon
At the time of our research on Best Cheap Trail Cameras, we found a video about "12 Ways to Protect Your Home While You're Away" which is worth watching.🤴🏆
12 Ways to Protect Your Home While You're Away
4. Apeman Trail Camera 12MP
The Apeman Trail Camera 12MP 1080P HD Game & Hunting Camera is a unique trail camera that sports a 130° Wide Angle lens alongside a 120° detection angle.
It comes with 42pcs 940nm and an updated IR LED. It is built to capture images at night, and night vision can capture images up to 65FT/20M. It is an IP66 state-of-the-art wildlife camera and can actively protect itself in the event of a water spray.
Below are some of the features of the Apeman Trail Camera 12MP that earned it a spot in our list of Best Cheap Trail Cameras to get in 2022.
Features:-
The total weight of the unit is 1.65 pounds.

It can capture images with Full HD Resolution at 12MP

Video shooting is at 1080P HD resolution

It supports clear audio feedback

It captures vivid colors during the day and at night, it switches to black-and-white capture mode.

It can capture up to 9 photos upon detection of the target

Presence of an angle view lens that is 130° wide, with a trigger speed of 0.2 seconds

It has a side PIR function that enables real-time shot detection

Trigger distance spans up to 65FT/20M alongside the flash

The design is dynamic, rugged, and waterproof

Availability of multiple recording modes that have aided the incorporation of various applications to this trail camera like time-lapse recording, interval recording, password protection, timer, low battery alarm notification, and time stamp

Its sensitivity makes it an ideal camera for external surveillance

Presence of an IR filter that is fully automated

Presence of a Built-in 42 Pcs 949NM Dimmed Infrared LED Technology.
To say that this camera is an underrated powerhouse doesn't do justice to the immense features this little beast holds. It's a truly rugged camera that can capture high-resolution images and videos with a super-fast trigger time upon detection.
The power-packed features embedded into this unit, make it a worthy entrant into this list. And it is one trail camera that we highly recommend since it comes in at a cheap price.
Check Price on Amazon
Apeman H45 (12MP/1080P) Trail Camera - Unboxing & Setup
5. Bushnell Brown Trophy Cam HD Max Trail Camera
The Bushnell Brown Trophy Cam HD Max Trail Camera is ergonomically designed to capture breathtaking wildlife pictures in high-definition resolution.
When it is active, this camera is unaffected or unhindered by weather or climatic conditions whenever it is in the field or used as a security surveillance camera.
The shooting capacity allows it to capture high-definition images in extreme detail irrespective of the climatic factors of the shooting environment.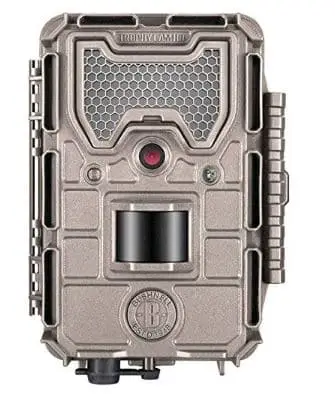 When this trail camera is out on the field and in use, the wildlife is usually oblivious to the fact that they have been captured. This feature is aided by the live trigger function or the programmable time interval to suit the user's desired capture time.
The trigger speed is super-fast at 0.6 seconds, flanked by a minute to an hour capture time interval. This unit has a Field Scan 2X that has been modified to give you coverage of valuable daytime periods.
Once the game or intruder triggers the camera at a fraction of a second, the device will capture vivid photos and HD Resolution videos of the game or intruder.
Below are some of the features of the Bushnell Brown Trophy Cam HD Max Camera that earned it a spot in our list of Best Cheap Trail Cameras.
Features:-
It supports HD video recording

It supports optical Field scan 2x

There is a guaranteed battery life of 1 year

The HD Max resolution feature is an excellent way to survey whatever is happening in your surroundings when you're not on your property or at the trail you placed the camera on.

The presence of 32 no-glow black LEDs captures and produces vivid, bright, and perfect imagery during nighttime. And this is facilitated by a super hyper night vision functionality.

Super durable and captures in extreme weather conditions

HD Max feature has a weatherproof design

Presence of a PIR (Auto Passive Infrared) motion sensor that is automated to regulate sensitivity to the temperature of the environment

You can adjust the PIR manually to compensate for low, medium, and high sensitivities.

With the incorporation of moon phase, temperature, pressure, date, and time stamps designed to complied weather conditions, the user will be availed of more accurate data of the movement of wildlife in the environment the trail camera is installed in
It doesn't matter the type of wildlife or intruder you're looking to track; we're confident that the Bushnell Brown Trophy Cam HD Max Trail Camera can give you the information you desire. 
Our overall perception of this trail camera is that it is a rugged, weatherproof, HD Resolution capturing game camera. Its versatility makes it a go too camera gear for wildlife enthusiasts.
Check Price on Amazon
6. Campark Mini Trail Game Camera with Night Vision
The Campark Mini Trail Game camera is a mini-sized night vision camera. It is an upgraded design compared to other earlier versions.
The manufacturer (Campark) took the reviews on earlier versions of this trail camera to create a lightweight engineering masterpiece.
Our research discovered that this trail Camera was built to prevent wildlife from running off upon sighting this unit. This design was ergonomically built to blend into any environment it is installed.
The design also allows for the unit to be easily conveyed to the location where the user wants to observe easy installation and disassembly when the device is no longer in use.
The Infrared LED technology on this trail camera unit ranges up to 20 meters and is suitable for capturing images and any delicate movement at night.
The Campark Mini Trail Game camera amazed us with its video shooting capacity. And it can shoot Full HD 1080P or 720P Video and 12MP, 8MP, 5MP, 3MP or 1MP crystal clear images. With this set of resolution markers, the user can easily choose the suitable resolution for capturing the best images or video of wildlife or intruder.
It also has a wide 120° Angle Lens, and the triggering distance is 20M/65ft, which is very suitable for scouting, tracking, or detecting wild animal movements and intruder motion.
This occurs when the subject is within the 20M distance-120° detecting range. The trigger speed for this trail camera unit is 0.5S, and it is nearly impossible for the device not to capture or miss any game or intruder passing by.
Below are some of the features of the Campark Mini Trail Game Camera with Night Vision that earned it a spot in our list of Best Cheap Trail Cameras to get in 2022.
Features:-
1. It has a compact size that allows for easy movement to the designated deployment site, and it allows for the unit to be placed covertly in any location to monitor wildlife without scaring off the game
2. This trail camera has a state of the art IPF6 waterproof protection for outdoor use. It is also dust-proof, and it can work in extreme weather conditions, including sunny, rainy, and snowy days
3. The trigger speed is super-fast at 0.5S, supported by a highly sensitive PIR motion sensor that detects motion and captures images and videos in real-time
4. It remotely captures HD-resolution images and videos. It captures max of 12MP photos and videos at 1080P whenever it detects motion and switches to monochrome capture format at night time. This allows the user to enjoy vivid imagery of wildlife or potential intruders
5. The Night Vision camera is retrofitted with a 120° Wide Angle and 850nm IR LEDs, which can obtain breath-taking footage of intruders or animal movements in the wild. The great part of this Night Vision feature is that it can also deliver crisp visuals at night, even when it's raining 
6. This camera unit can be used for multiple purposes. It can be used for monitoring, tracking, or scouting wildlife, home security, game hunting, monitoring farm animals, etc
7. It has a dedicated memory card slot for 32GB class 10 SD cards. However, this 32GB SD card is not included in the package, and users of this unit are required to make a separate purchase for the SD card
8. It has a Waterproof IP56 and a 2.4-inch LCD Screen. This screen is protected by a one-of-a-kind sealant material that keeps out water in extreme weather conditions.
Weather conditions like rain and heavy sun during the day do not affect this unit. Also, the 2.4-inch LCD screen conveniently allows the user to set up the trail camera while monitoring the screen to ascertain the direction the user wants to capture the game in.
Once the trail camera has captured the game or intruder the user can easily view the images or video through the LCD screen.
9. This unit requires 4AA batteries to function and the battery life is pretty sturdy but not the best out there in the market compared to those that support 12 batteries
10. When you purchase a brand-new unit of this camera from the manufacturer, you will be provided with a 1-year warranty that includes a lifetime service
This is one of the cameras we took time to sample and observe its image and video shooting capacity. The features this camera unit packs at a relatively cheap price of $49.95 makes it a steal for any security trail camera enthusiast. 
The build and incorporation of waterproof material make it a great device for outdoor use. One good thing about owning a camera is shooting in the dark; with its infrared ability, the user can track and capture the game.
The super-fast trigger speed makes it one of the best in the market and this weighs in our first impression of the unit.
However, one major turn-off for us is the miserly 4AA battery capacity stuck into this unit by the manufacturer.
When we saw this, our first impression was "what were they thinking, and are they trying to compensate for the price?" We are not too confident that this device will be able to stick out its neck for the user when it's needed most, which can create a huge problem in the field.
Overall, our verdict for this Camera unit; is great gear and low price, but will we recommend it? Other devices are just as good as this and have longer-lasting battery life. The choice is yours.
Check Price on Amazon
Conclusion on the cheap trail cameras list
We took a lot of time to sample a lot of trail camera gear for security, and we can confidently affirm that the camera units in this review are one of the greatest trail cameras to be manufactured in 2022.
2023 is already here, and we're excited to see what this decade brings forth in the trail camera industry.
While we wait for the new trail cameras various manufacturers will release this year, as wildlife enthusiasts, we assure our readers that we will use the cameras in this list for the first quarter of this year. 
We are optimistic that some of the cameras we didn't cite in this review will get major upgrades and be featured in our subsequent lists. Get your camera gear, place it in that ideal location, and get ready to capture some amazing pictures and videos with the trail cameras on our list.
Have you used any of these cameras before? If you have, feel free to leave us a comment in the comment section down below. Also, if you think we need to add more cameras to the list, indicate in the comment section below.