"Education is the most powerful weapon which you can use to change the world" this quote by Nelson Mandela imposes the importance of education. With advanced technology, education is accessible all around the globe. 
You just need to check that you possess three things: an Internet connection, a smart device, and a subscription pack. With time, the internet is aiding the needs of humans, and education is one of the human rights that the internet is trying to fulfill. The old ways of teaching are not much in trend.
Learning different courses is possible while sitting comfortably on beds. Many sites are offering online courses. It is for those who want to up their academics a notch. There are plenty of courses and programs available online that may create confusion. 
It is the fastest means to save time and, at the same time, gain knowledge to increase skills and information so that you can succeed in your chosen field. There are a wide array of online sites that provide free-of-cost education services. 
What is so special about Khan Academy? 🤷‍♂️
Khan Academy is one such online site, and there are plenty of Websites like Khan Academy in the field to sharpen your mind with excessive knowledge. Let's know what Khan Academy as an education site offers.
With a long list of courses available, Khan Academy is one of the educational sites that have joined hands with higher schools. Students easily get succumb to its easy-to-use and remember interface.
The best thing about Khan Academy is that it thrives on covering every single small piece of information regarding the course. 
Not many education sites offer free services, yet Khan Academy is one such non-profit site that guarantees its student a free learning destination, holding answers to questions of curious minds. One can never be dejected with Khan Academy.
Other than Khan Academy, there are several Websites like Khan Academy ready to cater to your knowledge thirst and at no cost. 
Best Websites like Khan Academy – Our Pick👌
In this article, we have penned down some of the known Websites like Khan Academy that may or may not cater to you better than Khan Academy itself. 
1. Fun Brain
The best way to attract children's attention is through games and puzzles, and that's what Fun Brain, one of the Websites like Khan Academy tries to do. Fun Brain is full of puzzles and games that store information. 
Its sole focus is on maths and reading, so if you are looking particularly for this aspect on the sites, going for Fun Brain would be the smartest decision. It is again one of the instances where you will get free-of-cost education.
Elementary-middle school students can easily get distracted, so Fun Brain ensures that fun and education go hand in hand. It has challenges and rewards, so children can push themselves to get these rewards and pass them with flying colors and knowledge. 
For your Pre-K and K as well as 1 to 8 grade going child, Fun Brain can be one of the substitute Websites like Khan Academy. 
2. TED-Ed
Another site like Khan Academy, TED-Ed is an open educational platform with educational videos containing subject-related information. TED-Ed is one of the Websites like Khan Academy that tries to make education as fun and entertaining as possible.
They teach their students through cartoons so that their focus will remain on what is taught throughout the videos. It is a site that answers to high school and kids. The number of courses available is in wide number. 
Be it arts, business, economics, design, engineering, technology, health, mathematics, science, and technology, social studies, or new emerging studies like psychology, philosophy, or sacred subject like religion, you will get answers and related videos. 
It can also be your language master ready to make you learn the hardest languages in the world: Mandarin and Arabic. The bonus of using this site as an alternative to Khan Academy is that it provides a chance to sharpen your learning ability and create your educational video. 
By just registering on the site (which is, by all means, free to use), teachers and tutors can easily share learning materials with their students. 
3. National Geographic Kids
National Geographic is one of the leading non-profit communities in the society that has sworn not to miss any single piece of land on the earth and scout the geography there.
National Geographic decided to contribute more to society by establishing a school project called National Geographic Kids. The site has many games, puzzles, videos, and pics containing information regarding Earth's geography.
One of the Websites like Khan Academy and Fun Brain wants children to take an interest in their studies and not follow old teaching styles.
When you go through the content available on this educational site, you will find that the site does not have orderly courses or specified topics.
Rather than compressing knowledge, National Geographic Kids aims to create an environment for kids who love to find new things about their ecosystem.
There is no harm in checking out one of the best geographical video learning sites that can pose as one of the sites like Khan Academy. 
4. Academic Earth
Academic Earth is a must-visit site that a person looking for Websites like Khan Academy should check as fast as possible. Academic Earth is a place for people looking to complete and attain their college degrees online. 
It is easy to find the course on this site as they show course details, the school, and subject information. In no time, you will join the courses you want to without any hassle.
To find the program, you must select your degree, category, and subject from the drop-down box on your screens.
You can attain associate's, bachelor's, master's, and doctorate degrees as well as diploma degrees from the site. The Khan Academy's alternative is a school, so the subjects you can apply to are art and design, business management, computers, technology, and many more.
It also has courses developing with time and prospering, such as Psychology and Counselling. Science and engineering students and liberal art and humanities students can also test their chances at Academic Earth. 
It offers high education from top-notch colleges such as Berklee College of Music, California Institute of Technology, Columbia University, Cornell University, and many more well-flourished colleges. 
It would be a waste as a student to let go of such resources, so check Academic Earth, among many sites like Khan Academy.
5. Memrise
Memrise has paved its way in our list of Websites like Khan Academy by providing exclusive language courses. Memrise is catering its service in the form of an app and a website so you can decide which is better for you. 
It assists you in mastering the language you are studying online. There are other subjects other than languages. The site has educational videos.
You can detect how to pronounce words in different languages in the videos, as the video shows how local people use phrases. Memrise has decided to make learning language and linguistics more fun and interesting through adjoining games.
French, Spanish, Italian, English (UK), Korean, Portuguese (Portugal), Russian, and Swedish are the languages that you can master well by using Memrise.
You can use your free time to strengthen your resume and grow your language skills. It offers video at no cost, so you wouldn't even have to pay for the courses. 
Download the App on Google Play Store
Download the App on Apple App Store
6. Codecadmy
The best place for programmers to start their learning experience is Codecademy. If you want to learn all about coding and creating websites, then you can never go wrong with Codecademy. 
Codecademy is one of the sites like Khan Academy that provides free-of-cost coding lessons so that programmers can secure high-class jobs in well-known enterprises such as IBM, Facebook, Google, HUGE, and well-flourished enterprises all around the globe.
A programmer can apply and have online sessions for HTML and CSS, Python, JavaScript, Ruby, C++, Java, SQL, R, C#, PHP, Go, Swift, Bash/Shell, and Kotlin. There are numerous subjects available on Codecademy. 
From web development, data science, computer science, and developer tools to machine learning, code foundation, web design, game development, mobile development, and many more. It is very easy to keep an eye on your progress.
The plus point of using Codecademy as a programmer is that you can learn all basic and advanced coding information and create a large social group. 
It would be best to check out Codecademy as a programmer cause it also allows you to clear your doubts by asking experts who are well taught in their fields. 
Download the App on Google Play Store
Download the App on Apple App Store
7. Lesson Paths
Lesson Paths is more of a way to find the best educational video than an educational site. Users can pile up links to educational videos from other websites. And then, other users can ensure which is better as learning material.
The site also offers educational videos, but its content is more toward random topics than basic subjects like mathematics, science, sociology, etc. It may not be as helpful as others, but it makes collecting learning material easier.
If your exams are near and you do not have notes, then you can rely on Lesson Paths. You can also ask this love guru about your relationships and love life and get health tips, or if you want, you can also find strategies for increasing personal finances. 
If you want, you can check out your helping partner to ensure that it is as helpful as you thought.
8. Stanford Online – Websites like khan academy for science
Stanford Online is another solution for the crowd demanding online education at no cost.
Stanford Online has a list of leading subjects such as innovation and design thinking, cybersecurity, environment and energy, arts and humanities, education, digital transformation, health and medicine, and an emerging course that guarantees you a well-paid job, Artificial intelligence. 
It is affordable to score a master's degree in your desired field. You do not have to worry about the teaching standards. Stanford online as you will only get experts teaching and no one else. 
All in all, you will get a year program, full-time classes, or if you want part-time, then that option is also available. In total, nine courses are presented with the best teacher and, in the end, a certified document from the Stanford Graduate School of Business. 
As a student, it would be a huge loss to let go of such options where you get free educational sessions. 
9. BBC Podcast
As the name suggests, BBC broadcasts many tutorials and educational podcasts with various subjects' information. It does not believe in traditional teaching methods, making it more friendly. 
Content is new every week as the podcasts are updated weekly, and you can see content on finance, sports, and ongoing matters.
BBC, as we all know, is a world podcast service and is trying to provide in other native languages, so if you are not familiar with English, then it is all fine.
BBC Podcast does not go to such an end of the information, so keep in mind that if you are looking for learning material that goes to the deep end of the topic, then BBC podcast may not be the one for you. The topics are various, so no boredom and fun education are guaranteed in BBC Podcasts.
It is also helpful to gain as much general knowledge as possible. 
At the time of our research on Best Websites like Khan Academy, we found a video about "11 Secrets to Memorize Things Quicker Than Others," which is worth watching.
11 Secrets to Memorize Things Quicker Than Others
10. Udacity
Low-price? Check. Accessibility? Check. Effective? Check. If these three are the requirements you are looking for in Websites like Khan Academy, then Udacity is the right place to go as their sole purpose is to provide these three things in their educational site. 
Udacity has the best learning content in its tutorials which ready its students to sail high in their perspectives. It tries to make availability of the latest digitals skills in its tutorials for computer geniuses. 
The tutorial covers subjects like data science, software engineering, and web development, as well as courses on Android and iOS. It thrives on making students excel in their careers, enterprises expand their business, and government transforms their workflow.
In recent times, Udacity has added more subjects to its programs, such as Artificial Intelligence, Autonomous systems, cloud computing, cybersecurity, data science, product management, programming and development, and many more.
Udacity can be classified among sites like khan Academy, so go and check out. It also offers special discounts during the pandemic, so do not wait and catch the discount. 
11. University of Oxford Podcast
Getting direct education from the University of Oxford is a privilege, and the podcast version makes it more privileged. These podcasts are mostly lectures recorded or lectures of visiting lecturers. 
It is one of the most organized sites that has ensured that students will have nil problems while finding the podcast. It has in-depth detail on the topics.
Language and Literature, Politics and International Relations, and Engineering science are some topics covered in the podcast of the University of Oxford. 
Its interface makes subscribing best lecturers easy. Therefore, it is on our list of Websites like Khan Academy. Well-known persons like Sarah Gilbert, Lindsay Turnbull, Emma Smith, and Jocelyn Bell Burnell are your mentors to guide you through podcasts. 
Note:-
You may like to explore our guide on 15 Of The Best
Sites Like Udemy
For e-Learning.
12. FutureLearn
FutureLearn has partnerships with leading colleges, so you can have the same courses available if you want. FutureLearn believes in the motto of learning new skills online with top educators. 
If their motto says that you will get top educators, then that is what you will get in FutureLearn. FutureLearn is an open university extension which means that it has joined hands with renowned partners and institutions. 
It has full-term and part-time courses, so you do not lack any college experience with FuturelEarn. It has an array of topics in the programs that are asking for your attention.
They covered all the topics, including literature, arts, business, media, law, social science, study skills, teaching, and many more subjects. You can also get some of the courses at no cost. It tries to maintain convenience for students as they do not get that in old schooling. 
The best part of this site is that it allows active interaction between students to sharpen their social manners and create a large social group. It would be best to say that FutureLearn is a great path to follow if one wants to learn online.
13. Code
Code is a haven for programmers who want to study programming online. The age category does not matter when you are using Code, whether you are a programmer learning new codes or a student trying your hand for the first time. 
Code has more than 45 languages, so if you are not an English-speaking person, then you can select your native language. The multi-range courses are based on Science, Maths, Social Studies, Language Arts, Art, Media, Music, and Computer Science.
It covers various topics, including computers, Android, iPad/iPhones, and Screen readers, poor or no technology. It also provides courses on app writing, robotics, and Javascript.
Before going for Code, developers ensure you a chance to get out of the deal by letting you enjoy an hour of tutorial designs. 
There are levels for a beginner and comfortable, so the starting and mature learners can use Code to improve in coding and app writing. There are not many tutorials in the coding market, so enjoy Code tutorials. 
14. eDX – Websites like khan academy For Free Online Courses by Harvard and MIT
Another site like Khan Academy is eDX. It is a non-profit education site created by two eminent universities, MIT and Harvard University, in 2012. They give a chance to improve skills and knowledge by providing top-class full of details classes. 
The website has courses on computer science, engineering, data science, business management, and recently emerging subjects that have brought remarkable changes, such as psychology, humanities-based subjects, and linguistics. 
Apart from the subjects mentioned above, it also presents tutorials on architecture, art and culture, economics and finance, environmental studies, ethics, food and nutrition, health and safety, etc.
If you are fretting about the standards of your educators, then rest assured that you will only receive a top-notch education at this site as many of the high fame institutions and colleges are connected to the online site.
After completion of the courses, students have their certified documents in their hands. All in all, not visiting eDX will be a huge loss. 
15. Coursera
Coursera is a college extension, and this educational website has joined hands with renowned institutions and colleges all around the globe. The website has various topics and perspectives tutorials in its database. 
It is one of the influential online education websites that cater to the need of students and challenges the service and fame of Websites like Khan Academy. It has picked up courses from all around the world, whether colleges, universities, museums or trusts. 
It sheds light on every small detail related to the subject so that its student will also be aware of small matters. This free providing service is one of the affordable ways to get courses on different subjects. 
But with time, Coursera has made the free version lose its charm as there are many limitations, so you have to go for the paid version to unlock more learning material. You can easily select the level of courses.
It can be beginner, mixed, intermediate, or advanced, so select the level according to your compatibility. 
16. LinkedIn Learning
Previously known as Lynda, LinkedIn Learning is another online education website that can be of great use to students. It has gained a name among IT specialists and businessmen for providing skills sharpening content. 
LinkedIn or Lynda has been in the education website industry for more than two decades, so many students are joining in, and it is one of the leading education websites. Apart from English, tutorials can also be broadcasted in four other languages.
To start learning on the site, students must first subscribe as it is mandatory. But to ensure students stay connected to the site, it offers free 30 days trial to access the video library.
After 30 days, students must sign up to ensure the accessibility of LinkedIn Learning's video library.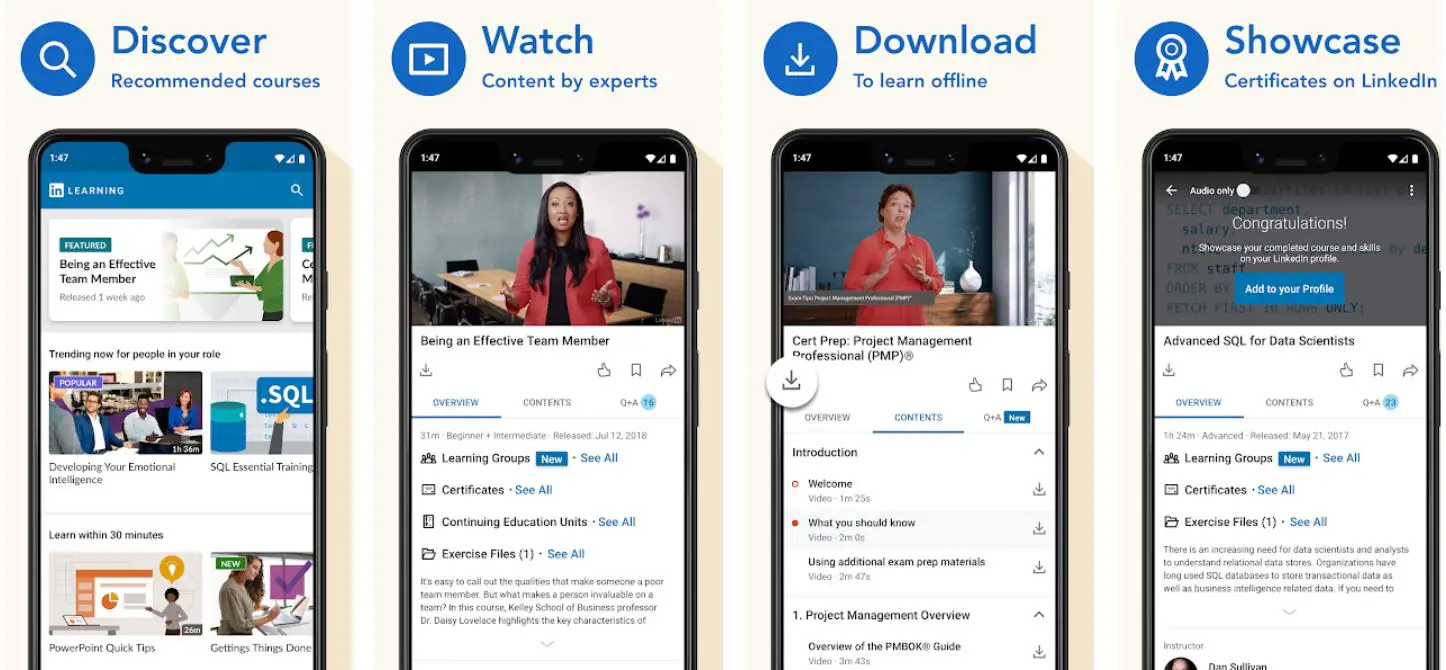 The courses on software development, business development, marketing, photography, and many more topics are available. The site is known for its visual learning, so if you are looking for visual learning courses, then LinkedIn is the best place. 
After completing the online course, you will receive a certificate, and if you can not find the ideal course for you, then recommendations by LinkedIn are ready. 
If you are looking for websites like khan academy for biology, then LinkedIn learning has lots of courses for you.
Download the App on Google Play Store
Download the App on Apple App Store
17. Open Culture Online Courses
Open Culture Online Courses is a carbon copy of Lesson Paths as it allows students to gather links to over 1000 lectures, videos, and podcasts from famous lecturers and institutions. 
It is one of the sites that have access to the forbidden material, aka material, present only on the private sites of the universities. It allows you to have study material from high-ranking colleges without the need to search all the sites.
It has collected courses from universities such as England, Australia, Wales, and many more around the United States. It is one of the helpful sites that save the time students can spend on studies. 
18. iTunesU Free Courses
The last but not the least site for Khan Academy that can replace and you gove the same experience is iTunesU Free Courses. As the name suggests, iTunesU offers courses at no cost at all. 
If you have any iOS gadget, it is pretty easy to integrate iTunesU with it; it would not matter if it is iPod, iPad, iPhone, or iPod touch. You can easily start watching podcasts by downloading the iTunesU app. 
Whereas PC users can easily access the iTunesU app from the upper corner of the iTunes store. If you are familiar with iTunes, you will easily get the hang of iTunesU as they have the same interfaces.
It is easy to find learning materials as the software allows you to search with taglines like genre and topics. The services are free, so you can accept some podcasts to be played only after you have paid.
The only downside of this site is that it is not accessible on any operating system other than iOS. 
✅FAQ on websites like khan academy
Is there anything similar to Khan Academy? 
Numerous websites similar to Khan Academy offer a massive range of learning content for students of all levels. You can try out websites like TED-Ed, Fun Brain, Academic Earth, Codecademy, B.B.C. Podcast, etc.  
What app is better than Khan Academy? 
Coursera, LinkedIn Learning, Pluralsight Skills, Codecademy, etc., are some of the best Khan Academy alternatives and are known to make the entire learning process super easy, fun, and highly productive.  
Is IXL better than Khan Academy? 
Khan Academy is undoubtedly one of the greatest options available and a safe bet if you seek extra support for K–12 students.
Practically all K–12 courses have helpful videos on Khan Academy, providing questions, quizzes, and student progress tracking to support individualized learning. 
However, IXL provides more features that might assist parents (as you might expect from a paid service).
It offers in-the-moment diagnostic tests that instructors and parents can utilize to design individualized, cutting-edge learning pathways for their pupils. Its questions adjust in reaction to students' responses, providing more specifics. 
How much Khan Academy should I do a day? 
It should be sufficient to start at your grade level, and complete 1-2 practice sets each day (or ten practice sets per week). Every day, this should take between 10 and 20 minutes.
It's fine to start at a lower grade level if you find it challenging. However, gradually but steadily, lengthen your study and practice sessions for maximum outcomes. 
Is Khan Academy the best? 
One of the best, if not "the best," online learning platforms is, without a doubt, Khan Academy. Various topics with video tutorials are available in the online video library, allowing viewers to pick and choose what they want to learn.
In addition, a person can use Khan Academy to locate more problems to work on or to augment concepts learned in class. 
Does Khan Academy count as a school? 
Since Khan Academy is not an authorized institution, work completed there cannot be applied to a certificate or degree program.
The best way to use Khan Academy is as an addition to your regular education, whether homeschooling or attending a traditional school. 
Why is Khan Academy so good? 
There are so many reasons why Khan Academy is so good. This is because so many interactive tasks, videos, and articles from Khan Academy are at your disposal. Study various subjects, including math, physics, government, politics, economics, and grammar. 
You may easily hone your talents with the app: Practice tasks, examinations, and quizzes with immediate feedback and detailed instructions.
You can practice at your own pace or follow what you are learning in class. The best part is that you can continue learning while offline.
For example, you must bookmark and download your preferred content to watch videos without an internet connection. 
Is Khan Academy free? 
The Khan Academy's collection of dependable, standards-aligned practice and courses for math K–12 through early college, grammar, science, and more was created by experts. Both students and teachers can use it for free. 
Is Khan Academy enough for S.A.T.? 
Unfortunately, the skill section of the Khan S.A.T curriculum falls short. The Reading and Writing sections are broken down into individual skills. I'll go into more detail about these crucial aspects below. Magoosh, Prep Expert, and Kaplan, Inc. are far better options for S.A.T. preparation. 
Is Khan Academy free for adults? 
Everyone can use Khan Academy for free, including adult learners and young students. 
What is the best app to learn math for free? 
Khan Academy, Photomath, Math Training for Kids, Prodigy Game, BuzzMath, etc., are among the best apps to learn math for free and offer a complete range of courses along with modern learning tools to make learning simple yet productive.