Are you searching for an online learning platform that rivals the outstanding educational experience of Khan Academy?💁 Look no further!
In this comprehensive guide, we'll unveil a handpicked selection of exceptional websites serving fantastic alternatives to Khan Academy.
Whether you're a student seeking additional resources, an educator aiming to diversify your teaching methods, or simply an avid learner hungry for new knowledge, this article is tailor-made.
The digital era has revolutionized education, providing many platforms to expand your horizons, master new skills, and gain insights from experts worldwide.
While Khan Academy has undoubtedly carved a niche as a leading e-learning destination, the online landscape is brimming with remarkable alternatives, each offering unique features and learning opportunities.
This article will delve into websites like Khan Academy, catering to various subjects, interests, and learning styles.
We'll explore their key features, course offerings, user experiences, and much more, empowering you to decide which platform aligns best with your educational goals.
So, if you're ready to embark on an exciting journey through the virtual halls of knowledge, join us as we unveil an array of captivating websites like Khan Academy.
Get ready to discover new avenues for learning, broaden your intellectual horizons, and immerse yourself in an enriching educational experience like never before.
Let's dive in!
Best Websites like Khan Academy – Our Pick👌
1. Fun Brain
The best way to attract children's attention is through games and puzzles, and that's what Fun Brain, one of the Websites like Khan Academy tries to do. Fun Brain is full of puzzles and games that store information. 
Its sole focus is on maths and reading, so if you are looking particularly for this aspect on the sites, going for Fun Brain would be the smartest decision. It is again one of the instances where you will get free-of-cost education.
Elementary-middle school students can easily get distracted, so Fun Brain ensures that fun and education go hand in hand.
It has challenges and rewards, so children can push themselves to get these rewards and pass them with flying colors and knowledge. 
For your Pre-K and K as well as 1 to 8 grade going child, Fun Brain can be one of the substitutes of Khan Academy. 
2. TED-Ed
Another site like Khan Academy, TED-Ed is an open educational platform with educational videos containing subject-related information.
TED-Ed is one of the Websites like Khan Academy that tries to make education as fun as possible.
They teach their students through cartoons so that their focus will remain on what is taught throughout the videos. It is a site that answers to high school and kids. The number of courses available is in wide number. 
Be it arts, business, economics, design, engineering, technology, health, mathematics, science, technology, social studies, or new emerging studies like psychology, philosophy, or sacred subjects like religion; you will get answers and related videos. 
It can also be your language master ready to make you learn the hardest languages in the world: Mandarin and Arabic. The bonus of using this site as an alternative to Khan Academy is that it provides a chance to sharpen your learning ability and create your educational video. 
By just registering on the site (which is, by all means, free to use), teachers and tutors can easily share learning materials with their students. 
3. National Geographic Kids
National Geographic is one of the leading non-profit communities that has sworn not to miss any piece of land on the earth and scout the geography there.
National Geographic decided to contribute more to society by establishing a school project called National Geographic Kids. The site has many games, puzzles, videos, and pics containing information regarding Earth's geography.
One of the websites, Khan Academy and Fun Brain, wants children to take an interest in their studies and not follow old teaching styles.
When you review the content on this educational site, you will find that the site does not have orderly courses or specified topics.
Rather than compressing knowledge, National Geographic Kids aims to create an environment for kids who love discovering new things about their ecosystem.
There is no harm in checking out one of the best geographical video learning sites that can pose as one of the sites like Khan Academy. 
4. Academic Earth
Academic Earth is a must-visit site that a person looking for Websites like Khan Academy should check as fast as possible. Academic Earth is a place for people looking to complete and attain their college degrees online. 
It is easy to find the course on this site as they show course details, the school, and subject information. In no time, you will join the courses you want to without any hassle.
Select your degree, category, and subject from the drop-down box on your screens to find the program.
You can attain associate's, bachelor's, master's, and doctorate degrees, as well as diploma degrees, from the site.
The Khan Academy's alternative is a school, so the subjects you can apply to are art and design, business management, computers, technology, and many more.
It also has courses developing with time and prospering, such as Psychology and Counselling. Science and engineering students and liberal art and humanities students can also test their chances at Academic Earth. 
It offers high education from top-notch colleges such as Berklee College of Music, California Institute of Technology, Columbia University, Cornell University, and many more well-flourished colleges. 
As a student, it would be a waste to let go of such resources, so check Academic Earth, among many sites like Khan Academy.
5. Memrise
Memrise has paved its way in our list by providing exclusive language courses. Memrise is catering its service in the form of an app and a website so you can decide which is better for you. 
It assists you in mastering the language you are studying online. There are other subjects other than languages. The site has educational videos.
You can detect how to pronounce words in different languages in the videos, as the video shows how local people use phrases. Memrise has decided to make learning language and linguistics more fun and interesting through adjoining games.
French, Spanish, Italian, English (UK), Korean, Portuguese (Portugal), Russian, and Swedish are the languages that you can master well by using Memrise.
You can use your free time to strengthen your resume and grow your language skills. It offers video free, so you wouldn't even have to pay for the courses. 
Download the App from Google Play Store
Download the App from Apple App Store
6. Codecadmy
The best place for programmers to start their learning experience is Codecademy. If you want to learn about coding and creating websites, you can never go wrong with Codecademy. 
Codecademy is one of the sites like Khan Academy that provides free-of-cost coding lessons so that programmers can secure high-class jobs in well-known enterprises such as IBM, Facebook, Google, HUGE, and well-flourished enterprises all around the globe.
A programmer can apply and have online sessions for HTML and CSS, Python, JavaScript, Ruby, C++, Java, SQL, R, C#, PHP, Go, Swift, Bash/Shell, and Kotlin. There are numerous subjects available on Codecademy. 
From web development, data science, computer science, and developer tools to machine learning, code foundation, web design, game development, mobile development, and many more. It is very easy to keep an eye on your progress.
The plus point of using Codecademy as a programmer is that you can learn all basic and advanced coding information and create a large social group. 
It would be best to check out Codecademy as a programmer cause it also allows you to clear your doubts by asking experts who are well-taught in their fields. 
Download the App from Google Play Store
Download the App from Apple App Store
7. Lesson Paths
Lesson Paths is more of a way to find the best video than an educational site. Users can pile up links to educational videos from other websites.
And then other users can ensure which is better as learning material.
The site also offers educational videos, but its content is more toward random topics than basic subjects like mathematics, science, sociology, etc. It may not be as helpful as others, but it makes collecting learning material easier.
If your exams are near and you do not have notes, you can rely on Lesson Paths. You can also ask this love guru about your relationships and love life and get health tips, or if you want, you can also find strategies for increasing personal finances. 
You can check out your helping partner to ensure it is as helpful as you thought.
8. Stanford Online
Stanford Online is another solution for the crowd demanding online education at no cost.
Stanford Online lists leading subjects such as innovation and design thinking, cybersecurity, environment and energy, arts and humanities, education, digital transformation, health and medicine, and an emerging course that guarantees a well-paid job, Artificial intelligence. 
It is affordable to score a master's degree in your desired field. You do not have to worry about the teaching standards. Stanford online as you will only get experts teaching and no one else. 
All in all, you will get a year program, full-time classes, or part-time, which is also available. In total, nine courses are presented with the best teacher and, in the end, a certified document from the Stanford Graduate School of Business. 
As a student, it would be a huge loss to let go of such options where you get free educational sessions. 
9. BBC Podcast
As the name suggests, BBC broadcasts many tutorials and educational podcasts on various subjects' information. It does not believe in traditional teaching methods, making it more friendly. 
Content is new every week as the podcasts are updated weekly, and you can see content on finance, sports, and ongoing matters.
BBC, as we all know, is a world podcast service and is trying to provide in other native languages, so if you are not familiar with English, then it is all fine.
BBC Podcast does not go to such an end of the information, so keep in mind that if you are looking for learning material that goes to the deep end of the topic, then BBC Podcast may not be the one for you.
The topics are various, so no boredom and fun education are guaranteed in BBC Podcasts.
It is also helpful to gain as much general knowledge as possible. 
10. Udacity
Low-price? Check. Accessibility? Check. Effective? Check. If these three are the requirements you are looking for in Websites like Khan Academy, then Udacity is the right place to go as their sole purpose is to provide these things in their educational site. 
Udacity has the best learning content in its tutorials which ready its students to sail high in their perspectives. It tries to make the latest digital skills available in its tutorials for computer geniuses. 
The tutorial covers subjects like data science, software engineering, web development, and courses on Android and iOS.
It thrives on making students excel in their careers, enterprises expand their business, and government transforms their workflow.
Recently, Udacity has added more subjects to its programs, such as Artificial Intelligence, Autonomous systems, cloud computing, cybersecurity, data science, product management, programming and development, and many more.
Udacity can be classified among sites like khan Academy, so go and check out. It also offers special discounts during the pandemic, so do not wait and catch the discount. 
11. University of Oxford Podcast
Getting direct education from the University of Oxford is a privilege, and the podcast version makes it more privileged. These podcasts are mostly lectures recorded or lectures by visiting lecturers. 
It is one of the most organized sites that has ensured that students will have nil problems while finding the podcast. It has in-depth detail on the topics.
Language and Literature, Politics and International Relations, and Engineering science are some topics covered in the podcast of the University of Oxford. 
Its interface makes subscribing best lecturers easy. Well-known persons like Sarah Gilbert, Lindsay Turnbull, Emma Smith, and Jocelyn Bell Burnell are your mentors to guide you through podcasts. 
Note:-
You may like to explore our guide on 15 Of The Best
Sites Like Udemy
For e-Learning.
12. FutureLearn
FutureLearn has partnerships with leading colleges so that you can have the same courses available. FutureLearn believes in the motto of learning new skills online with top educators. 
If their motto says that you will get top educators, then that is what you will get in FutureLearn. FutureLearn is an open university extension, meaning it has joined hands with renowned partners and institutions. 
It has full-term and part-time courses, so you do not lack any college experience with FuturelEarn. It has an array of topics in the programs that are asking for your attention.
They covered all the topics, including literature, arts, business, media, law, social science, study skills, teaching, and many more subjects.
You can also get some of the courses at no cost. It tries to maintain convenience for students as they do not get that in old schooling. 
The best part of this site is that it allows active interaction between students to sharpen their social manners and create a large social group.
It would be best to say that FutureLearn is a great path to follow if one wants to learn online.
13. Code
Code is a haven for programmers who want to study programming online. The age category does not matter when you are using Code, whether you are a programmer learning new codes or a student trying your hand for the first time. 
Code has more than 45 languages, so if you are not English-speaking, you can select your native language. The multi-range courses are based on Science, Maths, Social Studies, Language Arts, Art, Media, Music, and Computer Science.
It covers various topics, including computers, Android, iPad/iPhones, and Screen readers, poor or no technology. It also provides courses on app writing, robotics, and Javascript.
Before going for Code, developers ensure you a chance to get out of the deal by letting you enjoy an hour of tutorial designs. 
There are levels for a beginner and comfortable, so the starting and mature learners can use Code to improve in coding and app writing. There are few tutorials in the coding market, so enjoy Code tutorials. 
14. eDX 
Another site like Khan Academy is eDX. It is a non-profit education site created by two eminent universities, MIT and Harvard University, in 2012. They give a chance to improve skills and knowledge by providing top-class full of details classes. 
The website has courses on computer science, engineering, data science, business management, and recently emerging subjects that have brought remarkable changes, such as psychology, humanities-based subjects, and linguistics. 
Apart from the subjects mentioned above, it also presents tutorials on architecture, art and culture, economics and finance, environmental studies, ethics, food and nutrition, health and safety, etc.
If you are fretting about the standards of your educators, then rest assured that you will only receive a top-notch education at this site as many of the high-fame institutions and colleges are connected to the online site.
After completion of the courses, students have their certified documents in their hands. All in all, not visiting eDX will be a huge loss. 
15. Coursera
Coursera is a college extension, and this educational website has joined hands with renowned institutions and colleges all around the globe. The website has various topics and perspectives tutorials in its database. 
It is one of the influential online education websites that cater to the need of students and challenges the service and fame of Websites like Khan Academy. It has picked up courses from all around the world, whether colleges, universities, museums or trusts. 
It sheds light on every small detail related to the subject so that its student will also be aware of small matters. This free providing service is one of the affordable ways to get courses on different subjects. 
But with time, Coursera has made the free version lose its charm as there are many limitations, so you have to go for the paid version to unlock more learning material. You can easily select the level of courses.
It can be beginner, mixed, intermediate, or advanced, so select the level according to your compatibility. 
16. LinkedIn Learning
Previously known as Lynda, LinkedIn Learning is another online education website that can be of great use to students. It has gained a name among IT specialists and businessmen for providing skills-sharpening content. 
LinkedIn or Lynda has been in the education website industry for more than two decades, so many students are joining in, and it is one of the leading education websites. Apart from English, tutorials can also be broadcasted in four other languages.
To start learning on the site, students must first subscribe, as it is mandatory. But to ensure students stay connected to the site, it offers free 30 days trial to access the video library.
After 30 days, students must sign up to ensure the accessibility of LinkedIn Learning's video library.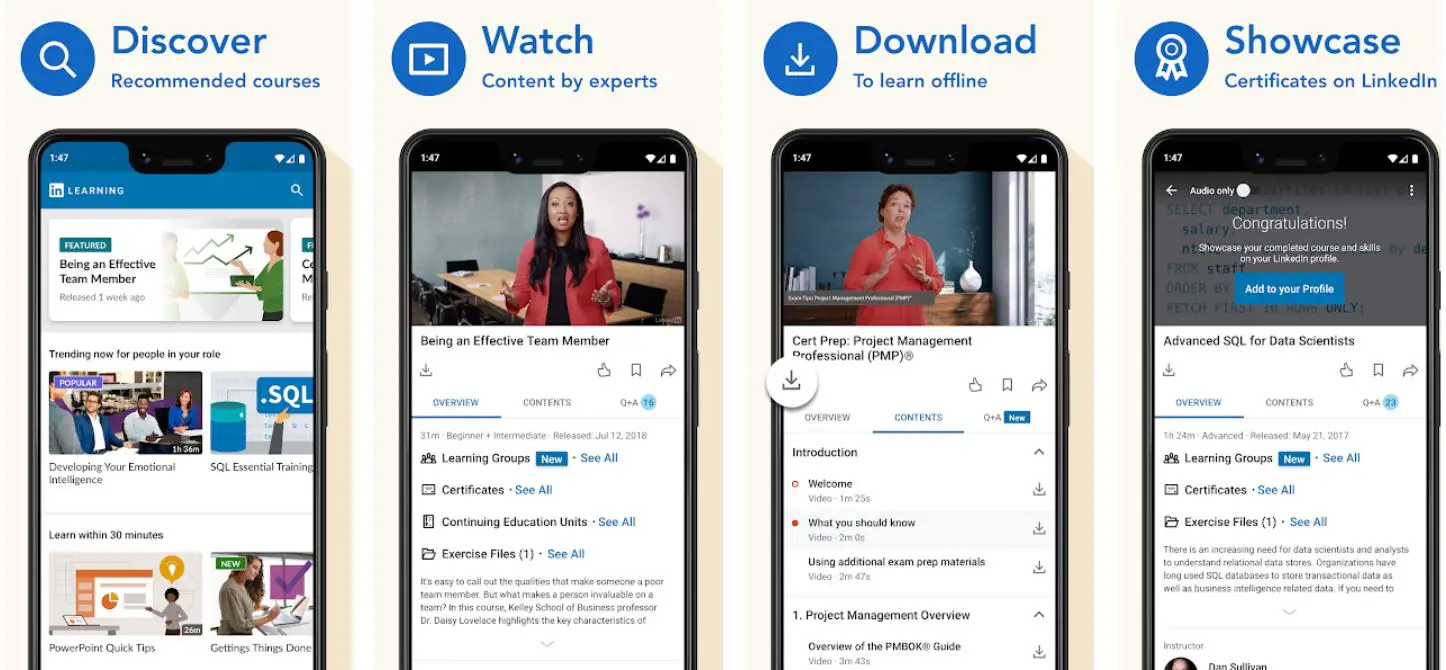 Courses on software development, business development, marketing, photography, and many more topics are available.
The site is known for its visual learning, so if you are looking for visual learning courses, then LinkedIn is the best place. 
After completing the online course, you will receive a certificate, and if you can not find the ideal course for you, then recommendations by LinkedIn are ready. 
Download the App from Google Play Store
Download the App from Apple App Store
17. Open Culture Online Courses
Open Culture Online Courses is a carbon copy of Lesson Paths as it allows students to gather links to over 1000 lectures, videos, and podcasts from famous lecturers and institutions. 
It is one of the sites that have access to the forbidden material, aka material present only on the private sites of the universities. It allows you to have study material from high-ranking colleges without the need to search all the sites.
It has collected courses from universities such as England, Australia, Wales, and many more around the United States. It is one of the helpful sites that save the time students can spend on their studies. 
18. iTunesU Free Courses
The last but not the least site for Khan Academy that can replace and you gove the same experience is iTunesU Free Courses. As the name suggests, iTunesU offers courses at no cost at all. 
If you have any iOS gadget, it is pretty easy to integrate iTunesU with it; it would not matter if it is iPod, iPad, iPhone, or iPod touch. You can easily start watching podcasts by downloading the iTunesU app. 
Whereas PC users can easily access the iTunesU app from the upper corner of the iTunes store. If you are familiar with iTunes, you will easily get the hang of iTunesU as they have the same interfaces.
It is easy to find learning materials as the software allows you to search with taglines like genre and topics. The services are free, so you can accept some podcasts to be played only after you have paid.
The only downside of this site is that it is not accessible on any operating system other than iOS. 
Websites like Khan Academy for college students
Many websites, including Khan Academy, provide online tools and courses for college students.
Several alternatives are:-
Coursera:– This portal offers online courses from the best universities and colleges worldwide. It covers various topics, including business, computer science, and the arts.
edX:– This non-profit website provides online courses from prestigious universities and colleges. It covers various topics, including physics, engineering, and social sciences.
Udemy:- Online courses are available on this platform on various topics, such as business, technology, and personal development. Its main goal is to impart useful knowledge and skills that can be employed in the actual world.
Udacity: Online programming, artificial intelligence, and data science courses are available through this platform. Its main goal is to give students useful knowledge and skills they can apply in the workplace.
LinkedIn Learning:- On this platform, you can take online classes on various topics, such as business, technology, and creative talents. Resources for professional growth and career advancement are its main goals.
Websites like Khan Academy for science
Regarding the vast realm of science education, websites like Khan Academy for science offer an expansive range of resources to quench the thirst of knowledge-seekers.
These online platforms have emerged as virtual sanctuaries where curious minds delve deep into the wonders of scientific exploration.
From astronomy to zoology, the internet hosts various websites that cater to diverse scientific disciplines, providing comprehensive learning experiences.
One noteworthy alternative to Khan Academy is Coursera. This reputable platform collaborates with renowned universities and institutions worldwide to offer myriad science courses, including Physics, Biology, and Chemistry.
Students can access video lectures, interactive quizzes, and supplementary reading materials, all crafted by esteemed professors.
For those inclined towards interactive simulations and visual learning, PhET Interactive Simulations is an excellent choice.
Developed by the University of Colorado Boulder, this website boasts an impressive collection of science simulations covering Quantum Mechanics, Electromagnetism, and Thermodynamics.
These simulations provide hands-on experiences, allowing learners to experiment and observe scientific phenomena firsthand.
Moreover, MIT OpenCourseWare serves as a treasure trove of scientific knowledge, providing open access to course materials from the esteemed Massachusetts Institute of Technology (MIT).
From Astrophysics to Genetics, learners can explore lecture notes, assignments, and even exams, immersing themselves in the rigorous academic world of MIT.
Websites like Khan Academy for elementary students
In the realm of elementary education, websites like Khan Academy for elementary students have emerged as invaluable resources, opening doors to a world of interactive learning experiences.
These online platforms cater specifically to the needs of young learners, providing engaging and educational content that supplements classroom instruction.
From math to science and beyond, several alternative websites offer a rich variety of resources tailored to the elementary curriculum.
One such platform is ABCmouse, an award-winning website that combines educational games, interactive activities, and engaging animations to make learning an enjoyable adventure.
With a vast library of lessons covering mathematics, reading, science, and more, ABCmouse provides a comprehensive learning environment for young minds.
Another excellent option is BrainPOP, which offers animated videos, quizzes, and interactive activities spanning various subjects, including science, social studies, and English language arts.
With its captivating characters and engaging content, BrainPOP helps elementary students entertainingly grasp complex concepts.
Additionally, Funbrain serves as a fantastic resource for elementary students. This website offers interactive games and activities promoting critical thinking, reading comprehension, and mathematical skills.
Funbrain's colorful and user-friendly interface appeals to young learners, making education an enjoyable experience.
Best free online courses websites
In today's digital age, the best free online course websites have revolutionized how we learn and acquire new skills.
These platforms offer a wealth of knowledge and educational resources, empowering individuals from all walks of life to pursue personal and professional development.
Whether you want to enhance your career prospects, explore new interests, or expand your knowledge, these websites provide a gateway to many free online courses.
Coursera, one of the pioneers in online education, tops the list of the best free online course websites.
Collaborating with renowned universities and institutions worldwide, Coursera offers various courses across various disciplines, from computer science to business management.
Learners can access high-quality video lectures, interactive quizzes, and graded assignments to acquire valuable skills.
Another standout platform is edX, which partners with prestigious universities to offer free online courses.
With a diverse catalog encompassing data science, engineering, and humanities fields, edX provides an immersive learning experience with interactive course materials and access to a global community of learners.
Khan Academy is a valuable resource for those seeking a more specialized approach. While primarily known for its K-12 educational content, Khan Academy offers free courses on mathematics, science, and computer programming.
It's a user-friendly interface, and comprehensive video lessons make learning accessible and enjoyable for learners of all ages.
Websites Like Khan Academy for Biology
When it comes to delving into the captivating world of biology, there are several outstanding websites like Khan Academy for biology that offer a plethora of resources to satisfy the curiosity of science enthusiasts.
These online platforms provide comprehensive learning experiences, covering various biological topics and catering to individuals at various levels of expertise.
One notable alternative to Khan Academy is Biology Online, a website that offers an extensive collection of articles, tutorials, and forums on diverse biological subjects.
With its interactive platform, learners can explore topics such as cell biology, genetics, and ecology while engaging in discussions with fellow enthusiasts and experts.
Another valuable resource is BioInteractive, a website developed by the Howard Hughes Medical Institute.
It offers many educational resources, including videos, interactive activities, and virtual labs designed to enhance understanding and foster a deep appreciation for biological concepts. From evolution to neurobiology, BioInteractive provides engaging content for learners of all levels.
Additionally, OpenStax Biology stands as a remarkable open-source textbook alternative. It provides comprehensive coverage of introductory biology concepts, making it an invaluable resource for students and self-learners.
The website also offers practice questions and resources to test and reinforce understanding.
✅FAQ✅
Is Khan Academy totally free?
Yes, Khan Academy is completely free to use. Users can access the site's courses, videos, and materials without paying a dime.
Why is Khan Academy free?
Khan Academy was founded on the belief that education should be accessible to everyone, regardless of their financial situation. The organization operates as a non-profit and is funded by donations from individuals and foundations.
Can you use Khan Academy for homeschooling?
Yes, Khan Academy is a great resource for homeschooling. It offers various courses in different subjects and allows students to work independently.
How much is Khan Academy per month?
Khan Academy is free to use and does not charge subscription fees.
What are the pros and cons of Khan Academy?
Some of the pros of Khan Academy include its vast library of courses, its self-paced learning format, and its availability on multiple platforms.
Some cons include the lack of teacher interaction and the fact that some courses may not be as in-depth as traditional classroom learning.
Here is a chart outlining some of the pros and cons of Khan Academy:-
| Pros | Cons |
| --- | --- |
| Free to use and accessible from anywhere with an internet connection | Reliance on technology, may not be suitable for all learning styles or accessibility needs |
| Offers a wide range of topics and subjects, from math and science to humanities and test prep | Limited interactivity and engagement compared to in-person instruction or other online learning platforms |
| Self-paced learning allows for flexibility and personalized learning experience | Limited opportunities for social interaction or collaboration with peers and instructors |
| Provides immediate feedback and tracking of progress, with detailed analytics and reports available to both learners and instructors | Lack of real-time support or assistance from instructors, although there are forums available for community support |
| Has a large library of video lectures and exercises that are easy to follow and understand | Relies heavily on standardized testing and may not offer a well-rounded education experience |
| Encourages and rewards consistent practice and effort, which can lead to increased motivation and self-confidence | May not offer enough challenge for advanced or highly motivated learners, who may need more in-depth instruction or opportunities for independent research and exploration |
Can you use Khan Academy instead of school?
While Khan Academy can be a great supplemental resource for learning, it is not a replacement for traditional education. It is important for students to receive instruction and guidance from qualified teachers in a structured learning environment.
Can Khan Academy be trusted?
Yes, Khan Academy is a trusted resource for online learning. Its courses are designed by experienced educators, and its materials are regularly reviewed for accuracy.
What age group is Khan Academy for?
Khan Academy offers courses for learners of all ages, from kindergarten through college and beyond.
What is Khan Academy best for?
Khan Academy is best known for its math, science, and computer programming courses. It is also a great resource for test preparation, such as the SAT or GMAT.
How long does it take to complete Khan Academy?
The time it takes to complete Khan Academy varies depending on the courses and subjects a student is studying. Some courses can be completed in just a few hours, while others may take several months or years.
Does Khan Academy give a grade?
Khan Academy does not give traditional letter grades. Instead, it provides students with feedback on their progress and offers a system of badges and points to help motivate them.
Can you get a high school diploma from Khan Academy?
No, Khan Academy does not offer a high school diploma. Students who complete courses on the site can use them to supplement their education, but they will still need to obtain a diploma from a recognized institution.
How long should I spend on Khan Academy?
The amount of time a student should spend on Khan Academy depends on their individual goals and needs. Some students may only use the site for a few hours a week, while others may spend several hours each day studying.
Who is the target audience of Khan Academy?
Khan Academy is designed for learners of all ages and backgrounds. Its courses are designed to be accessible to anyone, regardless of their prior knowledge or experience.
Is Khan Academy enough for college?
While Khan Academy can be a helpful resource for college preparation, it is not a replacement for a college education. Students will still need to attend a college or university to earn a degree.
Is Khan Academy struggling?
No, Khan Academy is not struggling. The organization is financially stable and continues to expand its offerings and reach.
Who pays for Khan Academy?
Khan Academy is funded through donations from individuals and foundations. It also receives support from corporate sponsors and partners.
Why is Khan Academy so good for math?
Khan Academy is known for its high-quality math courses because they are designed to be accessible and engaging.
The site uses various instructional methods, including videos, interactive exercises, and games to help students learn and retain the material. Additionally, the site offers personalized feedback to help students identify improvement areas.
Can teachers see your Khan Academy?
Teachers can see their students' progress on Khan Academy if they have set up a teacher account. This allows them to track their student's progress and identify areas where they may need additional support.
Is it OK to connect Khan Academy to College Board?
Yes, it is perfectly fine to connect your Khan Academy account to College Board. Doing so allows you to access personalized practice materials for the SAT, as well as other test prep resources.
Is there a better site than Khan Academy?
While many other online learning resources are available, Khan Academy is widely regarded as one of the best. Its courses are high-quality, free, and accessible to learners of all ages and backgrounds.
What are the criticisms of Khan Academy?
Some critics of Khan Academy argue that its courses are not as in-depth as traditional classroom learning and that its format may not be suitable for all learners. Others have criticized the site for its lack of diversity regarding its course offerings and instructional staff.
How much Khan Academy should I do a day?
The amount of time you should spend on Khan Academy each day depends on your individual goals and needs. Some students may only use the site for a few minutes daily, while others work several hours through courses and exercises.
Does Khan Academy cover everything?
While Khan Academy offers various courses and subjects, it does not cover everything. Students may need to supplement their learning with additional resources or seek specialized instruction in certain areas.
Does Khan kids cost money?
No, Khan Academy Kids is also completely free to use. The site offers a variety of educational games, videos, and activities for young learners.
Does Khan Academy have 1st grade math?
Yes, Khan Academy offers courses in math for students in the 1st grade and beyond. These courses are designed to be accessible and engaging for young learners.
What is the difference between Khan Academy Kids and regular?
Khan Academy Kids is designed specifically for young learners, while the regular Khan Academy site offers courses for learners of all ages. Khan Academy Kids offers a variety of educational games, videos, and activities tailored to the needs and interests of young learners.
Does Khan Academy count as high school credit?
While Khan Academy courses can supplement a student's education, they do not count for high school credit alone. Students must still complete their high school coursework through a recognized institution.
Is Khan Academy enough for SAT?
While Khan Academy offers a variety of SAT prep materials, it may not be enough to prepare for the test fully. Students should also consider using additional test prep resources and working with a qualified tutor.
Where should I start Khan Academy?
You can start using Khan Academy by visiting its website and creating a free account. From there, you can explore the site's courses and resources and begin working through the most relevant materials to your interests and needs.
What is a passing score at Khan Academy?
Khan Academy does not provide traditional letter grades or passing scores. Instead, it provides students with feedback on their progress and offers a system of badges and points to help motivate them.
Does Khan Academy cover all of Algebra 2?
Yes, Khan Academy offers a comprehensive course in Algebra 2 that covers all of the key topics and concepts in the subject.
How much does it cost to go to Khan World school?
Khan World School is a private school that operates independently of Khan Academy. As such, tuition and other costs may vary depending on the school's policies and location.
Do teachers get paid on Khan Academy?
Teachers who create courses for Khan Academy may receive compensation for their work. Additionally, Khan Academy offers educators a range of resources and support, including professional development opportunities and access to instructional materials.
How many classes can you have on Khan Academy?
There is no limit to the number of classes or courses you can take on Khan Academy. You can explore and enroll in as many courses as you like, at no cost.
Does Khan Academy help with AP classes?
Yes, Khan Academy offers a variety of AP courses and test prep materials to help students prepare for AP exams. These materials are designed to be accessible and engaging and can help students feel more confident and prepared for their exams.
Does Khan Academy have a physical school?
No, Khan Academy does not operate a physical school. However, it partners with various schools and organizations to offer its courses and resources to students worldwide.
How much do people get paid on Khan Academy?
The salaries of individuals who work for Khan Academy vary depending on their roles and experience. However, the organization operates as a non-profit and is committed to using its resources to provide free educational materials to learners worldwide.
Which Khan is most popular in the world?
An educator and entrepreneur Salman Khan founded Khan Academy. While he is not the most popular Khan globally, he is widely regarded as a leading figure in online education.
What is the biggest donation on Khan Academy?
Khan Academy has received many generous donations from individuals and foundations. However, the organization does not disclose the specific amounts of its donations.
Why is Khan Academy called Khan?
Khan Academy is named after its founder, Salman Khan. He started the organization in 2008 as a way to provide accessible and engaging educational materials to learners around the world.
Does Khan Academy use real SAT questions?
Yes, Khan Academy uses real SAT questions in its test prep materials. This allows students to understand the types of questions they will encounter on the test and practice their skills in a realistic setting.
How hard is SAT compared to Khan Academy?
The difficulty level of the SAT and Khan Academy courses varies depending on the subject and course. However, Khan Academy's SAT prep materials are designed to be comprehensive and challenging and can help students prepare for the rigor of the actual test.
Is there anything similar to Khan Academy? 
Numerous websites similar to Khan Academy offer a massive range of learning content for students of all levels. You can try out websites like TED-Ed, Fun Brain, Academic Earth, Codecademy, B.B.C. Podcast, etc.  
What app is better than Khan Academy? 
Coursera, LinkedIn Learning, Pluralsight Skills, Codecademy, etc., are some of the best Khan Academy alternatives and are known to make the entire learning process super easy, fun, and highly productive.  
Is IXL better than Khan Academy? 
Khan Academy is undoubtedly one of the greatest options available and a safe bet if you seek extra support for K–12 students.
Practically all K–12 courses have helpful videos on Khan Academy, providing questions, quizzes, and student progress tracking to support individualized learning. 
However, IXL provides more features that might assist parents (as you might expect from a paid service).
It offers in-the-moment diagnostic tests that instructors and parents can utilize to design individualized, cutting-edge learning pathways for their pupils. Its questions adjust in reaction to students' responses, providing more specifics. 
How much Khan Academy should I do a day? 
It should be sufficient to start at your grade level, and complete 1-2 practice sets each day (or ten practice sets per week). Every day, this should take between 10 and 20 minutes.
It's fine to start at a lower grade level if you find it challenging. However, gradually but steadily, lengthen your study and practice sessions for maximum outcomes. 
Is Khan Academy the best? 
One of the best, if not "the best," online learning platforms is, without a doubt, Khan Academy. Various topics with video tutorials are available in the online video library, allowing viewers to pick and choose what they want to learn.
In addition, a person can use Khan Academy to locate more problems to work on or to augment concepts learned in class. 
Does Khan Academy count as a school? 
Since Khan Academy is not an authorized institution, work completed there cannot be applied to a certificate or degree program.
The best way to use Khan Academy is as an addition to your regular education, whether homeschooling or attending a traditional school. 
Why is Khan Academy so good? 
There are so many reasons why Khan Academy is so good. This is because so many interactive tasks, videos, and articles from Khan Academy are at your disposal. Study various subjects, including math, physics, government, politics, economics, and grammar. 
You may easily hone your talents with the app: Practice tasks, examinations, and quizzes with immediate feedback and detailed instructions.
You can practice at your own pace or follow what you are learning in class. The best part is that you can continue learning while offline.
For example, you must bookmark and download your preferred content to watch videos without an internet connection. 
Is Khan Academy free? 
The Khan Academy's collection of dependable, standards-aligned practice and courses for math K–12 through early college, grammar, science, and more was created by experts. Both students and teachers can use it for free. 
Is Khan Academy enough for S.A.T.? 
Unfortunately, the skill section of the Khan S.A.T curriculum falls short. The Reading and Writing sections are broken down into individual skills. I'll go into more detail about these crucial aspects below. Magoosh, Prep Expert, and Kaplan, Inc. are far better options for S.A.T. preparation. 
Is Khan Academy free for adults? 
Everyone can use Khan Academy for free, including adult learners and young students. 
What is the best app to learn math for free? 
Khan Academy, Photomath, Math Training for Kids, Prodigy Game, BuzzMath, etc., are among the best apps to learn math for free and offer a complete range of courses along with modern learning tools to make learning simple yet productive. 
Are there good US alternatives to Khan Academy?
There are many excellent Khan Academy substitutes for educational materials in the US. Several alternatives are:-
Coursera:– Numerous online courses are available on this platform, many of which are taught by professors from prestigious universities. A certificate of completion can be purchased, but many courses are free to audit.
edX:– This website offers online courses from prestigious colleges worldwide, including numerous American universities. A combination of free and paid courses is available on edX, just as in Coursera.
MIT OpenCourseWare:- Many course materials from the Massachusetts Institute of Technology (MIT), including videos, lectures, and readings, are accessible online for free.
Your local library:- Online classes, instructional videos, and other educational materials are available in many libraries. With your library card, you might get free access to these materials.
Which is better udemy or Khan Academy?
What you want from an online learning platform relies on that. Both Khan Academy and Udemy provide a wide range of courses, but their approaches and focus differ.
Business, technology, and personal development are topics covered by the commercial platform Udemy. The courses' quality and substance might vary greatly and are often developed by individual instructors.
People wishing to master certain skills or advance their jobs may be interested in Udemy courses because they are frequently more practical and hands-on.
The non-profit company Khan Academy offers free online educational tools, such as video classes, practice questions, and tests. The primary goal of Khan Academy is to deliver top-notch educational materials in a range of subject areas, including math, science, and the humanities.
The material is intended for students and instructors and is created to be interesting and interactive.
Your goals and learning style will ultimately determine your ideal option. Udemy can be a fantastic choice if you're trying to develop specialized skills or boost your profession.
Khan Academy might be a better option if you want a more conventional educational experience focusing on mastering fundamental ideas and building a solid knowledge base.
Are online schools valid?
Schools that provide instruction over the internet are called online schools, virtual schools, or e-schools. Students looking for an alternative to conventional brick-and-mortar schools may consider attending an online school.
Public, private, and charter schools are just a few of the several sorts of online educational institutions. While some online institutions use a hybrid strategy that blends online learning and in-person instruction, others may be entirely online.
Online schools may be accredited, which implies they adhere to a set of criteria for quality and are accepted by accrediting bodies or educational institutions.
The purpose of accreditation is to guarantee that employers and other educational institutions will accept the credits and degrees awarded by the institution.
Students may find that learning online is flexible and convenient, but it's crucial to conduct research and pick a reputable, accredited institution.
Consider your selections carefully before enrolling, as some online institutions might not have the same oversight and standards as conventional brick-and-mortar institutions.
Can I trust Khan Academy?
The reputation of Khan Academy as a trustworthy and dependable source of instructional content is solid. Its content is created by a team of educators who then have professionals examine it to ensure it is accurate and current.
Many schools and instructors worldwide use Khan Academy's content, which aligns with national and state educational standards.
The Middle States Association of Colleges and Schools Commission on Elementary and Secondary Schools has also granted Khan Academy accreditation (MSA-CESS). This indicates that it satisfies quality requirements and is accepted by educational institutions and accrediting bodies.
In general, Khan Academy is a trustworthy and recognized provider of instructional content that can be relied upon for its quality and accuracy.
Is Khan Academy enough for college?
A wide range of subjects, including math, physics, economics, and the humanities, are covered in Khan Academy's content, aimed at students in grades K–12.
It can be a helpful tool for students getting ready for college because it is made to provide a solid foundation of information and abilities. It is not meant to offer the same depth and rigor as a course at the college level.
You must finish a college-level curriculum that complies with the demands of the college or university you desire to attend if you intend to enroll.
In addition to fulfilling other requirements like prerequisites and credits, this often entails enrolling in various courses in several subject areas.
Even though Khan Academy can be a useful tool for enhancing your college-level studying, it is insufficient to prepare you for college.
Conclusion
In conclusion, if you're searching for websites like Khan Academy to enhance your learning experience, look no further.
With various educational platforms available today, you have numerous options to explore and expand your knowledge.
Whether you're a student, a professional seeking new skills, or simply an individual passionate about lifelong learning, these alternative websites can offer diverse resources and courses.
By leveraging the power of online education, websites like Khan Academy aim to democratize learning, making it accessible to anyone with an internet connection.
Their commitment to providing high-quality, free educational content has revolutionized how we approach education. However, exploring other options and discovering platforms that align with your specific learning needs and interests is always beneficial.
Remember, each website has its unique features, teaching methodologies, and subject coverage. Therefore, take the time to evaluate what you're looking to achieve and identify platforms that offer the best resources and courses in your areas of interest.
These websites cater to various learning styles, whether it's interactive lessons, comprehensive video tutorials, practice exercises, or personalized learning paths.
As you embark on your quest to find websites like Khan Academy, keep in mind that learning is a continuous journey.
Embrace the opportunities presented by these alternative platforms and explore the vast knowledge they have to offer. Combine the power of technology with your curiosity, dedication, and determination, and unlock your full learning potential.
So, go ahead and start your educational adventure today. Explore the world of websites like Khan Academy, broaden your horizons, and embark on a path of lifelong learning.
The digital landscape has opened up limitless possibilities for education, and these platforms are here to guide you every step of the way.
Happy learning!