Your Apple TV is not only for enjoying your best TV shows and movies on Netflix or using iTunes anymore! There is much to do, and this post is sincerely curated if you are interested in gaming.
There are dozens of incredibly interesting games you can easily play with your family and friends on your Apple TV. The brand has done excellent work when it comes to covering all the different niches, and fortunately, they didn't ignore the expectations of gamers.  
You can download many games from the App Store and play them directly on your Apple TV. Most of these games are also available for iPhone and iPad but are designed a bit differently to suit the larger screen of the Apple TV.
Thanks to the in-built, voice-powered Siri remote, you can get the best experience of some of the best Apple TV games. Let's find out more in detail about them.  
Best Apple TV Games – Our Top Pick👌👌
1. Rayman Adventures

 
One of the most played and, at the same time, most loved Apple TV games with an extraordinary storyline.
There is an enchanted forest in the game under so much trouble – the ancient eggs that are known for sustaining the popular Sacred Tree are mysteriously stolen and scattered all over the place.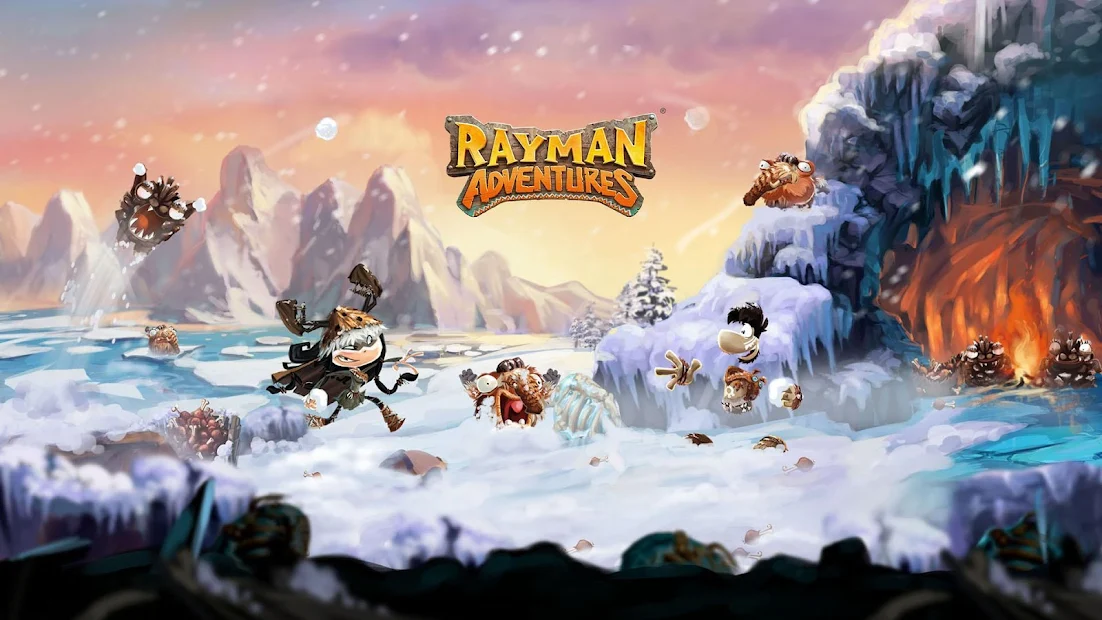 As a gamer and explorer, you must take charge, explore an incredible adventure, and try to help Rayman and his loyal friends find and rescue the ancient eggs.
You have to ensure they can successfully give the Sacred Tree a new life.  
The game is about a perfect blend of timeless adventures and awe-inspiring visuals. There are as many as 55 playable characters in the game!
Whether you love the character of Rayman, you want to see yourself ad Barbara, or even want to be Teensie, you have plenty of different options.
Swim, hover, run, and take the big flying leaps to cross the beautifully-sprayed 200+ levels. Collect the extraordinary INCREDIBALLS with three unique abilities – inhaler, protector, and seeker!
Complete 50 amazing INCREDIBALL families with your understanding and sense. 
Rayman Adventures -- Promo Trailer
Features of Rayman Adventures:-
More than 55 different interesting characters 

 

A perfect mixture of breath-taking visuals and timeless adventures 

 

More than 320 unique INCREDIBLES with special abilities

 

Go through the gameplay and find hidden treasures 

 

Seven different, action-packed extraordinary worlds to explore

 
Ratings on Apple Store – 4.8 / 5
Download the App from Apple App Store
2. Shadowmatic

 
Shadowmatic is next on my list of the best Apple TV games. The game is designed entirely around an imagination-stirring puzzle where you are challenged to rotate interesting abstract objects in a confusing spotlight.
By solving the puzzles, you have to unearth various recognizable silhouettes innovatively hidden in projected shadows.
All the hidden objects are relevant to the environment in which you play the game.
The exciting "Other Worlds" chapter in the game contains more than 30 levels featured in 3 unique thematic environments – music, space, and ancient worlds.
The chapter is available with a premium subscription, but worth giving a try for sure.  
What fascinates me the most is the stunning graphical visuals combined with captivating and relaxing gameplay. You will surely face a lot of infinitely varied and unexpected silhouettes throughout your journey to discover the perfect solution.
There are 15 different rooms in the game, and each one is decorated with a unique atmosphere, concept, and music.
There are some very logical hints across the gameplay; you don't have to notice them but follow them correctly to move ahead in the right direction. 
Shadowmatic Gameplay Video
Features of Shadowmatic:-
Essayed across 130 interesting levels in 15 beautiful environments 

 

Gorgeous graphics with a captivating gameplay 

 

Nonlinear level progression to try a completely different set of challenges 

 

Arcade mode with achievements and rewards 

 

Easily synchronized with Apple TV 

 
Ratings on Apple Store – 4.8 / 5
Download the App from Apple App Store
3. Shadowgun Legends

: best multiplayer apple tv games
Enjoy an epic story based on competitive and cooperative multiplayer and a fascinating social hub in one of the best games for Apple TV.
In the interesting and futuristic world of the Shadowgun Legends, you have to be the protector and save humanity under severe attack from a dangerous, deadly alien invader! Shadowguns – the legendary heroes and warriors are the last line of defense, and the alien invaders are ready to try everything to breach the defense.
You are one of those brave-hearted soldiers, and you have all the potential to turn the tide in favor of innocent people completely. Are you ready to take on the challenge? 
Save humanity from the unknown invader in the city across an epic story staged over 200+ missions and designed across diverse plants.
You are challenged to join hands with your brave soldier friends and defeat the giant alien bosses for legendary loot and many glories.
The game allows you to play in real-time player mode and player-team battles. Fight the powerful rivals in both fascinating modes in a completely diverse arena.
Collect a wide range of armor and pieces and build unique and powerful armor sets. Take on the alien invaders and become the latest hero of the city!  
Features of Shadowgun Legends: Online FPS:-
A fascinating real-time multiplayer game designed across a wonderful atmosphere 

 

Allows you to select from 600+ unique weapons and build your own armor sets 

 

250+ cosmetic items to make your shadowgun standout even from your friends

 

It enables you to pick your playstyle and skills

 

Innovative social features, including interaction with real-life players

 
Ratings on Apple Store – 4.8 / 5
Download the App from Apple App Store
You may like to read our guide on 9 Best
TV Guide Apps
To Track and Discover Shows.
4. Oddmar

 
The Oddmar game is designed around the most important character of the game – Oddmar, and it is plotted beautifully in the place called "Valhalla." Oddmar is a powerful Viking who tries his best to maintain his potential.
He's struggling with life in the village and is shunned by his fellow Vikings. Oddmar has no option but to redeem himself and reach his ultimate squandered potential.
What do you have to do in the game? You have to accept the challenge and play up to 24 levels of well-designed puzzles and challenges.  
Keep running, jumping, and attacking to progress! Each level in the game is featured 3 hidden talismans, and you have to protect yourself from the attack using powerful magical weapons.
Immerse yourself in a unique Viking story, discover magically imbued shields and weapons, find the difference between friends and foes, and go through a journey of snowy mountains, magical forests, and treacherous mines.
And you don't even need an internet connection to play one of the best Apple TV games! Simply download it once from the Apple Store, and there you go!  
Features of Oddmar:-
It takes you through a beautiful journey of challenges and puzzles

 

Discover powerful and interesting shields and weapons to improve your potential 

 

Three interesting hidden talismans to explore

 

Enjoy the challenging game beautifully essayed across 24 levels 

 

The game enables you to differentiate between friends and foes 

 
Ratings on Apple Store – 4.8 / 5
Download the App from Apple App Store
5. Asphalt 8

: Airborne
One of the most popular mobile games is now available for your Apple TV as well! I don't think you are completely unaware of one of the great all-time racing games to date!
I recommend you try Asphalt 8 even if you are not interested in racing games!
The game replicates all the details and the beautiful environments you see in real-life races. You have complete control on the game on the game to decide the outcome.
The game offers you hours of never-ending gameplay with multiple languages support. There are more than 300, yes 300, official racing cars in the game!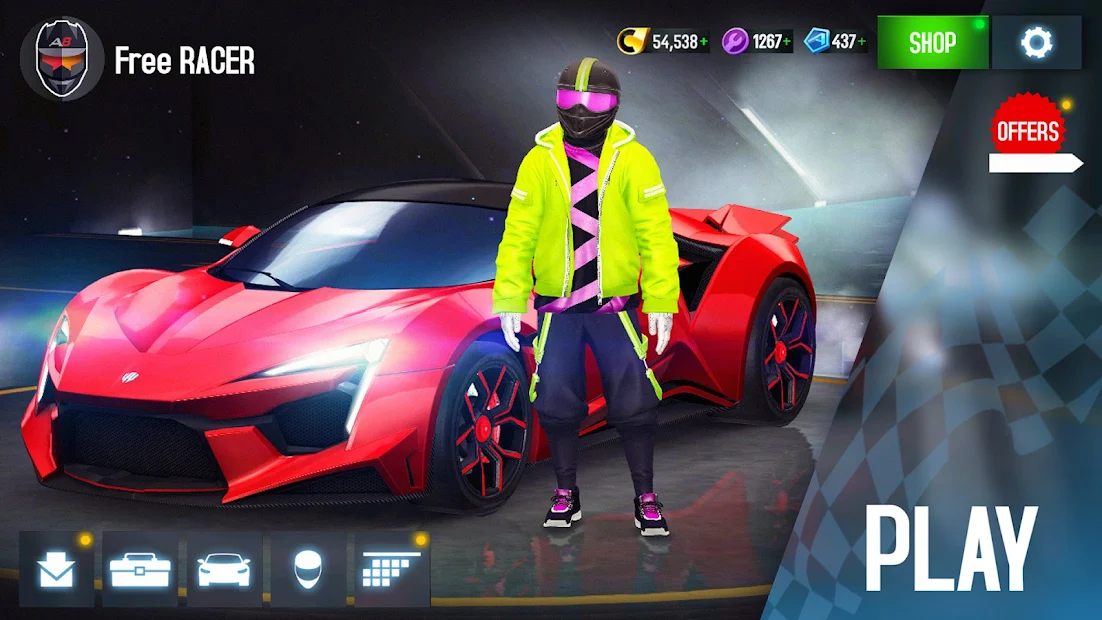 Thanks to the stunningly designed graphics, you can enjoy the ultimate 60-FPS experience while interacting between the environment, tracks, and vehicles – all based on modern physics.
And the intense arcade gameplay is there to give you a thrill of gravity-defying racing. Enjoy racing in the high-octane multiplayer experience in real-time multiplayer action.
Add up to 12 opponents, compete and win the races in style! You also get a massive content depth in the game! There are 400+ career events, six unique care collections, and 1,500 car mastery challenges!  
Features of Asphalt 8: Airborne:-
High-octane multiplayer experience 

 

Stunning graphics based on a real-life racing environment 

 

As many as 400+ career events with 1,500+ car mastery challenges 

 

Allows you to customize as well as upgrade all your rides 

 

Intense and high-octane multiplayer experience with dozens of racer avatars 

 
Ratings on Apple Store – 4.7 / 5
Download the App from Apple App Store
6. Crossy Road

 
One of the best Apple TV games available on the app store! The game is easily available for iPhones and iPad but can be so much fun when you play on the big screen of your Apple TV.
The gorgeous and simplistic graphics make the Crossy Road game a treat for seasoned gamers. The gameplay is simply beyond amazing, covering an exciting and engaging story.
You have to find the answers to several interesting questions throughout the game. Why does the Chicken try to cross the road? After all, why did the Pigeon leave something suspicious there? Why does Unihorse eat candies all the time? And so on!  
You have a lot of different fun characters as well as items to unlock and explore. The game is packed with so much fun, from barnyard animals to robots and other exciting characters.
Crossy Road Official Trailer (GP)
All of them in the game are in pursuit of moving as far and as fast as possible to avoid getting nailed and crushed by the tractor-trailer.
You will also love different backgrounds in the game while playing different characters. And all the characters produce a unique sound when you play the game!  
Features of Crossy Road:-
An exciting and engaging storyline with a wonderful gameplay 

 

Packed with multiple different characters in different roles 

 

Allows you to change the background according to different characters 

 

Simple and clean user interface 

 

Compatible with Siri and Apple TV remote 

 
Ratings on Apple Store – 4.7 / 5
Download the App from Apple App Store
7. Dungeon Hunter 5

 
Join the hands of millions of powerful Bounty Hunters and experience the most intense and exhilarating slash-and-hack adventure on your Apple TV!
The Dungeon Hunter 5 is among the top Apple TV games known for its extraordinary storyline and interesting gameplay. You have to decide whether you will fifth for good, or you will instead go for the gold.
The land in the countryside is in chaos due to some unknown and mysterious reasons. And the chaos has caused a sudden rise in darkness all around. People in the countryside have no other option but to fend off monsters, bandits, and other terrors.  
You have the chance to become the savior for them and become the real hero! You must hunt down the villains and monsters and clear all 94 missions of the extraordinary story.
Discover a wide range of environments, from the barbarous and cold Valen Outpost to the shattered realm of Valenthia.
Explore as many as 900 pieces of armor and weaponry, and unleash them all to create hundreds of devastating spells of skills and determination!
Protect your arena from 50-plus trap rooms and hundreds of minions. Become the real hero and protect the people from fear, devastation, and terror!  
Features of Dungeon Hunter 5:-
Based on a thrilling and captivating storyline 

 

Packed with so many different fighting styles, armor, and weapons

 

Be a part of the raid and grab sanctum assault gear 

 

Select from one-player and multiplayer modes 

 

Hundreds of exciting customization options 

 
Ratings on Apple Store – 4.7 / 5
Download the App from Apple App Store
8. Hidden Folks

 
If you are still a fan of that epic black-and-white era, you will certainly fall in love with one of the best Apple TV games – Hidden Folks.
The game is based on a completely different and unique black-and-white concept and serves a massive challenge of playing with a strange animation and a lot of movement.
You have to play the game with various moving parts and people. There are different strips of targets you have to look for! Click on each target to know what you have to do. Follow the hint or your instincts and do your best judgment!   
Keep searching for the hidden folks on an interactive, hand-designed landscape full of miniatures and interesting characters. Cut and go through the bushes, unfurl dozens of tent flaps, and slam the doors! Hey, beware of the hidden crocodiles!
They will roar all of a sudden if you touch them accidentally! The app has as many as 32 hand-designed areas, more than 300 targets, 500+ unique interactions, and 2000+ mouth-originated, creepy sound effects! In short, so much excitement is packed in a single game!  
Hidden Folks - Official Trailer
Features of Hidden Folks:-
300+ exciting targets to explore 

 

500+ unique interactions packed with 2000+ sound effects 

 

Multiple color modes, including sepia, normal, and night

 

Very simple and glitch-free user interface 

 

Packed with so much fun, quirk, and humor 

 
Ratings on Apple Store – 4.7 / 5
Download the App from Apple App Store
9. Lumino City

 
Lumino City is a very exciting puzzle adventure game created sophisticatedly only by hand with the card, paper, motors, and miniature lights.
It would be best if you went through a gorgeous environment filled with puzzling and charming adventures.
The story is about Lumi's grandfather, the savior and caretaker of Lumino City. Unfortunately, he has been kidnapped. You must explore the city thoroughly to find the whereabouts of Lumi's grandfather.
On the way, you will surprisingly find out about the power and fascinating mechanisms of Lumino city. The game is already a winner of multiple international awards, and fittingly so.  
The city is entirely designed and developed by hand. You have so much to explore beyond the city – including gardens in the sky, houses dug perfectly into the cliffs, and boats beautifully marooned high on a high and immense waterwheel.
Thanks to a seamless and immersive user interface, you will love the game, especially if you play it on an Apple TV.
The tactile puzzles are handcrafted from real materials, and I am sure you will be fascinated with a perfectly-designed miniature world featured with physical playthings. 
Lumino City - Google Play Trailer
Features of Lumino City:-
Immersive, highly-interactive gameplay for a fascinating gaming experience 

 

All the items in the game are beautifully handcrafted 

 

So much to explore in a real model city 

 

It offers you dozens of different puzzles to solve

 

Allows you to sync all your progress on iCloud 

 
Ratings on Apple Store – 4.7 / 5
Download the App from Apple App Store
10. Lichtspeer

 
Lichtspeer is a beautifully- created, fast-paced, light spear-throwing simulator game based on an ancient Germanic background.
The game offers you a lot of unique things to explore, from the beloved 80s arcade rush to a stylish psychedelic adventure.
The land contains Wurst Zombies, Penguin Vikings, and Hipster Ice Giants. You have to find different interesting ways of survival and prove that survival is nothing more than art!
You are an ancient fighter with an elegant weapon and are summoned to try your best and finally restore balance and peace in the land!  
Are you good enough to accept the challenge? Are you skilled enough to be the savior of the land? The game is just a perfect combination of the nostalgia from the 80s, brutality, style, and psyche.
You can be the ultimate fighter and achieve the unthinkable simply by being the best – but as a real-life scenario, "simply being the best is not simple" in the game too!
You have more than 60 challenging levels to cross with ten upgradable Lithpowers. Try to fight with the bosses and prove that you can play the game with some success!  
Features of Lichtspeer:-
A beautiful combination of 80's nostalgia and modern technology 

 

Dozens of different enemies to fight against 

 

Allows you to use up to 10 upgradable Litchpowers 

 

More than 60 levels full of challenges, danger, and a lot of other things 

 

Six unique battles with achievements and leaderboards

 
Ratings on Apple Store – 4.7 / 5  
Download the App from Apple App Store
11. Modern Combat 5

 
Modern Combat 5 is also among the best Apple TV games, featured with a fascinating atmosphere from an extremely dangerous war zone.
You have to jump into the war, become the hero for thousands of people, and protect them from your opponents.
You can play alone if you don't want to play with a team, and even create a squad of up to 11 players! Test your decision-making and fighting skills through a challenging battle against various online rivals worldwide!
You can join the thrilling and captivating solo play campaign, go from one dire situation to another, and protect the world from lunatics' apocalyptic plans!  
You can select from multiple playstyles that suit you the most! From assault to recon, heavy, sniper, bounty, and hunter, you have plenty of different options!
Activate the skills specific to different classes and earn rewards by spending your skill points! There are dozens of live online FPS battles to be a part of!
The squad v squad mode is all about blazing guns and the sounds of the bullets all over the place! The game even allows you to talk to the players in your squad and make the most suitable plans to combat the enemy.
All in all, more than a complete war-zone game to get a fascinating experience on your Apple TV.  
Features of Modern Combat 5:-
Intense solo play campaign as well as a very interesting squad versus squad mode 

 

Highly customizable controls to select from

 

High-tier guns with multiple other weapons 

 

Stunning graphics, voice performances, and music 

 

Allows you to win free, exciting rewards across the gameplay 

 
Ratings on Apple Store – 4.7 / 5
Download the App from Apple App Store
12. SketchParty TV

 
One of the must-haves and among the best Apple TV games, especially if you want to have fun at parties or with your friends!
The SketchParty TV game is a very interesting Pictionary-style guessing and drawing game specially designed to be played at parties on your Apple TV!
Assemble your friends, cousins, and siblings and immerse yourself into a different gameplay, graphics, and character world.
You have a lot to do in the game! From buying an easel, some markers, and a huge pad of paper to writing down the list of words and guessing under specific rules, the app offers you many options.  
Play the fun-drawing game and use different items you have all around. You can play the game with up to 8 players and have some fun, especially if you are bored at a party or don't have anything to do.
Find someone to be your teammate, guess right, and earn valuable points! Add and edit different types of words keeping the game's rules in mind—a wonderful game for those who want to play and learn.
The game enables you to learn new words and phrases daily and take your vocabulary to a different level. Enjoy the game with your family and friends, and rediscover a fun way of learning and improving!  
Features of SketchParty TV:-
A very interesting drawing game, suitable for parties 

 

Allows you to play with up to 8 players 

 

Easily synced with various Apple devices 

 

A lot of new words and phrases to discover 

 

Very simple, easy, and intuitive user interface 

 
Ratings on Apple Store – 4.7 / 5
Download the App from Apple App Store
13. Alto's Adventure

 
Alto's Adventures is another incredible, feature-packed game you can perfectly enjoy on your Apple TV. You have to play as Alto – an endless runner in the game.
Snowboard down the challenging slopes, keep catching the Llamas, show your interesting tricks, and collect the coins! And the game is simply stunning, jaw-dropping, and pulchritudinous!
It's not only about the gameplay or character in the game. You can expect a melodious, heart-touching soundtrack across the gameplay as well!  
There are so many running games available. But unlike most, you don't have to take pressure to ensure your survival in the game.
You keep running; time passes, snowboarding through different landscapes, mountains, and villages, and you keep bunting lanes and rooftops – there is no stopping! You won't get bored playing this amazingly satisfying running game!
And don't worry about getting choked if you inevitably fall on your head while attempting the backflip!  
Alto's Adventure - Google Play Trailer
Features of Alto's Adventure:-
Cool, graceful, fluid, and thrilling physics-based gameplay 

 

Methodologically designed based on real-world snowboarding 

 

One button trick system, easy and simple to learn, and difficult to master 

 

It allows you to stack together with the combos and earn points

 

Hundreds of handcrafted goals to test your skills  

 
Ratings on Apple Store – 4.6 / 5
Download the App from Apple App Store
14. Reptide GP 2

 
Here is one of the best Apple TV games for those looking for an Asphalt 8 alternative. The best part of the game is, it takes much less space when compared to Asphalt 8's 2.5 GB+ consumption.
The game is designed around a premier console-quality water-racing environment.
It takes you through everything you want from a racing game – including the intense multi-player racing modes, overdrives irrespective of the road types, upgradeable hydro jets, and some of the most interesting bike rides.
The developers have improved the game's overall graphics with the latest update, and you will love this version!  
The all-new career mode is also included. And you should be ready for a completely unique stunt experience with dozens of new tricks to try. The game is also featured rocket-powered hydro jets.
And you can fly them across the futuristic tracks beautified with an interactive and dynamic water surface. Unlock outrageously beautiful stunts and master them throughout the gameplay!
Surprise the crowd, get accolades instantly with your performance, and become more competitive with each level. Get ready for a visually stunning, fast, and fun racing experience with Reptide GP2!  
Riptide GP®2 Launch Trailer - Google Play
Features of Reptide GP2:-
Allows you to show off your driving skills in a 4-way online battle mode 

 

Different types of environments to explore in an all-new career mode 

 

As many as nine powerful hydro jets to explore

 

25 outrageous new stunts to master 

 

Break the records of best timings in the interesting VR challenge mode 

 
Ratings on Apple Store – 4.6 / 5
Download the App from Apple App Store
15. Oceanhorn

TM 

 
You are one of the most important characters in the interesting Oceanhorn game. And you suddenly wake up and get a letter from your father. You get to know that he's gone!
But where? The old notebook and the mysterious necklace are the only leads you have to rely on! Explore the captivating island of Uncharted Seas, an interesting world full of many puzzles, secrets, and dangers.
Fight the enemies in monsters, learn to use different tricks, and discover the hidden ancient treasures across the storyline! The treasures are so important that they are going to decide your fate! But hey, why would you allow them to do that!? 
Use your willpower, determination, and wits to unravel the stunning mysteries of the ancient kingdom known as "Arcadia" and fight against the sea monster called "Oceanhorn"!
Can you finally become the savior? Can you fight the monster? Are you brave enough to unearth interesting stories and find your father's whereabouts? There are so many thrilling questions waiting to be answered in the game.
And the fascinating storytelling is perfectly blended with breath-taking 3D visuals and an exciting environment – in short; you have a lot to explore and find in the game.
So, take on the challenge and see if you can be the ultimate hero!  
Oceanhorn Trailer, Android / Google Play
Features of Oceanhorn

TM:-
Hours of captivating storyline with a challenging gameplay 

 

Go on a challenging quest and find ancient items along the way 

 

Perfect touch controls for an excellent Apple TV gaming experience 

 

Interesting music is directly taken from legendary Nobuo Uematsu and Kenji Ito 

 

A world full of many secrets, puzzles, and dangers 

 
Ratings on Apple Store – 4.3 / 5
Download the App from Apple App Store
16. Playded's INSIDE

 
If you are always interested in mysterious game puzzles, look at one of the best Apple TV games – Playdead's INSIDE! The game is nothing less than a "masterpiece" when we talk about the gameplay, features throughout, and the stunningly attractive storyline!
It's a 2D puzzle game in which you must keep moving forward to complete the interesting stories. But that's not enough!
You have to keep solving interesting puzzles on your way toward completing the levels and winning. The game is very similar to the popular game "LIMBO", and surely gives a pretty similar gameplay experience.  
All the puzzles in the game are fun, immersive, and captivating but are certainly not easy to solve! Do you have the gut to take on the challenge to solve them? And it's not only about solving the puzzles!
You must also be ready for sudden, mind-boggling dark humor throughout the gameplay. With the game, you are guaranteed a never-forgetting experience thanks to a fascinating concept of creativity and design.
The game is the handcrafted top to bottom with gorgeous animations, graphics, and an interesting pitch-back sense of humor! 
Features of Playdead's INSIDE:-
A captivating and thrilling storyline designed in a wonderful gaming environment 

 

High-quality graphics with immersive design 

 

Stunning artwork with dozens of different puzzles to solve 

 

A lot of hidden surprises across the gameplay 

 

Surprising attention to all the details in the game 

 
Ratings on Apple Store – 4.3 /5
Download the App from Apple App Store
17. Horizon Chase

 
Another very exciting game for lovers of racing games! It's nothing less than a love letter for those who always find retro racing fascinating.
The addictive game is beautifully inspired by the epic era of the '80s and '90s, and each curve in the game will take you through the lap of Horizon chase based on realistic classic arcade racing gameplay.
You can expect a lot of fun with unbound speed limits and enjoy the game at full throttle! The game brings back to you the stunning graphic context of "that" inspiring 16-bit generation and maintains the style of the past without compromising the modern concept of racing gameplay.  
China Spirit l Horizon Chase New DLC
The game takes you through a competitive, fascinating tour of the world, and you can run through extraordinary races to earn those glittering trophies.
Drive your car through the sun settings, snowy rains, volcanic ashes, green countryside, severe sandstorms, and more!
Whether you want to play the game in a daily environment or are more into the night scenery, the game will take you through fascinating postcards worldwide.
Try and win the exclusive "Senna Forever Expansion Pack" and relieve the greatest driving moments of Ayrton Senna! 
Features of Horizon Chase:-
Designed perfectly in a fascinating environment handpicked from across the world 

 

Much more than just a simple, competitive racing game

 

16-bit graphics reinvented in a completely different way 

 

It takes you on a tour of the world's most fascinating horizons

 

Dozens of glittering trophies to win 

 
Ratings on Apple Store – 4.2 / 5
Download the App from Apple App Store
✅FAQ on Best apple tv games
What games can you play on Apple TV?
Rayman Adventures, Shadowmatic, Shadowgun, and Asphalt 8: Airborne are some of the top games you can enjoy playing on your Apple TV without much problem and have some wonderful leisure time.
Is Apple TV good for games?
Yes, Apple TV is not only good but superb if you want to play your favorite games. It gives you an unbelievable gaming experience on a larger screen.
And the best part is you don't have to worry about lags even if you pay for some of the heaviest games.
What games can I play on Apple TV 4k?
You can enjoy playing a wide range of games on Apple TV 4K, including Crossy Road, Dungeon Hunter 5, Hidden Folks, Lumino City, etc.
What is the most fun game on Apple Arcade?
Sayonara Wildhearts, Pocket Build+, Tetris Beat, and Mini Motorways are some funniest games you can try playing on Apple Arcade.
Are Apple Arcade games worth it?
Yes, it does! You can have some blasting time playing your favorite games on Apple Arcade. It brings you some of the best games mobile gaming offers, and the best thing is you don't have to face sneaky microtransactions or paywalls.
With a wide range of award-winning games, exclusive content, and insane remasters, Arcade is surely a place to be for a never-forgetting gaming experience.
Do games ever leave Apple Arcade?
Yes, sometimes games may leave Apple Arcade. If you download a particular game before it leaves the platform, you can play it for at least a few weeks.
And if you end up trying to launch a game on the arcade that's no longer available to play, you will immediately get a "No Longer Available" message on your screen.
What happens when games leave Apple Arcade?
Once a game leaves the Apple Arcade, the developer usually tries to make that particular game available on the App Store. So, you can try looking it up on the App Store after a few days of the game leaving the Apple Arcade.
How much does Apple arcade cost per month?
You get a one-month free trial. Once the free trial ends, you get unlimited access to more than 200 games at $4.99 per month.
How do I cancel Apple Arcade?
If you have enrolled for Apple Arcade before 11/3/2021, you can easily cancel through the Apple section using the My Verizon application.
Tap the "more" button, enter the "Apple Arcade" section, and tap "Remove." To continue, review your request and hit the "Confirm" button. You will see a confirmation screen. That's it!
Where can I play free games online?
Addicting Games, 247 Games, Agame, Armor Games, etc., are some of the best platforms on which you can play free games online.
What is the No one game in the world?
Minecraft is currently number 1 and one of the most popular games in the world. Released on November 18, 2011, Mojang Studios successfully sold more than 238 million copies of the game across multiple platforms.
Summing It Up the best apple tv games topic
That's all about my review of the best Apple TV games you should try at least once. Rayman Adventure is easily the number one game due to its fascinating gameplay and interesting features.
Asphalt 8: Airborne is my favorite – simply because I have been a fan of racing games since my childhood! Even if you don't like racing games much, you should try this game – I can guarantee a fun-filled, thrilling experience.  
If you are interested in solving puzzles, Hidden Folks has so many surprises for you. And for those who always look for new fighting games, Modern Combat 5 is beautiful!
In short, I have listed 17 of the best games across niches, and from now on, you should never be short on options while exploring the games to be played on your brand-new Apple TV! Stop searching and start playing now!