If you're looking for the Best Games like Roblox To Play, then you've come to the right place. We collected 7 of the best ones for you in this guide.
Without any further ado, Let's explore this guide. 🐱‍🐉
Are you a passionate gamer? Then you would have definitely heard about Roblox. The game was played with intense competition since 2005 and is still popular among the masses. The game of Roblox comes with all the elements delved into it to call it a masterpiece. 
For the rest of you, we do believe that you would have heard this name at least once. Probably when you were playing in your friend's home or having a multiplayer gaming session. 
If you have played it, then you would have adored the features that came along with it. The Roblox game is probably only one of those few games that gave you to choose what you want to play. 
In most games, you do not get to do that. The game comes with several exceptional features for you to design your own game within it. Roblox is one of the top reviewed games in its segment, and we will not be surprised by that. 
But, gamers are well gamers. We all, at some point or the other, want some change. Perhaps, you got bored or tired of playing at the same time. These things happen. You are not doing anything wrong, mind you. 
It is normal and human nature. After all, that is what brought you here to our guide. You will be delighted to know that several games are having similar features as Roblox. Not to mention, the games offer you high performance as well. 
A little information about Roblox 
But first, a little information about Roblox before we started. That will help us get warmed up a bit and create the right atmosphere, perhaps for learning more about games like Roblox. The building game was initially released in the market in 2005. 
It was developed by Roblox Corporation and runs on several operating systems as well as devices. You can work on it using Windows, macOS, Xbox One, and smartphones too. This online platform allows you to design your games and play games developed by other users. 
Isn't that interesting? 🤔 This platform hosts a number of user-created games that are of different nature and genre. You have almost everything that you want. There is your role-playing games, high-paced racing obstacle course, and of course, those hyper simulations. 
According to market research, in 2019, there were close to 100 million active users on a monthly basis. That is something that very few games like Age of Empires have been able to achieve. The first thing that strikes most players, in the form of the play. 
If you liked to play with your Lego toys, then you would get the hang of this game. Not to mention, you will become a huge fan of this concept. Roblox offers you the right kind of platform to have fun with creation.  
You create your own game and get to play it. Apart from that, you can also play other games designed by players globally. Those of you who adore art and technology need not be left behind. 
Each month see some kind of development taking place in Roblox. Its fan base is mostly kids ranging from the ages of 8 to 12 years old. Two kinds of currency are used here, one is known as Tixs, and the other is Robux. 
We do not want to reveal much at this stage because we want you to go and find out if you haven't yet done it. All you need to do is get yourself an account and start playing.
Parents would obviously become worried. Well, there is nothing to worry about. Roblox provides a safe environment for your kids as well as people of all ages. 
There is something in it for everyone. Some rumors about Roblox shutting down are not true. Yes, they did release a message about them not being able to hold on to the servers due to a lack of funds. 
With over $800 million in revenues, it is highly unlikely that they will close down without a whimper. Not to mention, their user base is only increasing with each passing day. So, if you are a hardcore Roblox fan, then you can relax for now as it isn't going anywhere. 
Now, since we are in the right mood, let us go down further and find some exciting games that can give Roblox a run for their money. Hold on. Are there games that can actually beat Roblox, well you need to read until the end because your journey has just begun. 
Best Games like Roblox To Play: Our Top Pick 👌
1. Minecraft
If you were in the gaming industry for at least a decade, your first choice would be Minecraft. There is something addictive about Minecraft.
The game just keeps appearing everywhere. What is so special about it that we decided to give it first place on our Games like Roblox list? Let us read to find out. 
For a game to be addictive, it needs a very powerful tone and storyline. That is exactly what you get when you play Minecraft. That is what makes it one of the tempting online 3D games. Having said that, it has sold more than 10 million copies higher than most gaming platforms. 
That is something that not many games can boast of. As if that were not enough, the gaming community is top-notch. Their participation can overwhelm you. This is good for newcomers as they feel pampered and welcome in there. 
Your main character walks around, making and designing things like buildings and animals. You have to use your creativity and innovation to come up with different kinds of items. Several gamers have claimed that the game has helped their focus and concentration. 
If you are somebody who is yet to play Minecraft, then today is your day to do it. When you want to play with family or friends, then no problem as it is multiplayer. You can play it on all the operating systems and devices like Windows, Linux, and macOS. 
Not to mention, you can play it on the PS4, Xbox One, and New 3DS.
Below is the summary of the main Pros and Cons of Minecraft that makes it add to the Best Games like Roblox list.
Pros:-
The game has been around for quite a while now. 

It is a very creative game that elevates your innovation. 

The game is adequately supported with a hundred servers globally. 

The developers give it monthly updates. 

It is one of the most popular games around on par with the Age of Empires. 

You can play the game on several OS as well as devices. 

You have plenty of options that you can do and play with the game. 
Cons:-
The game is not free. 

If you are not fond of cubes, then you may not like playing this game. 
Minecraft 10 Years Later - Is it still worth playing? (2009-2019)
2. KoGaMa
Next on the list of our search for games like Roblox, we welcome KoGaMa. What kind of name is that? Well, even we felt the same the first time our ears heard it. But, trust us, this is another robust game that can give a run to Roblox. 
With games like Roblox and Minecraft hitting rooftops worldwide, it seems as though a new era of gaming is dwelling on us. It looks as if single-player games are giving way to multiplayer games. In these games, gamers have to move, dig, and customize.
Firstly, the game is free of cost and is the same in nature as that of Roblox. This sandbox game is a 3D game that supports multiplayer. As a player, you can design the different levels of play and make games likewise. 
You also make your rules and even plan whom you want to compete against. It enhances your experience when you play with others. Not to mention, you are able to socialize with friends. Once you log in to KoGaMa, you are overwhelmed by the numerous games at hand. 
There is just too much to handle. You are spoilt for choices. However, some games are appropriate for adults too. The technology used in them might not be suitable for young kids. Having said that, they provide a safe environment for kids. 
The developers were concerned about the lack of educational videos and hence decided to come up with similar games. Kids need to practice subjects like math and solve problems. Not to mention, they have to explore their creativity. 
As a KoGaMa user, you get to learn how to code and design your own environments. Kids are provided with a safe environment because they cannot register in there. Negative comments are monitored by the admin. 
Below is the summary of the main Pros and Cons of the KoGaMa that makes it add to the Best Games like Roblox list.
Pros:-
The game is one of the most creative games around in the market. 

You have tons of games inside the site. 

Kids benefit through social creativity. 

There are teamwork games.

You can also select an educational video game. 

It is an entirely user-friendly game.
Cons:-
At times, you can feel that the sounds are too loud. 

Few noises are inappropriate.
On the whole, KoGaMa is a good game for you to consider for yourself as well as your child. When you want a child-friendly game, MMO (massively multiplayer online) game, and user-friendly, then this is it. 
3. Terraria
The next game that we want to review is known as Terraria. Perhaps, you may not have heard about it, but you will be shocked to know that it has sold more than 12 million copies globally. This is similar to the Roblox model of gaming. 
Good. Bad. I'm the Guy with the YoYo: The Terraria 1.3 Official Trailer
The sandbox-style game is told to be a useful and exciting game. Let us find out if that is so. Firstly, unlike the other games that we saw, this is a 2D sandbox game. Players can build, fight, and dig. 
These are the main features for you to collect, manage, and build your resources. Sounds interesting? So, what is the need to fight? Well, once you have amassed sufficient resources, others would want to have the same. 
Hence, they will attack you. Not to mention, as a winner, you get to design your own world. This lets you make a home, fortress, machinery, as well as garden. Some experts have labeled it as the Minecraft 2D version. 
The number of weapons and the characters in there is truly staggering. Sadly, the game does not provide you with a tutorial. Hence you either have to depend on Wikipedia or ask somebody else. 
The mystery that awaits you may not be much, but the characters that are waiting to welcome you is sufficient for excitement and frustration. You might not want to amass too many resources. 
You have both day and night. The visuals are quite pleasing and attractive. However, it could have been better. You have tons of equipment to choose from like armor, protective hooks, and chests. 
Below is the summary of the main Pros and Cons of the Terraria that makes it add to the Best Games like Roblox list.
Pros:-
There are lots of biomes.

The torches are realistic. 

The water, too, comes with more touch and realism. 

The map is higher and deeper. 

The lunar cycles given here are fantastic. 

The steam is to be integrated sooner. 

Players have tons of equipment to work with. 

The music is quite dynamic and powerful. 
Cons:-
The multiplayer feels lackluster.

There is no pause button. 

You can find no settings.
The first look at Terraria might give you an unimpressive mumbo jumbo game. But trust us, once you are logged in, you are taken on the ride of your life. If you liked playing Roblox, then you are in for a treat. 
The game is priced less than $10, which seems like an excellent deal with exclusive features and your ability to play a sandbox-style game on common devices.
3. Garry's Mod
The fourth sandbox-style game on our Games like Roblox list is very eccentric. Many gamers initially found it boring but kept coming back for more. The game can be played on multiple online platforms and is similar to Roblox. 
Let us introduce you to Garry's Mod. First off, the game is popular globally. With more than 10 million copies sold, it has managed to establish its presence the world over. Gamers have termed this game quite easy to play. 
The storyline is quite plain and simple. As a player, you have to design rockets, cars, and similar objects of interest. It entirely depends on the kind of product that you plan on designing. Not to mention what your design can be used in the game. 
When you design a car, you ride in it. Likewise, when you create a rocket, you can fly into space. The content of the game probably is its main attraction. The developers are continually updating the game. 
Hence, you can be sure of finding something new and exciting often. Since the game supports multiplayer abilities, you can socialize with your friends too. Perhaps, you can join them and design products that are suitable for your destiny. 
Its true glory lies in mobility. By far, we found that you will find it more modded than other games. Yes, the game does come with a few drawbacks that you can get accustomed to with time. 
Below is the summary of the main Pros and Cons of Garry's Mod that makes it add to the Best Games like Roblox list.
Pros:-
The game is fun and exciting to play.

There are plenty of exciting features to make use of.

You can design tons of products and items on it. 

If you are a fan of creativity, then this is your ultimate game. 
Cons:-
The game tends to crash often. 

There are tons of errors. 
The game comes priced at less than $10, which is a real steal for gamers. You will also be delighted to know that you can play the game on Windows, Mac, and Linux operating systems. When you are searching for a game that can relish your designing fantasy.
4. Trove
Another game that comes on the track of Minecraft is Trove. This is a role-playing game, which comes with a multiplayer feature. You can play this game with your friends or family during weekends or during your free time. 
Is it good? Well, we cannot say that it is outstanding, but we would definitely give it the grades that it deserves. This is an appropriate choice for what it is. That is because it comes with those features you get to see in Roblox. 
Some of them include landscapes, buildings, cars, and so on. However, many gamers felt that the game lacks clarity as to what it expects from you. The sudden changes in the storyline may leave you perplexed. 
But, somehow, the developers have managed to transform that confusion into a greater ambiguity for gamers. You are then thrown into a vast hub of dungeons and foes to kill. They have managed to keep it ground with fun for you to jump around the puzzles. 
Yes, players have the chance to design their own homes or cornerstones. Apart from that, you are provided with items that you can purchase and characters. You can take on the role of a knight (gamers favorite), gunslinger, pirate, and so on. 
All these roles come with a price because you stand to lose badly if you take the wrong option. Each of them has its own powers and capabilities. Hence you will want to choose them with caution. 
Apart from that, the dungeons seem to have left an edible stain on most of our games because the sheer depth of it is mind-blowing. You have to face bosses, minions, and the same to get your hands on some powerful weapons. 
When you love to play treasure hunt games, then here is a chance to bask in the glory. You can choose to loot from them and build your own treasure. You have got tons of things to choose from in Trove. 
Below is the summary of the main Pros and Cons of the Trove that makes it add to the Best Games like Roblox list.
Pros:-
The game is free to play. 

It comes with several features. 

The characters are immense, giving you ample options. 

Players have liked the change of role play. 

You can design buildings as well as experiment with your own roles.

Gamers can play the game on Mac, Xbox One, Windows.
Cons:-
The music, at times, feels out of tune. 
Trove, when played in long sessions, is truly enjoyable because that is when you find out its true worth. You will find yourself wanting to play the game again and again.
Yes, at times, you feel that things could have been bettered, but it is definitely a fun way to pass time building structures and experimenting. 
5. Terasology
Another building game that we found quite similar to Roblox was Terasology. Terasology is an awesome game that comes with excellent features. Why did we find it good? Well, there is an abundance of exciting features that got us hooked. 
We are pretty sure it is going to have a similar effect on you too. Terasology is a very lightweight game that comes highly recommended despite amazing visual effects. This is a 3D open-source game, free of cost. 
According to gaming experts, this game is more swayed towards the Minecraft game. Though it is quite new to the horizon, its prospects seem to be good. The main features of the game are building, construction, and some adventure. 
These are the traits of Minecraft. So, what is the difference? As a player, you are challenged to a higher level than Minecraft. It offers you a platform to make decisions in your own voxel world. 
Would you want to play it? Definitely, you might want to give it a try and enjoy the game. 
Below is the summary of the main Pros and Cons of the Terasology that makes it add to the Best Games like Roblox list.
Pros:-
It is similar to Minecraft so that you can expect some fireworks. 

The game comes with unique features. 

The characters are good.

The music is world-class. 

The setup is quite easy. 
Cons:-
Unfortunately, Apple users will have to wait for now because you can play with it only using the Windows operating system.
6. Blockland
Just like its name goes, Blockland does not fail to impress. If you are somebody who loved growing up with Lego, then you, for sure, would love playing this awesome game. The game gives you another dimension of looking at Lego.
Designed by Eric Hartman and released in the year 2007, it comes with a beautiful design that instantly struck several players. Like most of the games we discussed on this list, this one too is multiplayer. 
The game gives you ample freedom to design what you want. The characters are built inside brick-shaped toys. When you purchase the game, you can hold a server that can play 100 players.  
Some of the other features of the game are weapons, missile launchers, vehicles, arcades, and so on. You can make use of them as and when you want. The developers decided to release the "Shadows and Shaders" in 2012, without much success. 
One user had commented that when he played the game initially, he was lost. However, when you get used to the storyline and concept of it, he is completely hooked. Well, most of the games discussed here come with the same fatal attraction. 
Not to mention, you can play Blockland on both Windows XP and Mac OSX. That means both android and iOS device owners can rejoice. 
Below is the summary of the main Pros and Cons of the Blockland that makes it add to the Best Games like Roblox list.
Pros:-
Its features are excellent. 

The music is good. 

The controls for building your characters are simple to use.

There is an editor for your terrain, and it is of immense help to players. 
Cons:-
Few users have complained of spammers, so you might want to be cautious. 
It comes priced less than $10, which is fine. Should you download the game and play it? When you are looking for a Lego concept game that is creative as well as multiplayer; then this would be your optimum choice. 
7. Lego Worlds
Lego Worlds is the last game that we will see on our list of games like Roblox. Is it as good as Roblox or Minecraft? Let us find out. According to their motto, they want gamers to create, discover, and explore together.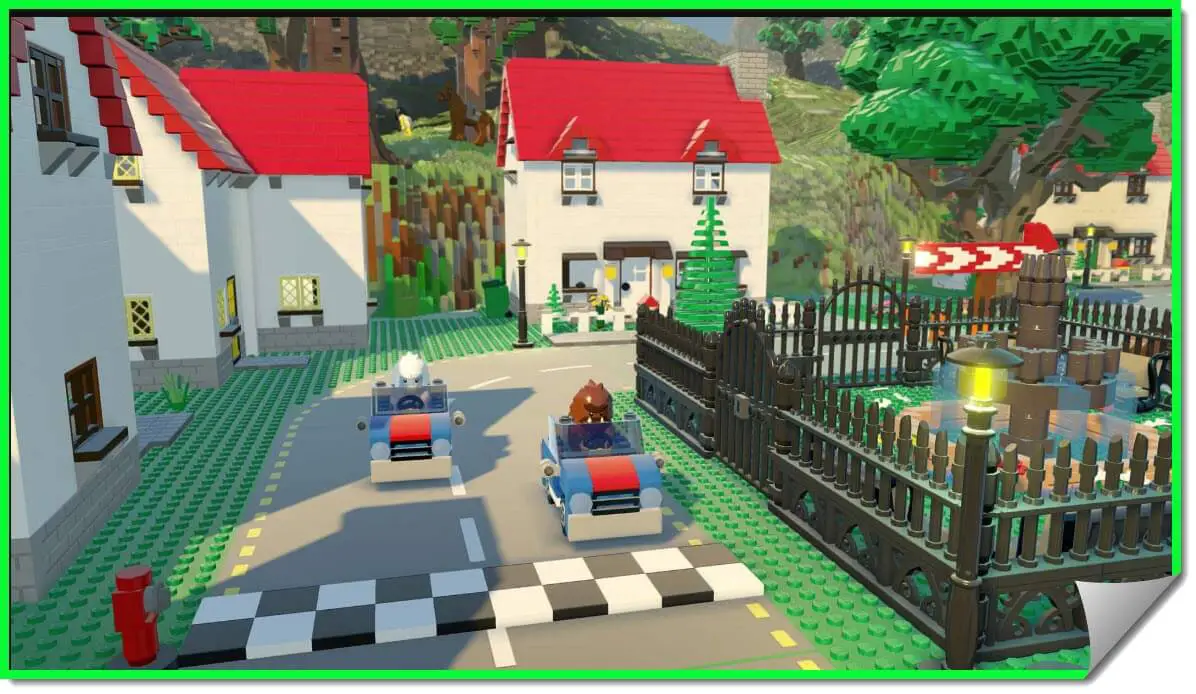 Well, if you are ready for a similar journey, then here goes. The game was developed by Traveller's Tales. Lego Worlds is a world of Lego models and blocks ready for you to design and make into your own characters of choice. 
Perhaps, a large mountain or maybe your favorite island. The list is endless, and so is the scope for you. Players can explore the world using their own means of transport, and that could mean motorbikes and helicopters. 
In this game, you can find 5 different worlds, all in different sizes. The small one comes with a 1×1 block, and the largest has a 6×6 block. Not to mention, you can also make use of the multiplayer feature and play along with your friends or family members. 
The game is quite popular among people of all ages and genders. Since it deals with Lego toys, the attraction is always here. You can play using your PC, Nintendo Switch, PS4, and Xbox One. Gamers would be delighted to know that it was nominated at the 14th British Academy Games Awards in the family game category.
The game is quite steeply-priced at less than $30. 
Below is the summary of the main Pros and Cons of the Lego Worlds that makes it add to the Best Games like Roblox list.
Pros:-
This is a nominated game for a prestigious award. 

It is based on Lego models. 

You can play this game on your PC, Nintendo Switch, PS4, and Xbox One.

You can make use of the wide range of features that it comes with. 
Cons:-
There is a possible attack from spammers if you are not careful. 
Yes, you would want to play the game. That is because the game comes with all the elements of a building game. When you love your Legos, then there is no reason why you shouldn't download this game.
📗FAQ's on Games like Roblox
Below are a couple of queries on Games like Roblox that everyone is expecting to answer and I did include the same for my readers.
Our FAQs are based on the online game Roblox. We felt that our readers ought to know a few details about it to make it interesting. There are many rumors and false allegations about this amazing online game, and we intend to dispel them. 
(Q) Why are there doubts over Roblox not being safe for kids?
For starters, Roblox is an online game. Anything that is played or widely used on the internet is bound to come under some scrutiny. Like everything goes on the internet, not all are true and hold substance. 
Yes, there indeed are fake stories, incorrect details about the game, and even weird rumors spread by naysayers. Kids who are above 12 years can play the game without any fear or danger. 
This game does not come with any sort of violence or p#o#r#nography. Even parents are confident about their kids playing Roblox because they do not need to supervise their children constantly. Overall, this is a safe platform for people of all ages to play and enjoy productively. 
(Q) Why are some gamers claiming that Roblox is a virus?
Just like we read above, people claim different bad things about Roblox. Some have even gone to the extend, claiming that Roblox is a virus that harms your PC or smartphone.
Well, based on our research done on both the PC as well as the smartphone, we did not find such claims to be true. 
There is no truth in the allegations, and you can be rest assured that the game is safe. Yes, there is a virus in the name of Roblox, that obviously was not designed by the makers. They do not have any intention of ruining the peace of gamers worldwide. 
If at all you make a mistake and download the app, then your details are out in the open. The virus claims to generate in-game currency free of charge, which apparently is not true. Not to mention, your PC or smartphone is bound to get infected. 
(Q) Why do some gamers think that Minecraft is a spin-off Roblox?
We have gone through both the games, and we can assure our readers that both of them are entirely different. There is no hint of similarity between the two games. Yes, you do, at times, feel you are playing the same thing. 
So, what is the difference? Minecraft is based on using blocks when you are playing it. However, Roblox is more like Lego. You can design your own games using Roblox, which is not possible with Minecraft.
Another detail that many gamers have missed out is that you can play Minecraft on Nintendo as well as the Xbox, and on the Wii U. As a gamer, you are provided with immense options to play the games. Lastly, Minecraft is about building. 
(Q) Is Roblox sluggish to play with?
Well, this is quite tricky to answer because if you played Roblox on the latest PC, tablet, and smartphone, then you may not feel any lag whatsoever. Experts have advised you to check the graphics level on your PC if it runs slow.  
This way, you can upload it faster and begin your session. At times, on older devices, the online game can run a bit slower. But, we were quite impressed with the speed and agility of the game on the smartphone and tablet. 
When nothing works, then you can upgrade your system. 
(Q) Is there any truth in Roblox being better than Fortnite?
Both Roblox and Fortnite are different from each other. You really cannot compare them both. While Roblox allows its gamers to think about their own choices, and design things, the same, it is not very much possible on Fortnite. 
Of course, shooting gamers would love to use Fortnite. You would want to play them both to understand what they are about before downloading Fortnite. 
In conclusion
This is it, our discussion on the best games like Roblox has come to an end. We hope that you enjoyed reading our guide. Most of the games that we discussed are quite similar to that of Roblox. 
Though the concept is similar, they come different in their own way. They are also exciting and fun to play. Gamers from all over the world have spoken highly of them. Building games are always fun, with a twist. 
Do we have any favorites? Yes, we do. We felt that Minecraft and KoGaMa bring us closer to the game of Roblox. The features and design are almost similar in nature. Though your goals are much different from Roblox.  
As a player, you get to choose the kind of games you want to play according to your preference. Not to mention, these games come with flexibility for you to use the sandbox and design your own worlds. 
Apart from that, the games also provide you with endless tools. Using them, you can create several possibilities in the virtual world. This helps you build everything from scratch, block by block, and from the ground up. 
What are you waiting for? Go ahead and try them today. Do let us know which game tingled your palates and got you very excited.