Do you have a curiosity to know about the Best Minecraft Servers To Join in 2021? 🤔
Awesome!
There are lots of servers available there, but we collected 9 of the best server for you on this list.
Let's get started! 🐱‍🐉
Minecraft players are possibly the most patient gamers to exist, what with the hefty amount of patience it takes to create a world, edit that world, and whatnot.
These worlds can be created by players and then saved on servers. Others can access these servers and be a part of these worlds too.
It is incredible what some people have created using Minecraft. It is not only a video game but a place where gamers and creators can come and show off their creativity, patience, and willpower to the people who are available to see.
Now, servers can be either owned by businesses or personal/player-owned. The functionality of the servers and the people that own them can control several things, including the time of day, restrictions on who can access the server, teleporting of players, and several others.
On multiplayer Minecraft servers, players can interact with each other and can also engage in direct player vs. player (PvP) combat. Joining a Minecraft server or even creating one, for that matter, can be a lot of fun.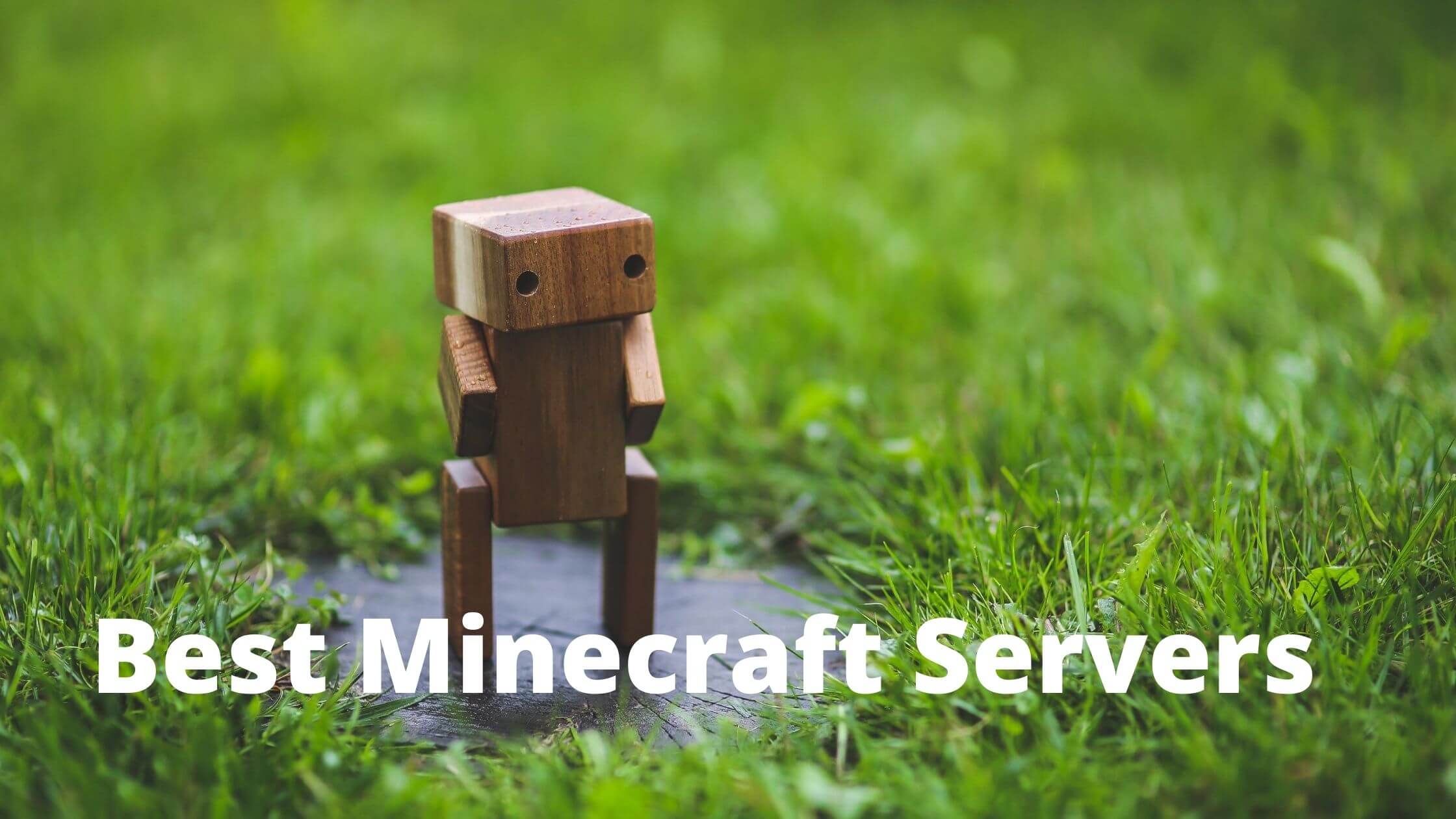 There are several types of Minecraft servers, which suit you according to the type with which you're most comfortable. Some servers are super strict, while some servers are anarchy servers. There are more specific classifications of servers, as you will see in the next section.
The Types of Minecraft Servers
It is necessary to note the several different types of servers that you'll often find on Minecraft. Each type of server has its own features and functionalities.
As you will see now, there are tonnes of types of Minecraft servers, as is the case because of the large population of creators in the game. Here are some of the common types of Minecraft servers:
Survival servers:-
Survival servers generally consist of player vs. player action, with or without griefing and stealing (according to the specific type of server).
This server is purely for the creation or creative purposes. You can create anything you want tight the material available, and the super flat map that may show up sometimes only accompanies the same.
The different players here can take on different player roles on the game, and the roles can be ranging from blacksmith to cook. The primary purpose of this game mode or server is to gather resources while you are stuck in some kind of foreign land.
In this particular server, players get to fight against each other. These servers generally disallow grief or steal from other players, thus gameplay even when competing against other players is relatively subdued.
Hardcore Player vs. Player (PvP)
This kind of server is just like the previous PvP regular server, except that it can get dirty – griefing and stealing are allowed on hardcore PvP servers – so watch out!
Yes, you read that correctly – Minecraft also has prison servers. In these kinds of servers, the game is set inside a prison. In order to rank up in prison, you must earn money by playing around the game.
Although prison may sound like something that is violent, on Minecraft, it is the opposite. You are confined to the grounds of the prison, but griefing, stealing and even PvP combat is usually not allowed. Some prison servers also allow you to become free after a point, but not all.
In this kind of server, players are divided into factions (or teams) and are at war with each other at all times. Due to such a background, grief and stealing are encouraged as much as possible to stay ahead of the enemy.
These servers consist of various challenges that you can partake in within the game. The challenges can be something like completing a difficult parkour course, building something, surviving underwater, or any other possible Minecraft challenge.
Economy Servers:-
There is less player vs. player action here and more single-player content to access. Economy servers have more task-based and building-based gameplay as compared to survival servers.
This kind of server allows you to build houses within a city, which can be on protected land. It is like being a builder in a city.
Taking inspiration from the Hunger Games book series and movie where the aim of the Games is a fight to the death, sort of like one man standing is the winner.
People can join, and then they are scattered all over the map, just as in the Hunger Games series, and then they must find each other and fight until there is only one player remaining – the victor.
This is a puzzle Minecraft server, which consists of several tasks that you are to complete that generally consist of creating various items.
The aim is to eventually reach the end after receiving all your rewards to ultimately "feed the beast" all of the objects that you created on your path.
Best Minecraft Servers: Our Top Pick 👌👌
So, what are the best Minecraft servers that you can join during your gameplay to make it more fun? We have compiled a list of the best Minecraft servers, full, with their features, pros, and cons. Read on to find out more about Minecraft servers.
Here are the best Minecraft servers that we shall present to you: 2b2t | Hypixel | Mineplex | Desteria | WesterosCraft | PirateCraft | The Archon | Minecraft Middle Earth | The Uncensored Library | Vatican City Server
Let's dive into these.
1. 2b2t
What stands for 2 builders 2 tools, you will find that 2b2t is an absolutely hostility friendly server, which may sound oxymoronic, but it's true. It is the oldest anarchy server to exist, which is what makes it so fun, but so difficult to survive in, all at the same time.
On 2btb, you have absolutely no limit as to what you can do and what you cannot do on it. With 20 minute days and 7 minute nights, you can accomplish so very much in what seems like so very little time.
While most server moderators may kick you out if you start fighting with other players or destroy their property, it is best to be told to you that 2b2t is a server that moves in complete reverse to this.
Going into the 2b2t world, make sure that you know how to survive in hostile Minecraft situations. It is one of the best Minecraft servers for the reason that it allows you to indulge in your most nihilistic, dark, and violent fantasies… or as dark as it can get on a platform like Minecraft.
Here are some of the pros and cons of 2b2t:-
Pros:-
No limits on the game mean that gameplay is totally free and unrestricted – no rules, no filters for the chats, and no rules.

You can loot or steal from anyone without any punishment for it.

2b2t offers factions gameplay, meanings that you can team up with friends or other players against another team.

There is a large number of players, to the point where there are even waitlists.

Moderators only look at players who use game-breaking hacked features, which are less player vs. player and more cheating.
Cons:-
Without restrictions, if you are not savvy at the game yourself, there is a high chance that you will have bad luck and get looted or attacked without being able to defend yourself

There may be malware on the server that can get your computer hacked, so one must be extra careful with the server.
Note:- The queue is probably very long and you will be waiting for a few hours.
2. Hypixel
Here's a server that is starkly contrasting from the previous one we talked about just now. Hypixel is a server that welcomes fun and friendly gaming where players can help each other and play together in harmony.
This is the perfect server for younger Minecraft players as well since it restricts any negative or bad player behavior. All players on Hypixel must be very respectful of each other and not make the server a place with negative vibes for anybody.
Hypixel is one of the best Minecraft servers for having some fun gameplay with your friends, and it is also a great place to go and meet new friends on the server itself.
If you feel uncomfortable with something that a player is doing and you know that it violates the rules, you are most welcome to report the same. Following this, the moderators will do what they have to do about it. It keeps the gameplay a safe and friendly space that everyone can enjoy.
Here are some of the pros and cons of Hypixel:-
Pros:-
Very rigid rules for the most non-toxic, friendly, respectful, and fun gameplay.

Great server for kids and teenagers who like to play Minecraft, since the rules are followed to the T.

Hypixel encourages players to create sensible, creative, and artistic content, and urge them to express themselves however creatively they wish.

Hypixel is very big on player and account safety, and encourage you

not

to share personal information like passwords online.

There are helper staff members available within the server with either a blue prefix for [HELPER], a green prefix [MOD] for moderators, and red [ADMIN] for administrators.
Cons:-
For the people who like to fight on Minecraft, this is not the best Minecraft server for you.

There are a limited number of modifications allowed on Hypixel.
Before going next in this Best Minecraft Servers list, I want to show you how to join the Minecraft server that will be applicable to all the servers mentioned in this list.
Open the Minecraft and Click on the "Multiplayer" option.
and click on the "Add Server" option.
and enter your server name and enter the Server Address here ad click on the "Server Resource Packs: Prompt" option and click on the Done.
it will scan it and show you here, Just click on the "Join Server" option to join this server.
3. Mineplex
Mineplex is ranked among the best Minecraft servers for the younger audience. According to its users, the server is 100% child-friendly, which means that there are appropriate chat filters and rules of the game.
Mineplex has a mostly young user base, which is the primary aim of the Mineplex creators in the first place.
Any inappropriate behavior, including but not limited to threatening other users (even as a joke), spamming or trolling others, using inappropriate language such as making racist or derogatory comments, and much more is disallowed. You must know that you may be banned for refusing to follow the rules.
Pros:-
Mineplex lists the offenses in gameplay as well as chats according to their severity, as in severity 1, 2, 3, and 4, where 4 is the highest. Different behavior comes under different levels of severity, for which appropriate punishment is given.

Mineplex supports a variety of in-game mods.

The number-one priority of Mineplex is the safety of its users.

For the subscription-based service, Mineplex offers loyalty points. The longer you remain subscribed to Mineplex, the higher the number of loyalty points you get.

There are a number of games on the server from which you can choose, including survival, skywars, champions, speed builders, master builders, and many more.
Cons:-
The player base is quite small in comparison with others.

Mineplex updates its server quite rarely, so the game can become slightly repetitive.

Despite security measures, you must be aware of hackers.
4. Desteria
Desteria is a factions server, which you probably remember from reading before. If not, a slight recap for you: factions servers are servers where you are divided into teams or factions that fight against each other.
In a factions server, you are free of grief and steal from any player, as it is the ultimate battleground. Desteria is one of the best Minecraft servers if you're looking for factions servers.
Pros:-
Desteria gets regular updates from its creators, which is why it is one of the best Minecraft servers.

The staff of Desteria is very helpful in case you get stuck somewhere.

You can create custom commands on the server to make gameplay fun and personalized.

There are different classes that have their own levels and perks in them.

Desteria is one of the most massive survival servers.
Cons:-
It is quite tricky on the server to get a good status if you do not have an expensive rank.

The server may occasionally reset; thus, if you are looking to create massive worlds, this is probably not the best Minecraft server for you.
5. WesterosCraft
Here's a Minecraft server for all the Game of Thrones fans out there. I'm sure you would've recognized the name from either George RR Martin's book series 'A Song of Ice and Fire' or the televised series of the same, 'Game of Thrones.'
Yes, online games have the space to accommodate even fictional worlds and stories – a big positive for many fangirls and fanboys.
Here are some of the pros and cons of WesterosCraft.
Pros:-
There are tons of regions to discover, consisting of plenty of Game of Thrones regions such as Beyond the Wall, the Vale, the Iron Islands, Dorne, the North, etc.

WesterosCraft has plenty of guides that are very helpful for the newbies at the game.

The creators are strict about the rules of the server, and it is a safe space for all players.

WesterosCraft uses a custom launcher to support modifications.

Custom resource packs on the game are tailor-fitted to the likes of WesterosCraft, including various textures, skins, etc. that all fall into the theme of A Song of Ice and Fire or Game of Thrones.
Cons:-
6. PirateCraft
PirateCraft is a Minecraft server that has working ships and cannons. It has different maps under it for survival, creative and PvP modes. There are tons of great features on PirateCraft, which make gameplay very fun.
The server hosts a "Build of the Month" competition where players can spend their time building magnificent structures, and the best one gets features on their website. This is just one of the incredibly fun activities that the server facilitates.
You can join Pirate crews and be part of projects and such things that the Crews are always taking part in. It is a fun game with a lot of scope for crafters to make friends and improve their building skills on Minecraft.
Here are some of the pros and cons of one of the best Minecraft servers, PirateCraft.
Pros:-
You can reach out to the extremely helpful staff if you are facing some or the other problem with the server.

The server encourages its players to be super creative by hosting the competition that we mentioned before.

Working your way up the Pirate ranks enables you to access more cool cannons, ships, etc. and is a fun way to remain engaged with the game.

Pirate crews with other players enable you to make friends and have someone to do projects and have within the game.

There are several competitions you can take part in and win yourself 'booty' in the form of Minecraft goodies.
Cons:-
Your ranks within the game can depend on the rank you buy. Thus, people willing to spend more money get higher ranks in the game, rather than doing the same by building on skills.

Griefing and thieving are allowed in the game (since the main occupation of a pirate is looting!).
7. The Archon
The Archon is an awesome server with several game modes in it, including but not limited to a prison, factions, Skyblock, and several others. The name itself sounds so grand – The Archon, it makes it feel as though it's a great game without even having played it.
There is a lot to The Archon that you ought to know, such as about how they are very strict with their rules; thus you must follow them all to the T. Another rather interesting thing you'd like to know (especially if you are a Harry Potter fan!) is that the prison mode is set in Azkaban!
Here are some of the pros and cons or The Archon:
Pros:-
The Archon is continuously being updated and thus has new content accessible every few weeks.

You can select out of multiple fantastic realms for gameplay.

There is a feature on the website to vote for The Archon, for which you get special access to the game for 24 hours.

With a subscription to the game, you are entitled to receive in-game rewards.
Cons:-
There are so many options to play that it may get confusing as to which one you should choose.

A lot of content updates can make it difficult to keep up with.
8. Minecraft Middle Earth
Another one of the best Minecraft servers to suit one of the largest fandoms across the globe is recreated JRR Tolkien's Middle-earth world. This server has even received an official award for being the best Minecraft server! So, just imagine how great it really could be.
You start as an Adventurer and then traverse all the different places you'll find in Tolkien's world: Moria, Isengard, Minas Tirith, whatnot. It is a delight for you, especially if you have made yourself privy to all Middle-earth matters.
Here are some of the pros and cons of Minecraft Middle Earth:
Pros:-
You will find whichever region you wish to reach under the projects in the 29000 x 30000 block map.

There is a fantastic 'New Players' guide for all the newbies of the game.

You can avail of various ranks and badges as you keep furthering yourself in the game. You unlock more and more things as you progress in the game through jobs and FreeBuilds.

There are several different modifications available.

Relatively flexible restrictions, meaning that you can post memes, jokes, etc. as long as they do not offend others.
Cons:-
There is no roleplay; this is simply a world being built through the eyes of JRR Tolkien.

Flymods are forbidden.
9. Ranch N Craft
Do you know what it's like to live on a ranch? Ever heard of cowboys and watched those movies that are set in dusty old towns? Have you ever wanted to step into one of those saloons in those towns or wanted to be a cowboy with a curled hat and boots?
Your wishes all come true with the Ranch N Craft Minecraft server. This is one of the best Minecraft servers if you wish to find yourself in a world that resembles a Wild West town.
This particular Minecraft server is known for line dancing, taming horses, and farming. As mentioned before, it is a total Wild-West themed server, but it is without any sort of violence. This is to say that even though griefing is allowed, players don't necessarily feel the need to grief each other on this server.
Here are some of the pros and cons of Ranch N Craft:-
Pros:-
One of the best Minecraft servers if you're looking for a themed server.

Highly non-griefing, peaceful, fun, and friendly user-base.

Users can have a wholly personalized experience by starting their own ranches, breeding their own horses, and farming their own crops.

The staff of moderators of Ranch n Craft is extremely helpful.
Cons:-
A themed server is not what everyone likes

You run out of things to do other than farming and related things after a point.
10. The Mining Dead
Another incredible fandom based server, The Mining Dead server is one of the best Minecraft servers for the people belonging to The Walking Dead fanbase.
Just when you think that they couldn't make any more fandom-based worlds on video games, they come out with another, isn't that right?
The Walking Dead is a television series about zombies, so what else would you expect in a Minecraft server about it? Vanilla Minecraft itself has zombies, but an added theme to it – that's a whole new level of fun.
The map of The Mining Dead Minecraft server consists of some of the key locations of the television series , including the Prison, Woodbury, Alexandria, among others.
The game is in ultimate survival mode, where players must do whatever it takes to stay alive and get out alive. Griefing and stealing are allowed because the gameplay of such a theme would not be whole without it.
Here are some of the pros and cons of The Mining Dead Minecraft server.
Pros:-
Ultimate survival games are very fun, where you have to save yourself – the thrill makes gameplay extremely exciting.

The map is huge, and there is a lot to explore. It's even more fun if you're a Walking Dead fan, am I right?

There is player vs player (PvP) as well as player vs entity (PvE) as part of the game. You not only get to fight against the computer but also against other live players.

Key locations from The Walking Dead series as part of the game make it a dream come true for fans of the show.
Cons:-
It is a themed game, and not everyone will like it. Chances of liking are also less especially if you haven't watched the show upon which it is based.

A huge map means that not being able to discover it all can become frustrating.

Griefing and stealing are allowed in the gameplay.
11. HiveMC
It is quite noteworthy to know that HiveMC is one of the biggest Minecraft servers around.
There are several mini-games on hiveMC, including a game called Death Run, where people can set traps and have to get through obstacle courses. Other mini-games come in the format of hiding and go seek games and even survival games.
The mini-games all have lobbies or waiting rooms where players can wait when there are too many players.
It so happens that sometimes there are quite too many players who want to join mini-games, thus these lobbies are quite important. Another fun feature of the waiting rooms or lobbies of mini-games is that to keep you busy while you wait, there are treasure hunts and things to keep you occupied and even win some in-game Minecraft goodies.
HiveMC is a rather adorable and fun server, and it is one of the best Minecraft servers for the younger Minecraft user base.
Here are some of the pros and cons of HiveMC.
Pros:-
There are several fun and unique mini-games on HiveMC that make gameplay fun and jolly experience.

HiveMC hosts tournaments for mini-games in which you can compete with your friends or even anyone else on the server to win prizes within Minecraft.

HiveMC support staff is extremely helpful and very vigilant when it comes to following the rules and being polite to each other.

There are constant updates on the mini-games as well as the map of the server so users can frequently enjoy new content.
Cons:-
It can be laggy or slow for countries that are outside Europe.

Long wait times for mini-games sometimes either when there are too many or too few people playing.
12. Manacube
Here's one of the best Minecraft servers in terms of faction servers, survival servers, and also parkour and creative servers.
What we usually see on most Minecraft factions servers is 'pay to win' options – this means that the faction or team that has more people willing to pay for stuff that will help them win is the one that will probably win.
What's different with manacube, and what it stands out for is the fact that it is the one Minecraft factions server with the LEAST number of pay to win elements.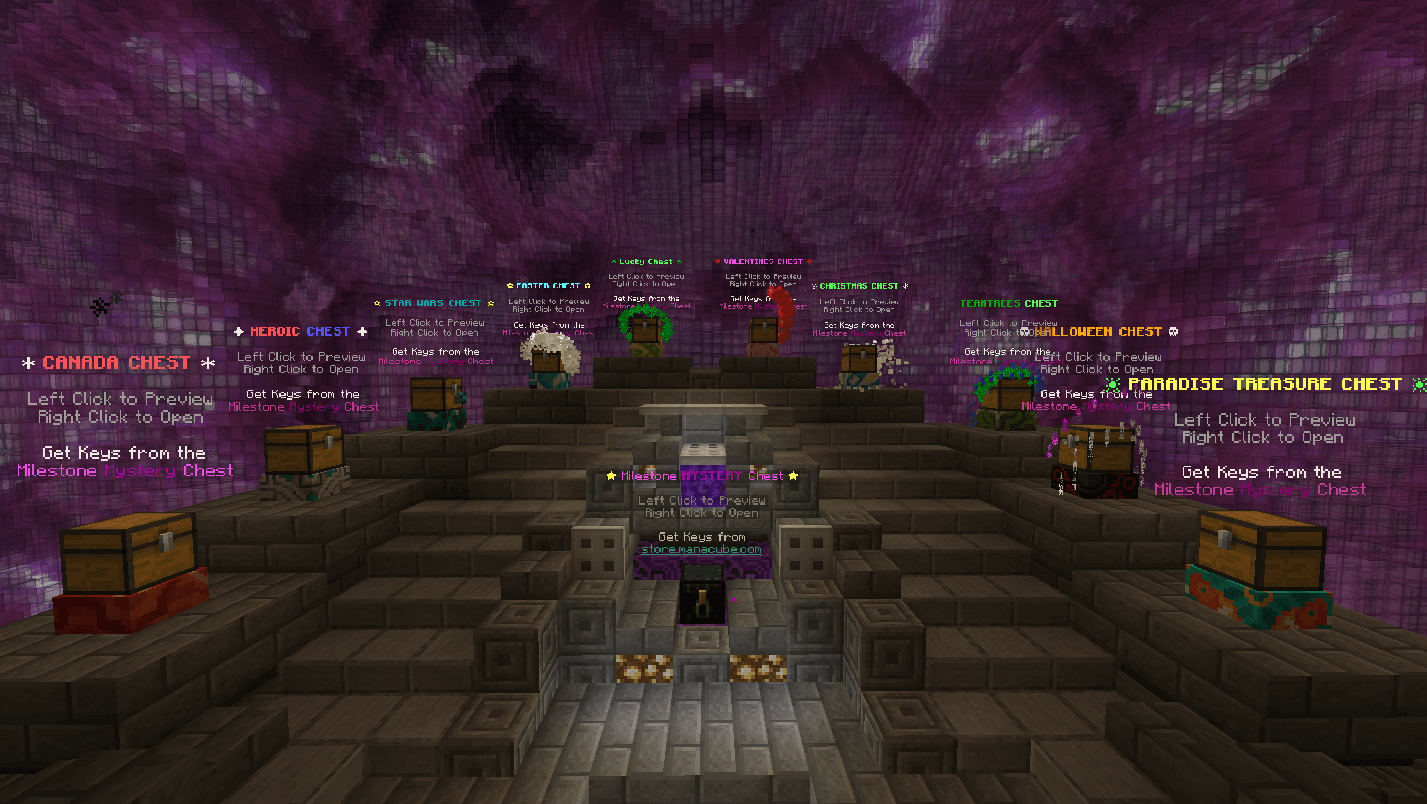 Of course, there is some pay to win features, but they are comparatively less when compared with other factions servers.
Manacube is a great server if you're looking for some unique game forms, what with its Islands game mode which entails you surviving on an almost-submerged island surrounded by poisonous water.
Another interesting Manacube game mode is Olympus, which is its prison server. In this game mode, users are assigned their own personal plots of land, and you must use it to help yourself rank up so that you can access other areas that'll help you get more and more profits.
Olympus and Islands are just two among various other fun game modes on Manacube. Now that we know about some of the features of this particular Minecraft server, let's dive into the pros and cons of the same.
Pros:-
Less 'pay to win' elements make it more about gameplay and less about literally paying to win.

Many different server types under the main server, i.e. parkour, creative, survival, skyblock, prison, among others.

There is a long list of modifications that are allowed in the game.

Griefing, stealing, killing, etc. are not allowed, thus gameplay is very safe.

Support moderators are very helpful.

Unique game modes that are different from game modes on regular servers.
No cons per se.
13. Brawl
Brawl is a Minecraft server that is meant for all the people who love the killing and shooting of games like Call Of Duty or Fortnite or PUBG. The main purpose of games like these is to get the thrill of all the shooting and killing as mentioned before.
The creators of Brawl have come up with a solution for all of the people who love Minecraft but still miss these thrills. Yes, there are several game modes on Brawl that resemble such shoot and kill games, including Capture the Flag, Raid, KitBrawl, and Last Man Standing game modes.
Who would've thought that a Minecraft server would be synonymous with such games, right? Well, in the digital world, anything is possible, isn't it?
Here are some of the pros and cons of Brawl.
Pros:-
Lots of custom content created from scratch on the server by the creators of Brawl to give you the ultimate gaming experience.

Gun games! Who doesn't love taking their frustrations out on video games?

The server hosts several events that users can take part in and win prizes and rewards.

Strictly enforced rules to keep gameplay and chatting physically safe for the user.
Cons:-
Fewer modifications allowed than several other Minecraft servers.

Such a server that resembles another game may be redundant when players can simply go play the original game.
14. Grand Theft Minecart
Are you thinking that here's another server that resembles another video game? Because you're absolutely right in thinking that the inspiration for one of the best Minecraft servers of this type, Grand Theft Minecart, is the video game Grand Theft Auto! GTA, for short.
The name of the game explains it better than I can, wherein GTA, players can get together and pull off heists, and the same can be imitated on Minecraft.
The smart wordplay where the creators added the word 'minecart' to the name makes it an absolutely brilliant complement to the combination of two video game giants.
On the Grand Theft Minecart server, you can own houses, weapons, and 'minecarts.' The experience is so real a recreation of Grand Theft Auto that it even has the infamous police car chases for when you become "wanted" as well.
Here are some of the pros and cons of Grand Theft Minecart:
Pros:-
Realistic experience of the Grand Theft Auto gaming experience, thus if you have not played it will be a fun escape.

Wide variety of weapons to choose from, ranging from shotguns to snipers, as per your liking.

There are multiple locations on the map, including MineSantos, Sanktburg, and New Mineport.

Wide variety of vehicles from which to choose, ranging from cars to tanks to even airplanes.

There are also fancy apartments and houses that you can own in-game, all of which you can buy using the money you earn by completing missions and heists and other things.

GTM offers something called "Newb Protection" which is a special spawn, designed for all the new players to get accustomed to the game before they start playing for real.
Cons:-
This server is quite violent and stealing and griefing is allowed.

If you have played Grand Theft Auto, GTM will not match your expectations as even though it's a great server, it is not the same as the real game.
15. Minescape
Since we are already talking about different video game servers on Minecraft, let's now talk about another one of the best Minecraft servers of this particular kind.
Minescape is a Minecraft server that is based on the MMORPG (Massively Multiplayer Online Role-Playing Game) RuneScape.
MMORPGs are role-playing games, as it says in the name, where you can assume different personalized roles and level up by surpassing quests and fighting battles. Although Minecraft is not necessarily a role-playing game or an RPG, the Minescape server defies the same.
If you like the game RuneScape and wish to recreate this experience on another game you love, i.e, Minecraft, Minescape is the best Minecraft server for you.
The creators of Minescape took years to create this tremendously RuneScape-like server for Minecraft, taking inspiration from both Old School RuneScape (OSRS) as well as RuneScape 3 (RS3) – you know what we're talking about if you're a fan of RuneScape!
Here are some of the respective pros and cons of Minescape:
Pros:-
Tremendous recreation of MMORPG RuneScape, in such a way that all RuneScape players, as well as Minecraft players, will feel easily at home.

The locations, mobs, as well as skills in Minescape, perfectly match those of RuneScape.

You can reach up to level 99 on Minescape by solving quests and things that are part of RuneScape.

Since it is a creative server, you can build with unique blocks to create whatever you want, however, you want it.

An extremely friendly community of players that help you settle right in.
Cons:-
Minecraft is not generally a platform for RPGs and thus it can feel out of pace for players that generally use regular servers.

It is such a huge world that people who are not used to MMOs can often get lost or confused.
Other Notable Minecraft Servers
16. The Uncensored Library
The Uncensored Library doesn't sound like a typical Minecraft server, but it should best be known to you that it is one of the best Minecraft servers, purely because it is so different from the usual.
By different, I mean that it is more informative than about gaming. If you're interested in what's going on in the world but do not have access to the same, The Uncensored Library is the place for you.
It is a large library of Uncensored journalistic and other kinds of books galore. They call themselves the 'digital home of press freedom,' an apt slogan for such a creatively built digital library. It is a journalistic tool created by Reporters Without Borders as much as it is an online video game.
The idea behind the same is that there are many countries where freedom of the press is a far-off dream, but Minecraft still exists since it's a game.
Using this loophole, people in oppressive countries can access books and journals filled with information that they'd like to know more about. It was started by five journalists living in five different countries and released on the World Day Against Cyber Censorship.
Granted, this is not considered a gaming server, but it is one of the best Minecraft servers because it is one of the best ways to use a gaming application to make the world a better place. It is one of the most creative forms of dissent to exist online, and this must be appreciated.
Let's read up about some pros and cons of The Uncensored Library.
Pros:-
Highly informative Minecraft server, serving the purpose of not only gaming but also dispersing truths.

Great use of crafting tools provided by Minecraft.
Cons:-
Not the traditional Minecraft gameplay experience.
Enjoy the experience, as it is much different from regular Minecraft experiences.
17. Vatican City Server
Here are another one of the best Minecraft servers, which makes the list solely because of the story behind it, such as in the previous one.
The Vatican City Server was created by a priest named Father Robert Ballecer because he wanted to create an online space that wasn't toxic or less toxic compared to other digital spaces. He called himself a "Digital Jesuit."
It is quite imperative to note that Father Ballecer was smart in first running a test server, and it just so happened that it was attacked by antagonizing users. The server would've been killed had the father not anticipated running a test first, and for the real server, those few attackers were banned.
Father Ballecer created this game to show the world that an individual can be a devout believer of religious faith, and at the same time, be interested in other things as well.
Unfortunately, the server went down as fast as it came up.
Frequently Asked Questions
Q1. Are Minecraft servers free?
A1. Yes, most Minecraft servers are free for the most part. However, there are some servers that offer several additional features such as special events, special games, unique skins, chat flair, surprise content, mystery boxes, etc. for which you do need Minecraft coins (which you can buy).
Q2. What is griefing and stealing in Minecraft?
A2. In the simplest words, griefing is the equivalent of vandalism in Minecraft. When someone else has created something, and you go and destroy it, that is called griefing.
On the other hand, stealing refers to when you steal some other player's resources out of a chest or somewhere they've kept it.
The type of server you choose reflects which kind of gameplay you will get, by which you will get either griefing and stealing or won't, according to the server you select.
Q3. What is a vanilla server? Should I use it?
A3. When we call something a vanilla server or software, we are saying that it is the plainest and the most basic server or software. Thus, a vanilla server on Minecraft refers to a server that exists as it was developed first, without any customizations or further developments.
Just like vanilla ice cream, some might say that vanilla servers are classic, and that's why they're good, while others may say that vanilla is too basic and move on from it without giving it a second thought.
Q4. What are the restrictions on Minecraft servers, if any?
A4. You must know that the Minecraft server's moderator or creator has the power to ban you if you do not follow the rules of the server. If the server is one where griefing and stealing are not allowed, and you are found griefing someone's buildings or stealing from someone's chests, the moderator can ban you.
The restrictions come as the creators of the servers want them to. It is imperative to follow these rules so that you can enjoy light-hearted and fun gameplay. If you are, in fact, looking for some gruesome Minecraft gaming, log on to the server, which facilitates that.
Q5. How to join a Minecraft server?
A5. Joining a Minecraft server is a fairly simple process. All servers have a server address, which we can also call an IP address.
When starting a Minecraft gameplay, you have to copy the IP address and paste it in the Minecraft app itself. This is how you can join a Minecraft server.
We have mentioned all of the IP addresses in the list, as mentioned above, of the best Minecraft servers.
In Conclusion.
You have read a list of the best Minecraft servers, ranging from not only survival servers but also creative servers, and even one that was as creative and a tool for dissemination as The Uncensored Library.
The Vatican City Server is yet another server with standard features, but what makes it stand out is its purpose and the story behind it.
All in all, you now know which servers you can log on to for the specific purposes in which you wish to play. For example, 2b2t is the best Minecraft server for you if you wish to play with no rules at all, whereas Mineplex and Hypixel are great if you need the rules.
WesterosCraft, Minecraft Middle Earth, and PirateCraft are servers that are theme-based, while even The Archon has a theme-based prison mode set in Azkaban (Harry Potter, anyone?).
Of course, you're free to try out all the servers you want.