Did you know that one of the leading causes of why millions of people are easily hacked is because they are left vulnerable by their weak passwords? With LastPass alternatives apps, internet users can now better protect themselves from pesky cyber criminals.
These apps/services are important because even though most apps advise or even help users with ways to create strong passwords that aren't easily guessable, a lot of these users abandon their accounts because they simply couldn't remember their passwords.
Password Security Best Practices
Tech comes to the rescue again; now you do not need to write down every password on paper (which by the way can still get into the wrong hands) or commit them to memory (even if you can) because with services/apps like LastPass you can store all your passwords in one place and access them whenever, and where ever.
In addition to securing user passwords in one secured place, the LastPass software can also assist you in automatically fill your credentials on forms provided when you want to log in or access your accounts with any of your devices.
Now, LastPass is probably the most popular password saver service but it has its flaws too. If you would require a great LastPass alternatives service or app that will meet your specific needs, here are a few other apps that you can try out.
Best LastPass Alternatives: Our Top Pick 👌
1. RoboForm
As if it isn't hard enough to create and memorize a unique password every time you try to register for something these days, the guidelines for creating these passwords make the task even more complicated and harder to keep track of; you know? 🤔
Guidelines like no caps, must combine numbers and characters, no special characters, and on and on all in the bid to create strong passwords that you might remember but end up forgetting.
However, with apps like RoboForm (RoboForm Free is the best free LastPass alternatives), you can encrypt and store all your passwords in one secure place and get access to them when you want.
How to use RoboForm Password Manager
RoboForm isn't just a virtual safe for your passwords though, it has other features just like other services like it that make your life even easier.
With RoboForm you can store an unlimited number of passwords and important personal data like bank account details, credit card details, contacts and address book, even notes, and other files.
With a single account, you can sync the app with up to 9 devices. RoboForm can also assist users to create strong and unique passwords for their various accounts and store them. In addition to this, it can even assess your passwords and indicate if they are strong enough.
Still, on security, the service encrypts your data using the strongest encryption protocol which is the AES-256. It also gives you the option to store your data locally or in a cloud storage database.
Users can access their account and also offers multi-factor authentication including biometrics (TouchID and facial recognition) or PIN option. When it comes to ease of use, the app is pretty easy to install and figure out, and while it has a great interface the app isn't very interactive.
Also, it always imports their passwords and other data credentials directly from the browser(s) installed on their devices which makes the task even easier. The app has a fantastic one-click auto-fill feature also.
Below are some of the Pros and Cons of the RoboForm password manager that earned it a spot in our list of Best LastPass Alternatives.
Pros:-
They offer a free account and very inexpensive premium accounts

Offers the highest level of encryption; 256-bit Advanced Encryption Standard

It supports most platforms including IOS, Android, and Windows, and can be accessed on computers through their website or browser extensions
Cons:-
They don't provide breach alerts or Dark Web monitoring

The usability of the app isn't so great

Doesn't offer a bulk password changer option
2. Zoho Vault
Managing passwords and accounts can be quite complicated for businesses including start-ups and bigger companies, and this is where the next service comes in.
Zoho Vault is a service that offers secure password management and sharing to businesses. The service can also be used by individuals to securely save their passwords.
As you would guess because it was primarily created for enterprises, Zoho has a lot of features that make password storage and management up a notch.
When they sign up for the service, users can create vaults (chambers) or groups for teams within the enterprise from where they can access passwords and other authentication credentials.
Product Demo - Zoho Vault - Online Password Manager for Teams
The app/software is easy to download as it supports all the major operating systems for mobile phones like IOS and Android and can be used on a computer via browsers. By simply providing an email address and a passphrase (master password), creating an account is a breeze.
One very important feature of this LastPass alternatives is that it also allows for one-click or auto-fill for web forms just like other apps. Also, it allows for unlimited passwords storage across unlimited devices with a single account; even more impressive is that this option is available even to free users.
Although there are more features available to paid users such as auto backups and other advanced management tools. This service also offers the password generation feature.
As for security, the app allows offers 2-factor authentication options including TouchID, OTP verification, Google Authenticator amongst others. It utilizes the 256 AES to encrypt user data and keep it safe.
and finally, here is the Zoho Vault vs LastPass comparison chart. 😎
Below are some of the Pros and Cons of the Zoho Vault password manager that earned it a spot in our list of Best LastPass Alternatives.
Pros:-
It offers multi-authentication for improved security

The app is pretty easy to use especially with the one-click to log in

They have a very good privacy policy that ensures that no one can get access to user data

Offer unlimited password storage and syncs with unlimited accounts even on the free account
Cons:-
While their monthly subscription is inexpensive the enterprise plan is a bit pricy

Its browser interface isn't very user-friendly.
3. Keeper
Data breaches are a real threat and fairly commonplace these days for individuals and even enterprises these days (especially start-ups), however, with great apps like Keeper people can now safeguard their passwords and store them away so they don't have to memorize them or write them down on notepads.
But just like top tier services in this industry, Keeper has the advantage as it also serves as a great way to store other sensitive information including banking details and important documents. But even beyond this; unlike other similar apps, users can store media including photos on the service.
This app provides impenetrable secure storage of these important data as the app utilizes the industry standard and top-level AES-256 encryption of the user's data that can't be accessed even by the service provider (Keeper). It also offers multi-authentication options including TouchID (fingerprinting) and facial recognition.
One thing you will love about this app is that it offers great user experience from installation to usage, as it guides you through every step of the way even with importing authentication credentials and passwords.
Other features include; a great password generator engine that assists users to come up with strong and unique passwords for all their online accounts.
The KeepFill feature performs auto-fill of login forms with one click, the BreachWatch feature which takes security a step further by monitoring the Dark Web for leaks and alerting the user, and also offers a secure cloud backup option.
With this app, users have the option of unlimited password storage across unlimited devices when they subscribe to either of their paid plans.
and finally, here is the Keeper vs LastPass comparison chart. 😎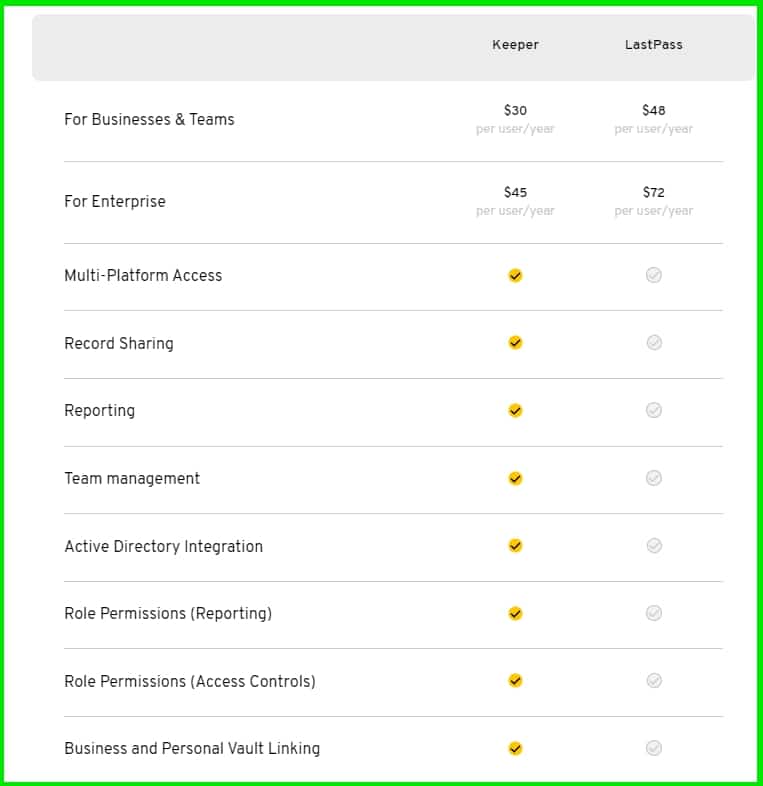 Below are some of the Pros and Cons of the Keeper password manager that earned it a spot in our list of Best LastPass Alternatives.
Pros:-
Allows users to store more file types than most apps

Providers Dark Web monitoring and breach alert

User-friendly interface and it is available on most mobile platforms and has a web or browser service
Cons:-
Though they offer a free trial period, premium plans are a bit pricy

Doesn't perform bulk password changing
When it comes to LastPass alternatives, this password management app performs pretty well and has all the basics covered.
4. PasswordSafe
A lot of times people think that if an app is free (especially if it is for security) it isn't good enough, but the truth is; some free apps are open source and built by a community of skilled developers who would like to provide people with free alternatives that work pretty well actually.
PasswordSafe is one of those open-source apps and when it comes to storing your passwords securely, it does a very good job. With this app, users can organize and store their passwords into different files and encrypts the data so that only the user can access it.
This app also utilizes the most secure encryption level; 256-bit AES to encrypt and protect user data and also offers multi-factor authentication. It also offers the auto-fill option
Pros:-
It is totally free to download and use

Allows for biometric authentication

It is available on major platforms including Android and IOS devices and can be used on PCs

It works totally offline
Cons:-
It isn't very easy to use except you are good at the techie stuff and not-so-friendly user interface

Doesn't have a browser plugin
5. DashLane
DashLane is another adept password management and one of the best apps out there used by individuals and businesses to improve online security by password and credentials management.
What is Dashlane? | Product 101
By creating an account and setting one master password, the app allows users to import their user data and other important info like credit card details so they are safe and inaccessible by third parties. With a premium account, users can store an unlimited number of passwords.
DashLane's many features are the reason why millions of people rely on their services. The auto-fill feature guarantees that users won't have to endure the hassles of filling in their credentials when opening user accounts or trying to access their accounts with literally just a click of a button.
Also, it also helps to auto-generate unique and strong passwords that aren't guessable and even alerts the user if these passwords have been cracked. The service encrypts data using the 256-bit AES.
The features we have mentioned above are pretty standard, right? So, what's new? This service has an automatic bulk password changer that constantly changes new and old passwords and encrypts them so that they are never the same for too long.
The app also performs inbox scanning which scrutinizes the user's email accounts for vulnerability and potential hacks and provides insight on how they can improve the safety of the accounts.
The dark web monitoring feature keeps a watchful eye out for leaks and alerts users if their credentials are on there so they don't can take appropriate steps to prevent further problems.
Below are some of the Pros and Cons of the DashLane password manager that earned it a spot in our list of Best LastPass Alternatives.
Pros:-
The service is pretty to use and the app has a very user-friendly interface

They offer free accounts as well as flexible and inexpensive premium plans for different needs

The service also offers a VPN option which helps to improve the user's online cybersecurity

Their customer support is pretty solid even though the live chat option isn't available on a 24/7 basis

It offers multi-factor authentication and is compatible with PC and mobile platforms like Windows, Android, IOS, and others.
Cons:-
Their customer support isn't very efficient

Some of the features are not available on the app and users will have to use the website account to access them.
Considering that the pros of this app outnumber the cons, we rate this app as one of the best LastPass alternatives.
6. Bitwarden
Bitwarden service is another evidence that open-source password management service is a great option for people who would like to have better passwords and have them stored away safely.
Users can access some of their features through a free account but also can get more options and features with a premium account.
So, generally, the service is easy to install on mobile devices as apps and supports various platforms like Windows, Mac, Linux, IOS, Android, and others, it can also be synced with web browsers for easier usage.
Users can import their login credentials from other password management services or from other sources. The service can be used to store not only passwords but also financial information including card details, personal contact info, and even notes.
Users' information is encrypted using the highest and safest encryption protocol which is 256-AES of course and even utilizes extra encryption in the form of the PBKDF2 encryption.
Its other features include auto-filling of web forms, highly secure password sharing, secure and high-level password generation for stronger passwords, allows for local and Cloud-based encryption and storage and provides options for multi-factor authentication.
It also allows for an unlimited number of passwords across unlimited devices with just a single paid account.
Below are some of the Pros and Cons of the Bitwarden password manager that earned it a spot in our list of Best LastPass Alternatives.
Pros:-
It allows users to access their data locally without an internet connection

It supports multi-factor authentication

As an open-source resource, their service has been audited by an independent third-party

The apps are user-friendly with a simple and clean user interface
Cons:-
Their customer service options are very limited

Doesn't offer dark web monitoring and inbox scanning options
7. Enpass
When it comes to matters about data security and services like password management, people usually look out for companies/services that offer the best privacy policy especially a no-logging policy on their accounts because this makes them feel safer than the service provider and other third parties aren't going to have access to their data.
Enpass is a password management service based in Asia (India to be specific) which means the jurisdiction they fall under isn't under the Five Eyes, Nine Eyes, and whatever number of eyes, therefore, they aren't under any pressure to divulge or hold user information.
Asides from this, when you get right down to it, Enpass surely is an effective cybersecurity and password management tool as their apps and other products offer industry-standard options or features that users can rely on and secure their data.
The security aspect of the app is the most important and one that this service has all basis pretty much covered.
Enpass allows users to store passwords and other logging credentials so they can always access it, and just like other apps like LastPass, it offers the auto-fill feature that makes your internet experience way easier. The app also allows users to store other data like card information and address books.
Why to use Enpass Password Manager - An Overview
The data stored in their vault is protected using 256-bit AES encryption which is the highest level of encryption in today's modern world, this with the PBKDF2 renders the users' vault virtually impenetrable. To beef up the service's security, their app or software offers multi-factor authentication.
Furthermore, it offers a Dark Web scanning feature that checks this part of the internet predominantly used by cybercriminals for your credentials to verify that they aren't on there.
Additionally, users can also enjoy the inbox scan feature that also ensures that you aren't left vulnerable by the activities you carry out on your email accounts.
Enpass also has an effective password generator feature that assists the user come up with unique passwords just like most of the apps previously reviewed.
Below are some of the Pros and Cons of the Enpass password manager that earned it a spot in our list of Best LastPass Alternatives.
Pros:-
They offer a free account and also very affordable premium accounts that also include a one-time payment plan

Users can trust their privacy policy

Offers a lot of options when it comes to extra security

It supports multiple platforms including Windows, Linux, IOS, and Android and can be accessed on a browser via extensions
Cons:-
Despite the fact that they offer dark web scan, users don't get breach alerts

There is no way to recover your password if you lose or forget it because there is no emergency contact option

Their customer service isn't very responsive
8. 1Password
Can we just all agree that it is a bit nerve-wracking how it seems like every website on the internet requires its users/visitors to have an account with a user and password even though it probably is safer for us? 🤔
The good thing though is that with password saver apps like LastPass or LastPass alternatives like 1Password people can have all their passwords in a secure place where they can always access them.
1Password just like most other password management services performs other functions asides from saving passwords like password generation which assist users to create unique and secure passwords that should keep hackers a bay.
1Password - No More Sticky Notes
What we like about 1Pasword also is that it encrypts all the data stored in its vault using the most effective encryption protocol for now; 256-bit AES.
Also, asides from the master password that restricts access to only the account owner, this service provides a multi-step authentication for extra security.
Pros:-
1 password performs dark web deep scanning that acts as a surveillance tool monitoring this dubious realm of the internet for the user's credential before they could be used to hack them
The service has apps/software for various platforms including IOS, Android, Windows, and Mac
It has a friendly user interface
It allows for unlimited password storage across all the user's devices with a single account
They offer flexible and affordable premium plans
Cons:-
They don't offer live chat and multiple channels for customer support
Doesn't perform bulk password update or change
9. KeePass
Keepass password management service is another open-source service that helps keep your data and password safe from the big bad wolves of the internet; the name of the service pretty much tells you what they are about.
But we won't just really on an adept and catchy name, we had to take a look-see to ensure that it lives up to its reputation or its name at least.
So, starting with its security options, right off the bat we are impressed that even though its services are free they encrypt login credentials like passwords and other important data using the 256-bit AES encryption which is industry standard by the way in addition to Twofish encryption, pretty neat huh? 🤔
Well, there is more; some of its mobile apps also allow for multi-factor authentication as an extra layer of security.
As for its other handy features, it offers users a powerful and effective password generation feature to provide users with strong passwords and also assesses their old passwords and provide a report on which of these password needs to be changed.
The service also allows you to store an unlimited number of passwords and sync them to as many devices as the user would like.
Did we mention that the service is? Just checking… but seriously though, even though we are excited about this, you have to expect that this comes with some drawbacks including a not-so user-friendly interface (you would have to know your way around computers and programs like this).
But considering the other features and the fact that you can basically get several plugins, browser extensions, and apps that are compatible with different platforms including IOS, Android, Windows, Linux, Mac, and others.
We like what we see and recommend the service and its password management products. KeePass definitely is a top-rated LastPass alternatives app.
Below are some of the Pros and Cons of the KeePass password manager that earned it a spot in our list of Best LastPass Alternatives.
Pros:-
It is customizable using the plugins that are available for free

As an open-source service with no backdoor access, you don't have to worry about privacy issues

It allows users to import passwords and other credentials from the browser through a CSV file and also offers the auto-fill option

It is always for local access and provides options for Cloud-based storage
Cons:-
Doesn't offer dark web scan and breach alerts

Customer service is pretty much non-existent, you will have to really on online tech forums and your wits to figure out problems

The user interface is also not so friendly
10. NordLocker
We all have so many online accounts these days that it can be difficult to keep track of which password we used where. You can use your browser to store login details, but that's far from safe.
To keep your logins completely secure and prevent them from falling into the wrong hands, you ideally need a password manager.
There are already plenty of options to choose from and now, the team behind the popular virtual private network NordVPN has created its own.
NordPass is a paid-for service – prices start from $2.49 (£1.86) a month for a two-year plan. 
NordLocker (Download Here) itself is free, so sign up for that, then use the login to get NordPass. The password manager is available for all major browsers – Chrome, Edge, Opera, and Firefox, as well as iOS and Android.
NordLocker - Encryption-Powered Security for Your Data
NordPass stores your credentials in a secure vault and offers optional two-factor authentication (2FA) for additional protection.
The program stores your existing passwords (it can even import them from other password managers), automatically fills them in for you and suggests strong ones when you're signing up to a new site. It can also store private notes and credit card information.
The paid-for version of NordPass works across up to six devices and lets you share logins with trusted contacts. The free version limits you to one device and has no sharing option.
11. KeeWeb
KeeWeb (Download Here) combines the functionality of KeePass with the simplicity of Bitwarden. Once it's installed, you can upload or create locally saved databases, then lock them down. There's also the option of using a key file, for added protection.
What KeeWeb lacks in features, it makes up for in ease of use. The big. bold buttons and tabbed layout (unconventionally placed at the bottom, rather than the top) are handy for updating multiple databases.
Integrating cloud services such as Google Drive is a smart move, and linking these accounts is a cinch – click More to get started. You can also generate secure passwords by clicking one of the many Lightning Bolt buttons dotted around the software.
Extra tools are provided via plugins, but the available selection – mostly consisting of language packs and themes – is a bit of a disappointment.
KeeWeb does its job quietly and efficiently, but the lack of a mobile app or browser tool is a major drawback. On the plus side, it works on a range of PC-based operating systems.
Are Strong passwords make accounts unhackable? 🤔
Myth:-  Most of the accounts that get hacked use very basic passwords – such as 'password' or '12345678'.
If you create a much stronger login – which is longer and made up of a mix of upper and lower case letters, numbers, and symbols – this will be almost impossible for hackers to crack.
Truth:-  Most of the accounts that get hacked use very basic passwords – such as 'password' or '12345678'. If you create a much stronger login – which is longer and made up of a mix of upper and lower case letters, numbers, and symbols – this will be almost impossible for hackers to crack.
a very good passphrase, they can reuse it on other accounts. The problem with this is if the phrase gets cracked or found out on one side, it will be shared or sold on, and hackers can then try it on other sites.
Never reuse a password and, where possible, use two-factor authentication (2FA) to protect your really important accounts. This requires a code to be entered to access your accounts, which is sent to your phone or email address.
Conclusion
Though there are other decent password management apps that you could use as an alternative to LastPass, these ones we have recommend will do a great job for you and have you feeling safer when you go on the internet and use your online accounts.
You can download these apps from the Google Play Store for Android users and form the Apple App store, you can also download an exe. file for your computers and install or use it directly from your browser via extensions.