Are you in search of the best app to watch anime legally? Then, you are reading the right post.  Watching anime or manga series is not a big deal, really. All you need is a quick internet connection, an android or iOS device, and reliable anime apps. 
While you can always get a good internet connection and smartphone, finding the best anime app for watching or viewing your favorite shows can be a bit of a hassle. We are here to help you. 
After some intense research, we have been able to find the best apps for anime. You can watch them either on your android or iOS devices. Not to mention, for the sake of our international readers, we have also searched apps that come in several languages. 
So, whether you are from Japan, China, or from America, you can find an anime app that meets your language preference. Of course, most of the anime apps come with translation features, too, that you can make use of. 
It does not matter what your anime needs are because we have got you covered. Yes, we have mentioned YouTube in here, not Netflix. You probably know how to find your way there. The rest of the apps are meant for the most avid anime fans.
Now, it is easier than ever to be able to get your hands on robust anime apps. Additionally, there are new series and shows that are coming up in the world of anime and manga for you to view.
Of course, you can always communicate with avid anime enthusiasts on social media about your favorite shows, apps, and other things. 
We have compiled a list of the best anime apps to watch anime. Please note, we have added a bonus anime app at the end. 
Let us get started then, shall we?
Best App to Watch Anime: Our Top Picks 👌
1. Crunchyroll
We begin our quest into the world of the best app to watch anime with Crunchyroll. Now, there is no denying the fact that it is one of the best apps around in the market.
You will be surprised to know that it comes with apps for platforms, including PlayStation, iOS, Wii, and Xbox.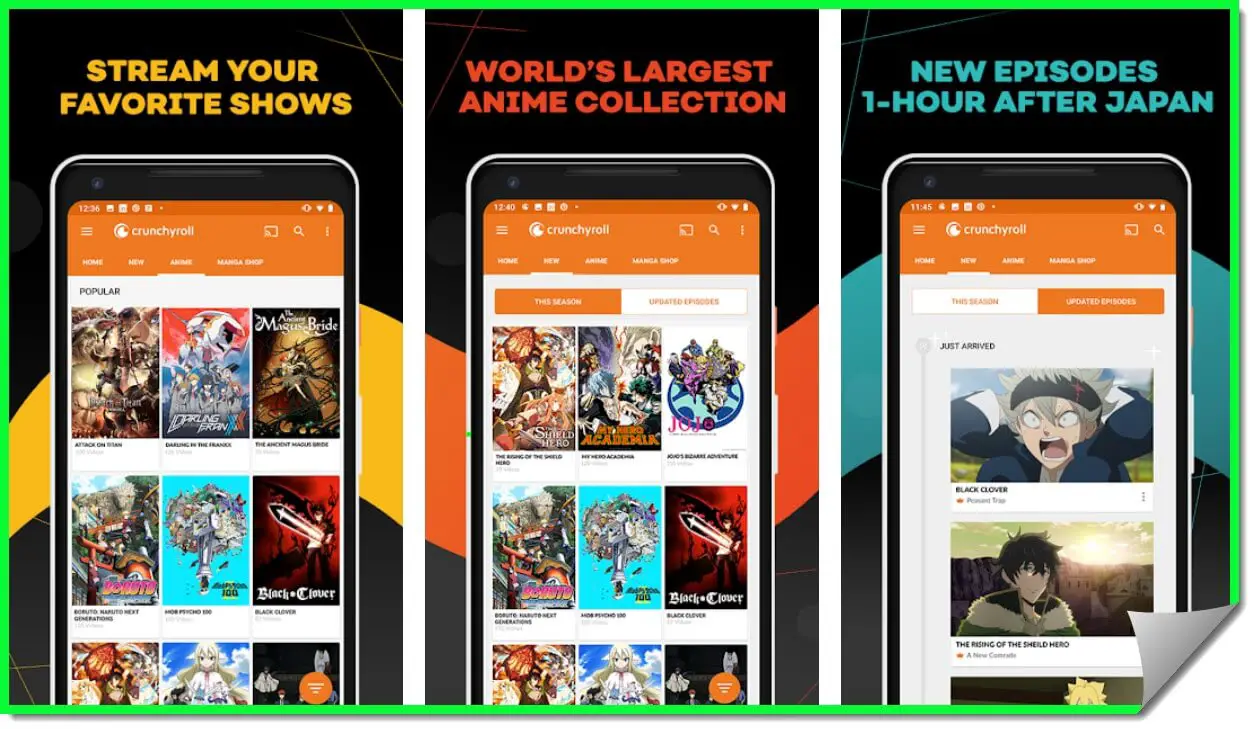 If you should have problems using it on your android device, then you can make use of an alternative at hand. It comes with a premium membership. Well, we did not mean to put you off, but having membership gives you exclusive powers. 
These powers are clearly missing in most of the anime apps that we will read further down. Hence, this app is ranked above them. You can simulcast the series currently hosted in Japan.
You can watch your favorite shows without those pesky advertisements, and access high-quality content that non-members cannot see or enjoy. 
It comes as no surprise that they have taken the trouble to launch their app in several popular languages like English, German, Spanish, French, and even Arabic. So, you know that you are not left out when others are laughing and enjoying the shows in your room. 
Apart from that, what blew us away was the fact that you can access more than 20000 anime shows. That is very high content. Some anime shows include Toradora, Naruto, Hunter x Hunter, and others. 
When you are an avid anime show watcher, then we highly suggest that you make use of their premium version, so enjoy the new anime HD series.
2. Comixology
Next on our list is Comixology. Comixology sounds familiar with the name, comics. Yes, it is based on that. Its makers wanted to bring users closer to anime shows. That is what they have succeeded in doing with this app. 
ComiXology – Comics, Graphic Novels & Manga
You can find some of the most popular comics in the world. There are DC, Marvel, as well as hero comics. But, there is also manga in it. Not to mention, you can purchase the books or shows using one device and read them on the other. 
You can also sync your devices if you want. Once you have subscribed to their services for a small fee of $10 per month, you can read all the comics you want. This is one of the best anime apps you can find in the market. 
Do you want to download it? You should use it today itself and explore its features for having a wonderful time watching anime and manga shows. 
3. Funimation
Funimation is another popular anime app that is used worldwide. As the name goes, it is dedicated mainly to animation series. But, of course, you can always watch the ones that you prefer. 
The design and user interface is something that caught our eye initially. We found it to be extremely intuitive. When you want to find a title or show, then you can do so manually. Not to mention, you can create your list of anime serials. 
You can view the content in HD. Apart from that, you also have the classic series. Those of you missing those classic hits can dive in anywhere and anytime. The search feature on the app is quite easy to use. 
You can make use of the genre and sort out your results very quickly to find your favorite show and carry on. FunimationNow is a simple and straightforward anime app that you would want to try out today. 
You may like to read our guide on 9 Of The
Best Anime Sites
To Watch Anime Online.
4. YouTube
Our special guest on this list is YouTube. With more than 2 billion users worldwide, this is perhaps one of the most popular apps out there. According to market data, more than 70% of users have their own YouTube account. 
As far as anime is concerned, YouTube is no exception. You can find excellent stuff on the app like soundtracks, songs, and series. Just about anything related to your favorite anime show can be found here. 
As if that were not enough, you can find YouTube personalities having their lists, opinions, and reviews about anime. When you can do so much on YouTube, then you will find yourself lost in the maze. 
When you are an anime fanatic, what shows must you check out? The best way to go about things here is to make use of Japanese enthusiasts. Most of them are proud of their Japanese shows that are based on anime. 
Depending on your taste and preference, you can go about things in the anime world. There is just too much to choose from. It is available on the play store for free.
However, when you want to get rid of those annoying advertisements, then you might want to make use of the paid version at $13. 
Would you watch anime on the app? You would be lying if you said that you do not use YouTube. 
5. VIZ Manga – Direct from Japan
Viz Media is a known face in the anime segment. They are known to publish anime and manga materials for their millions of readers globally.
With anime cartoons and characters becoming popular worldwide, it is beneficial for a media firm to have its own anime app. 
Some users have questioned the legality of Viz Media. Well, you will be glad to know that it is the official distributor all over North America. Users have enjoyed their manga shows more than anything. 
How much will it cost you? For less than $2 a month, you can watch more than 100 episodes a day. You will be stunned to know that some of their Shonen Jump series come with more than 10000 chapters. 
Let us now discuss the features of this anime app. The first look at the app and you are slightly disappointed with the lack of important features like customization. In today's high-tech world, users are accustomed to these features. 
For example, you do not have a change of language; there is no review for readers, settings for download, and so on. In a sense, this is a very straightforward app. Then why did we mention it here? 
Well, as far as anime and manga are concerned, it is your most popular option in North America. As if that were not sufficient, users as far as Japan is happy to use it, just for the content. However, the quality of content is something that you will find missing on most anime apps. 
They may appear flashy with all the fatal gizmos in them. But, when it comes to the anime or manga content, the quality is clearly lacking in them. Unlike those apps, Viz Media shines in that category, which is the most important thing. 
You can also find good reading content too. You can auto-rotate the content and carry on reading if you prefer to read the anime or manga series.
So, why should you use Viz Media? When you want hundreds of high-quality manga, excellent pricing, a good preview feature, this is one feature-rich app that you would want to consider for yourself. 
Especially, your case is built when you read their popular magazines. At the same time, you cannot term it as the best in the market with a few outdated features and a lack of customizing. 
However, it does have the ability to do much better if they address these features immediately. This is a free app that offers you in-app purchases.
If you are interested in knowing more about Viz Media, click here. 
6. Viewster – Anime & Fandom TV
If you own android devices and are a heavy user of them, then we would recommend you use the Viewster – Anime & Fandom TV. Like the name, it offers you shows, movies, and serials. 
You are spoilt for options using this app. The user interface is quite simple to use and operate. You need to download the app using the link we have given below. Then create your own account. 
Once done, you can add the channels that you think are your favorites. That is it. Users can now watch their favorite anime series anytime. It is free to use, and they provide you with gaming series too, which we found quite attractive. 
They are some exceptional anime games that you can play on it for a change. There are also some exciting sci-fi movies and documentaries that adults might enjoy. The content is mostly from original creators. 
You know that you are watching an original series and not a remake. This is something that other anime apps cannot stake a claim.
Should you download Viewster – Anime & Fandom TV? Well, if you want to start immediately, choose from a wide range of anime in HD, watch new series, and follow your favorite channels, then you know what to do. 
Of course, you can also add series and videos to it for watching later. 
7. Anidub App
We also placed Anidub App in our list of the best apps to watch anime. This is a unique anime app. That is because you are notified about new releases. The anime world is such that, at times, you may get a little bored of seeing the same thing on your screen. 
This is when a new show or character comes as fresh air and gives you a new lease of life. However, you can turn that notification off. You will be stunned with the size of the content. When you are a huge anime fan, then you would certainly appreciate that. 
When you cannot watch anime on the internet due to time constraints, then you always download them and watch the episodes whenever you want. Users are also impressed with its design. 
You can navigate yourself and find what you want. To find the anime show, you can type in the genre, date of release, or the name itself. Apart from that, the anime has its own page. You can find out more by reading the detailed description. 
When you find something that you like, bookmark it easily using this app. Finally, you will love the built-in feature of video playback in the Anidub App. Will we recommend this app for anime? 
With so many excellent features, a simple user interface, and the ability to view anime shows offline, you cannot want for more. 
We have given you two options for downloading this fantastic anime app. 
8. Hulu
There is no doubt that Hulu and anime don't go hand in hand. Then, why did we mention it here? Well, like its rivals, they have noticed the surge in anime followers world over lately. Hence, they have come with a decent collection of series and films. 
It is not surprising to note that many countries prefer using this popular app. The features are good, the pricing is affordable, and the shows are excellent. Even kids find it easy to use this streaming service, and you can use their cheap subscription service. 
Several users have pointed out that the anime service could have improved. On the brighter side, if you are a Gundam fan, then you are going to be delighted using the app.
We have taken the trouble to list out a few popular shows and episodes that you might not want to miss out on.
One such show by the name Hellsing Ultimate impressed us. If you are somebody who prefers watching vampire-related material, then this belongs to you. The character does the obvious thing, saves humanity from the evil one. 
Next, we found Invaded quite immersive too. If you or your parents have seen the Hannibal series, then it would be similar to this. You can now dive into the minds of serial killers and murderers. 
The main character is a detective who tries to think like criminals, to apprehend them. Finally, Lupin The Third Part II is another show that got our attention to Hulu. It is a funny series, which kids might find exciting to watch. 
You can either use Hulu for free or use their subscription at less than $40 per month. 
9. MALClient
Another best app to watch anime on our list is MALClient. We found it quite interesting and exciting to use for watching anime. It is simple to download and set up. Once downloaded, all you need to do is type in your favorite anime show and view it. 
This is the app for MyAnimeList.net. But, the main thing that got us going was the fact that you can manage and keep track of the anime shows that you want to watch and see.
Not to mention, you can rate the anime shows, find new shows, and get additional information. 
It also provides you with magazines from the site. You can communicate with other members who are logged in from around the world. It helps you share your thoughts and feelings about the anime concept as a whole.
Perhaps, you might learn a thing or two about anime cartoons and characters from anime fans. The app cannot be termed as a hardcore anime one. But, it's worth giving it a try. However, we might not act surprised if you felt different from us. 
You can use the free version or pay less than $4 per month to use their subscription service. 
10. Amino
In the end of our Best App To Watch Anime list, we have Amino, which is a fast-growing anime app on both Android as well as iOS devices. It is suitable for anime and manga fans. The makers want to bring together similar minded people to one site. 
You can use it for communicating with others your thoughts and feelings about anime, manga, and the Japanese culture as such. It deals mainly with fiction and popular series.
You can also take part in the quizzes and tests posed by the app on different topics related to anime or manga. 
11. Drawing Tutorials: Anime and Manga
Here is our bonus app for anime, Drawing Tutorials: Anime and Manga. Of course, you may not be able to watch your anime with it.  But you can draw your favorite characters.
Since we are dealing with small kids, we thought that you might be interested in drawing anime and manga. 
The app comes with a wide range of tutorials that clearly explain the steps to draw anime. Not to mention, you can also use your own photographs when using them. The app provides you with some easy-to-use tools. 
Once you get the hang and feel of it, you can make use of their free drawing mode. The feature comes without the use of the tutorial. You can perhaps watch your favorite anime on your monitor and consider drawing what inspires you. 
This app is ideal for kids, beginners, and professional artists. It is an ideal way of having fun during the weekends with your family and friends. If you look at the bright side, the app comes free for download. 
Our unbiased verdict
As you can see, the above list has some well-reputed names like YouTube, Hulu, Anidub App, and the like. However, when it comes to anime cartoons and episodes, only a handful are cut above the rest. 
If you are a hardcore anime fan, then you won't be disappointed using them. Based on our research, we have named them. We highly recommend Crunchyroll, Comixology, Wakanim, and Amino. 
They are extremely useful for anime lovers. The flexibility of the shows, the variety of the episodes in them, and the pricing (most of them are free), were features that made us rank them higher than the rest. 
But, as always, we suggest you try the others mentioned on our list. That is because what might be someone's liking may not necessarily be yours. Kids might also want to try out the bonus app that we mentioned at the end, Drawing Tutorials: Anime and Manga. 
When you like to view them, you might as well draw your favorite anime characters and have some fun with each other. Not to mention, it develops bonding with you and your friends. So, did you like what you read about the apps to watch anime? 
Have you used something else that is better than what we have mentioned in the above list?  Of course, you do have tons of them, so there can be something else up your sleeve. You see, the above apps are just some, at the tip of the iceberg.
If you feel that we have missed out on some popular apps for anime, then please do tell us all about it. 
We would greatly appreciate it.