Need a helping hand in Finding out the Best Anime Sites To Watch Anime Online? 🤔
This list is going to help you with this.
Let's get started to explore this guide. 📗
Most of us have grown up watching cartoons on television. Have you ever watched Dragon Ball Z or Naruto? You must know that these are Japanese cartoons, and there is a name for the genre they fall under – anime.
There are thousands of anime series out there that are not necessarily all available on television. With online streaming sites such as Netflix, most of us are quite acquainted with the fact that one can watch almost all available television shows, movies, cartoons, etc. online.
Of course, anime is a category of the same that is also included in the selection of consumer entertainment available online.
While there are paid websites to stream the same online, there are also tonnes of free ones available. The problem with these websites of being free of cost, however, is that they can sometimes have too many disruptive ads.
Ads show up such that they often even cover the content on your screen, and what's more irritating about online services than that?
Several online streaming platforms offer anime shows for streaming, but a lot of them are paid and still don't have much variety from which to choose.
So, what are your choices here? The following is a list of the best free anime sites that you can log on to and watch to your heart's joy.
Hopefully, this list helps you figure out which anime site would be the best for you. Do make sure that you go through the list carefully, exploring the pros and cons of each website well to come to the best decision. Don't worry; you can always switch websites in case you're unhappy on the first go; after all, there's eight to choose from,
Best Anime Sites To Watch Anime Online 👌
There are thousands of anime series from which to choose. Similarly, there are also many anime sites from which to choose. Here is a curated list of some of the best anime sites for your use.
1. Kissanime
Kissanime is one of the most popular anime sites and is well-known amongst most people who like to watch anime.
On this website, you can create an account, save favorites, and stream in the best quality, among several other features. This site has a lot of dubbed anime, as well as all the subbed anime episodes.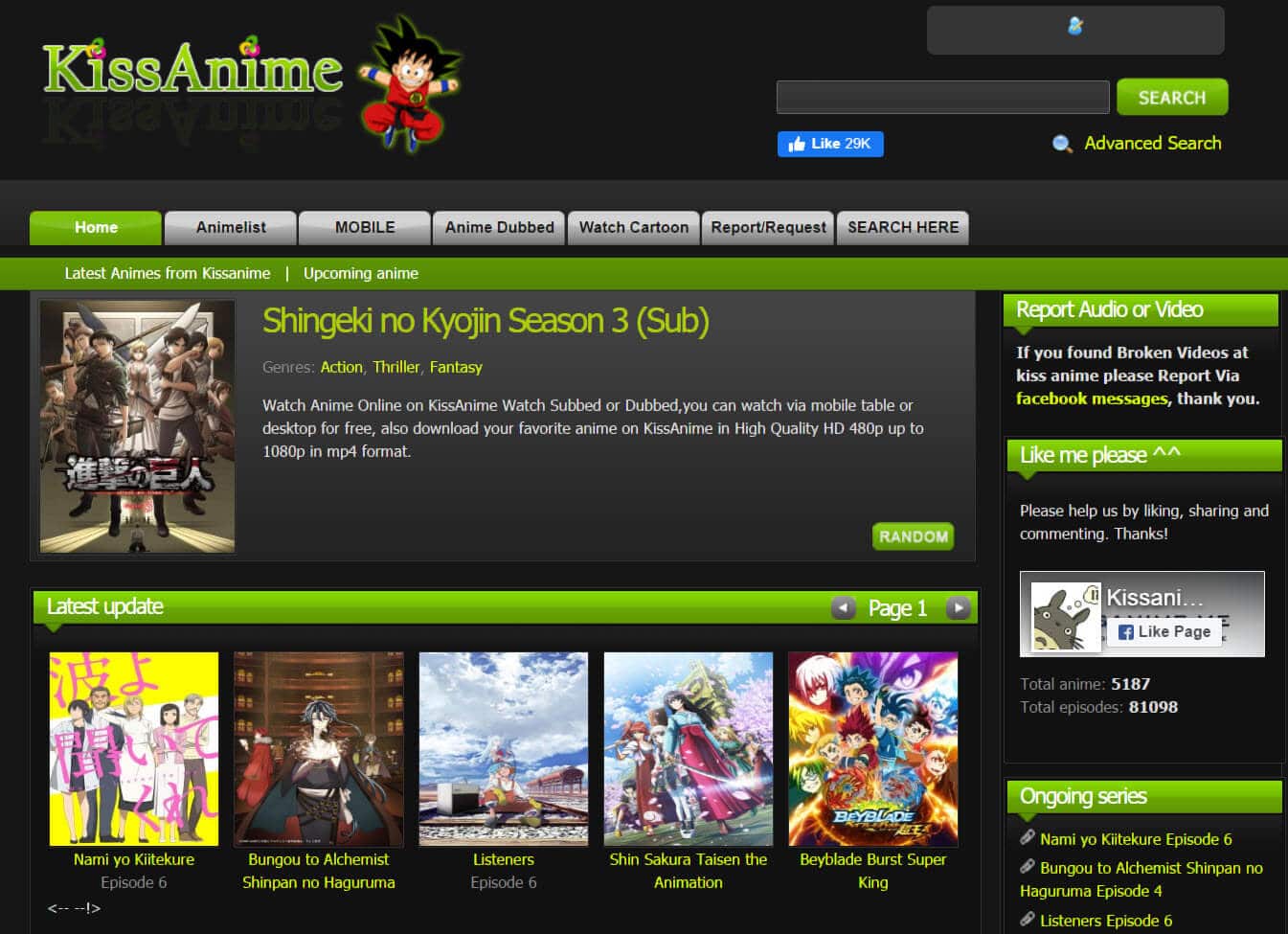 Viewers may complain about ads, but ads are an essential part of any such website that offers free services. The videos you can stream on this website are extremely high quality, which, in a way, makes up for the number of irritating ads that keep popping up.
There are lots of features on Kissanime that make it an excellent website for streaming anime shows and movies.
The site is such that the latest anime are displayed on the website first, which makes it convenient for people who are always looking to watch the latest shows. Also, while in thumbnail view, the site shows some great animations that act as a preview of the series.
On the Kissanime website, the videos are categorized so that it's most comfortable for you to select the series or movie that you'd like to watch. While you are on the homepage of the site, you can head to the top menu bar to save all your favorite animes.
Below is the summary of the main Pros and Cons of the Kissanime that makes it add to the Best Anime Sites To Watch Anime Online list.
Pros:-
The website provides dubbed animations which eradicate the use of subtitles that can often block the video content

You can save all of your favorite animes at the top of the homepage so that it's easier to access series you are watching without having to keep on searching for the same

The thumbnails have great animations which act as previews to what's in the anime series episode or movie

The categorization of videos is super convenient for the user

The episodes and movies on the Kissanime website are of high quality and add to a fantastic user experience watching the same
Cons:-
Since it is a free website, it is full of irritating advertisements that pop up multiple times. There are several complaints of even inappropriate adult advertisements

You cannot change the video resolution on the website

The website may ban you if you use an Adblocker or VPN
Click here to access Kissanime to watch free anime videos.
2. Funimation
Funimation is another excellent anime site for your use, which is one of the best ones out there. It is one of the websites which is the fastest in dubbing the latest shows and has them on the site not long after their original Japanese release.
This feature makes the website super attractive for those anime watchers who wish to always watch the latest shows first. The catalog on the website includes not only ongoing current anime series but also a wide range of back catalog or completed series to watch.
A lot of anime sites only dub shows after the series has been fully released or finished in its Japanese form. Funimation is one the websites which do not do this and instead dub the episodes as they come along.
Funimation as a brand is very inventive, with its innovative logo, and in the fact that it is not only a website but also an app. Yes, you can download the Funimation app to stream anime on any of your devices – on iOS, Android, Playstation, Xbox, Roku, or AmazonFire.
Since it's a free website/app, Funimation has tons of pop-up ads that can be quite disruptive. However, there is a solution to the same, by which we are referring to a paid subscription.
You can choose to use the free version of Funimation with ads, or you can subscribe for an ad-free experience, which comes with a full two-week trial of the same.
Below is the summary of the main Pros and Cons of the Funimation that makes it add to the Best Anime Sites To Watch Anime Online list.
Pros:-
Funimation is an innovative brand where you don't necessarily need to sign on to their website to stream, but you can use their app instead which is compatible with almost all types of devices

Funimation dubs Japanese shows as the episodes come along. This is as opposed to rather than waiting for the series to end and dubbing it all at once

The website/app has faster dubbing of shows than most other websites that act as its alternatives, in real-time and as soon as they release in Japanese

The catalog on Funimation is excellent, where there are current/ongoing anime series as well as back catalog series

The site offers a subscription at a cost which allows you to watch your anime ad-free if you are up for paying a small annual amount
Cons:-
The customer service for the app is not all that great in the sense that the attitude towards customers who require support is nonchalant and lazy

There are tons of glitches and bugs in the app which slow it down and make it especially irritating to use

Subscription cancellation is a thing of confusion on Funimation where payments keep getting extracted despite the cancellation
3. Crunchyroll
Crunchyroll is a rather versatile anime streaming site, but this is not its only purpose. On this anime site, you can even read the manga (Japanese comic books) and watch dorama (Japanese live-action television shows).
In this way, you not only get to watch your favorite anime shows, but you can also even watch dorama and read manga – isn't this a great option?
On Crunchyroll's anime options, they have a large variety of shows and movies for you to watch. On this anime site, you can watch either dubbed or even subbed anime shows as per your liking.
It is one of the top anime sites, and it is super reliable and loads content quickly. Yes, the viewing experience on the Crunchyroll website is fantastic, which also includes the user interface.
It is a clean interface with the latest site news on the homepage, with a top menu bar for you to select which type of content in which you'd like to indulge – manga, dorama, or anime.
One of the best parts about this website is that it is entirely free of cost; hence you can stream unlimited Japanese shows and read unlimited manga for free.
However, if you'd like, you can purchase an extended subscription of the same, following a trial period for the same as well.
Below is the summary of the main Pros and Cons of the Crunchyroll that makes it add to the Best Anime Sites To Watch Anime Online list.
Pros:-
While Crunchyroll is one of the best anime sites, it is also a great website for watching dorama, i.e., Japanese television series, and reading manga,i.e., Japanese comic books.

The user interface is easy to navigate, and it even has an option to save up shows to watch and comics to read in your queue.

Crunchyroll's catalog has all the latest anime shows so you can stay updated on your anime always.

This anime streaming site even has a shopping section for merchandise of many anime.

Several anime creators have approved the self-supporting Crunchyroll website as well.
Cons:-
Unfortunately, many dubs are missing from the website.

Some customers of Crunchyroll complain about facing problems with the payments and refunds for paid subscriptions.

The Crunchyroll customer service is not all tip-top, and it can be quite hard to get in touch with them if you require any help with your account.
At the time of our research on Best Anime Sites To Watch Anime Online, we found a video about "Anime Logic That Makes NO SENSE" which is worth watching. 🤴
4. GoGoAnime
GoGoAnime is yet another great website where to watch anime for free. On this website, you can see the latest updates of the shows you're watching, including the latest plots of those shows.
This anime streaming site is fantastic because it provides you with exceptionally high-quality streaming services, and you will love this site.
The best part about GoGoAnime is that it is very dedicated to the streaming of Japanese shows and movies, which is understandable for English-speaking audiences, i.e., subbed anime. However, this does not mean that GoGoAnime does not also offer English-dubbed Japanese anime.
The website also has a very user-friendly interface, and you won't have much trouble trying to figure out your way around it. The upper half of the home page is dedicated to displaying thumbnails of anime shows and movies, while the bottom half is for manga comics.
Below is the summary of the main Pros and Cons of the GoGoAnime that makes it add to the Best Anime Sites To Watch Anime Online list.
Pros:-
The simple user interface which is very friendly and easy to navigate around

GoGoAnime website has a wide range of comics and anime series as well as movies, which will keep you entertained as and when you want to be

Other than having a wide range of manga and anime, GoGoAnime also has all the latest episodes

Adding to its other features, the near distance range for Asian as well as other servers is brilliant
Cons:-
Understandably, free content streaming websites need an income to run effectively, which is why there are ads on them. However, GoGoAnime is one such example of a site which has too many ads, to the point that it's difficult to differentiate certain ads from the actual content

Aside from acknowledging the fact that the website for anime streaming GoGoAnime, has too many ads, we must also recognize that many of these are inappropriate adult ads. This is highly unsafe for children who like to stream Japanese cartoons.

You may accidentally download a virus off of this website due to its pop-ups.
Click here to stream anime and read manga using GoGoAnime.
5. AnimeFreak
Here is another one of the best sites to stream anime, AnimeFreak. This website is fantastic because it offers so many features with an interface that makes content viewing quite impressive for the user.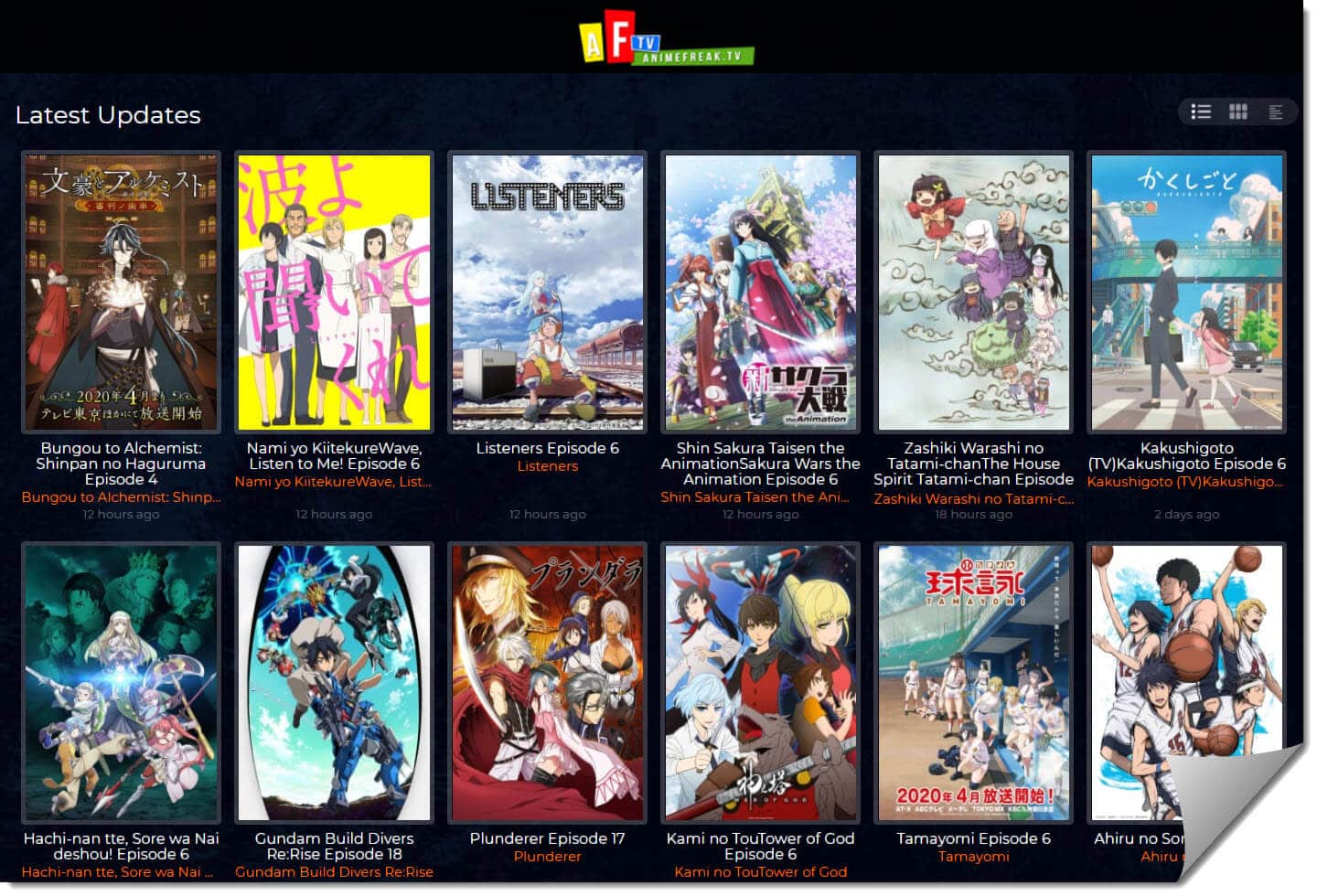 The website is simple and easy to use, in the sense that its main web page has a dropdown menu to its left side to help you navigate through it with ease.
The dropdown list will give you all the options you need to decide how to go about watching your anime on the AnimeFreak website.
You can choose whether you'd like to watch any ongoing shows, or you can select the latest or the most popular anime series or movies to watch.
The AnimeFreak website guides you through it all. Aside from this, you can also select the anime you would like to view via the alphabetical A-Z categorization of the series, movies, and genres of the same.
Below is the summary of the main Pros and Cons of the AnimeFreak that makes it add to the Best Anime Sites To Watch Anime Online list.
Pros:-
The variety of anime shows and movies on this website is tip-top, meaning which it has all the cartoons that you could think of or want to watch

The categorization of anime is brilliant on AnimeFreak, where they have categorized the entire catalog of anime on the website either by title or by genre, in alphabetical order. This majorly adds to the ease of finding what you want, paired with the search button, of course

On the AnimeFreak website, there is also an option to drop messages in IM boxes to the community of viewers on the site. Here, you can have discussions, have any questions you have answered, etc

The website has dubs as well as subs, and the best part is that it does not only have English subs but also in other languages such as Spanish
Cons:-
There are tonnes of ads, which is expected from a website which is free and does not have many other forms of funding

You may accidentally download a virus on to your device on this anime site while trying to close pop-ups, so you have to be rather careful
Click here to stream anime movies and shows on AnimeFreak.
6. Chia-Anime
Chia-Anime is yet another one of the best anime sites to stream anime and watches it as per your liking. It is one of the best websites because even though there are ads, you can block them easily using an AdBlocker plugin on your browser or device.
This particular website is one of the newer ones that have entered the market of anime streaming sites. Having this particular argument in favor of it, Chia-Anime is one of the websites with more advanced features than others.
It has millions of viewers per day despite it not being all that old in comparison with other similar sites.
One more feature of Chia-Anime that stems from it being of relatively recent origin, the website is unique in its way. This is in the sense that it is a little confusing to figure out at first; however, it is relatively easy to get the hang of after constant use.
Of course, for anime lovers, constant use of such websites is a given, so the interface is not problematic at all.
Below is the summary of the main Pros and Cons of the Chia-Anime that makes it add to the Best Anime Sites To Watch Anime Online list.
Pros:-
Chia-Anime is a fairly new website, which is why it has some great new features inculcated in it right from its conception rather than via updates later on

A lot of anime sites have the power to block you or ban you from signing on if you are found to be using an Adblocker plugin for your browser or device. Chia-Anime allows Adblockers, which is one of the primary reasons why it's a great website

While the user interface is fairly confusing at first, do understand that once you have figured your way around it, it is one of the smoothest and most unique interfaces that you will have used

There are multiple player channels for videos on the website, and thus if one of the players does not work for you, you can try another one for the same episode without worrying about it
Cons:-
The biggest problem that some users may find with Chia-Anime is that they only have subbed videos. Thus, for those who prefer dubbed over subbed anime, this is not the site for you. If you prefer subbed, then Chia-Anime is perfect for you

The website is slightly confusing to figure out, but once you have figured it out, you should have no problem navigating around it. But yes, it does take getting used to, requiring a certain level of patience

If you don't have an Adblocker installed, there are ads with every click you make on the website, which can be super inconvenient
Click here to check out Chia-Anime for a great experience watching subbed anime.
7. MyAnimeList
MyAnimeList is a fantastic anime streaming website which is so popular that people have even abbreviated its name to MAL. You must know that this website has some brilliant features that not many of its competitors or alternatives have.
MAL is easily in the list of top 300 streaming websites and for good reasons as well. This website also has manga, and you can customize your lists for both manga and anime to your preferences using CSS tools. That is not where your customizations end, however.
About registering on MAL, you must know a few simple things. The first is that the registration is super easy and does not take long, and follows a fairly simple process as well.
The second thing to know is that you can customize your profile on MyAnimeList as per the best of your preferences, much more than you can on other similar websites.
MyAnimeList is the appropriate name for this website as it keeps a proper track of all the anime you've watched (and the manga you've read) in the form of a list. What it also does in the form of a list is contain wiki-like information of all the anime and manga that exists out there.
MAL is more than one of your average anime sites, in the sense that there are discussion groups, boards, and forums on the website. You can join any of these to talk about your favorite anime shows and movies, as well as manga.
You can also read reviews of all anime shows and movies, as well as add your own reviews of videos you've watched or manga you've read if you wish.
Below is the summary of the main Pros and Cons of the MyAnimeList that makes it add to the Best Anime Sites To Watch Anime Online list.
Pros:-
MyAnimeList or MAL is a well-known name in the world of anime watchers; hence it is a trusted website for you to use

MAL is entirely free and does not require you to make any sort of payment for anything

The site has wiki information for all anime television shows and movies, and manga, that you can think of

MAL has discussion groups, boards and forums, where you can find like-minded people, and on which you can talk about any of the Japanese cartoon shows, movies or manga you'd like to discuss

The website offers fewer limitations on customizing your profile as well as your manga and anime lists

Registering on the MAL website is super easy and complication-free for your convenience
Cons:-
Customer service for deactivation or deletion of account is a task, as it is nonchalant and inefficient

A lot of the time, fanboys and fangirls of anime or manga may report negative views of a particular show. Hence the reviews may be quite biased by the opinions of such people.
Do you want to know Top 10 Hyped Anime Characters Who Lost Instantly? Have a look.
8. 9Anime
9Anime or 9anime.tv is a fantastic website for your anime streaming requirements. The best parts about 9Anime are that it is entirely free of cost, and it does not even require you to register to stream.
9Anime makes no mistake in being one of the best anime sites, as it had all the latest anime shows and movies right on its server, ready for you to watch.
This anime website has all the anime you'd want to watch in English, either dubbed into English or subbed with English subtitles. Hence, you need not worry, because 9Anime has the videos of your liking.
Another great feature of this website is its fantastic categorization of all anime videos available on the site. Not only can you have the website categorize your anime by the title and genre of the same, but also by its release year, its type, language, status, and other filters.
In these categories, the type refers to either movie, TV show, or special; genre can be a comedy, horror, thriller, etc.
On the easy to use and dynamic home page of the website, you will find the latest releases right on top of the page. Alongside all the videos, there are short descriptions of the anime to help you decide if it would be to your liking of a video or not.
One more great thing about 9Anime is that all of its web pages are inviting and user-friendly, which is, of course, great for you, i.e., the user.
Below is the summary of the main Pros and Cons of the 9Anime that makes it add to the Best Anime Sites To Watch Anime Online list.
Pros:-
The categorizations on the 9Anime website are incredibly versatile, offering sorting by title, genre, year of release, type, etc. This is as compared to other websites, which generally only sort their anime videos by the first two categories

This anime site has dubbed as well as subbed anime, which is always a plus point as it achieves a higher viewership than websites that only have one or another

9Anime has all the latest shows ready for you to watch, meaning which it has ongoing anime series, newest movies as well as the latest special anime videos

You don't need to make an account or register to watch anime here, and you can just log on to the website and watch whichever anime you want to for free.

The videos all have short textual descriptions about the storyline and the video in general, to help you decide what to watch without making the wrong choice for yourself.
Cons:-
The website can be quite slow; especially if your connection is slightly slow, the whole site can take a rather long time to load

The website can also feel somewhat bloated or too full in its construction and placement of thumbnails of anime videos.
📗FAQ's on Best Anime Sites
Below are the couple of queries on Best Anime Sites that everyone is expecting to answer and I did include the same for my readers.
(Q) What is subbed and dubbed anime, and what's the difference between them?
Subbed and dubbed are two kinds of anime for viewers that do not understand Japanese. Subbed anime refers to anime, which is in Japanese but has subtitles in another language, like English.
On the other hand, dubbed anime refers to when the same anime is reproduced with audio in another language, such as English, instead of the original Japanese audio.
(Q) Why do free anime sites have so many annoying ads?
Free anime sites do not ask you for any money in exchange for providing you videos. Hence they have to generate their income from ads. These ads take up a lot of infringing space on the content streaming website, which can be annoying.
(Q) How can I remove ads from these websites for myself?
There are two ways to go about removing ads from your online anime streaming experience. Primarily, you can use an adblocker, but some websites do not allow that.
The alternative to this, and also your second choice here, is to select a website which offers ad-free subscriptions, although, you must know that these come at a cost.
(Q) What are the things I should look for in a good anime site for me?
When looking to start watching anime online, you should look for websites that have either subbed or dubbed anime as per your preference, least number of ads, the best quality of videos, etc.
If you are willing to pay a small amount, you can even consider getting an additional subscription from one of the websites, as mentioned above, for the best experience.
In conclusion
To conclude, we would like to say that there are many websites available to watch anime online. Hopefully, you have gone through this list of anime sites well, so that you can select the one best suited to you. You must select the best anime site for you personally, depending on several things.
If the look and feel of the website are of utmost importance, select the best one per that. You must also look at whether the site has dubbed, subbed, or both kinds of anime available if you are particular about that.
If you prefer to use an app instead of a website, go for the anime sites that have apps to accompany their websites.
All in all, we trust that after you go through this list of the eight best anime sites, you will have a clearer idea of which one you would want to use.