To-do lists are a great way to pack the ambiguity and madness of life into a structured form of writing. However, it feels extraordinary to have a glorified text editor (Google Keep) with industry-leading artificial intelligence and millions of data points just to make simple bullet lists. 
On the contrary, the feature of making to-do lists has existed in Android smartphones forever. It's not like Google is trying to tap a new market here, but if you are comfortable getting your data hogged by some tech giants, you better be reading something else. 
If you've been a loyal user of Google Keep and looking for a service that doesn't compromise your privacy, you've found a sweet spot. With that being said, let's take a look at some of the best Google Keep Alternatives.
Best Google Keep Alternatives – Our Pick 👌
1. Evernote
Evernote is a thoroughly designed platform that allows you to store several different types of information from various sources in a single place. It is one of the best Google Keep Alternatives with tons of features that can be put to the best use.
With native integrations and web clippers, you can easily keep all your notes, ideas, receipts, tasks, and reading lists on Evernote.
It keeps everything in a well-organized manner that makes it easier to browse old information. There's also a search function that can be used to access old notes stored in a single notebook. Moreover, it also allows you to organize your notes with tags and hierarchical arrangements.
The platform also features native applications for Windows, Mac, IOS, Android, and even BlackBerry (Who thought they still existed?). It ensures that you will always have access to Evernote regardless of the platform or device you operate.
The most remarkable and handiest feature of Evernote is its OCR functionality which allows you to convert images into searchable text with the help of artificial intelligence. However, the free version allows only two devices for cloud-based note-taking.
How To Use Evernote Like a Pro And Stay Organized
Pros:-
Includes OCR functionality

Efficient image manipulation

Several personalization options
Cons:-
2. Todoist
Todoist provides a minimalistic user interface for desktop and web with a two-column layout. The right-hand column allows you to make a list of tasks with color quotes, along with additional information like the name of the project to which the job belongs.
On the other hand, the left-hand column provides different ways to approach several groups of tasks. For instance, functions that have specific labels or are a part of a particular project, tasks that need to be completed within a specific time, etc.
There's also a search filter that helps you find a specific group of stars in several advanced ways. It also has a native mobile app that follows a similar design principle, but every column provides a separate view. You can also collaborate and share tasks through Todoist.
The best thing is that even the unpaid version of this platform does not contain any annoying pop-ups or ads. It doesn't ask you to upgrade unless you try accessing a premium feature of this application.
Pros:-
Powerful search and filtering features

No ads in the free version

Fast integration with external apps
Cons:-
Subscription required for attachments and notifications
3. Microsoft OneNote – Microsoft alternative to google keep
With the help of OneNote, you can arrange your text on digital paper that highly resembles the way it's done on actual paper with a pen. It allows you to access multiple tabs like a web browser with personalized notes on each new window.
This Google Keep alternative can be used on several touch-capable devices using a digitizer pen or stylus that makes it incredibly intuitive to take notes by hand. Compared to other note-taking applications, it has the most responsive pen input, often preferred over typing.
It also allows you to organize information in hierarchical form by grouping the data into multiple elements and categories like sections, pages, and notebooks. The former two can be further categorized into additional groupings that can be collapsed and expanded in the list view.
Talking about this application's collaborative features, you have the liberty to share your notes through its access URL. Moreover, you can also control the privileges users have on your note (edit, read-only) that can be altered or revoked anytime.
Pros:-
Stylus and digitizer pen support

Add notes through email

Helpful browser plugins are available
Cons:-
No backup on the free version of Windows 10
4. Zenkit
Zenkit is a potent and simple-to-use tool that offers a clean design and an engaging user interface. It does not involve any learning curve and makes it easier than ever to take notes or make lists on various platforms.
It involves several essential data views that enhance its capabilities, such as Kanban board, mind map, spreadsheet, calendar, and lists. Additionally, you can easily switch your view from one data view to another without following any complex procedure.
This Google Keep alternative also features native apps for several operating systems like Android, iOS, Linux, Windows, and Mac OS. Moreover, it also features API integration that allows you to export its data throughout different applications.
The platform supports 8 languages, namely German, English, Spanish, Portuguese, traditional Chinese, Russian, French, and Korean. It's a very efficient note-taking app for nearly all major operating systems.
Pros:-
Clean and intuitive user interface

Numerous data views

Native apps for multiple platforms
Cons:-
No option to add icons or photos
5. SSuite Sticky To-Do
Being a PWA-enabled software, the SSuite Sticky To-Do application can easily be installed on any operating system. Moreover, it features two different user interface preferences: light and dark, with over 50 unique and attractive wallpapers.
There's also virtually no limit on the number of tasks you list under each category in this application. It allows you to create up to seven types to distribute your tasks efficiently. The best thing is that it is entirely free to use.
However, it does not contain any option to add reminders, and there's also no calendar available in this application. This makes it harder to keep track of deadlines and get notified of pending tasks with this note-taking app.
Furthermore, it doesn't support any API or external app integration, which gradually limits its capabilities. Therefore if you are looking for a note-taking app for collaboration, this is a big no-no.
Pros:-
Custom wallpaper selection

Light and dark mode

PWA enabled software 
Cons:-
No calendar and reminders
6. SynapBook
SynapBook is essentially a memo application that allows you to structure your content in free form, making it easier to understand and prioritize tasks. It also supports pop-up notes that can be added to your Desktop or home screen in the form of widgets.
It also allows you to make search-based notes that can be used separately from the tree view. It will enable you to use this application conveniently per your purpose and requirements. Moreover, you can also fold the groups in it.
Synapbook - Organize notes powerfully
While it offers server synchronization and supports online data backup, the application can also be used offline without any limitations on the features. It makes it a perfect fit for users looking for a simple note-taking app without any fancy and complex parts.
Furthermore, the application also provides several text styles and decoration formats, including general styles (Italic, bold, underline), separator lines, highlighters, and many more. Also, the developers are quite active and roll out frequent updates with various bug fixes frequently.
Pros:-
Sticky memo user interface

Offline support

Several formatting and styling options
Cons:-
7. Boostnote
If you are more centered on your privacy and looking for a free, open-source application to make to-do lists, the boost note application is undoubtedly a perfect match for you. Its source code is uploaded on GitHub free of cost.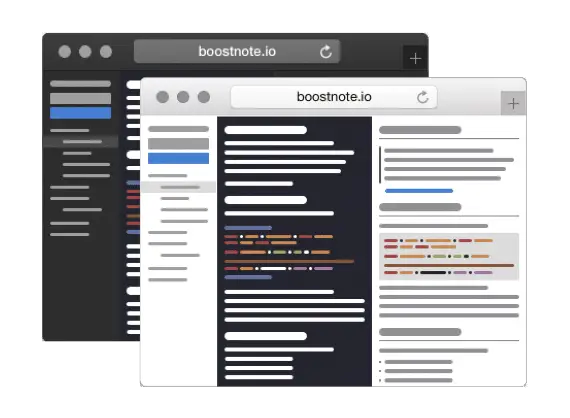 The application also supports cross-platform usage on various operating systems such as Windows, Linux, and Mac OS. Moreover, there's also markdown support that extends its capabilities even more.
With the help of Boostnote, you don't need an internet connection to take notes. It can be fully used offline and provides a synchronization option once you have an active internet connection. However, the syncing process feels buggy, and you may lose some of your data.
It also offers various attractive themes that can be used to make your user experience more personalized. Boost note is good for developers because it allows you to add code snippets in your notes with various color schemes such as solarized, base 16, and 3024.
Pros:-
Supports code snippets

Global tag and search feature

Cross-platform support
Cons:-
Required third-party service for synchronization
8. Microsoft To-Do
Microsoft to do is a highly functional to-do list application that allows you to keep track of your projects and tasks. Microsoft To-Do is completely free to use and offers a simple user interface without involving any kind of learning curve.
Although it does not contain many features, the simplicity of this application makes it highly functional. However, you will still miss out on task prioritization features because it only allows you to mark your priority tasks with a star icon.
Earlier it was only available for smartphones, but Microsoft has launched desktop and web-based versions for both Windows and Mac devices. Each task can also be shared with other users of the application.
There are also multiple security features, such as single sign-on integrations and two-factor authentication, to keep your account and data secure. You can even upload files to each task.
Pros:-
Easy to use 

Collaboration features 

Completely free of cost 
Cons:-
9. Simplenote
As the name suggests, Simplenote provides a completely minimalistic interface with no toolbars or additional features like Google Keep. It only consists of a sidebar with trash filters, tags, existing notes, and a search button. 
You can easily create and edit lists offline and Synchronize them later when you are online. In this way, you can work ok on your to-do list even when you don't have access to an active data connection without worrying about losing your work.
Moreover, unlike other note-taking applications, Simplenote has high-speed synchronization. While it may not contain any fancy features like other applications, this app's simple interface and responsiveness are incomparable.
When you use the web-based version, you can enjoy markdown support as well. It can be highly convenient for users who need to use markdown in a specific note. A simple note is also available for Linux operating systems.
Pros:-
Built for faster operations

Markdown support through the web version

Includes collaborative features
Cons:-
You may like to read our guide on the 7 Best
OneNote Templates
To Unlock Hidden Benefits.
10. Joplin
Joplin is a cross-platform to-do list application for various operating systems such as Linux, Android, Mac, and iOS. The application works offline perfectly and doesn't restrict you from accessing any particular future due to the unavailability of the internet.
It is entirely open-source, and the code is available publicly on GitHub, which provides you peace of mind that the software is entirely free of malware and viruses. There's also an encryption feature that keeps your notes protected from intruders.
This application also offers support for markdowns and tags that help you categorize your notes easily. You can also install their browser extension to save screen selections and pages as notes in this application.
Joplin allows you to take notes in multiple languages such as English, Spanish, German, French, Italian, Czech, and many others. Furthermore, the application also supports Dropbox, which allows you to synchronize your data in real-time.
Pros:-
Active community forum

Command-line interface for programmers

Alarms and reminders
Cons:-
Inefficient tags searching
11. Workflowy
Specifically for multitaskers, the Workflowy application provides a multilevel hierarchy with a zoom feature that helps you view any sub-list as a top-level list. This may appear pretty common but can help you gradually in enhancing your workflow. 
The interface is also pretty clean and allows you to focus on your thoughts. It also allows you to keep everything organized and simple intuitively. Moreover, the nested list allows you to arrange your notes in hierarchical categories with nearly endless depth.
Furthermore, when you add a list on a particular platform using this application, it synchronizes with other platforms very quickly. It allows you to shift your workflow from one device to another quickly without any delay.
The application also features two-way support for outline processor markup language that makes importing and exporting the outlines of your notes a cakewalk with simple copy-paste operations. It also offers several text formatting features. 
Pros:-
Import and export via OPML

Cross-platform support for web and mobile

Exceptionally fast sync between devices
Cons:-
12. TickTick
With several advanced sorting options and drag-drop actions, TickTick is a comprehensive to-do list application that can be accessed on Android and IOS devices. It also offers a web-based version that can be accessed through a Chrome extension.
Moreover, you can also choose between creating a checklist or a text description for your specified task. The application makes setting up recurring tasks extremely simple. You can also define various custom rules while setting up a recurring task.
As compared to Google Keep, TickTick is lighter in terms of resources and can work on low-end devices as well. Even the UI is minimalistic to keep things simple. All you need to do is start typing and leave the rest on the software to add a task.
If you choose the pro version of the software, you can also access the calendar view feature that allows you to lay out all your tasks with their specific dates on a calendar. Moreover, it can also be integrated with external applications like Google Calendar.
Below is the summary of the main Pros and Cons of the TickTick that makes it add to the google keep alternative free list.
Pros:-
Customizable Android widget

Smart date parsing 

Cross-platform support
Cons:-
The Free version is limited to 19 tasks.
13. Trello
Designed exclusively for visual thinkers, Trello features a UI based on kanban. It allows you to view all your tasks along with their status clearly on a simple and intuitive user interface. It offers several layers of customization with exceptional responsiveness.
Trello also makes it easier for team members to collaborate on a particular task board. It offers an entirely free version without any restrictions or ads. While there is also a premium version of this application, it only helps you make it more personalized. 
7 Things You Should Do with Every Trello Board (Setup Guide)
You can extend the functionality of this application even more by using plugins for calendar, voting, and view. Furthermore, you can also attach files like images and documents to your cards and keep everything organized.
The best thing about you is that it offers a global history system that allows you to follow changes quickly. In case another user updates the board while you are accessing it, you can stay updated through the notification system of this application. 
Below is the summary of the main Pros and Cons of Trello that makes it add to the google keep alternative android list.
Pros:-
Highly flexible workflow

Real-time collaboration features

Free for unlimited users
Cons:-
No way to multiple aggregate boards
14. Turtl
Turtl is another open-source alternative to Google Keep that offers a greater sense of privacy and security. Once you set up a password for your account, it creates an encryption key that ciphers your budget and protects it from intruders.
Moreover, they don't store any data on the server. The application is available for nearly all major operating systems, such as Mac OS, Linux, Windows, and Android. It can also work on browsers like Chrome and Firefox through extensions.
However, it does not allow you to embed images and requires an internet connection, even to initiate the offline mode of this application (Duh!). If your internet stops working, you may also lose access to your notes.
While it offers support for various operating systems, it's fascinating that there's no iOS app available. Although the developers plan it, it will take a significant amount of time.
Below is the summary of the main Pros and Cons of the Turtl that makes it add to the Best Google Keep Alternatives list.
Pros:-
Data Encryption 

Available for all platforms 

Fast synchronization
Cons:-
15. Notion
Notion is an advanced note and to-do application that offers several unique features. It allows dragging and dropping your to-do's in a similar style, just like Trello. Moreover, you can also mark things as complete and keep them away from your way.
Talking about notes, the application provides several ways to search and manage them and many formatting options that make it a great Google Keep alternative. All the features are available on desktop, mobile, and web clients. 
Within a single note, you can store an enormous amount of information, and working with blocks offers unparalleled flexibility. These blocks can be easily moved, reorganized, or even converted into other types of content.
It also provides functionality like spreadsheets by using formulas, calculations, attachments, and links. You can even reference data internally from other tables or pages and embed your images and documents in the table cells with the notion.
Below is the summary of the main Pros and Cons of the Notion that makes it add to the Best Google Keep Alternatives list.
Pros:-
Attach files to tables

Renders markdown syntax

Exceptional flexibility with blocks
Cons:-
Column filters are not intuitive to use
Note:-
I have written a post for people looking for the 
Best Notion Alternatives
To Use, do read it If you are interested.
16. Any.do
Using any.do you split all your tasks into two groups that can be categorized either in custom folders or by date? Each group allows you to add an infinite number of tasks by simply using the plus button located next to it.
There's also a feature named moment that reminds you to check the status of all the tasks you have planned for the day. It makes your daily scheduling simpler and allows you to check off items quickly as soon as they are done.
You can configure it to prompt you at your desired time of the day and help you manage your to-do list without being overwhelmed. Moreover, you can also add items to your to-do using the web interface of this application.
It also includes a clever autocomplete feature that offers you suggestions based on your usage. It also scans through your contact information to help you add people to tasks and provide intelligent guidance for meeting spots.
Below is the summary of the main Pros and Cons of the Any.do that make add it to the Best Google Keep Alternatives list.
Pros:-
Rewards for completing tasks

Intelligent autocomplete

Web interface for desktop access
Cons:-
The free version doesn't allow offline access.
17. Remember The Milk
Being relatively new to the market, remember the milk provides syntax that can be used to program intelligent lists. It features a powerful query language that can be used to make your GTD-based system with queries list and tags.
With each task, you get various additional options, such as the due date, how often it repeats, and the location. Additionally, the platform allows you to collaborate, making it ideal for sharing progress with others.
Android and web applications allow you to prioritize your tasks, which can be useful for shopping lists. Furthermore, an Android widget does not occupy so much of your storage space, unlike others.
The best thing is that most features are available free of cost. It also has a pro version that increases its functionality by offering mobile push notifications, advanced sorting options, and sharing permissions. 
Below is the summary of the main Pros and Cons of Remember The Milk that makes it add to the Best Google Keep Alternatives list.
Pros:-
Add tasks through email.

Twitter integration

Blazing fast support
Cons:-
Subtasks not available in the free version
📗FAQ
What will replace Google Keep?
Evernote, Todoist, Microsoft OneNote, SSuite Sticky To-Do, and Microsoft To-Do are some of the most popular Google Keep alternatives to manage and streamline all your notes across multiple devices. 
Is google keep discontinued?
No, there isn't any information regarding Google discontinuing Google Keep. It is one of the most preferred note-making applications, especially for Android users, and is highly popular mainly because of its simplicity and ultraclean user interface. 
Does Microsoft have anything like Google Keep?
Microsoft To-Do is Microsoft's answer to Google Keep and is packed with a wide range of features like the daily planner, task manager, and to-do lists; and is also integrated with Microsoft 365. 
Is OneNote better than Google Keep? 
Google Keep offers the ability to add photographs, drawings, checklists, and voice to your notes. However, OneNote allows you to add all of those and more.
You can format your text while taking notes by changing the color, adding bold, italics, underlining, or other text styles. These major reasons make OneNote a better alternative to Google Keep.
Does Google have its version of OneNote? 
Google Keep is the closest Google app to be similar to OneNote and offers very simple, clean, and effective note-taking.  
Is there a Google version of OneNote? 
Google Keep, often known as Keep Notes, is a note-taking app by Google, similar to OneNote. Many of the same features are available in Keep Notes, such as the ability to pin photographs to notebooks or share task lists with other team members. 
Does Google have a notes app? 
Yes, Google Keep is one of the most popular note-taking apps designed by Google and used by millions of people worldwide to simplify, streamline, and manage notes across multiple devices.  
How do I improve Google keep?

 
You may enhance your Google Keep experience in a few simple but efficient ways. 
Organize notes in bulk.

 

Use the sidebar to add notes to Google Docs.

 

Create fresh backgrounds.

 

Enhance Keep with extensions.

 

Use Google Assistant to make lists and notes.

 

Switch to dark mode.

 

Utilize the detailed previews.

 

The powerful Search tool is often disregarded.

 
Google Keep, Why I use it every day.
The Takeaway
With good task management and a to-do list application, you can keep track of your activities and manage your time efficiently. Additionally, it also allows you to improve your overall productivity.
With the vast list of to-do applications above, you won't have to rely on Google Keep anymore. Therefore make sure you choose the desired one based on your requirements and regain access to your privacy based on the best Google Keep Alternatives list.