Watching videos is the best way to get entertainment. We are all using smartphones nowadays and accessing everything easily. Now, you can view videos on mobile devices.
Every smartphone includes a video player. Do you have confusion about which video player is best? This article will help you to choose the best video player.
Here, I have shortlisted some best video player apps for your Smartphone. In this article, you can get the best video player apps that enhance the video viewing experience.
Here, I have handpicked the 20 best video player apps that support all formats and give excellent playback control. Users will give salient features and needful information about the apps.
Best Video Player Apps – Our Top Pick 👌👌
1. MX Player
The MX Player is the best video player app for Android and Ios devices. It has a smooth and user-friendly interface suitable for watching videos. This app plays any kind of video without flaws.
Of course, the MX player has amazing beautiful features and multi-code decoding capability. With a few plugin options, the user will get a perfect video experience. It supports subtitles along with scrolls in forwarding as well as backward ways.
This app contains many features, such as sweeping across the video screen, zooming function, and many more options.
The most interesting feature of this app is one screen lock. It helps you to lock the screen when kids are watching videos. MX Player has gesture controls and supports virtually every codec. It comes with an additional plugin to add more functionality.
Features

:-
Amazing and enjoyable playback features

Enjoy audio boosts and network streams

Variable aspect ratio to watch movies

Swipe gestures and pinch options to zoom
2. PlayerXtreme Media Player
PlayerExtreme is a renowned video player app for Android and Ios users. When you install the application, it will scan the device for security purposes. It supports all kinds of formats without converting.
This app offers great support, such as subtitles, SRT, SAA, and videos. Without any interruptions, users can watch videos along with subtitles. Users can control the playback, brightness, and volume quickly.
You can save videos by name, size, and data. It permits you to play any kind of video without interrupts. So, this app is suitable for an Android device.
This app has a built-in subtitle downloader and streams videos. No matter in which format your video is, you can easily play them all.
Features

:-
The app supports any file type of video formats

The player can stream media format

Easily organize photos, videos, and music

Use TED talks, NPR, sources, and browser feature

Add songs and lyrics here
3. Xplayer
Xplayer is the best video player for Android. It has a good video playback tool and supports all video formats. The app has 4K sound quality and ultra video files.
Xplayer app is specially designed to support maximum video codecs and chrome. Supporting an HD video player is a major feature of this application. Some other features are night mode, creating a privacy folder, and avoiding banner ads.
This video player app is user-friendly and supports any kind of format. Store videos in the privacy folder and watch them anytime. You can watch movies on both tab and mobile phones.
With the help of a subtitle downloader, users can play videos and understand them clearly. Xplayer has essential features such as Quick mute, night mode, and speed playback.
Features

:-
Play with 4K sound effect

App has a subtitle downloader

Play any video in the pop-up window, background, and spilled screen

Share and manage videos effectively

Use Chromecast features
Note:-
I have written a post for people looking for the
Best Stud Finder Apps
, do read it If you are interested.
If you want a powerful video player, download the Wondershare app. You can copy and paste the video links into the Wondershare app. It saves videos and watches later. You can bookmark the videos without any trouble.
This is an amazing video player app for storing videos and watching. The locally stored videos are found within a few clicks and easily scroll. You can configure library files on the device.
This app has recent views, so you can play it quickly. It supports the most common file formats and is a robust app. The features are very promising, and you can watch videos smoothly. It supports the most common file formats within a single click.
Features

:-
Robust app in a single click

Supports most common file formats

Promising features

View locally stored videos

Recently viewed tasks

Easily detect folders

Manually curated categories
5. VLC For Mobile
VLC for mobile is a free video play app for Android or Ios users. You cannot pay money to download this application. A user of this app can smoothly enjoy both audio and video files without any hassles.
It will manage several types of formats for the smooth device. Adaptive streaming, network streaming, media library, and so many features are available.
Its multiple features will make you download this app to your android device. It supports all kinds of formats for watching videos. While playing multi-track audios, you also get access to the volume.
This application is based on amazing gestures and is useful for playing videos. With the best surround system, videos will play effectively without any trouble. This video player is the most common application used by android users.
Features

:-
No in-app purchase

Provides subtitles support

Swipe and pinch across the screen

Easy volume controls

Works with network shares, streams, and drives

Supports 360-degree video to 8K formats
6. KMPlayer
It is among the best-designed video player apps for all kinds of Android and Ios devices. This app supports an array of codecs and file formats. You can find a library view and detect files easily.
it supports cloud storage completely. Along with subtitles, you can watch videos by one-finger gesture volume. It easily adapts to mobile use due to its user interface feature.
Apart from this, the user can view contents stored on Google Drive. This video player supports HD videos and watches anytime. The features are very amazing, and you can download this app from the play store.
Features:-
Supports slow-motion playback

Share media using KMP connect

Access with Gesture support

Play with subtitles

Split and multiple video modes

Advanced audio processing features
7. OPlayer HD
OPlayer HD is one of the best video players. This mobile app supported different auto and other video playback formats. This video player is built with unique features, and it will download your file and share it with no risk. People enjoy watching movies along with subtitles.
This platform is built with user-friendly playback speed and is also an excellent running option. This app has the option to adjust the playback speed and also access the background Play option. It has the opportunity to protect the folder and other apps with the help of passwords.
Features:-
Remote play files over PC with no downloading

Find out the auto boost option

Inbuilt with file manner

Applicable to enjoy 3D and 2D mode

File transfer with USB and Wi-Fi support

Play from the last position
8. nPlayer
 If you are searching for the right video player app for the android device, then nPlayer has become a common option among people. This application supports different formats and effectively uniquely plays videos.
Hence there is no need to convert the videos into any format. Users can stream media files via the remote device. On the other hand, users can enjoy accessing different functions, such as brightness and volume control.
Then a user can adjust the task with single swipes over the screen, which is loved easily and highly welcome among users.
Features:-
3D videos mode support

Applicable to import the various videos file from Amazon cloud drive

Inbuilt with a file manager

Simple to arrange your file and videos

Official audio code

Support pop-up play videocast
9. CnX Player
To play HD and 4K videos, you need to hire the CnXplayer app. It is one of the brand media player apps that support the maximum file format.
You can find out special features such as the Wi-fi transfer and better speed control visuals of movies, and much more from this platform.
All Format Media Player | Amazing Video Player for Andriod | Best Movie Player #cnxplayer
It is designed with natural code that runs on your android mobile device without meeting errors over it. Each time, you will enjoy playback smooth and comfortable. As a result, it loved to play without meeting any risk over it.
Features:-
High-performance playback option

Develop a life of a battery

Upload and download video with the help of WiFi

Option to delete and copy videos

Adjust brightness and contrast

Have significant experience with colorful theme
10. GPlayer – video player
With a vast selection of video players out to choose from in the play store, the Gplayer is boosted with unique features. This app applies to sharing and transferring files between mobile to PC with just a tab on Wi-Fi.
On running over the device, you assure to have smooth and perfect at all times. It supports access to Google Chromecast, which allows playing different videos from the end number of the windows.
This app supports a super-fast loading capability, and it supports different video files from YouTube. It is out to download without spending your money on the play store.
Features:-
Set own theme

3D Gallery

Watch multiple video files at the same time

Option to share video content

Rearrange the size of the videos screen

Ad-free app
11. Media player classic For Android
Media player classic obtains several users due to its powerful features. It designs with simple and real code which never fails to play any video format. It is one of the unfettered players that make it simple to run over an old PC with no risk.
The main highlight of the app is DVD player software and the option to use it, along with the Subtitle download choice. Even if you have a slower device, no worries; it runs comparatively at all times.
You can enjoy a classic home theater effect during the play of videos, so it has become highly preferred by everyone to play videos.
Features:-
Support different formats

High-quality audio performance

Support to DVD PCD is BCD playback with no need for an additional tool

Simple interface
12. Kodi
 It is a top open-source and quality video player. It allows t to play all video file formats. This easy-to-use app benefits XBMC and plays all music and videos format from all local network storage.
This app is an award-winning open-source and applies to setting up procedures risk-free. This app is free to download and install to play videos with better sound quality.
On installing such an app over a mobile device, you get digital management decryption support. It is applicable to play all sorts of music, such as the WMA formats and other FLAV. Hence it becomes user-friendly and starts playing videos with risk.
Features:-
Special voice control

New music library

Live TV performance with new back end

Retro Gaming Emulator

Enjoy unlimited watching movies on Kodi
13. Video Player HD
Playstore has a list of applications to download for android free of cost, but the video players stand as the top choice. It is one of the real apps for people to play the video file risk-freely.
This app was designed by an expert developer, which never ends up with errors while running over the mobile. You do need to worry about language on this app. Why is it because of support languages?
It is quite simple to download and install it directly from a mobile device. It is built with real code. To install such an app, the user must not want to make any changes to the mobile setting.
Features:-
List of the videos file to share

Play videos in various formats

100 % streaming support

Smooth and straightforward videos play modes
14. SR Player
SR Player is one of the most effective video player apps useful for android OS. You can able to share videos with others; you can upload and delete files.
The creation of any video clips is secure and simple with this app. You can enjoy the feature of the high-security lock systems via this app. In addition, it can also offer high-definition video quality and smooth and satisfying sound effects. 
Features:- 
The 3D audio files have been supported via this high-resolution video quality

You can able to bookmark your favorite video files and create a wish list for enjoying them later

The number of home-screen widgets with the ready setting options is available

Very clear and smooth online streaming options are available

It allows you to customize the brightness, volume, and other functions with only one click.
15. Video Player All Format: XPlayer
If you are looking for a professional video player tool, then sure you can try this Video Player All Format. In the name itself, you can able to understand that through this app, you can play any file in any kind of format.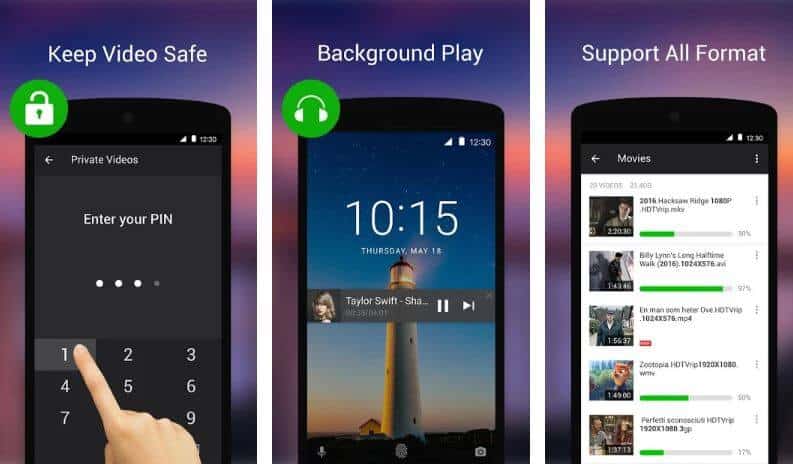 Through this video player app, you can able to play the HD files like ultra HD videos and 4K videos. So, if you want to grab this experience, then you can make use of this video player app for Android.
This app is also effective in giving protection to your private videos. So, if you want privacy, then you can use this app. 
Features:-
Easily you can identify the details of video files like the quality, story, and much more.

Allow you to adjust subtitles, audio quality, and volume

Save the private videos via the private folder

4K video and Ultra HD video quality files are supporting

Sharing and managing the video is very simple

Multiple playback options are there, like ratio adjustment and auto-rotation
You may like to read our guide on 13 Best
Zoom Camera Apps
To Capture Amazing Photos.
16. HD Equalizer Video Player
These best video player apps are the perfect choice for you; which is popular for being the most comfortable video play app for your android device. HD Equalizer Video Player is the most compact size app with unlimited features.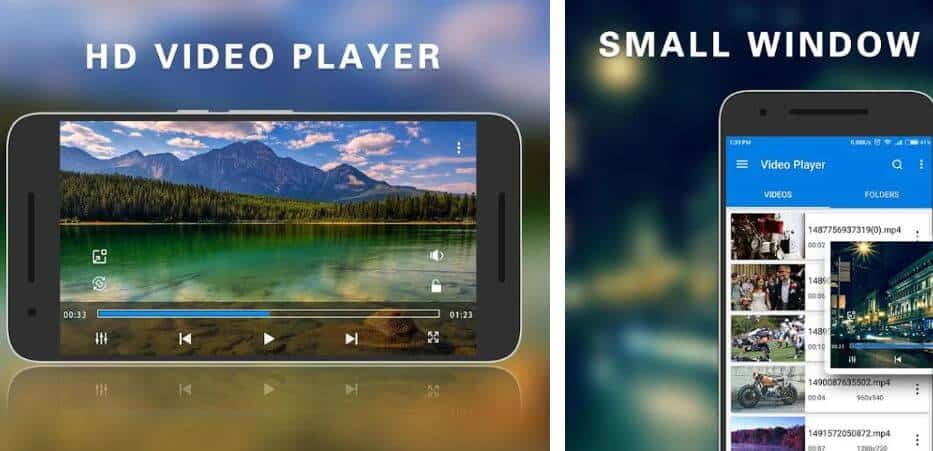 You can able to enjoy playing videos of any kind of format. The surprise factor is that the audio and video quality you are running can be effectively utilized. So, you do need to worry about the quality of your video. It will be great. 
Features:-
Virtualizer with the active Bass boot is available

Expert EQ Equalizer is available to customize the videos

A very perceivable and initiative are there

Allow you to watch your required or favorite videos in any format, even if it is ultra HD or 4K videos

The lock screen option is one of the greatest features of this app

HD video with effective graphics and resolution
17. VL Video Player IPTV
If you are searching for the best video player app with a great user-friendly interface, then here comes VL Video Player IPTV for you. If you want to differentiate it from the rest of the video apps, then you need to compare the quality of the video and audio of this app.
It will undoubtedly be superior. You will be amazed to witness the superior quality video effects and HD video.
The most attractive part is the audio quality you get through this app. It also doesn't matter which kind of format the video file is, and this app can able to play this app smoothly. 
Features:-
Auto-ratio adjustment and auto-rotation support are available here

The subtitles video files have been supported in the multiple languages

Repeat the lock screen options and video files options at the time of playing the videos

The video streaming option is the highlight of this app

High-resolution videos and 3D audio files are supported

The video-sharing option is user-friendly, and easy to know about the type settings. 
18. 4K Video Player
Most of the video player is not supportive of playing the 4k videos. If you want to watch 4k videos, then you can install this app on your device. Don't miss this opportunity. Along with the 4k videos, this player can also play the video with other formats.
4K Video Player - Full HD Video Player - Ultra HD - Best Android App 2019
Features:-
It is compact, so easy to install, and saves more space from your device.

It offers top-notch audio quality and video quality

Allow you to play audio and video through the other app's background in an effective manner

It supports the 3D audio player

Customizable perceivable and gesture control settings

Night and day modes are there
19. S Player
This video player app is compact. The user interface is simple and elegant, and very easy to use. The eye protection mode can able to maintain your eyes very healthy.
A very clear display and a smooth playback experience is the highlight of this app. The app's interface is very delicate, and the operation is simple and smooth. 
Below are some of the features of the S Player app that earned it a spot in our list of Best Video Player Apps.
Features:-
The customizable gestures can allow you to pause, zoom, widen, and fast the video clips.

Protect your private videos by making use of the high privacy policy

The important files are auto-ratio adjustment, auto-rotation, there

Night mode and day modes are active

Real-time sync and ad-free
📗FAQ
What is the best video player app?
MX Player, PlayerXtreme Media Player, VLC For Mobile, KMPlayer, Wondershare Player, etc. are among the best video-playing apps to enjoy all types of videos thanks to a wide range of playback features, audio boosts, and network streams.
What app plays a video on Android? 
MX Player, VLC For Mobile, GPlayer, XPlayer, Wondershare Player, etc., are some of the most popular video player applications that allow you to play videos on Android.  
Is the VLC player free? 
yes, the VLC player is available free of cost on board the app in-store and Google Play store and is one of the best media players to play all types of videos without any hassle.  
Is VLC still the best?
VLC is one of the best media players out there and can be immensely helpful for you to play all types of video files, including movies, shows, and music, in almost all formats directly without conversion.
However, VLC is not "The Best" anymore with the sudden emergence of other big competitors like MX Player, KMPlayer, Wondershare Player, S Player, etc.  
Which player is better than VLC? 
MX Player is right up there if we talk about video players better than VLC. It has been one of the most popular video players, with more than 10 million downloads on both the App Store and Google Play Store.
MX Player can be your one-stop destination to seamlessly play all types of videos in multiple formats thanks to a wide range of features like a complete range of premium shows, multiple language support, background play, simple and useful touch gestures, and much more.  
Which is the best free media player? 
MX Player, VLC Media Player, GOM Player, XPlayer, etc., are among the best free media players and support almost all video formats; and can also be useful to organize your videos, photos, and music effortlessly.  
Which is the best video player for Android? 
MX Player is right up there as one of the best and most popular video players for Android. Other close competitors are VLC For Mobile, GOM Player, KMPlayer, PlayerXtreme Media Player, etc.  
Which video player can play all formats? 
SMPlayer is one of the best video players and is known to play almost all video formats without conversion. The best part is that it doesn't require any external codecs.
All you have to do is to install the app, and you will be able to play all formats of videos without much problem. 
How do I play videos on Android? 
You can play videos on your Android using the inbuilt video player. It can be different for different brands and models.
However, MX Player is one of the most popular video players these days and finds a very decent place in almost all Android devices. You can also try other players like VLC For Mobile, GOM Player, XPlayer, nPlayer, KMPlayer, etc.  
Which is the best video and audio player for Android? 
MX Player is right up there as one of the best video and audio players for Android. VLC For Mobile can also be an excellent option and supports multiple videos and audio formats.  
How can I play media files on Android? 
These days, you don't have to do a lot to play media files on Android as most of the phones come with in-built media players and are very good.
However, for an even better and more customizable media playing experience, you can try other third-party media players like MX Player, VLC For Mobile, ASD Music, Video Player, KMPlayer, etc. 
Conclusion
As discussed above, this article will help you to find the best video player apps for Android and ios. The list of available video apps in the online world is enormous.
With distinct features and facilities, you can select the best video player app for Android. I have designed this content with the hope that it will aid you in selecting the ideal video player apps among the rest,