A mood board is known for capturing emotions. It enables you to set the tone for your photography projects, showcase your editing skills, and convey a very strong message to your audience.
Using a powerful mood board app, you can find creative photography ideas, arrange all your thoughts, and inspire others with your creativity.
A mood board consists of various relevant concepts required to reveal a specific atmosphere or feeling. Impressing your clients gets a thing of fun if you have a couple of amazing mood board apps on your smartphone. 
There are undoubtedly a lot of mood board applications available on both the Apple Store and Google Play Store. But, if you are someone who always strives for the best, I have got you covered here! In this review post, I have taken the burden of comparing the best mood board applications.
These are packed with some extraordinary features and can be proved more than handy for you to get inspiring photography ideas, and give a definitive edge to all your photographs.
Check out the apps discussed here, and enjoy photography like never before! 
Best Mood Board Apps – Our Top Pick👌👌
1. Word Swag

– Cool Fonts
If you want to infuse some life in your photographs using inspiring text, Word Swag™ is one of the most useful mood board apps for you! The app beautifully and very easily transforms your unique words into attractive photo text designs.
Having the app on your phone is no short of having a dynamic graphic designer in your pocket! With the app, you can express ideas and emotions with extraordinary artistic elegance.
Create wonderful layouts that would usually take a lot of time in other apps. However, with Word Swag™, you can do it within a couple of minutes! 
The app is featured with an exclusive Typomatic™ engine, surprisingly easy! You can use the app to make your own, unique, inspiring quotes.
Create exciting posts for social media platforms, make high-quality blog graphics, create flyers and announcements of excellent quality, add exceptional quotes to otherwise boring and old-school social media posts. 
The smart graphic artist in the app automatically selects the freshest font and combinations of layout for you, so that you don't need to worry about selecting the fonts for all designs.
Never be short of words with the app! Get access to thousands of galvanizing captions to inspire your audience! Check out on-trend layouts and frames to make your photos distinctive.
To put it briefly, Word Swag™ is no short of extraordinary as a tool for adding texts and captions to any photo. 
Features of Word Swag

™:-
One of the easiest tools to make extraordinary text posts

 

Use various colors, fonts, and effects to customize your text

 

Stickers, typography, and ornament for decorating photos

 

Exceptional backgrounds by colors, topics, and landscape

 

More than 100 free fonts to explore and try
Devices – Android and iOS
Ratings on Apple Store – 4.9 / 5 | Ratings on Google Play Store – 4.5 / 5
Download App on Google Play Store
Download App on Apple App Store
2. Canva

: Design, Photo & Video
Photo designing becomes a lot easier as well as fun web one of the most unique mood board apps – Canva!
With the app, you can create astonishing designs using your photos and videos! And, no, you don't need to be a photography expert to get the best out of this app!
Whether you want to create a birthday invitation, give your presentations a touch of uniqueness, want to design a professional Instagram story, are you even want to design an eye-catching, original logo for your startup, you can do it all with Canva!  
Available for both Android and iOS, you can immerse yourself in an exciting design experience whenever you want. With the app, you have both ready-to-use as well as start from scratch designs.
Explore the blank canvas, and play around with designs, frames, backgrounds, filters, frames, and a lot of other things! There are more than 60,000 free templates designed by professionals. These templates give you excellent opportunities to have some fun with your photos, and that too without spending a penny! 
Add multiple text or quotes to any photo. Change the font according to your preferences using more than 700 options across colors, sizes, position, and spacing.
Upload your favorite photos directly from your phone's gallery, or select from an extensive library of thousands of premium photos and illustrations.
Edit your photos like a photography professional. Enjoy editing with a free photo editor, apply any filter of your choice, add a vintage look, adjust the brightness, and do a lot more! 
Features of Canva:-
Free, exciting, easy to edit colleges

 

Inspire your audience with thousands of free templates

 

Remove backgrounds from any photo with a single tap

 

Apply animations to infuse life into your photos

 

Instantly resize all your designs with the premium version
Devices – Android and iOS
Ratings on Apple Store – 4.9 / 5 | Ratings on Google Play Store – 4.4 / 5
Download App on Google Play Store
Download App on Apple App Store
CANVA TUTORIAL FOR BEGINNERS 2021 // Learn Canva In 12 Minutes
You may like to read our guide on 23 Useful Cool
Canva Features
To Create Stunning Designs.
3. Creative Cloud Express: Design
Whenever we talk about the top mood board apps, it's always hard to ignore Creative Cloud Express! That's how astounding this app is!
Formerly known as Adobe spark post, the app meets it very easy for you to create standout content with the help of thousands of appealing templates from the app's database!
It's absolutely free to start, and it doesn't require any level of photography skills. With creative cloud express, you will feel like you have a photography pro right in your pocket! Select from the massive database of photos, or upload your own, and have a lot of fun! 
You can easily add text to any photo, play around with different layouts, apply filters and effects of your choice, and become a social media sensation within the span of a few weeks!
Tell the world how you feel about different things, convey your mood with a wonderful mood board app. Design social media posts, stories, advertisements, and make them preeminent with only a few tabs. Design banners, flyers, posters, and logos in the easiest of ways, without compromising with the quality.  
Send invitations like a pro, and showcase your creativity, irrespective of how imaginative and thoughtful you are. Impress your teammates over the distinctive presentations and business graphics.
Get exclusive access to thousands of royalty-free Adobe fonts, backgrounds, icons, as well as Adobe stock collection photos. Remove the boring backgrounds to make your photos more interesting and appealing.
Animate any video post, and quickly share 2 your social media handles. All in all, a handy mood board app with some remarkable attributes. 
Adobe_Creative_Cloud_Express_Android_EN
Features of Creative Cloud Express: Design:-
Make social media posts of the highest quality

 

Express your mood hundreds of fonts, backgrounds, and filters

 

Thousands of unique templates to explore

 

Entire Adobe Stock photo collection at one place

 

Easy to use effects with animated video posts
Devices – Android and iOS
Ratings on Apple Store – 4.9 / 5 | Ratings on Google Play Store – 4.0 / 5
Download App on Google Play Store
Download App on Apple App Store
4. GoDaddy Studio: Graphic Design
It won't be wrong if I say at least half a dozen of apps are embedded in one! That's how amazing, multi-purpose, and multi-featured GoDaddy Studio is!
Whether you are in search of a speedy photo editor, an effective flyer maker, a quick logo maker, or even a powerful poster creator, you can have it all in one of the most stupendous mood board apps!
GoDaddy Studio allows you to design your photos, enables you to create extraordinary Instagram stories, Facebook advertisements, Pinterest posts, as well as event invitations effortlessly as quickly. You don't need to have any sort of design skills, as the app got you covered with a wide range of features! 
Got some ideas to start your new venture? Start and grow it by exploring highly inspirational ideas on the app. Build your online presence like never before, and add a unique link to all your social media profiles.
Give your photographs a sense of professionalism and individuality with a wide range of photo editing tools, remove unwanted backgrounds from photos, make them clean, attractive, and inspiring.  
Turn otherwise boring videos into editing masterpieces with GoDaddy Studio. Layer all your videos with text, graphics, and images. Add filters of your choices, adjust the contrast, saturation, or brightness.
Blend images and videos of your preferences together to create jaw-dropping video classics. Select from a massive range of videos in the exclusive stock library, or add your own, unique video, and stand out among others with inspiring, immersive, and distinct content.  
Features of GoDaddy Studio:-
Edit photos and videos like a professional

 

Create beautiful designs and improve your online presence

 

Infuse life in photos by removing unwanted backgrounds

 

Create a professional, beautiful social site

 

A wide range of stylish templates to start with
Devices – Android and iOS
Ratings on Apple Store – 4.8 / 5 | Ratings on Google Play Store – 4.7 / 5
Download App on Google Play Store
Download App on Apple App Store
5. Pinterest

 
When it's about doing something interesting or reflecting your mood, Pinterest will always be on your mind! It is undoubtedly one of the finest places to not only inspire others but to find inspiration for yourself as well!
Millions of photos and videos are available on the platform covering literally every aspect of your life! One of the oldest yet highly interesting and loved mood board apps, Pinterest gives you an absolutely different way of discovering new ideas.  
Whether it's about honing your photography skills, or about refreshing your mood or finding something engaging to do, or even learning various ways to improve productivity, you will find everything on Pinterest!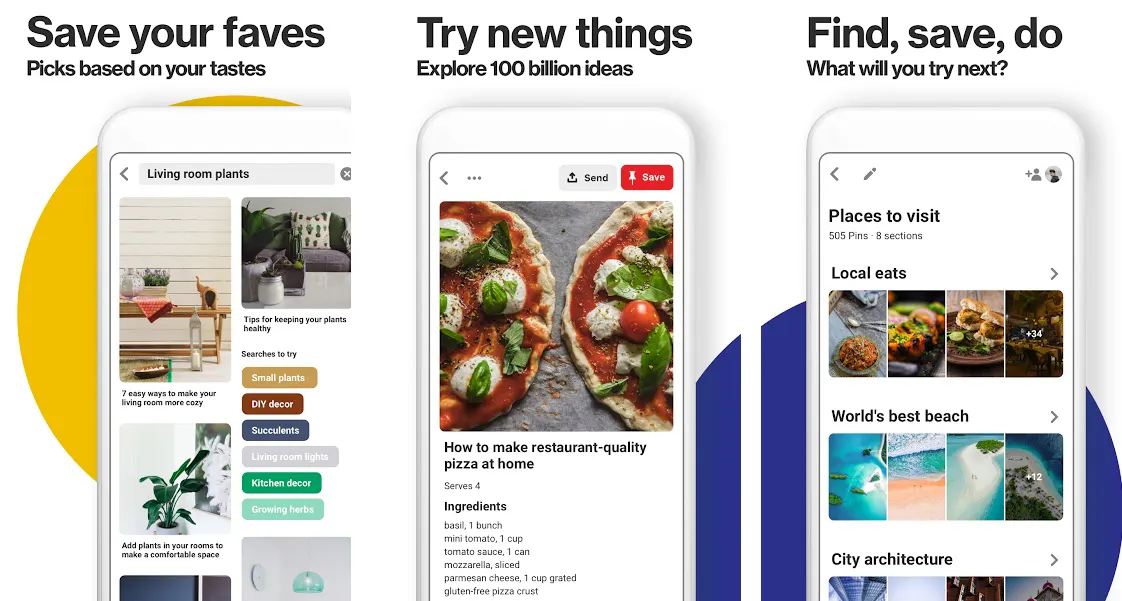 Isn't it amazing to explore different types of DIYs across categories? Isn't it always inspiring to know how to turn dreams into ideas, and ideas into reality? That's what interest is all about! Save the content that inspires you the most, know about the creators, and share it with your friends! 
Learn different creative things, become a highly skilled photographer, an inspiring influencer, an extraordinary social media geek! Find ideas for literally anything you want.
Do you have something to share with others? Pinterest enables you to do that with the easiest of sharing options. And, there is always something cool and inspiring to find on the app.
Save the ideas and inspirations you like the most, buy the pictures you are interested in, and make them yours! To be precise, a highly influential mood board app with unmatchable features! 
15 Things You Didn't Know About PINTEREST
Features of Pinterest:-
Explorer more than 100 billion ideas across categories

 

Save your favorites, and share with your friends

 

Invite your friends and collaborate to create something amazing

 

Inspire others with your unique, inspiring content

 

Discover inspiration for almost every part of daily life

 
Devices – Android and iOS
Ratings on Apple Store – 4.8 / 5 | Ratings on Google Play Store – 4.6 / 5
Download App on Google Play Store
Download App on Apple App Store
6. Collage Maker

| Photo Editor
Collage making is one of the most innovative ways of transforming your ideas into actions. You can convey your mood, showcase your creativity, and improve productivity with a reliable collage-making app.
And, when it comes to reliability, the collage maker app will definitely find a respectable place. It is your go-to photo collage maker as well as pic stitcher, that enables you to instantly remix your boring photos into interesting and eye-catching collages.
Select as many photos as you want, pick the layout of your preferences, edit pictures, and decorate them with texts, stickers, filters, and a lot more. 
The app enables you to combine up to 20 photos to create high-quality colleges. There are more than 100 layouts upgrades and frames to select from! A massive range of stickers, fonts, doodles, and backgrounds are also there in the app.
Edit or change the border of any college, and adjust the mixing ratio as per your preferences. Whether you love freestyle or grid-style collaging, the app does it all for you! 
You can explore a lot of inspirational ways of creating side-by-side photos. In addition, you also get the option of creating side-by-side YouTube thumbnails, before and after SNS cover, custom grid photo size, and more!
100 plus stylized story templates including magazine, film, ripped paper, along others with install story maker. Try blur background with Insta square photo, and choose any ratio according to your liking.
In short, with the app, you are in for excellent collage making add mood boarding experience. 
Features of Collage Maker | Photo Editor:-
More than 100 unique layouts to try out

 

Allows you to add up to 20 photos in a single collage

 

Freestyle mode to experiment with your photos

 

Apply filters for a unique mood boarding experience

 

Fonts, emojis, stickers, and more
Device – Android
Ratings on Google Play Store – 4.8 / 5 | 100,000,000+ Downloads
Download App on Google Play Store
7. Quire: Unfold Your Ideas
Quire is the next on my list of the best mood board apps. The new generation collaboration and task management tool is designed for a wide range of purposes including creating an engaging film, launching a new product, expressing your mood, and getting inspired by cool ideas.
Boost the productivity of your team like never before. Capture your ideas within a few seconds. Whenever you get inspired with something, or you want to note something important down, you can do it in a completely different way at the right time and right place with Quire!  
Bring your plans together, and transform them into step-by-step actions. Irrespective of how big your challenge is, the app needs it very easy for you to break it down into small steps, and overcome it by achieving your goals.
Stay focused, visualize all your projects with a ground-breaking Kanban board! Stay on top of all your crucial tasks, and ensure being on the right track with accurate progress. All your short-term goals are in one place, and you can see them at a glance with the app. 
The Quire app gives collaboration a completely new look! You can collaborate with your teammates in real-time, share all types of projects, assign different tasks to partners and colleagues, give feedback, and a lot more!
Get instantly notified whenever a change is made, and stay always ahead of others. Sync all your records and data on the cloud, and access them whenever you want, even while being on the go. 
Features of Quire: Unfold Your Ideas:-
Transform your small ideas into big dreams

 

Snap all your ideas into photos or words

 

Kanban board to stay on top of all important tasks

 

Streamline your workflow with a modern touch

 

Versatile Gantt chart to plan well in advance
Devices – Android and iOS
Ratings on Apple Store – 4.7 / 5 | Ratings on Google Play Store – 4.7 / 5
Download App on Google Play Store
Download App on Apple App Store
8. Milanote 

 
Unlike most of the mood board apps listed here, Milanote is featured with a very special, unique photography mood board template. Arranging your photos and videos with important links got so simple and easy with the app!
You can finally achieve own unique style you've been aiming for a long time. From project management to mind mapping, and even note-taking, the Milanote app gives you a lot of productive features. The clean user interface can easily be set up as private for individuals, or even as a collaborative tool for enterprises. 
The app becomes even more impressive when we talk about executing projects with its creative processes. Designed especially for photographers and graphic designers, the app gives you a wide range of professional functions to make things not only easier but very engaging as well.
Keep all your inspirational ideas together with a powerful planner. Working on a project got surprisingly simpler with the fact that, Milanote enables you to create multiple to-do lists as well as write notes to ensure you don't forget the important things. 
Explore different sources of information, get ideas for your next project, and sync everything across multiple devices. In case, if you want to share ideas with others, you also have the option of meeting your mood boards public.
And, if you want to keep it private, just like I want to keep things private, the app enables you to do that as well! If you have something to share with your teammates only, are you want to work with them, go for the collaboration option, and convert your ideas into actions with the help of other people with the same mindsets.  
Features of Milanote:-
One of the most productive notes apps for professionals

 

Simple and elegant user interface

 

Multiple to-do lists for tracking your projects

 

Visual boards to organize your ideas in a productive way

 

Collaborate with like-minded people and get desired results
Devices – Android and iOS
Ratings on Apple Store – 4.7 / 5 | Ratings on Google Play Store – 3.3 / 5
Download App on Google Play Store
Download App on Apple App Store
9. Morpholio Board – Moodboard
If you are a fan of branding, décor, style, interior designing, etc., here is one of the most useful mood board apps for you! You can easily make smart and stunning mood boards with the app from anywhere and anytime.
The app quickly transforms a homeowner, design or creative enthusiast, a photographer into a professional designer.
Whether you want to design your living room, transform your kitchen, or simply want to reconstruct your nursery, the Morpholio Board makes it very easy for you to create stunningly beautiful mood boards, and automatically converts them into color charts, design presentations, furniture books, shopping lists, add a lot more. 
Having the app is pretty similar to having a design office right in your pocket. Create smart design boards, graphic boards, fashion boards, branding boards, etc. With a wide range of useful mood board magic tools. Discover extraordinary products and organize those you love very simply in one place.  
You can even convert any mood board quickly into cut sheets, spreadsheets, PDFs, PSDs, different types of presentations, and a lot more. Collaborate with your team, and work on multiple projects simultaneously.
Explorer features like a Pinterest portal, shape seed, custom grids, curated galleries, quick text, mark-up tools among others to enjoy unmatchable productivity.
In addition to exploring a massive curated gallery, you can even create your own, unique personal library of amazing products.  
Features of Morpholio Board – Moodboard:-
Super amazing mood board tools

 

Smart text, advanced image controls, and powerful layers

 

Enables you to add beautiful color swatches to any mood board

 

Instantly make cut sheets and spreadsheets

 

Directly connected with Pinterest

 
Devices – iOS Devices Including iPhone and iPad
Ratings on Apple Store – 4.6 / 5
Download App on Apple App Store
10. Jux: Moodboard On The Go
If you are in search of a reliable mood board app that can make it easy for you to create stunning mood boards without much effort, you should definitely have a look at Jux!
One of the easiest mood board apps is designed literally for everyone from beginners, students, professional designers, and anyone who wants to effectively visualize their efforts, Jux is one of those unique apps that allow you to customize the features according to your requirements. You can save a lot of time by exploring different types of templates.  
And, if you want to add a bit of uniqueness and personalization, you always have the option of adding and editing the templates the way you want.
With the app, you can easily import expressive images right from the web, and even upload a few from your smartphone.
All you have to do is to place them properly so that they look perfect from all aspects. Adding the minutest of details and even setting your own background color gets very simple with the app. 
If you want to get the most out of the app, don't forget to browse the already available images and ideas. There are no limitations as far as experimenting with your work is concerned.
You are allowed to create as many mood boards as you want. Once you are finished with your work, you can easily share it with almost all types of messaging and sharing apps. 
Features of Jux: Moodboard On The Go:-
Design and publish your favorite mood boards on the go

 

Try fonts styles and customizing colors to make unique boards

 

Get access to Google and Unsplash images directly from the app

 

Unlimited boards with unlimited pages

 

Allows you to share your work directly on social media

 
Devices – iOS Devices Including iPhone and iPad
Ratings on Apple Store – 4.5 / 5
Download App on Apple App Store
11. InVision – Design & Prototype
Enjoy designing on the go with InVision – one of the most exceptional mood board apps! The app enables you to bring still screens to life in studio files, in a prototype, and enjoy brainstorming with your teammates with the help of freehand! See various recent activities including conversations, designs, experiments, and more.  
All the features of the app are available in real-time, and you can access them anywhere and anytime. Check out boards and prototypes, add comments of your choice, user test your prototypes with only a few simple taps.
Quickly make fresh prototypes, and access them even without the internet. If you want to get feedback from your colleagues, you can get them easily with the app. The app supports all types of files, and hence, you don't need to convert them before uploading.  
Select from 6 types of accounts, and check out a different set of opportunities. Free, educational, and starter accounts are made for three digital mood boards.
On the other hand, with a team, enterprise, and professional accounts, you can have access to as many mood boards as you want.  
Features of InVision – Design & Prototype:-
Keep and manage your mood boards at your fingertips

 

Get easy access to prototypes, studio files, and more

 

Quickly view the content in full screen, and share with a single tap

 

Freehand for exploring digital ideas without much fuss

 

Manage all conversations and recent activities in one place
Devices – iOS Devices Including iPhone and iPad
Ratings on Apple Store – 4.3 / 5
Download App on Apple App Store
Conclusion
Making mood boards gets surprisingly simple, yet highly effective and productive with these extraordinary mood board apps.
Whether you are a professional photographer, a newbie, or even simply someone who wants to experiment with a bit of innovation and creativity, these apps are going to be more than useful for you.
These apps can help you arrange all your projects effectively, as well as get inspiration for more productivity. I hope that this extensive collection will be helpful for you to create mood boards of your choice.